It's easy to boost the conversions of your popup forms by following these 6 essential tips. Take the guesswork out of building your subscriber list by using smart strategies to achieve results. You're probably using one or more of these tips already, learning all 6 tips is the best way to boost the conversions of your popups.
Start with the results you want to achieve. What is the end result you want to achieve with your popups? Do you want to increase your subscriber list? Are you introducing a new product to existing customers? Are you building your brand or positioning your company as thought-leaders in an industry?
Knowing the results you want to achieve helps everyone stay on the same page. Defining measurable results is the only way to achieve your goals. Once you know what results you want, decide how you will measure those results. Will you measure your increase in sales? Perhaps you want to measure how many people download an eBook. Or, you can track the increase in your email subscriber list.
The first step to increasing popup conversions is focusing on the results you want to achieve and defining how you will measure those results.
2. Keep it short and simple – just one value proposition
Keep things simple and stay focused on results. You have an instant to convince your visitors that they should sign-up for your list or complete their purchase. The popups with the best conversions get right to the point. Be direct with your offer without being pushy. People appreciate a simple, clear, and honest offer.
For instance, let's see this example: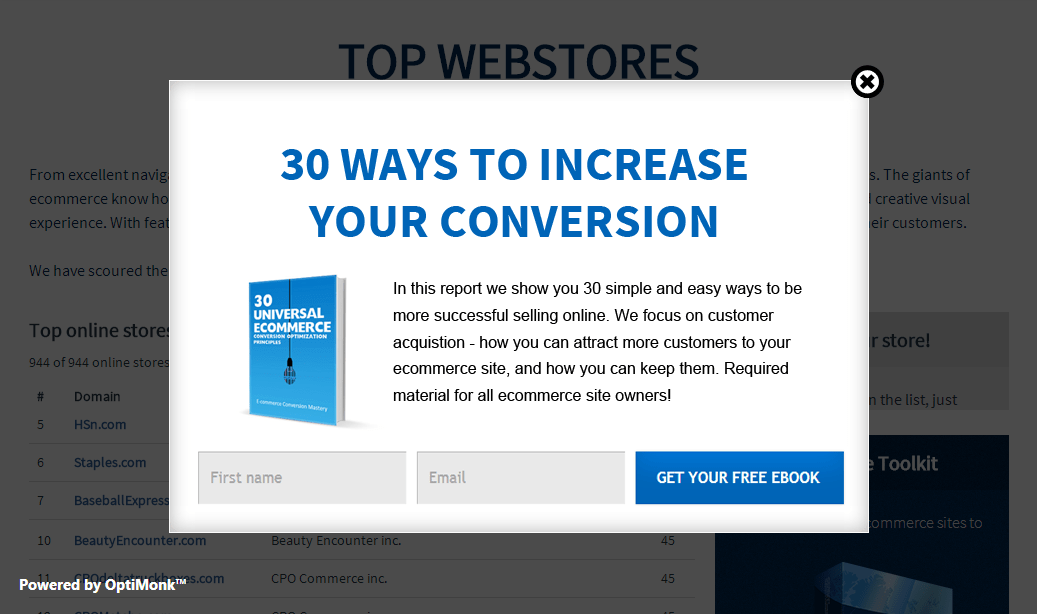 This offer is simple and to the point. We are only offering one thing. There are restrictions on the offer, however, they are presented very simply and clearly. A visitor will decide in an instant whether or not this offer has any value to them.
Keeping your forms simple can also boost the conversions of your popups. Using less fields means it takes less time for your visitors to sign-up. Plus, some people are concerned about their privacy and providing too much information on a website.
In one test of popup conversions, asking for only the first name resulted in a 67% increase in conversions. Asking for only an email could boost those conversions further.
When you are designing your forms, ask yourself two questions: What information do I really need?, and, Would I take the time to fill out this form?
Ask for less data, and you will receive more conversions in return.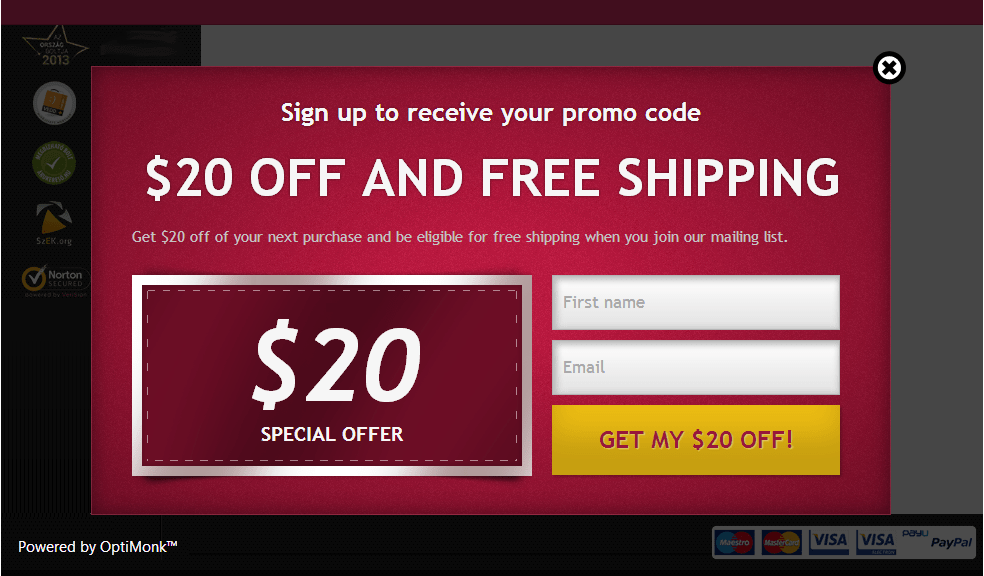 Timing is everything, in life, and with popups. Getting your popups to popup at the right time can be the difference between missing an opportunity and making a magic moment. Popups like OptiMonk's exit-intent popups are designed to popup at the exact moment a visitor tries to leave your site.
A simple compelling offer at the right time keeps visitors on your site and increases your conversions. Our clients have told us how important the timing of popups is to conversions. The same banner ad displayed in a popup when a visitor was trying to leave the site resulted in an over 200% increase in conversions. The results speak for themselves, grabbing your visitors' attention at the right moment increases your conversions.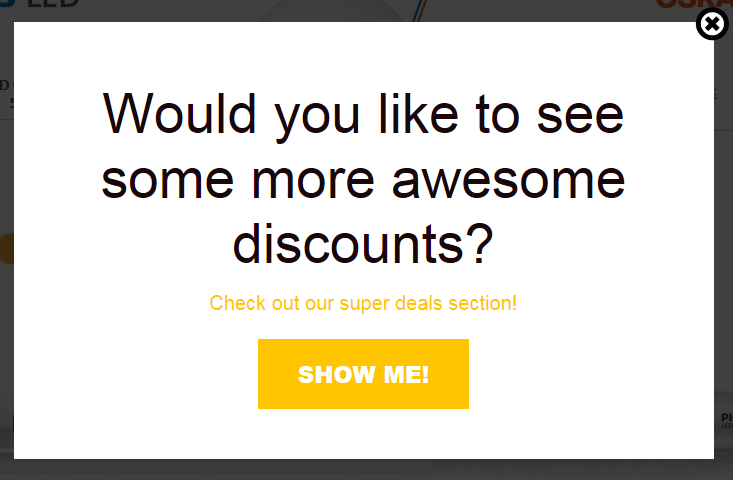 One of the fun ways to increase conversions is to be creative with your popups. The best popups are attention-grabbing. Grab your visitors' attention and then give them a special offer to keep them engaged.
Every industry has it's own 'in-jokes' and technical jargon. Connect with your audience by using a funny phrase that only they would know.
Design your popups to feel like a part of your site, but with a unique twist that sets them apart. You can switch the primary and secondary colors of your brand to make your popups really pop.
Use a funny character or an image. For instance, you can promote a sale or discount with an image of a monster and a headline that reads 'MONSTER SAVINGS'.
Don't be shy. You'd be surprised, customers love it when a business expresses its personality. Of course, you don't want to include anything that might offend someone in your audience. However, when it comes to designing popups, think outside of the lightbox!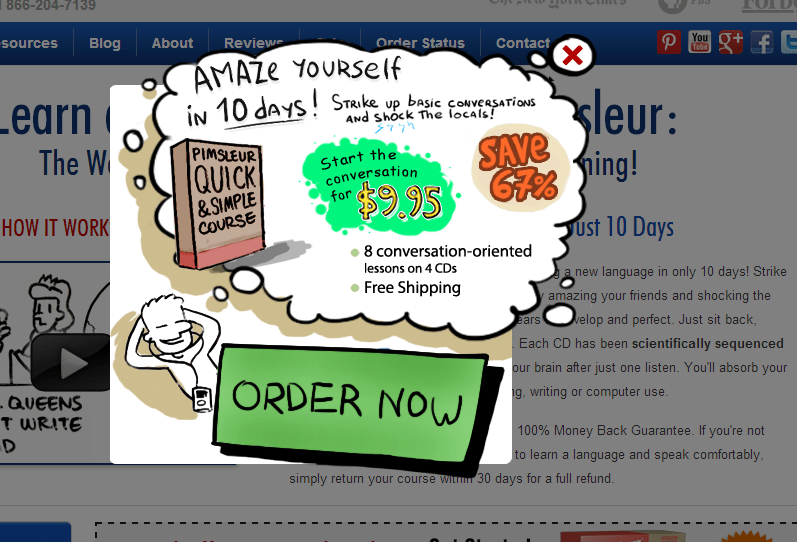 When you choose a software for your popups, it's important to find one that offers A/B testing of your popups. This takes us back to the most important tip for increasing popup conversions, focus on results.
Using A/B and multivariate testing to test popup variations is a sure way to boost your conversions. Without testing different variations of your popups, you won't know what makes your popups work, or how to achieve the results you want.
It's amazing, small changes can make a big difference in conversions. Changing the color of the popup, or the order of the content can increase your conversions more than you might expect. Find all the little things that add up to a big boost in results. This is the heart of optimizing your popups for conversions.
Bigger variations can also help you find what's really driving results for your site. Maybe your customers want a discount more than free shipping. Perhaps they'd rather receive a monthly email instead of downloading an eBook.
Software like OptiMonk lets you easily create variants of your popups to see what changes increase your popup conversions. Once you know what works best for your customers, you will be a step ahead of the game when you design your next campaign.