According to HostingFacts, mobile e-commerce will be responsible for 67.2% of e-commerce sales by 2021. Today mobile devices are so closely intertwined with people's everyday routine, that not optimizing your marketing strategy for mobile users is almost a crime.
I'm not saying you should prepare for the mobile era, as it had already come five years ago. But I want to say that elaborating your marketing strategy for mobile devices is now much more important than for desktops.
More and more small businesses realize the vitality of mobile presence for their marketing strategies. And the first question they have when thinking about it is: 'Where to start?' In this article, I'll tell you about seven essential steps to optimizing your e-commerce marketing strategy for mobile users.
Why it's important for you
Isn't hiring SEO experts and creating great website enough for success? Guess, you know the answer.
Statista says that 47.2% of global web traffic is originated from mobile devices. Although everyone knows that mobile presence is crucial, just a few understand how differently mobile and desktop users behave.
The case is that people using mobile devices usually hurry somewhere, and they need quickly accessible information. These users are easily interrupted. Screen size, waiting time, content structure – all these parameters may appear to be decisive for your prospects.
Formstack's infographic says 57% of users won't recommend a business with a poorly designed mobile website. So, if you want your visitors to convert and become your regular customers, you should make it as easy as possible for them to find and order what they want.
Step 1: Check your website
Of course, the first thing you should consider when willing to engage mobile users is providing a mobile-friendly website. It's your primary platform for establishing your brand, promoting it, and building credibility.
As 48% of consumers start their mobile research with search engines, it's essential for your site to rank high. Before you delve into mobile marketing tactics, make sure your audience can find your site easily. And mobile-first optimization is as important for your positions in search as never before.
What does your site look like on mobile devices? Is there responsive design? Are there any technical issues mobile users may face? To check whether search engines consider your site to be mobile-friendly, you can run Mobile-Friendly Test, which is absolutely free: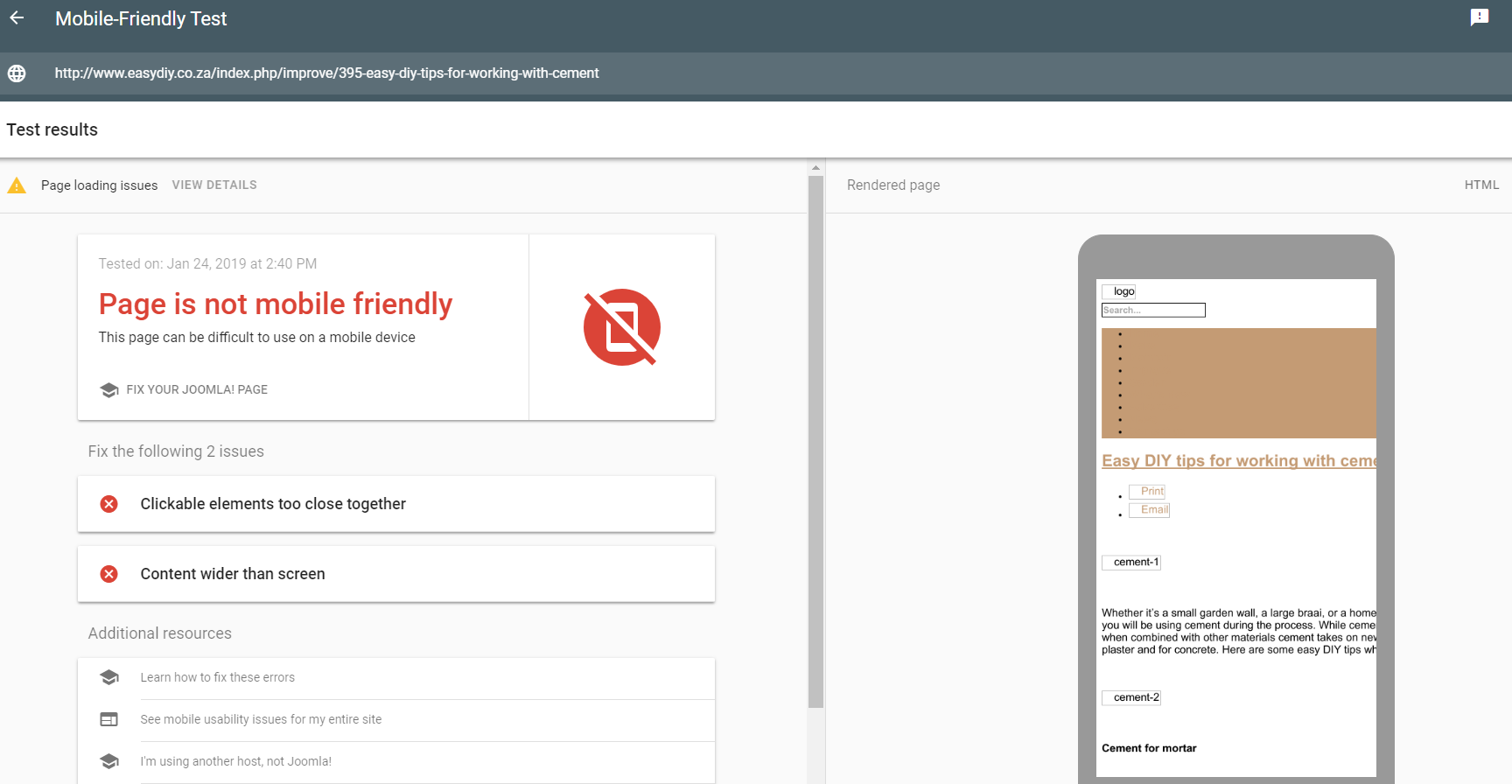 The service will provide you with the negative result only in case there are some critical issues on your site. So, if there are any, they should be of the first priority for you to solve.
Step 2: Optimize page speed
The time needed for your pages to get fully loaded is essential both for your visitors and for search robots. The first ones, especially when using their smartphones, won't wait long. The lower the page speed is, the more chances mobile users return to SERP to continue the search.
The second ones consider user experience to be one of the most crucial ranking factors. Once crawlers notice the bounce rate is high enough, they decide something is wrong with your site and decrease its positions.
To analyze your page speed, go with PageSpeed Insights by Google. Enter the URL, click on analyze, and switch to 'Mobile' if necessary: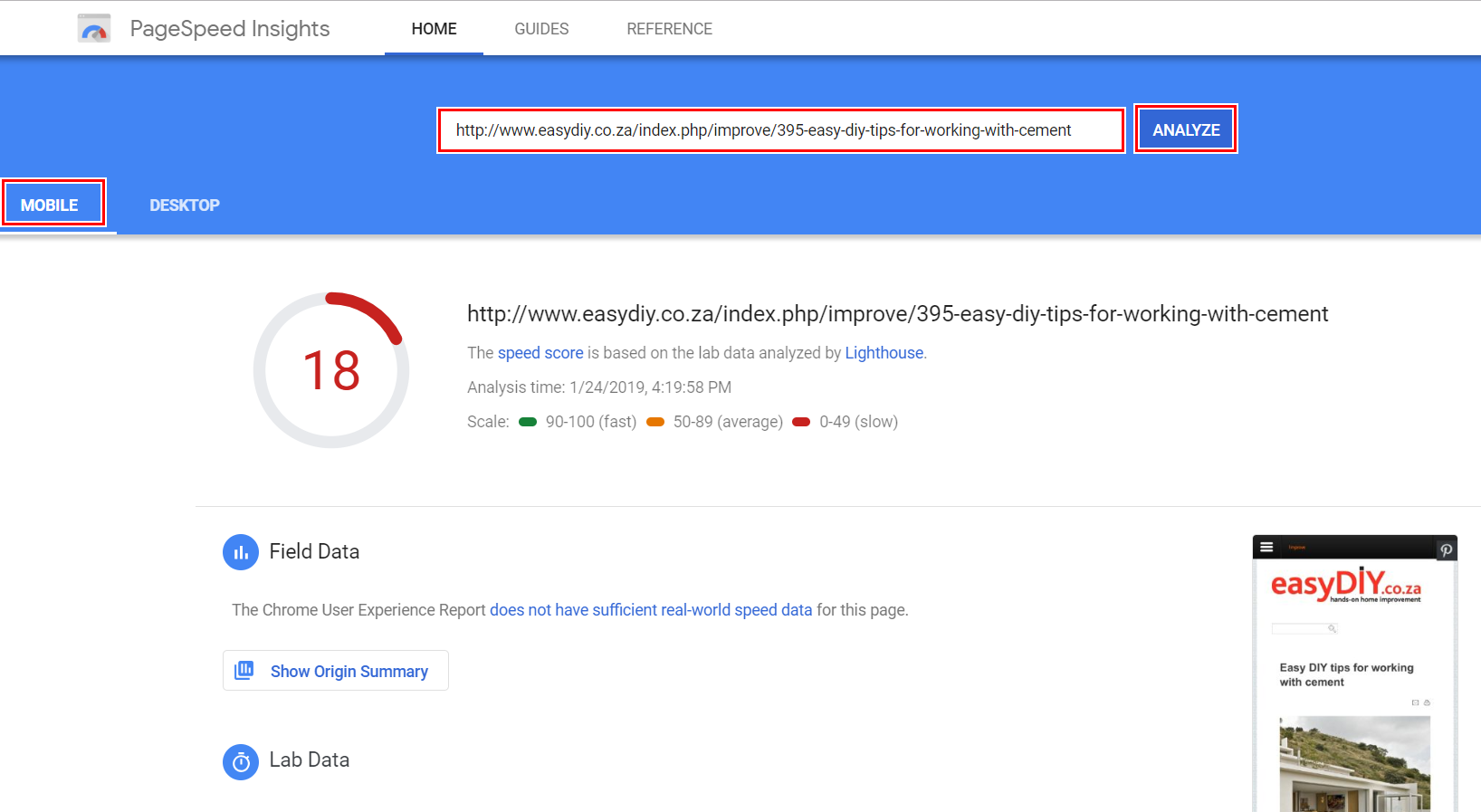 Scroll the page, and you'll see the issues you could fix to improve the score: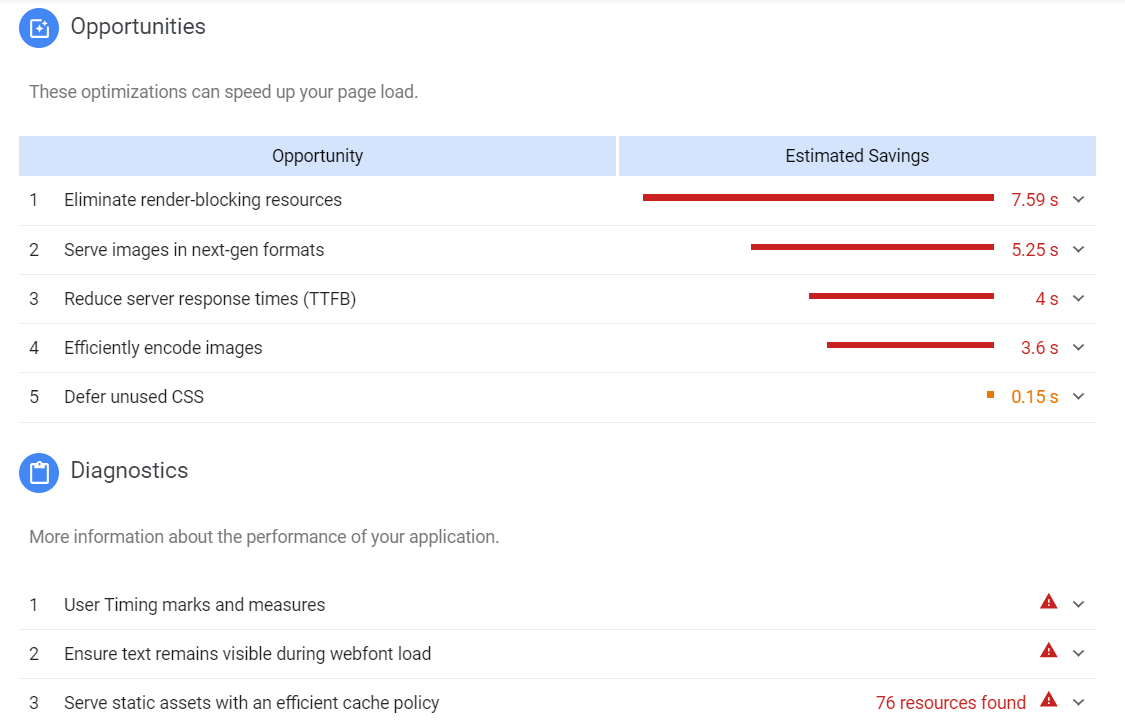 Step 3: Optimize your landing pages
Landing page design is the second thing influencing users' decision on whether to stay on your site or not. If it's difficult for your visitors to navigate, read, or take actions, don't expect they'll convert. The limited screen size makes it challenging for mobile users to surf the Internet. Provide a responsive design for your site, and your visitors will be grateful for it. These are the most critical features you should optimize to engage mobile users:
Images size
Your page content should fit the size of the page displayed at mobile devices. It may appear that your images are too large, and it'll look like this: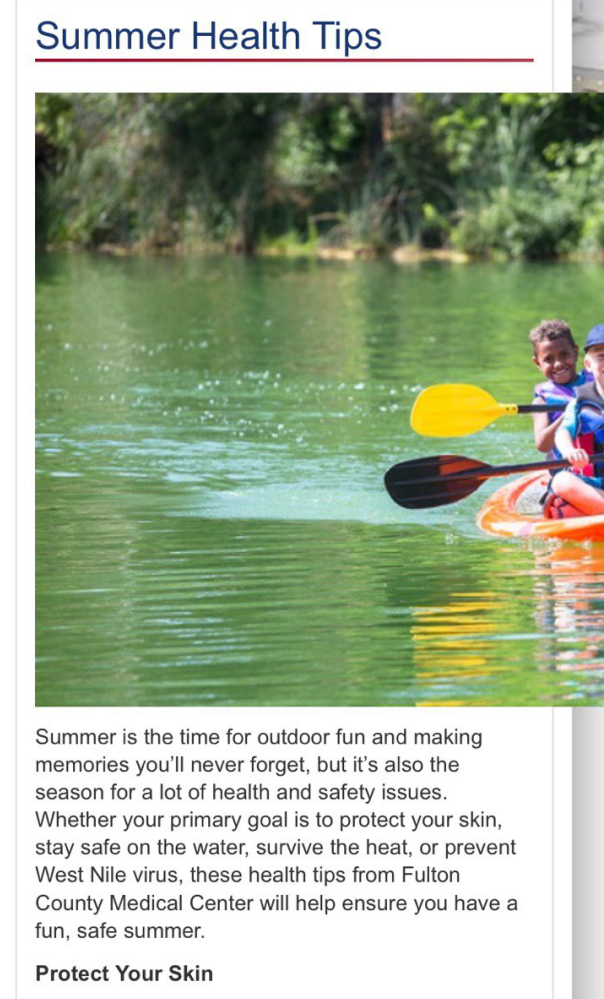 Even though in case with an informational article it's not that serious, when it's the picture of the product you sell, it won't work to your advantage.
Content structure
Provide such a structure of your texts for visitors to see the most important information from the first sight. If you provide long-form products' descriptions, divide your texts into paragraphs and don't forget about headings: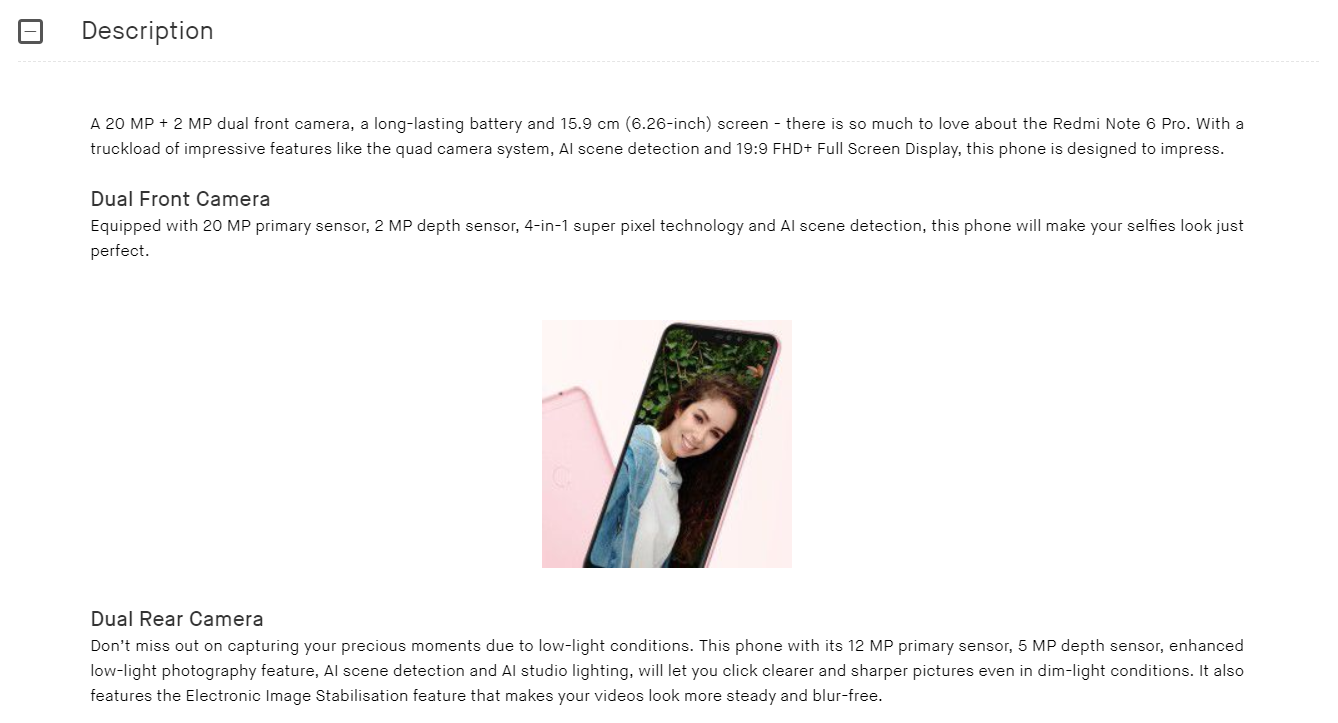 The size of the buttons
Remember that your action buttons and search fields should fit the size of a finger. Have you ever tried to zoom the page to tap the right button? It's especially irritating when you have to fill in the form, but its fields are too small for you to select the right ones.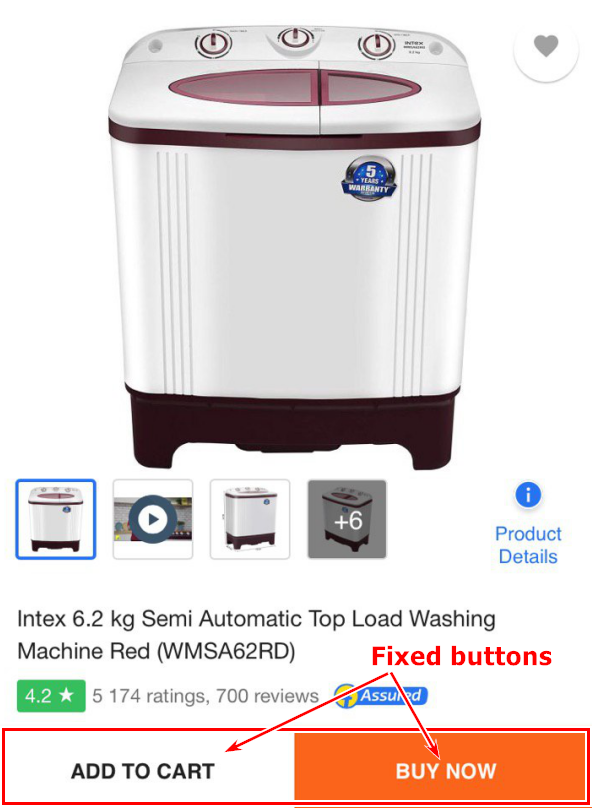 Search menu
Many visitors coming to your site already know what they want. So, not to make them wade through your site looking for it, create a fixed search menu for them to enter the product name there.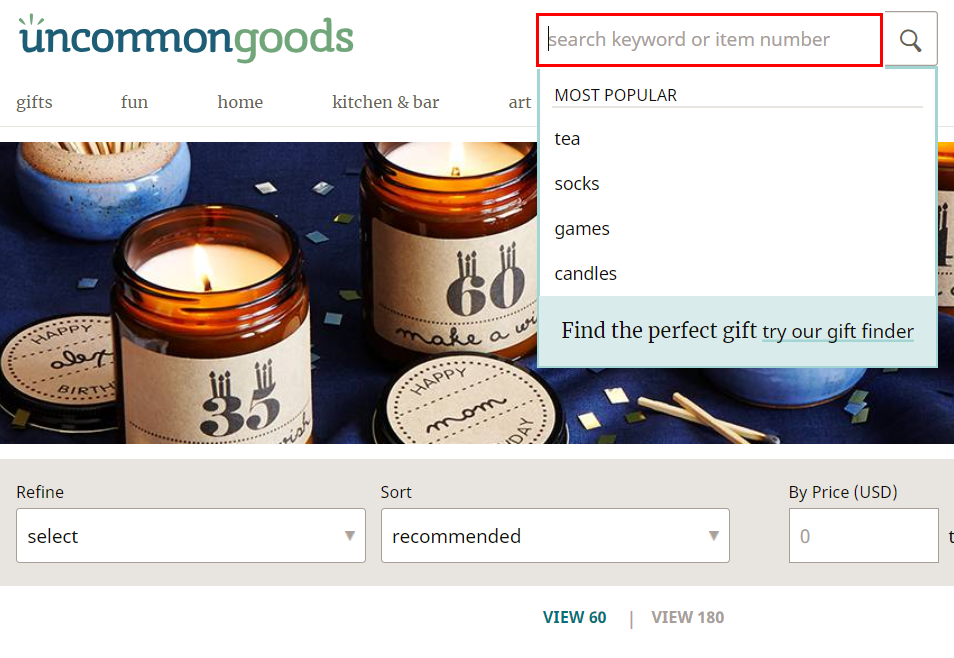 Consider types of pop-ups you use
What about pop-up windows appearing at the worst possible time? If you want to get rid of your prospects, make ads and sign-up forms as large as possible.
The most irritating thing is to visit the website to see one of these forms at once. Fortunately, with OptiMonk, you can create well-timed popups. Learn more here to discover how not to hurt user experience with your popups.
Step 4: Consider voice search
With the increased popularity of voice search, optimizing for it would be a great plus for your strategy. As voice search results provide only top answers, hitting the first page of Google results becomes crucial. Moreover, people searching with the help of their voice assistants behave as if they're talking to the human. I mean, their queries are more conversational and not so short.
To optimize your content for voice search, follow the next steps:
Discover your audience's frequent queries on the topic and create FAQs page
Even though you run an e-commerce site, ranking for informational queries could help you a lot. The thing is that answering people who are looking into buying something, you increase your chances of making them your prospects. Using Answer The Public you can find out the most asked questions. Select the best ones, and either create FAQs page or provide answers in your products' descriptions.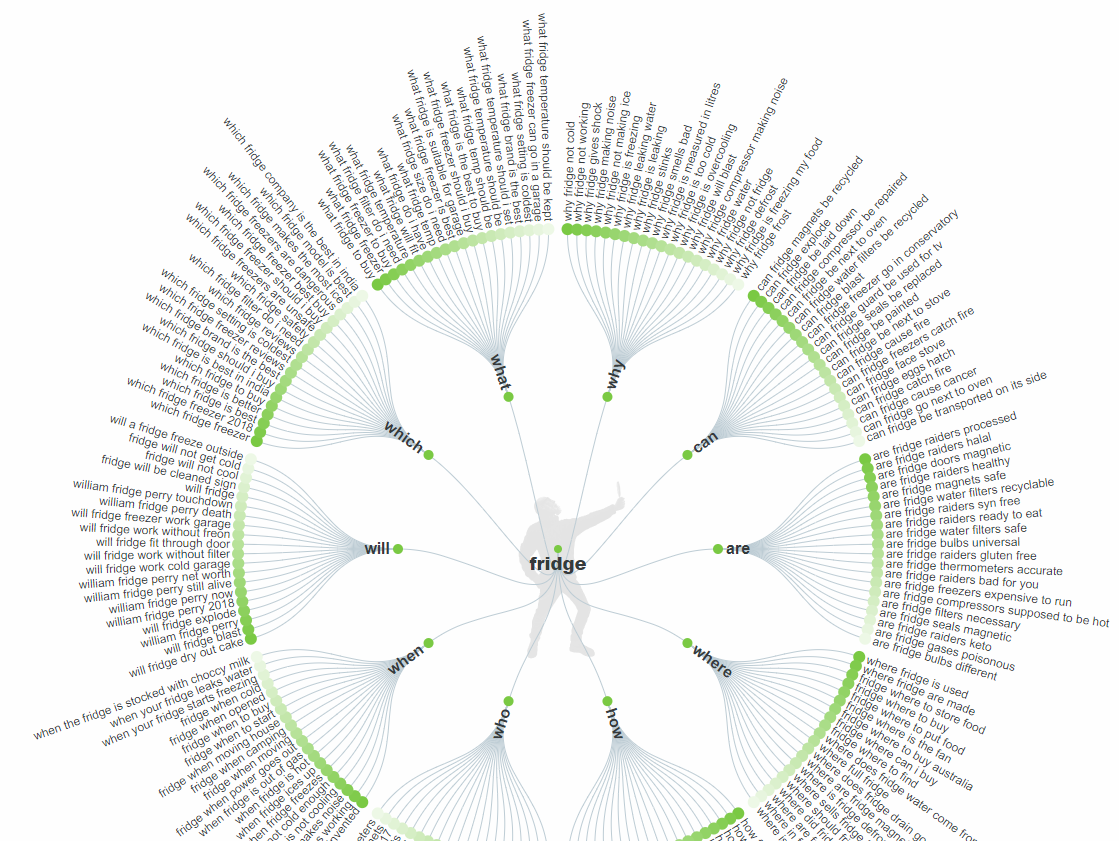 Select long-tail keywords and implement them into your content
As voice search users prefer long-form queries and questions ('Hey, Siri, where can I buy a gift near me') to short key phrases ('buy a gift'), you'd better prioritize long-tail keywords for your products' descriptions. To collect these phrases, you can go with Serpstat. The tool lets you research keywords and filter them by your criteria. Enter your main keyword into its search field, select the country, and go to Keyword Selection. There you'll see the list of phrases containing your word, apply filter 'Number of words in a keyword' > 'between 3 and 5.' Now you can select the phrases which are right for you, and implement them into your products' descriptions.

Step 5: Develop a mobile app
Apps make our lives much easier. Creating a mobile app, you improve your customers' experience and increase interaction. Downloading your app to smartphones and having easy access to your store, people don't need to choose between you and your competitors' anymore. With a mobile app, you can communicate with your customers, send notifications, provide advanced support, and more.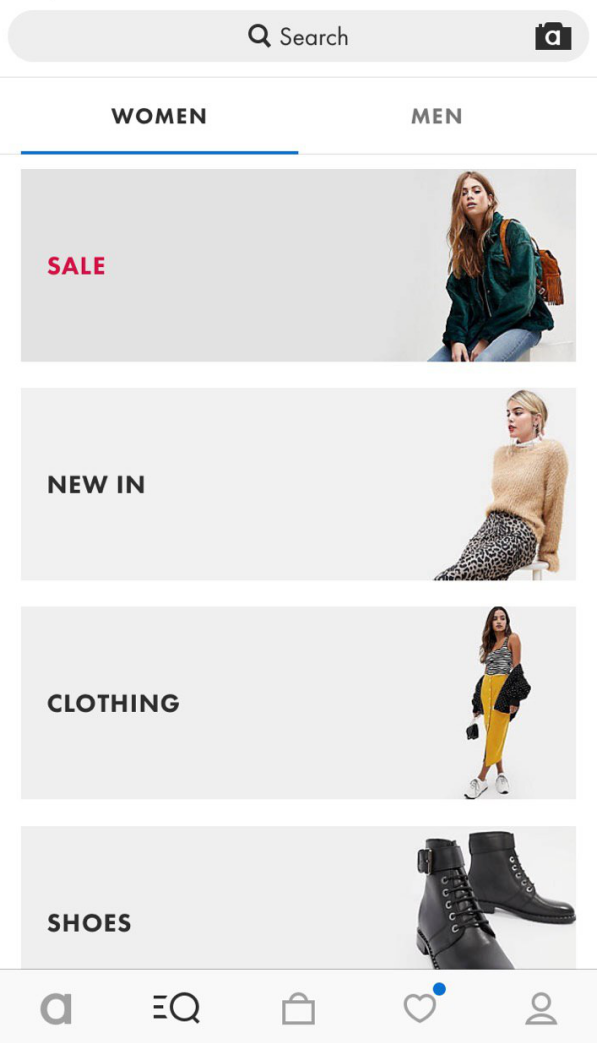 Step 6: Build social media presence
Do you know 41% of Americans say they think brand social media presence is crucial for successful interaction (Hootsuite report)? Your social media account can be one more channel for you to increase your brand awareness. However, you should be careful when choosing social platforms, as you don't need to be present everywhere. Look into your target audience and identify which social media channels would be right for your brand.
Instagram
This social platform is widely used by Millennials and Generation Z. It's a great place for you to show your products and even sell them (you can create shoppable posts there). It's easy to promote your brand on Instagram using hashtags, location tags, creating engaging stories, or advertising there.
Facebook
I'd say Facebook presence is crucial for every brand, but with recent updates, it's pretty challenging to promote on this social platform. If you have a budget to advertise there and a team to run your account consistently, then Facebook should be #1 among the priorities.
Twitter
This network is perfect for brands willing to build strong relationships with their audience. On Twitter, you can easily discover what your customers think of your brand, as people usually share their opinion tagging brands in their tweets. It's also an excellent platform for posting your recent updates, news on special offers.
Snapchat
Lots of companies actively use this network for creating brand geofilters or lenses. These are customized filters people can apply on specific holidays or when coming to certain locations. It can improve your brand awareness significantly because people usually post their snaps on other social media channels.
Step 7: Don't forget about email marketing
It's not a secret, people often use their smartphones to check their inboxes. Contacting your audience via emails is still a great practise. However, sending low-quality letters not optimized for mobile devices, you won't only find your emails in spam folders but also lose your customers.
People don't like when brands fill their inboxes with spammy messages. That's why many companies are pretty sceptical about email marketing. Fortunately, personalized emails with responsive design and engaging content (who doesn't like to find sale coupons in their inbox?) are known to drive great ROI. So, if you want to benefit from email marketing, keep in mind most of recipients are smartphone users. Here are some basic principles for you to remember when creating newsletters:
Personalise if you can. I mean, mixing up names of your customers is worse than starting your email from 'Hi there!' If you aren't sure the automatized process works properly, use other personalization techniques.

Don't write walls of texts. You have very short time to impress your readers, so don't risk sending long-form emails. Visualise the information you want to bring.

Check your emails on mobile devices. It may appear your templates look ugly on smartphones, or your images don't fit the size.
Conclusion
These were the essential steps for ecommerce marketers to undertake when developing mobile marketing strategy. Remember that all the tips will drive you real profit when implemented altogether. Join your marketing team efforts, and you'll see your conversions skyrocket.