Popups are a surefire way to grow your email list and increase your ecommerce conversion rates. We've seen top ecommerce brands use popups to improve their conversion rates by up to 37% and decrease their cart abandonment rate by at least 20%.
Success stories like these rely on beautifully designed popups that target a highly-specific audience. In a previous article, we discussed the user segments that every ecommerce store should be targeting with popups. Today, we'll focus on the second factor: popup design.
We've collected 12 stunning popup examples as inspiration to help you nail your own popup design.
Let's get started!
12 high-converting popup design examples
All 12 of these real-world examples of popup designs were created using OptiMonk. That means you can easily copy all their design elements using our many different templates and our drag and drop editor.
1. Kiss My Keto
This welcome popup starts the process of building a lasting relationship with customers by getting to know them better.
The simple question and equally simple button copy encourage visitors to engage with the popup (not to mention the promise of a 10% off promo code).
Kiss My Keto also used a high-quality image that both displays their product and reinforces their fun, carefree brand identity.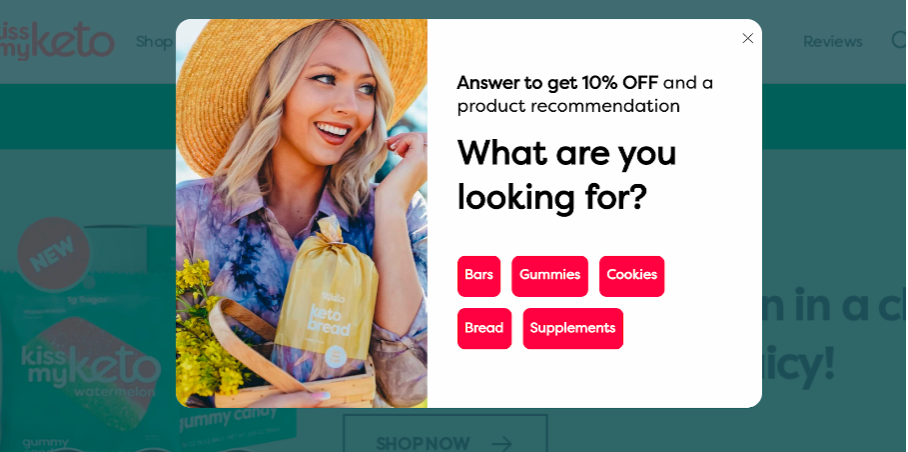 2. Christopher Cloos
Christopher Cloos is a brand with Scandinavian roots, and their popup design follows the typical Scandinavian aesthetic: sleek, with straight lines and simplistic fonts. This is a great example of a solid popup design that reinforces the brand's style.
Another important aspect of the popup's design is the countdown timer, which grabs visitors' attention and increases the sense of urgency so they will be more likely to use their discount code.
And finally, in what's becoming a theme, the Christopher Cloos design team chose an image that perfectly represents the "feeling" of their sunglasses.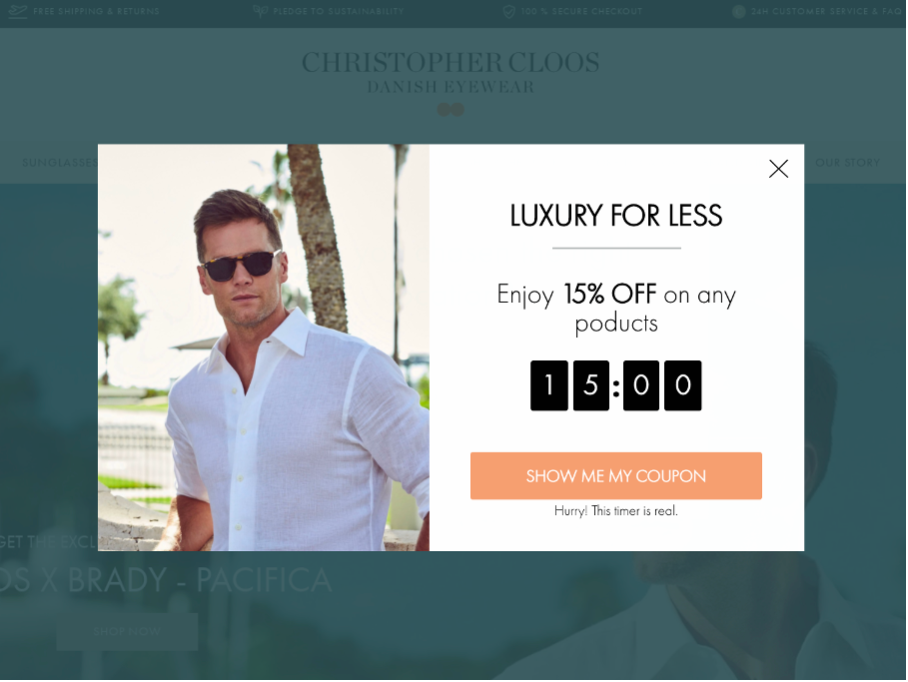 3. Obvi
Not all popups need images to capture customers' attention. Sometimes, a popup's copy can be strong enough all on its own.
This is especially true when the popup uses bold colors that catch the eye, like the hot pink and black combo below. Notice how Obvi reinforces their message with emojis, which makes the popup design feel more youthful.
To make it even easier to absorb the popup's message, the circle in the left top corner sums up the offer.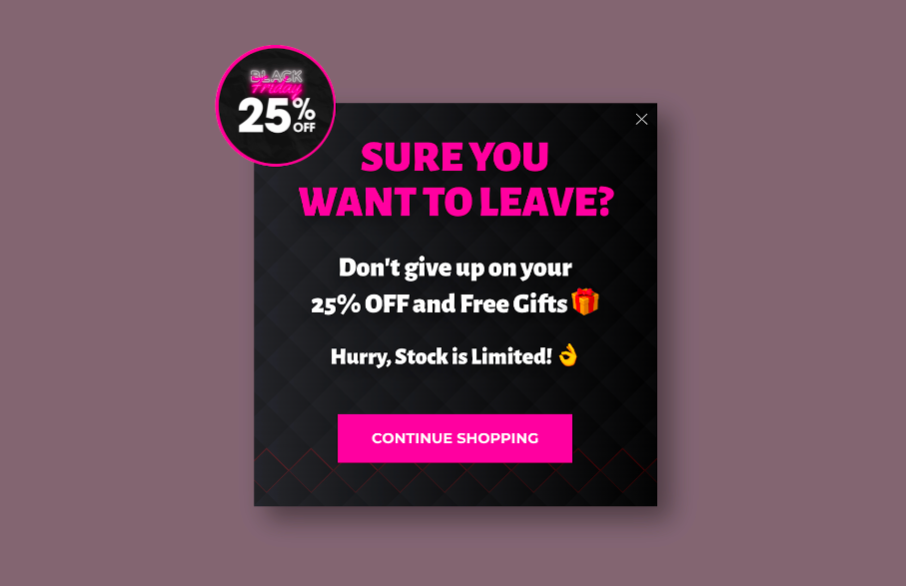 4. BlendJet
This example illustrates how important it is to make sure that your popup matches your website's design. There's a harmony in the choice of colors that looks very pleasing to the eye.
The only contrasts in the color palette come from the images illustrating the offer (what customers will get for free). The products pop off the page, and that's exactly the goal.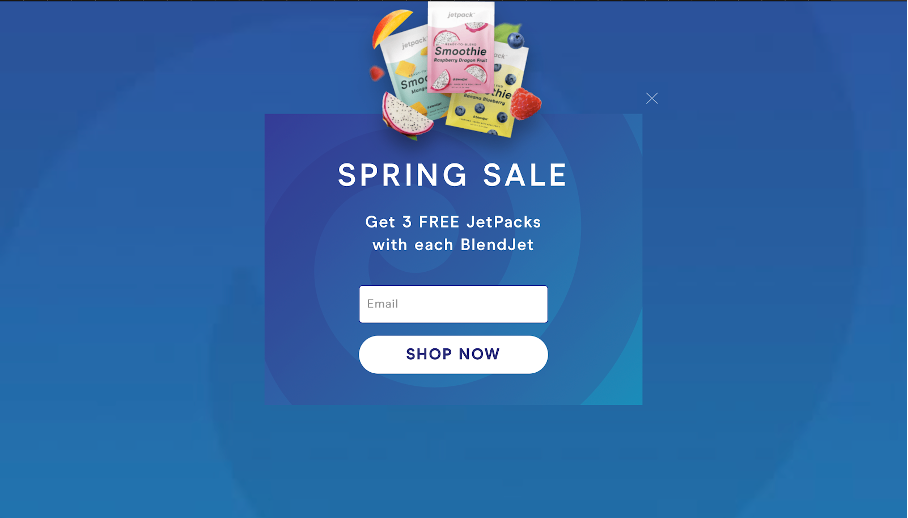 5. The Oodie
There are several points to make about this great popup design example from The Oodie.
First, the way that the image merges with the popup is visually striking and supports the copy: "Would you like a hug?"
The choice of bright red for the popup, in contrast to the softer pink of the hoodie, is exemplary. A blue call-to-action button stands out and ensures visitors won't overlook the enticing CTA: "Reveal My Code."
Finally, the largest and most prominent copy is "And $25 Off," which is an attention-grabbing way of drawing focus to the popup's main message.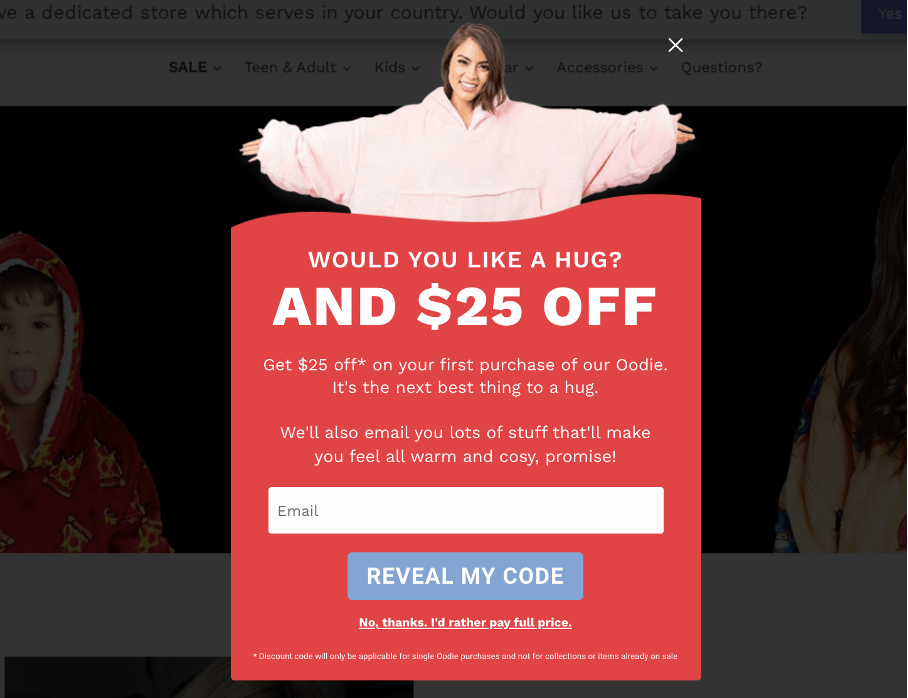 6. The Turmeric Co.
The Turmeric Co. uses a prominent circle design element to highlight their offer.
This popup design is simple, with enough white space to avoid overwhelming site visitors while still incorporating a countdown timer and descriptive call to action button.
The small image not only shows the product, but also captures the brand's active, healthy image.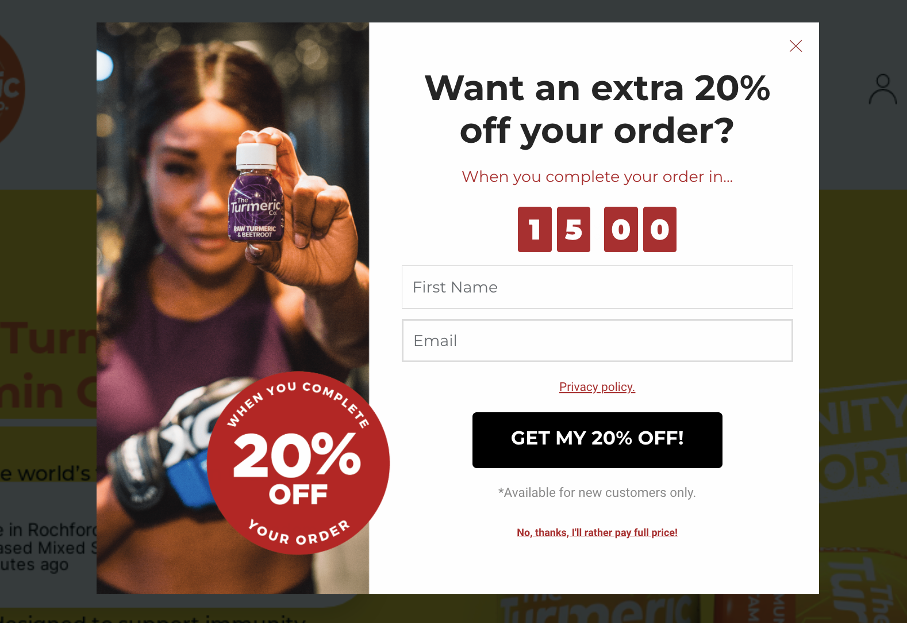 7. Coconut Cloud
Coconut Cloud puts all the focus onto their products. And that makes sense… they look delicious!
This popup design was developed in support of a Halloween giveaway. By showing visitors everything they could win, Coconut Cloud draws them in and encourages them to participate.
Finally, this popup includes a deadline. Much like a countdown timer, a firm deadline creates a sense of urgency.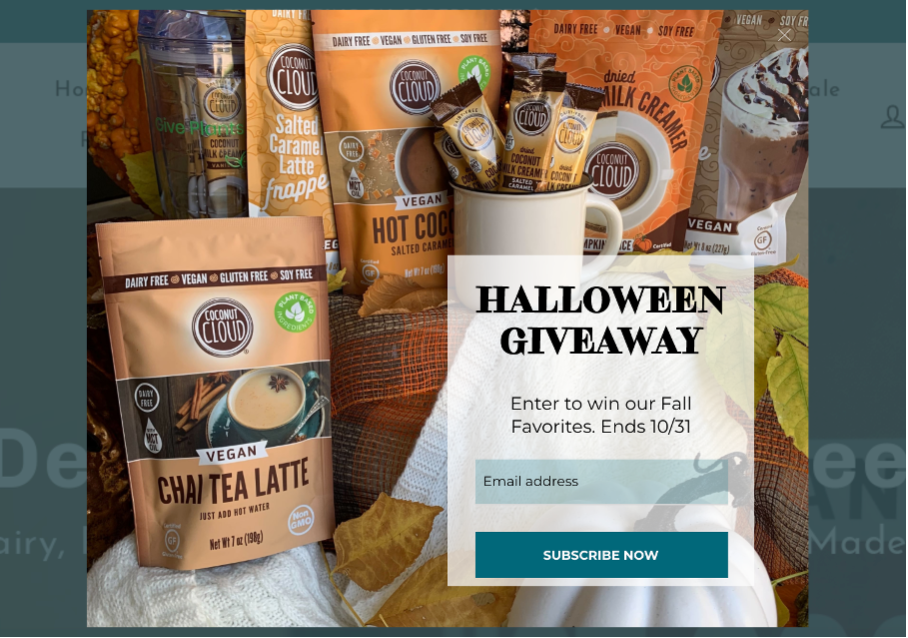 8. TheSTEMKids
The clever copy in this TheSTEMKids popup design example really steals the show.
The popup's content starts with a strikethrough of the "$10.00" number. When combined with the bolded "Nothing for Shipping," it makes the exact value of the offer obvious to all their site visitors.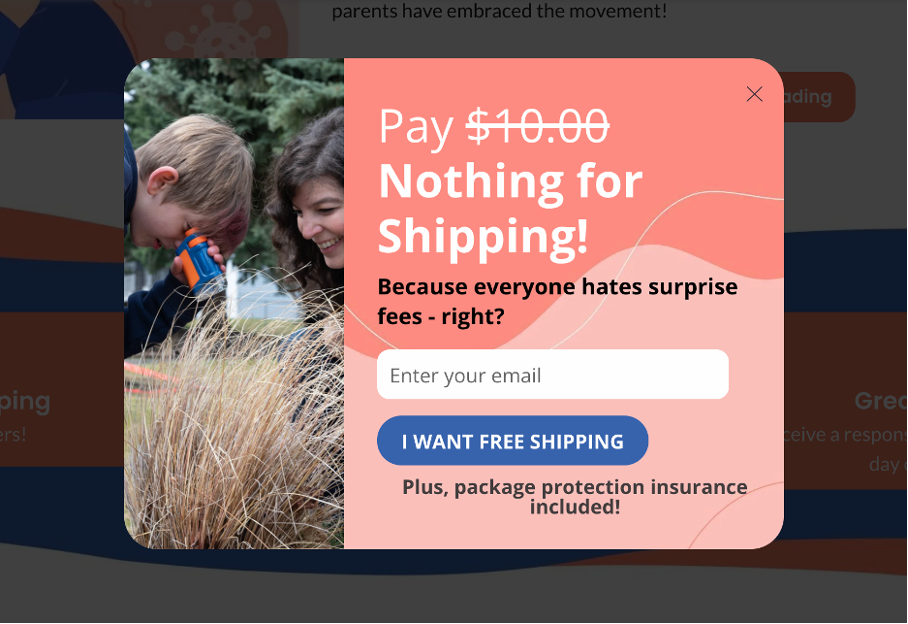 9. Bibado
Like many other popup design examples on this list, Bibado has used a contrasting color for their call-to-action button. The success of an impression is determined by whether a customer clicks on the CTA button, so it makes sense to make it stand out.
We also love the way Bidabo highlighted the offer in its own outset rectangle.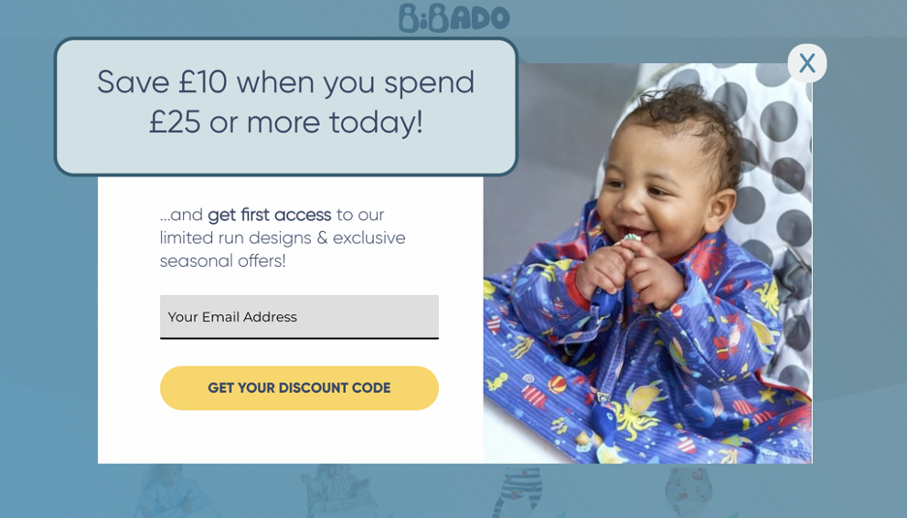 10. Qure
Qure's popup design is a good example of how to make two offers at once.
The main headline (5% off) is highlighted with large text, but the extra offer is given its own box for emphasis. There's a nice little image that shows you the free gift you'll get.
The larger image does a great job of establishing continuity with Qure's fresh, futuristic branding.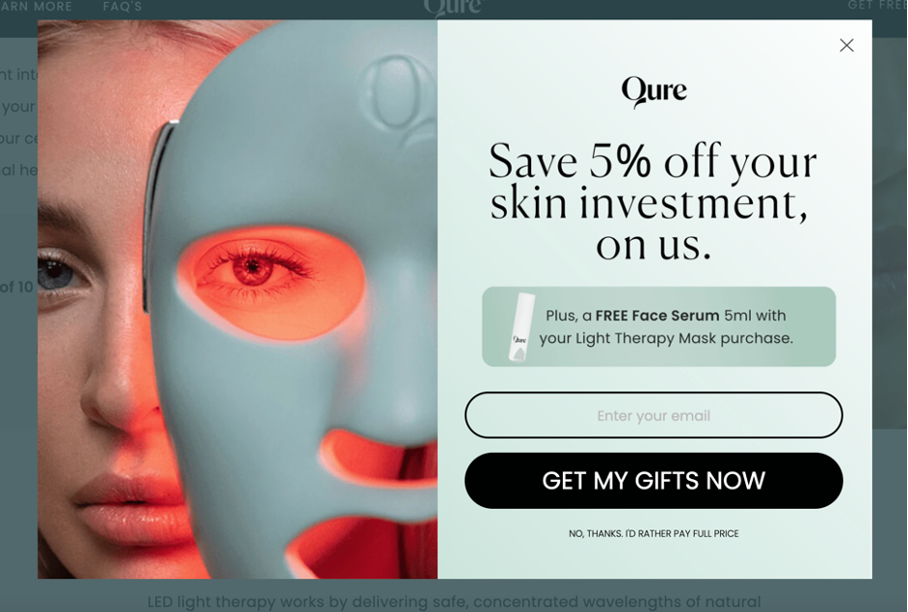 11. Yes Please Health
It's important to remember that it's humans who will be looking at your popups. That means emotions are always an important consideration when designing popups.
Yes Please Health helps their customers get excited about the offer with a colorful image of a person smiling and showing the product.
They blend that image with the background of the popup, making it look very well tied together.
Finally, they use fun, playful copy to draw the customer in.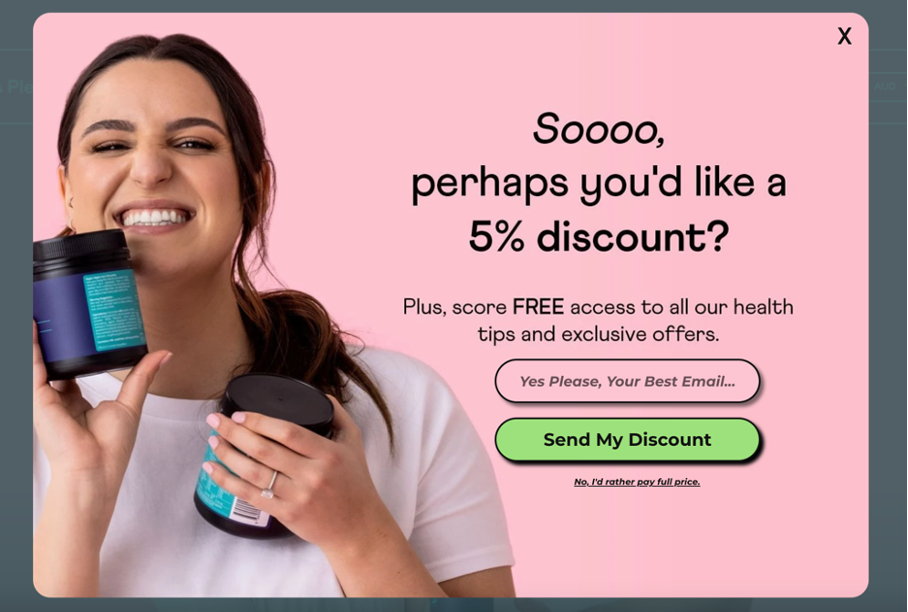 12. Fuller's Flips
Fuller's Flips uses images to great effect on this popup. By showing a before and after image, they're clearly showing the value their service provides.
The use of the anchor emoji is a nice touch too, pairing well with their promise to bring you some "coastal Hamptons style."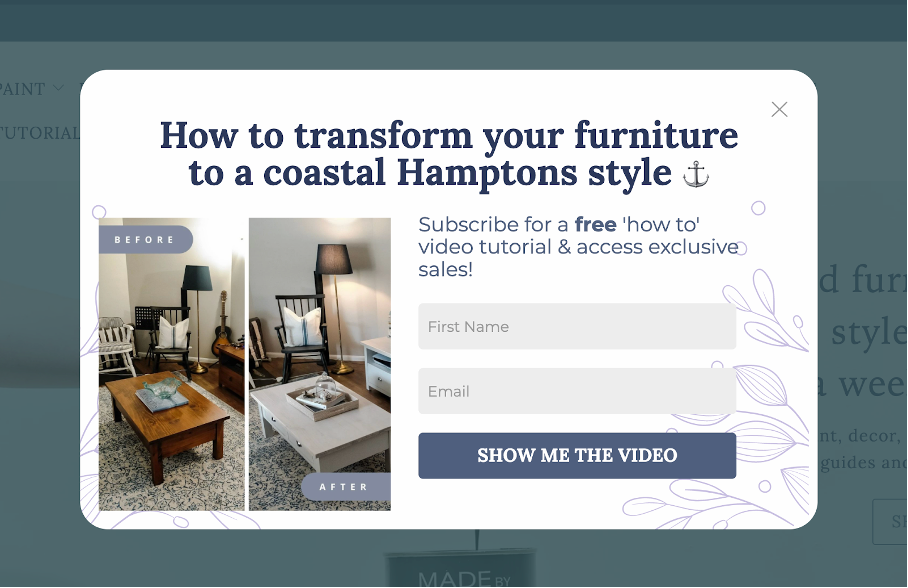 Popup design isn't an exact science. As these popup examples have shown, there are many different approaches you could take.
Your own approach should be consistent with your brand's personality, your website design, and the message you're trying to deliver. You're sure to find a template that ticks all three boxes in OptiMonk's 300+ strong Template Library!
To learn more about creating high-converting popups, check out our Ultimate Guide to Popups.