With Christmas just around the corner, you need to make sure that you're getting the most out of your peak traffic. How? Website personalization is the way to go.
In this article, we'll share some tips and examples on how to use personalization during the holiday season. Let's get right into it!
Why is personalization important?
Every visitor has their own specific needs, and it's your job to make sure you truly understand those needs.
Studies show that consumers are more likely to buy from a company that provides a tailored experience.
In fact, 66% of customers expect companies to understand their unique needs and expectations. And 70% of consumers say that how well a company understands their individual needs impacts their loyalty.
Providing personalized experiences for your visitor segments will not only help increase your sales… it will also lead to happier visitors, real connections, and long-term relationships.
Christmas-themed personalization examples and tips
Over the years, we've been blown away by the festive, Christmas-themed campaigns that OptiMonk users come up with.
That's why today, we're sharing 6 specific ways you can use personalization on your site with 14 creative seasonal examples. Ready to add some holiday cheer to your website?
1. Encourage new visitors to sign up for your email newsletter
The most basic personalization involves differentiating your new visitors from your returning visitors.
Returning visitors are more aware of your products and services, while new visitors are likely still browsing around and getting to know you.
Maybe they had a problem, searched for a solution on Google, and landed on your site. Or maybe one of your Facebook ads got their attention. But what's almost certain is that they're probably not ready to buy quite yet.
After these new visitors have a look around your website, you can encourage them to subscribe to your email list with some kind of incentive. This way, you'll be able to keep in touch with them and nudge them towards a purchase in the future.
Plus, most ecommerce stores have more new visitors than usual around the holidays. Take advantage of that extra traffic to grow your email list! This approach can also help you drive sales throughout the rest of the year since your marketing emails will reach more inboxes in January, February, and beyond.
This is exactly what Topperswap did using a Christmas popup with a festive design.
The message, "Congratulations, you've unlocked a secret discount code," makes the offer even more special because it seems like it's not available for everyone.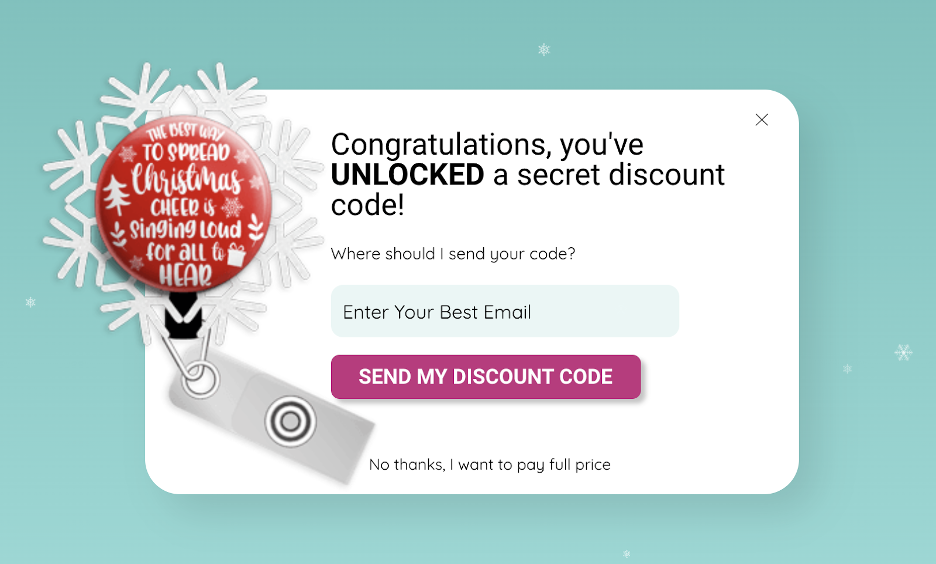 Spread A Little Hope and Joy used a similar tactic, but they went with a Buy One Get One Free (BOGO) offer as an incentive.
Visitors love to see a BOGO offer because it feels like an even better deal than a percentage discount.
And since it's such a good deal, visitors will be more willing to enter their email addresses in order to take advantage of it. This means the company will be able to grow their email list while increasing revenue at the same time.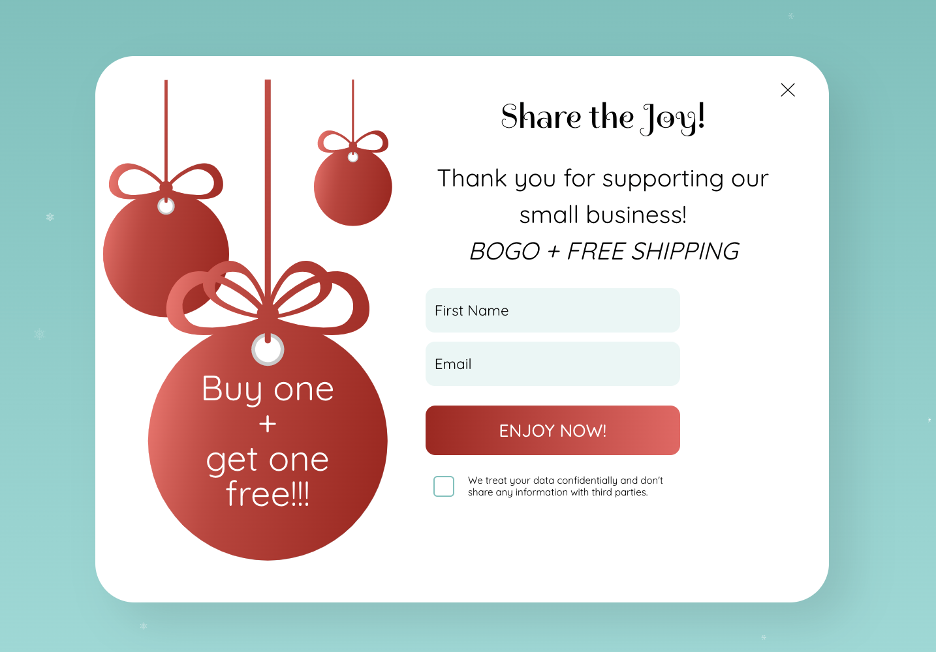 Love the look of the two campaigns above? You can use it with just one click:
BlendJet, on the other hand, went with a volume discount. They offer different levels of discounts based on the number of items a customer buys. This is a great strategy during the holidays, when customers might buy the same gift for multiple people.
This not only encourages your customers to buy more but also increases your average order value.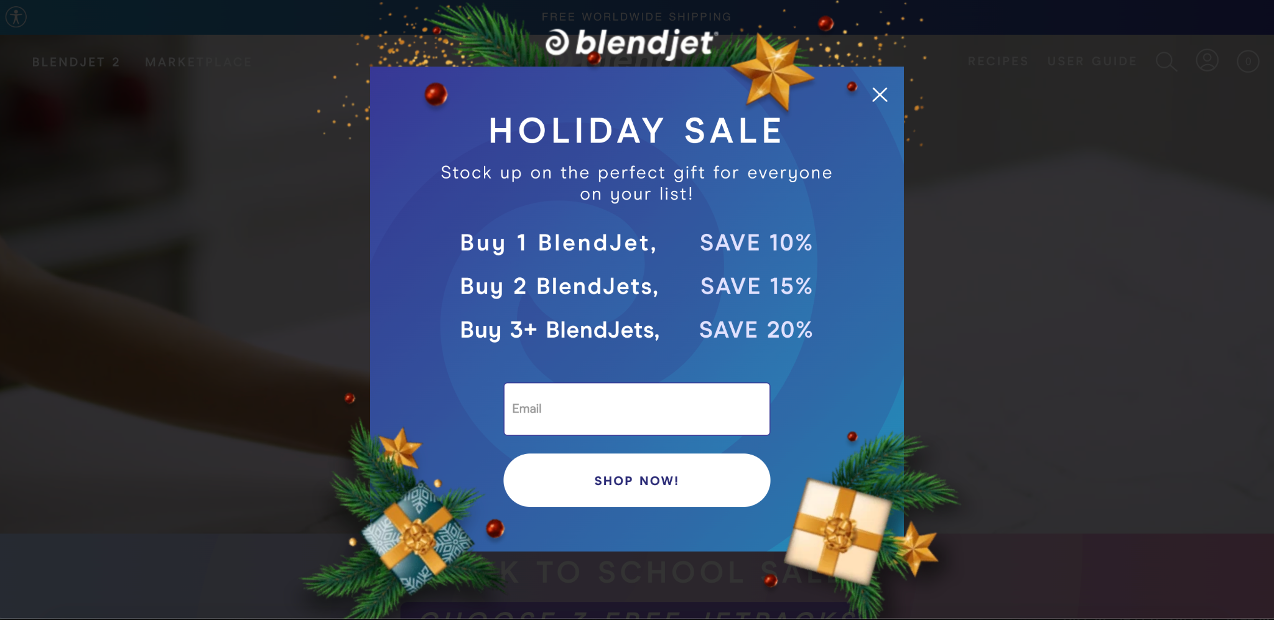 You don't necessarily need to use a Christmas-themed design for your holiday campaigns. After all, the look doesn't work equally well for all brands.
This email capture campaign from Gwl Fitness doesn't feature any holiday imagery, but they still highlight "Holiday deals" in their popup copy. This tells visitors that there are items on sale during the season.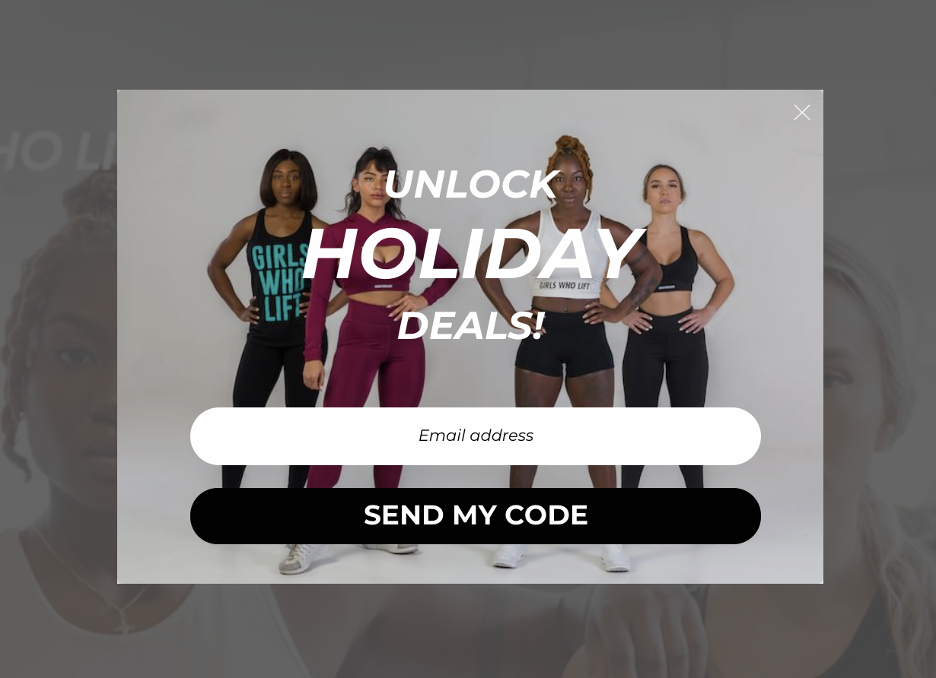 Popups aren't the only way to grow your email list—you can also embed a signup form into your website easily using the templates below:
2. Gamify the user experience
Gamification helps to turn your visitors' interaction with your website into an unforgettable experience. These kinds of campaigns work better for visitors who aren't very familiar with your products yet. You can display a gamification popup sooner than an email popup offering a discount.
There are many ways to apply gamification to your website. Let's take a look at a few!
SkyMall uses a gamification template that we call the scratchcard. It's a great way to collect email addresses and phone numbers while creating a fun, enjoyable user experience.
SkyMall not only asks for email addresses but also phone numbers. Notice how the phone number is optional but promises exclusive offers? Great tactic!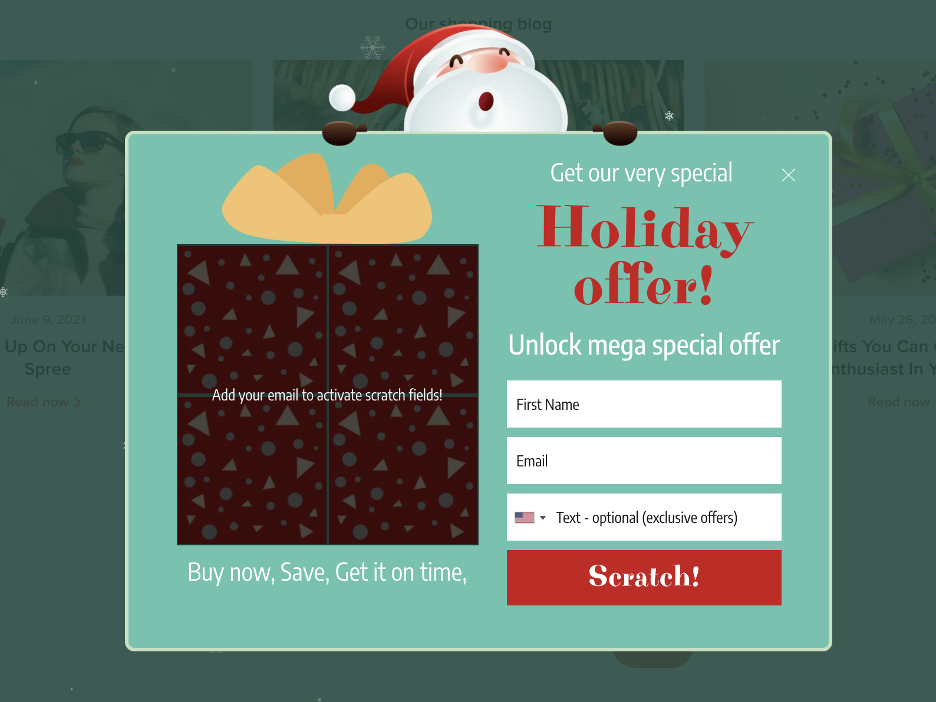 You can try SkyMall's scratchcard strategy on your own website with our ready-to-use template:
Lucky wheels are one of the most popular types of gamification templates. These fun, engaging gamified popups convert much better than regular email popups (13.23% vs 5.10% conversion rate on average).
Holy Class Cosmetics uses a lucky wheel with bright pink coloring that's consistent with their branding. They give it a holiday spin with the snowflakes and "Merry Christmas" text.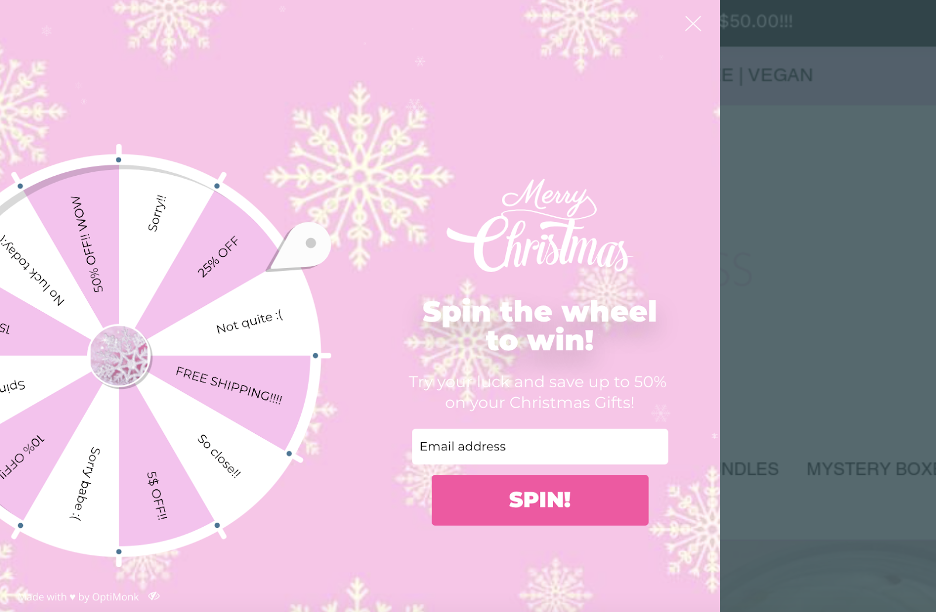 Vivian Rose & Co. also used a lucky wheel campaign. From the subtle holiday theming to the great use of a color gradient on the "Spin!" button, everything just works.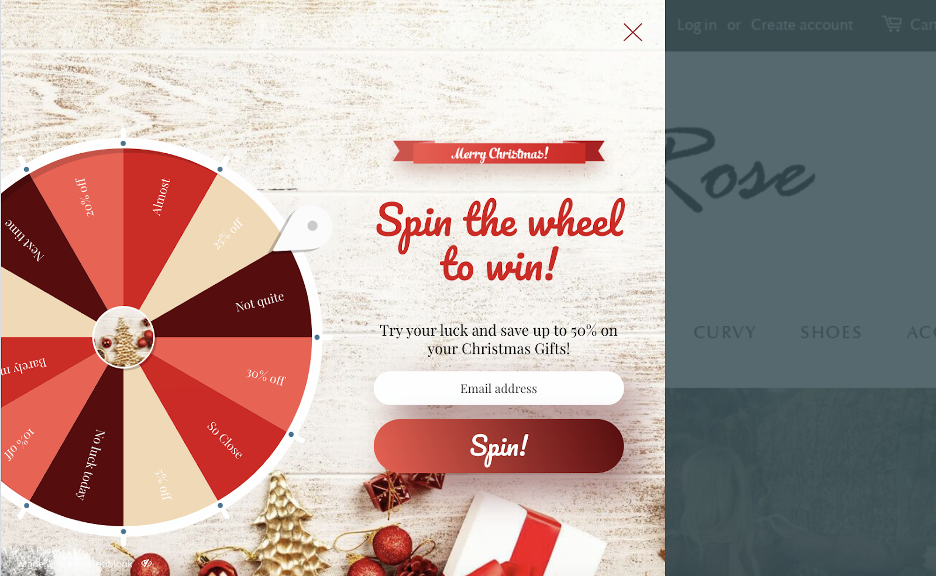 If you like the idea of a lucky wheel, try it out with one of the pre-made templates below:
Love Thy Oils uses a different gamification popup that's especially fitting for the holiday season. The "Pick a Gift" template lets users reveal a discount code in exchange for entering their email addresses.
The popup's minimalist design is very effective, with the "Christmas Gift" messaging and little gift boxes working together perfectly.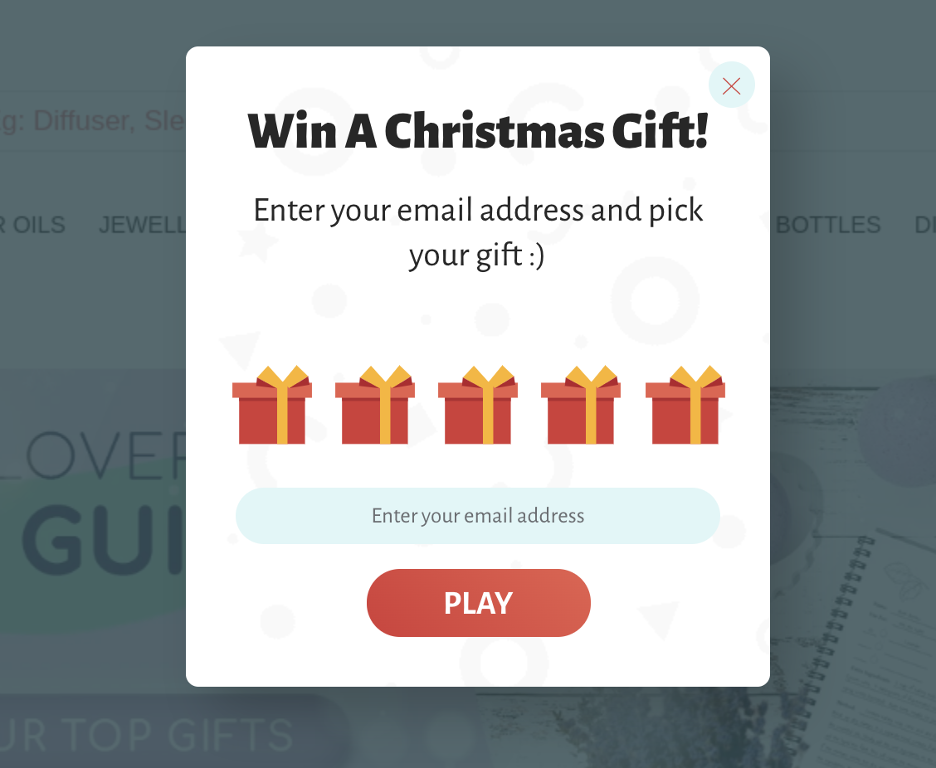 Try the Pick a Gift strategy on your own website with our ready-to-use template:
3. Recommend products for visitors browsing your product pages
Showing relevant recommendations to your visitors based on their behavior and interests is one of the best ways to use personalization.
You have lots of options here. You can recommend products that are similar to the ones your visitors are browsing, you can promote your best-selling products, or you can recommend products that are on sale right now—and that's just a few examples!
Check out how Virgostop promotes their discounted holiday items on a Christmas popup below.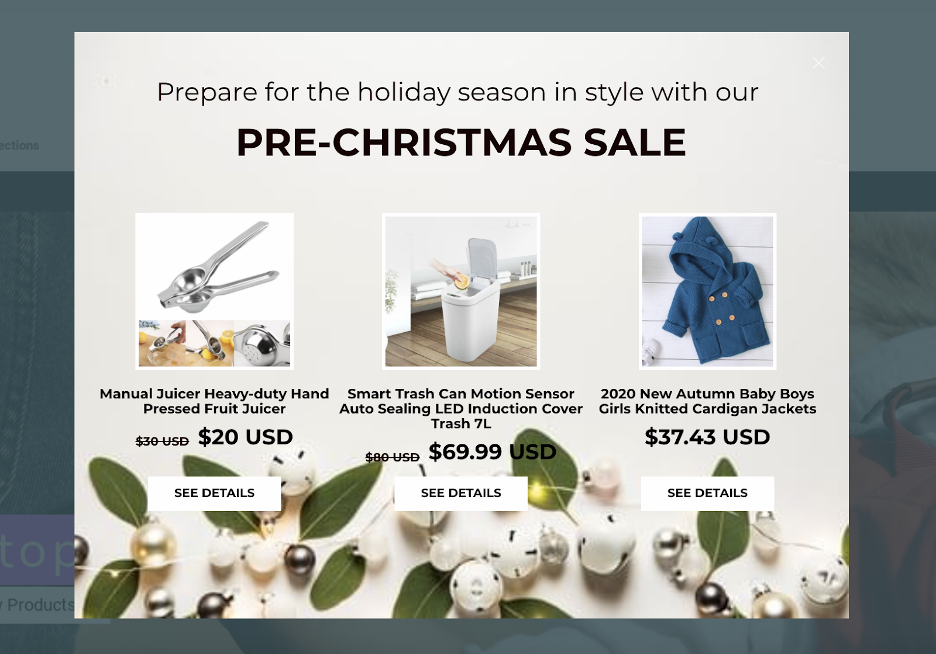 Product recommendation popups like this one are a great way to increase your store's average order value. They help customers who are shopping for a certain item find other things they might like (and buy)!
Iron Rose Home uses a holiday-themed recommendation popup when their visitors show exit intent (when they're about to leave the site). Exit-intent popups can stop visitors in their tracks and draw them back in so they continue shopping.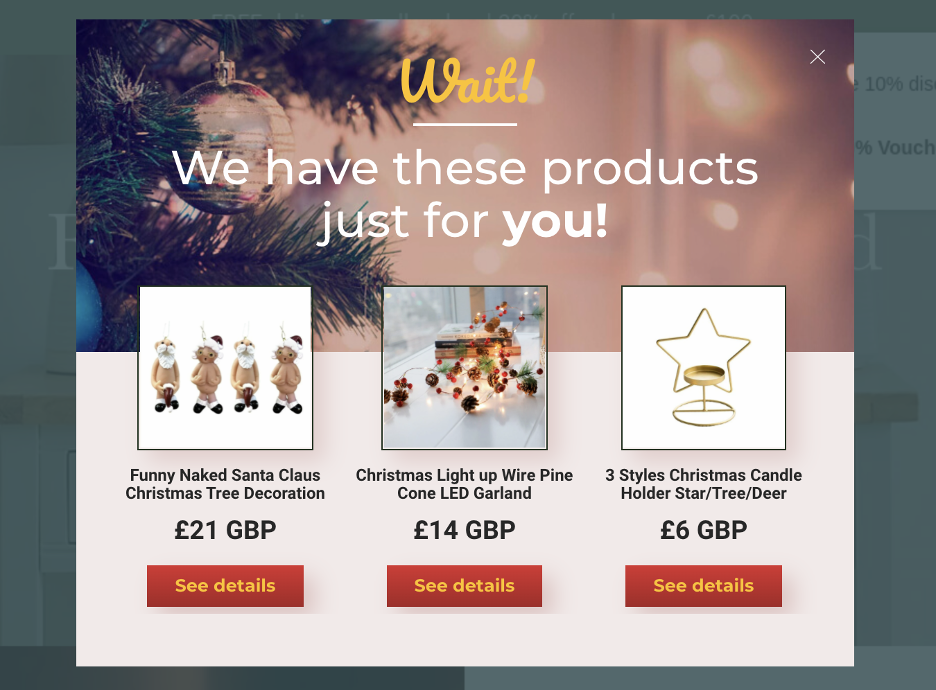 Give product recommendation popups a try with one of these ready-to-use templates:
4. Inform returning visitors about your sale
You don't want to show an email subscription popup to your returning customers who've already subscribed, but you still want to inform them about your sale.
This is where a simple informational campaign comes in handy.
Grosarget just wants to make sure that their visitors are aware of their sales, so they go ultra minimal. They simply feature a big "-40%" and a follow-up sentence letting visitors know the discount applies to everything on their site.
We've seen tons of unique popups, but none quite like Grosarget's. Check out how they created a Christmas tree from their products, complete with boxes for the stem!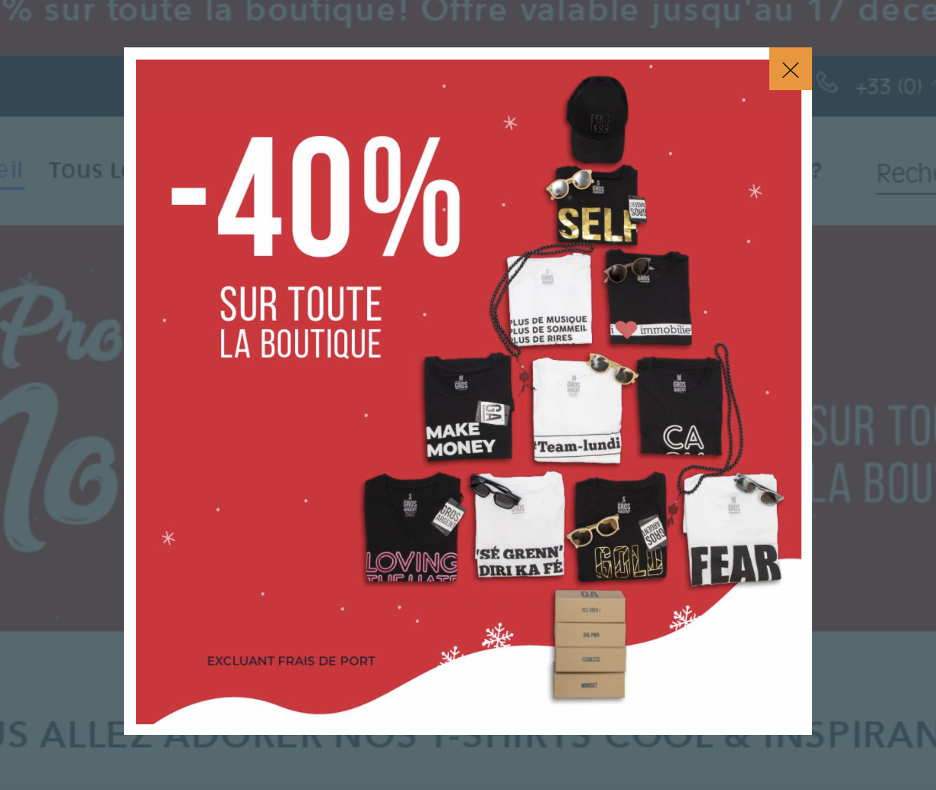 Embedded content is another great way to inform returning visitors about your sale while they're browsing your pages. You can get started easily with these templates:
5. Promote free shipping on a sticky bar
Buckaroo Bling uses this sticky bar to promote their free shipping offer in the days leading up to Christmas. And to top it off, they're also upgrading everyone's free shipping to Priority Mail.
The holidays are the perfect time for an offer like this, since there will always be people who are ordering their gifts a little bit late and want to make sure they'll arrive on time.

Choose this template if you'd like to set up a similar sticky bar on your site:
6. Stop cart abandoners
Cart abandonment popups are also a useful addition to your site during Christmas. These exit-intent popups can encourage visitors who've added items to their cart to complete their purchase rather than leaving.
The 15% off & free shipping offer gives visitors an extra incentive to check out, while the countdown timer adds a sense of urgency.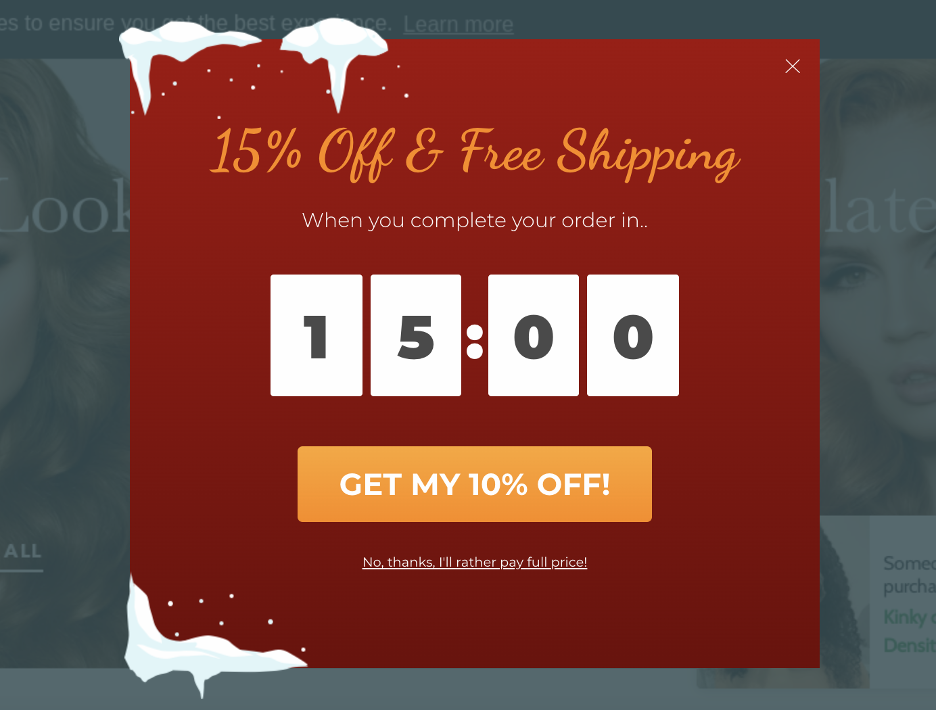 You still have time to set up cart abandonment popups for your Christmas sale with these pre-made templates:
+1 Encourage visitors to return to your site
Gutsy Goodness created a campaign that promotes "12 Days of Christmas." This is a great tactic because it entices visitors to come back to their site every day. Since consumers never know what the deal is going to be, they're always going to be curious to check it out!
They also added a countdown timer that displays how much time is left to take advantage of the daily deal. This creates a sense of urgency that nudges visitors to buy now rather than later.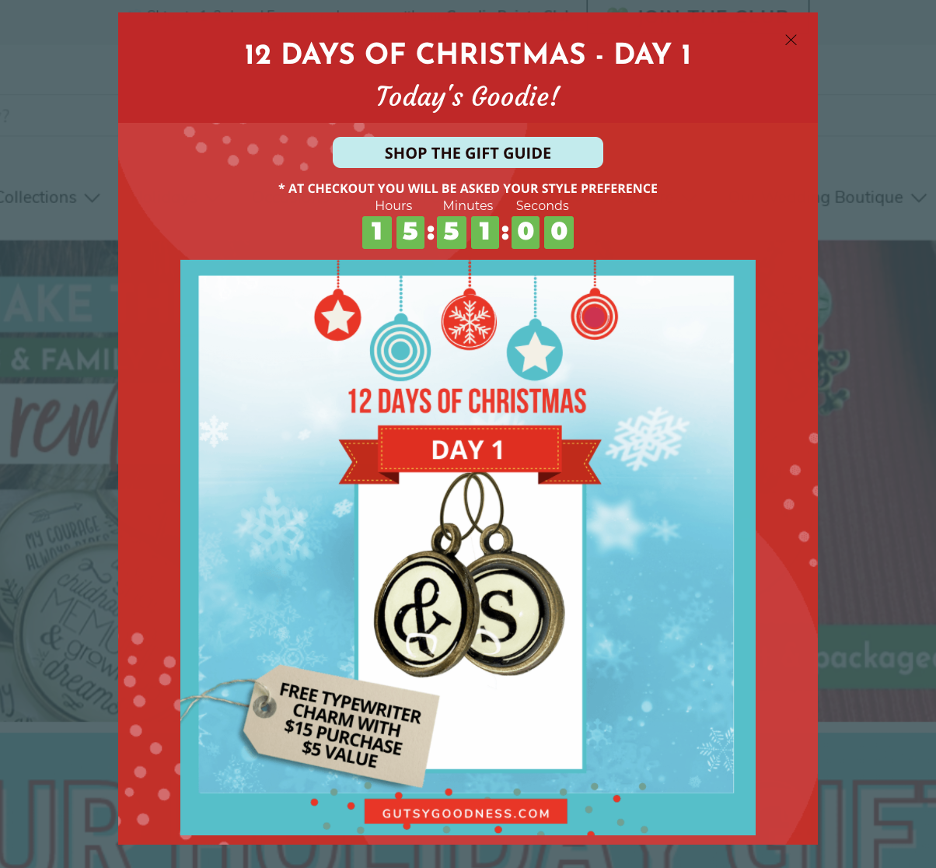 The holiday period can make or break an online store's entire year. It's crucial to use personalization to take full advantage of the season!
You'll see a difference in your conversion rate when you use exit-intent popups for cart abandoners and a spike in email subscribers after you install a lucky wheel for new visitors.
Hopefully, the real-life examples above have given you plenty of inspiration for your own seasonal campaigns. Remember, your store's seasonal goals should help you choose what kind of messages to use.
There's not much time left! If you haven't yet rolled out your Christmas campaigns, head on over to OptiMonk's template library and pick some out now!