What does it take for a marketing campaign strategy to really draw the target audience in and make a long-lasting, high-impact impression on this last quarter of the year, end of year sales? As a marketer, you will always spend absurd amounts of resources and time creating content and planning campaigns. For many of us, the end game is always to generate new leads that will eventually become paying customers.
Every year, as soon as the third quarter is behind us, it seems like the floodgates open – customers are in a generous mood. Without warning, there are a countless number of businesses rushing to cash in on a spending frenzy. To make the most of this season, you need to have a clear marketing plan to guide you and your business to make the most of the end of year sales.
October is here, that means raking leaves and cooler weather. In business, you are most likely planning on how to boost revenue for the 4th quarter, maximize your 2017 marketing budget, and set yourself up for success in 2018. It's a busy time for us all. Therefore, in this article, we will offer you brilliant ideas that will help you create an effective marketing campaign that will attract potential clients and boost your last quarter of the year sales!
Set a Goal
Although sales promotion is probably the primary purpose of all eCommerce sites at the end of the year, there are other goals you might set to boost your product and services.
Before you create your marketing campaign, you need to decide what you want to achieve and the results you want to get at the end of it all. Here are some broad goals to consider:
Increase brand awareness
Promote a new product or service
Boost user engagement
Gather user feedback or content
Develop brand ambassadors/advocates
Once you've decided on your big-picture goals, you can set smaller and SMART goals — goals that are specific, measurable, attainable, timely and relevant. Why? The more specific you are, the easier it will be to gauge the deviation and whether your goals have been met.
SMART goals are specific, measurable, attainable, timely and relevant.
Click To Tweet
Some of the examples of SMART goals are:
Use a multi-day giveaway or Twitter/Facebook contest to add 500 new followers.
Use a coupon that pops up and is downloadable to generate 500 sales or more.
That's enough for the goals, let's see those campaign ideas! 🙂
---
October 31: Halloween is finally here!
The leaves are changing, the school is in session, and Halloween is right around the corner! Children all across the USA dress in costumes and prowl their neighborhoods seeking candy treats while many cities and towns host costume parades.
Last year, it was estimated that Americans spent $8 Billion on Halloween. This is a great opportunity for all online retailers, regardless of what you're selling. With increased online traffic, you need to capitalize on visitors on your site and decrease bounce and cart abandonment rates.
You can get your popups looking sweet just in time for Halloween by uploading your backgrounds and banners. Customers appreciate a little personality and wit, therefore go the extra mile and create something that will jump out to them. Have some fun with it!
---
November 24: An event you can't miss – Thanksgiving Day/Black Friday
Thanksgiving Day is truly an American holiday. Friends and family gather on this day for a feast and to give thanks for the blessings in their lives. This holiday marks the beginning of the yearly Christmas shopping season, and thus, it is an important holiday which can boost your sale if well maximized.
If there's one thing that's certain about Black Friday shoppers is that they will be in a rush and at the same time not wanting to miss out on any deals. Many of them will visit your website while at work, or anywhere else where they won't be able to focus entirely on browsing it. Other people might be comparing many websites at a go. Therefore it is important that you assume that they won't spend much time finding out about your deals.
They'll want to know about the offer after landing on your site. Therefore, set up a popup that will tell every new visitor about any deals you have and direct them to your Black Friday deals page. Here's an example of a short and snappy Black Friday popup that quickly tells a visitor the most important thing they're interested in – the discount and the coupon code:
(Note: Would you like to learn more about onsite retargeting? Click here and download our free eBook that contains over 100 pages of tips and best practices for engaging and reengaging your customers, and boosting the sales on your site with onsite retargeting.)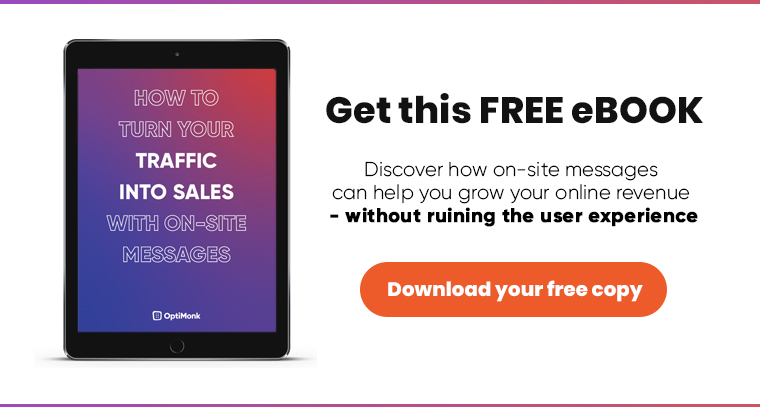 ---
December 5 – December 14: Maximize on the National Finals Rodeo
Las Vegas Nevada always hosts the grand championship of professional rodeo competition. Where the best professional rodeo cowgirls and cowboys compete for cash prizes and grand championships in traditional rodeo sports. The Wrangler National Finals Rodeo is coming back to Las Vegas! It's a big deal. One of the longest running annual events in Las Vegas, NFR features ten straight days of Rodeo held at the Thomas Mack center. The peak of this event isn't just about cowboys riding bulls and horses – tons of awesome performances and events pop up around town will happen in conjunction with NFR!
Here you can use a NFR focused social media campaign, e.g. a Facebook contest like Justin Boots did in 2014. You may encourage current followers to invite their friends, and even offer additional prizes to them for helping you spread the word.
---
December 25: Christmas Day
During Christmas, people tend to be generous with their spending. You have to seize this opportunity and use it to get more sales. Use of an onsite retargeting campaign may be the appropriate way of attracting potential buyers. Popups are a sure powerful tool to build awareness and drive engagement on your website, especially in this season when visitors are surfing many sites, jumping from one to another.
You can run a Christmas contest just like Extreme Digital did on the example below. They offered two choices to segment their visitors based on gender.
---
After Christmas Sales & Clearance
After Chrismas sale & clearance is a great way to sell any overstock products. Visitors are expecting big sale during these days and you shouldn't make them feel disapponted.
Not to mention the gift card and money people got for Christmas. They will be up and ready very quickly to spend it and get the desired product.
---
December 31: New Year's Eve
The end of the year is busy with holidays, travel and gatherings. There will be New Year's Eve parties all across the continent with loved ones getting presents and gifts for each other. It is always important to look for new ways to promote and attract customers to your businesses. One marketing technique that continues to gain momentum is e-newsletter advertising. By sending targeted messages to a particular select group of clients can increase your bottom line sales while building awareness and loyalty to your business. For these reasons, e-mail promotion has some significant advantages like saving on cost and reaching on your target or specific clients.
Conclusion
Alright. If you were waiting for the perfect time to start building your end-of-year campaigns, the time is now! This end of year period can be a great head start for next year's profits.
Onsite retargeting is a great way to display your Holiday offers, so don't forget to set it up, then enjoy the last months of 2017! 🙂
What's your plan to boost your end-of-year sales? Let us know in the comments.
(Note: Have you heard of OptiMonk? It's a powerful onsite retargeting solution that helps you convert up to 15% of abandoning visitors to sales and leads. Give it a try – click here to create a free OptiMonk account now.)