Although Christmas is over (and the busiest season for ecommerce), you'll have many other opportunities to boost your store's revenue since there are plenty of other holidays too!
A good seasonal sale takes lots of planning and preparation. It means that now is the perfect time to start thinking about all those promotions you'll run throughout the year.
Take a look at our list of seasonal campaign ideas below to see if there are any that'll inspire you for your own store. Our wealth of pre-made templates make it easy to promote your seasonal campaigns.
Let's dive right into some of the best holidays for running seasonal sales in 2023.
1. Promote a Valentine's Day sale
Valentine's Day is an excellent opportunity for many businesses to jumpstart their sales after a quiet January.
It's a holiday where people spend time together and appreciate their loved ones. This creates a sense of urgency for consumers as they try to plan ahead and find the perfect gifts.
Floweradvisor.co.id uses a simple yet lovely popup design to show that "iconic romance" image that we think of for Valentine's Day. The eye-catching contrast of the black background and red roses look beautiful together, while their copy encourages shoppers not to miss out on their chance to buy Valentine's Day flowers at a discount.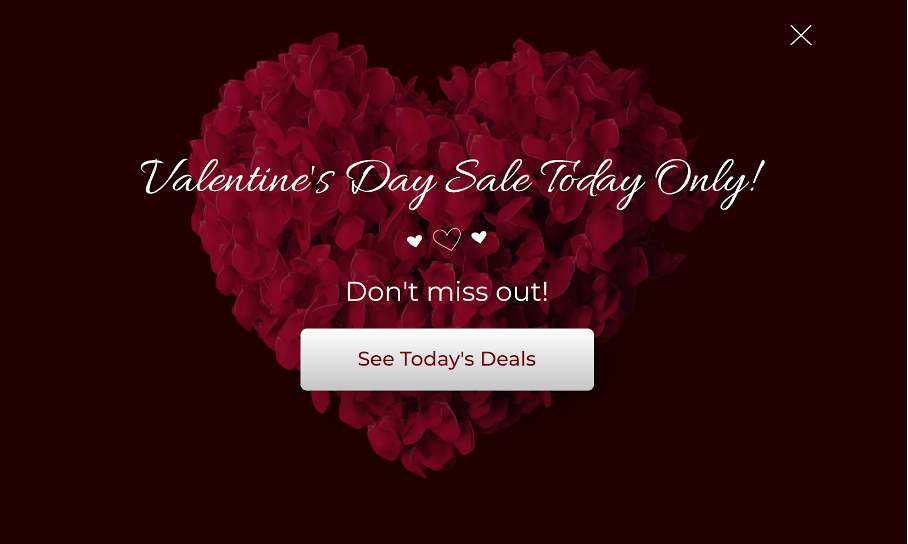 You can use the template below to create a similar Valentine's Day promotional campaign:
2. Channel the luck of the Irish with your St. Patrick's Day popup
St. Patrick's Day is a popular holiday in Ireland and the US, and it's all about having fun with your friends.
From green beer to a traditional "corned beef and cabbage" dinner, a lot goes on in every city and town, leading up to March 17th.
You can tap into this enthusiasm by running a gamified popup like scoutandpoppy.com did. Lucky wheels are an incredibly effective method for building your email list because your website visitors will enjoy playing them.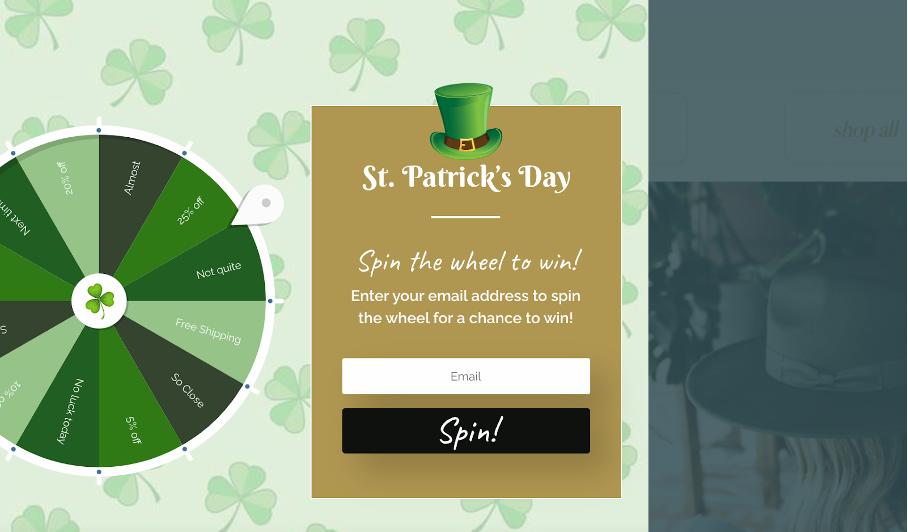 You can create your own St. Patrick's Day lucky wheel with this template:
3. Create an egg-cellent lucky wheel campaign for Easter
Lucky wheels also work great for Easter because they resonate with the excitement of getting up early and looking for all the treats that the Easter Bunny left behind.
Dreampiece.hu brings that to life with their bright, springtime colors and their cartoon bunny and eggs.
It's always a good thing when you can make your customers smile by reminding them of the child-like fun of Easter.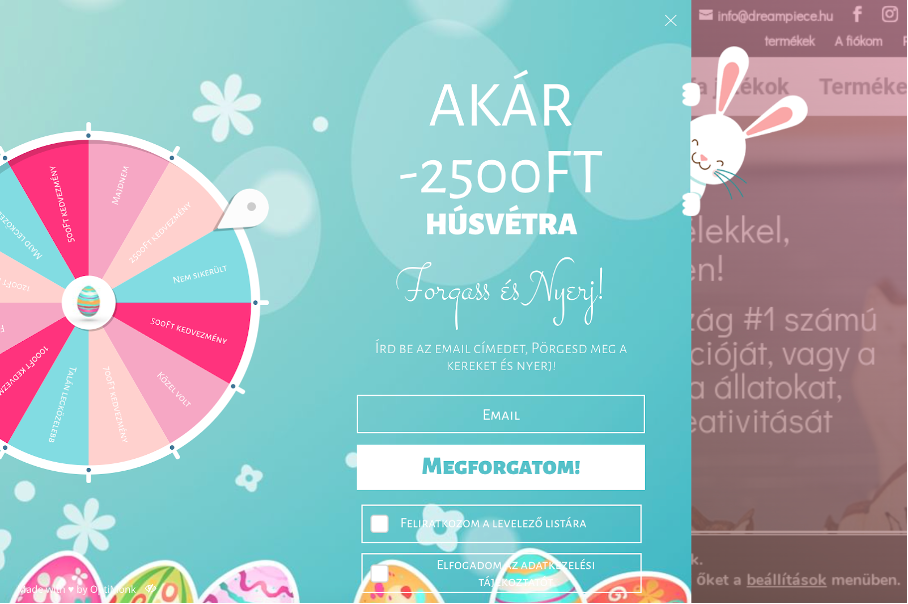 Want to create a similar campaign? Use this template:
4. Celebrate Mother's Day with a sale
The next major gift-giving holiday after Easter is Mother's Day, which gives many people a chance to celebrate the important moms and maternal figures in their lives.
Children of all ages love to give their moms heartfelt gifts and treat them on this special day.
Annandeveboutique.com used a 20% off sale in the lead-up to Mother's Day to encourage their visitors to buy gifts. The online clothing store also used a 15-minute countdown timer to motivate their shoppers to purchase right then and there instead of waiting.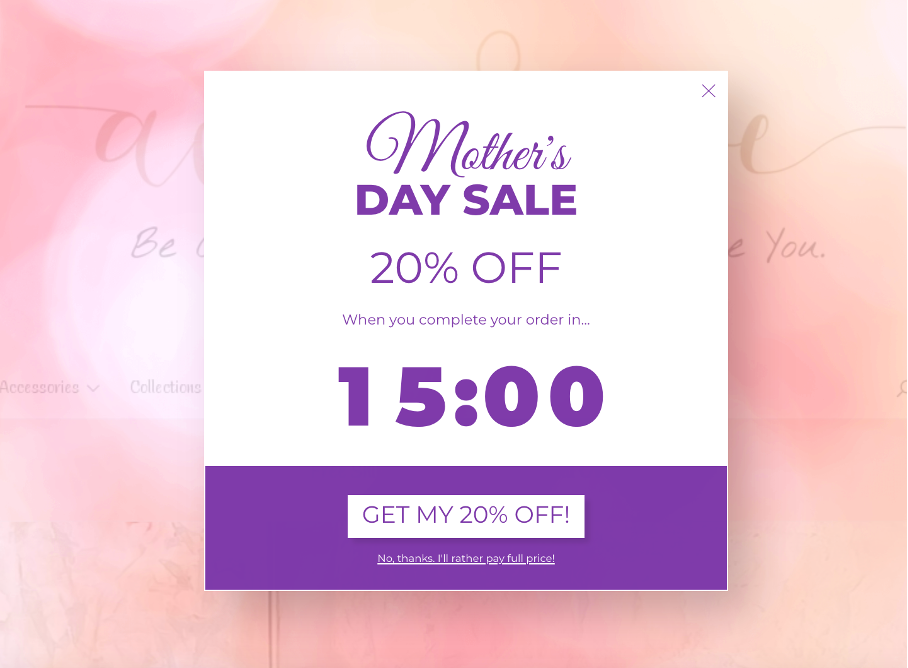 There's a whole range of similar campaign templates in the OptiMonk template library, including the one below:
5. Heat up your sale during the summer
You can create a seasonal sale without tying it into a specific holiday. Running a summer sale is a great way to encourage people to buy the products they'll likely need during those hot and humid months.
Paintwithnumber.com combines a few different incentives in their seasonal summer offer. Their customers can get free express shipping, which ensures that their purchases will arrive at their door quickly, as well as a 5% off discount.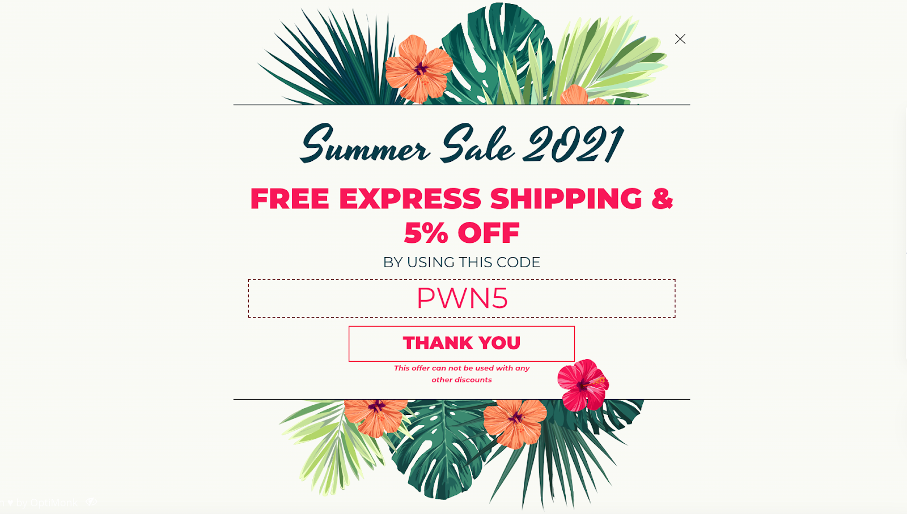 You can create a similar campaign by using this template:
6. Win back cart abandoners on Children's Day
In addition to running seasonal sales, you can also update your cart abandonment campaigns regularly, to match different times of the year and specific holidays. This helps keep your site feeling fresh for your visitors, so they won't get stuck seeing the same type of campaigns all year round.
Thestemkids.co designed a unique cart abandonment campaign to accompany their International Children's Day sale. They offer departing visitors an additional 15% off if they complete their order before the timer runs out.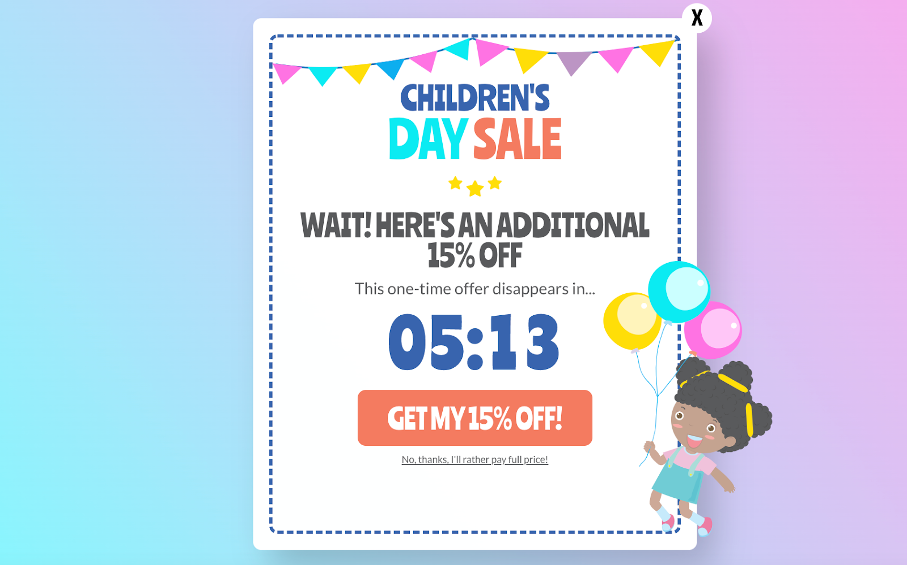 Create your own Children's Day cart abandonment popup by using this template:
7. Highlight your Father's Day sale with a sticky bar
Father's Day is another holiday to show appreciation for a parent or parental figure.
Since many shoppers try to find a gift their fathers will love, it's a good idea to highlight products that an older, male demographic tends to enjoy.
Gokonnect.ie promotes outdoor camera systems on their sticky bar, as well as a "Buy 1 Get 1 Half Price" deal.

You can create your own Father's Day sticky bar by using the template below:
8. Promote your 4th of July sale
American culture is all about celebrating the 4th of July with BBQs, fireworks, and even indulging in a little bit of shopping.
Bobo-balance.shop used a killer 4th of July template to promote their sale. The flag and the Statue of Liberty really reinforce their appreciation for Independence Day and US freedom.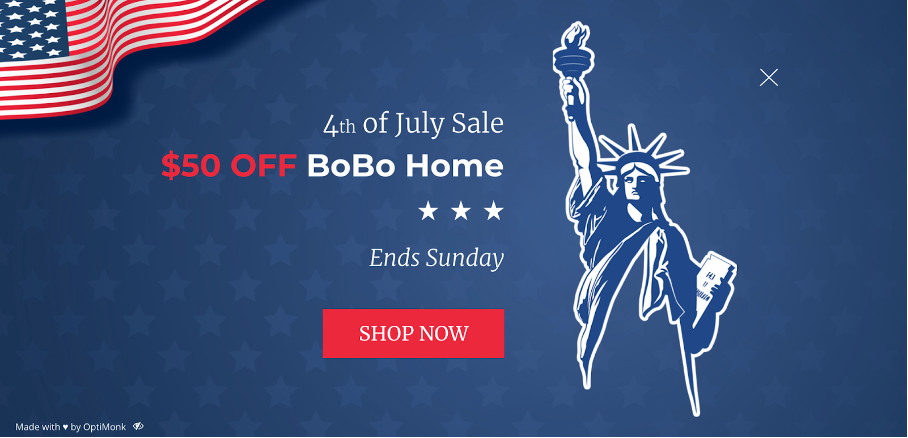 You can make a campaign that looks just like this one by using the template below:
9. Celebrate back-to-school season with a gamification popup
If your business caters to children or to the education sector, then the back-to-school season will be among the most important periods for you.
You can take full advantage of this busy time by both making sales and building your email list (which can lead to more sales in the future).
Shopalabasterbox.com has done exactly that with their school-themed lucky wheel.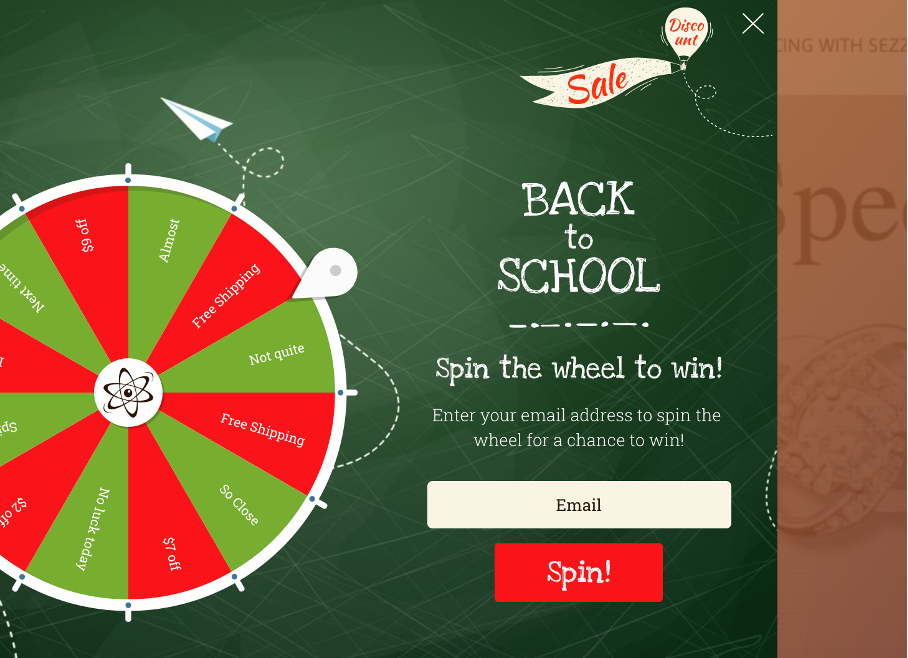 Create your own back-to-school lucky wheel with this template:
10. Highlight your autumn sale
As the weather gets colder and fall colors start appearing outside, the needs and tastes of consumers also change.
Someone might want a new bathing suit during the summer, and in the same way, they'll be more inclined to buy a book, candle, or comfy sweater by the time October rolls around.
Your store can meet those needs with a seasonal sale that puts the fall feeling first. Check out franzis.de's take on the fall seasonal sale: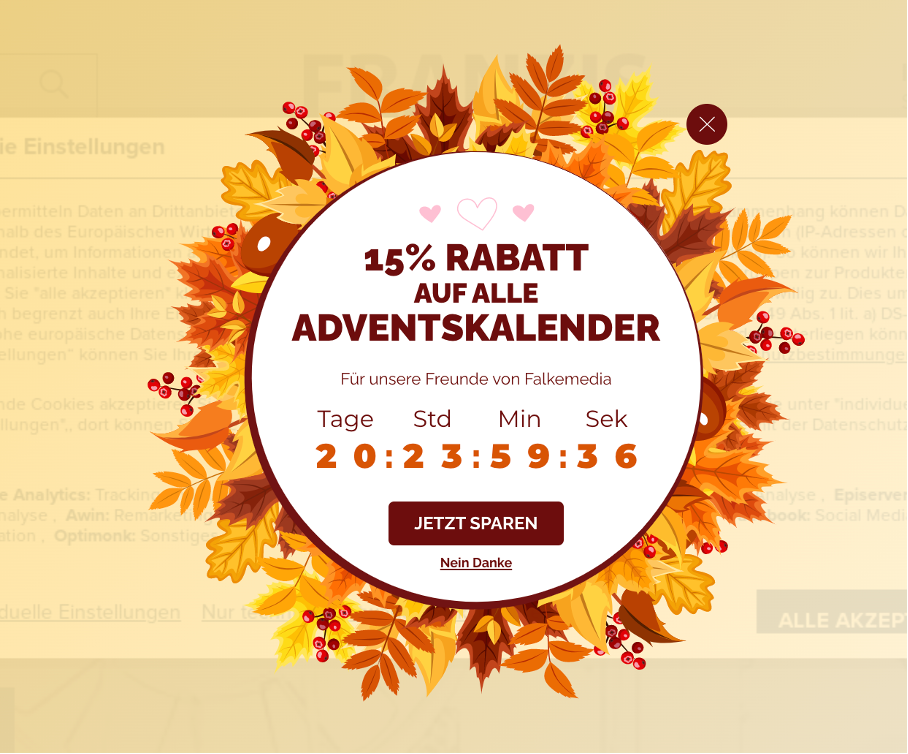 Want to make a popup that looks as autumnal as the one above? It's easy with this template:
11. Create spooktacular popups on Halloween
Halloween is another holiday that's ripe for a seasonal sale. It can be really fun for your visitors to see your spooky-themed promotions as they look forward to the coming holiday.
Ebikevault.com went all out on the Halloween imagery and colors in the example below. They even used "SPOOKY" as their discount code.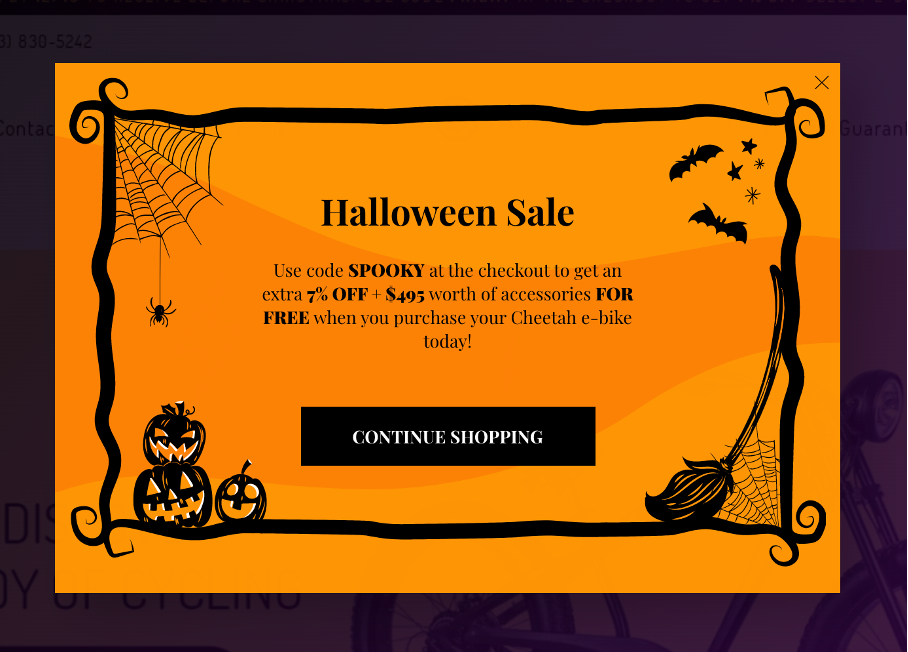 You can click below to use this template and create your Halloween-themed campaign:
12. Boost your sales on Black Friday
By the time you're done with your autumn and Halloween sales, it'll be the busiest period of the year again.
You'll want to start promoting your Black Friday deals well before the actual day. This builds a sense of anticipation and gives your shoppers time to plan and take advantage of your deals.
The promotional popup below effectively announces what tuur.shop needs to get across: their big upcoming Black Friday sale and generous 30% discount.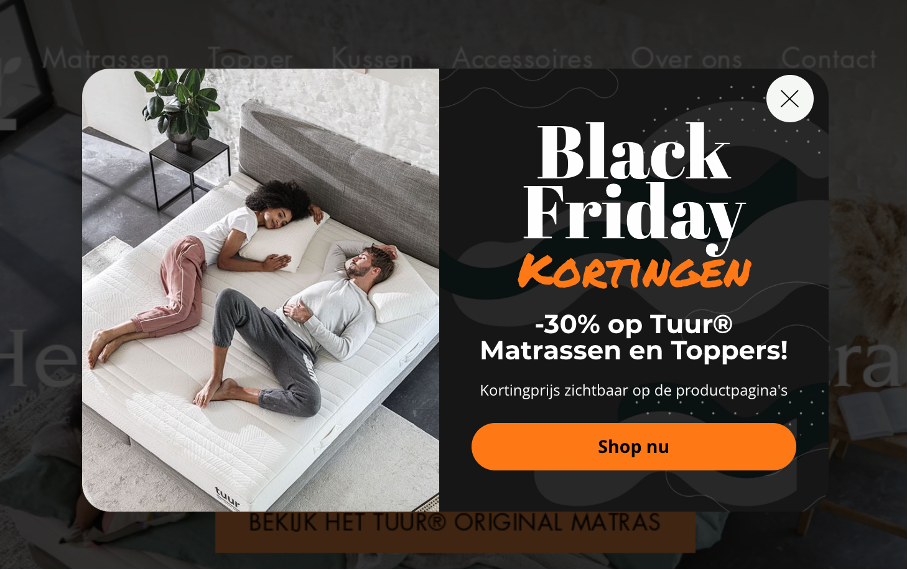 If you'd like to create a promotional popup for your Black Friday sale, give this template a try:
13. Promote your Cyber Monday sale on a popup
If your store focuses more on Cyber Monday (instead of Black Friday), don't worry, you also have great ways to promote your sale with popups.
This example from hisleep.de uses a simple yet attractive design to communicate essential information to their site visitors. They offer a huge 70% off discount, which effectively draws their attention to that number.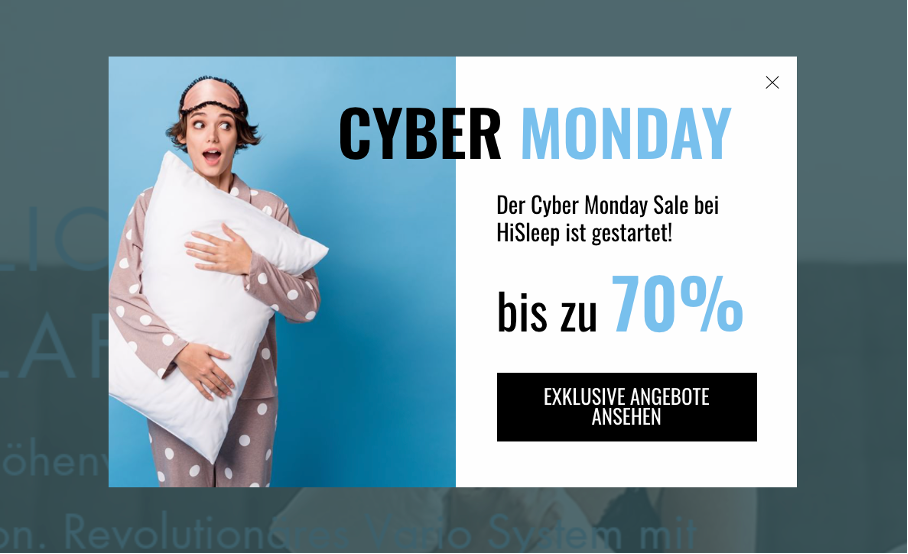 Here's a Cyber Monday template that you can use to create a powerful campaign:
14. Feature Santa Claus on your Christmas popup
Your Christmas popups should convey a sense of festive cheer to your visitors. Otherwise, they could come off as inauthentic and salesy.
One of the best ways to do this is by using a classic Christmas design and a dynamic popup.
Skymall.com's popup uses a funny cartoon of Santa Claus to promote their special holiday offer. Even better, they use a "scratchcard." It means that website visitors can enter their email addresses to reveal surprise discounts that are "hidden" until they "scratch" off the top layer of the gameboard.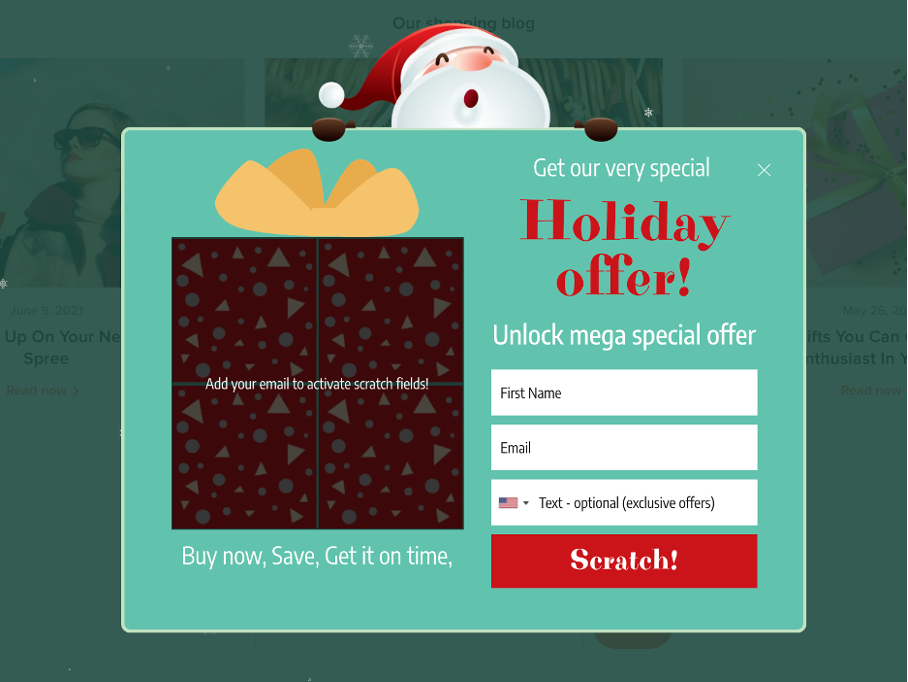 The template below allows you to create a similar gamified Christmas popup. You can customize the rewards and the number of chances each customer has to win. It's a fun game and it's easy to set up.
Feel free to try it out here if you think it would make your shoppers smile:
15. Ring in the New Year with a fullscreen popup
And finally, you'll have the opportunity to offer a New Year sale.
This Breove.com example captures the celebratory atmosphere of New Year's Eve perfectly. Calling it a 'Carnival' is a nice touch.
Their choice to use a fullscreen popup ensures that everyone who sees it will know about the deal.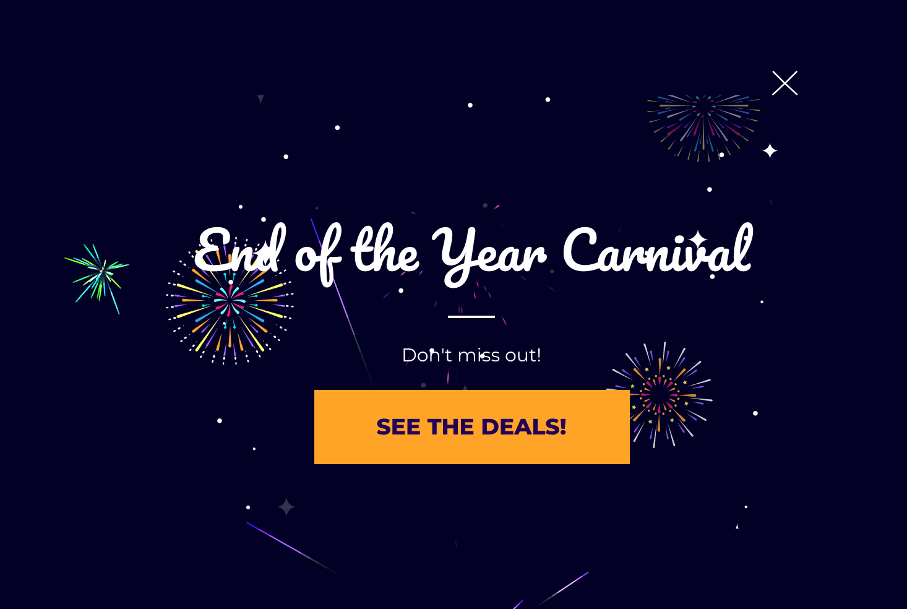 You can also create a similar campaign with this stunning template below:
Start off the year with new campaigns
We hope that you found our list of seasonal campaign ideas helpful for your store.
You can make the most of them by using our themed templates. If you're searching for even more options, take a look through our full template library here. You're sure to find one you'll love.
Which popup stood out the most to you and why? Tell us below!