How can you make your ecommerce site stand out from the rest of the digital pack? Simple. Give it personality.
These days shouting to get your message across won't get people to hear you. You've got to speak softly in a way that makes your customers feel at home. Without personality, your shop looks just like any other shop to a potential customer and you're shouting at them as they are passing you by.
Add a little personality to your online shop and your customers will feel a greater sense of intimacy and a greater connection to your brand and hopefully become brand advocates. Now, instead of passing you by, they might stop in and say 'Hi'. Oh, and of course, they might buy something too!
The Internet is a powerful and democratizing technology. With free shopping cart software, affordable web hosting, and the ability to market to large audiences through Google and Facebook, it seems like anyone can start a successful ecommerce business. However, with increasingly tight competition, it's no longer enough to have a responsive website with a perfect landing page and a seamless checkout procedure — as if that wasn't enough on its own. To really stand out from the crowd, you've also got to display a sense of personality on your site to build intimacy with your customers.
13 tips to make your online store stand out
In this post, we've collected 13 easy-to-implement tips that are proven to add a sense of personality to your site and build intimacy with your customers. One more note before we get started, in the event your ecommerce store specializes in products for heavy metal music fans, shouting your message might make sense.
In all seriousness, it does you no good to make jokes on a site if you sell a product that helps with a medical condition. In this instance, you could add a sense of compassion or responsibility to show your personality on your site. The point is to add a sense of personality that fits with your audience.
1. Develop a unique concept
A unique site concept goes a long way towards embedding itself in the minds of customers. This uniqueness can come in many forms, such as unique colors, an interesting layout, innovative presentation, and a distinctive tone of writing. All of these can show your personality and place your site a cut above the competition.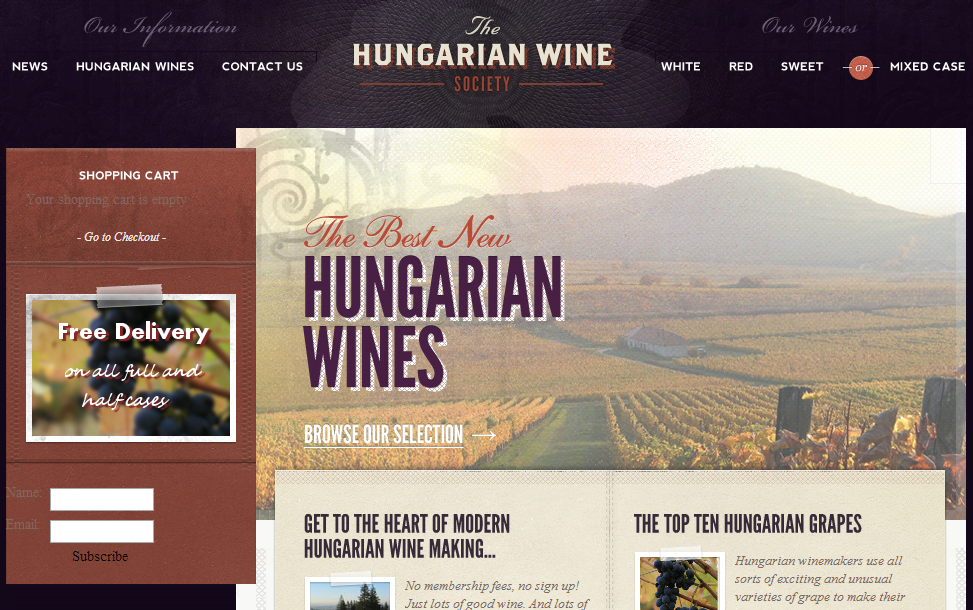 This site has a unique layout and color scheme reminiscent of a wine bottle, a design that matches the products it sells. Additionally, the background photo on the landing page evokes a rustic feeling with an image of the vineyards in Hungary.
HungarianWineSociety.co.uk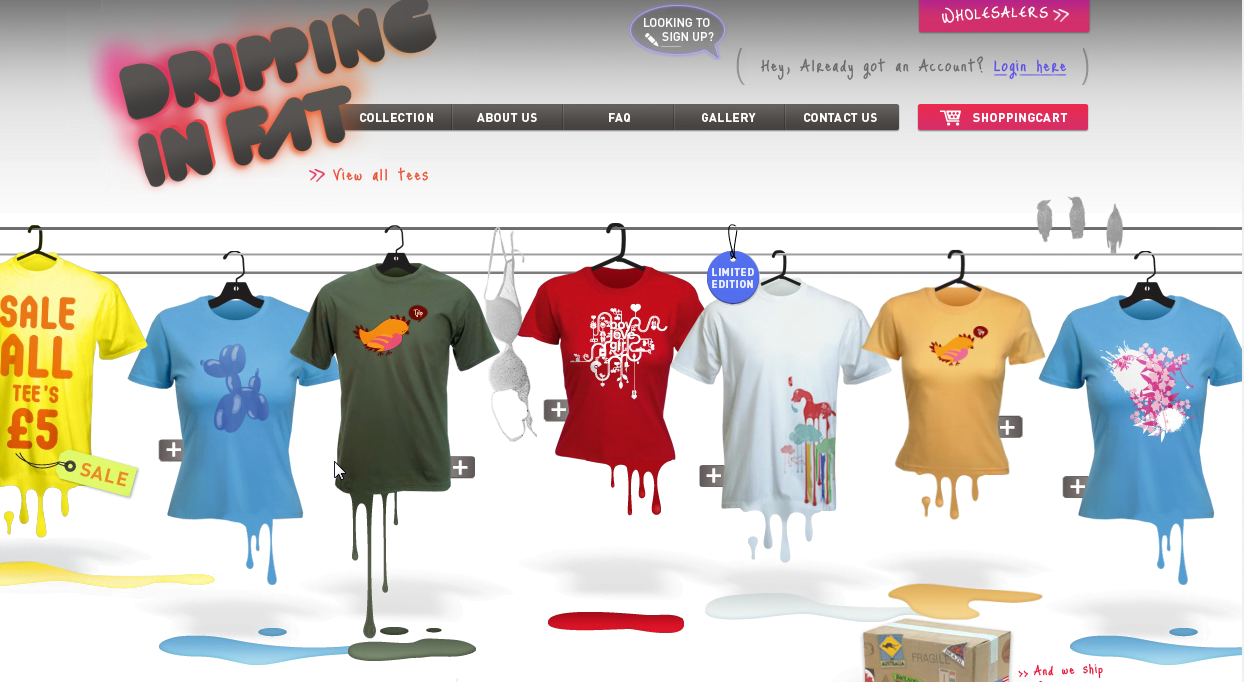 This web shop displays T-shirts in a way that is familiar – hanging on hangers, and unique – dangling next to birds on power lines. The dripping paint is also a clever reference to the site's name: Dripping in Fat.
Drippinginfat.com
There's nothing wrong with being serious. In fact, many corporate sites with online stores take themselves very seriously. However, humor can be a very powerful tool in your marketing toolkit; it humanizes the subject, and can win over even the most skeptical of audiences.
Remember to tell jokes that you think your audience will appreciate. Carefully examine and test any attempts at humor before going forward, because what is funny to some people may not be funny to everyone.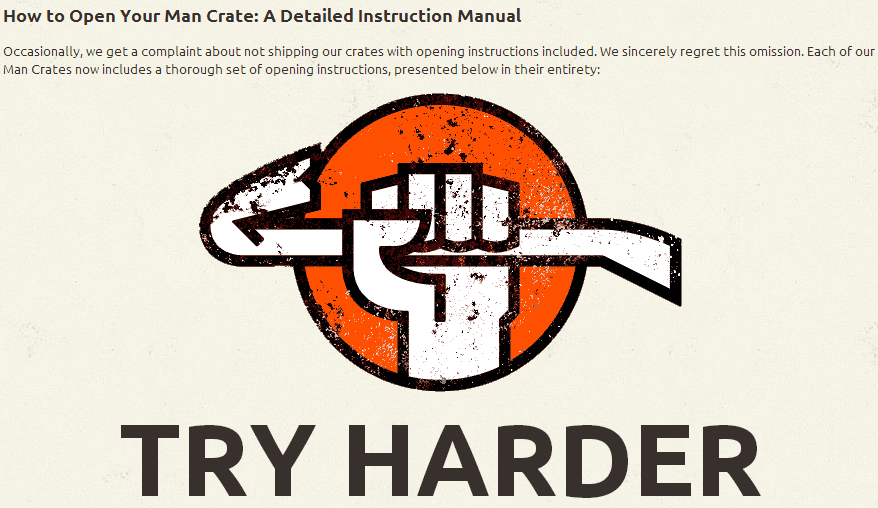 The humor here is aimed directly at the customer while simultaneously reinforcing its manly branding. In other words, real men need no instructions!
Mancrates.com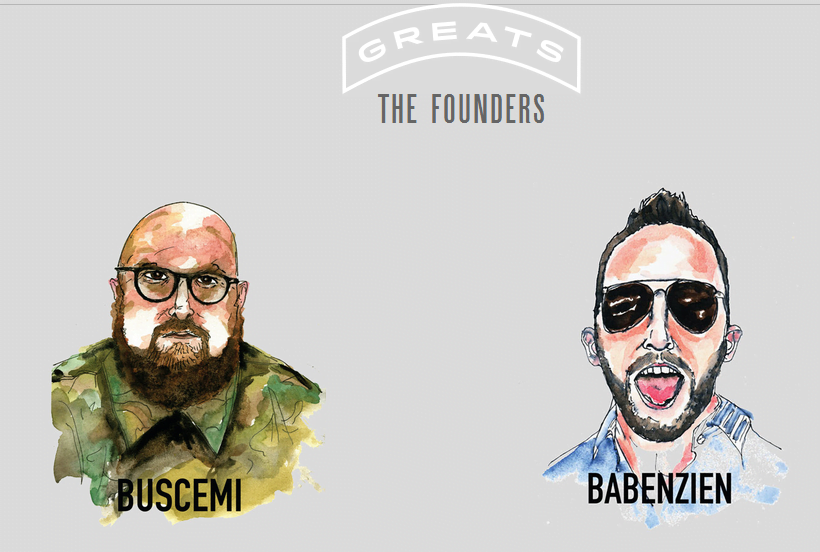 The humor used here is aimed inward: Greats.com's caricatures of its founders humanize them and make them more accessible to customers.
Greats.com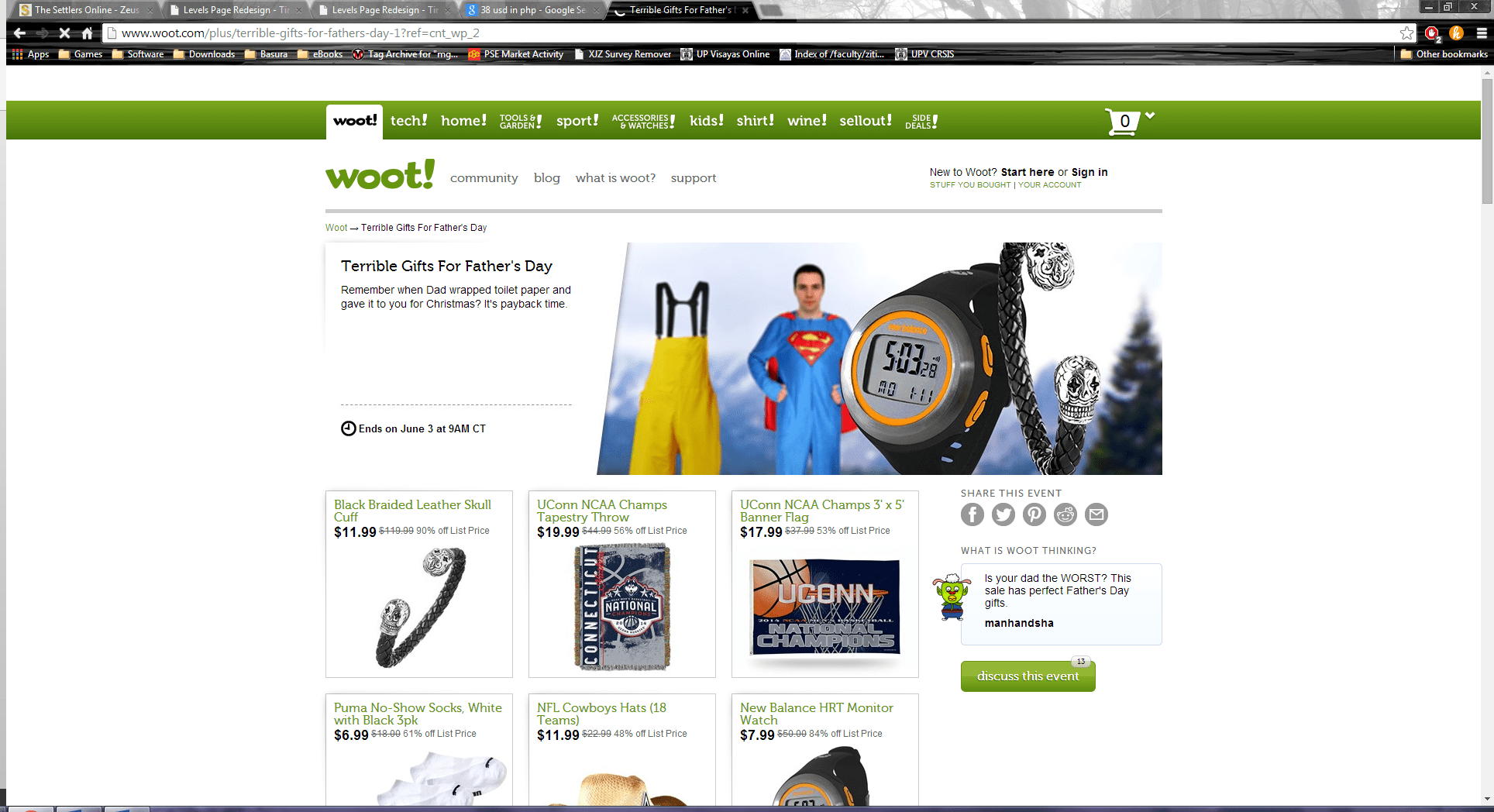 Although now a part of Amazon, woot! maintains its idiosyncratic brand thanks to its snarky humor.
woot.com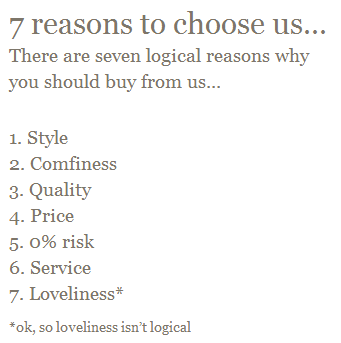 Sofa.com uses a brand of snarky, tongue-in-cheek writing that is endearing to audiences.
It uses humor to drive home the tagline of "easy, fast & free" in its mock Venn diagram.
Sofa.com
3. Display social responsibility
Corporate social responsibility is a concept where a company displays a sense of responsibility towards the community and the environment in which it operates. Here's an example of a way to show your personality and you don't have to be funny or quirky if it doesn't suit your audience.
Often social responsibility is good for corporate sites. However, audiences today are more socially conscious, and are willing to patronize ethical companies that embrace social responsibility, even if the products are more expensive (examples: conflict-free diamonds and Fairtrade rules for farming).
As a result, more and more ecommerce sites are seeing the value of showing the socially responsible side of their personality on their site. A company that displays its social responsibility up front and center becomes more human and appealing.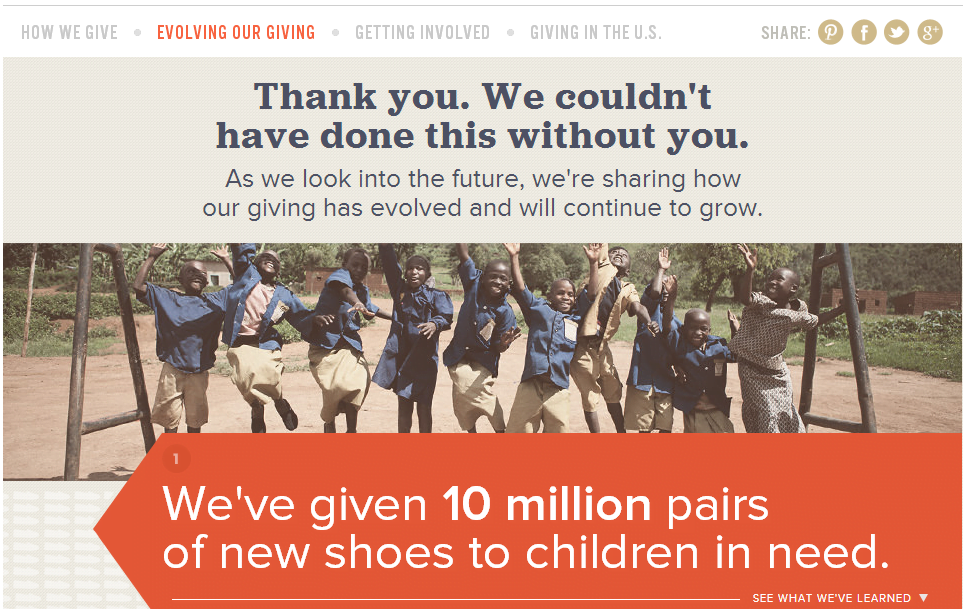 Toms.com has a unique value proposition—its "One for One" founding concept links altruism to commerce. For every pair of new shoes it sells, the company donates a pair of new shoes to a child who needs them.
Toms.com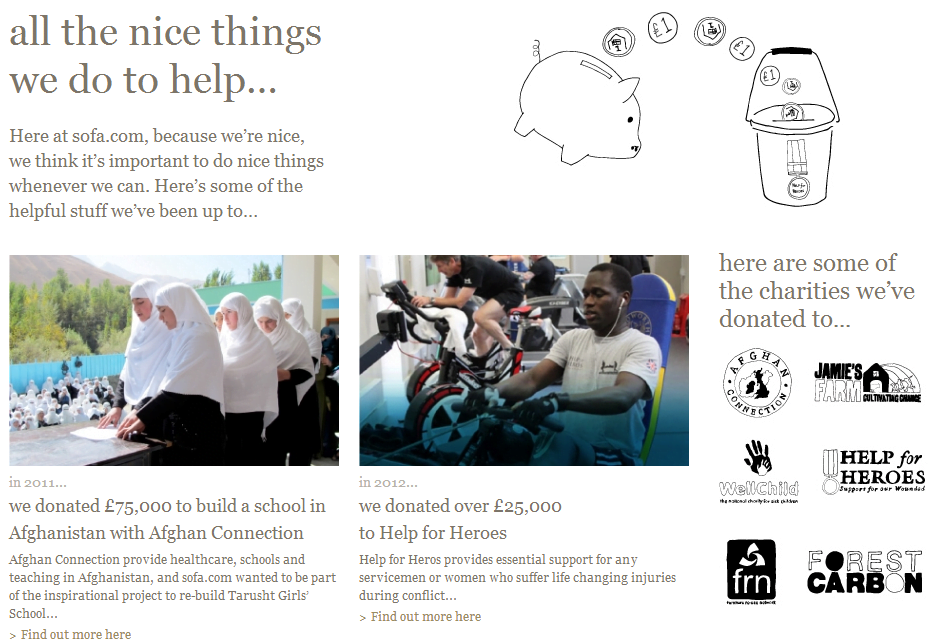 Sofa.com drives home one of its core values, "nice", by proudly displaying the charitable contributions it made to special-interest organizations such as Afghan Connection, Help for Heroes, and Forest Carbon.
Sofa.com
4. Give your shop a human face
Nothing humanizes a site more than attaching the face of an actual human being to it. This transfers your customers' impressions of the face to the site itself. However, the face must be real—either the owner's face, or the faces of the site team. Do not use airbrushed models and stock photos to market products, because these can backfire and raise doubts about the site's sincerity.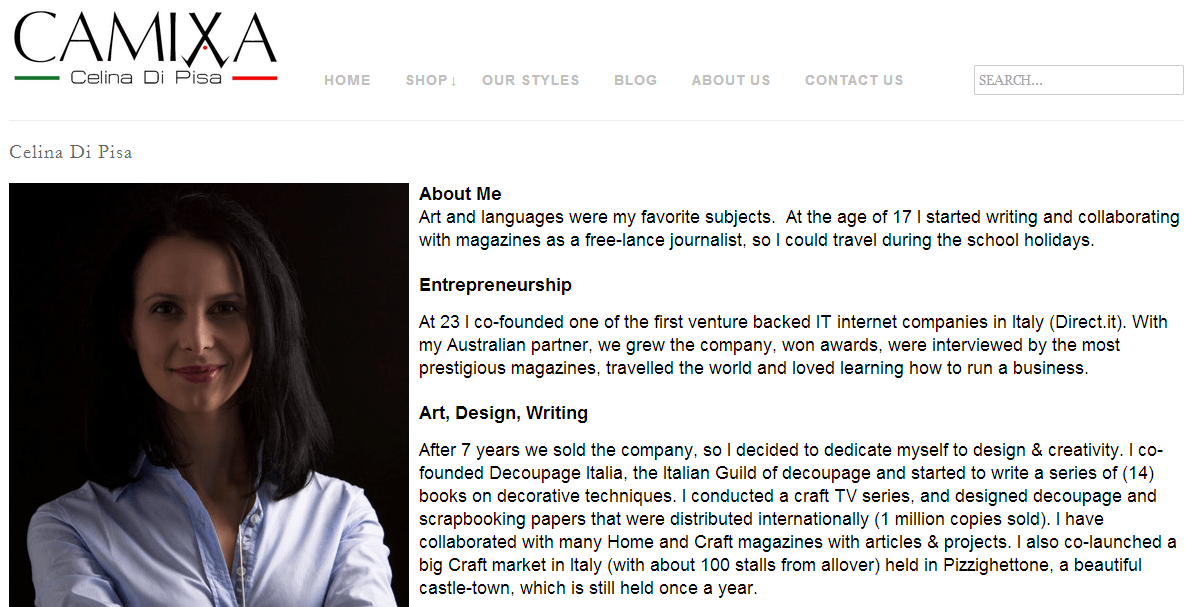 This artisanal crafts and fashion site puts the founder right up front on center stage. By sharing her favorite subjects, personal history, and interests, the owner becomes more relatable, and the added personality increases the appeal of her site.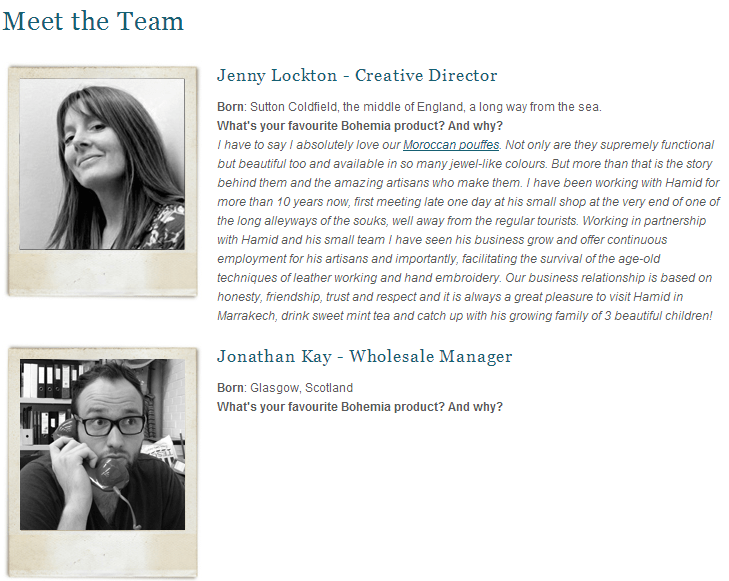 This design boutique introduces its creative team, whose personal testimonials give the site an opportunity to market its Moroccan pouffes, and give readers a glimpse behind the curtain at the suppliers of its products. Sometimes adding personality simply means adding a personal touch.
Bohemiadesign.co.uk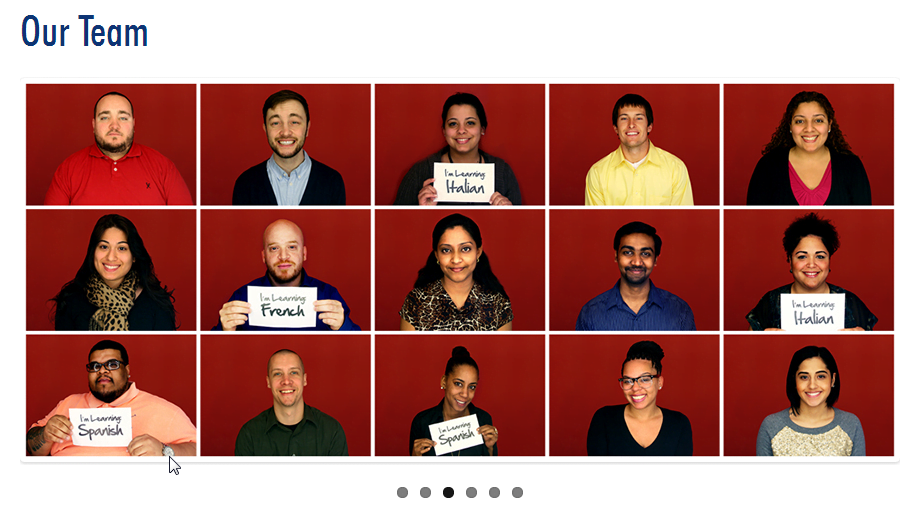 Pimsleur Approach adds a personal touch to its site by featuring its linguistics team. By using fun cue cards that display the languages its own staff are learning, the site makes itself more relatable to customers, who are availing themselves of the same language learning services.
Pimsleurapproach.com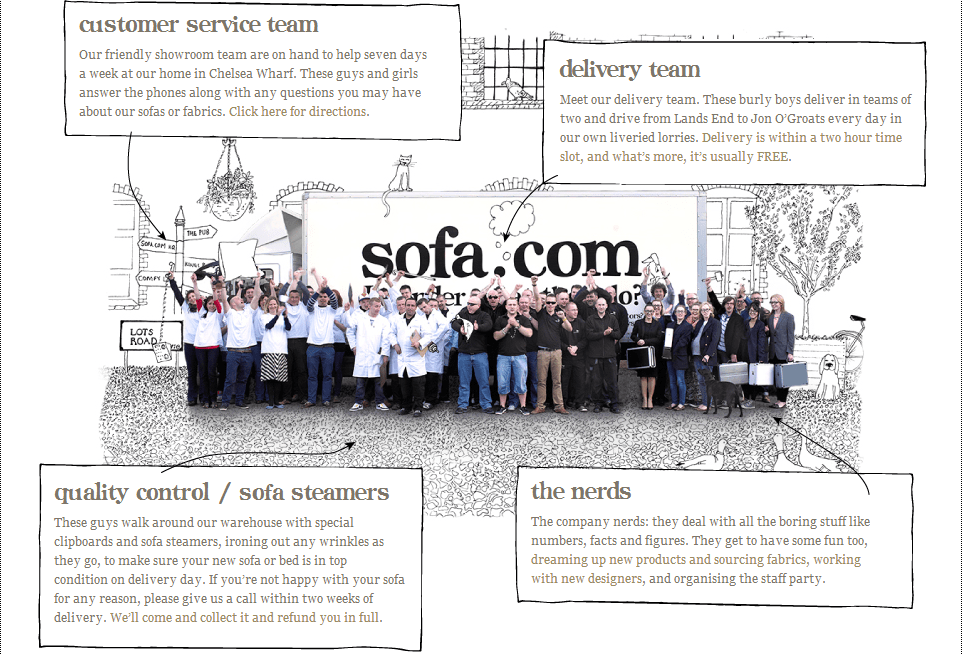 Sofa.com uses a mild self-deprecating tone, which adds personality to their site while also subtly describing the level of quality in their working environment.
Sofa.com
5. Show gratitude to your helpers
Saying thanks is a great way to add personality to your site and connect with your audience. According to psychological studies, gratitude is a powerful emotion that strongly affects well-being. It's the warm and fuzzy feeling you get when helping out – not only you, but also everyone involved.
Showing gratitude to those who helped build your site distinguishes it from most ecommerce sites that don't exhibit as much emotion. This can greatly increase the humanity and appeal of your online store.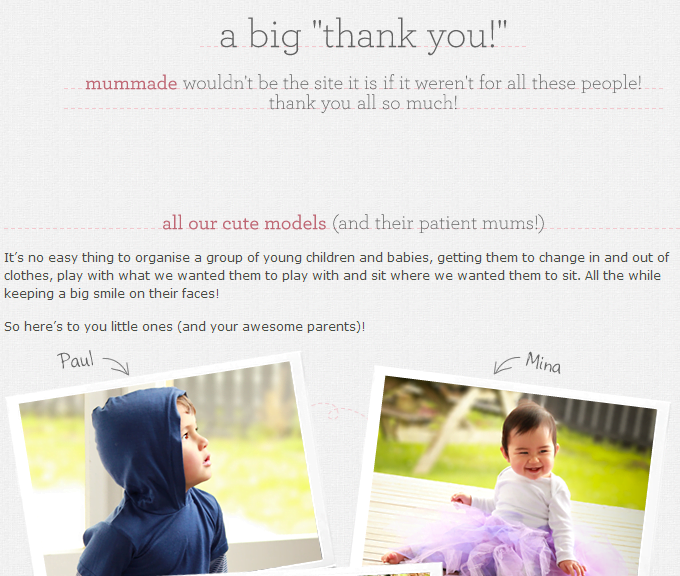 Although Mummade used child models in its advertising, its expression of gratitude – made genuine by their knowledge of the models' names – elevates it above its competition. This expression of gratitude is a great way to add personality that fits with their audience—parents of young children.
Mummade.co.nz
6. Celebrate your site's birthday
People are not the only ones who can celebrate a birthday. Celebrating your site's birthday adds a touch of personality by assigning human attributes to your site. At the same time, a birthday celebration also provides an online store a good opportunity to garner publicity and stimulate sales.


This fashion retailer uses its birthday celebration as an excuse to offer a sale. Given the viral nature of the Internet today, the coupon code will likely spread throughout the web and increase the number of visitors to the site. It may also improve the company's brand recognition and name recall.
Modnique.com
7. Focus on your "About Us" page
The "About Us" page is a convention adopted by sites all over the web. Although some designers may defy convention, there's a reason why so many sites have an "About Us" page – it's effective. The phrase is only seven letters long, but there is no doubt about what it means – it provides information about the company. Because of widespread exposure, visitors don't need to be told where to click to find more information about your web shop. By all means, innovate on layout and design, but don't forget your "About Us" page.
Remember, every part of your site is an opportunity to add personality. Especially the part of the site that's about you! Most "About Us" pages are dry, boring, and filled with corporate-speak. By focusing a little attention on this oft-neglected page, you can easily set your site apart from the rest. According to the Marketing Sherpa, a fancier "About Us" page can increase conversions by 30 percent, so it's well worth the time and effort to create something special.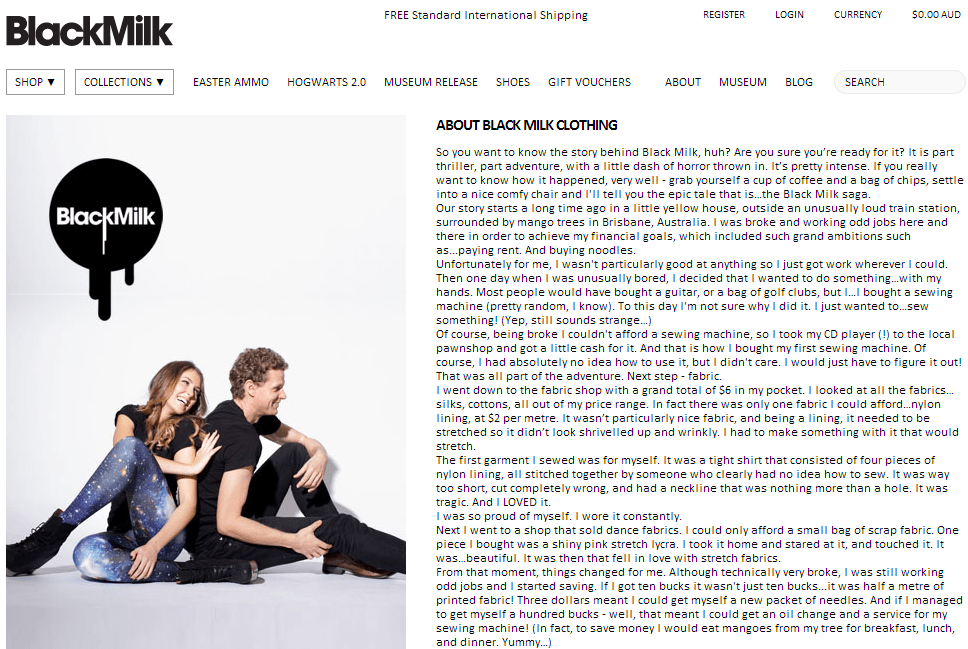 Although wordy, this is definitely not a page written by lawyers. Black Milk Clothing uses its "About Us" page to humanize its founder and give the site added personality by "keeping it real."
Blackmilkclothing.com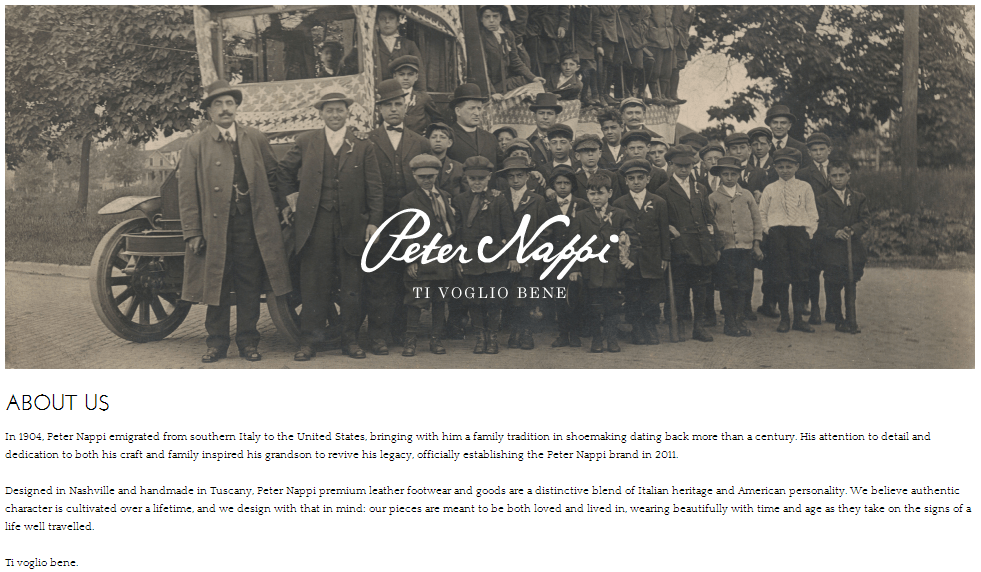 Peter Nappi's "About Us" page conjures up an image of bygone times, when life was simpler and more fulfilling. Although the company is actually fairly new, it has the feel of an old and well-established brand.
PeterNappi.com
8. Have a snappy vision and mission
Sometimes the difference between a mission and a vision can be confusing. Some companies have one without the other; others have both; and some combine them into a single statement. Simply put, a vision statement describes the company's dream or a goal. In other words, where are we going? A mission statement describes a company's purpose and answers a different question, why do we exist?
Strictly speaking, vision and mission statements aren't a necessity. Surprisingly, Apple Inc. doesn't have one. Still, well-written vision and mission statements can help a webshop align the views of the company with the views of their audience while adding some personality to the site.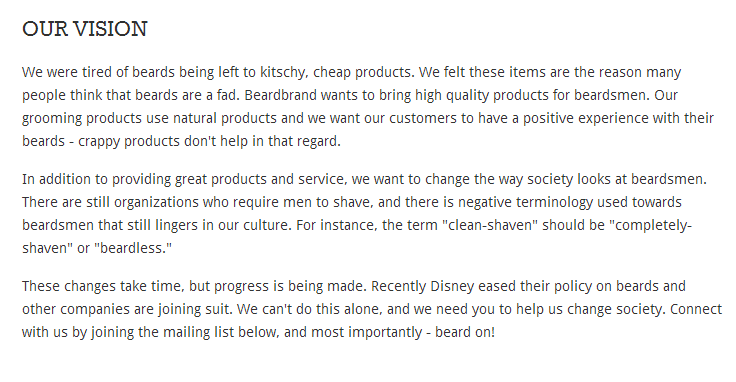 Beardbrand reveals its raison d'être — providing quality grooming products for bearded men. By taking a stand and announcing a societal call-to-arms in its vision statement, it creates an emotional connection with the target customer and greatly increases the chances of conversion.
Beardbrand.com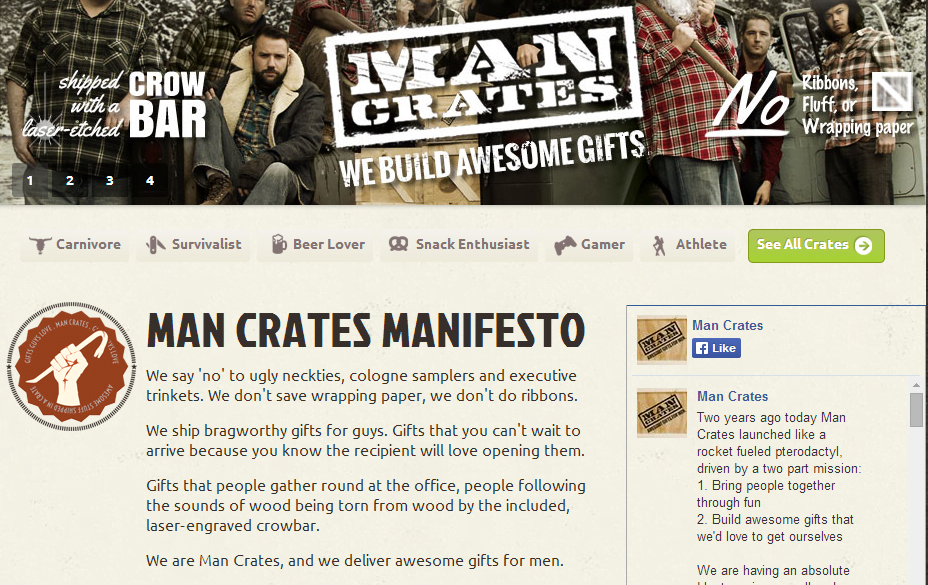 Man Crates employs its quirky humor to craft a mission statement that clearly states its purpose for being:
to deliver awesome gifts for men.
Mancrates.com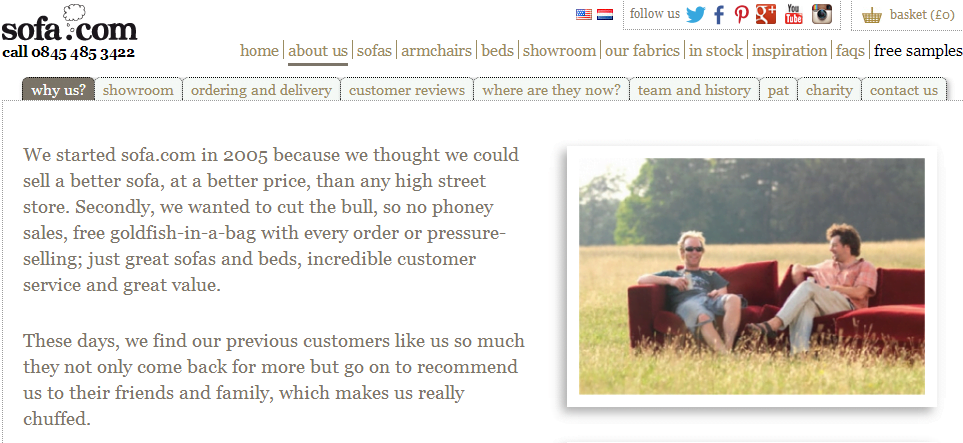 Sofa.com uses its mission statement to hammer home its "best value for the money" image while the photo adds a bit of personality.
Sofa.com
9. Tell the company's story
Everyone loves stories. Stories appeal to our emotions, and storytelling has a long history as a tool for communication. If you teach a life lesson through a story, the audience can remember it far more easily.
Consider Aesop's fables or religious teachings, for example. They make a deep impression that stays with us. A web shop can leverage the power of stories to stimulate its visitors' imaginations. By telling your company's story, you spread its lore and culture far and wide. With stories, you can attract and retain a faithful following.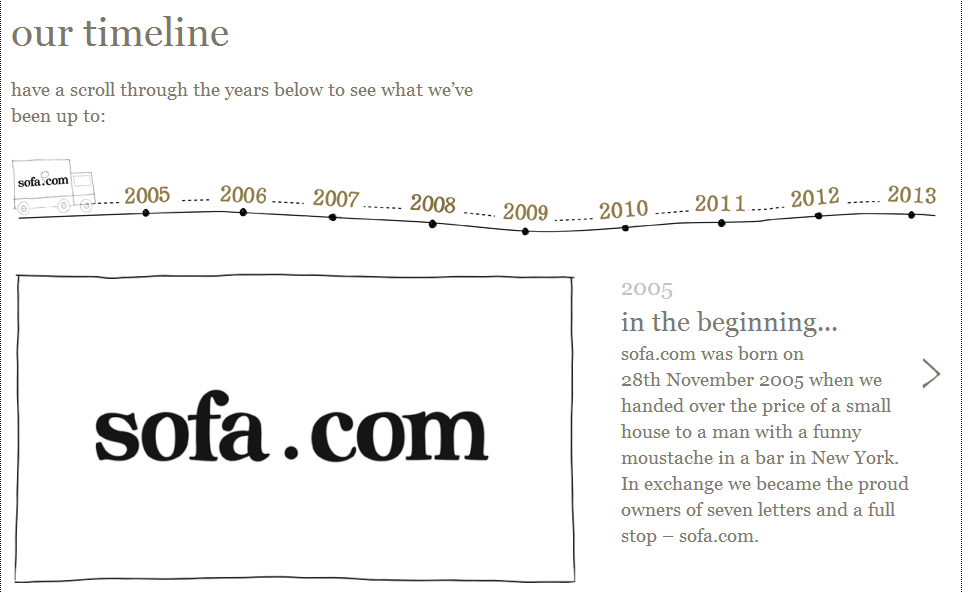 Sofa.com's brand of humor shines through in this tongue-in-cheek tale of how the company acquired its current domain name, which is an otherwise irrelevant tidbit.
Sofa.com
10. Add images to your story
Show, don't tell. In an age of broadband ubiquity around the world, it's now feasible to build lush websites that load in a reasonable amount of time, populated with equal parts text and images. A story is powerful in its own right, but adding illustrative images can magnify the effect. After all, a picture is worth a thousand words, right?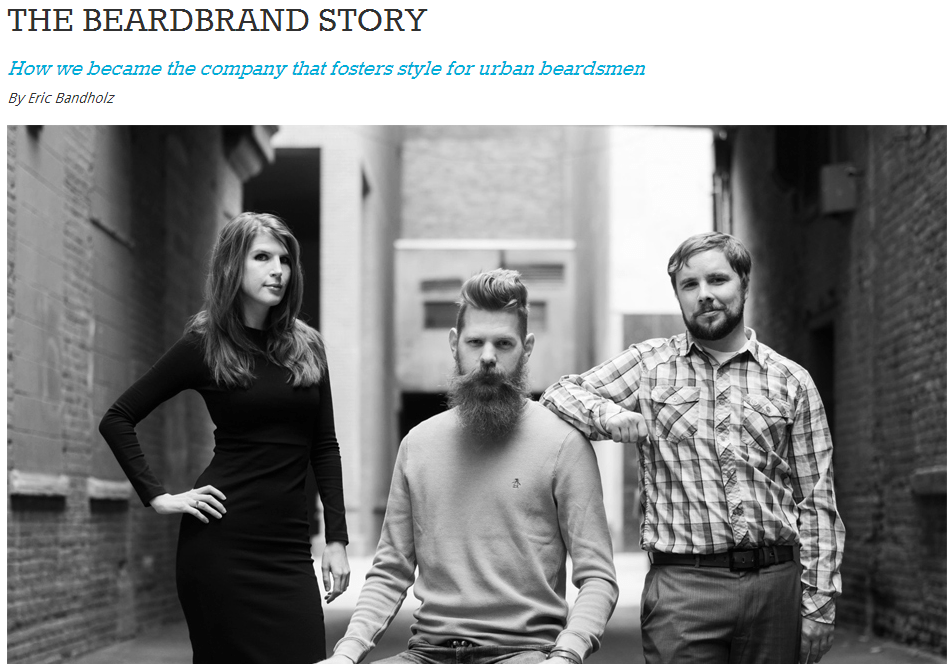 The distinctive beard and hairstyle of Eric Bandholz, one of Beardbrand's founders, resonates strongly with its vision statement, and lends power to the story below the image. In fact, this story would be impossible to convey with just text alone.
Beardbrand.com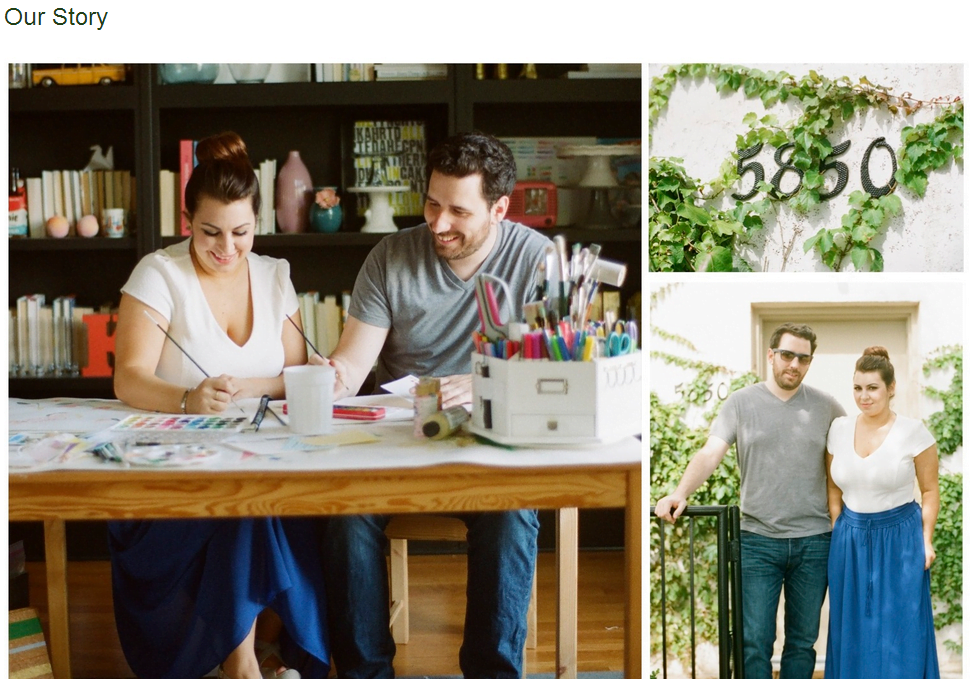 The husband-and-wife team behind Charlotte Lane is in full display here, as a loving couple devoted to handmade arts and crafts. The image promoted by the site clearly shows their personality, and is a powerful conversion tool.
Charlotteln.com
If an image is worth a thousand words, think of the volumes of information you can convey with a single video. A video has several appealing advantages. With it, using a good video editor, you can deliver a clear, direct message, and at the same time focus on a particular topic.
An embedded video also takes less screen real estate than the equivalent amount of text. With the advent of free video sharing services like YouTube and Vimeo, it is easier than ever to include a video on your online store. Additionally, you can incorporate a virtual reality function into your website, this way your customers will be able to take a virtual tour and scout your store without being there physically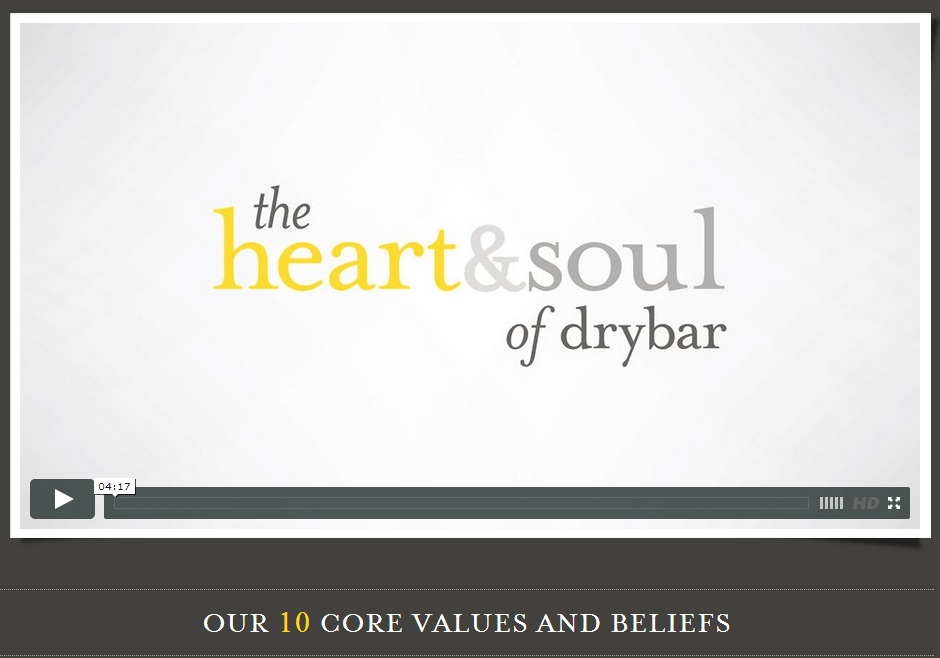 This video conveys the Dry Bar's core values and beliefs far more effectively than a simple bulleted list could do.
Thedrybar.com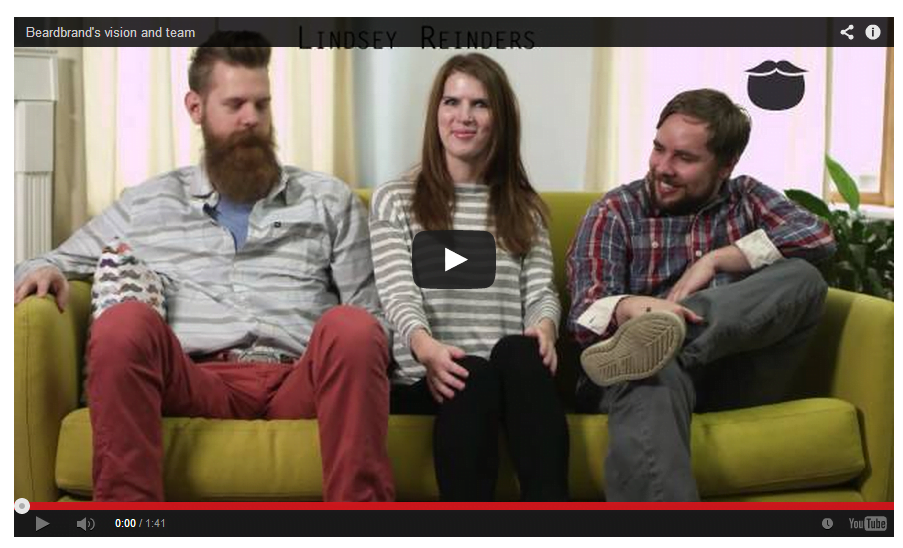 Hearing its founders explaining Beardbrand gives visitors a visceral and memorable impression of the company. This one minute forty-second video provides information about the company's vision, mission, and products, and also gives users a look at the personality of the founders.
Beardbrand.com
12. Increase credibility with press coverage
You can say what you want about yourself on your own web site, but in the end, prospective customers view information that comes from third parties as being more reliable. To increase the credibility of your online store, it's important to cultivate relationships and provide links to news and review sites that have covered your company or its products.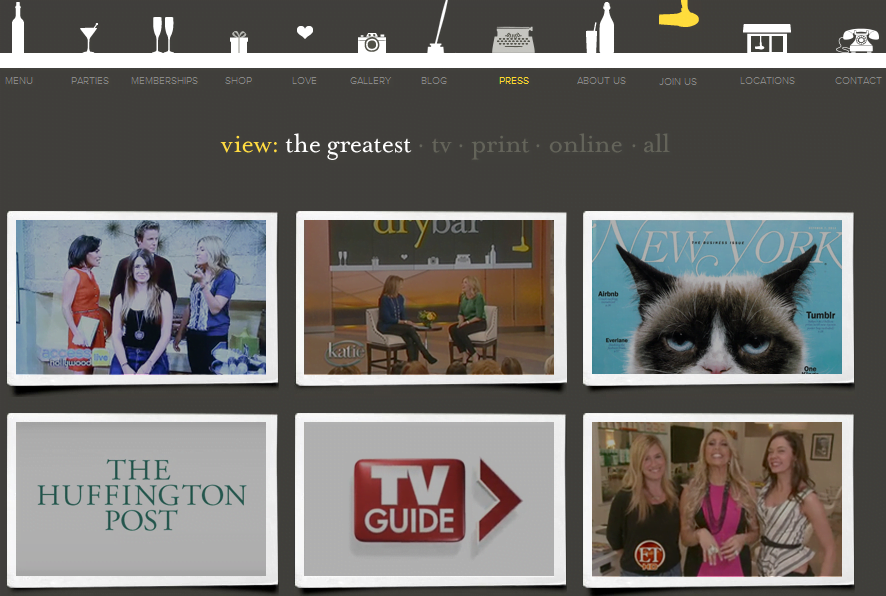 The site increased the credibility of its "blow dry bar" concept by tapping into press coverage from TV shows, print magazines, and online media sources.
Thedrybar.com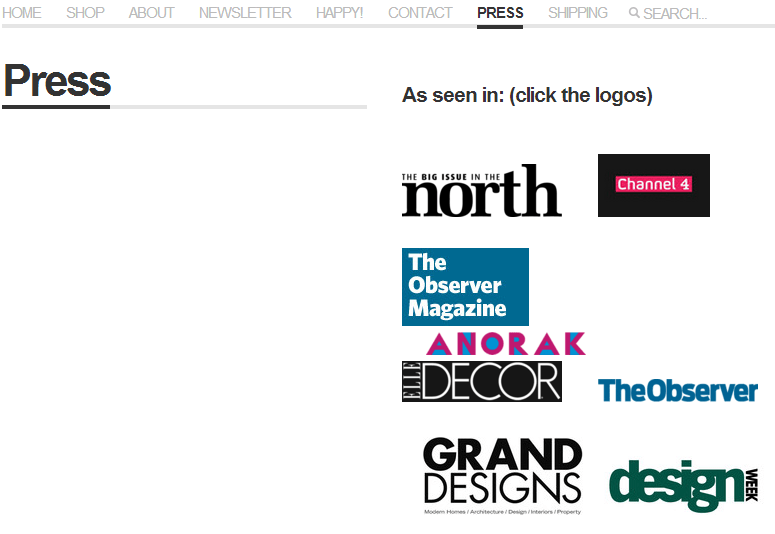 Camila Prada, which markets designer ceramics, provides links to magazine articles that cover the site. This increases the site's legitimacy and appeal to design-conscious visitors who recognize the magazines' distinctive pedigrees.
Camilaprada.com
13) Let customers look behind the scenes
Traditionally, a behind-the-scenes documentary shows the process behind making a TV show or a movie. Such glimpses typically come bundled with a DVD or Blu-ray release. They give home viewers who might have already seen the movie in theaters an added value proposition and a reason to buy the DVD. Allowing customers to look behind the scenes is a very powerful tool that catches their attention and hooks them emotionally. Since they are now privy to more "personal" information, they become insiders of sorts, and feel more connected to your site.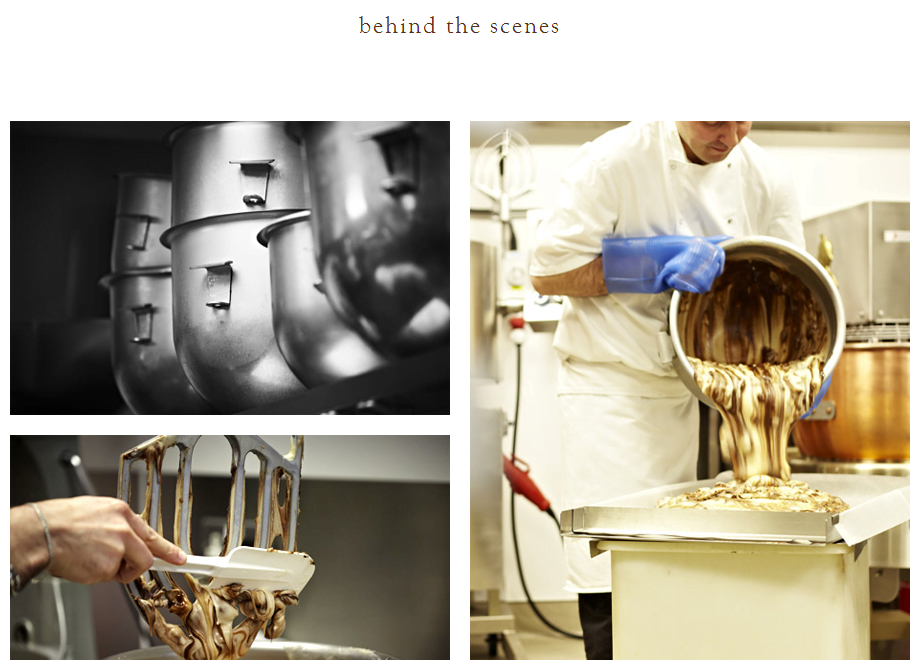 Fudgehouse's behind-the-scenes is a splendid visual experience, without any interrupting text. By showing the process behind the production of its iconic "luxury fudge," the site fulfills an informational need and simultaneously stimulates viewers' cravings for the product.
Fudgehouse.co.uk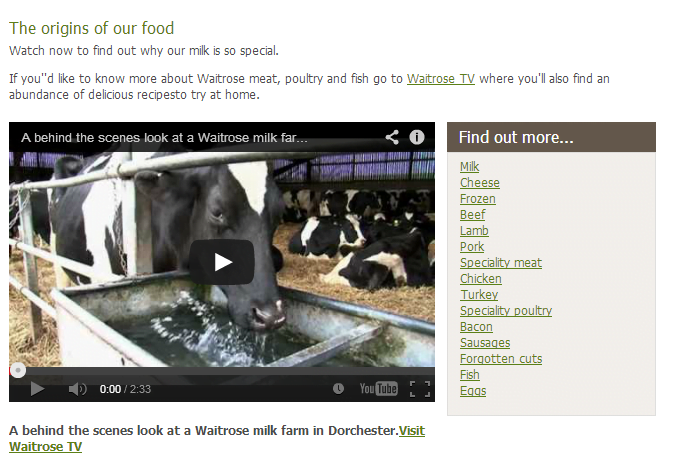 Part documentary and part infomercial, Waitrose's behind-the-scenes video reveals its supply chain to site visitors and portrays the company in a favorable light.
Waitrose.com
With all the tools available on the Internet, nearly anyone can start an ecommerce site. However, there are a lot of technical concerns when it comes to building an online store. And you've also got to drive traffic to your site. With all the effort it takes to get started, once they're up and running, many store owners don't take the time to add a little personality to their site.
Whether you've got an existing ecommerce site or you are planning a new webshop, adding personality to your site can make a big difference. With all the technical guides out there, we figured it was time for a guide that overlooked one of the most powerful ways to improve your site — show your customers more of your personality, show them more of what you're about. We hope this guide gives you some ideas on how to make your online store stand out in order to make it more appealing to your customers.
(Note: Have you heard of OptiMonk? It's a powerful onsite messaging solution that helps you convert up to 15% of abandoning visitors to sales and leads. Give it a try – click here to create a free account now.)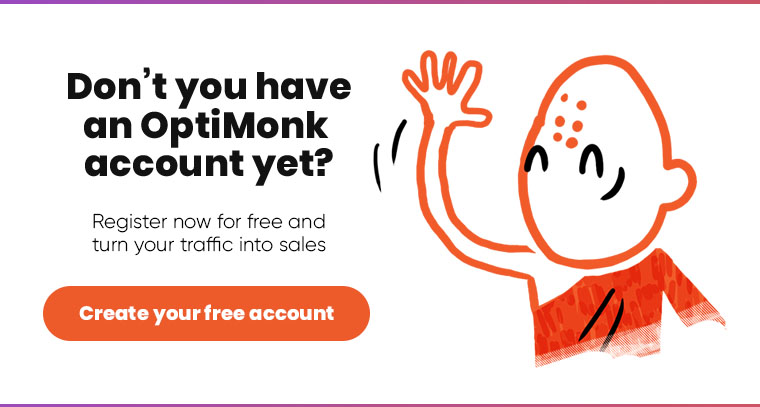 So how are you going to make people fall in love with your store?