With the end of one year and the beginning of another, it's time to take stock, make plans, and, of course, celebrate! It's also a great time for ecommerce brands to run promotions, sell their remaining merchandise, and end their year in the black.
Popups should be an integral part of your strategy for the New Year. They can enhance the effectiveness of your marketing tactics or help fight constant scourges like cart abandonment.
In this article, we'll take a look at 9 powerful popup templates and examples. These can inspire you to run successful campaign promotions during the last few days of the year.
Once you've made your popups and scheduled your campaigns, you can enjoy your New Year's Eve festivities too.
Email list-building popups
The New Year is a great time to build your email lists. Consumers look forward to getting your emails for the rest of the year—especially if you share great content and offer real value.
1. Offer exclusive deals
Get visitors to sign up for your email marketing list by offering them a good discount in exchange for their email addresses.
Notice how the popup below promises potential subscribers 20% off, plus more future discounts. That's a great offer for the New Year and beyond.
2. Offer a coupon code
Another option is to offer your customers a coupon code when they sign up for your email list. The coupon code encourages them to look for your email right away and gets your online shoppers used to see your emails in their inbox.
OptiMonk's new coupon code feature (only available for Shopify stores) will automatically generate unique coupon codes for each popup that appears to your customers. This makes it easier than ever to get list-building popups like these up and running.
This stunning template perfectly pairs a "New Year's Eve party" image with a complementary font that announces a big New Year sale.
Customers abandon items in their shopping carts all year round. That's why it's so important to have great cart abandonment popups during the New Year period.
Here are a couple of dazzling seasonally-appropriate templates.
3. Offer discounts to win back cart abandoners
Shoppers who are about to leave your website without making a purchase will often change their minds when you offer them a discount. An extra 10% or 20% off can tip the scales in favor for visitors to buy now rather than later.
The template below is an incredibly effective cart abandonment popup that combines a discount offer with a countdown timer.
4. Recommend product alternatives
A cart abandonment popup that offers product recommendations can save conversions by helping departing visitors find the products that they're the most enthusiastic about. And the template below is customized for the New Year.
Popups to promote special offers
The New Year is also a popular time to run sales—some end on New Year's Eve, while others don't start until New Year's Day. Whatever schedule you follow for your seasonal sales, make sure your customers are aware of your deals.
Here are some of the hottest New Year's promotional popup examples and templates.
5. Try fullscreen promotional popups
Fullscreen popups cover your visitors' entire browser window when they're on your site.
They have to click an 'X' button on the popup to return to your store, which means that it's impossible to miss the information that the popup displays. The fact that fullscreen popups are so attention-grabbing makes them ideal for promoting sales.
The simple template below allows you to design a fullscreen popup with your own copy. When your website visitors click the "See Today's Deals!" button, you can show them a list of your special New Year's holiday campaign deals.
Breove.com's New Year campaign is a great fullscreen popup example: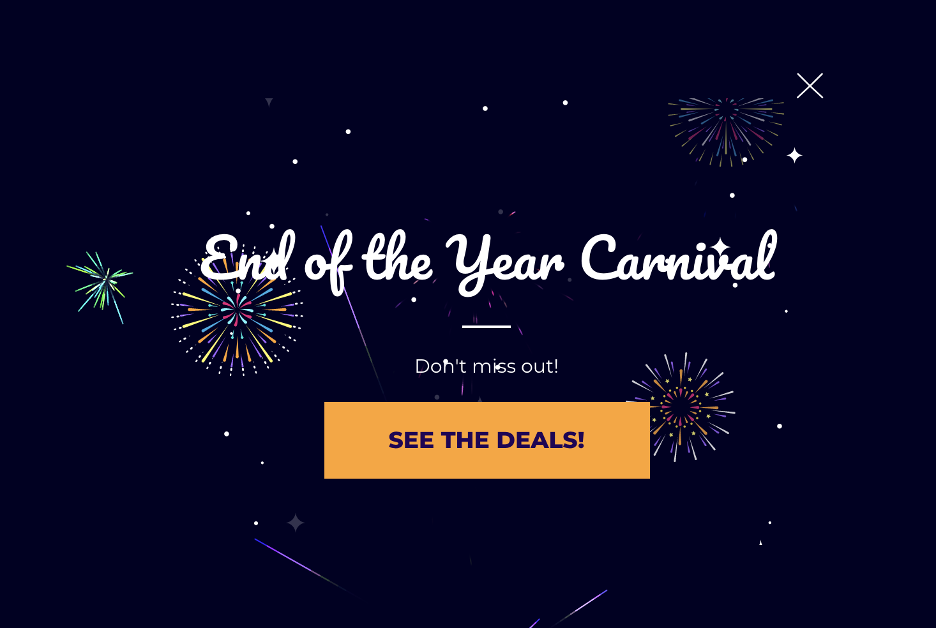 You can make your own custom version using the template below:
6. Create a coupon code sticky bar campaign
Another option for promoting sales and discounts is a sticky bar. It's a small "popup" that stays at the top of your visitors' screen as they scroll and navigate through your site. Sticky bars are great because they don't disrupt your visitors' user experience. At the same time, they inform visitors about your deals.
The template below has several features that make it a great New Year sticky bar.
First off, there's a seasonally-appropriate picture of a sparkler, and the copy mentions the New Year sale. The countdown clock adds to the sense of urgency surrounding the sale, while the coupon code makes it easy for online shoppers to take advantage of the deals.
7. Adopt discount popups
Discount popups are a tried and true method for boosting your sales. And they work even better if they reflect seasonal trends and events.
The Extra Depot used a discount popup during their end-of-year sale and delivered a simple "everything is 10% off" message.
Notice how they built a sense of urgency and excitement with their copy. The "Wait, don't miss out" line makes their shoppers aware that their discounts are time-limited. Then, the all-caps "END OF YEAR SALE NOW ON" conveys that the 10% discount will end on the last day of the year, and it gets visitors pumped up to buy now—before it's over.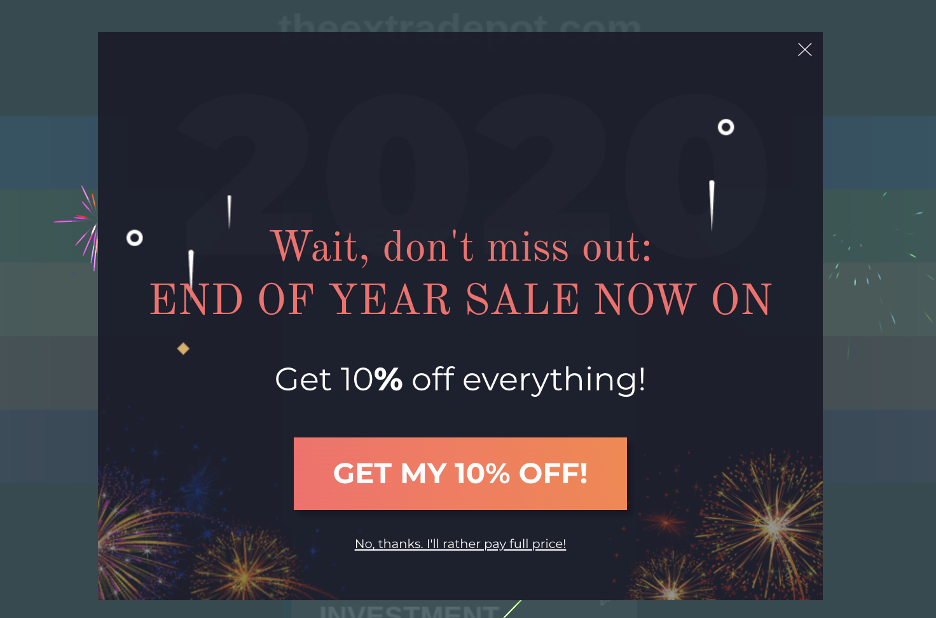 Like the design? We have good news for you: they used a pre-made template that you can check out here:
8. Promote a BOGO campaign
CLOVE + HALLOW's Buy One Get One campaign connects with the New Year feeling exceptionally well. The "New Year, New You" copy encourages their shoppers to see the brand as a part of their plan to start the New Year on the right foot.
By promising a 50% discount on a second product, CLOVE + HALLOW delivers an unbeatable offer for their customers.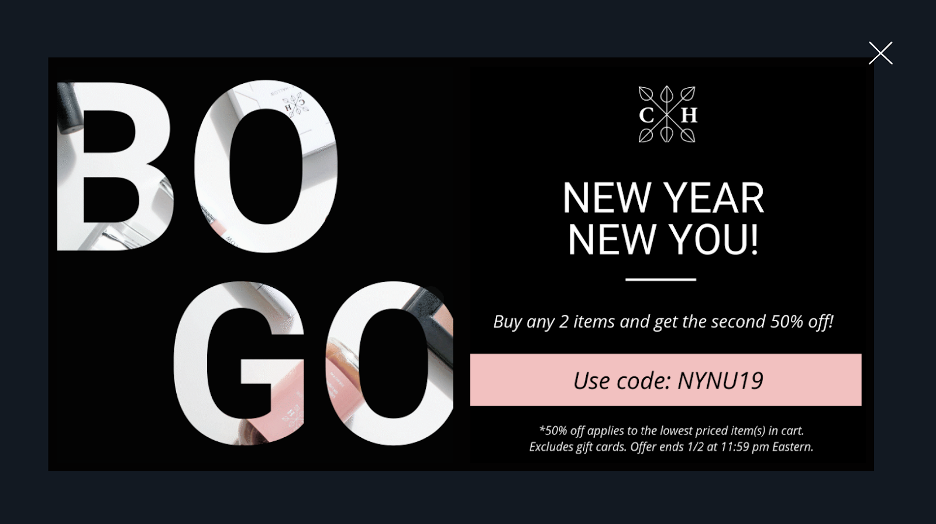 9. Run a promotional campaign
Like the previous example, Bedding Stock emphasizes the upcoming year in their seasonal sale. Welcoming in a New Year with new bedsheets is an attractive proposition, especially since there are still a few cold months left after the New Year.
We were impressed with their popup design, which features a cozy and inviting bed, letting you rest and wake up with full energy the next morning. Check out the "Use Coupon Code" text—it's easy to see against the brown background, and it fits naturally with everything around it.
With OptiMonk's drag and drop editor, you can create stunning designs like this one all on your own.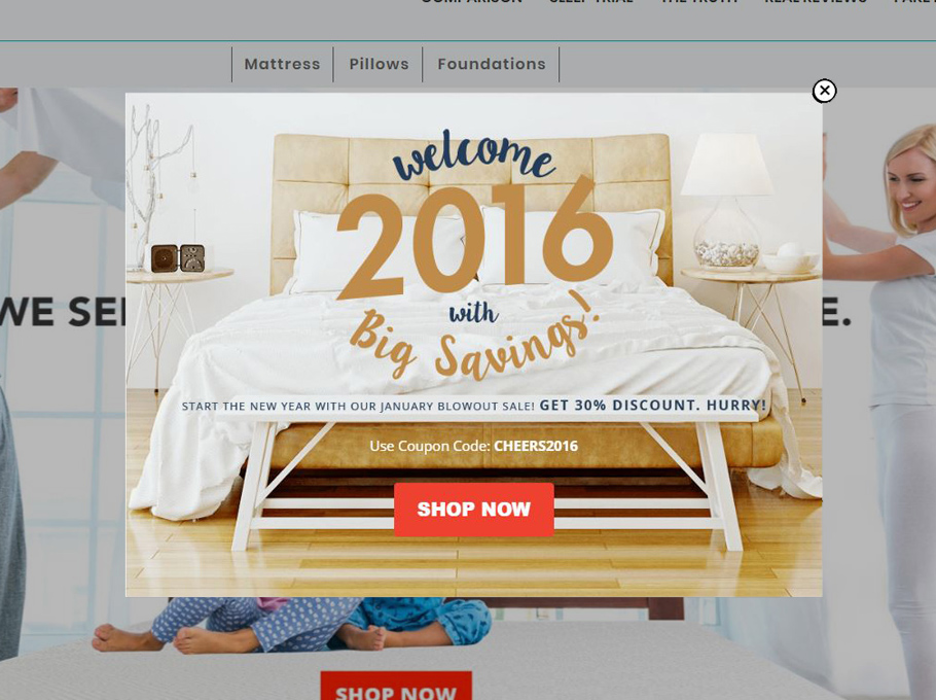 There you have it—9 great campaign ideas that you can depend on during the last waning days of 2021. They'll help you end the year with a bang!
Before you get started on your popups, we at OptiMonk want to wish you a very Happy (and profitable) New Year!
Feel free to visit the OptiMonk Template Library and take a look at all of our New Year-themed popup templates. Which one strikes your fancy? Tell us your favorites in the comments below!