If you have a Shopify store, not collecting customer emails for your subscriber list is a missed opportunity. Every time a customer accepts marketing emails, you've gained a new subscriber that you can communicate with directly.
Despite the importance of building a strong email list, many online stores simply stick a newsletter signup section at the very bottom of their website and then forget about it. This basic strategy will only lead to a slow trickle of new subscribers at best.
In this article, we'll go over some more advanced lead generation tactics that will help you collect customer emails quickly and reliably.
Let's get started!
Why is email marketing important?
Email marketing is crucial to the success of any ecommerce store for several reasons. 
First off, it offers a direct line of communication with your target audience, whether they're loyal regulars or new potential customers.
Second, email marketing is one of the most reliable digital marketing channels when it comes to generating conversions and sales. When a visitor arrives on an ecommerce site via an email marketing message, there's a 4.24% chance that they'll buy something. That's compared to the 2.49% of visitors from search engines and just 0.59% from social media.
Promotional emails deliver an extremely high ROI for marketers. On average, every $1 spent on email marketing generates $38 in revenue.
Finally, it's important for online store owners to use email marketing because it's owned media, which means you don't need to rely on third parties (like social networks) to communicate with your customer base. This gives you total control over at least one of your marketing channels.
How to collect emails on Shopify
To get an email marketing operation up and running, you'll need to cultivate a healthy subscriber list. And even if you're a seasoned email marketing veteran, you can always collect more customer emails!
In this section, we'll go over some tactics to entice visitors to sign up for marketing emails from your Shopify store.
Let's take a look at 7 great email capture methods!
1. Use personalized welcome popups to build your email list
Welcome popups appear shortly after a website loads, usually within a few seconds. They're intended to immediately capture new visitors' attention and deliver an important message. This could be a coupon code, a notification about upcoming sales, or an email signup form.
Although showing an email popup immediately when a visitor lands on your online store will generate some new email subscribers, many visitors simply won't be ready to sign up yet.
Why not?
Because they haven't had a chance to check out your store and see whether they're interested in your products! As a general rule, fewer visitors will agree to receive promotional emails on a welcome popup than on an exit intent popup.
However, there is a way to collect customer emails using a welcome popup—it just requires giving visitors what they're looking for using website personalization.
Think about the questions a visitor might have on their first visit to your online store.
They might be wondering whether you ship to the country they're living in. You can personalize a welcome popup to say something like "Hey Canada!" to inform them that you're aware of where they're shopping from and open to their business.
This is a great tactic to generate email signups if you have lots of visitors from all over the world.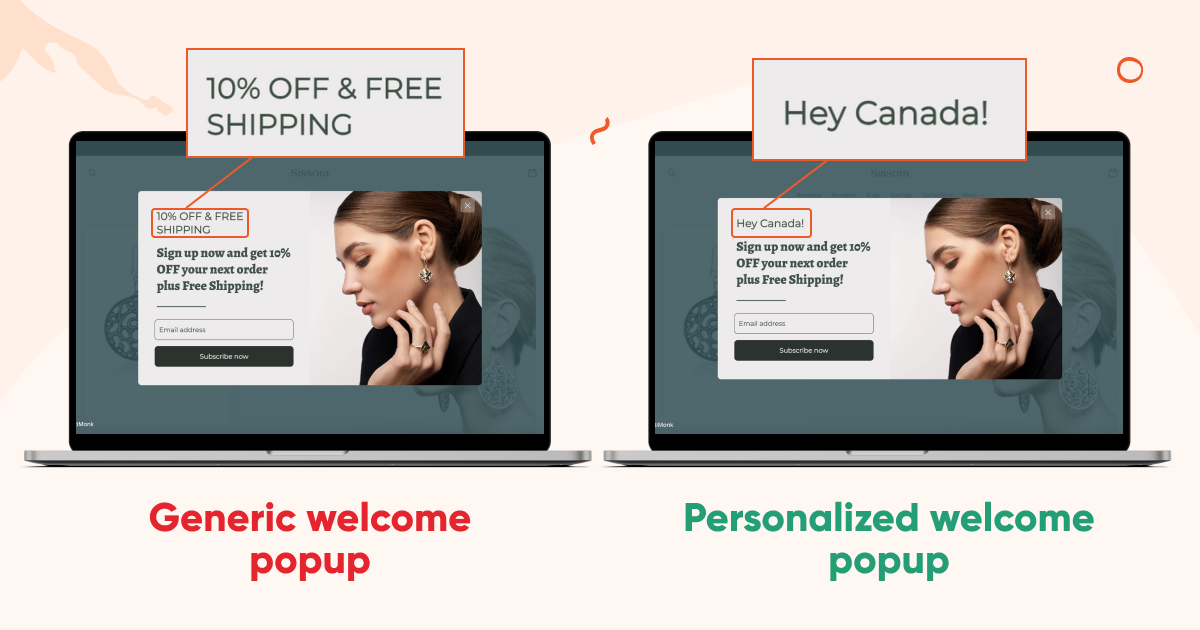 You can add popups like this in just minutes using OptiMonk's Smart Tags feature. Here's how to set them up.
Alternatively, you can personalize your welcome popups based on traffic source (where they're coming from).
You can even set up your popups to directly reference the copy of whatever ad your visitor clicked on. This can direct visitors toward valuable content that you know they'll be interested in!
This is a similar tactic to creating a dedicated landing page for each of your ads, but doesn't force customers to navigate to a new page in order to start shopping. If you'd like to implement this tactic, check out this guide.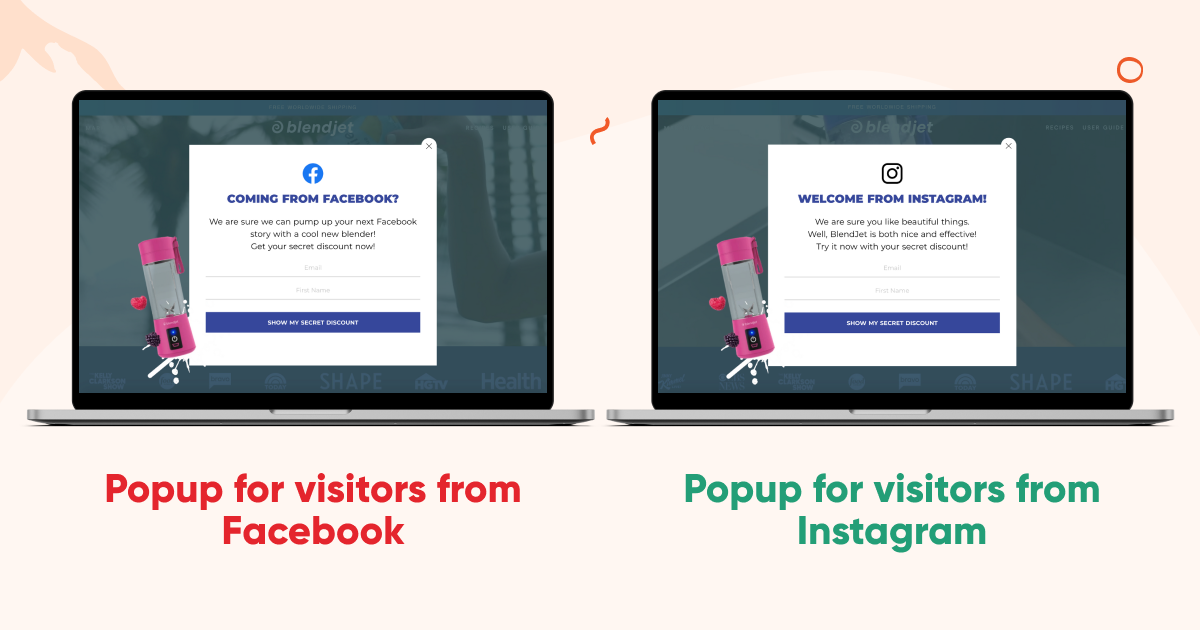 Another popular way of personalizing welcome popups is by displaying the current month or season. 
It's better to create a welcome popup that references something that seems new and fresh than to use a generic message like "Special Offer." 
That's because generic offers seem like they'll always be around, while a "September Sale" motivates visitors to sign up now (since it won't be around for very long). Here's how to set it up.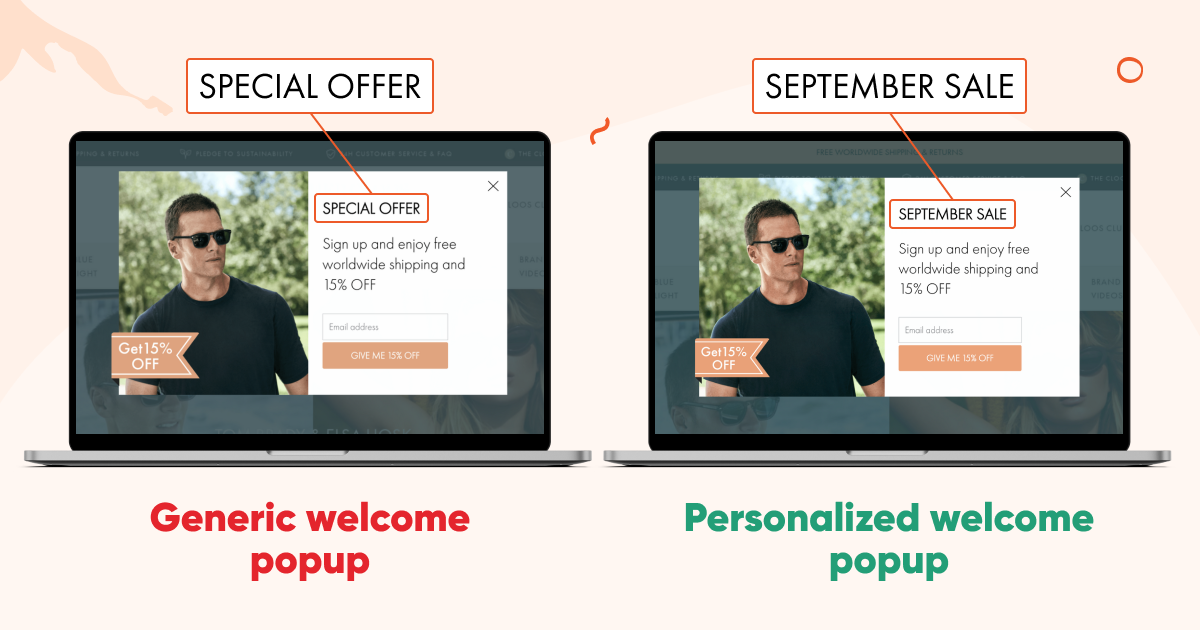 2. Use a conversational popup to generate easy-to-use targeting info
Conversational popups are a great way to collect emails because they help introduce new customers to your store and help them find what they're looking for more quickly.
The first screen of a conversational popup can display a helpful question like "Are you shopping our Men's or Women's collection?" or "Interested in Skis or Snowboards?"
Once a customer clicks on one of the options, you can show them the email capture form.
Finally, when customers have entered their email addresses, you can show them personalized recommendations that are related to their answers from the start of the popup sequence.
Not only does this email capture method lead new customers towards making a first purchase by displaying relevant recommendations, but it also gathers useful data that you can use to send more personalized messages in the future. 
For instance, once you know that someone is interested in snowboarding, you can send them email marketing campaigns or personalize your website for them with that in mind.
3. Offer an exclusive content upgrade as a lead magnet 
When potential customers are still early in the sales funnel, they might not be ready to see product recommendations quite yet. These customers are usually still learning about their problems and all the different solutions that could solve them.
One way of engaging this type of customer is through informational blog posts and other types of content marketing like videos. 
If you'd like to offer these customers an email sign-up option, it's a great idea to use a relevant content upgrade (like an ebook on the same topic as the blog post) as an incentive for agreeing to receive marketing emails.
Potential customers are usually willing to sign up for an email list for exclusive access to valuable content.
4. Use gamification
Gamified email capture campaigns like a discount wheel or scratch card help add a sense of fun to your website. Potential subscribers would often rather sign up to receive marketing emails in exchange for a chance to win a variety of different prizes than for a simple discount coupon. 
OptiMonk's Lucky Wheels are gamified popups that lead to huge engagement numbers and a 13.23% average conversion rate.
5. Combine an exit-intent popup with a teaser
Teasers are small messages that appear in the bottom left or right of a visitor's screen, allowing you to provide a glimpse of what your popup is about. 
This type of campaign doesn't interrupt the user's browsing experience, but it can prompt visitors who are interested in the offer to click on it. That action causes the full-sized version of the popup to appear, complete with a newsletter signup form.
However, teasers aren't as attention grabbing as traditional popups, which is why it's a great idea to trigger the full version of the popup when the visitor shows exit intent. This gives you a chance to gain more email subscribers from the visitors who didn't click on your teaser.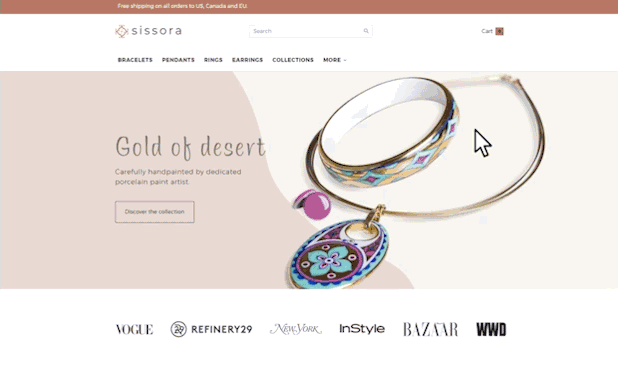 6. Offer mystery discounts to increase your sign-up rate
Similar to gamified popups, mystery discounts work because they generate a lot of interest. 
Your visitors will be dying to find out what the mystery discount actually is. It's much more enticing than a simple "10% off" discount coupon. 
And these highly-engaged subscribers are very likely to check their email and put their discount to use, helping you increase sales while you grow your email list.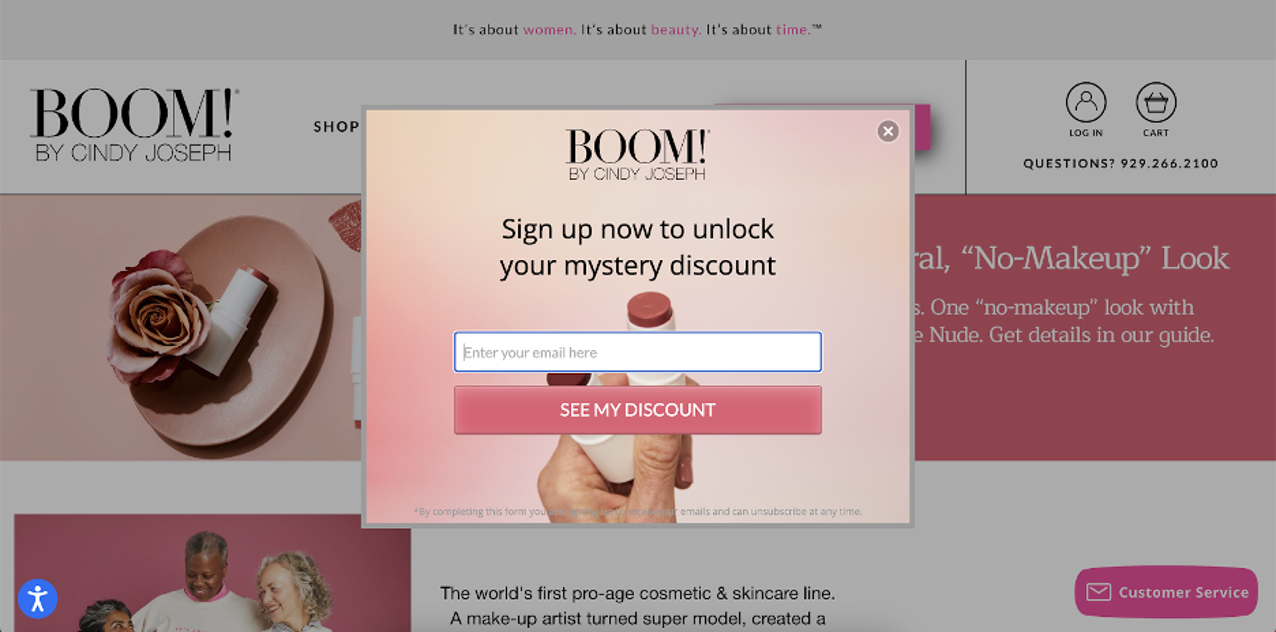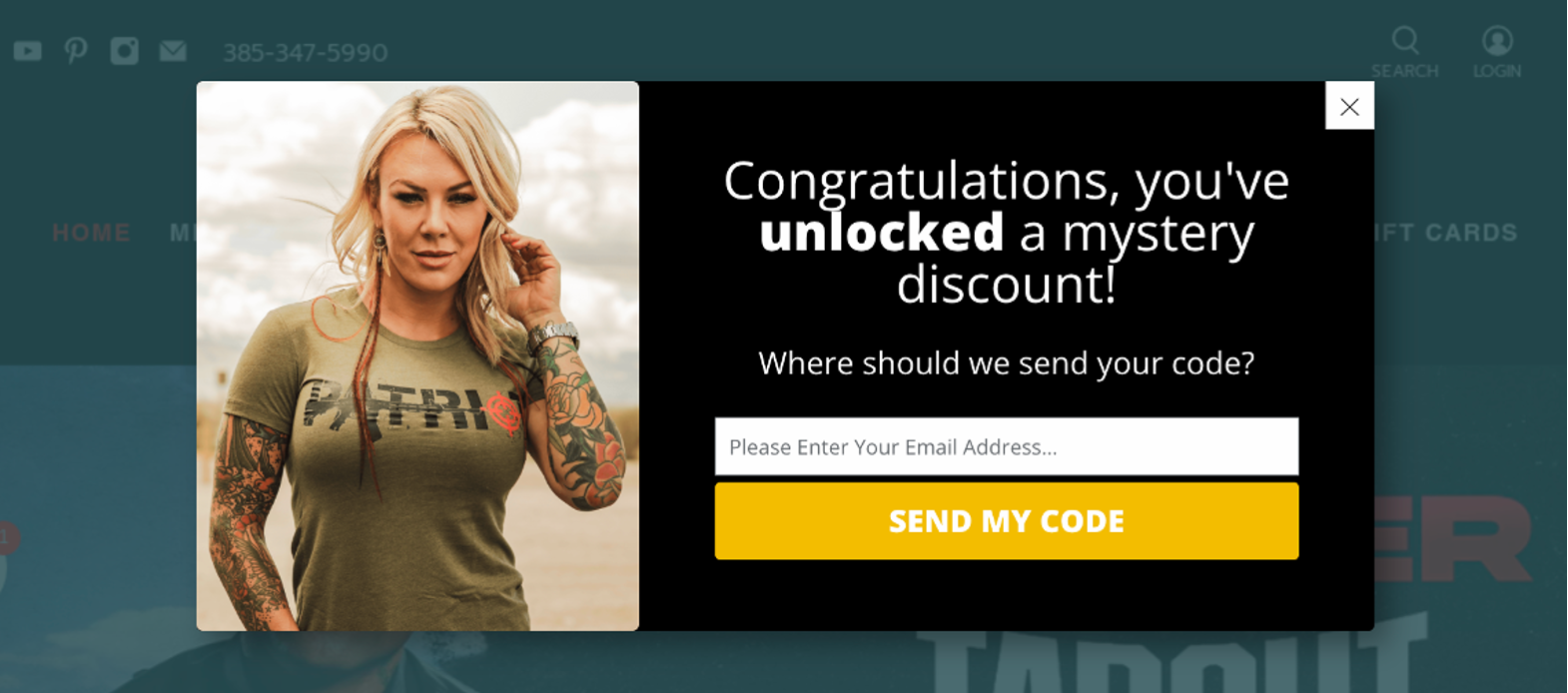 7. Offer free samples
Offering free samples in exchange for signing up for an email list is a great alternative to offering a discount coupon code to your visitors. 
It's a strong incentive for a potential customer to complete your newsletter signup section (who doesn't love free stuff?) and a great way to introduce visitors to new products— in fact, you can even run these campaigns to coincide with new product launches.
There's always a chance you'll win a customer for life when they try out a new product that they wouldn't have ordered otherwise. Try running these campaigns on your checkout page, where you can just add the free sample to the visitor's order.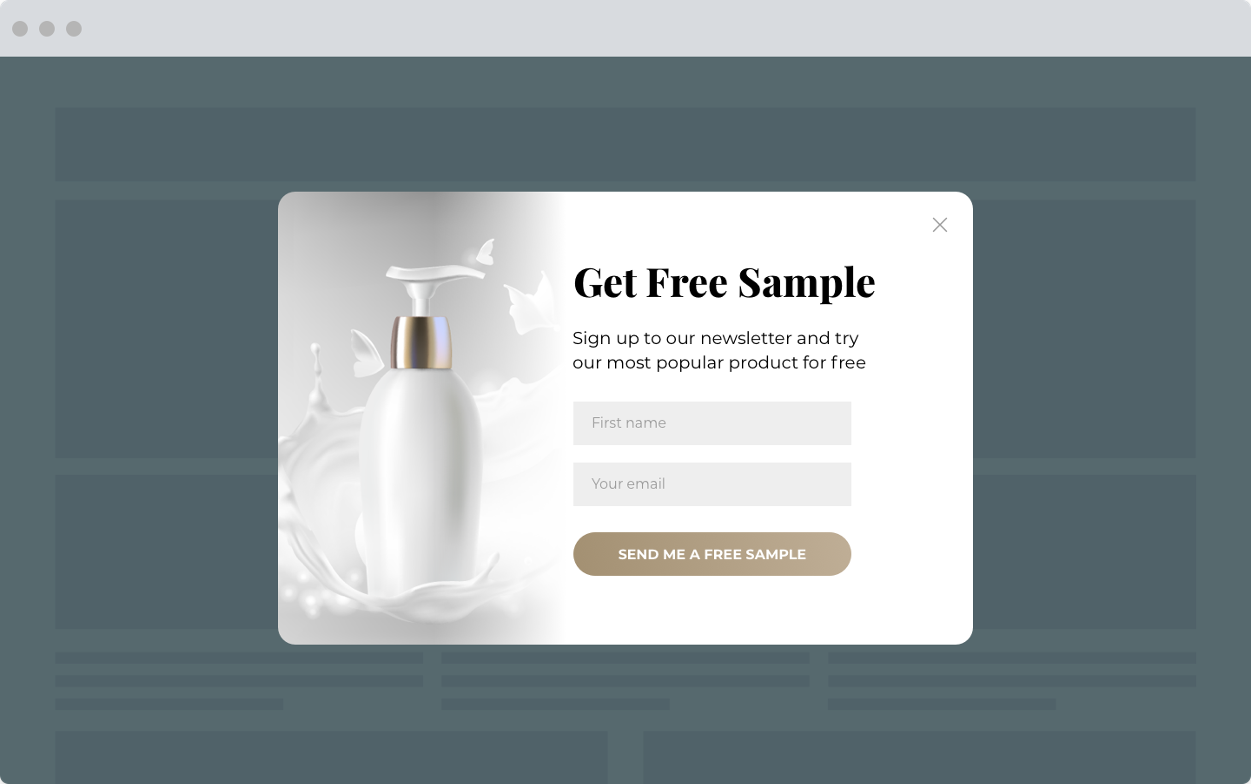 Best tools to use to collect email addresses
If you have a Shopify store and you want to focus on building an email list, you'll need to use a list-building tool. Luckily, there are lots of options in the Shopify app store, but which ones are worth it?
Let's take a look at 5 of the best Shopify email list-building tools!
1. OptiMonk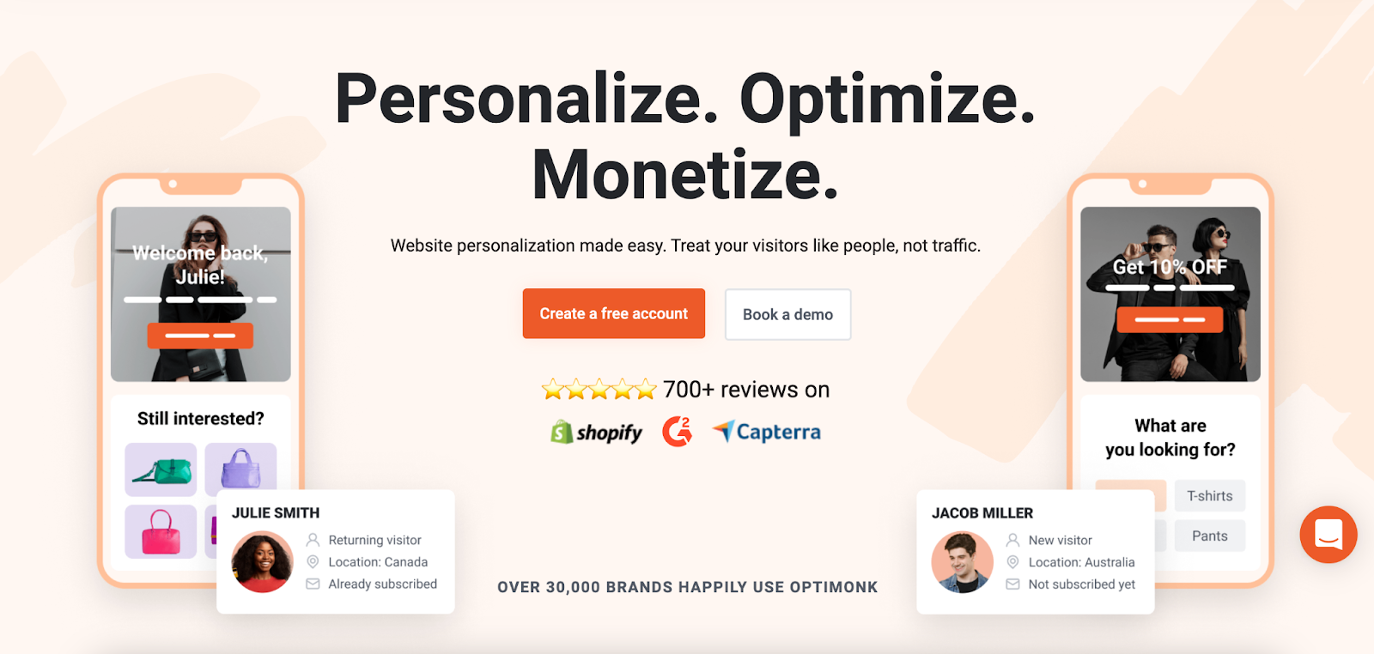 OptiMonk is a comprehensive website personalization solution that's available in the Shopify app store. 
This powerful tool helps ecommerce store owners build their email list with high-converting personalized campaigns. OptiMonk's cutting-edge technology allows you to add fully personalized sections to your website without compromising your load time or causing flickering.
As an all-in-one personalization platform, OptiMonk helps you find and target the customer segments who will find your campaigns relevant (and with the right offer, irresistible). This tool is capable of both implementing all the email list-building tactics outlined above and showing the right campaigns to the right customers.
This innovative approach makes OptiMonk one of the best email list-building tools in 2023.
Main benefits:
A variety of email marketing list-building templates, including gamified lead generation popups

Overlays like popups, side messages, sticky bars, and full screens

Drag & drop campaign editor and point & click placement of embedded content

Intelligent audience recommendations to identify your most crucial audience segments

Smart tags that help record and leverage both first- and zero-party customer data

Built-in A/B testing to optimize each email list-building campaign

Campaign analytics & true revenue measurement

Ecommerce integrations with the most popular email marketing tools, including MailChimp, Klaviyo, and HubSpot
Pricing: OptiMonk is free to use, or upgrade to access premium features from $32/month.
2. Klaviyo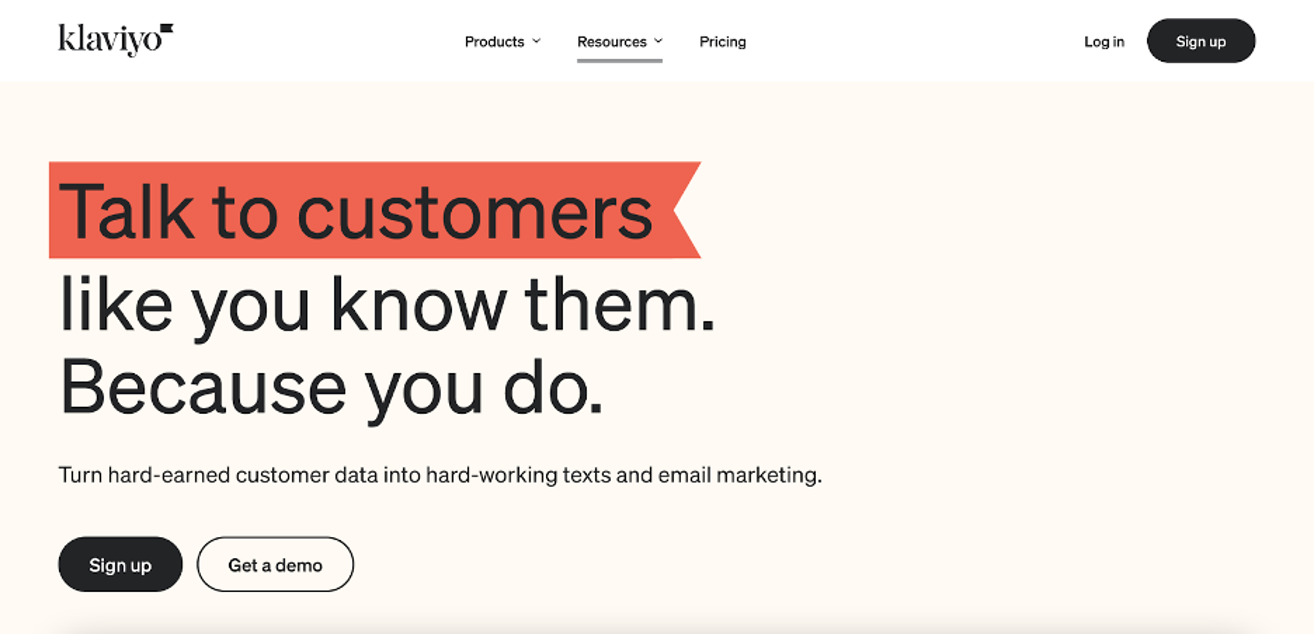 Klaviyo is among the most popular tools for Shopify email marketing, with a wide variety of email templates that can help an online business stay in touch with its customers. They also offer lead capture forms with a sign-up checkbox as part of their service.
Main benefits:
Use just one email marketing tool to both run your email list-building efforts and send out emails once you've captured new subscribers

Pre-built signup forms (embedded forms, multi-step forms, and popups) allow an online business to start collecting emails without much fuss 
Pricing: Free, or from $20/month.
3. HubSpot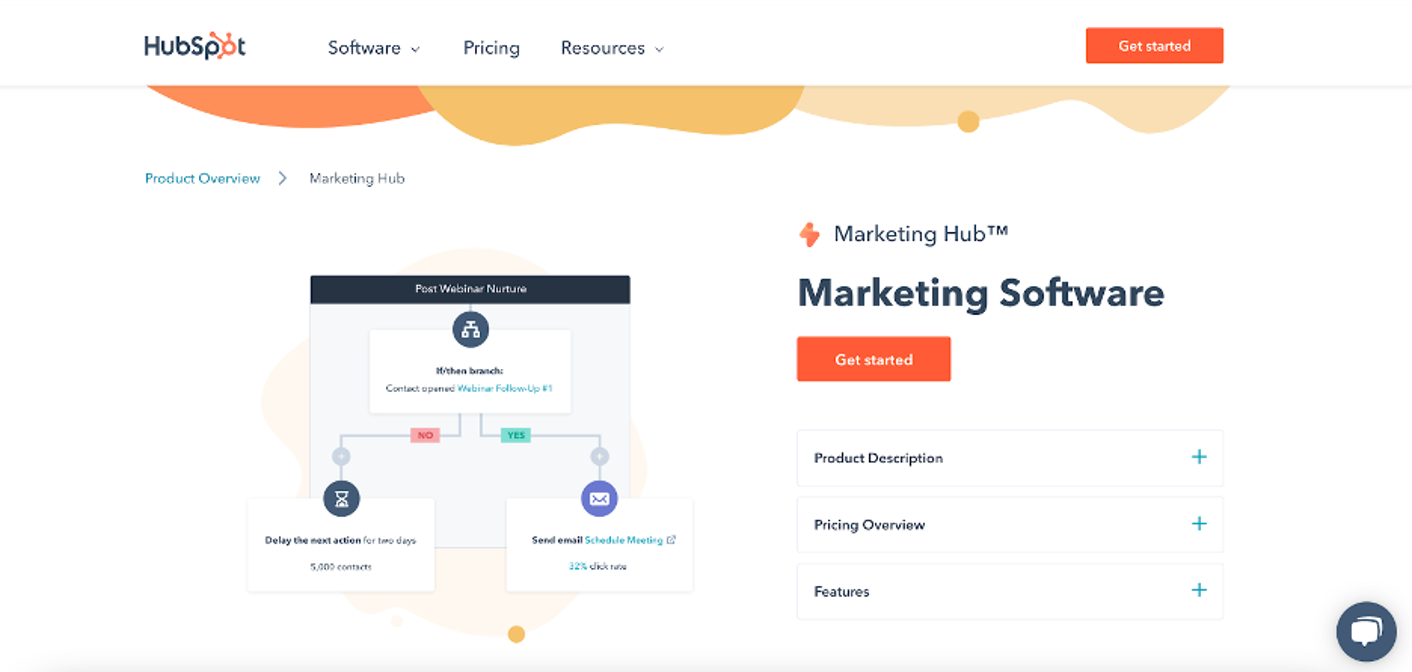 HubSpot is a multi-functional "ecommerce hub" that's focused on helping you grow your online business. The comprehensive platform includes tools for sales, customer service, business operations, website building, and marketing. One of the needs it covers is list building, and they have several email capture tools like landing pages and popups.
Main benefits:
A drag-and-drop editor lets you easily create lead capture forms

Use landing pages that are optimized to collect customer emails and send the contacts to your CRM automatically

Nurture leads by sending them messages based on customer data that you collect during the email capture process
Pricing: From $50/month.
4. Mailmunch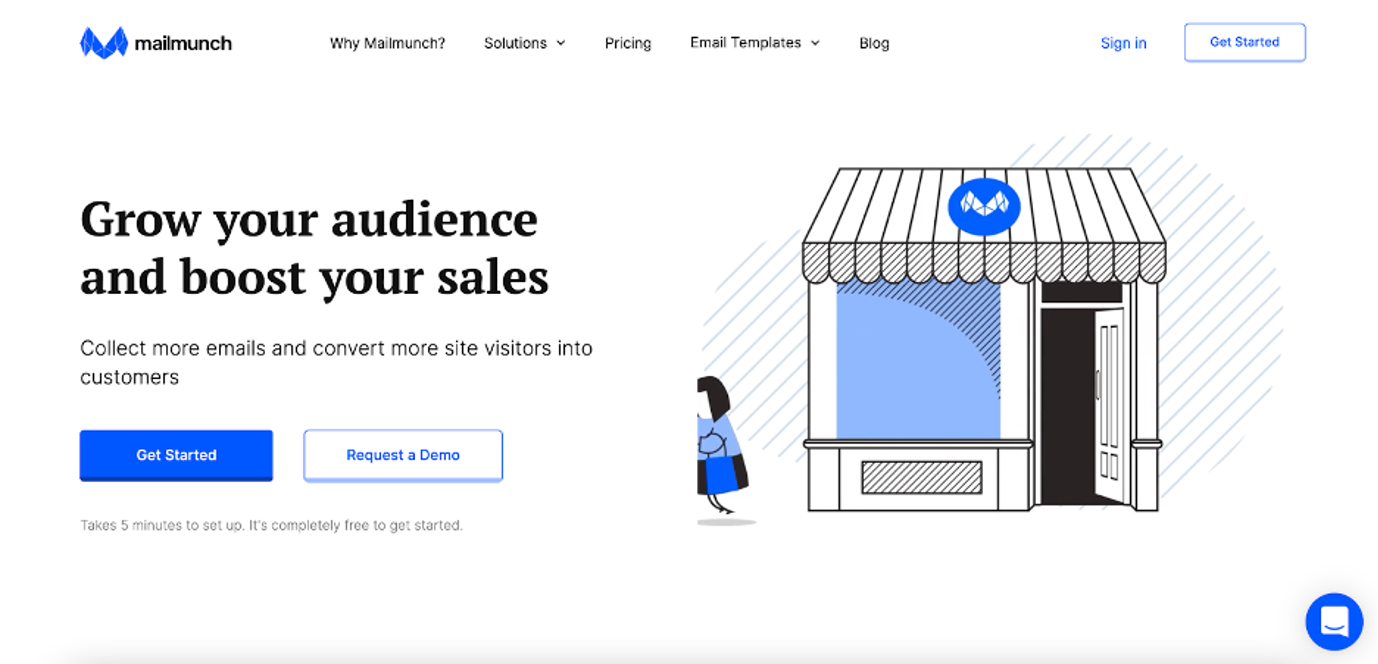 Mailmunch is another combination lead capture/email marketing tool that can help simplify your email marketing process. You have the option of using a landing page, embedded forms, or popups to help build your email list.
Main benefits:
A variety of email capture forms are available, such as top bars, inline forms, and popups

Create lead capture forms that look great and respond well on mobile devices
Pricing: From $19.99/month.
5. Wishpond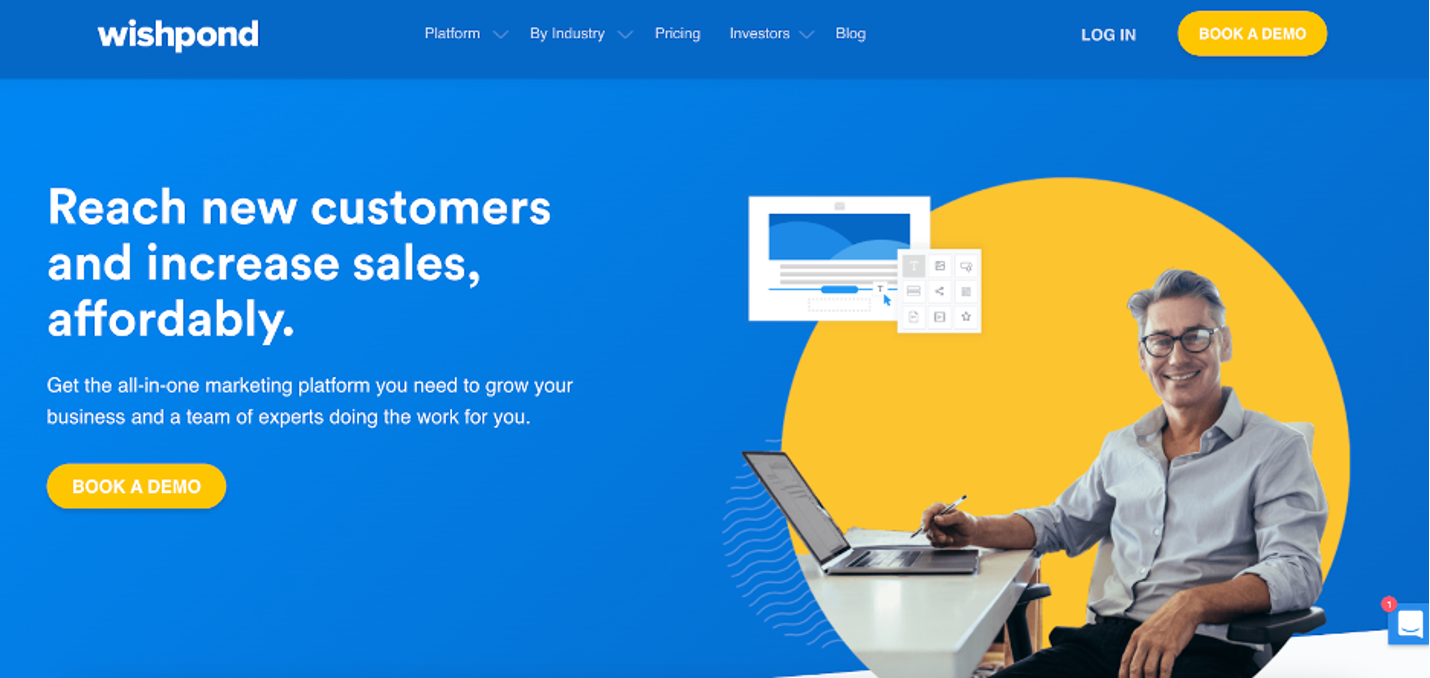 Wishpond is an ecommerce solutions company that offers many tools. They have well-designed email list-building software, but also tools for building landing pages, checkout pages, payment processing, and more.
Main benefits:
Entry, exit-intent, and scroll triggers can be used to control exactly when an email capture popup will appear

Wishpond's wide variety of ecommerce tools might be useful for an online business that prefers the simplicity of using a single solution to do many jobs 
Pricing: Custom pricing.
Hopefully this guide to Shopify email list building has given you some ideas about how to convince more of your customers to sign up for email marketing messages. Each section of your website, from your landing pages to your product pages, is an opportunity to gather more emails!
And the more email subscribers you have, the more revenue you'll see from sending promotions, discounts, and exclusive sales to your customers. With all this potential, why not start building your email list today?
OptiMonk is the best tool for achieving massive email list growth after activating just one or two campaigns—and it's free! If you don't have an account yet, sign up here.