Whether you're brand new to ecommerce or you've been around the block a few times, you know popups are big business. They help capture more subscribers, decrease your cart abandonment rate, and drive more sales.
But how do you choose the right popup app?
Privy is one of the most popular on Shopify, with over 23,000 reviews. In fact, the sheer volume of reviews means that many times, ecommerce store owners choose Privy without looking any further. At first glance, it seems like a no-brainer.
But as their stores grow, their needs change and become more complex. Eventually, they find themselves in need of a better solution.
An excellent alternative is OptiMonk, a popup app that caters to growing eCommerce businesses.
In this article, we're putting OptiMonk head to head with Privy to help you understand how they compare, where they differ, and why you should make the switch!
In modern digital marketing, design matters – so if your popups aren't grabbing users' attention, they're not doing their job.
Privy has lots of ready-to-use popup templates. But when it comes to design, they're not as unique as you might expect, and they don't really stand out. If you want to create an attractive popup, you'll have to put in lots of time and effort. See for yourself: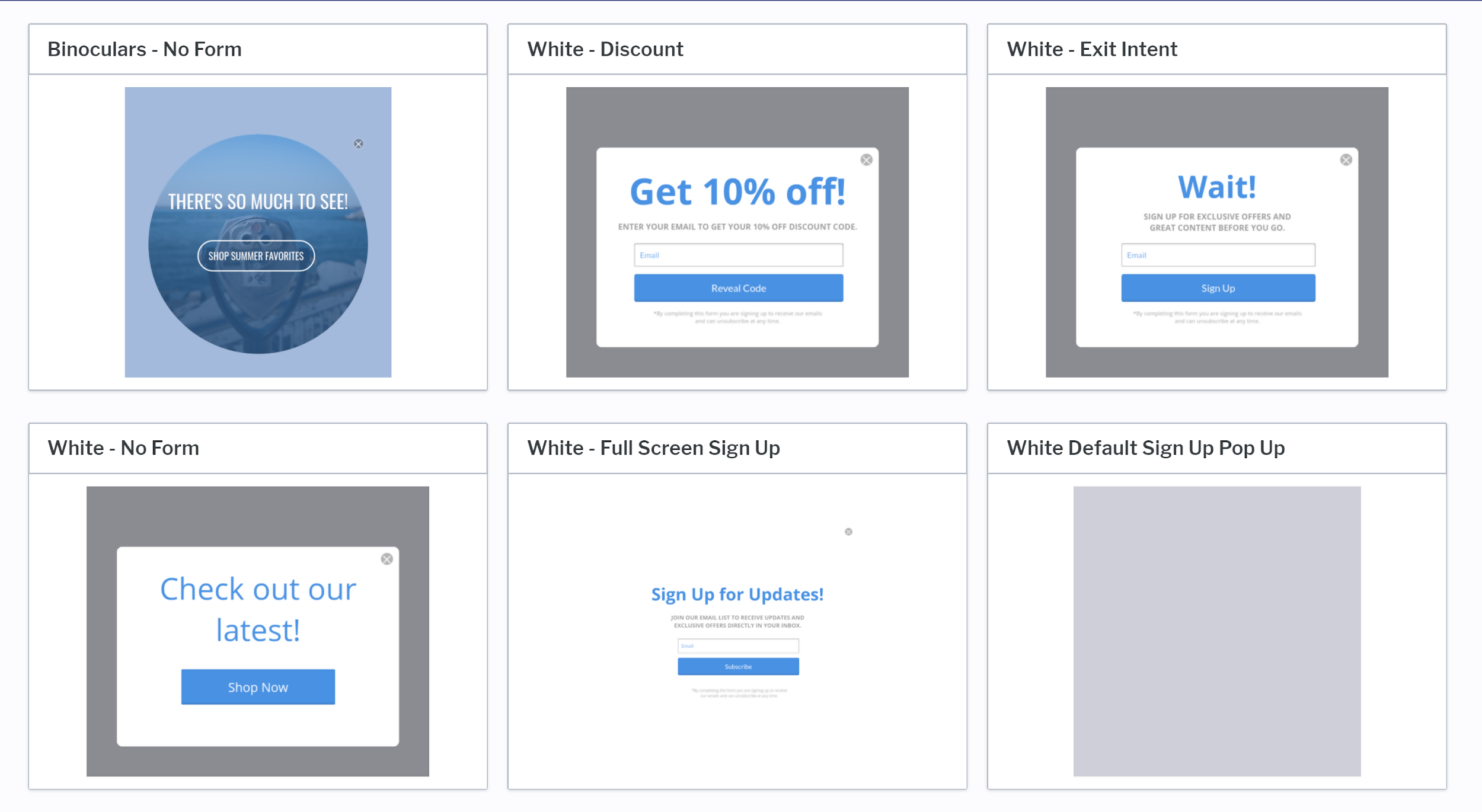 OptiMonk, on the other hand, provides dozens of ready-to-use templates with an emphasis on great design. Here are just a few of the unique new expert-designed templates we've published this year: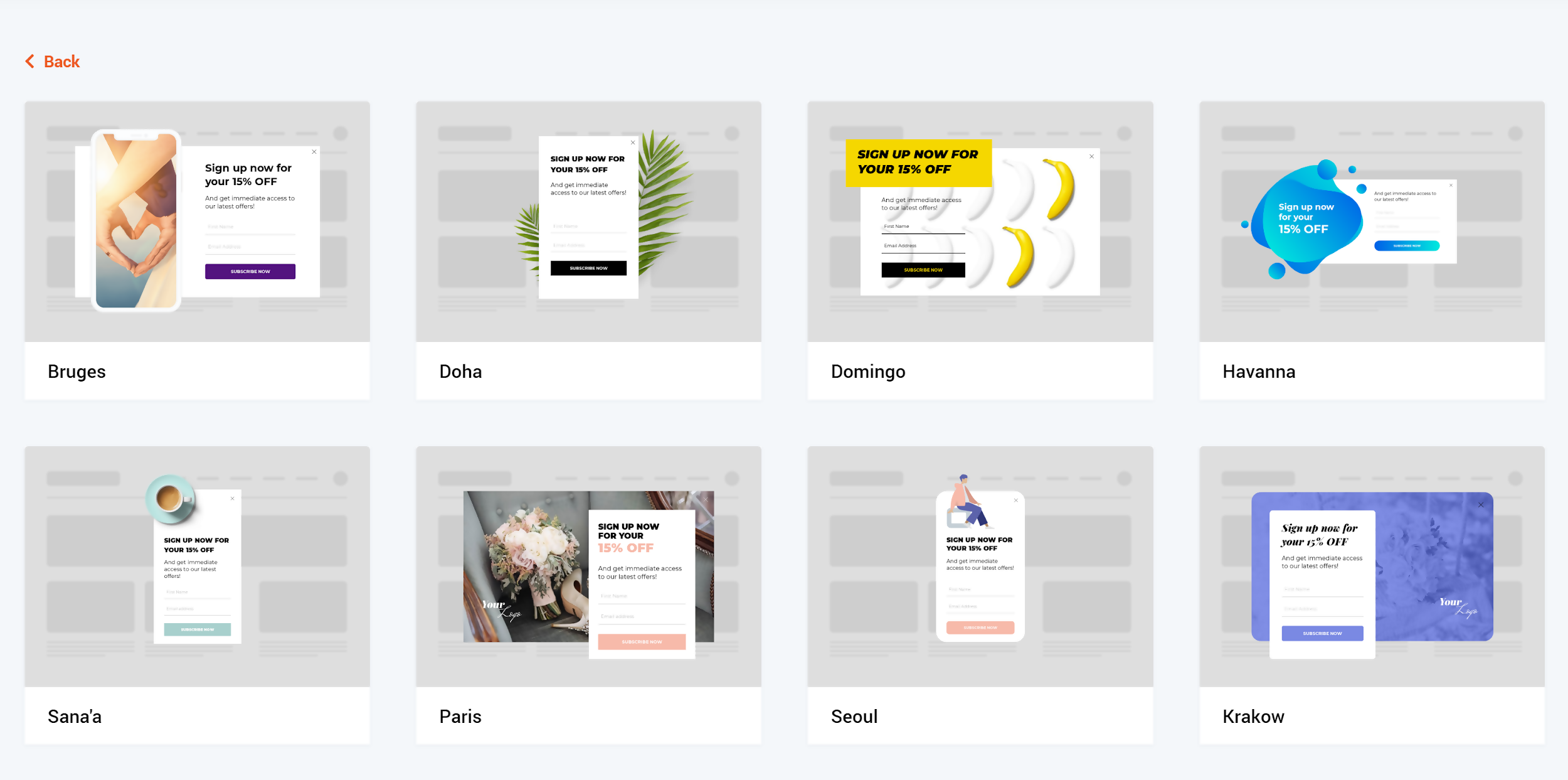 Both Privy and OptiMonk have seasonal templates available, which are great for special promotions like your Black Friday sale. But again, if you take a look at the templates, you'll see that OptiMonk's popups are more eye-catching.
Here are Privy's Black Friday popups: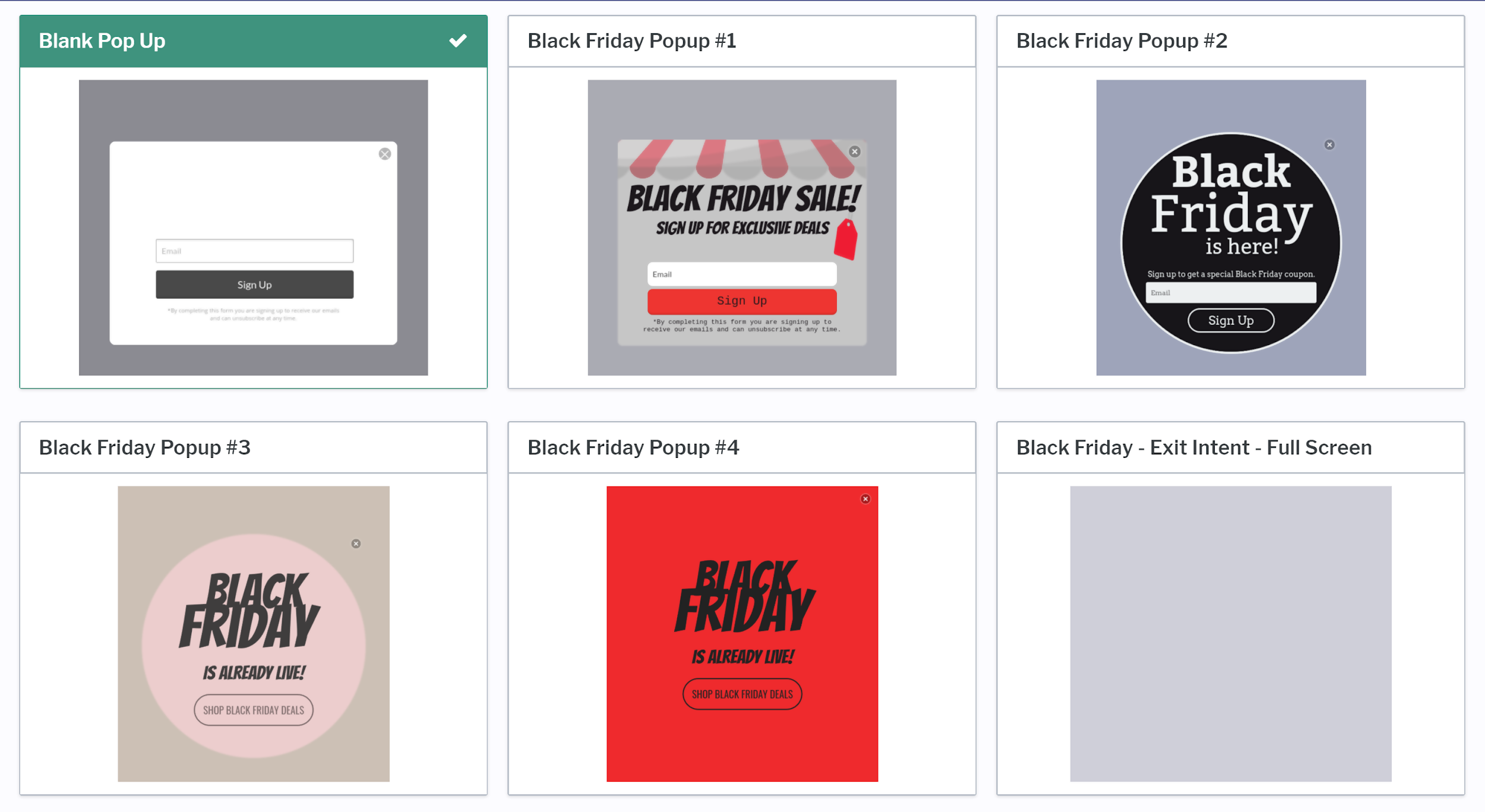 And here's a quick look at some of OptiMonk's Black Friday designs: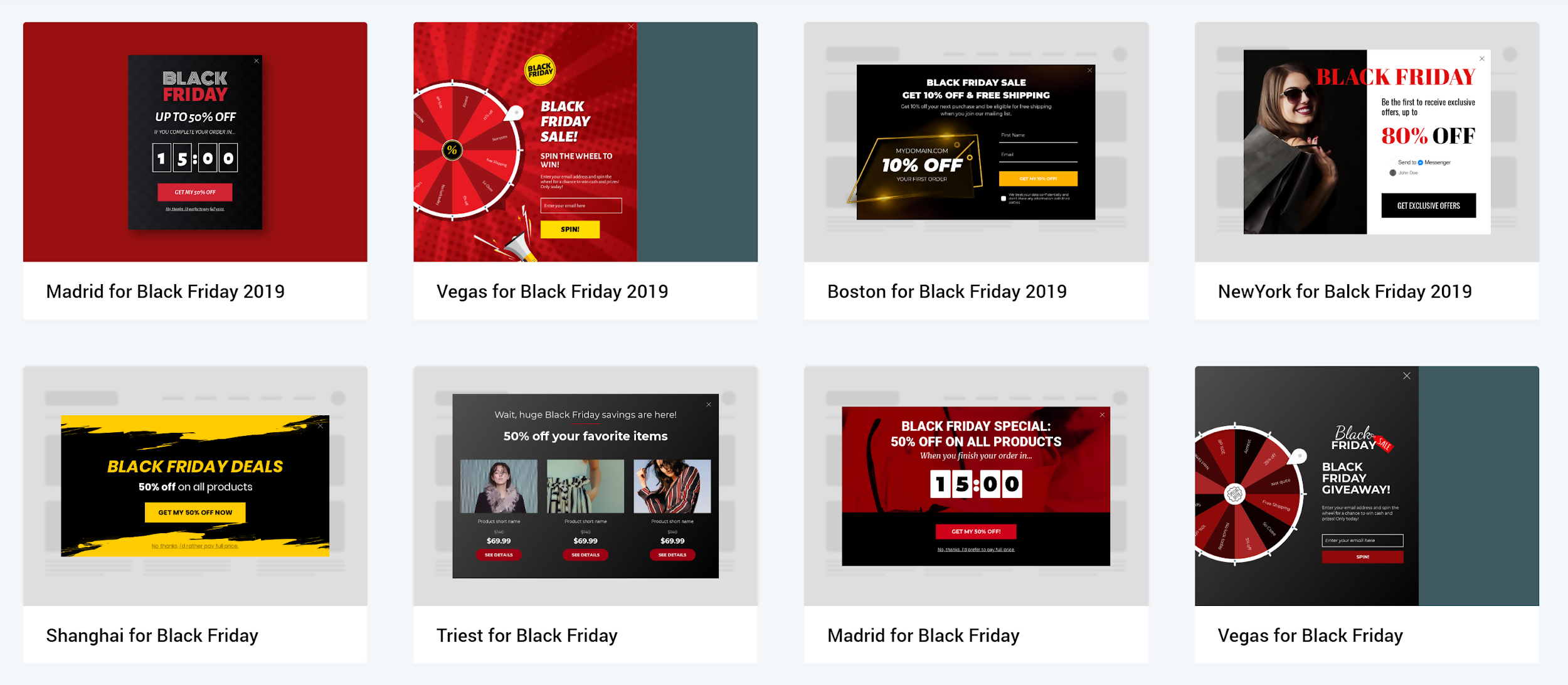 We also have templates designed for the other major holidays and special events, including 26 Christmas-inspired templates to help you to maximize your revenue at the end of the year.
While ready-to-use popup templates can be a wonderful way to save time, sometimes you want to get in there and tweak, adjust, and customize to your heart's content!
Let's have a look at Privy and OptiMonk's editors.
Privy's popup editor is easy to use, but it lacks flexibility and customization options. It allows you to add the following elements to your popups: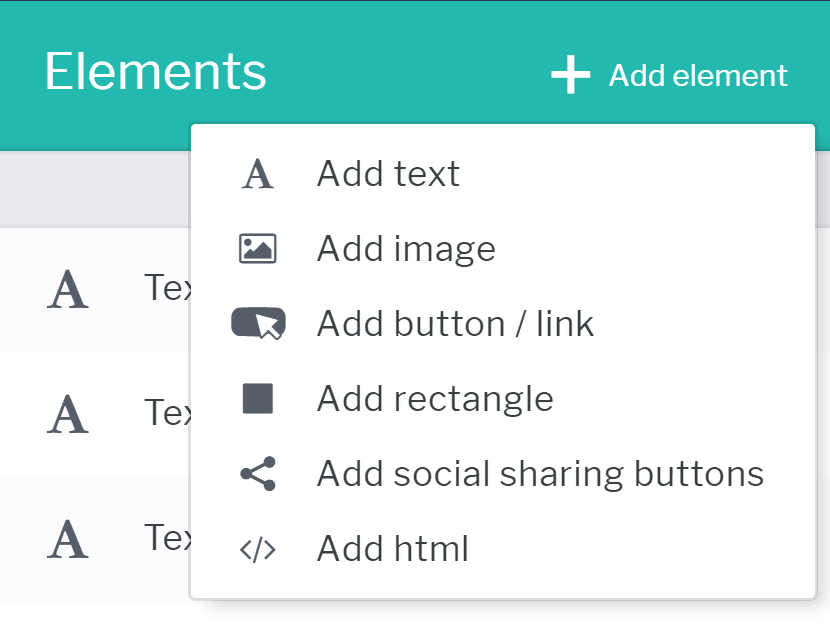 OptiMonk's Drag and Drop Editor, on the other hand, allows you to create almost any layout you can imagine and customize the templates to match the style of your site.
You can drag and drop a countdown timer, a video, a coupon code, or a product element – just to name a few.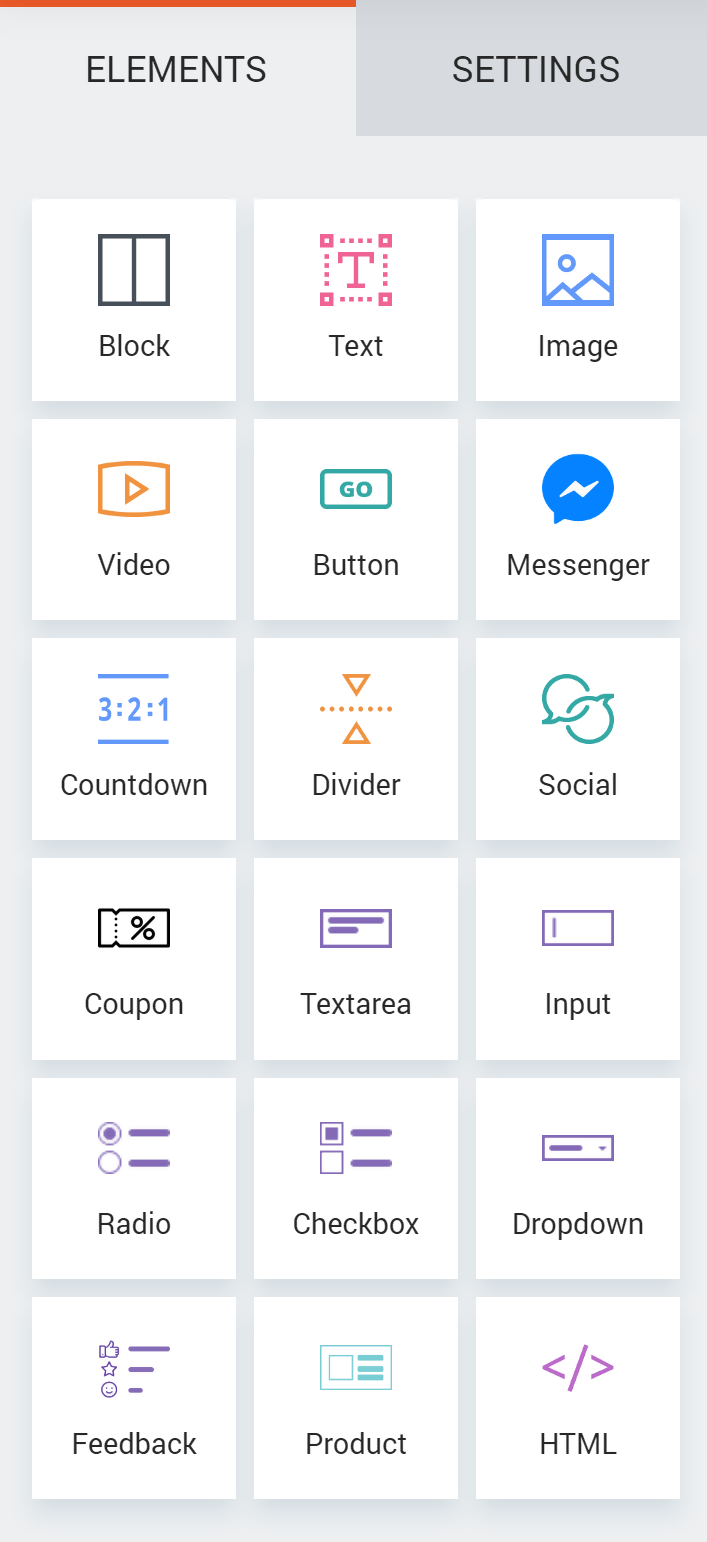 Another key aspect of your popups is the font.
Font choice goes way beyond style and design…it speaks volumes about your store and your values. Like colors, fonts have psychological meanings and can evoke moods, stir emotions, and influence visitors.
Let's take a look at the available fonts at Privy: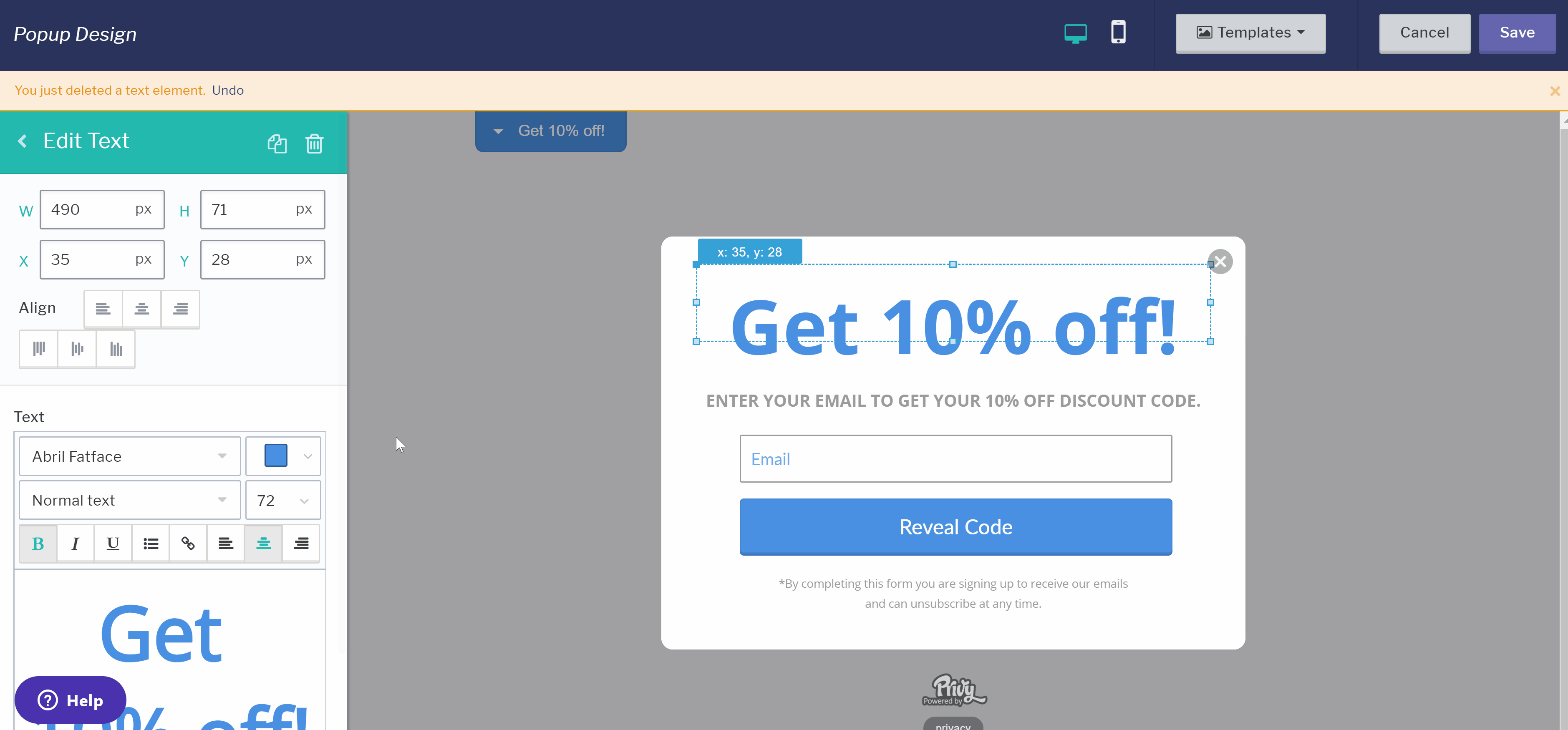 Not too shabby! But let's take a look at OptiMonk's available fonts: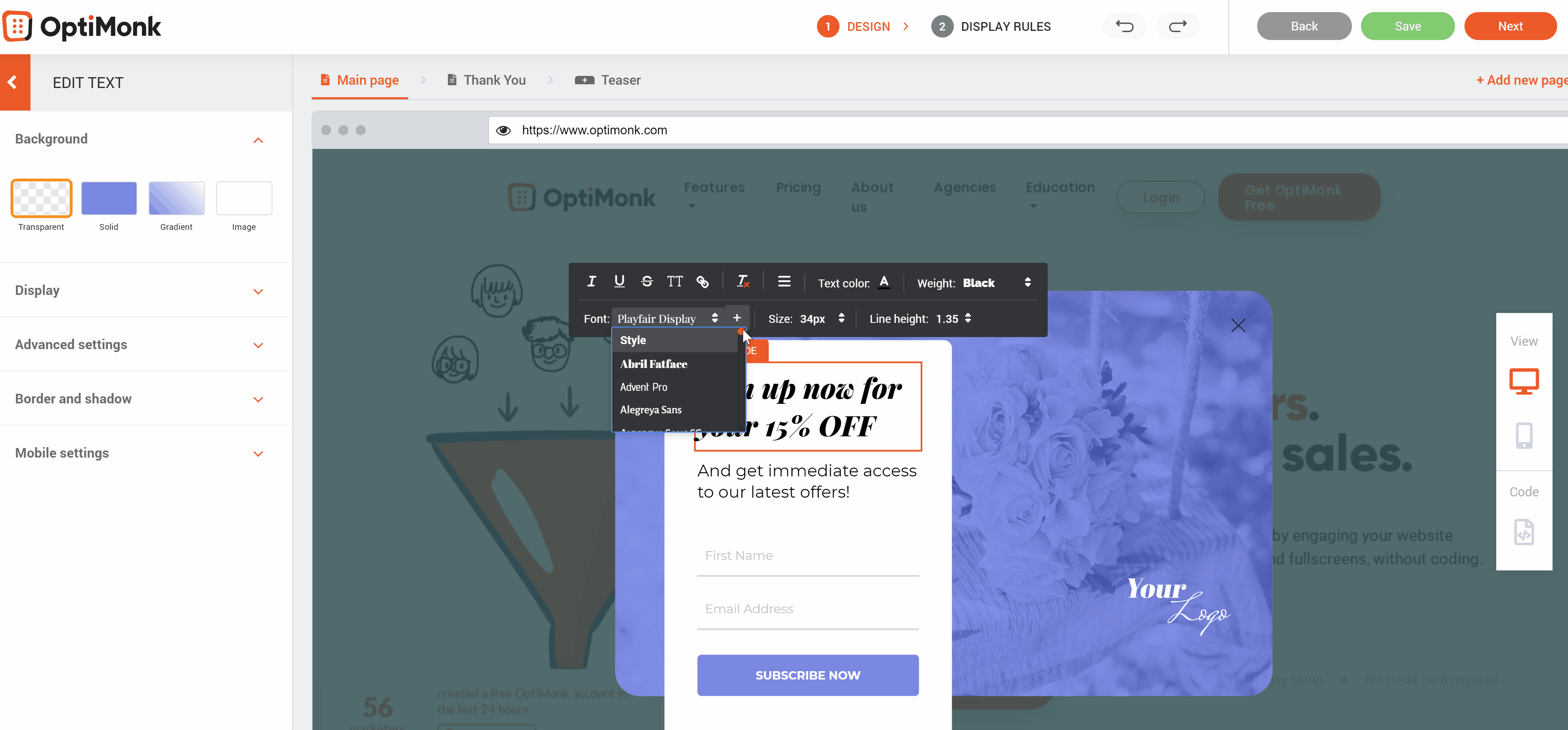 It already looks like more, but it doesn't end there. In addition to the 66 system fonts, you can also use any of the 900+ Google fonts, or even upload your own fonts: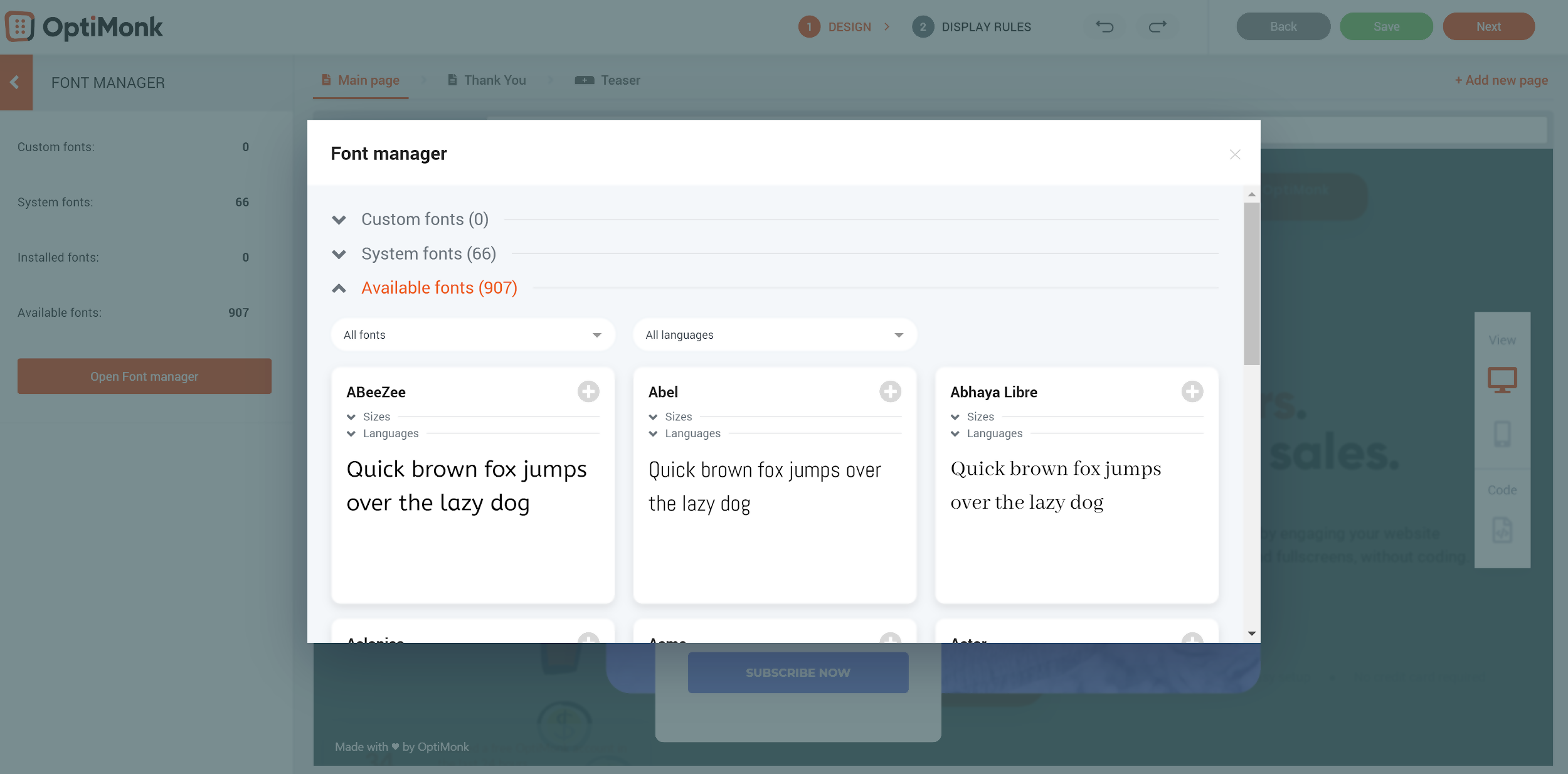 But what if you want to optimize your popups to take advantage of your mobile traffic? How does Privy's mobile editor stack up to OptiMonk's?
Well, unfortunately you won't find a mobile editing option at Privy.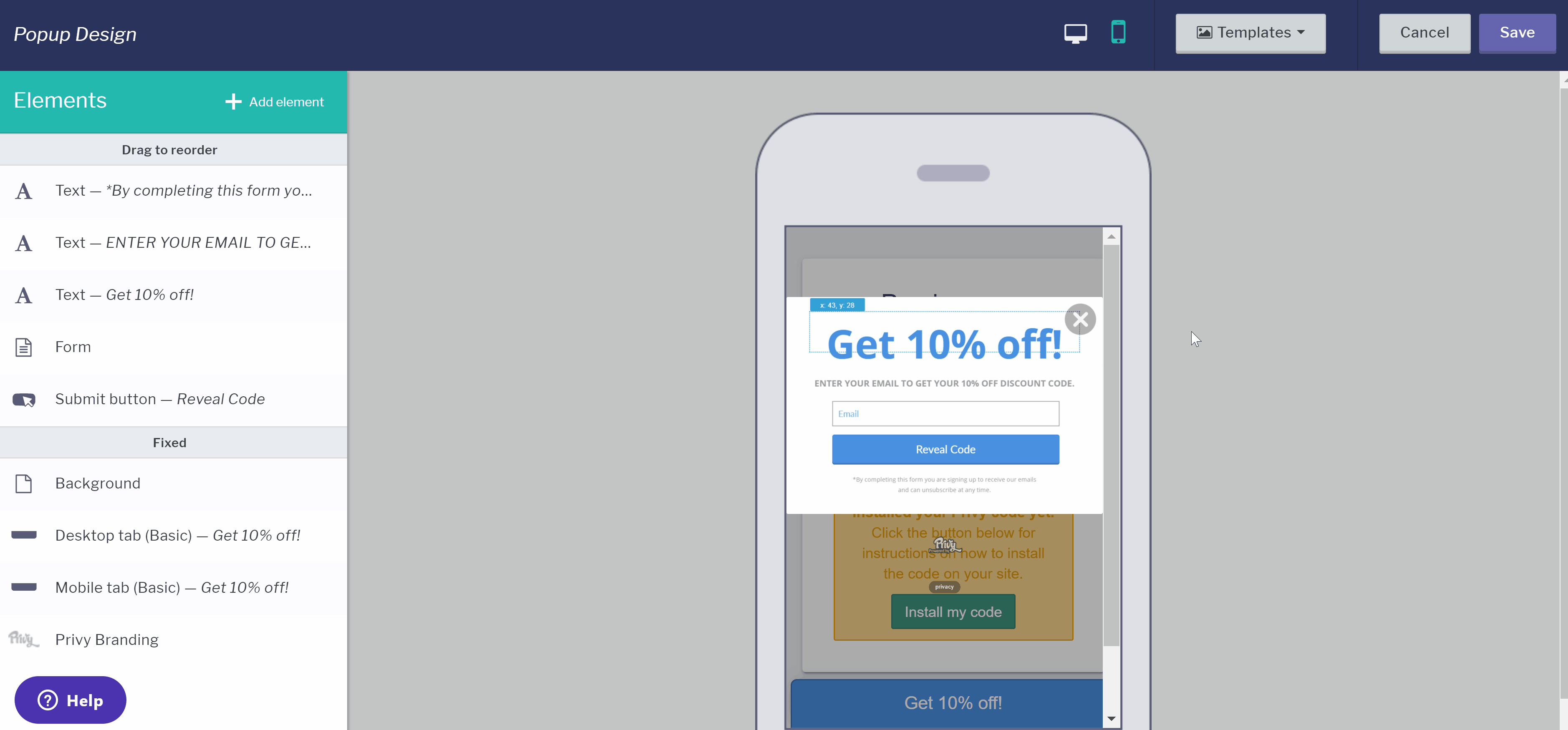 With OptiMonk, you can easily optimize your popups for mobile users.
You can edit mobile settings for almost all elements of your popup: block, image, input, button, text, and video. You can also customize your mobile popups by hiding elements or changing the order.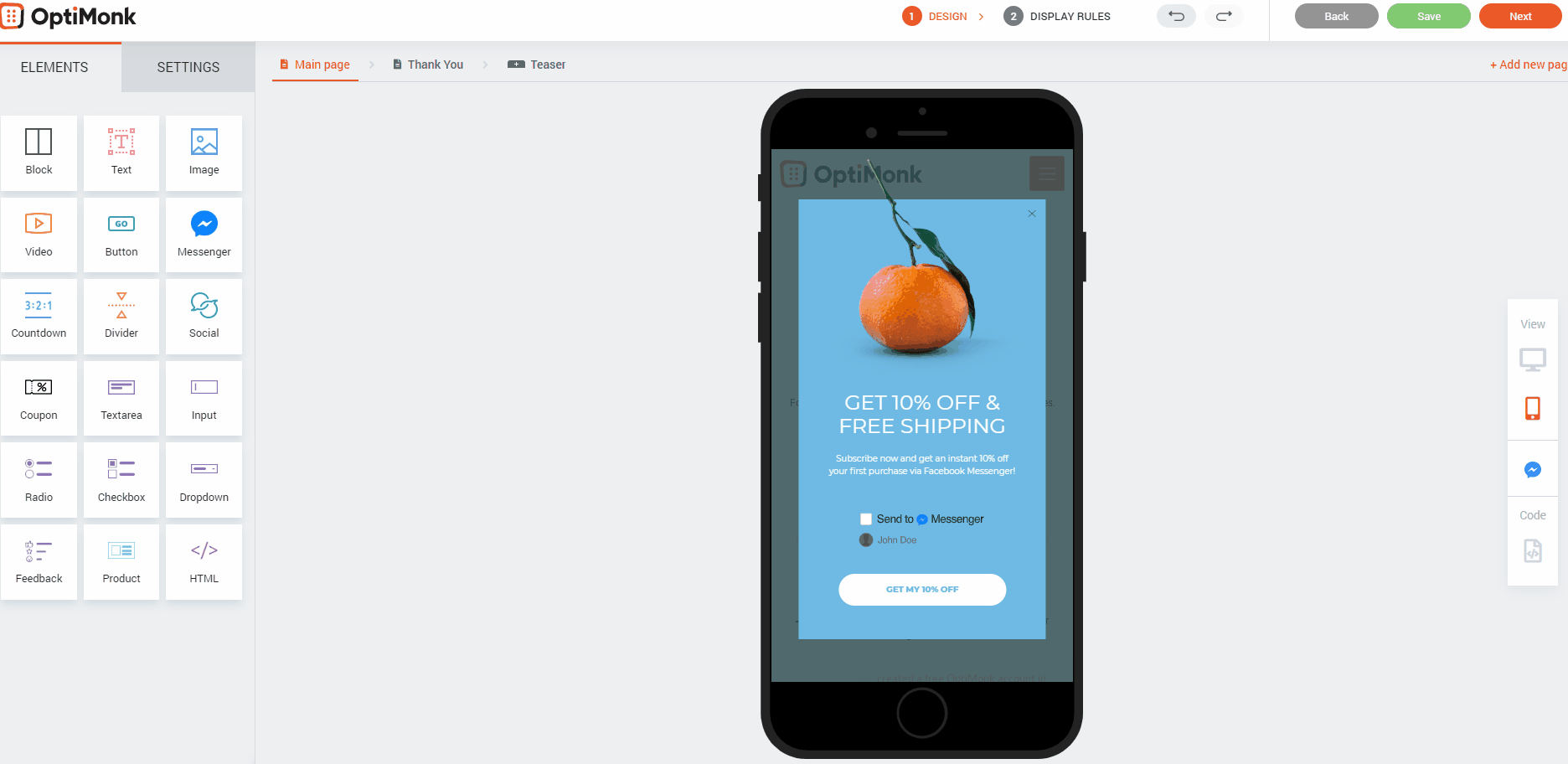 Displaying the right message at the right moment to the right person is the foundation of every successful popup campaign. The more personalized your campaigns are, the more conversions you'll get!
Both Privy and OptiMonk offer powerful triggering options, but let's find out how they compare.
Privy has 3 triggering options: after X seconds, after scrolling X percent of page, and on exit-intent.

At OptiMonk, we offer these 3 triggering options as well, but we also add 3 more advanced options to the mix: on click to a specific area, after X seconds of inactivity, and after a JavaScript event.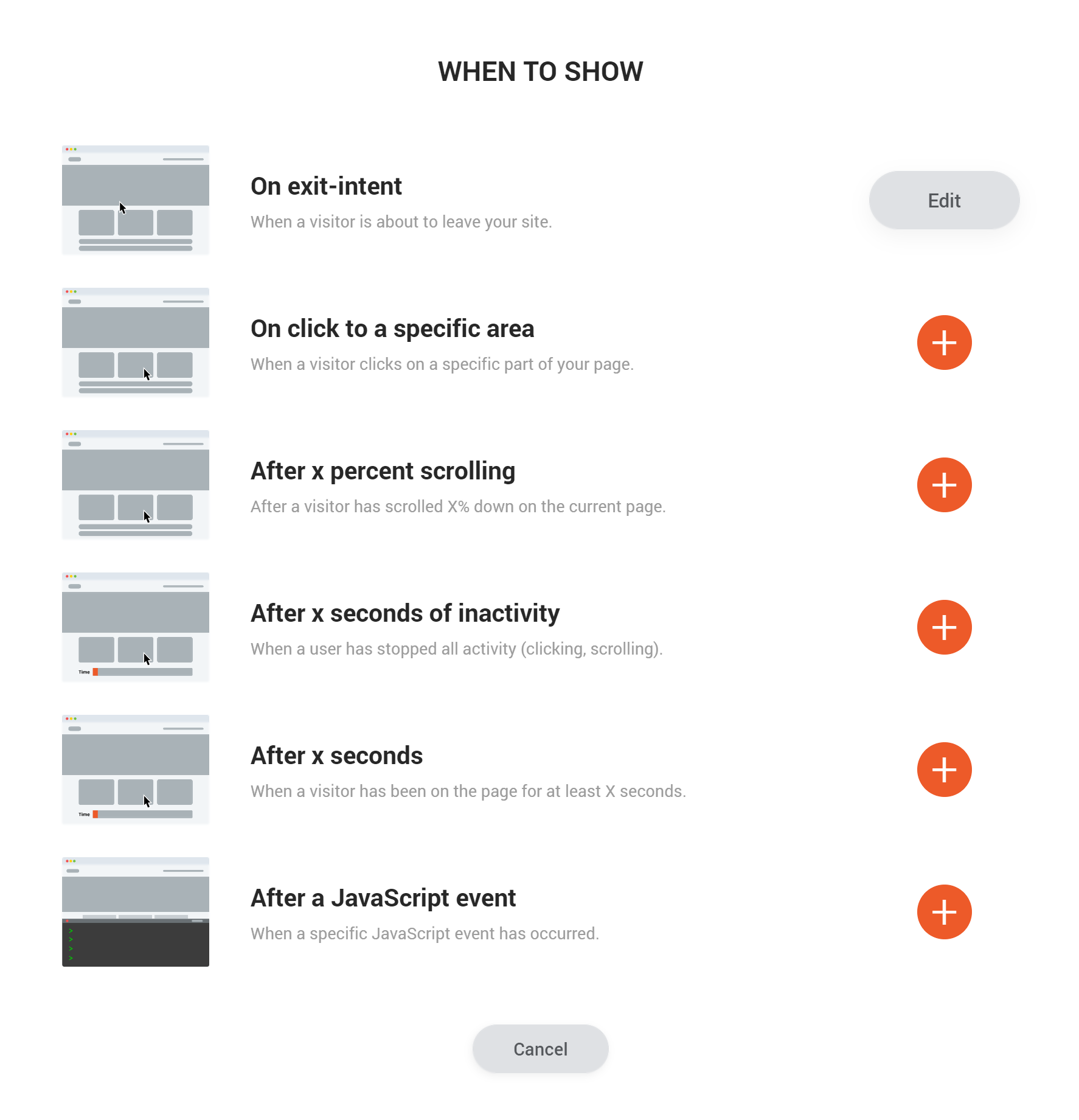 Privy and OptiMonk both provide many targeting rules. We won't give an exhaustive list, but both tools allow you to target your visitors based on:
current URL,
cart rules,
custom variables,
campaigns, and
the number of visited pages.
With OptiMonk, you can also:
block visitors with a specific IP address,
segment your audience based on any cookie of your choice, and
target visitors who use (or don't use) AdBlock.
Privy and OptiMonk both have great support documentation, but what if your question isn't answered in the documentation or you run into an issue? How easy will it be to get the help you need?
With Privy, you'll have access to free chat and email support.
As an OptiMonk customer, you get free call, chat, and email support. And you can also schedule a free call with our specialists whenever you need a bit of extra help.
Alright, now for the big question…what will it cost you to use Privy vs. OptiMonk?
Both have free plans available for websites with limited pageviews.
Privy's free plan includes more pageviews: 5,000, vs. OptiMonk's 3,000.
But as your store starts to grow, you'll notice that on average, OptiMonk is 3x cheaper than Privy.
See for yourself:
For 25,000 pageviews, Privy charges $70/month. OptiMonk charges $29/month.
For 100,000 pageviews, Privy charges $250/ month. OptiMonk charges only $79/month.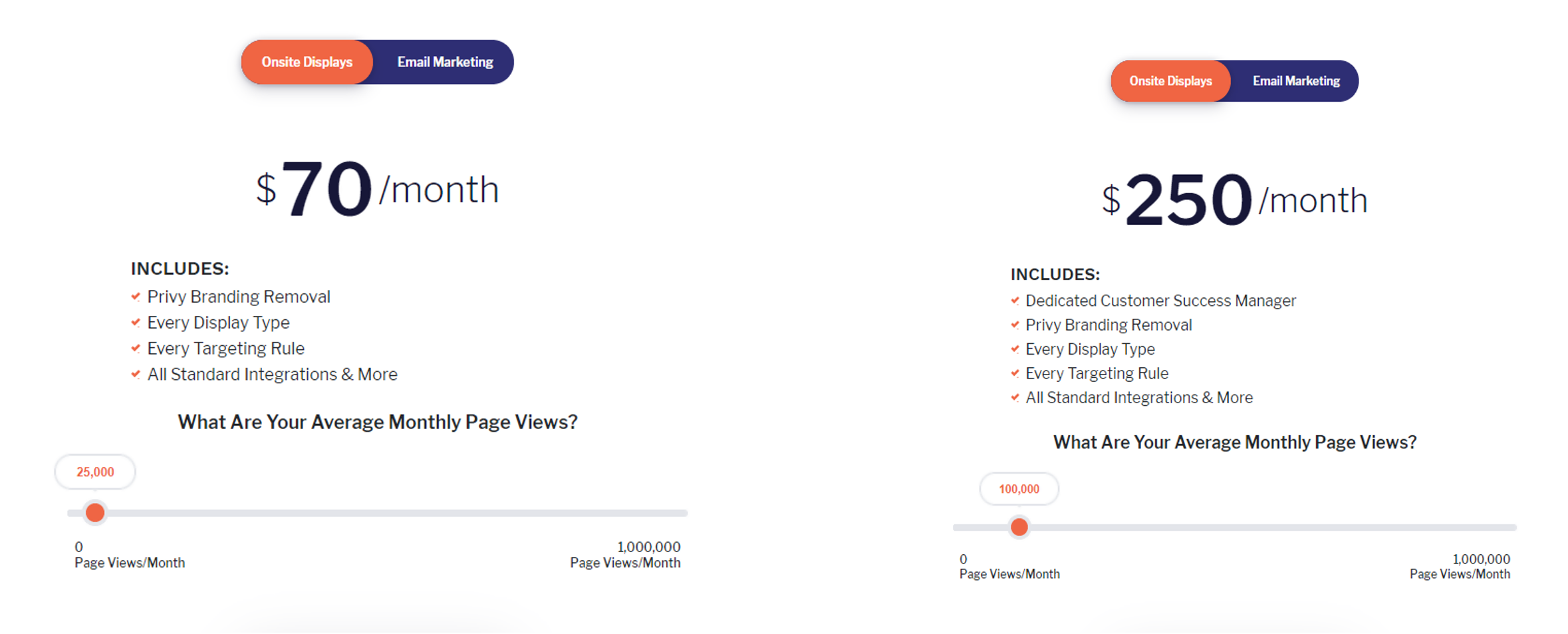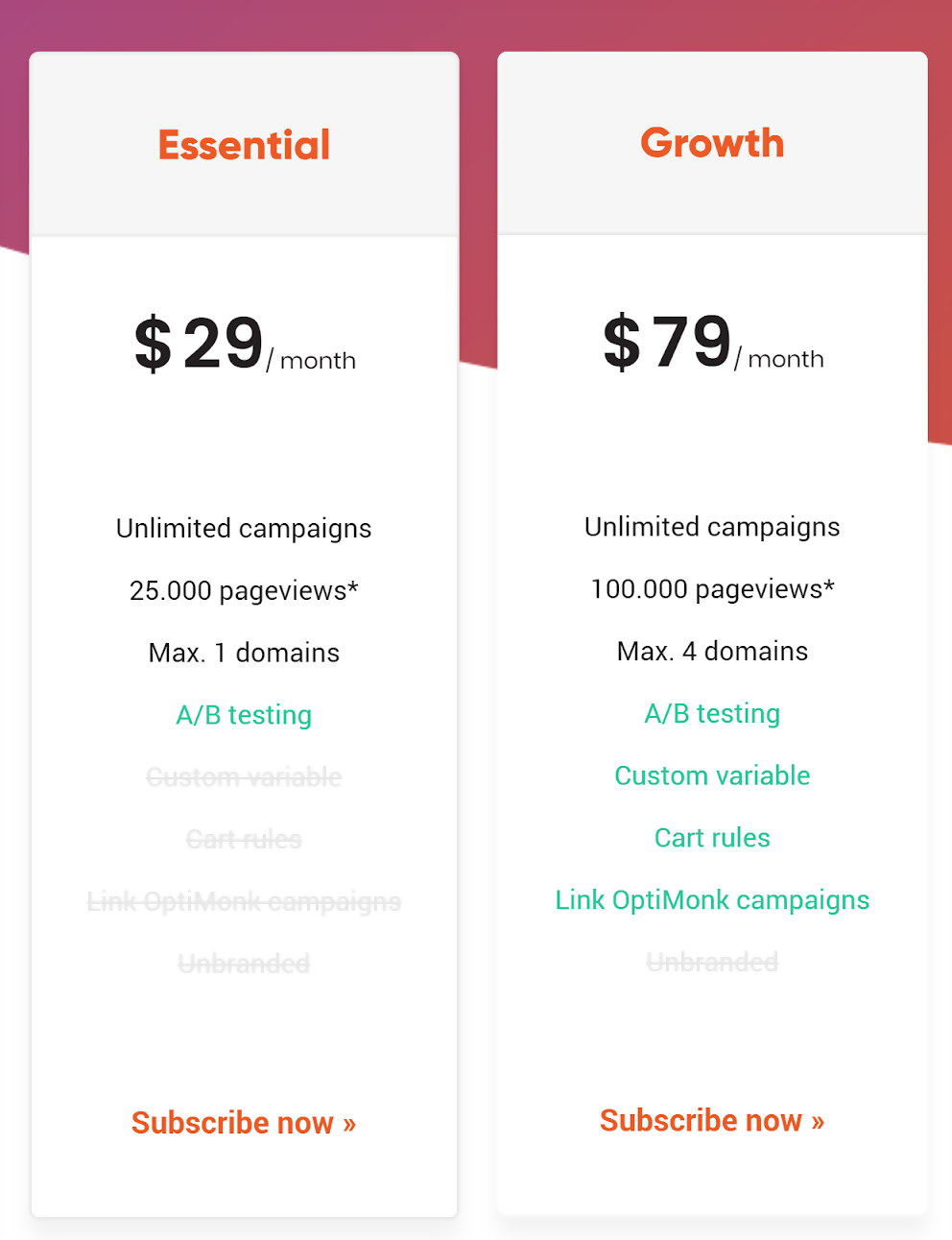 That means that with OptiMonk, you could save over $2000/year!
Alright, the suspense is over. We've examined OptiMonk and Privy in detail, and the results are in.
If you…
want sophisticated designs,
need an editor that gives you flexibility,
are serious about personalizing your messages, and
want to maximize your conversions and revenue for less,
…then OptiMonk is the best choice for your ecommerce store!
Not quite convinced?
See what our users have to say: