OptinMonster, Sumome, and OptiMonk are three of the most popular marketing tools for creating lead generation opt-in forms. Since they all fall under the same category, it can be tough to figure out which one is best for you.
There are some big differences between OptinMonster, Sumome, and OptiMonk which are important to understand. In this article, we'll take a closer look at these three marketing tools, and compare their features, pricing, and performance.
Ready to find the right tool for your website and for your unique needs? Let's get started!
Comparing features: Sumome, OptinMonster, and OptiMonk
All three of these tools allow you to create opt-in forms, exit-intent forms, and sidebar forms to generate leads, but we'll see some significant differences in the details.
Advanced features like exit-intent technology, email platform integration capabilities, and campaign scheduling can make a huge difference in how easy your lead generation software is to use… and the results you get.
Let's take a look at the main features of each tool.
OptiMonk's popup tool helps ecommerce stores capture leads, promote sales, and stop cart abandonment. With powerful customization options, you can control precisely when and how your popups appear to your visitors.
Users appreciate these options and the great results they bring: OptiMonk has over 450 five-star reviews in the Shopify App Store.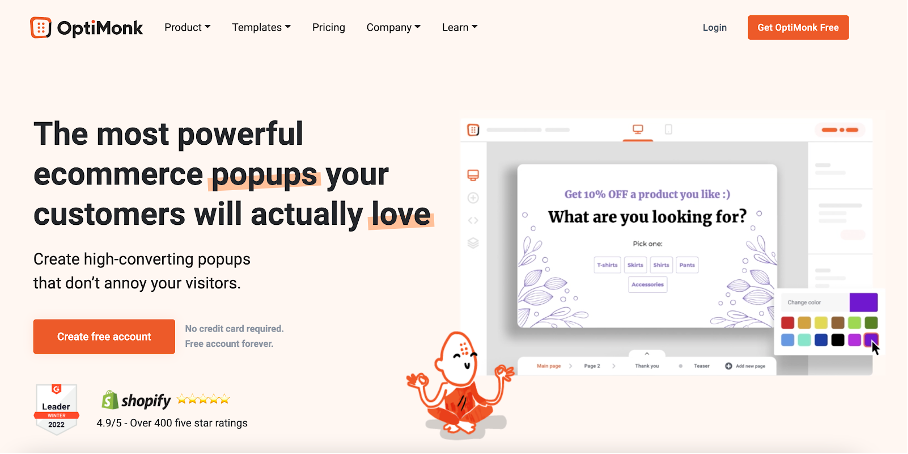 OptiMonk's features
OptiMonk's popup software is full of advanced features that lead directly to higher conversion rates.
Even better, almost all of these features are available in the free plan (except A/B testing and targeting based on custom variables, which are useful upgrades you'll get access to with their available tier plans.
Over 300 pre-made templates
OptiMonk's large template library is full of proven templates that deliver great results. There are more than 300 popups to choose from for various use cases, and all of them are mobile friendly.
The template library also contains popups that have been specifically designed for seasonal events like Mother's Day, Back-to-School, Black Friday, and Christmas.
Powerful popup editing tools
Once you've chosen a template for your popup, you can easily customize it to match your website's design in just a few clicks—no technical skills needed.
Customization options include:
Size, layout, and position

Colors

Images

Opt-in form fields and copy
The drag and drop editor has a simple user interface that makes customizing your popup opt-in forms a breeze.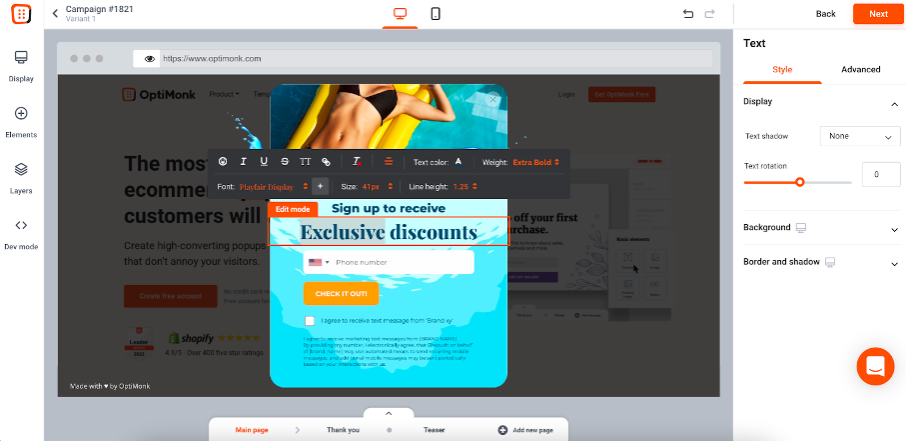 Lots of form types
OptiMonk offers many campaign types that allow you to capture email addresses, including:
Sticky bar (also known as a hello bar or floating bar)

Feedback form

List builder form

Slide-in scroll box form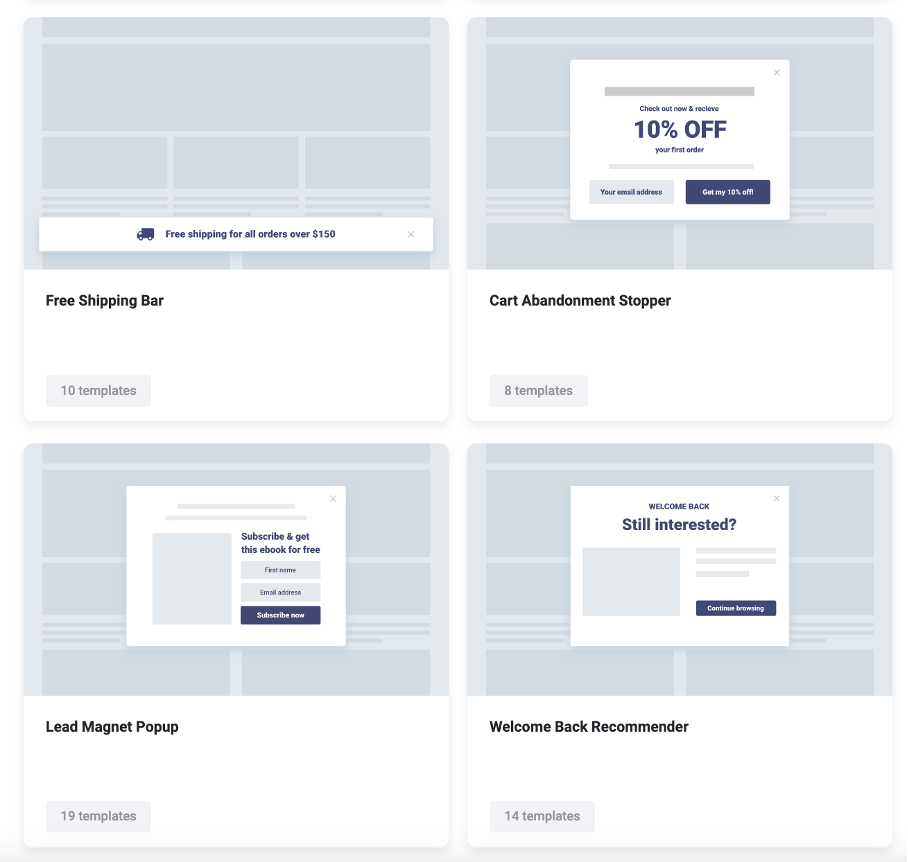 Advanced targeting features
You can tailor your messages toward different segments of website visitors with OptiMonk's many display rules.
For example, you can display certain popups to users who have added specific items to their cart. You can show different popups to first-time and returning visitors. Or you can target visitors based on a specific landing page they've already visited.
You can also target site visitors based on:
Location

Traffic source

Scroll triggers

On-click triggers

Timed display control

Time spent on specific pages (i.e. custom html)
With these advanced targeting features, you'll be able to show highly relevant popups to your visitors, which will improve the customer experience.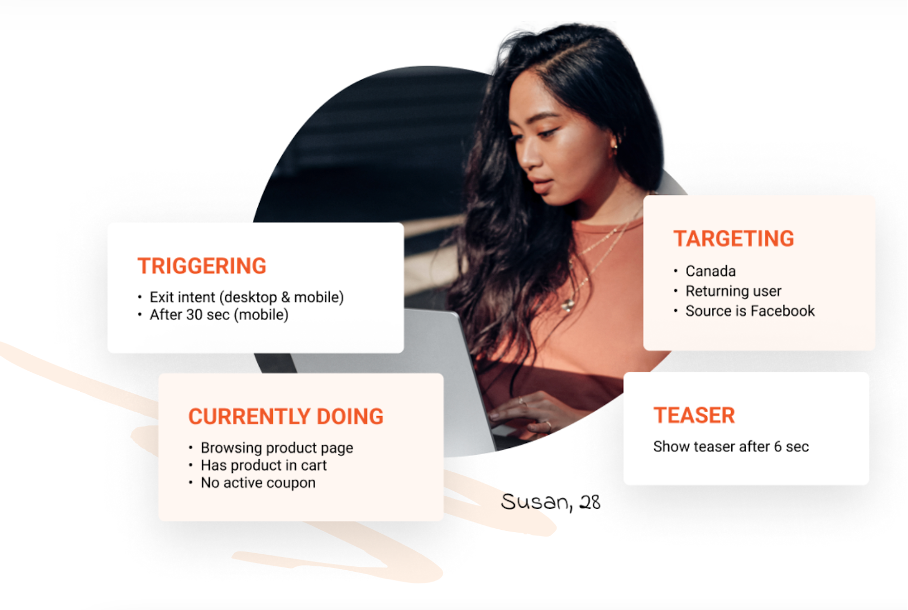 Stellar customer service
If you're unsure about the best setup for your popup campaign or if you have any other questions, just reach out to OptiMonk's professional customer support team, who will be happy to help you.
Check out this customer review below:

A wealth of integration options
OptiMonk integrates with all the most popular tools that today's business owners use to run their online stores, including email marketing tools like MailChimp and Klayvio. Here are just a few of the many integrations available through OptiMonk (you can see the full list here).
And even better, none of these integrations require you to subscribe to a premium plan.

Who should use OptiMonk?
Any ecommerce store can use OptiMonk to grow their email list and boost their sales and conversion rates. This all-in-one tool is easy to use and offers tailored solutions for your marketing campaigns.
Sumo (or Sumome) is a lead generation plugin that's all about simplicity. The cornerstone of their approach is a quick setup process that allows you to get your opt-in forms up and running within minutes.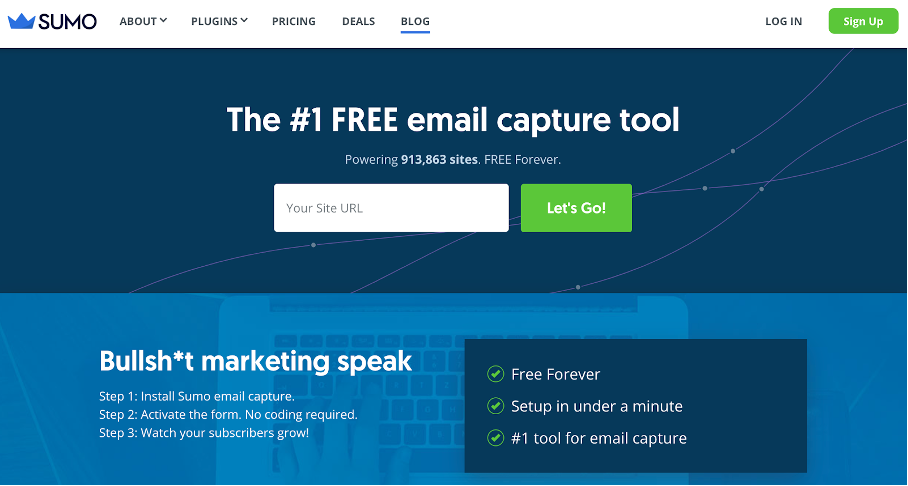 Sumo's features
One of Sumo's catchphrases is "set it and forget it," which encourages users to set up their forms quickly and then simply let them run. This is a great approach if you don't have much time to invest in running your campaigns, but it discourages regularly updating and improving your popup forms.
Intuitive form builder
You can create an opt-in form easily with Sumo. Just start with one of their opt-in form templates and launch it with very minimal editing.
The downside to this ease-of-use is that you can't create as many form types as you might want, and your customization options are somewhat limited.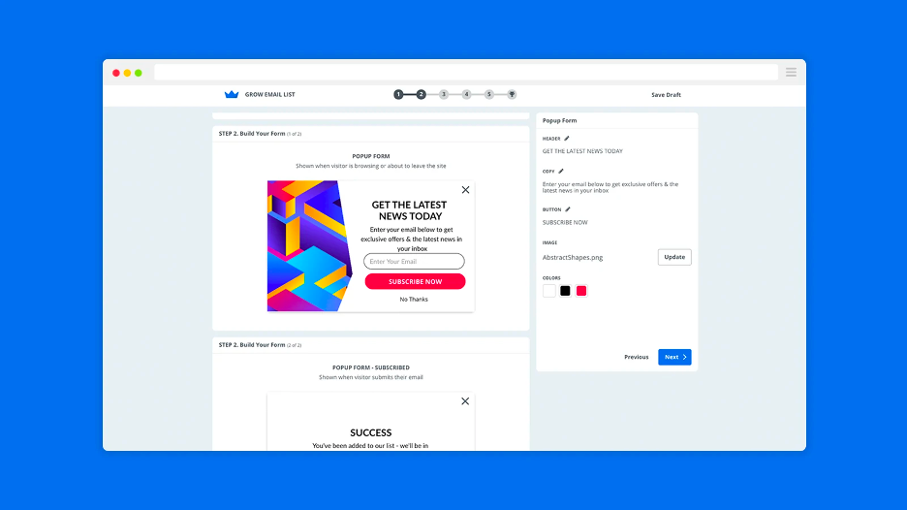 Integrates with other Sumo products
Sumo's lead generation tool also has several other products that integrate seamlessly with their popup maker, which means that if you already use another tool from the Sumo family, this could be a good choice for you
Who should use Sumo?
Sumo is perfect for store owners who don't have a lot of time to spend on creating, A/B testing, and updating their popups. If all you want is a simple email opt-in popup, this is the form builder for you.
OptinMonster is a conversion optimization toolkit that will help you "convert and monetize your website traffic."

OptinMonster's features
OptinMonster helps ecommerce stores generate leads using opt-in forms and inline forms. They have a large template library that contains many popup opt-in types with reliable features.
Drag and drop editor
Their platform has an advanced popup editor that offers a great deal of customization.
You can start with a blank canvas form or choose a template, then easily add and edit elements like times, contact forms, and images, helping your popups blend in seamlessly with your store's theme.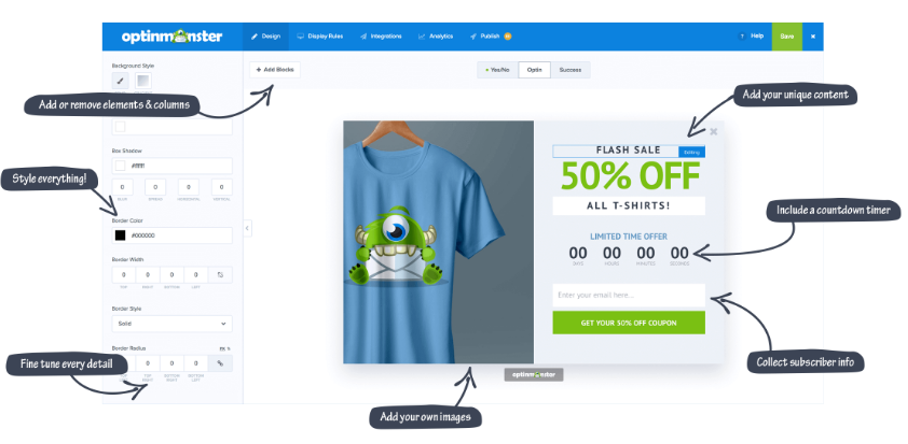 Targeting features
OptinMonster also gives you access to an impressive suite of tracking and targeting tools. These include geo-location, page-level targeting, and an "InactivitySensor."
There are options for using both onsite retargeting and follow-ups to improve your conversion rate.
Who should use OptinMonster?
OptinMonster can be a useful popup tool for lead generation. Ecommerce stores that rely on their contact list for a large percentage of their sales should consider using this popup software.
OptinMonster vs Sumome vs OptiMonk pricing breakdown
Now that we've taken a look at all the features that OptinMonster, Sumome, and OptiMonk offer, let's take a look at their pricing plans.
Remember, it's important to find an option that works for your budget when choosing an opt-in form builder.
1. OptiMonk pricing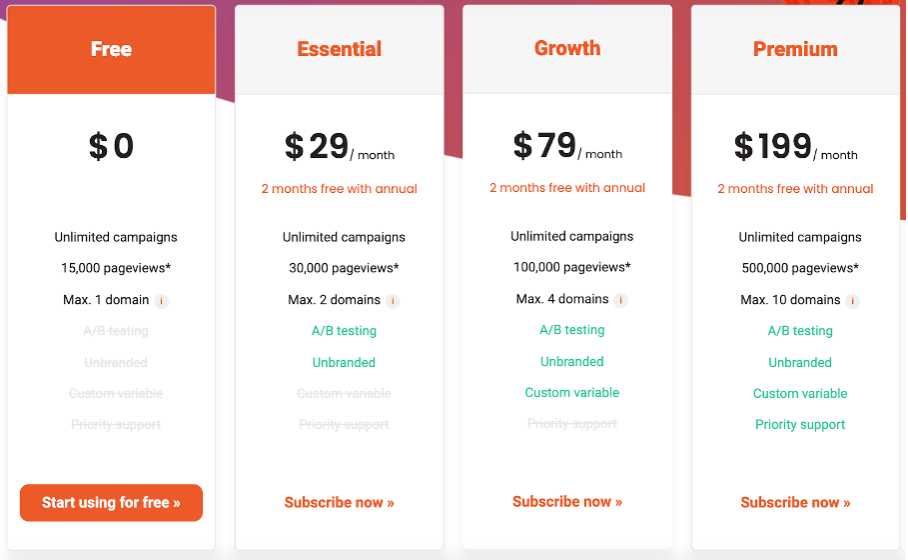 OptiMonk has four different payment plans to choose from, starting with a Free version and progressing to a Premium version that costs $199 per month.
You can run an unlimited number of campaigns on any of the accounts (including the Free version), though there is a cap on the number of pageviews your campaigns can receive on each of the different plans.
The biggest jump in benefits comes when you sign up for the $29/mo Essentials package, which gives you access to A/B testing and unbranded popups.
2. Sumome pricing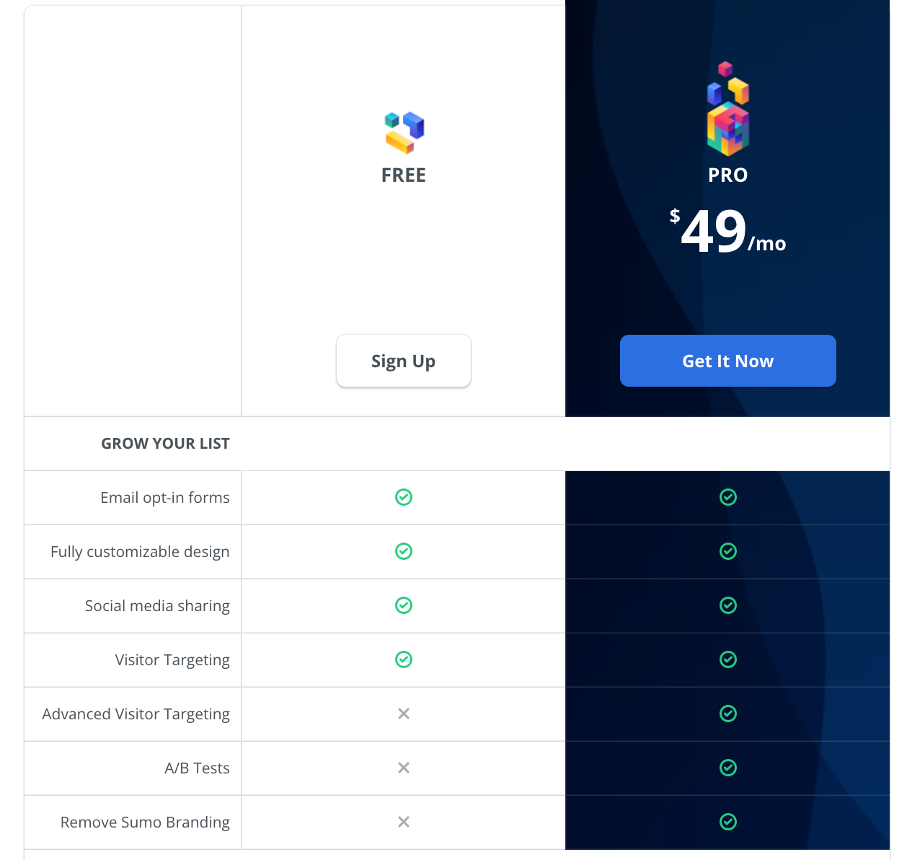 Sumo offers a Free plan, but it only comes with one bare-bones popup design option. The targeting options are limited in the Free plan, and you won't be able to use unbranded popups or A/B test your campaigns. If you want access to these features, you'll have to upgrade to the $49/mo Pro plan.
3. OptinMonster pricing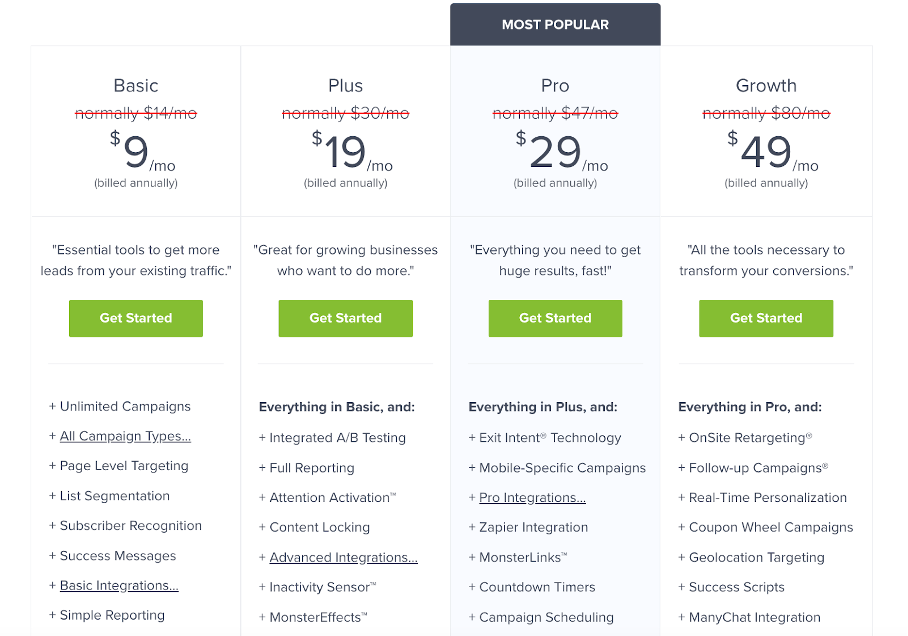 Unlike Sumo and OptiMonk, OptinMonster doesn't have a free plan. Their Basic Plan is affordable at $9, but features are limited. To get features like countdown timers, gamified popups, and even exit-intent popups (which are crucial for conversion rate optimization), you'll have to sign up for the $29/mo Pro plan.
You also need to be on higher-tier plans in order to use OptinMonster's integration with popular ecommerce tools like Conversio, HubSpot, and Marketo.
We hope you've found this comparison of Sumo, OptinMonster, and Optimonk helpful as you choose which tool to invest in for your business!
When it comes to both functionality and pricing, OptiMonk is the all-around best option for most ecommerce stores. It's not every day you find a software tool that's affordable AND offers more functionality than its competitors.
If you haven't created your OptiMonk account yet, click here to get started!