Gamified popups have become a huge thing in the last couple of years, and it's easy to see why. They're great at increasing the effectiveness of your Shopify popup campaigns, and they make subscription fun!
Wheelio was the world's first gamified popup solution. But does being the first make you the best?
Today, we'll find out!
In this article, we're putting OptiMonk head to head with Wheelio to help you understand how they compare, where they differ, and why you should make the switch!
The world is moving fast, and our attention spans are getting shorter and shorter. Research shows that attention spans have decreased significantly in just 15 years: in 2000, they averaged 12 seconds, and by 2015, they had dropped to 8.25 seconds.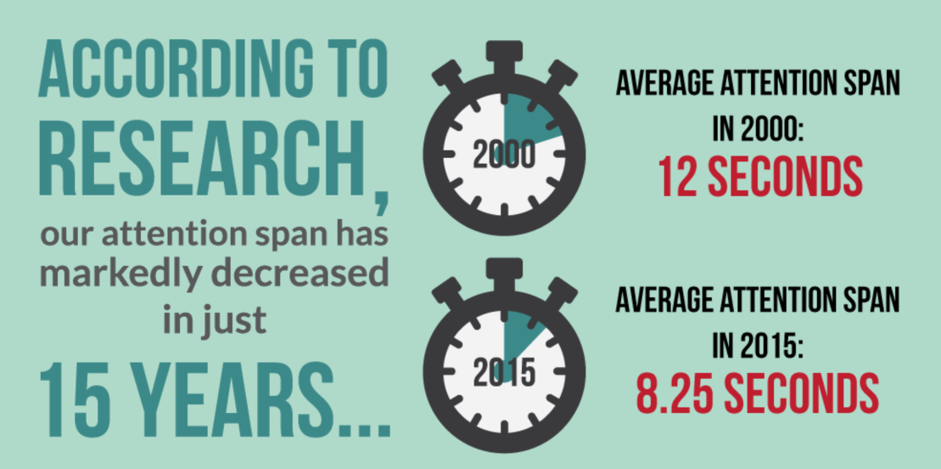 Yikes! That makes two things clear:
1) The more attention-grabbing and engaging your popup can be, the better.
2) You don't have time to jump through hoops to get your popup solution installed. Quick installation matters!
Luckily, OptiMonk and Wheelio both have a one-click install process on the Shopify app.
Speaking of the Shopify app, it's important to note that Wheelio only works for Shopify stores.
OptiMonk, on the other hand, integrates Shopify, other ecommerce platforms, and any website—including custom sites.

We know that for small businesses, price is an important factor. Let's check out what it costs to use Wheelio vs. OptiMonk.
Wheelio offers a 7-day free trial…. BUT… a credit card is required to try the software.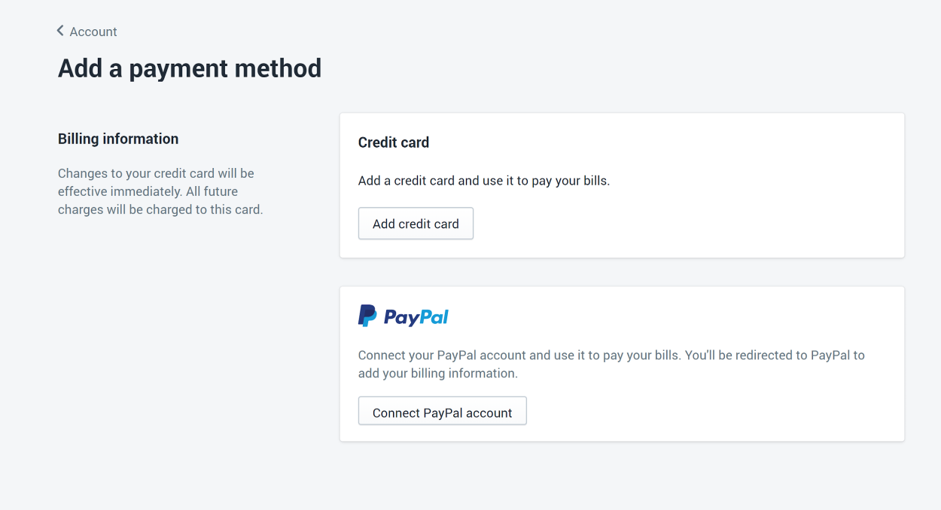 After your free trial, Wheelio charges $14.92/month for the basic plan, which allows you to create only one campaign and includes limited features.
If you want to use custom fields (e.g. name, telephone), set up multiple campaigns and segment them by URL, or see some analytics, you'll need to select the Pro plan…which comes with a $54.92/month price tag.

OptiMonk has a Free plan which includes 3,000 pageviews and unlimited campaigns. This plan lets you use custom fields, URL segmentation, and check your analytics.
The Free plan is perfect if you run a smaller business, as it allows you to create unlimited campaigns and increase conversions right away.
As you grow, there are 3 additional subscription tiers to choose from, so you can upgrade for exactly what you need during each stage of your expansion.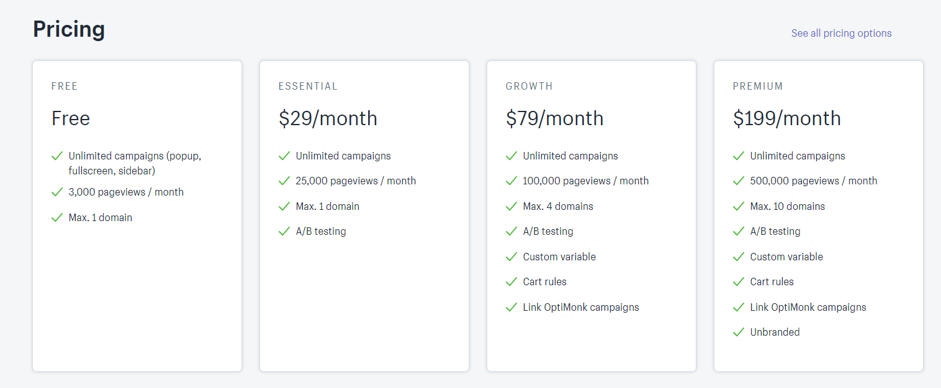 When it comes to design, Wheelio doesn't have much to offer. Their only gamified popup is the lucky wheel – but since their business was built around that design, that makes sense. They do have a few themes (e.g. Christmas, Black Friday, Easter), so you can change the look of your wheel with the seasons.
Here's what their Easter theme looks like: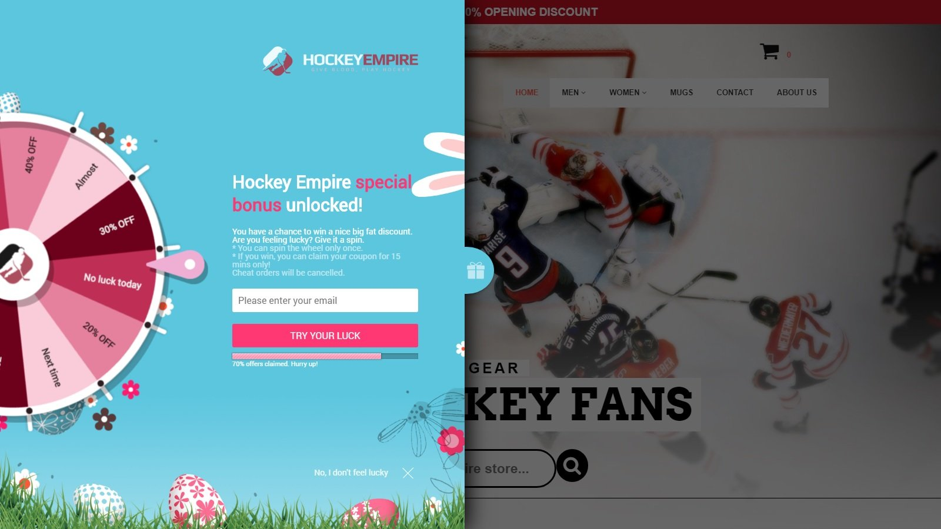 OptiMonk has a wide variety of on-site message types: popups (of course)… but also sidemessages, nanobars, and fullscreens.
In terms of gamified popups, OptiMonk has several to choose from: the lucky wheel, the scratchcard, and the new "pick a gift" template.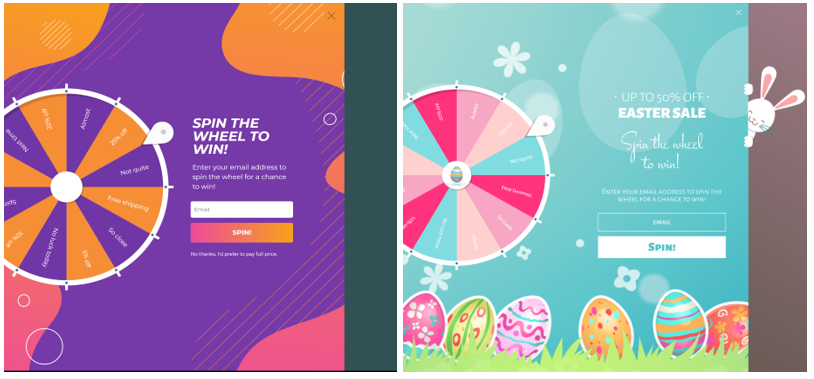 When it comes to seasonal themes, OptiMonk has lots of categories to choose from: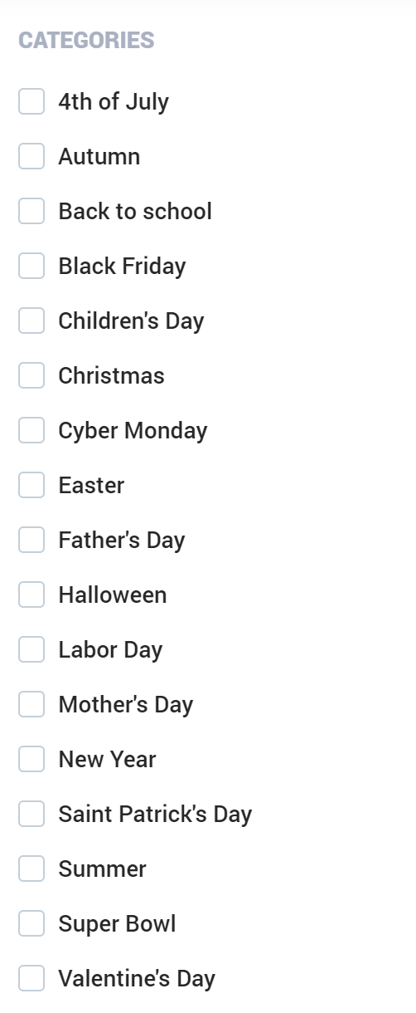 Ready-to-use popup templates can be a wonderful way to save time, but sometimes you want to get in there and tweak, adjust, and customize your popup.
Wheelio has a very basic editor. You can change a few things, but you can't move things around or add/delete elements from your lucky wheel.
Here's what you can do: upload your logo, change the text, change the colors, configure coupons, and set the weighting factor (probability of winning) for each coupon.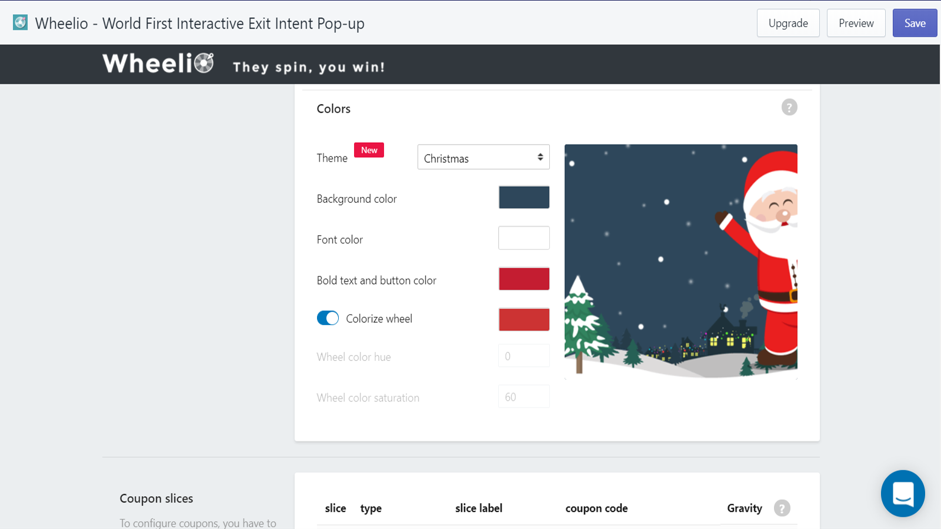 With OptiMonk's Drag&Drop editor, you can really change EVERYTHING. And it's super user-friendly.
You can fully customize the look of your popup so it reflects your brand, and you can drag and drop any element to your popup.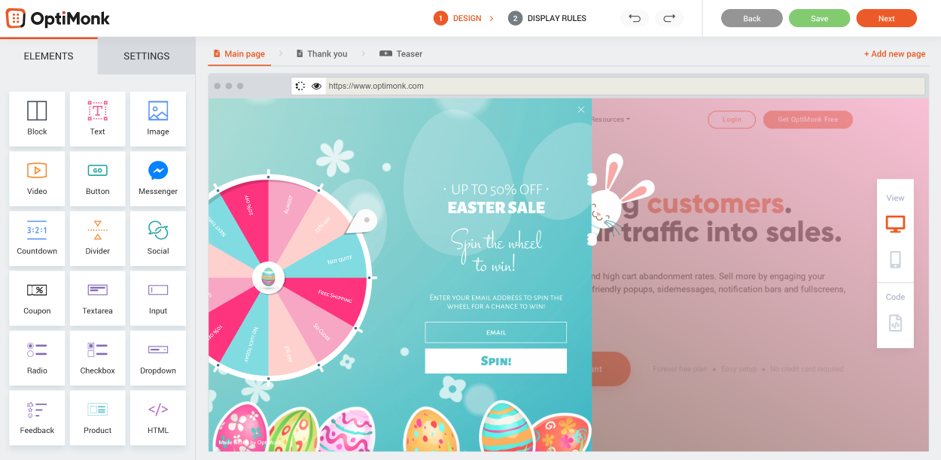 You can specify the prizes to include, add your unique coupon codes, and set the weighting factor for each coupon as well.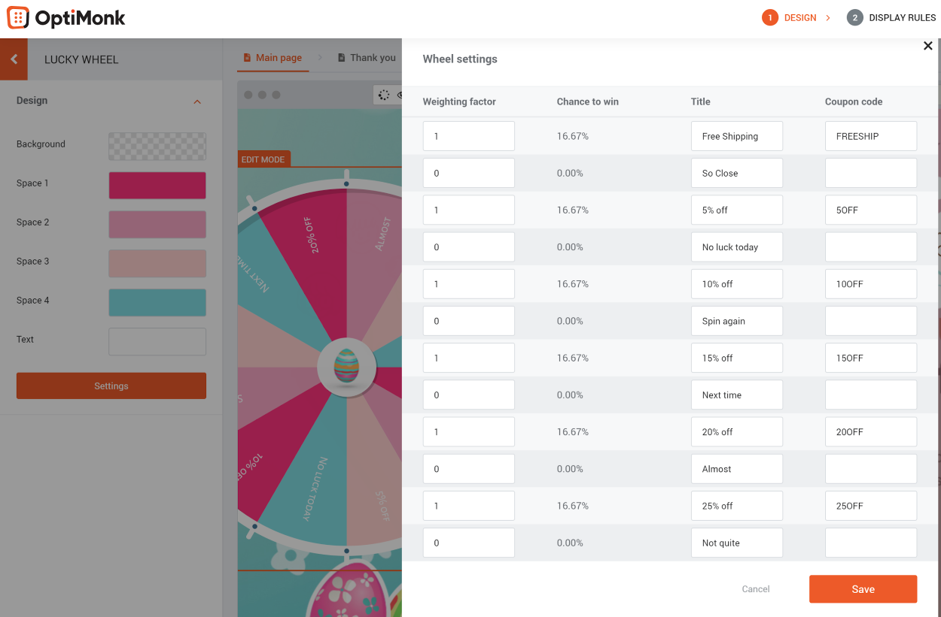 Both Wheelio and OptiMonk work on mobile, but unfortunately you won't find a mobile editing option with Wheelio.
With OptiMonk, you can easily optimize the mobile version of your popup, which is important if a large portion of your traffic is via mobile.
(Note: Click here to see how Babyberry collected 3,000 leads by providing interactive customer experience with OptiMonk's lucky wheel.)
74% of online consumers are frustrated by content that's not relevant to their interests. Your visitors are all different, and segmentation is key if you want to be successful in the online world.
Both Wheelio and OptiMonk offer triggering and targeting options, but let's find out how they compare.
Wheelio has 3 triggering options: exit-intent, time on site, and tab trigger. With tab trigger, a small tab will appear on the site and the lucky wheel will be displayed when visitors click on the tab. (OptiMonk also offers this option, but we call it a "teaser.")
At OptiMonk, we offer all of these triggering options and a few others: on click to a specific area, after x percent scrolling, and more.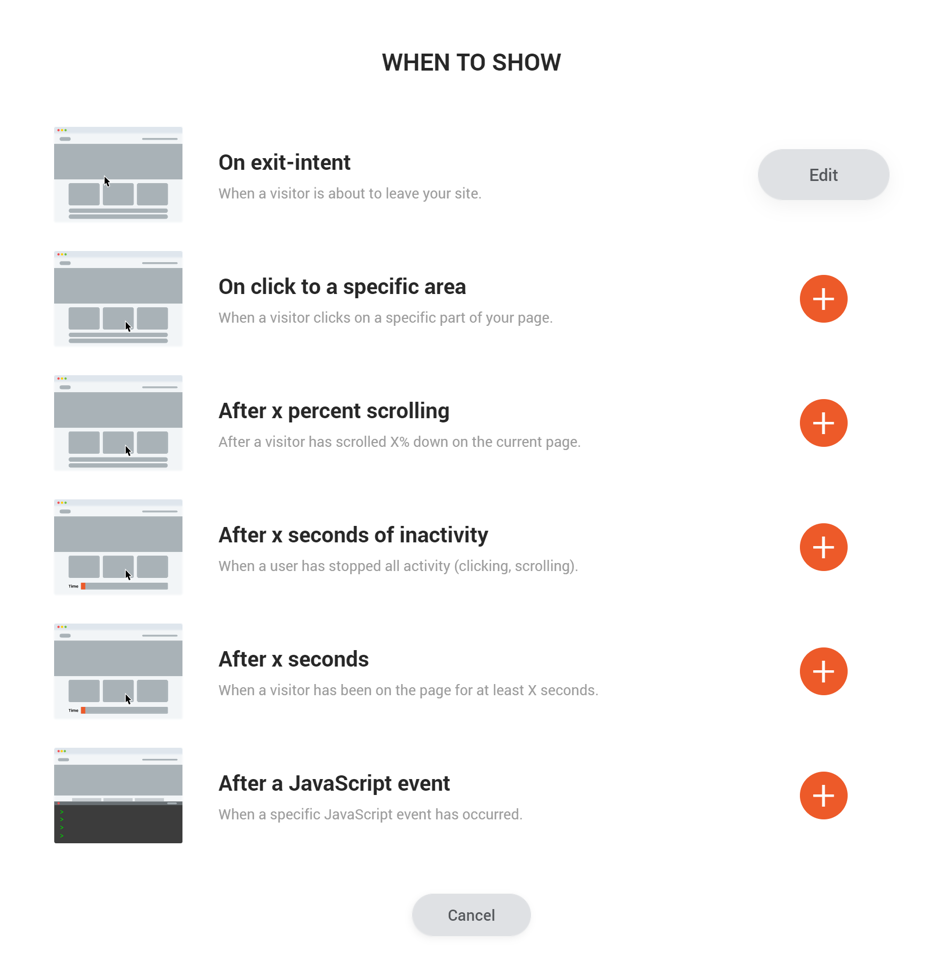 Wheelio doesn't provide many targeting rules. URL segmentation is only available in their Pro plan, and popups can't be placed on your checkout page. But wait a minute…you want to save those cart abandoners, right?
Luckily, with OptiMonk you can!
OptiMonk allows you to target your visitors based on:
country,
traffic source
current URL,
visited URL,
cart rules,
custom variables,
campaigns,
the number of visited pages,
and so on.
Ok! To summarize what we've learned today:
If you want…
gamified popups with more options than just a lucky wheel,
the ability to create multiple campaigns,
an easy-to-use editor that gives you tons of flexibility, and
to segment your visitors and display relevant messages,
… then OptiMonk is the best choice for your ecommerce store!