Shopify popups are a proven way to win more email addresses, convert website visitors, and boost sales. 
But why are they so effective? Because most popup tools let you use advanced targeting and perfectly timed optimization. And popups are more likely to result in an action when they're personalized and appear at the right time. 
Here at OptiMonk, we know a thing or two about what it takes to put together an attention grabbing popup that results in conversions. For inspiration, here's a list of our favorite popup examples and why they work so well. 
With that, let's dive right in!
Would you like to create amazing and catchy headlines that make your popups irresistible? Grab our 50 Headline Popup Examples swipe file and get inspired!
Shopify popups to capture email addresses
The more emails you can collect, the quicker you can scale your business.
Food for thought: roughly half of your visitors aren't ready to buy today but intend to purchase in the future. Capturing those would-be customers with an email list lets you monetize them down the line.
Growing your email list doesn't happen by accident. You can give your site visitors a much-needed "push" to join your list with a well-placed Shopify email popup.
1. Engage visitors ASAP with a discount popup | ROVUX Footwear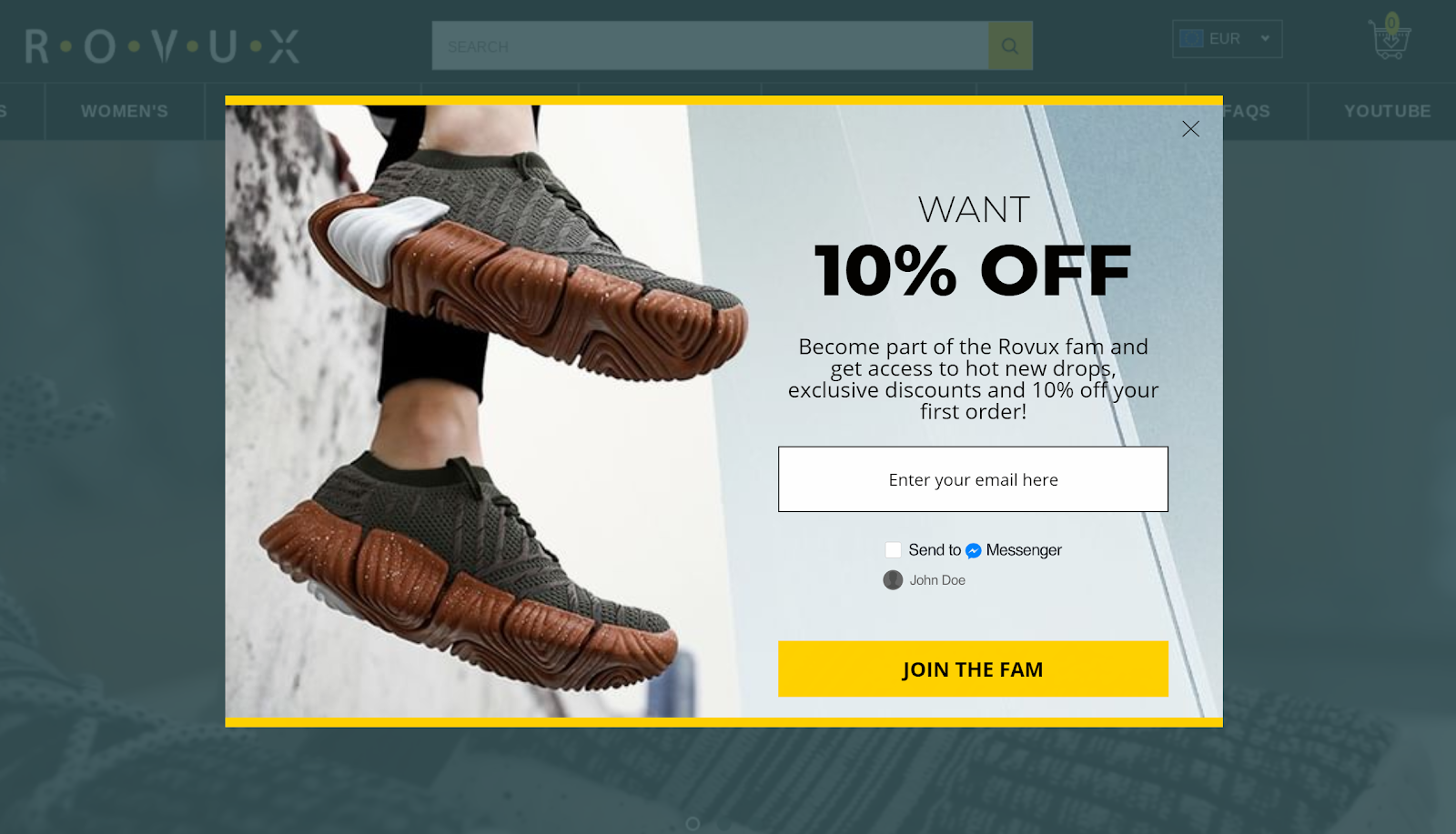 What does this popup do well?
This popup boasts a clean and stylish design—using contrasting colors to draw attention to the Call-to-Action (CTA).

The headline gives a straightforward incentive:

"Want 10% off?"

ROVUX uses a conversational CTA, emphasizing that customers will be joining their community. Nice job!

The popup automatically detects if visitors are logged in to Facebook thanks to OptiMonk's

Smart Display

function. This allows them to automatically pick between presenting a Messenger (logged in) or the email (logged out) experience.
How can I copy it?
We suggest using OptiMonk's Valencia template since it uses contrasting colors by default. 
All you need to do is find a lovely image that fits your brand and change the background of the template. 
After that, pick a contrasting color for the popup (we recommend using Paletton), and boom! Edit the text, and you're good to go.
2. Be bold with fullscreen offers your visitors can't miss | Pillowed
What does this popup do well?
Fullscreen campaigns represent a great way to grab site visitors' attention: this popup does exactly that.

Boasts an engaging headline that gets to the point.

By not requiring much personal information to complete the form, the opt-in requires little effort on behalf of the visitor.

The CTA is actionable and crystal clear.
How can I copy it?
Use OptiMonk's Helsinki template.
Just delete the "First name" and "Last name" fields if you want a simpler form. Next, update the headline, and then you're done!
This template proves that Shopify email capture doesn't have to be complicated.
3. Stand out by promoting a heavy-hitting discount | Diamond MMA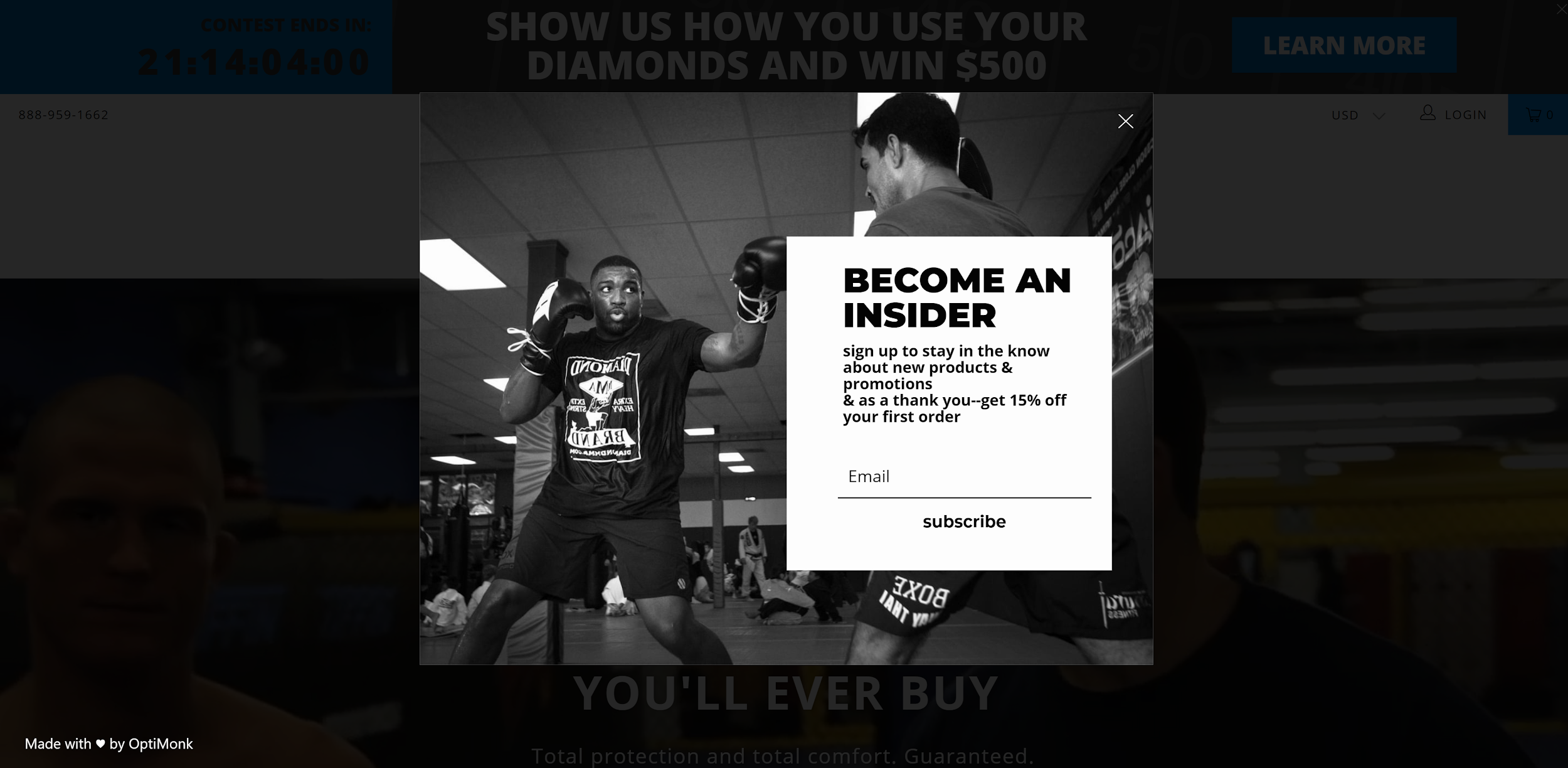 What does this popup do well?
This popup puts a strong incentive front-and-center: 15% off and exclusives for subscribers.

The dark background and image make the white form really pop.
How can I copy It?
Use our Paris template. This popup template might seem very different at a glance but you can customize it with a few easy changes.
For starters, change the background to a black and white image. Then, delete every element that is not needed and change the button color. 
Lastly, adjust the minimum height for the popup, and then you're done.
4. Get personal by asking visitors for their preference(s) | TwoTags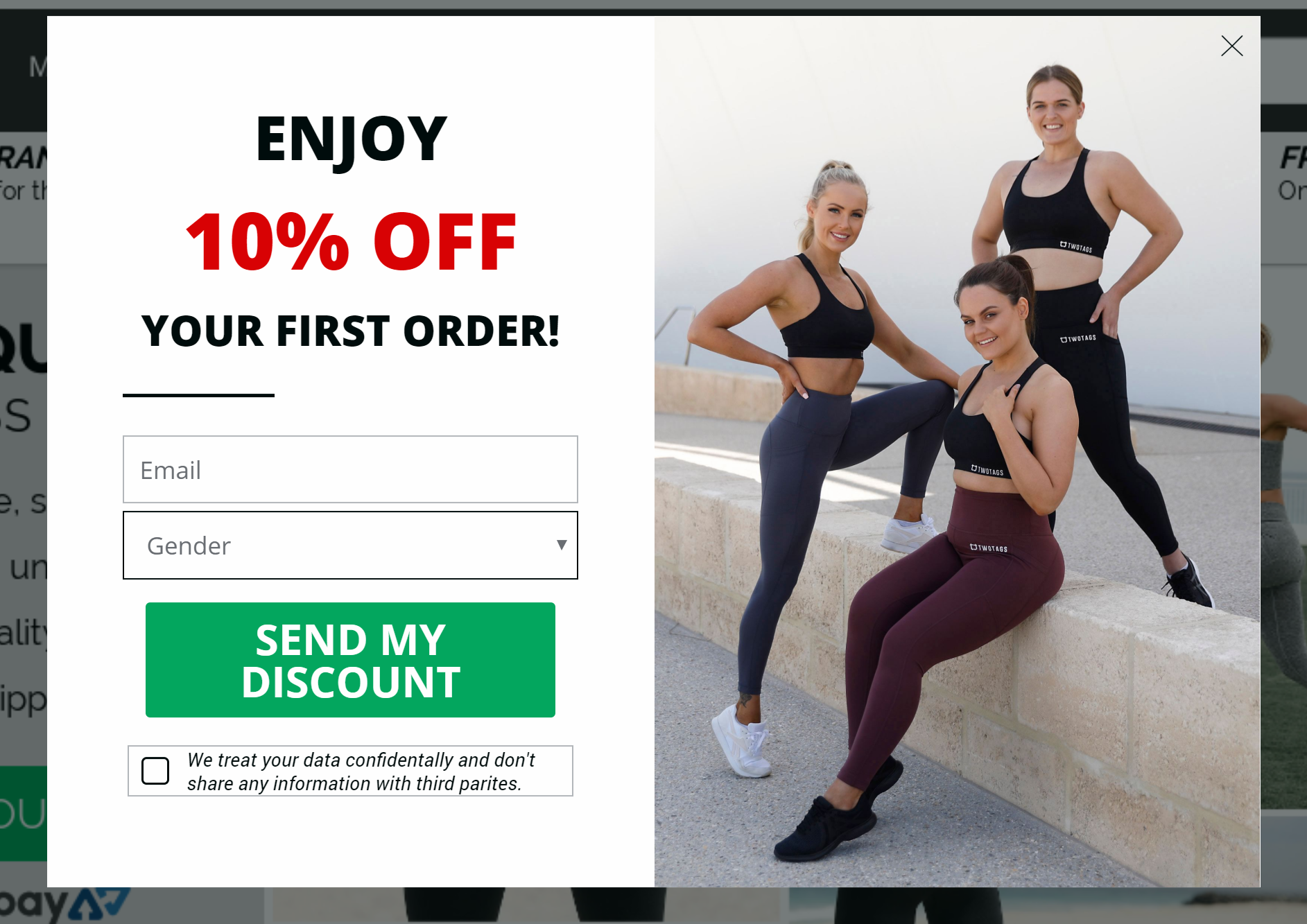 What does this popup do well?
The data privacy disclaimer provides site visitors with a sense of confidence and security.

By asking for a visitors' gender preference in exchange for a discount, it's much easier to personalize offers and messages for new subscribers.
How can I copy it?
Start with OptiMonk's New York template. 
Just add an Input and Dropdown element instead of the Messenger box. Include a Checkbox element below the button, and that's it. Customize colors and images to optimize your offer.
5. Invite visitors to join you with a subtle sidemessage | Local Keeps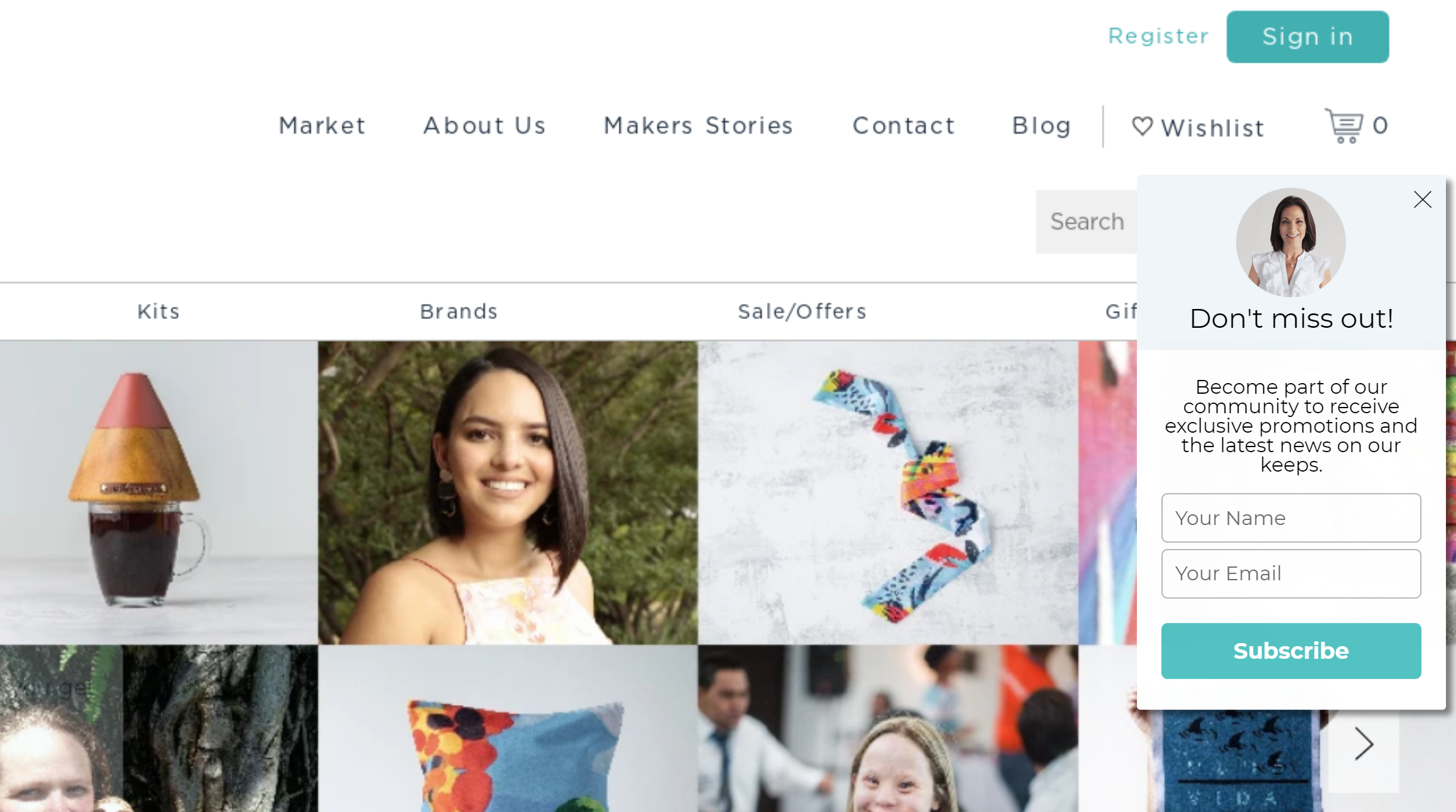 What does this popup do well?
The sidemessage format is non-intrusive—it doesn't disturb site visitors while they're browsing.

The included photo of the brand's founder makes the popup feel much more personal.
How to copy it?
Try out a sidemessage template in OptiMonk (hint: we suggest the Mayon template).
Delete the Radiobutton element and add two Input fields instead. Change the header, upload your photo, and you're good to go. You can also edit the margin of the image if you don't want it to go over the edge.
6. Reach visitors on their preferred terms (Messenger vs. email) | Best Price Nutrition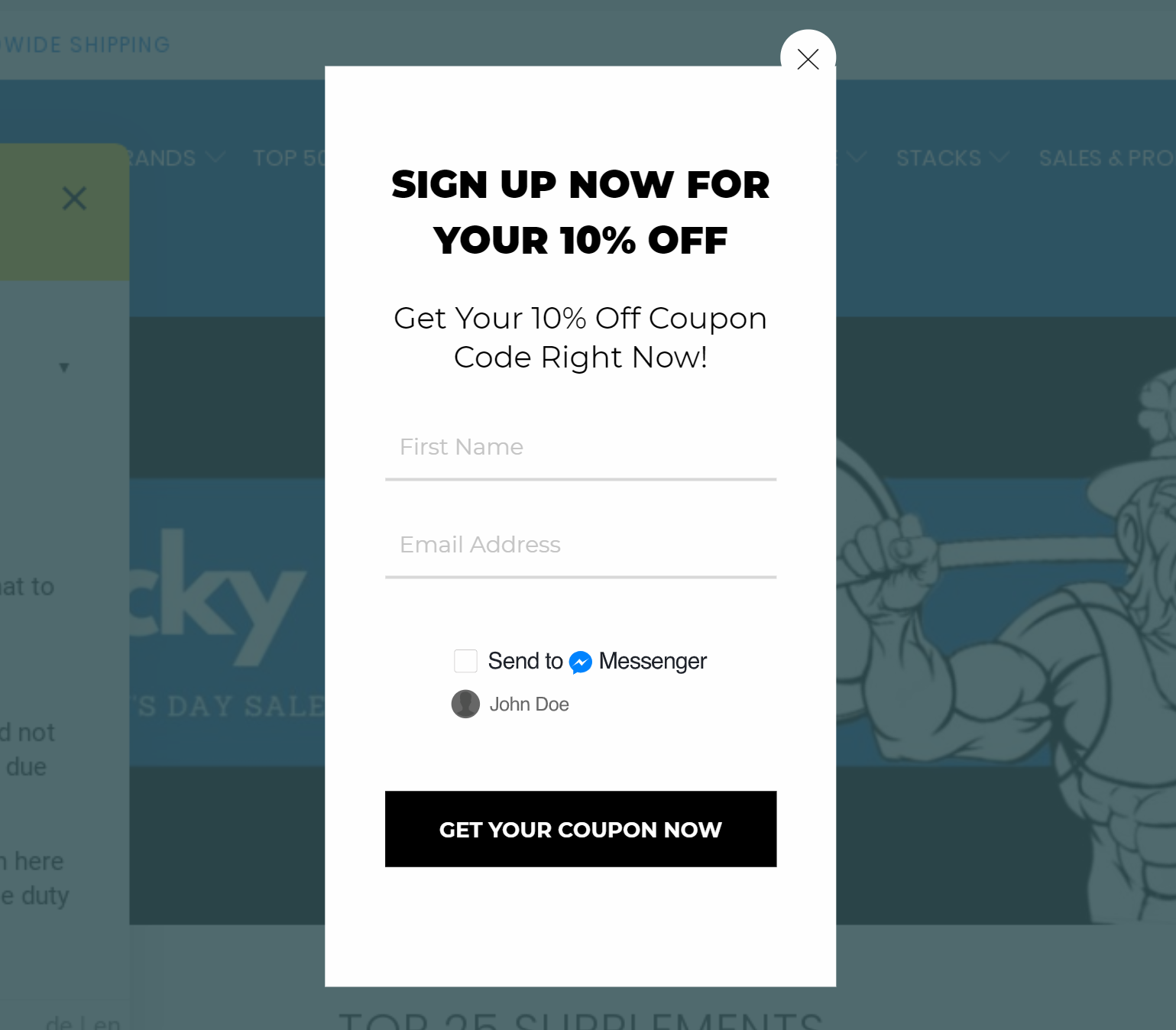 What does this popup do well?
This store uses OptiMonk's Smart Display function to present a popup via Messenger for visitors logged into Facebook.

This popup focuses on Messenger subscribers, which is well-documented to outperform other opt-in channels (with a ~80% open rate and a ~25% click rate).
How to copy it?
Start with OptiMonk's Doha template.
Delete the images in the background, change the text elements, and that's that! 
If you also want to grow your Messenger list, add the Messenger element to your popup and add the Facebook Messenger marketing tool integration.
You can't grow your email list without asking directly, so don't be afraid to do so. Highlighting your value via popups is a low-hanging way to seamlessly score more opt-ins.
Shopify popups to reduce cart abandonment
According to statistics from the Baymard Institute, ~70% of site visitors who add an item to their shopping cart will leave the Shopify store without buying. 
Ouch. 
Cart abandonment is a huge problem for all ecommerce stores. A well-timed Shopify abandoned cart popup entices visitors to stay on-site and take action instead of bouncing.
7. Reach visitors on their preferred terms (Messenger vs. email) | Best Price Nutrition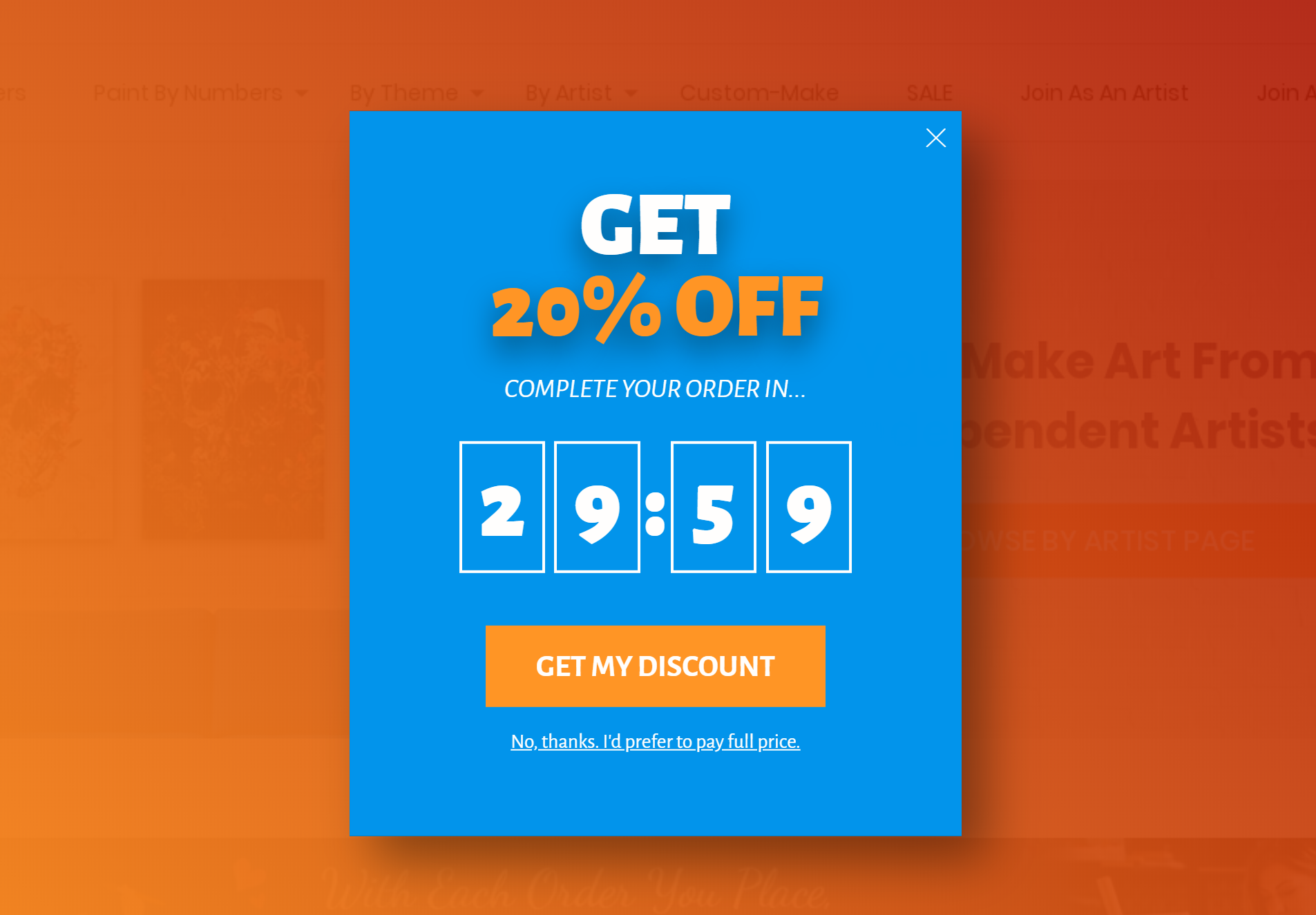 What does this popup do well?
Check out that closing link ("No thanks, I'd prefer to pay full price"). This taps into visitors' fear of missing out (FOMO) and ultimately encourages them to grab a discount.

This popup is a can't-miss. The colorful overlay pops and catches the eye.
How to copy it?
We suggest using OptiMonk's Santiago template. 
Start by moving all elements to the blue block, then delete the white one first. Add a colorful gradient overlay and change the button color.
8. Tap into your visitors' FOMO (fear of missing out) | Groove Life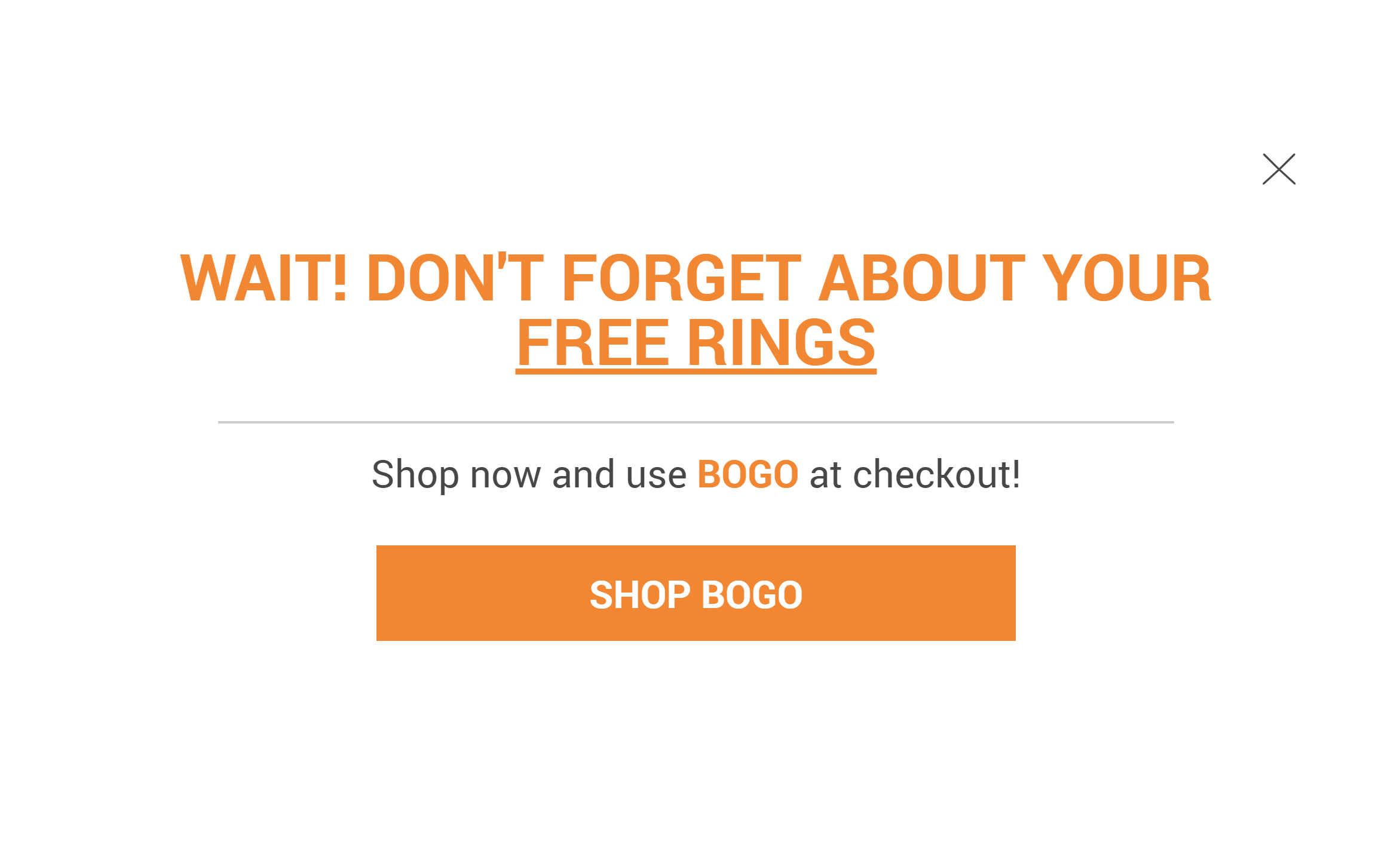 What does this popup do well?
Instead of offering a 10% off discount, this Shopify store offers free rings: that's a powerful incentive.

The headline copy ("Wait! Don't forget about…") stops readers in their tracks.
How can I copy it?
Use OptiMonk's Budapest template. 
Change the black overlay to white. Change text and button colors to match your brand, and that's it.
Fighting cart abandonment requires you to be proactive about keeping visitors on the page. Triggering ecommerce popups before people have a chance to bounce can do the trick.
Shopify popups to promote special offers
Special offers represent a time-tested strategy to attract customers. 
When done right, you can re-engage your visitors and convince them to buy sooner rather than later. Turning new visitors into first-time buyers and existing customers into repeat buyers means coming up with a compelling popup.
9. Give visitors a one-of-a-kind discount | Awesome Dice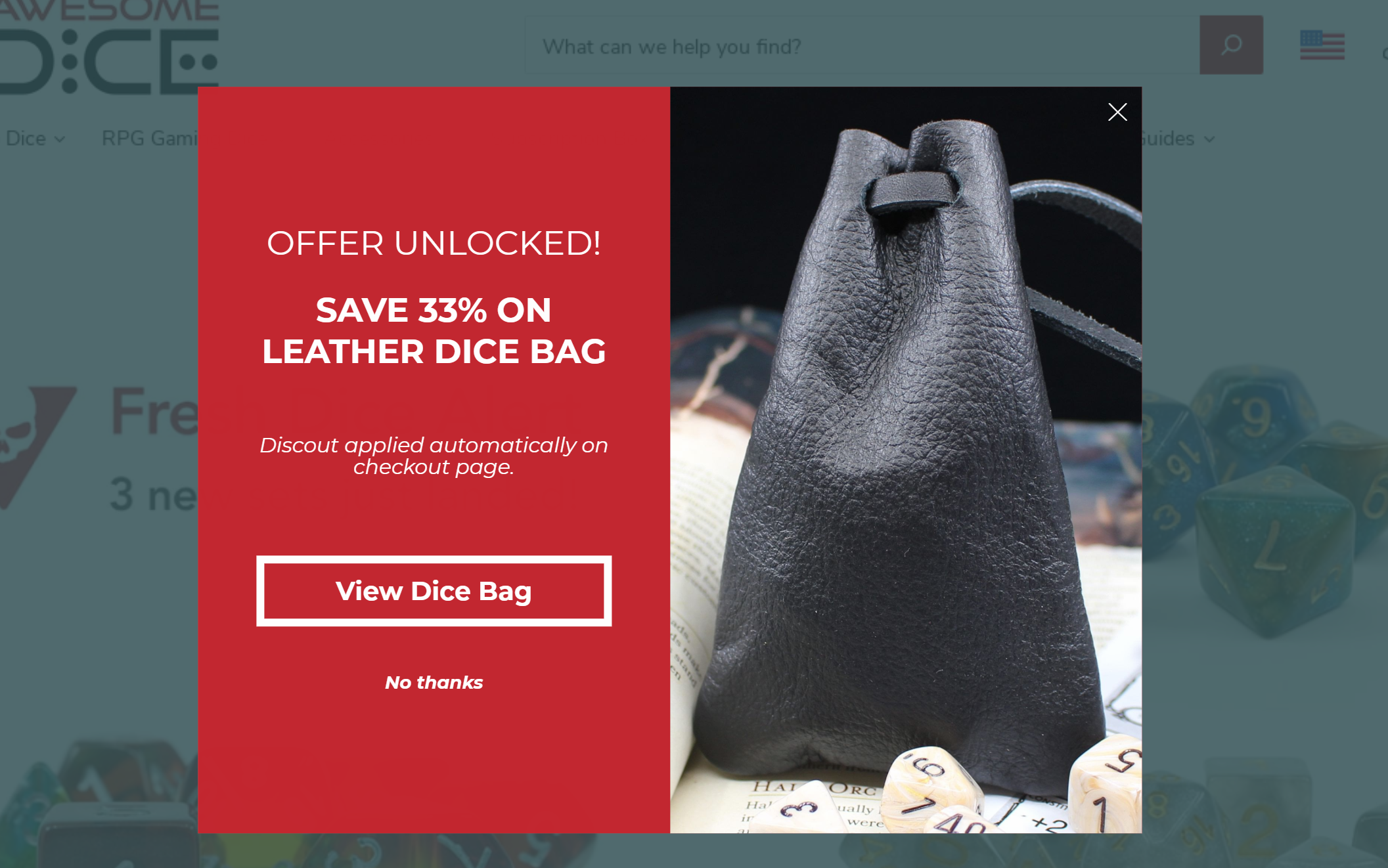 What does this popup do well?
The "Offer unlocked" headline grabs visitors' attention and presents an exclusive offer.

Offering discounts for a specific product is a smart move, especially when the products are personalized—based on the browsing experience.
How can I copy it?
You can use the New York template from OptiMonk. 
Just add the product you're offering to the right as an image. Then, change the background color of the left-hand text block.  After that, just change the text and button color to white.
10. Provide a light "push" to your offers with a nanobar | Joovv

What does this popup do well?
Nanobars are less intrusive than traditional popups. They can be displayed anywhere and don't disturb your customers.

This popup provides a seamless experience by moving visitors from Point A to Point B.

Announcing Black Friday and Cyber Monday sales with the nanobar, it redirects them to the right landing page.
How can I copy it?
Joovv's nanobar was created by using OptiMonk's GDPR Bar template. 
To copy it, delete the image and the checkbox. Then, add a Text element, change the colors, and insert your copy. Done!
How to create a popup in your Shopify store using OptiMonk
Step 1: You'll need to add OptiMonk to your online store through the Shopify app store. This can be done in just a few clicks once you select "Add App" on our page.
Step 2: After accepting the routine permissions, you'll be able to install OptiMonk and supercharge your Shopify store with all of our awesome popup templates.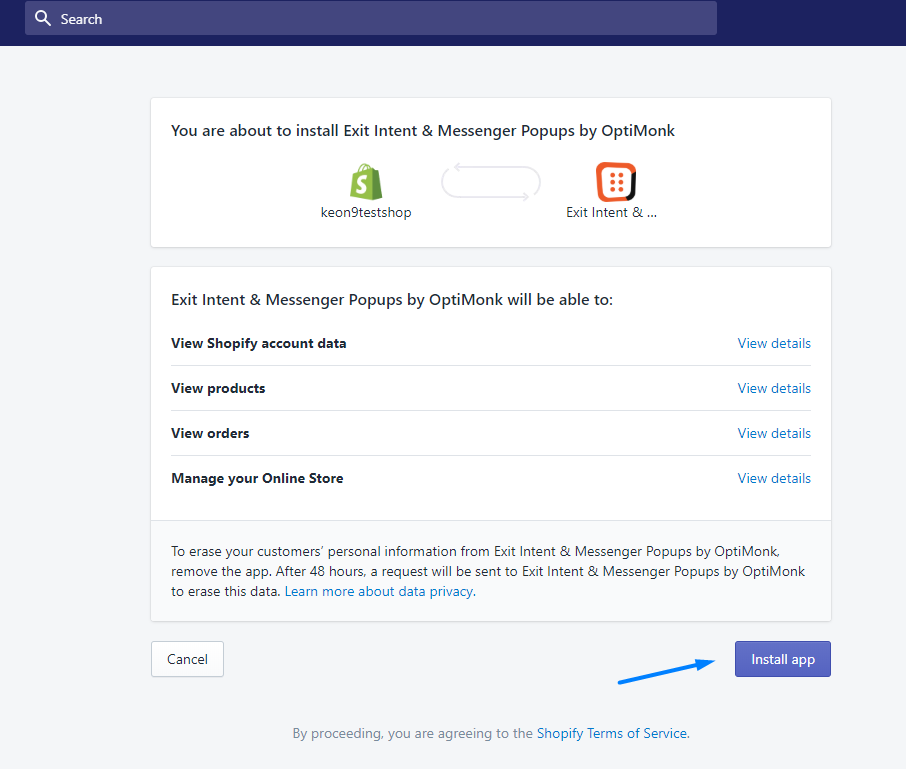 Step 3: Then, your new OptiMonk account will be created automatically. You need to click through the onboarding screens, then choose a goal:
"I've Added OptiMonk to my Shopify store. Now What?"
Step 4: Kick things off by choosing a template! Although there are 200+ templates to choose from, you can quickly narrow down your search by choosing a message type or goal.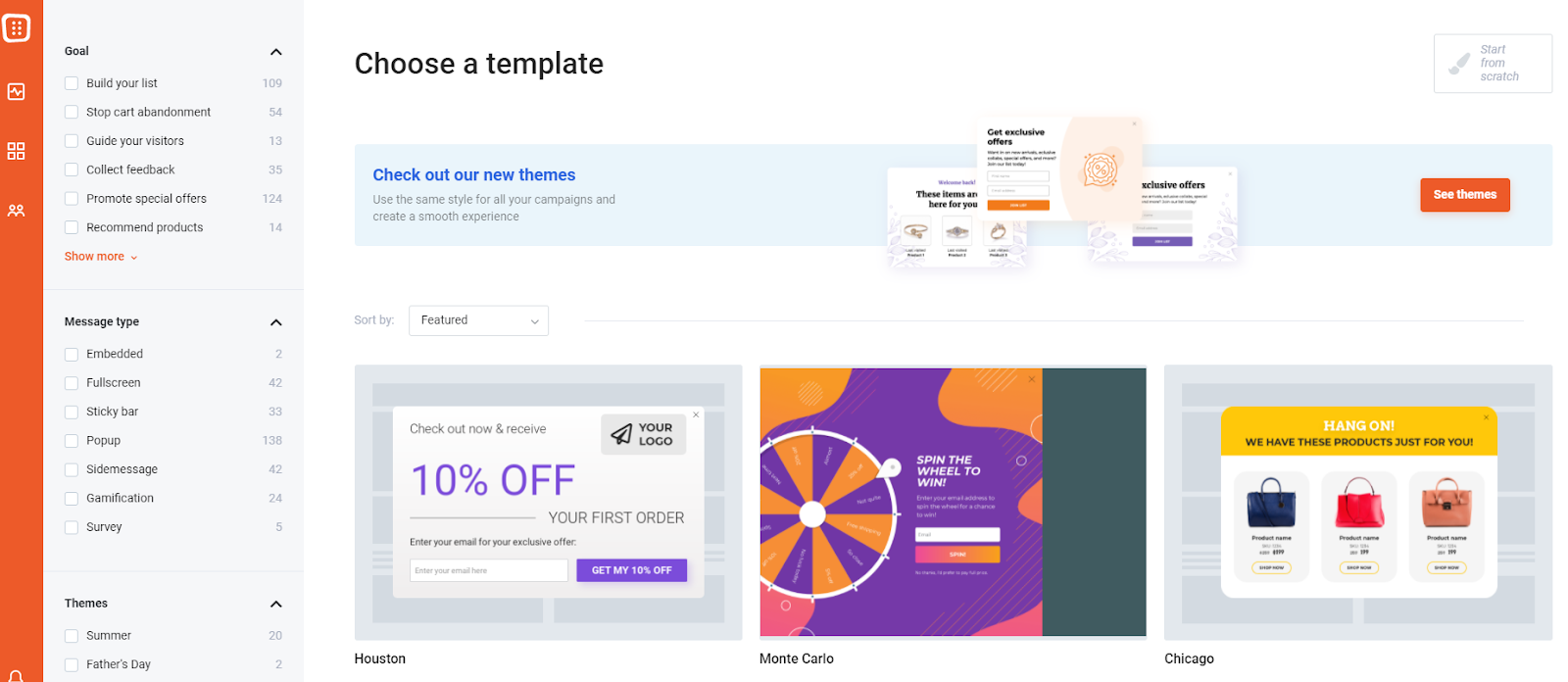 Step 5: Now, you can start customizing your very own popups using the templates and examples we talked about earlier. 
Using our drag-and-drop editor, you can instantly:
Change the size and position of your images and text

Alter your color scheme based on your branding

Edit text boxes to reflect your company's unique messaging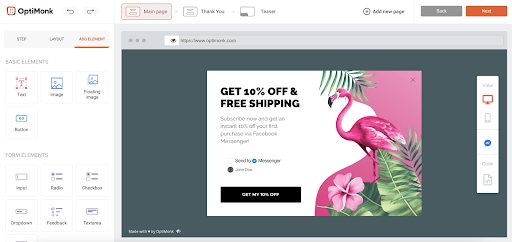 Keep in mind that our editor allows you to customize each stage of the process, including:
The main page (your actual pop)

The thank you page (what appears after somebody opts in)

The teaser (a preview your popup that visitors can click on)
Step 6: Once you've figured out the creative side of your popup, it's time to decide when you'll present it to visitors. 
For example, OptiMonk lets you trigger your popup based on visitor behavior such as:
When someone is about to leave your site (exit intent)

When someone scrolls or clicks through a certain part of your site

After a certain amount of time (5 seconds, 10 seconds)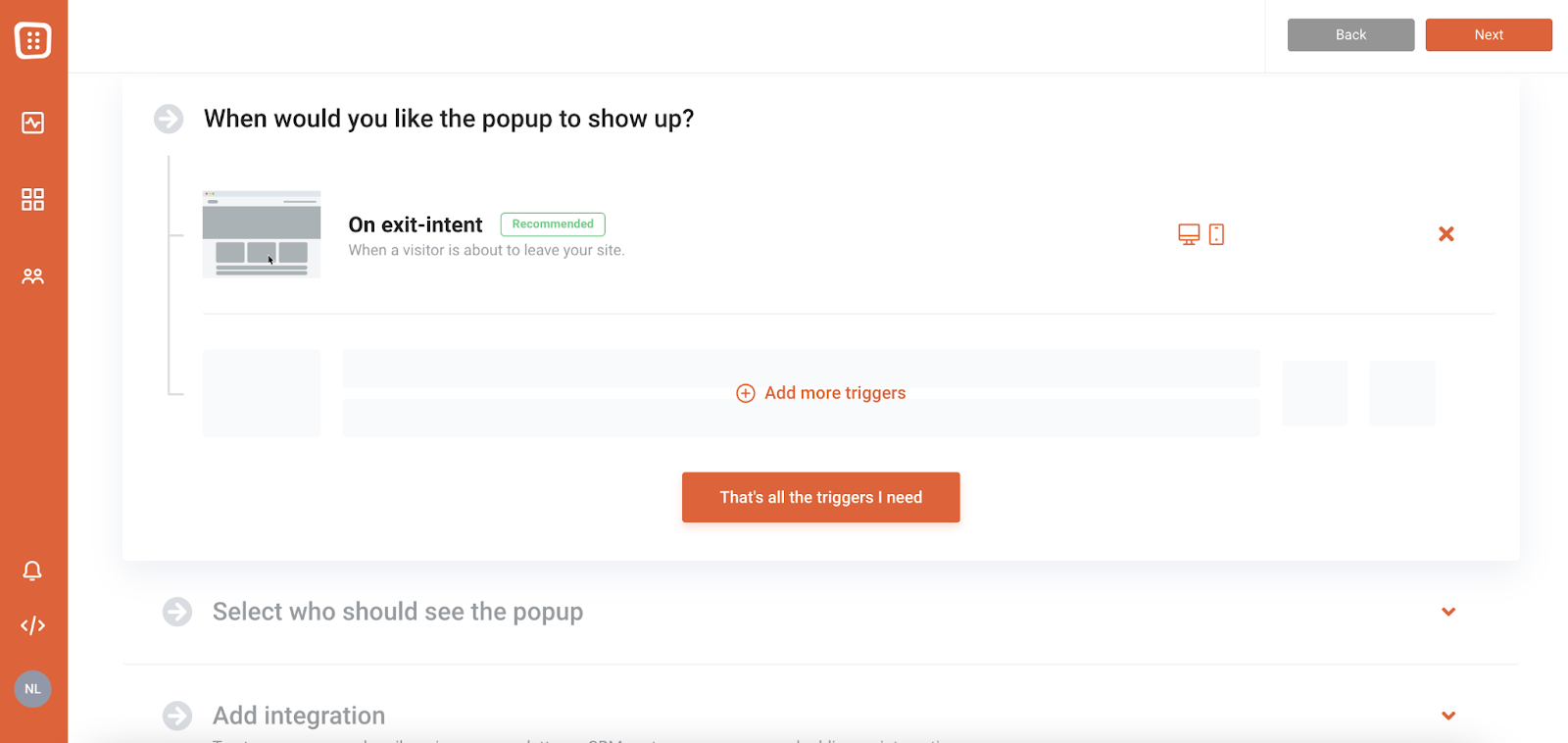 Step 7: Once you've decided on all of the above, you're ready to activate your campaign in your store. Just turn on the Activate button.

And that's it! You can now track the performance of your campaigns on the analytics dashboard to see how well your popups are converting customers.
Which popups are you using to win customers?
With the right tools and a bit of creativity, reeling in subscribers and customers with popups is easier than ever.
These ten real-world examples of Shopify popups can serve as some much-needed inspiration. You can easily recreate them yourself using OptiMonk.
We invite you to do exactly that by creating a free OptiMonk account today! Or you can download the app from the Shopify app store.