Cart abandonment is a challenge that every ecommerce store has to deal with. Shoppers leave items in their carts for many reasons (from shipping costs to problems with the user experience), but abandoned shopping carts are always a missed opportunity.
To maximize your store's revenue, it's crucial to persuade customers to complete their purchase now rather than later. And luckily, there are lots of solutions to help you recover abandoned carts— especially if you have a WooCommerce store.
In this article, we're taking a look at the 6 best tools for WooCommerce abandoned cart recovery. Each WooCommerce plugin on this list can help you recover abandoned carts and boost your sales.
Let's dive right in!
What is cart abandonment?
Cart abandonment happens when a customer has added items to their cart but leaves without completing the purchase. This means that they've landed on your site, browsed your products, and found something they love— but for one reason or another they haven't taken the crucial step of completing their purchase.
In ecommerce, visitors abandon their shopping carts at a rate of 66.5% on average, which is pretty high!
As a result, there are lots of opportunities to improve the bottom line of your Woocommerce store by using an abandoned cart plugin.
Why do customers abandon carts?
Once you understand why so many shopping carts are abandoned, you can start thinking about how to recover them.
Cart abandonment happens for many different reasons. The customer might change their mind about the purchase, encounter a problem on the checkout page, or simply get distracted by something else.
The most common reason that leads to abandoned carts, however, is unexpected costs. In fact, this is responsible for 48% of abandoned carts. For example, if a customer sees very high shipping costs on the checkout page, they'll likely change their mind about the purchase.
The second most frequent reason customers abandon their carts (leading to 24% of all cart abandonment) is being required to create an account in order to make a purchase. Many customers are so annoyed by this inconvenience that they'll give up on the purchase process.
Finally, a slow delivery timeline is the third most common reason, at 22% of all abandoned carts. If a customer needs one of your products urgently, they won't want to wait two or three weeks for it to arrive.
6 best WooCommerce plugins to recover abandoned carts
Now that you know about the main reasons behind cart abandonment, it's time to do something about it!
Abandoned cart plugins are marketing automation tools that allow store owners to set up campaigns and display them to would-be cart abandoners.
Generally, abandoned cart plugins focus on one of two approaches: preventing people from leaving in the first place or sending cart recovery emails to recover lost sales after the customers have already left.
Let's check out the most popular plugins!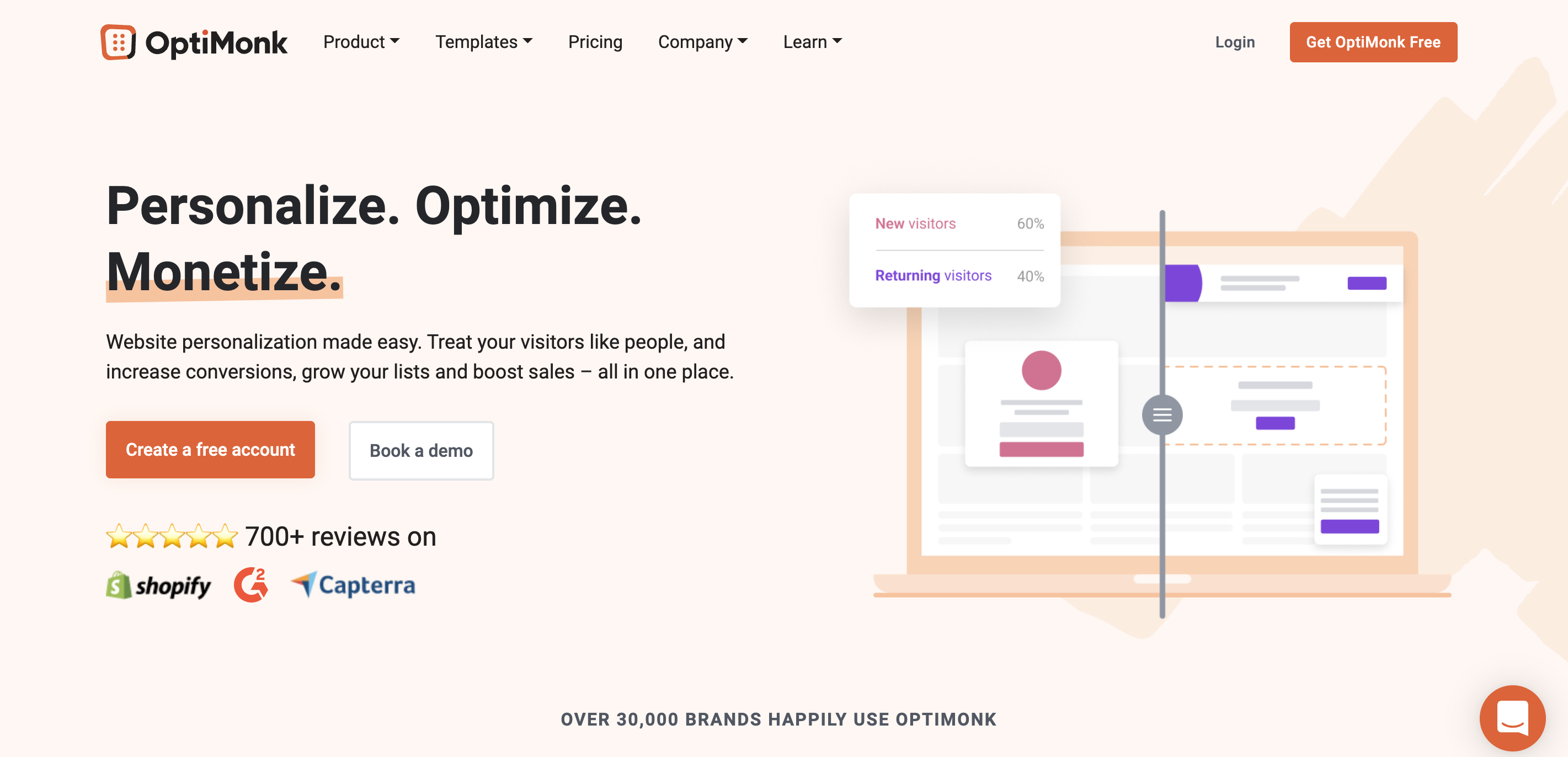 OptiMonk is a comprehensive website personalization platform for online stores. Its free plugin for WooCommerce allows you to create a completely personalized journey for each of your customers, which means fewer abandoned carts and lost sales.
OptiMonk's approach to abandoned cart recovery revolves around targeting visitors who are just about to abandon their carts by using exit-intent popups. Once you know who's thinking about leaving, you can target them with personalized messages that address their needs and concerns (and convince them to check out).
As a website personalization plugin, OptiMonk can also help you:
Grow your email list

Promote special offers

Collect feedback

…and more!
But for now, let's see how OptiMonk can help lower cart abandonment.
Key feature #1: Ready-to-use templates
OptiMonk has more than 300 templates that include everything you need to prevent cart abandonment. It only takes a few minutes to customize these templates to match the look and feel of your site.
The template library even has specially-designed popups for seasonal sales around holidays like Christmas, Mother's Day, and Black Friday/Cyber Monday.
Key feature #2: Cart abandonment recognition
Exit-intent technology detects when a customer is just about to leave a website. It does this by tracking user behavior like the mouse moving toward the back button.
OptiMonk's cart-based targeting features also allow you to recognize when exiting visitors have something in their carts.
This moment is precisely when you should trigger a personalized message to prevent cart abandonment.
Key feature #3: Product recommendations based on cart
OptiMonk allows you to prevent abandoned carts by recommending products for your customers based on what they have in their cart and/or its total value.
Website personalization is all about using the information you have about each visitor to customize your messaging. So why wouldn't you use what a customer has in their cart to tailor the product recommendations that you show them?
Key feature #4: Countdown timers
Countdown timers raise the sense of urgency associated with discount coupons, helping you encourage customers to buy now rather than later.
If customers think they have a great deal that'll only last for a short time, they'll be much less likely to leave items behind in their cart.
Key feature: #5 A/B testing
Once you start implementing your abandoned cart recovery messages, it's essential that you track their performance and optimize them.
OptiMonk allows you to easily A/B test different versions of your cart abandonment campaigns. This helps you find out which offers work best for your unique audience.
Key feature #6: Wide range of integrations
OptiMonk integrates with popular tools that help business owners run their online stores, such as MailChimp, Klaviyo, and HubSpot. You can see the full list of OptiMonk integrations here.
Pricing:
Get started with the free version, or upgrade to premium from $39/month.
2. Yith's WooCommerce Recover Abandoned Cart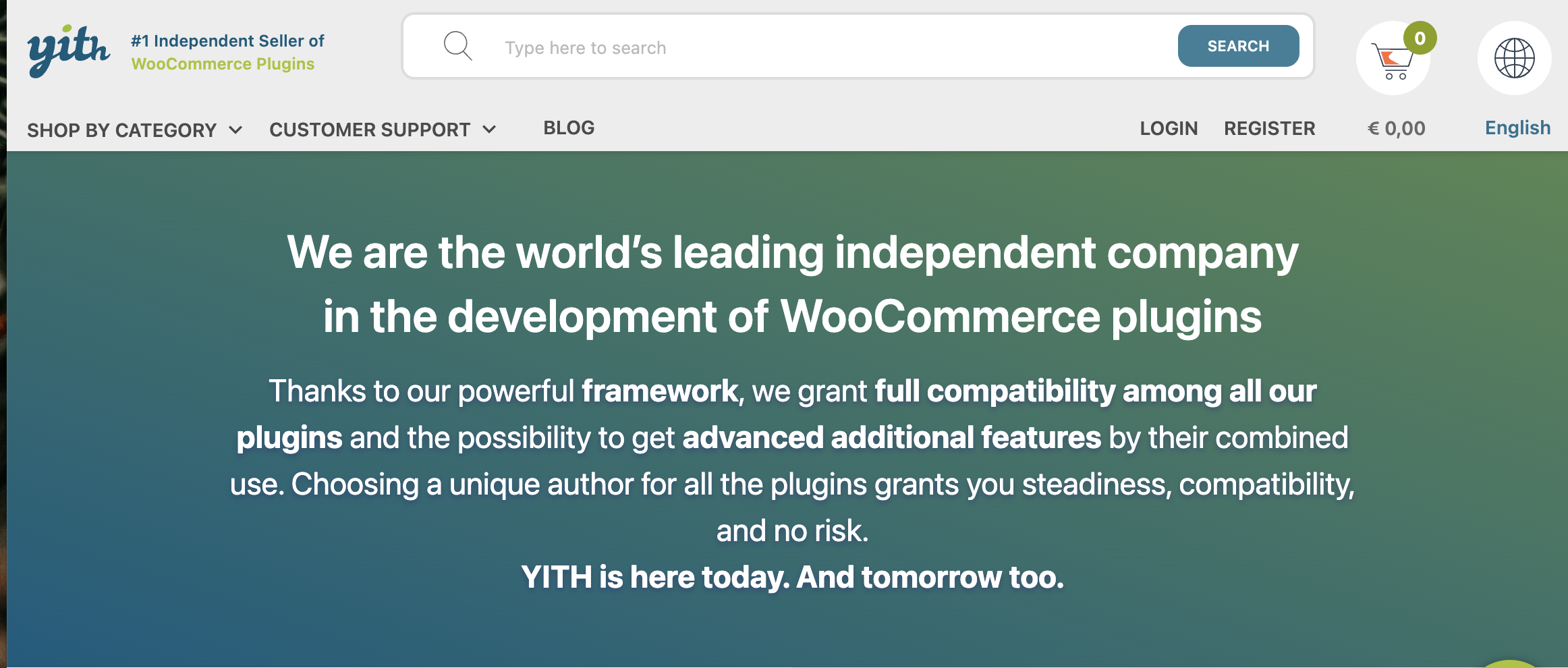 Yith is a company that makes a variety of ecommerce-focused plugins. As the name implies, their WooCommerce abandoned cart recovery plugin is devoted to reminding customers that they've left items in their cart.
The software sends automated emails to customers with reminders and coupon codes to convince them to return to the checkout page.
They also have multiple email templates, as well as options that allow you to send customized emails.
Pricing:
Annual plans are €79,99 and have a 30-day money-back guarantee.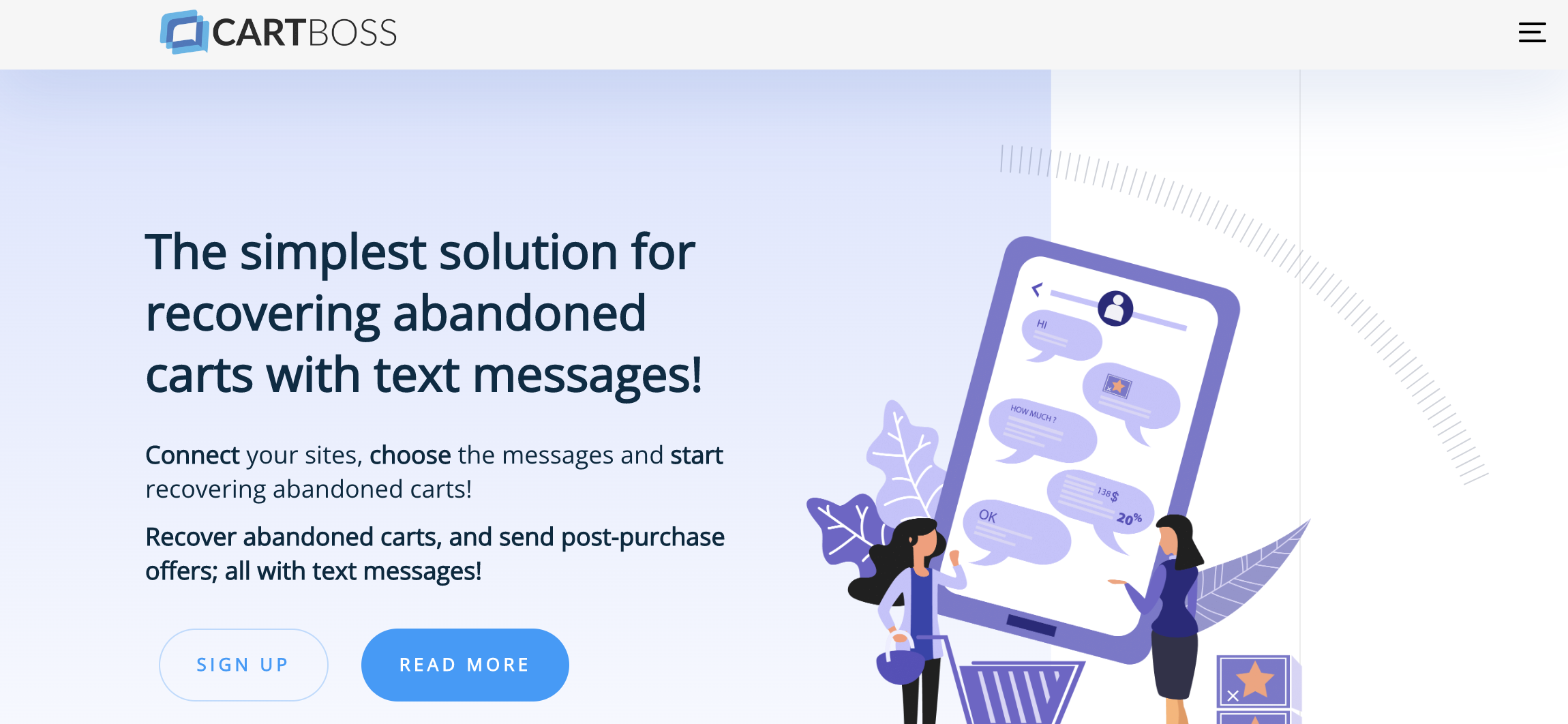 Cartboss uses customized SMS messaging to help to recover abandoned carts. SMS has a much higher open rate than abandoned cart emails, which means your messages will be seen by more people.
One of the best features of this abandoned cart recovery plugin is the pre-written SMS messages. You can save a lot of time by using these messages, especially if you're running an international WooCommerce store, since all of them are also translated into a number of languages.
Pricing:
Offers pay-as-you-go pricing that records all the text messages you've sent.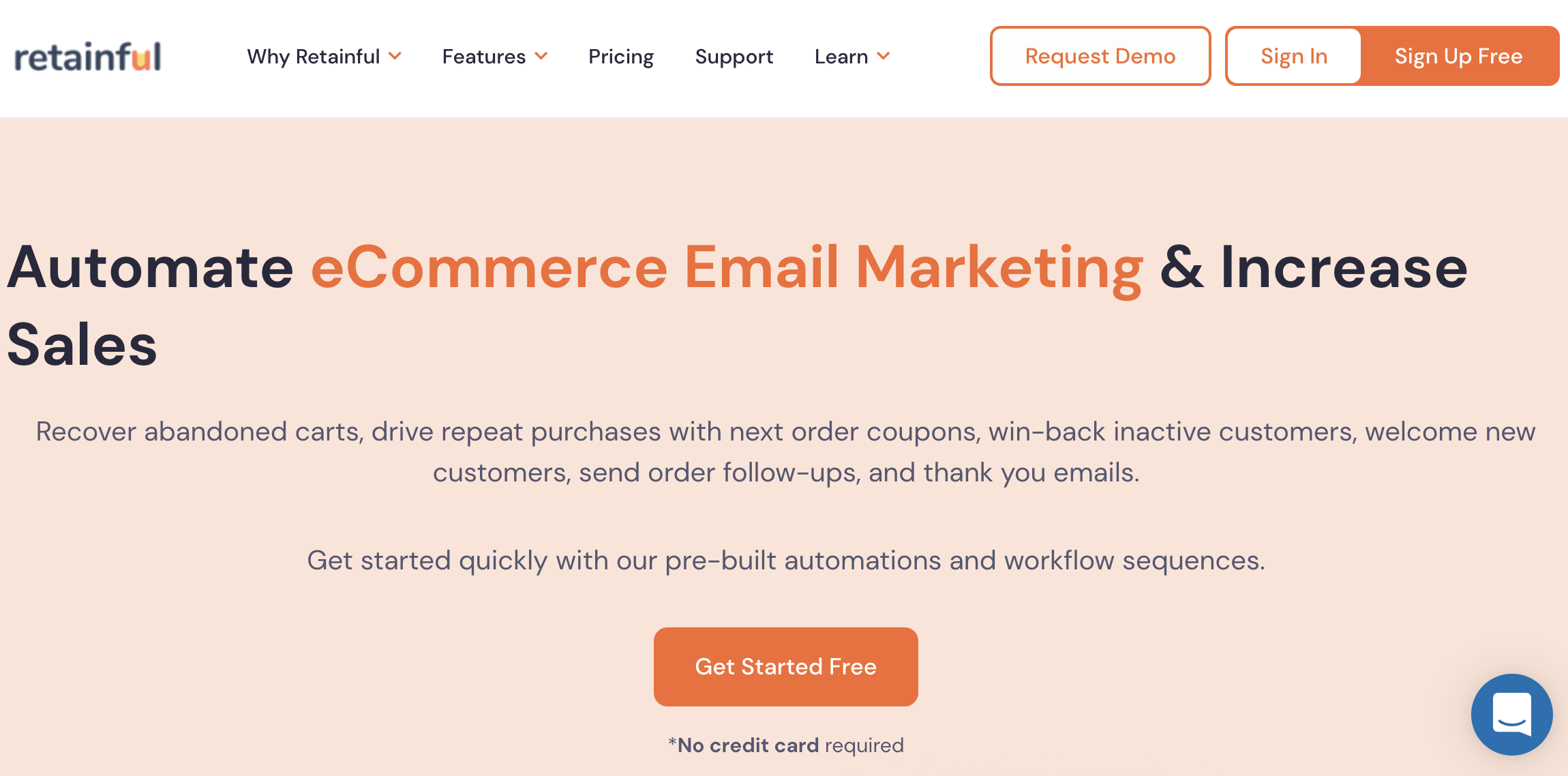 Retainful is a WooCommerce plugin that helps send automatic email marketing campaigns to your list, but it also has a cart recovery feature.
This WooCommerce abandoned cart plugin can capture a customer's email address, detect cart abandonment, and send them cart recovery emails.
You can also create automated email campaigns with the drag-and-drop email builder, meaning there are essentially unlimited email templates you can create. Multi-stage recovery emails can be extremely effective at reminding customers of what they've left in their abandoned carts.
Pricing:
There's a freemium version, but you'll need to pay after 2,000 contacts.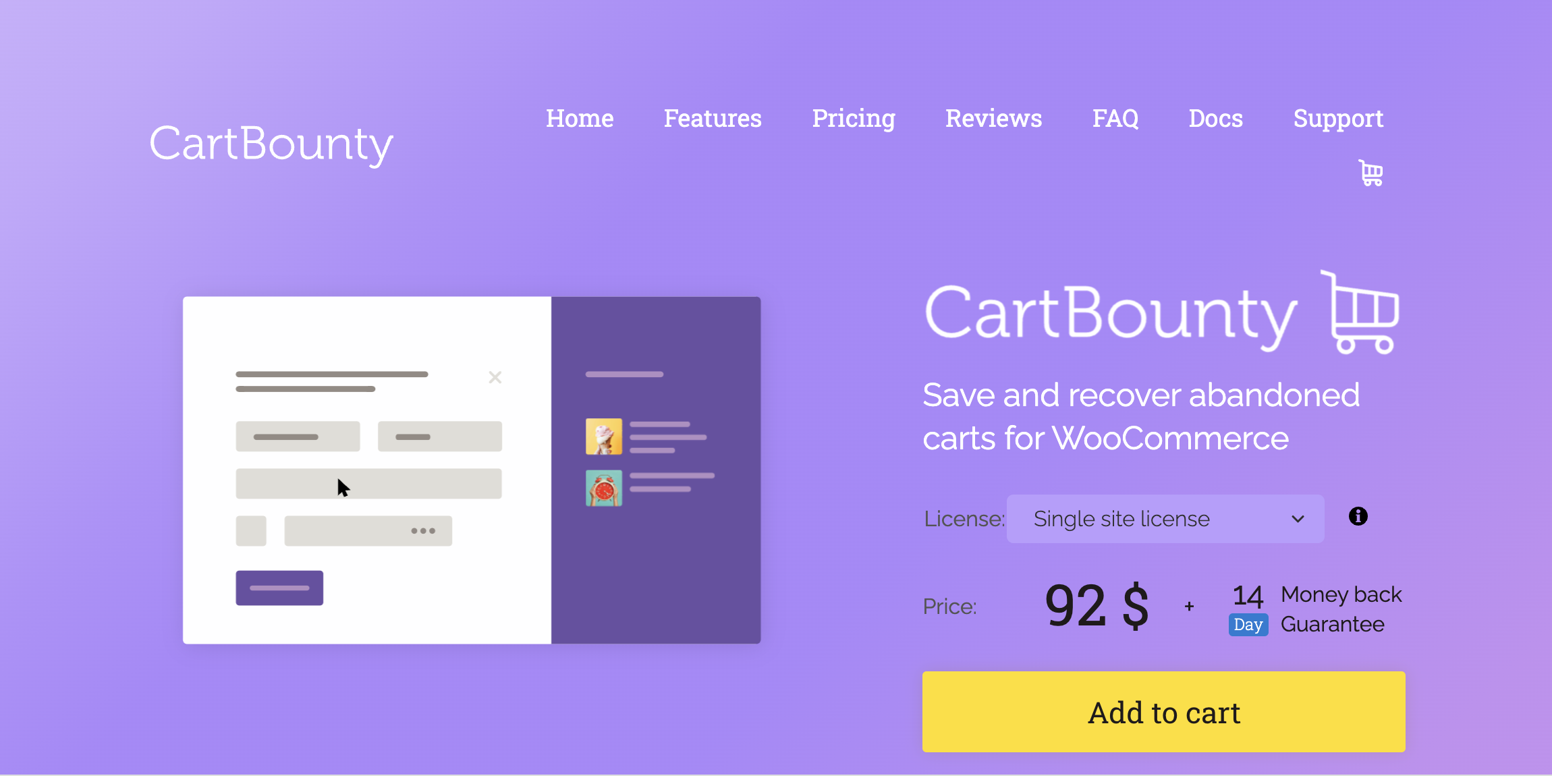 Cartbounty saves your customers' activity in the WooCommerce checkout form as they're completing it, which means you can detect exactly who left behind an abandoned cart. This makes it easy to target and remind customers later on.
Cartbounty uses WordPress to send abandoned cart recovery emails. If you upgrade to a Pro account, you can use other methods to send automated emails.
Pricing:
There is a freemium version available, and Pro starts at $92.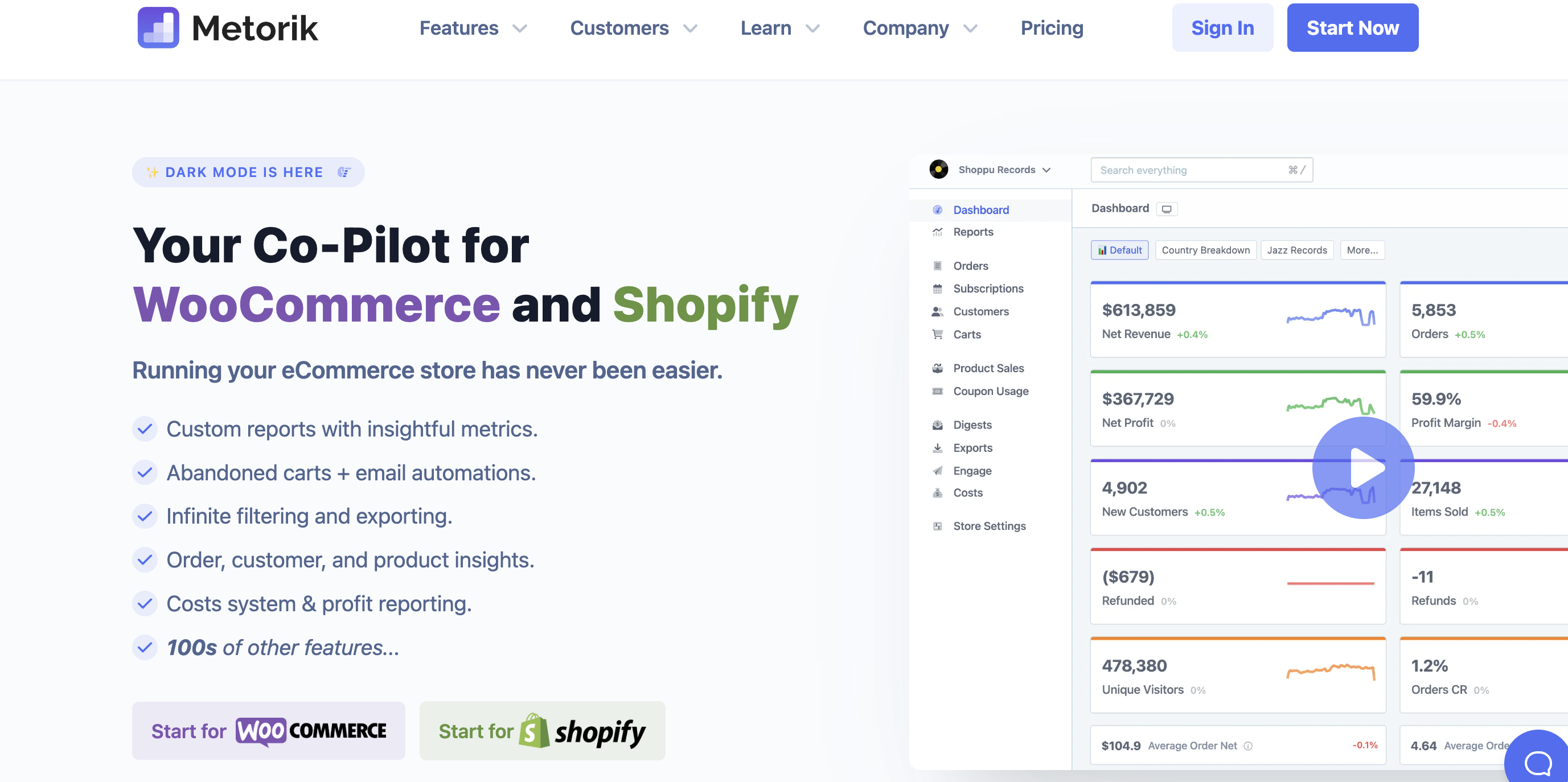 Metorik helps you combat cart abandonment with automated abandoned cart emails. Using this WooCommerce abandoned cart plugin, you can easily keep track of every cart and provide special deals for your customers.
Metorik also shines when it comes to analytics and segmentation. There are a number of different reports that help you understand how well your ecommerce store is performing.
Pricing:
A 30-day trial is available. After that, plans start at $50/month.
5 extra tips to reduce WooCommerce cart abandonment
In addition to using one of the WooCommerce abandoned cart plugins we've recommended, there are several best practices you can follow to help limit cart abandonment on your WooCommerce site.
1. Optimize your checkout
When it comes to reducing cart abandonment, the more user-friendly your checkout process is, the better. This means ensuring your checkout page is clear and easy to navigate and minimizing the number of steps required to complete a purchase.
Recommended reading: 12 Ecommerce Checkout Best Practices to Optimize Yours
2. Offer payment options
When you offer a variety of payment options, such as credit cards, PayPal, and other popular payment gateways, more people will be able to make a purchase. If someone doesn't see a payment option they can use, they'll leave an abandoned cart… even if they don't want to!
Recommended reading: What You Need To Have In Mind When Choosing Ecommerce Payment Methods
3. Provide incentives
Remember that unexpected costs like shipping are among the most common reasons people abandon their carts. So offering free shipping, a coupon code, or another incentive is one of the best ways to encourage customers to complete their purchases.
For example, you could offer a discount on their next purchase if they complete their transaction today.
Recommended reading: 13 Great Cart Abandonment Popup Examples and Best Practices
4. Use exit-intent popups
Exit-intent popups are a great way to remind customers about their abandoned carts and offer them a discount or other incentive to complete their purchase.
Often, popups are a more effective way of preventing cart abandonment than recovery emails because the shopper is still highly focused and "in the moment" when they see an exit-intent trigger message. They might not see your abandoned cart emails until hours or even days later, and by then their interest may have dwindled.
Recommended reading: Exit Intent Popup Examples, Tips & Strategies: The Ultimate Guide
5. Make sure everything is mobile friendly
Finally, you always need to make sure that your site functions properly regardless of what device someone is browsing from. If your site takes too much time to load or if your mobile interface is difficult to use, customers will get frustrated and abandon their cart.
All of the WooCommerce abandoned cart plugins we've looked at have great features that can help you recover lost sales.
One of the most powerful abandoned cart plugins is OptiMonk, since it offers fully comprehensive website personalization capabilities. Not only is it the most effective at recovering abandoned carts, but it also offers a suite of other features that can improve the performance of your WooCommerce store in many different ways.