Ecommerce has entered the era of marketing and website personalization. Basically, all the major platforms are encouraging stores to use personalized content to create a more seamless, more enjoyable customer journey.
And customers are starting to expect personalized content that responds to their unique needs and interests. Nobody wants to wade through irrelevant information to find what they're interested in!
There are an increasing number of personalization tools that marketers are taking advantage of. But which are worth it and which are just hype?
In this article, we'll take a look at the best marketing personalization tools that you can use to deliver personalized experiences to your audience.
But first, some basics…
What is marketing personalization software?
Marketing personalization is the practice of tailoring your marketing content for each individual user, allowing you to deliver messages that are relevant on a personal level.
Marketing personalization could mean anything from personalizing your Facebook ads (by using dynamic ads, for instance) to personalizing your email marketing (by sending different campaigns to different customer segments) and all the way to using real-time personalization to adapt your website experience (by changing headlines and CTAs on the fly).
To actually make any of these strategies work, you need marketing personalization software. These tools can help you create multiple experiences that are sent through marketing channels to specific groups of customers.
Automated personalization is key for adapting the customer experience, since your personalized marketing campaigns have to be sent out automatically. You can't be sitting at the computer 24/7 deciding who sees which message!
Why do you need personalization software?
Every visitor and consumer has their own specific needs. As an ecommerce store, you need to show them that you truly understand those needs.
The best way to do that is by using a personalization tool.
Lots of industry research reinforces this idea. Here are some relevant stats about marketing and website personalization:
66% of customers

expect companies to understand their unique needs and expectations.

80% of consumers

are more likely to buy from a company that provides a tailored experience.

70% of consumers

say that how well a company understands their individual needs impacts their loyalty.
One-size-fits-all messaging clearly isn't enough anymore. You don't want to sabotage your sales and customer loyalty by failing to provide the personalized experiences people want.
What are the best marketing personalization tools?
Now that we've looked at what marketing personalization is and why it's important, it's time to get into our list of the best personalization tools.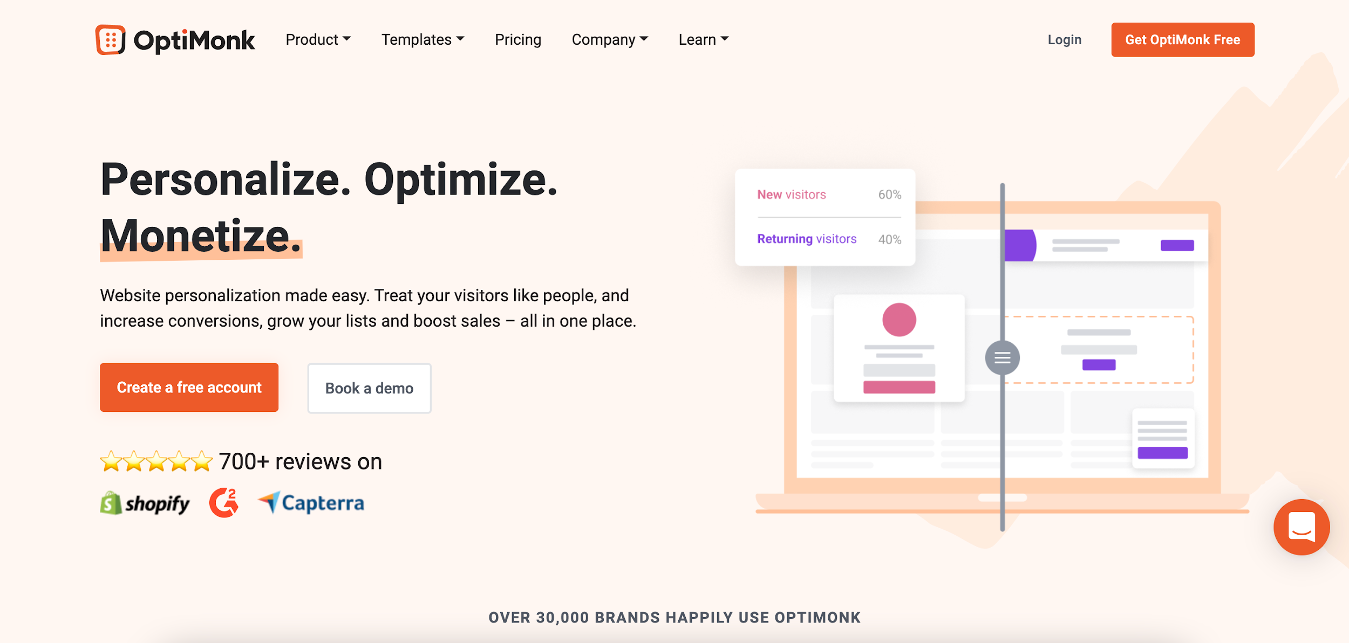 OptiMonk is a comprehensive website personalization platform that allows marketers to create personalized shopping experiences with ease. Adapting your website to each customer can maximize your website conversions and win you customers for life.
Key feature #1: Embedded content
You can add personalized offers, incentives, surveys, and messages to your website without involving developers (or having any coding knowledge).
Key feature #2: Overlays
You can also use overlays like popups, sidemessages, sticky bars or full screens to get your visitors' attention. You have dozens of targeting options that allow you to take advantage of all the customer data you have, so you can display these messages at the right time to the right people.
Key feature #3: Product recommendations
Implementing relevant product recommendations doesn't have to involve complicated development processes. Instead, use customer segmentation to automatically recommend products that each individual will be interested in.
Best of all, with OptiMonk's intuitive user interface, you can set up personalized product recommendations in just a few clicks.
Key feature #4: Smart tags
You can use any first-party and zero-party customer data you're collecting to include hyper-personalized content in your messages. OptiMonk's customer segmentation system allows you to create unique groups of customers and deliver 1:1 messages that make your visitors feel like you're talking to them directly.
Additional benefits:
No-code editor to easily design your campaigns

Point & click placement of embedded content

Audience recommendations to help you target the right segments

A/B testing and experiments to optimize your campaigns

Campaign analytics & true revenue measurement
Get started with OptiMonk's website personalization platform today for free!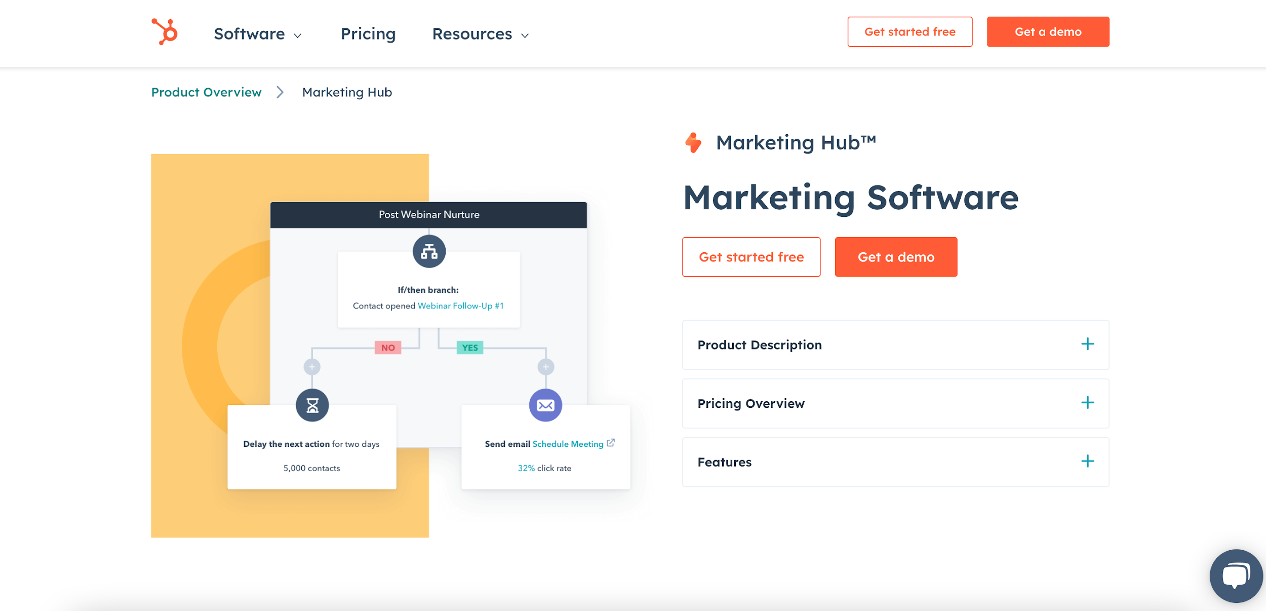 HubSpot is one of the most popular content management systems (CMS) in ecommerce. It also allows marketers to personalize website content based on visitor characteristics and behavior.
Key features:
Popup forms:

Create personalized lead capture forms and trigger them based on visitor behavior.

Personalization tokens:

Customize the content in your email marketing messaging.

Smart content:

Show different website experiences and CTAs to audiences based on characteristics like lifecycle stage, device type, or referral source.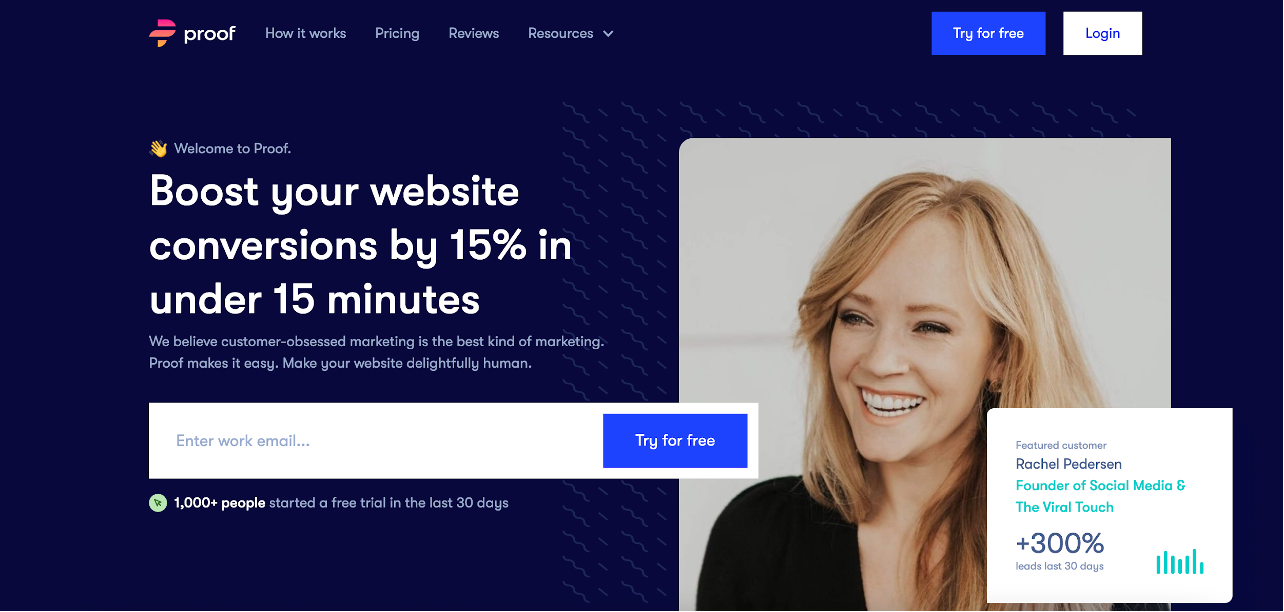 Proof is another great personalization software. It specializes in helping you build visitors' trust with personalized social proof badges.
Key features:
Hot streaks:

Show the total number of people who have recently taken an action, like sharing a post or making a purchase, on your site.

Live visitor count:

Show the number of people currently viewing a page (or your whole site) to increase the sense of urgency.

Easy setup:

All you need to do is copy and paste the Pulse pixel into the header of your site.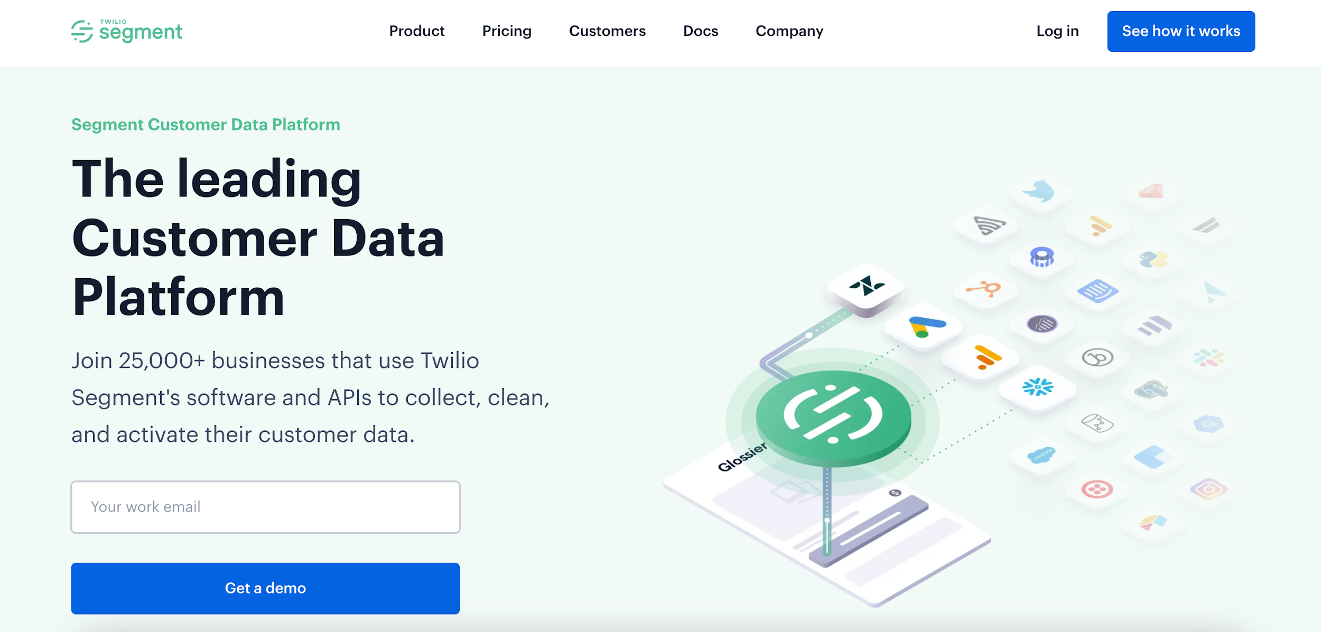 Twilio Segment is a customer data platform that collects customer-specific events from your web & mobile apps. You can learn a lot about your customers using their complete data toolkit, which helps you deliver omnichannel personalization campaigns.
Key features:
Complete view of the customer:

Unify your customers' touch points across the entire customer journey, on all platforms and channels.

Real-time audiences:

Build audiences who share relevant characteristics (like awareness stage, customer behavior, etc.) and immediately target them with real-time campaigns.

Integrations:

Use integrations to activate audiences from 400+ marketing tools.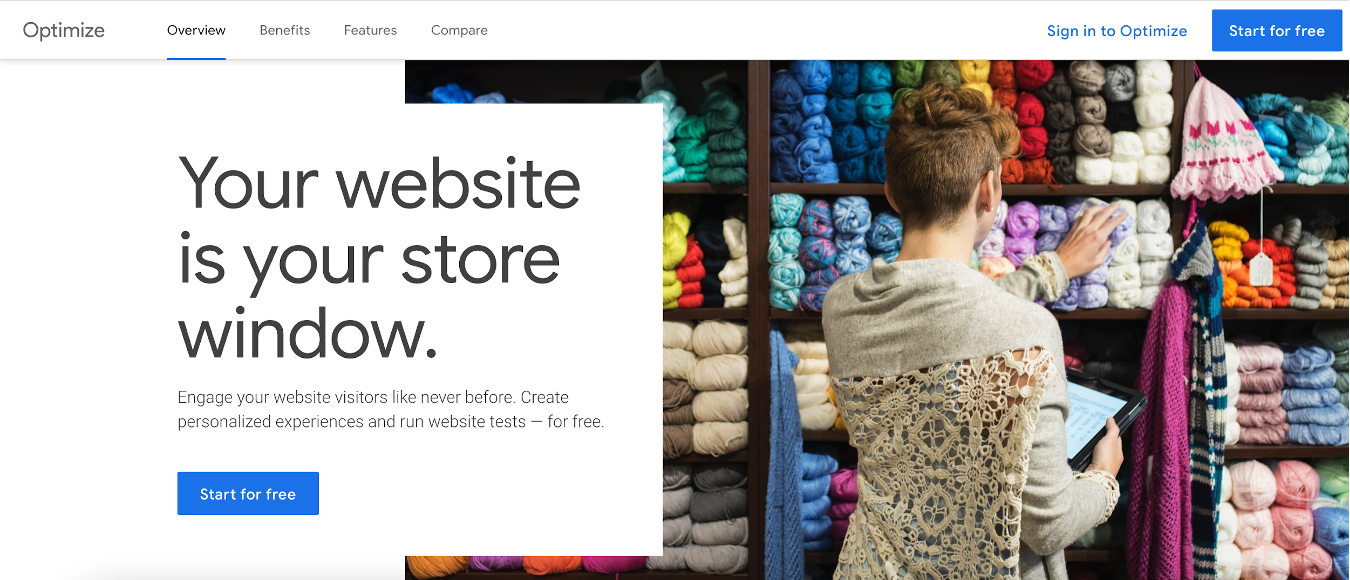 Google Optimize offers a variety of conversion optimization and personalization tools, including A/B testing, website testing, and dynamic content. Monitoring the impact of your website personalization on your digital marketing outcomes is essential for delivering engaging customer experiences.
Key features:
Data:

Optimize is integrated with Google Analytics, so you can take advantage of tons of data while figuring out how your website can be improved.

Testing:

Easily run tests on your website's content to learn what works best for your visitors, including A/B testing, more complex multivariate tests, and redirect tests.

Targeting:

Create a personalized experience to suit each type of visitor using advanced targeting options.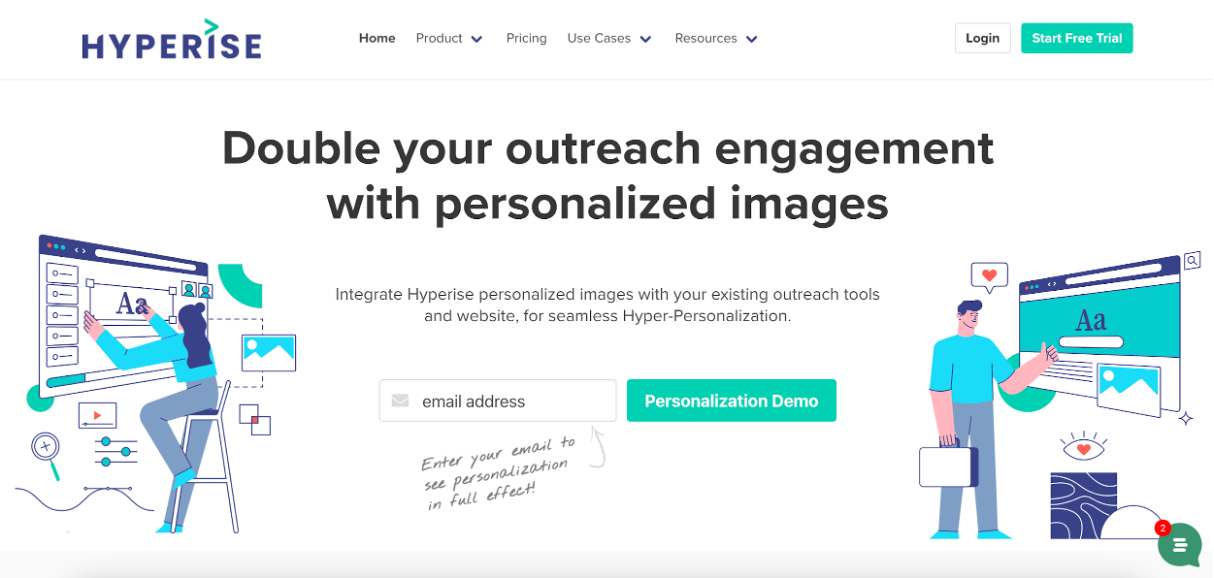 Hyperise is another personalization tool that allows you to change up your website based on who's visiting. It allows you to personalize the images you use in marketing messages and on your website, as well as text, videos, and CTAs.
Key features:
Personalized images:

Add dynamic layers to your images and integrate

them with your existing digital marketing tools and website platform.

Video personalization:

Capture attention and stand out by using personalization to show different versions of your videos to different audiences.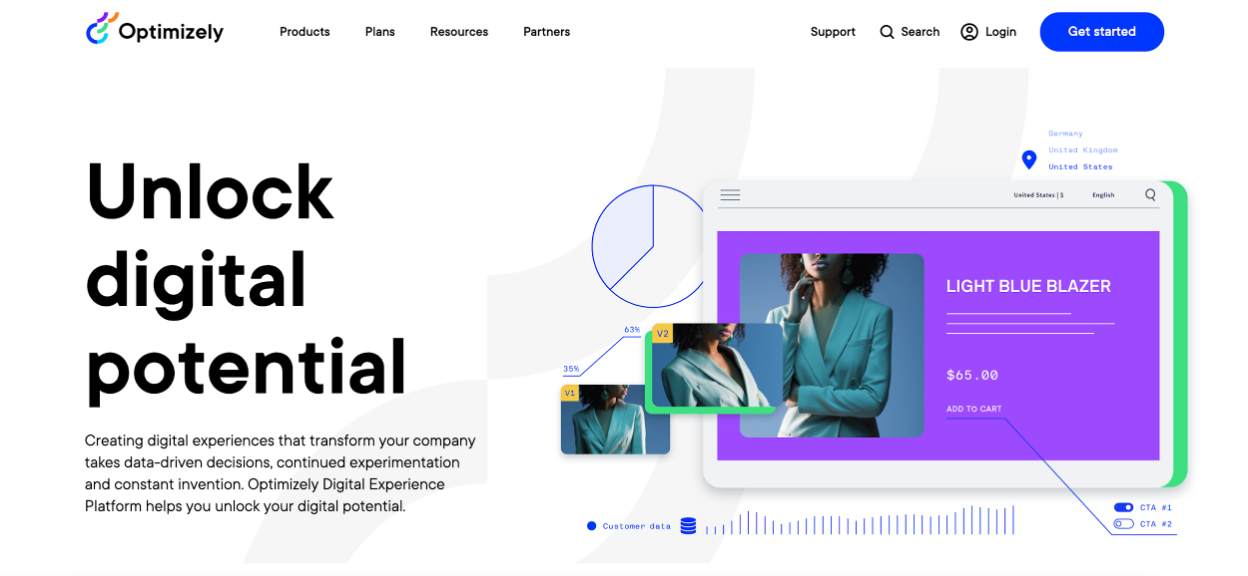 Optimizely is a Digital Experience Platform, which means it helps you create unique digital experiences that transform the way visitors relate to your company.
Key features:
Content management:

Use their content management system to create and scale tailored content.

Multi-store ecommerce

: Run multiple shops with different inventories, and catalog both online and offline sales.

Optimization:

Use artificial intelligence to test new features and website personalization tactics.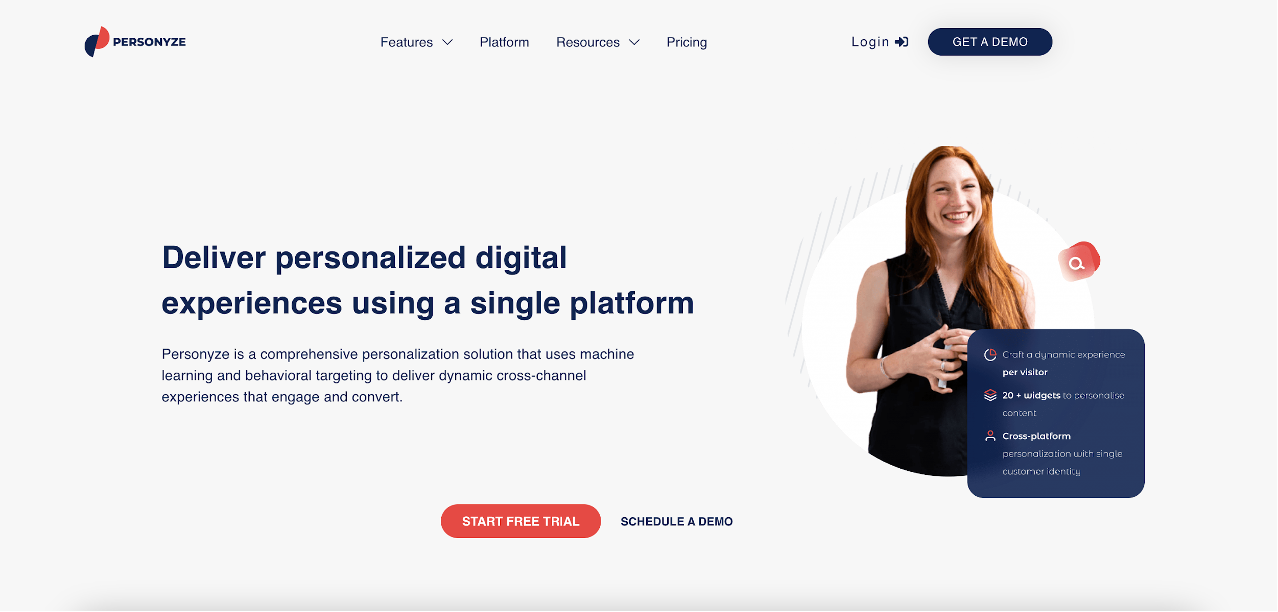 Personyze is a personalization solution that leverages cutting-edge tech like machine learning and behavioral targeting. With their platform, you can create dynamic cross-channel experiences that engage and convert.
Key features:
Content and product recommendations:

Use machine learning to generate personalized recommendations that respond to each visitor's individual interests.

A/B testing

: Test your website personalization on different customer segments based on a comprehensive visitor profile.

Dynamic landing pages:

Create several versions of your landing pages for different audiences.
There you have it, the best personalization software available today! Not only are many of these web personalization tools capable of delivering powerful personalized experiences, but they're also easy to use.
So which should you go for? OptiMonk's powerful website personalization software offers the best mix of features, and it's free to use. Give it a try today!