A good Content Management System (CMS) makes running an ecommerce store easy. Instead of spending hours on the boring, technical aspects of maintaining an online presence, you can focus on actually selling your products.
Ecommerce CMS platforms allow you to create and update your online store through an easy-to-use editor rather than by coding. They're very popular among small business owners who aren't yet tech-savvy enough to design a website from scratch. But by using a CMS platform, you can still tap into your creativity and make a website on your own.
Understanding the benefits and drawbacks of the different CMS platforms will help you make the right decision when setting up your online shop.
So let's take a look at the ten best ecommerce CMS options!
The 10 best ecommerce CMS solutions for your online store
Shopify is a CMS platform specifically for ecommerce stores. As a result, it's incredibly powerful and well-equipped. It's one of the best ecommerce CMS platforms because it saves you tons of time and effort.
Case in point: after creating your website on Shopify, you can also host it on their web servers. This saves you the trouble of buying a domain name and web hosting.
And you'll be able to find useful plugins in their extensive App Store for anything that the core platform doesn't do.
Shopify's site builder is simple enough to allow even a computer novice to design their online store easily. There are plenty of templates and themes to choose from. However, experienced developers can put their own spin on Shopify stores because the platform allows them to edit their CSS and HTML code.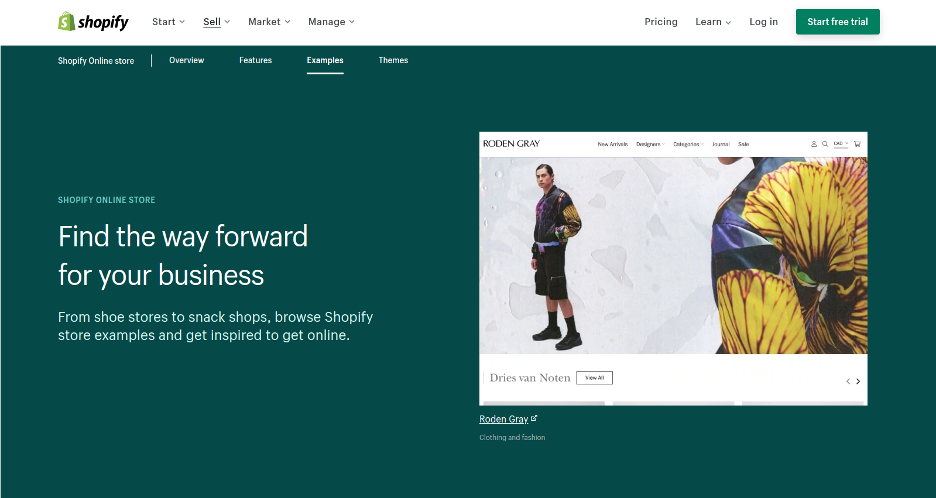 Notable features:
You can use your own domain name

Easily integrate desktop, mobile, and in-store sales

Allows you to sell your products on Facebook

Has a user-friendly order management system

Allows you to set up gift cards, discounts, and coupons

Easily set up contact forms

Easy integration with your social media accounts

Has a useful mobile app that helps store owners keep track of sales

The Shopify Email system makes it easy to run email marketing campaigns through the platform
Pros:
You'll love the user-friendly interface

You'll have access to a huge library of both free and paid extensions

Payment systems are easy to use and reliable
Cons:
Any sales through third-party payment providers incur a transaction fee

Most themes on the platform aren't free

Sometimes you'll

have to

install an app to get a feature you need
Pricing:
Basic Shopify: $29 a month

Shopify: $79 a month

Advanced Shopify: $299 a month
Who should use Shopify?
Shopify is a great choice for small businesses that need to get an online store up and running with minimal effort. If you have a decent budget, you can take advantage of many of Shopify's powerful features.
WordPress stands alone among the numerous ecommerce software suppliers in the market. That's because it isn't only the top choice for building ecommerce websites, it's the top choice for building all kinds of web pages.
About 28% of all ecommerce websites use WordPress as their content management system.
Unlike Shopify, WordPress is an open-source ecommerce CMS platform. That means you don't need to pay a cent to use their basic technology.
Moreover, it comes with various free themes that you can install and start building your ecommerce website.
If you want to make any changes to the theme design, you can always add custom codes. However, many online businesses use WordPress plugins to make it easier to create and run their site.
WooCommerce is a particularly popular plugin that adds tons of ecommerce functionality to WordPress. Because of its widespread popularity, just about any ecommerce service you can think of (MailChimp, HubSpot, or OptiMonk) has released a plugin for easy integration.
And since the entirety of WordPress' code is open, it's possible to completely customize your store. Let's glance at more features below.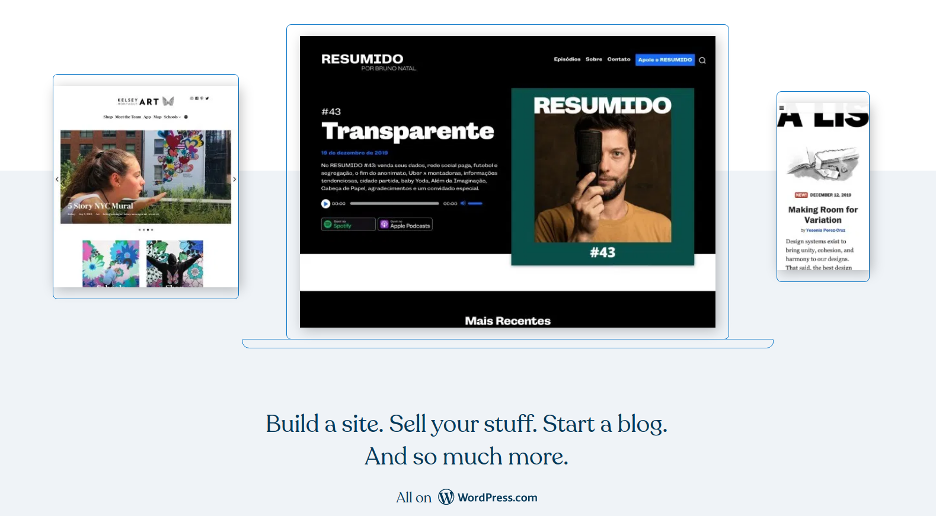 Notable features:
You can choose from amazing ecommerce plugins

You can integrate all payment gateways

It's easy to publish lots of written and video content

Your choices of free and paid themes are almost limitless

You can integrate your social media accounts

There are lots of free SEO extensions
Pros:
It's a free and open-source ecommerce platform

You can give your store a unique look due to the customization options

You have access to an absurd amount of plugins
Cons:
You'll need to arrange for hosting

Since WordPress is free, you're going to be out on your own without technical support
Pricing:
The basic WordPress platform is free, but you can upgrade your site with the following plans:

Business: $25 a month

Ecommerce: $45 a month
Who should use WordPress?
Anyone can use WordPress as their ecommerce CMS platform—that's why it's so popular. To take full advantage of WordPress, we recommend working with an expert unless you're very well-versed in using the platform.
BigCommerce is a SaaS ecommerce platform that helps online business owners start, run, and maintain their websites. It's well-known for serving as the Content Management System of large brands like Toyota, Burrow, and Skullcandy.
Their powerful and highly-flexible website editor is the main reason why they've attracted high-profile companies. Not only can you take advantage of their customizable templates, but you're able to edit all their HTML and CSS code.
This makes BigCommerce a good choice for both small operations that need a website quickly and larger businesses that can hire developers to make unique online stores.
BigCommerce also integrates lots of crucial ecommerce solutions into their CMS. There are advanced SEO features, sales analytics, and a suite of social media-focused marketing tools.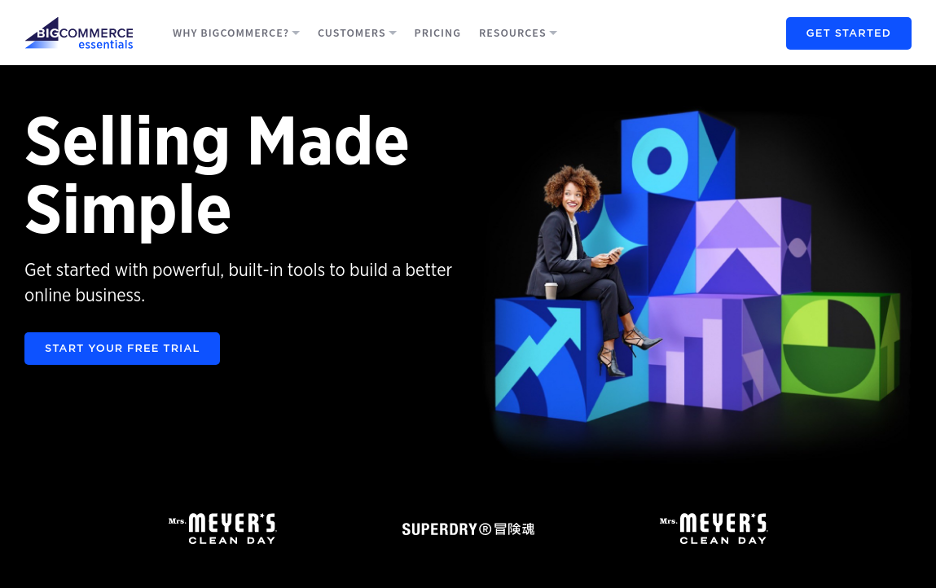 Notable features:
BigCommerce takes care of all your web hosting needs

You can integrate third-party apps and plugins

Easy to use website builder

Has good support for blogging

12 basic templates to choose from

You can use PayPal and many other online payment gateways

Enterprise clients get access to development services
Pros:
One of the easiest to use ecommerce website builders

SEO template customization and other features that will boost your incoming search traffic
Cons:
It isn't an open-source ecommerce solution and accessing all its features is quite expensive

Online merchants have to pay more for their service when they pass certain sales thresholds
Pricing:
Standard: $29.95 a month

Plus: $79.95 a month

Pro: $299.95 a month

Enterprise: custom pricing
Who should use BigCommerce?
BigCommerce comes jam-packed with features that all store owners—whether big or small—can make use of. BigCommerce is best for those who want to invest in growing their business quickly.
Drupal is an open-source CMS platform that enables ecommerce businesses to build professional websites from scratch.
It's very different from both WordPress and the SaaS CMS options. It functions more like a website framework than a full-service site builder. This creates both drawbacks and opportunities for Drupal as an ecommerce CMS for online stores.
The main drawback is that Drupal can be difficult to use. You can rely on basic ecommerce functions, such as payment processing, order management, and a shopping cart system. But you'll need to know how to create the site that surrounds these features.
If you're able to take on the task (or can pay a developer to help you), you'll have the opportunity to create incredibly unique online stores with Drupal.
Another option is to use Drupal Commerce, which is an ecommerce platform similar to WooCommerce. This does make it easier to create and run a website, but it's still a challenge. Especially since you'll have to arrange for your own web hosting and security. Let's get into the good and the not-so-good points.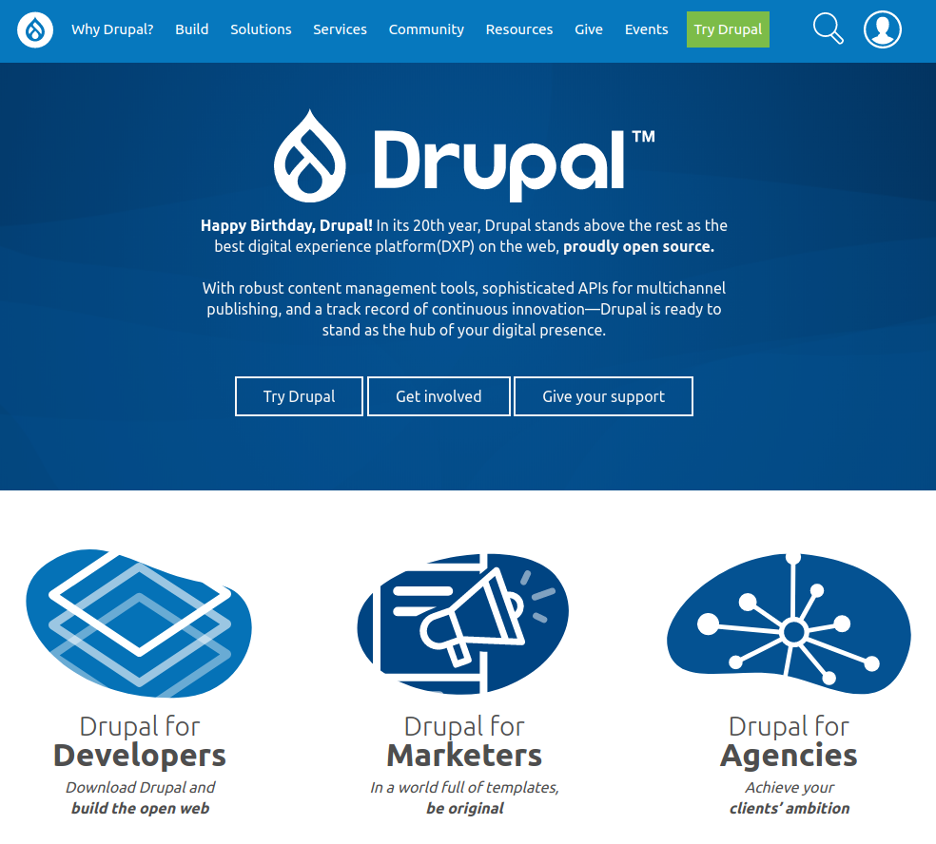 Notable features:
Highly flexible and customizable

There are great options for creating mobile websites

Supports using multiple languages

You can install powerful modules to boost your SEO

There's a built-in workflow system
Pros:
When you use Drupal to create your online store, you aren't locked into any of the SaaS ecommerce CMS platforms

Drupal separates the back-end and front-end of an online store, which means that you can easily create content and then publish it when you like
Cons:
Difficult to use and, if you have any problems, you'll only be able to turn to forums for answers

Not as many third-party apps and plugins as WordPress
Pricing:
Both Drupal and Drupal Commerce are free to use.
Who should use Drupal?
If you care about having a unique website that doesn't look like it was made from a template, Drupal is a good option. However, make sure you have the time and money in your company budget to invest in a higher-effort site-building process. Those costs can snowball and add up quickly.
If you're just getting started in the online business world, then Squarespace is probably the best ecommerce CMS for you. That's because it's the easiest ecommerce platform for beginners to use on their own.
Squarespace enables just about anyone to create a beautiful and functional online presence. Their templates are universally seen as the top of the line, while their drag and drop editor makes it easy to put your own spin on them.
Their ecommerce platform also includes several crucial functions, such as hosting and payment processing, in a way that doesn't task the user. In addition, they offer a mobile-centric design, such as their mobile commerce shopping cart.
However, like many other SaaS content management systems, Squarespace's drawback is the lack of customization in terms of both design and ecommerce functionality.
Notable features:
Provides order management, payment processing, and shipping options

You can use lots of third-party apps and plugins

You get access to an analytics page

Allows your visitors to easily customize their orders

You can have unlimited products in your store

You get a free domain name

There's an easy to use blogging option

Has a free security certificate
Pros:
A great combination of unlimited products and no transaction fees

Lots of high-quality template options

Incredibly easy to use
Cons:
Doesn't have phone support (although there's a 24-hour live chat option)
Pricing:
Basic Commerce: $26 a month

Advanced Commerce: $40 a month
Who should use Squarespace?
Of all the ecommerce platforms on this list, Squarespace is the easiest to use for beginners. If you have some products you'd like to sell but don't have tons of experience selling online, then Squarespace is a great option for you.
OpenCart is an open-source ecommerce CMS. It's notable because it manages to remain free while also being incredibly easy-to-use. That's not always the case with open-source software!
The reason why OpenCart's CMS is so user-friendly is the combination of their simple, core platform with a multitude of powerful extensions. This means you can set up the basic framework of your website quite easily and then add extensions to it.
There are also lots of free templates available from third parties, which allow you to create an OpenCart online store on your own.
Finally, you can pay for 'Enterprise Services' if you need any help. For instance, a one-time bug fix that can solve a persistent problem on your website starts from $150. You can also pay for dedicated support and store backups.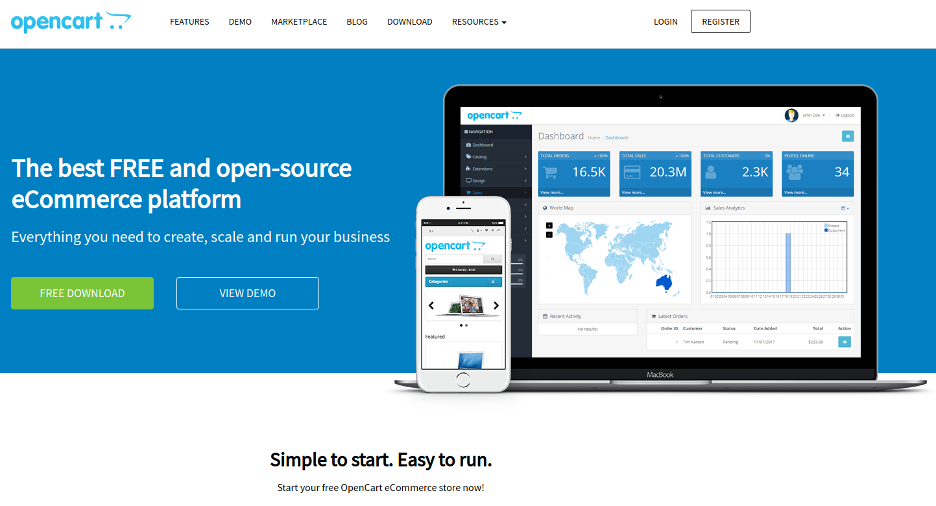 Notable features:
Over 14,000 extensions are available in the OpenCart marketplace

Easily integrates with several payment gateways

Supports several shipping methods

You can add discounts, coupons, popups, and other features through free extensions

Their administrator dashboard system assists store owners by tracking their store's performance
Pros:
All the basic features are free

You can access powerful ecommerce technologies through OpenCart's extension system

Highly customizable if you can code in PHP
Cons:
Some of the templates look outdated relative to modern SaaS CMS ecommerce websites

You'll have to pay for hosting, security certificates, and other expenses
Pricing:
Password Reset: $99 for each reset

Dedicated Support: $120 a month

One-time Store Backup: $160 per backup

One-time Bug Fix: from $150
Who should use OpenCart?
Those with smaller online businesses and some technical expertise should consider using OpenCart. It's not very expensive, and you can get by with limited coding skills.
Wix is a general website builder that's capable of acting as an ecommerce CMS. To get access to their ecommerce features, you'll have to sign up for one of their "Business & Ecommerce Plans."
With Wix's ecommerce CMS, you'll have to trade in some amount of customizability for convenience and ease of use. Compared to other SaaS ecommerce platforms, Wix isn't very customizable outside of the choices you're presented with, but their out-of-the-box online stores look great nonetheless.
And they have over 500 templates to choose from, so you won't feel like you're lacking options.
Wix doesn't have the most advanced features for an online store (certainly not compared to the apps and plugins available for a Shopify or WordPress site). You might not find the exact tool you need in Wix's ecommerce CMS options when it comes to personalizing your website for different visitors, applying different forms of discounts, or user analytics.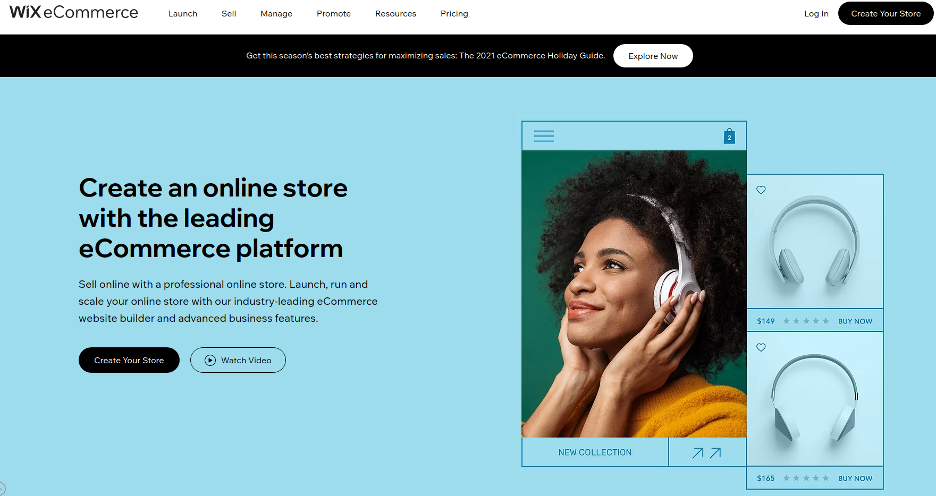 Notable features:
Wix has a huge inventory of beautiful ecommerce templates

Easy-to-use software with a quick set-up time

Great options for mobile commerce

Its content management system supports blogging

Has a simple but effective inventory management system
Pros:
You get tons of value for your money by signing up for Wix ecommerce

No commission fees

They offer a huge number of templates
Cons:
You'll have to sign up for premium plans to access many functions

You're limited in terms of customizing your site
Pricing:
Business Basic: $17 a month

Business Unlimited: $25 a month

Business VIP: $35 a month
Who should use Wix?
With Wix's ecommerce CMS, you're signing up for a system that's easy-to-use but not as powerful as Shopify or WordPress.
For many small businesses, this isn't a bad tradeoff. You'll save lots of money by not hiring web developers, and you'll only miss out on advanced features you might not need anyway.
PrestaShop is a lightweight and simple CMS that nonetheless gives users lots of control over how they set up and manage their website.
It runs on a 'freemium' open-source model, which means you can use their basic software for free but have to pay for more features. You'll also have to cover your own hosting costs.
If you work with a web developer, they'll be able to edit all of the code in PrestaShop. This can lead to really unique website designs.
However, you can also create a website yourself with their What You See Is What You Get editor (even if you aren't particularly tech-savvy).
Once you create a basic design, you can add modules that will expand your store's capability. For instance, you can use extensions for selling on Facebook and Instagram, or for optimizing your SEO.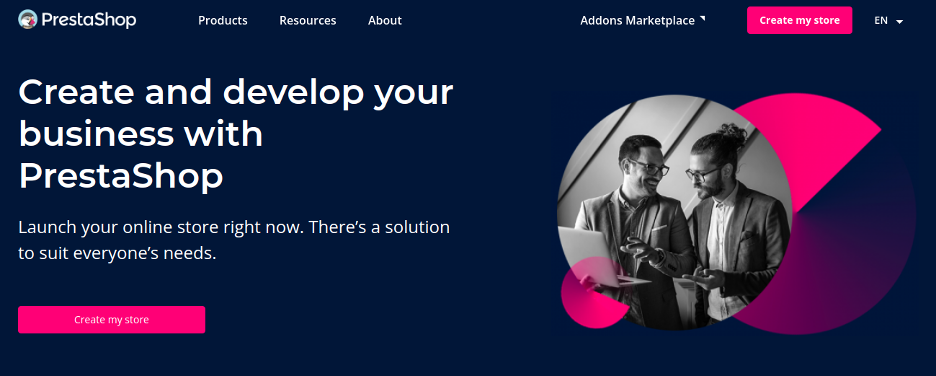 Notable features:
Easy-to-use template editor

Integrates well with social media

You can add on an advertising module that helps with lead generation

Choose from lots of options to add payment gateways

Even the free version is secure
Pros:
Easy and inexpensive to get up and running

You only need to add on the most beneficial functions for your business
Cons:
You won't be able to access customer support unless you're on one of their premium plans

Doesn't have as many third-party options as competitors like WordPress and Shopify

Their add-on modules can be pricey
Pricing:
PrestaShop is free, but you'll need to pay for hosting and add-on modules.
Who should use PrestaShop?
PrestaShop is great for those who need to create their website on a limited budget. You can start off with the free version of their CMS for ecommerce, and then upgrade it as your store becomes more profitable.
Ecwid is different from the other ecommerce platforms on this list because its model fits into a specific niche. Ecwid isn't the best CMS for building a full-service ecommerce store. Rather, it's designed to add some ecommerce functionality to an already existing website.
Their service provides a small piece of code that you can easily add to your website. That's why their name is short for "ecommerce widget."
If you sell fewer than 10 products, you'll be able to add those lines of code for free as well as set up payment gateways, shipping systems, and a shopping cart page.
If you want to sell more products or use advanced features, you'll have to pay for higher tiers. However, the prices are reasonable and match the lightweight nature of their product.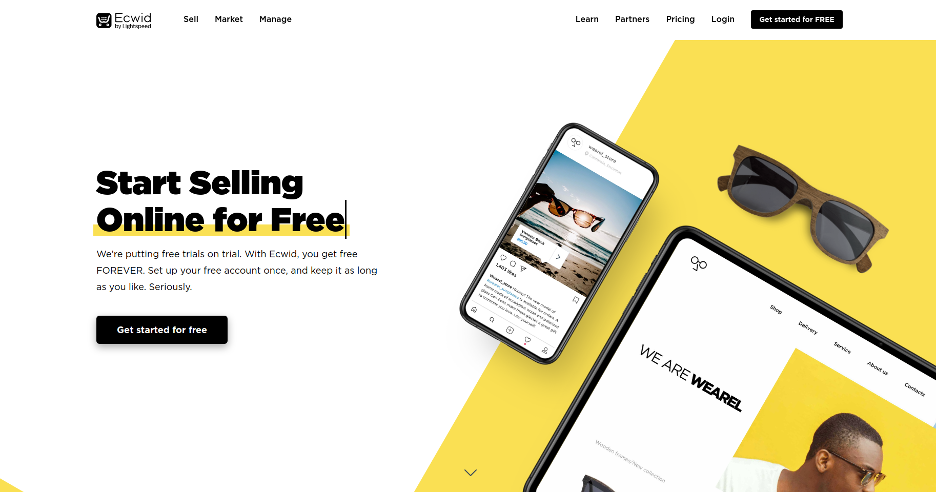 Notable features:
Easy to plug into a website that you're already running

Ecwid has a POS functionality that can be used in physical and online stores as well

You can connect to over 85 different payment gateways for your online store

You can translate your store into 53 different languages

It's easy to start dropshipping in Ecwid

Allows multi-currency payments
Pros:
The free plan is generous, and you can use it on its own

It's remarkably quick and easy to start selling products on your website

If you have a WordPress website, you can add the Ecwid plugin to take advantage of all its features
Cons:
There aren't many apps or plugins that work with Ecwid

Ecwid doesn't work on Android mobile devices (but does function on iOS devices)

SEO features are only available on the premium plans
Pricing:
Free Plan

Venture: $15 a month

Business: $35 a month

Unlimited: $99 a month
Who should use Ecwid?
Ecwid is perfect for those who don't need to create a new online store but want to sell some products or merchandise on their existing website. It's also ideal for podcasters, streamers, and bands with already functional websites.
HubSpot is another unique ecommerce CMS for online stores because it's not solely focused on building ecommerce websites. Unlike other platforms we've covered, HubSpot is a cloud-based solution for driving traffic through SEO and marketing integration.
In simple terms, this means HubSpot is great for websites that focus on content production and marketing. But it doesn't have all the ecommerce features you might need for a pure ecommerce website.
Happily, you can easily add any extra features that HubSpot lacks. For instance, you can use Ecwid or another simple ecommerce platform to include credit card payments in a HubSpot hosted site.
Once you set up payment options, you can benefit from HubSpot's powerful marketing tools. HubSpot's SEO features are top-notch and their website's low loading times help with Google ranking. Furthermore, it's easy to integrate your site with your social media accounts and email marketing.
Finally, we've got to mention HubSpot's advanced tracking and analytics software. You'll be able to see crucial information like your search engine ranking, number of sessions, and time spent/actions taken on all of your pages.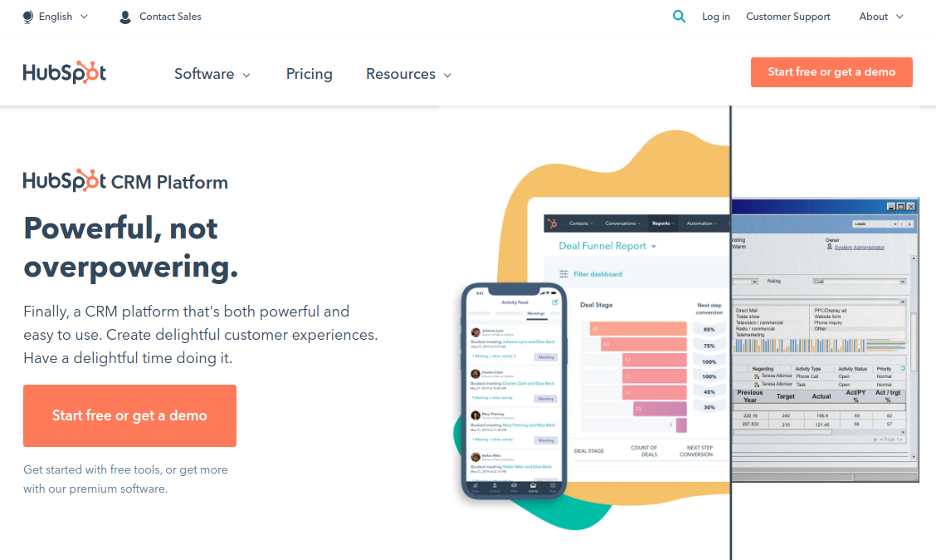 Notable features:
You can host your ecommerce website using HubSpot

Integrates perfectly with all of your marketing output—whether it's on social media, through content, or paid ads

It's easy to set up customer service functions like live chat

Has an excellent analytics dashboard

Allows you to create a personalized customer shopping experience

Has a great A/B testing system for optimizing your ecommerce store
Pros:
Has a modern and neat interface that you can use without any coding knowledge

Can improve the efficacy of your marketing campaigns

Excellent SEO features
Cons:
HubSpot is quite expensive

It uses a proprietary coding language called HubL, which makes it harder to modify your webpages

It lacks some CMS capabilities you might need to run successfully an online shop
Pricing:
Starter: from $25 a month

Professional: from $400 a month

Enterprise: $1,200 a month
Who should use HubSpot?
HubSpot isn't the best ecommerce CMS for business owners who simply want to create their online stores to sell a few products. Rather, HubSpot works best for large ecommerce stores that want to maximize their marketing efficiency and SEO ranking.
In today's ecommerce industry, you live and die by the quality of your website.
Using a great CMS for ecommerce can help you create a stunning website. After reading our list of the top ecommerce content management systems, we hope you're more aware of your options.
It's time to get your ecommerce business off the ground. Choosing a CMS is the first important step.
What's the best ecommerce CMS solution in your opinion? Let us know in the comments!