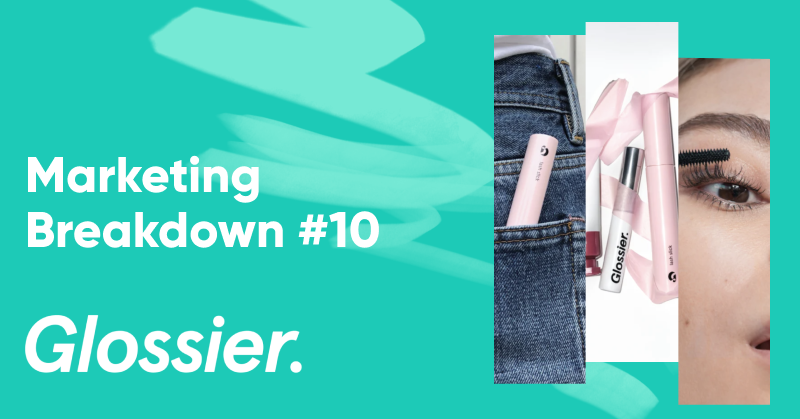 Glossier's ascent to billion-dollar beauty empire all began with a side hustle beauty blog. Today, they're one of the most successful D2C beauty brands in the world, with a $1.2 billion valuation.
How did the Glossier team do it? In this deep dive marketing breakdown, we'll cover their innovative brand strategy and what makes them different from other beauty brands.
Let's start at the beginning with the story of how Glossier was born.
Disrupting the beauty industry
Company's founder Emily Weiss launched her beauty blog, Into the Gloss, back in 2010. 
At the time, she was working as an editorial assistant at Vogue. That's where she noticed a trend: beauty industry brands weren't looking for customer input, they were simply telling women what to buy.
That's what sparked her idea for the blog. She thought that the beauty industry should involve real conversations with real women, and she knew that social media could make those conversations happen.
Into the Gloss became one of the first beauty blogs to use Instagram, and today, Into the Gloss' Instagram page has almost a million followers.
Their account became a great source of information about which beauty products their readers were using and why. Whenever they wanted to gather market research on beauty products, they simply asked their question on the Into the Gloss Instagram feed.
With a solid fanbase and plenty of experience from running Into the Gloss, Emily decided to launch her own beauty brand in 2014: Glossier. 
5 takeaways from Glossier's powerful strategy
Glossier's rapid growth was made possible by a smart marketing strategy, which we've studied in depth and boiled down into 5 lessons you can use for your own brand. 
Let's get right into it!
1. Know your target audience and build relationships with them
Glossier's team decided to use everything they'd learned from running Into the Gloss as part of their marketing strategy for the new company. 
They continued to communicate with their customers to stay in the loop and understand exactly what they wanted. Their "About Us" page puts it perfectly: "We create the products you tell us you wish existed."

And this isn't just a clever marketing claim—Glossier's products really are based on what customers ask for. In fact, this is how they created the Milky Jelly Cleanser, which is one of their best-selling cult products. 
On their blog, Glossier writes: "The making of [the Milky Jelly Cleanser] has been a collaborative effort, really (a year ago we asked you to describe your dream face wash, and you very much delivered)." You can read more about the story here. 
By creating quality products based on what customers want, the brand shows that they treat each customer as part of their community, rather than just an anonymous consumer.
And you can tell they're succeeding based on what their customers post on their social media channels. They have 2.6M followers on Instagram, many of whom act as loyal supporters and even—through word of mouth—salespeople. These "Glossier girls" use branded hashtags to make sure their user-generated content gets the beauty brand's attention.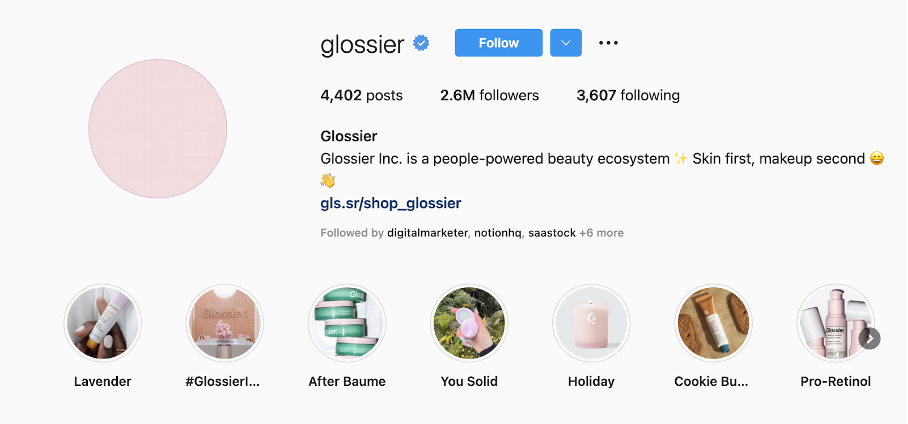 If you check out Glossier's Instagram posts, you'll never see them using overly-salesy language. Instead, they use fun, playful posts (like the one below) so you don't feel like you're following a boring corporate brand.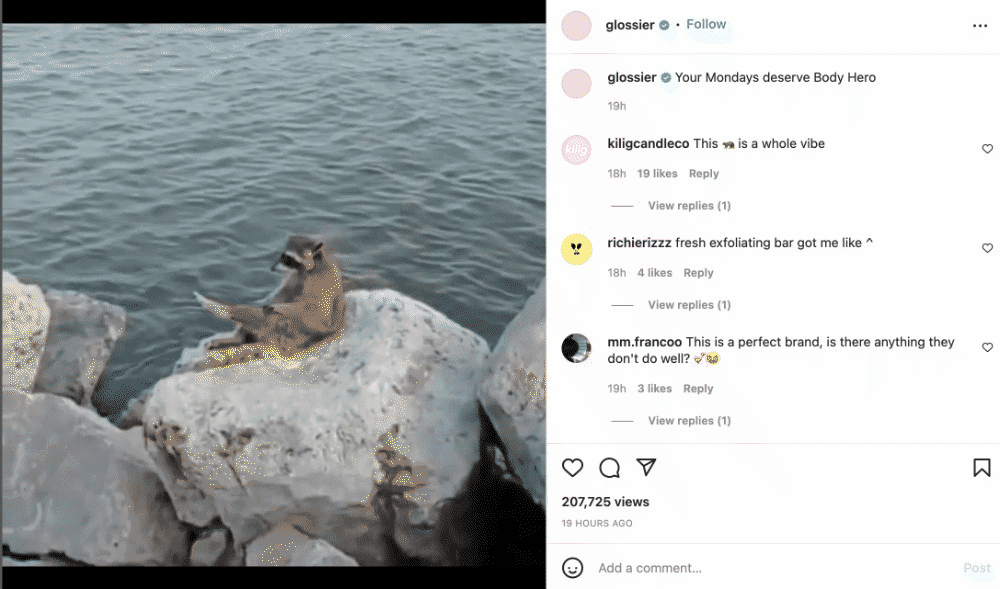 Engaging with their followers is another way that Glossier enhances its brand presence online. By replying to comments made by customers, the community feels like the brand actually cares. 
Here are a few examples:
2. Use (micro-)influencer marketing
Another key aspect of Glossier's hugely successful social media strategy is reposting user-generated content on their Instagram account. 
They regularly check what people post about their products, and often show how their products work in real life as part of real users' beauty routines. And they don't just repost big, "important" influencers like most brands… they also repost regular people's posts. 
"At Glossier, something we've always stayed very true to, since pre-launch, day one, is that every single person is an influencer," Weiss said during a live interview.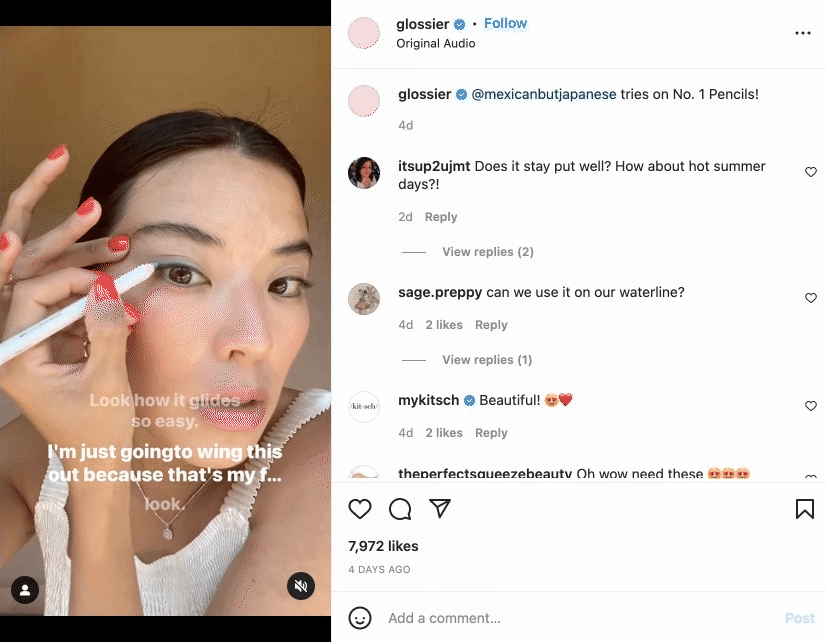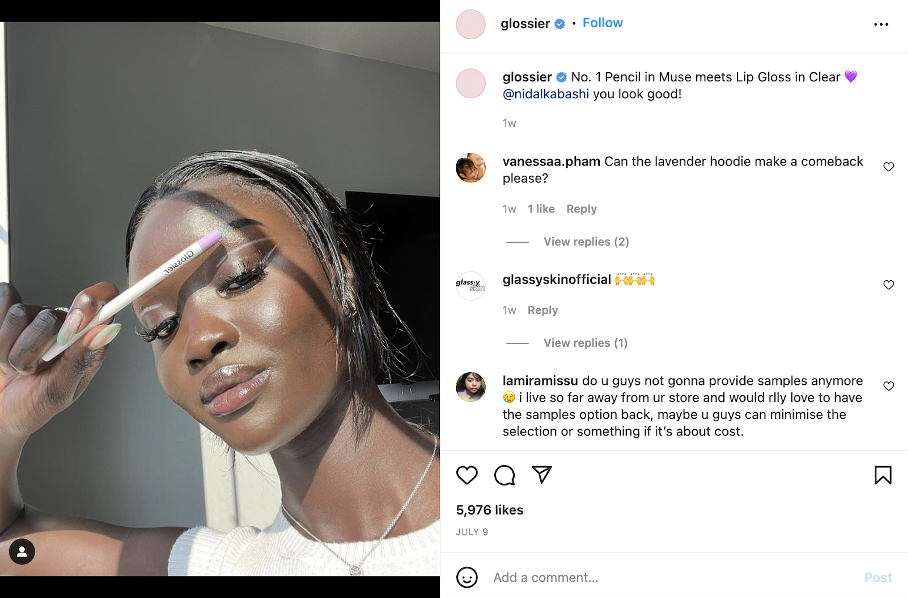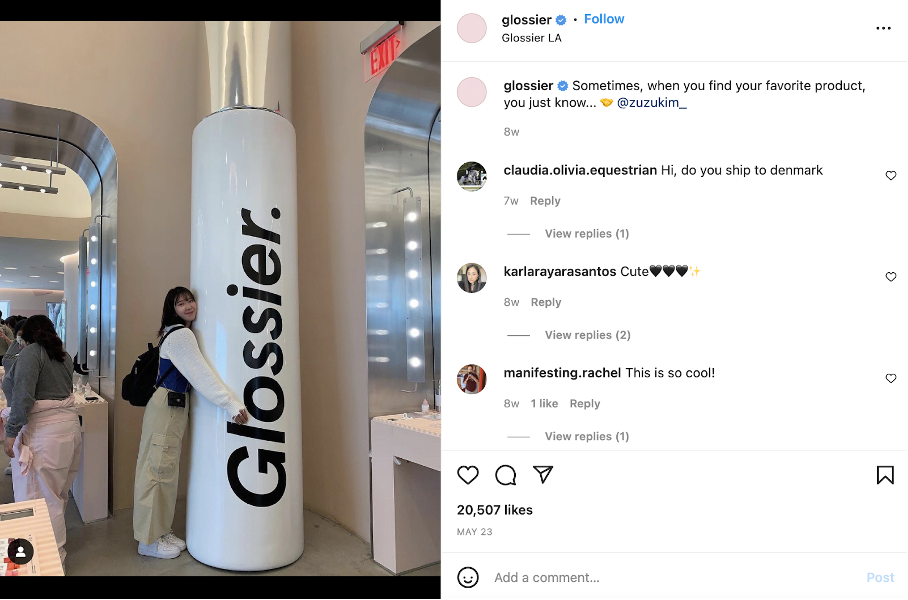 The best (and most prolific) post creators on Instagram often get invited to become ambassadors for the beauty brand. Glossier gives each of them a unique promo code, which lets them earn a percentage of every sale made using their code. 
This tactic has worked wonders for the brand: 70% of their online sales and traffic come from peer-to-peer referrals, and 8% of those are linked to their Instagram brand ambassadors. 
Another reason that Glossier sees so many customers talking about them on digital platforms is the fact that their products are so "instagrammable." 
Glossier pays close attention to how their beauty products look through a phone camera and, since they look so great, people naturally want to post about Glossier products without any encouragement.
These social media tactics make Glossier one of the most innovative companies online, and certainly deserving of their reputation as a "people-powered beauty ecosystem."
3. Focus on branding
Branding is another key pillar in Glossier's amazing strategy. As mentioned, their products are attractive and instagrammable. 
Their signature pink color is not only iconic because their customers would recognize it anywhere, but also because they actually have a trademark registration for their millennial pink-lined product packaging. 
Do a quick Google search for "Glossier pink" and here's what you'll see: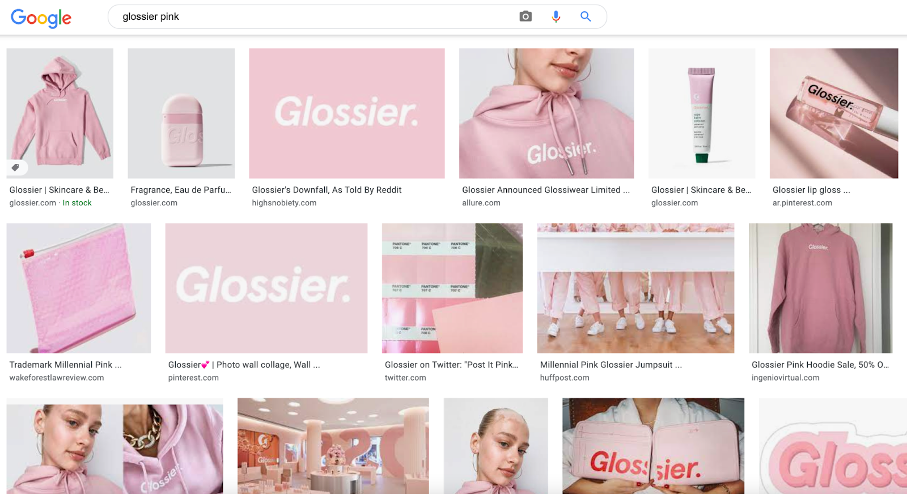 Their color pops up everywhere.
On their website: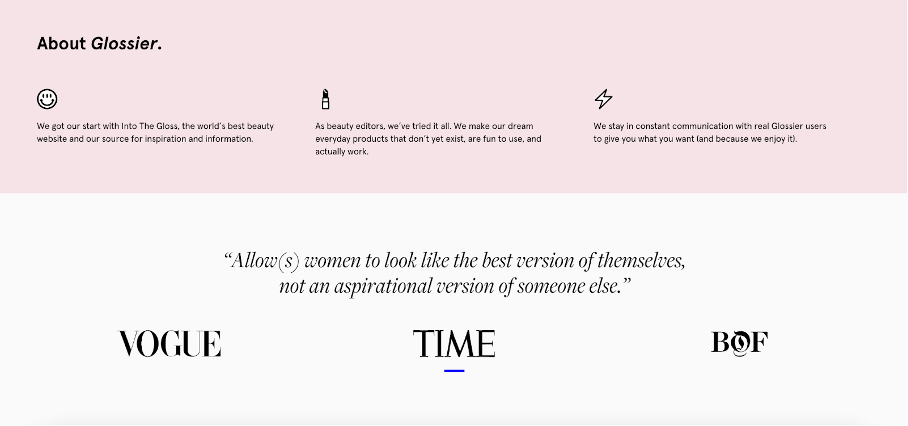 And on the packaging of all their Glossier products:
Everything is on brand! And this strong branding makes customers fall in love.
4. Publish engaging content
Since Glossier started out as a blog, it's no wonder that content marketing is important for the brand.
"The best thing we can do is give people content. That is our main driver of growth," said Glossier's president and CFO, Henry Davis, in an interview. 
On their blog, they share interviews, makeup tutorials, product reviews, beauty tips and techniques from industry leaders.
All these types of content offer value to visitors at different stages of the customer journey. Product reviews can be useful for new customers who aren't sure which Glossier products will work best for them, while people who have already made purchases can check out the tutorials to get the most out of their products.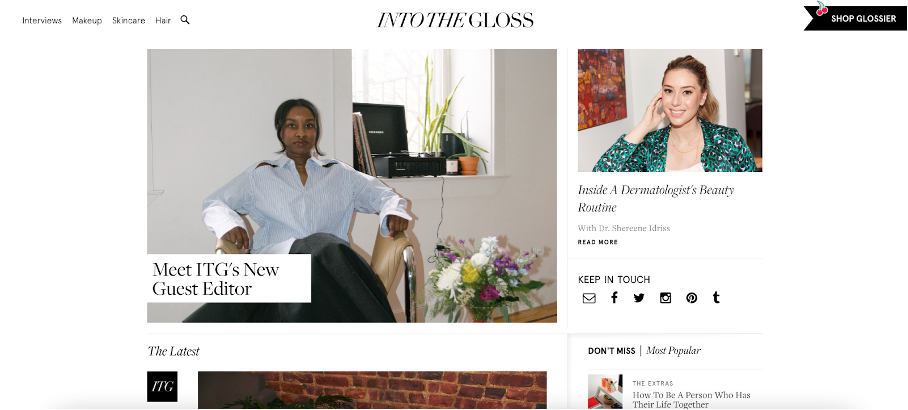 5. Provide an amazing user experience
When you visit the Glossier website, you can tell that they've put lots of effort into optimizing the user experience and helping visitors find the best products. This makes sense, since Glossier is a digital-first company.
As soon as you land on the Glossier website, you'll see their iconic pink color. 
They make sure to promote their current offer twice above the fold so visitors can't miss it.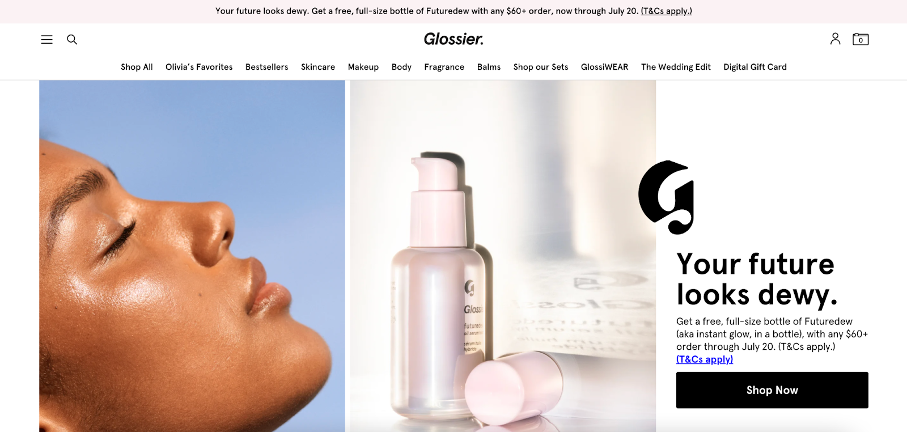 They also include reviews and other types of social proof on the homepage, both of which are great ways to drive online sales.


They help users find the best products for them in multiple ways.
First, the way they display their featured products on the homepage is very user friendly. Not only do they show photos and display all important information, but they also use tags like "New" or "Save $5". This is a brilliant way to help customers find great products while also pushing certain products.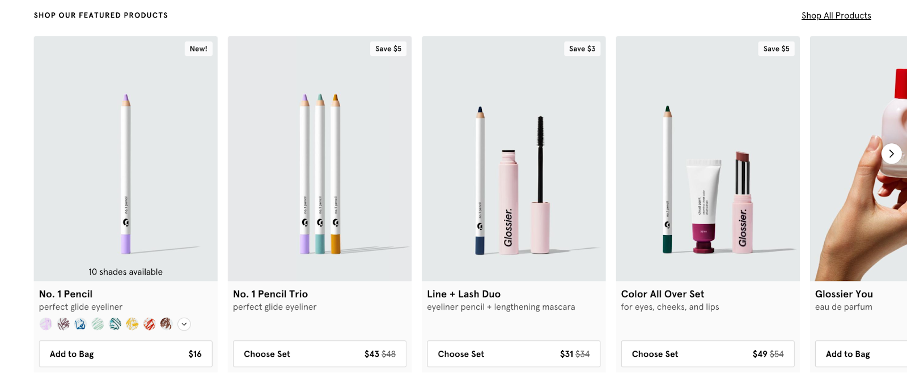 When it comes to navigating through their category pages, Glossier offers lots of options to help users narrow down their large inventory and quickly view only the products that they're interested in. This cuts down on the amount of time it takes customers to find what they're looking for.
They also display featured products whenever a visitor moves their cursor over a category tab in their menu.

If someone is still having trouble choosing a product, Glossier offers a skincare quiz.
By answering 3 simple questions, users receive a list of products that are recommended for their skin type and issues.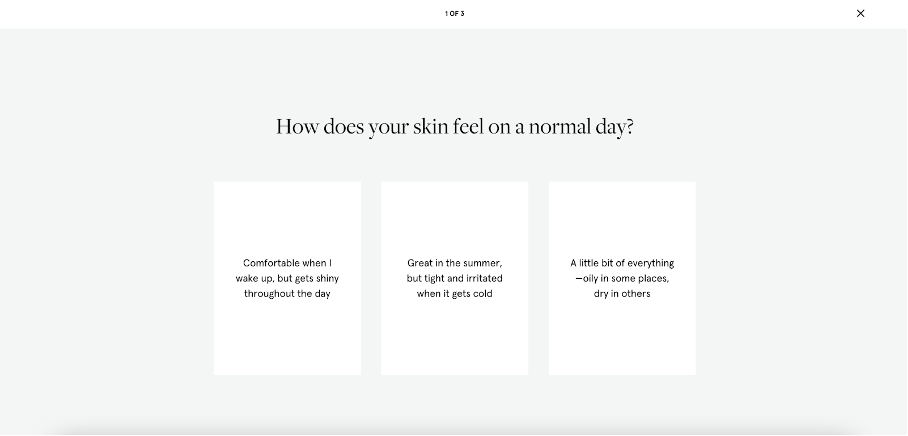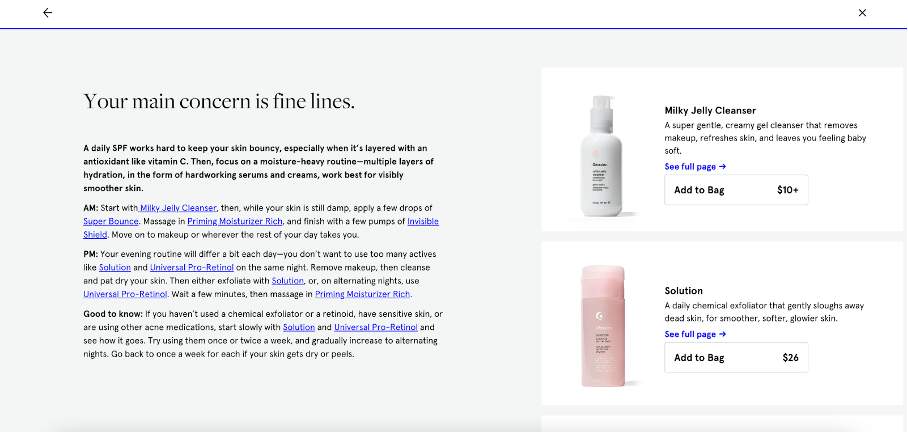 The product pages also contain all the important information a potential customer would need to make a decision:
Social proof ("Top Rated" tag at the top)

Plenty of high-quality of images

Hundreds of reviews

Full ingredient lists

How-to videos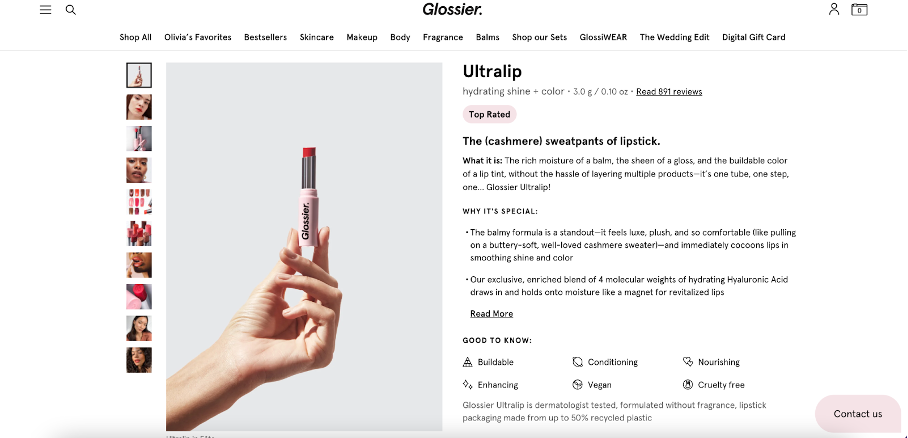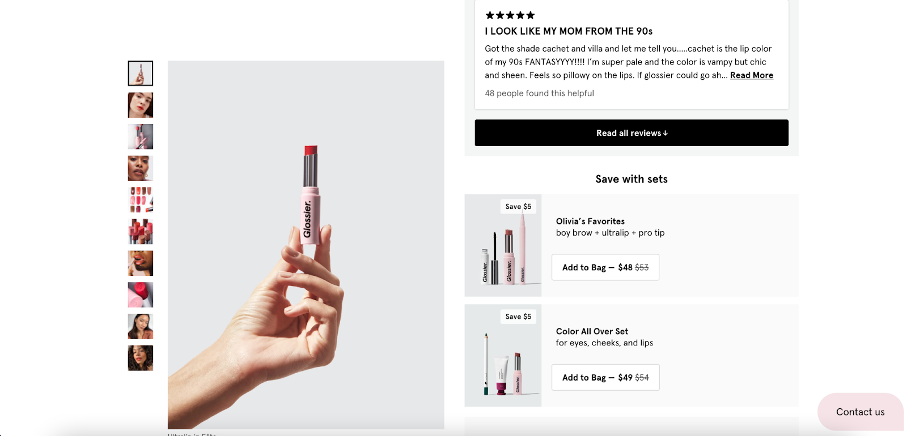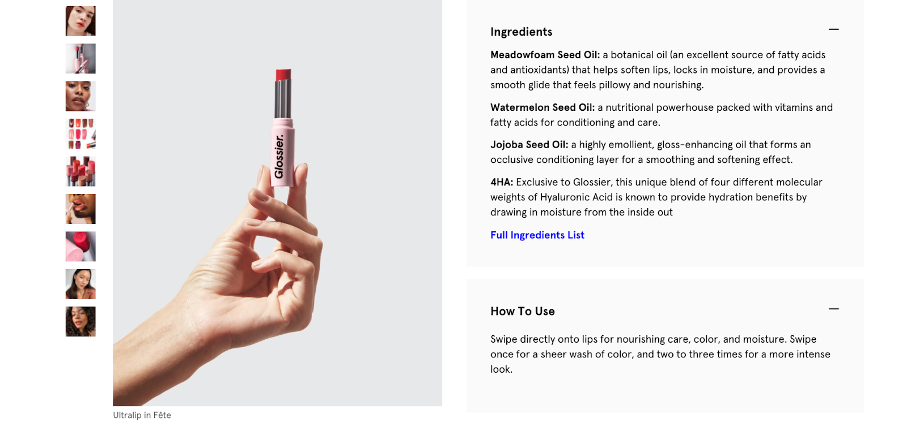 Glossier shows personalized product recommendations on their product pages, which either promote similar products (for those looking for another option) or complementary products (that users can add to their order):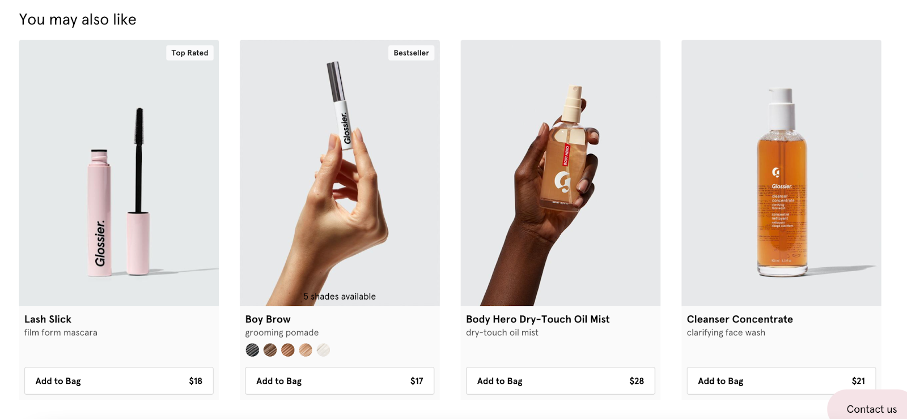 As you can tell, there's a lot to love about Glossier's website! It's really built to deliver an exceptional user experience.
For such a successful brand, is there any room for improvement? 
3 easy ways Glossier could drive even more conversions
As any marketing professional knows, there's always room for improvement! We have a few specific suggestions for easy changes that could improve the UX and boost Glossier's conversion rate even further. 
Let's see them!
Suggestion 1: Improve the lead generation process
Like many beauty brands, Glossier uses a popup to gather email addresses from non-subscribers. As a popup tool, we think that's great! Although it looks amazing (as you can see below), there's one small problem.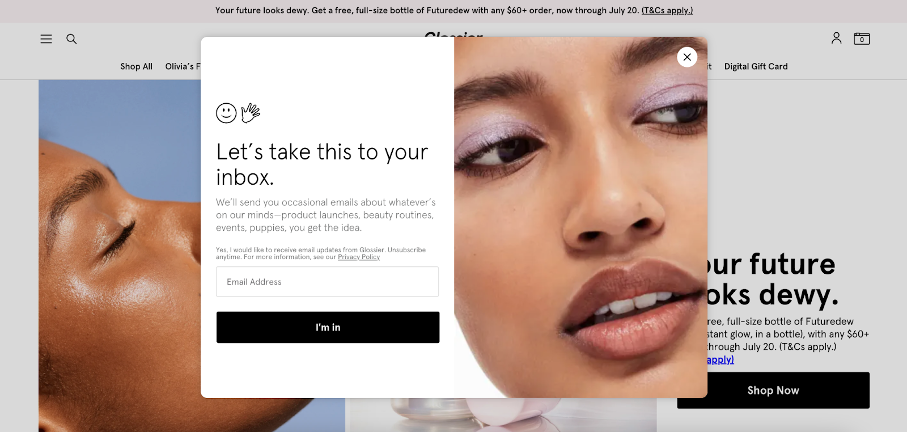 The popup is displayed as soon as someone lands on the website. This isn't ideal because it interrupts users as they try to orient themselves on the website. Furthermore, it's displayed every single time someone visits Glossier's website—which could very easily annoy customers who keep seeing it over and over again.
With today's popup technology, there are more user-friendly options! They could get the same message across without annoying their visitors and compromising the online shopping experience. 
First of all, they could set a frequency cap to limit the number of times a user sees the same popup (perhaps only displaying the popup the first two times someone visits the website).

We'd also encourage the Glossier marketing team to consider scrapping the welcome popup in favor of an exit-intent popup with a teaser. 
A small teaser in the bottom left corner would give people the option of signing up for the newsletter if they'd like, while triggering the full popup on exit-intent would give the brand a chance to get some value from users who are about to leave the site.
Here's a teaser example Glossier could use: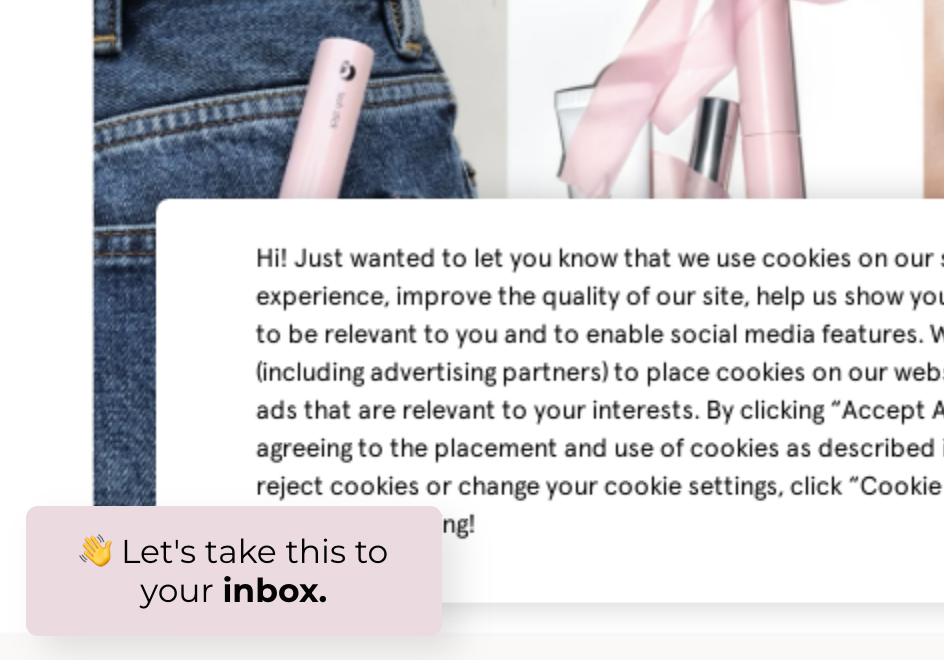 Suggestion #2: Use the quiz to generate leads
The skincare quiz we discussed earlier is great. It helps users find the products they need without much effort. But it could be improved in 2 ways:
Once people fill out the quiz, Glossier should ask for an email address so they can personalize future communications.

The team could also use the collected information throughout the website when recommending products to make the entire experience more personalized.
Glossier could generate even more responses from their quiz funnel if they used it as a popup. 
OptiMonk's software, for example, makes it easy to create multi-stage popups that begin with a quiz and end with an email sign-up form. The fact that a popup would capture so much attention means that more people would take the quiz, giving Glossier even more valuable data on their customers.
Here's a popup template that could be used by the Glossier team:
Suggestion #3: Make the promotional bar sticky
Finally, while we think that Glossier's promotional bar at the top of the page has the right idea, it would function much better as a sticky bar.
What's the difference? Well, a sticky bar stays on the screen as a user scrolls down the page or navigates to another area of the site. This would ensure that people see the brand's offer constantly, which would help keep it at the top of their minds.
Here are a few sticky bar templates: 
Glossier found enormous success from the get-go as a result of their innovative marketing strategy. Perhaps most impressively, it's not a one-dimensional marketing strategy: it flows through everything from their YouTube channels to their on-site content marketing. 
On social media (which still represents the cornerstone of Glossier's marketing efforts) the brand takes advantage of customer feedback to provide social proof and to improve product development.
This unique marketing and content strategy makes Glossier one of the most successful digital-first companies of all time. Many brands can learn from their innovative approach to digital marketing.
What do you think of the marketing process that Emily Weiss and the Glossier team have used to grow their business to a $1.2 billion giant? Let us know in the comments!