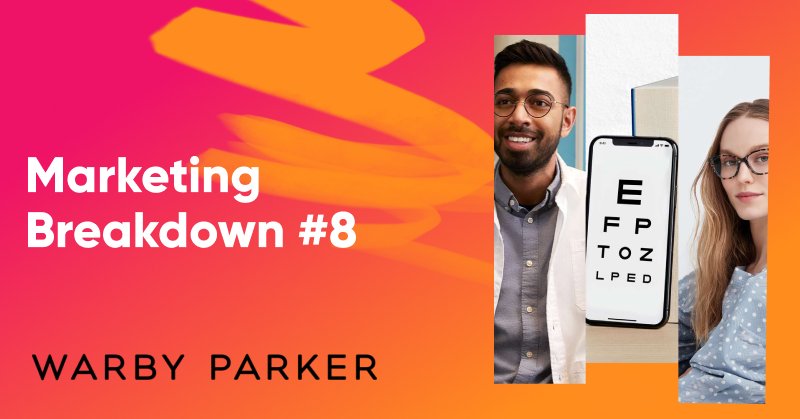 Affordable, designer-quality eyewear delivered directly to your doorstep. That's exactly what Warby Parker has provided their loyal base of buyers for over a decade.
Pioneers in the DTC (direct-to-consumer) space since 2010, the company now boasts a $3 billion valuation, dozens of in-person locations, and millions of satisfied customers to their name. 
But their success wasn't painless. 
Warby Parker not only had to compete with designer brands on price and quality, but also reinvented the entire process of "trying and buying" new glasses via ecommerce.
Overcoming these challenges meant creating a masterful marketing and messaging strategy.
In today's post, we're going to show you the marketing tactics Warby Parker used to become an ecommerce giant (and how you can copy them).
Let's dive in.
1. Don't discount the power of old-school PR
The idea of buying eyeglasses without physically stepping into a store was uncharted territory for consumers a decade ago.
So it was crucial for Warby Parker to promote the concept of at-home try-ons alongside their actual products.
They relied on tried-and-trusted PR (Public Relations) to communicate their value proposition. 
They worked with companies like Derris, and managed to score features in both men's and women's publications relevant to their target audience (GQ and Vogue, respectively).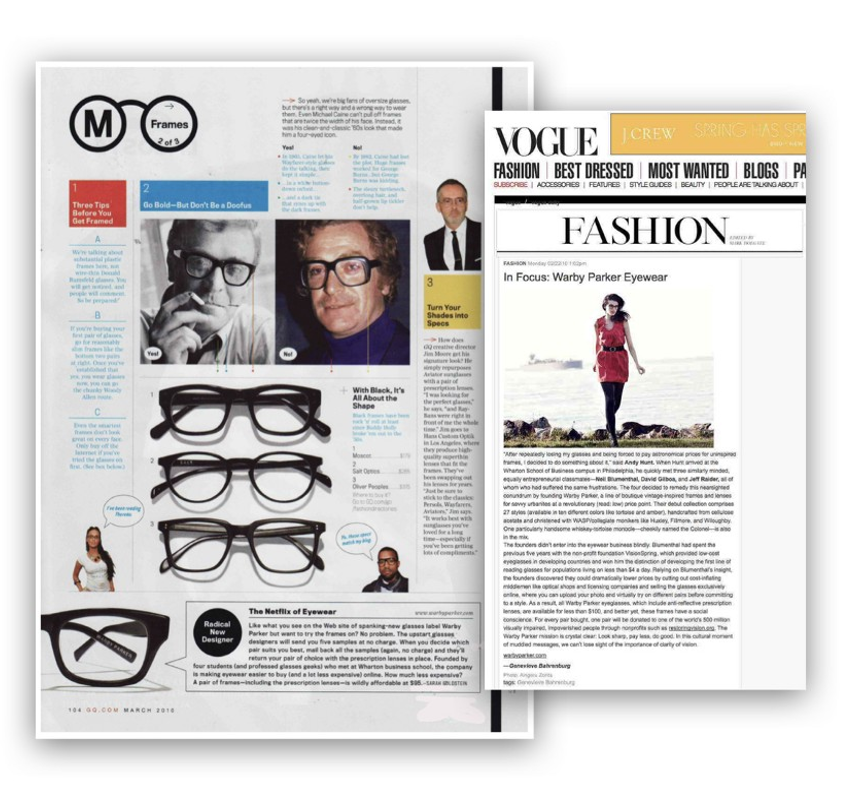 These press features explained Warby Parker's industry-breaking business model while also showcasing their stylish lines of eyewear.
To say that this PR strategy was a hit would be an understatement. 
Warby Parker's website crashed just after their official launch. Their top 15 most popular styles sold out within four weeks.
And the company amassed a staggering 20,000 customer waitlist during that time.
This newfound buzz and scarcity created an even greater demand for Warby Parker.
Keep in mind that consumers' initial interest in Warby Parker was more about what they were doing versus what they were selling. 
"What [we] were doing was unique," co-founder Dave Gilboa says of Warby Parker's initial press campaigns. "That's what got editors and readers excited."
If you can't afford to take out full-page spreads in magazines, don't sweat it. What you can do is create a compelling narrative behind your brand. 
Presenting something unique in terms of packaging, shipping, or your identity can be enough to score some coverage. Whether that positive PR happens in print or via social media doesn't matter as long as you get people talking.
2. Simplify finding the right product for first-time shoppers
Shopping online always comes with doubts and anxieties. 
Yes, style and affordability matter to customers. But these qualities don't mean much if your glasses don't fit or feel uncomfortable.
Warby Parker personalizes their customers' shopping experience at every opportunity—and guarantees that buyers get exactly what they want. 
Let's look at how they do it. 
For starters, Warby Parker has a quiz for shoppers to help them find the right glasses. Each question narrows down styles and selections—acting as a digital concierge.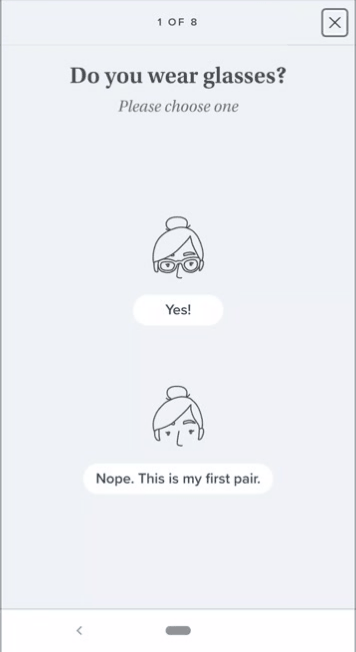 When we're talking about losing customers, many merchants are struggling to find the "why". 
Many sales fall through because online shoppers can't find the right products. 
Warby Parker's quiz keeps new shoppers from endlessly browsing, instead honing in on relevant styles that meet their needs. This increases their sales speed.
Another major plus: customers can customize their glasses. From the frame width to lens type and material. 
They reassure their shoppers with a one-year, no-scratch guarantee, free shipping, and hassle-free return policy.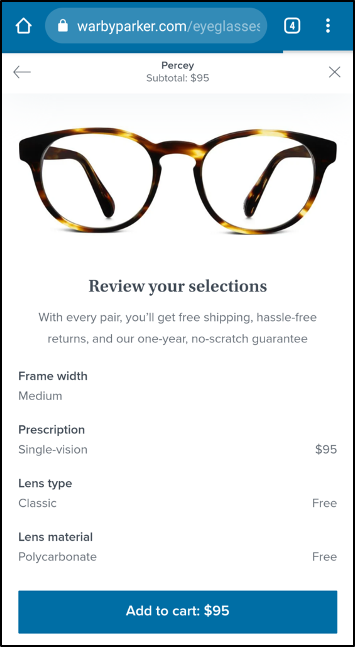 Here's another example of how the company provides shoppers with peace of mind. 
They introduced a groundbreaking virtual try-on app.  
The app's AR (Augmented Reality) technology helps a customer visualize how their frames would actually look on their face. This digitally recreates the in-store experience while you're on the go.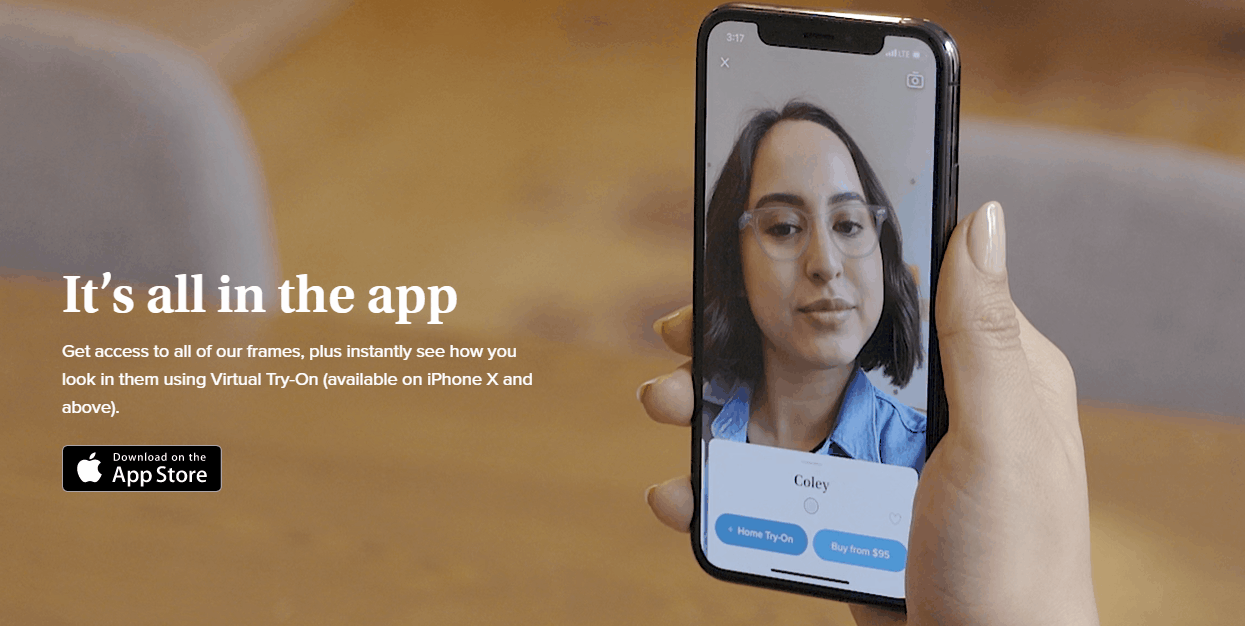 Here's a video of their try-on app in action:
Another way they communicate with customers is through old-fashioned emails and texts. 
They also pair each shopper with a personal stylist who weighs in on helping each person find the right pair of glasses.
Still, nothing replaces the feeling of having an actual product in your hand, right?
Enter the essential value proposition of Warby Parker and the first of its kind in any category: the Home Try-On program.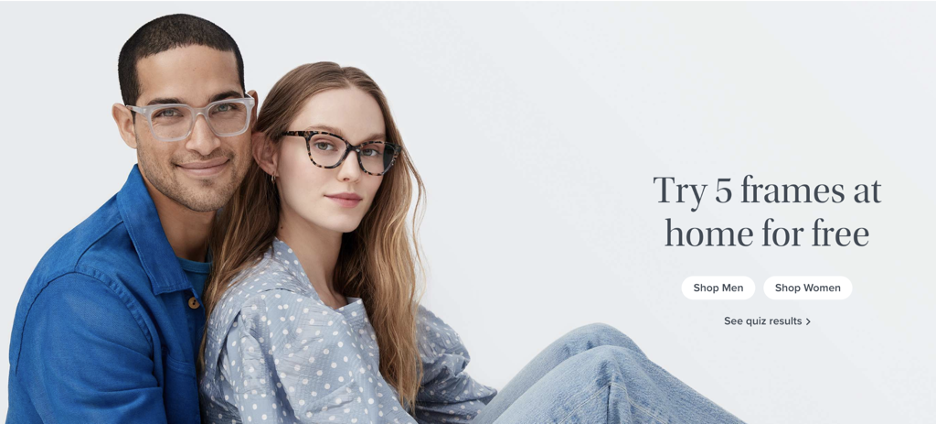 The concept is simple: shoppers are given five days to try on five selected frames at home.
Totally free, no strings attached. 
Customers can choose their frames via two methods: select each frame individually, or they can choose the frames based on the app or quiz recommendations.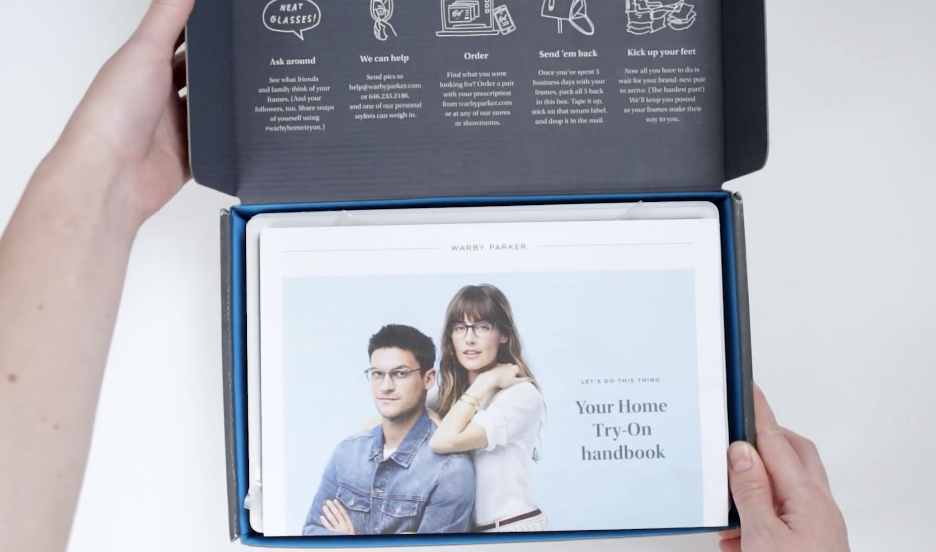 The packaging for the at-home try-on is both stylish and informative. In fact, the box helps new customers with a built-in step-by-step "try and return" process. 
Warby Parker wants the try-on process to be seamless. So they supply the return labels and packaging.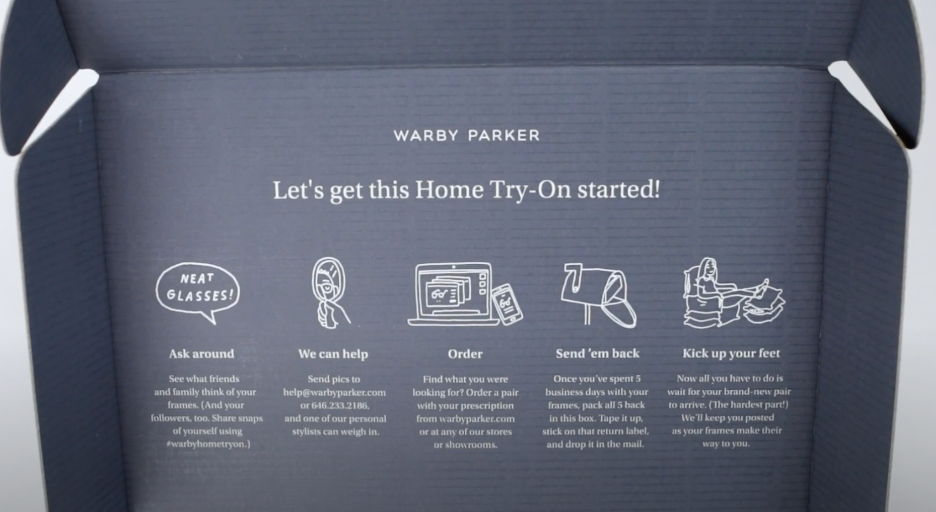 Warby Parker invites recipients to ask their friends and family for their opinions on their glasses within the home try on package. 
They also encourage shoppers to share their experience via the #WarbyHomeTryOn hashtag on Instagram or Twitter.
And given that there are thousands of posts across multiple social channels with the tag, they've definitely made social sharing and shopping a massive part of their digital marketing strategy.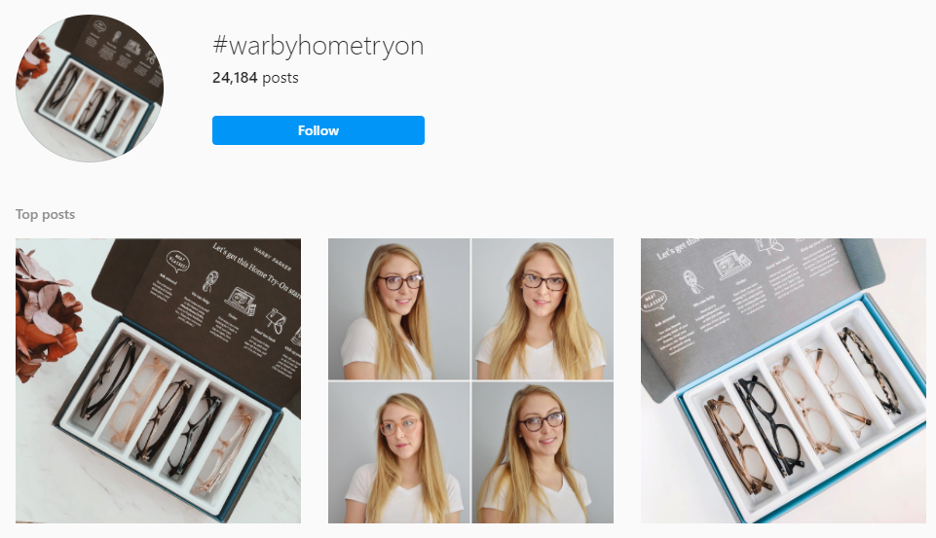 Warby Parker found that shoppers who shared content on social media were 50% more likely to make a purchase by the end of the home try-on process. 
Scoring social mentions from buyers is a win-win for the brand. Not only does sharing help shoppers feel more confident in their purchases, it also generates more social media buzz in the process.
The takeaway? Make it as easy as possible for customers to find what they're looking for.
From home-try-ons to free samples and beyond—brainstorm opportunities to reassure your customers and make your product more tangible.
If nothing else, consider offering top-tier support or create custom shopping guides to push visitors toward the right products. And popups are a great way to do that.
3. Engage in one-on-one conversations with customers
Warby Parker's 750,000+ Facebook followers and 500,000+ Instagram fans speak for themselves.
Beyond encouraging user-generated content and sharing product photos, building trust is central to Warby Parker's business model.
The brand was basically asking customers to trust them to replace a very familiar in-person experience. 
Stepping into a physical store. Trying on glasses. Getting your fit and wegovy prescription just right.
Back in 2010, the idea of doing all of this online required some serious buy-in and reassurance.
The solution? Since day one, Warby Parker has actively answered customer questions and eased the minds of skeptics through social media.
For example, the brand makes a point to reply to as many of its eager customers on Twitter and Instagram as possible. This includes everything from resolving issues to giving compliments just because. 

Warby Parker is laser-focused on satisfaction and feel-good moments with customers with a positive and friendly brand voice.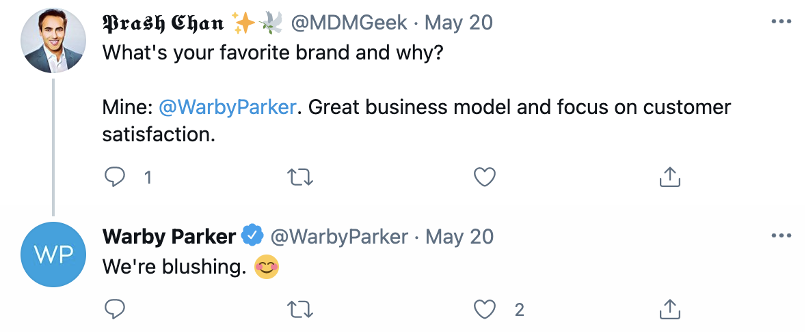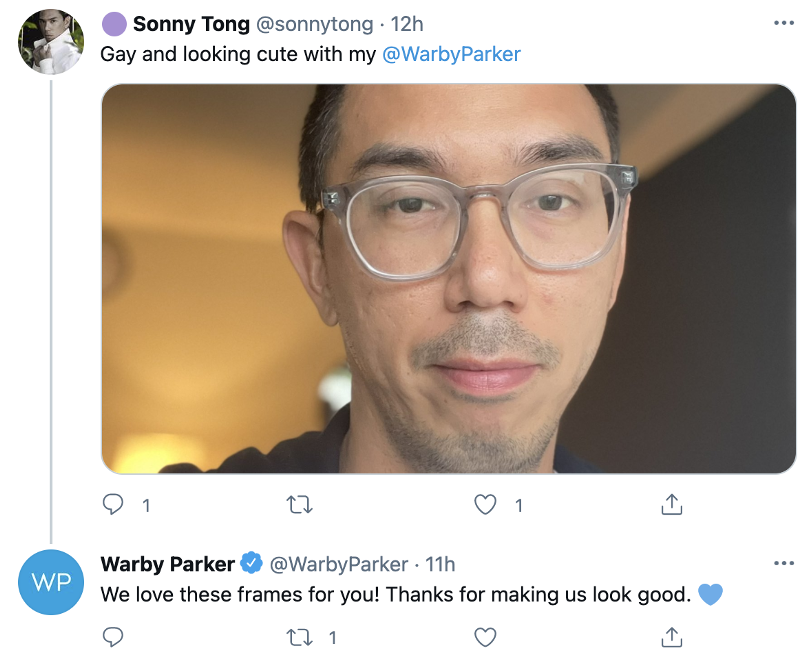 And as noted earlier, the brand has built a massive community by encouraging shoppers to share their experiences on social media every chance they get.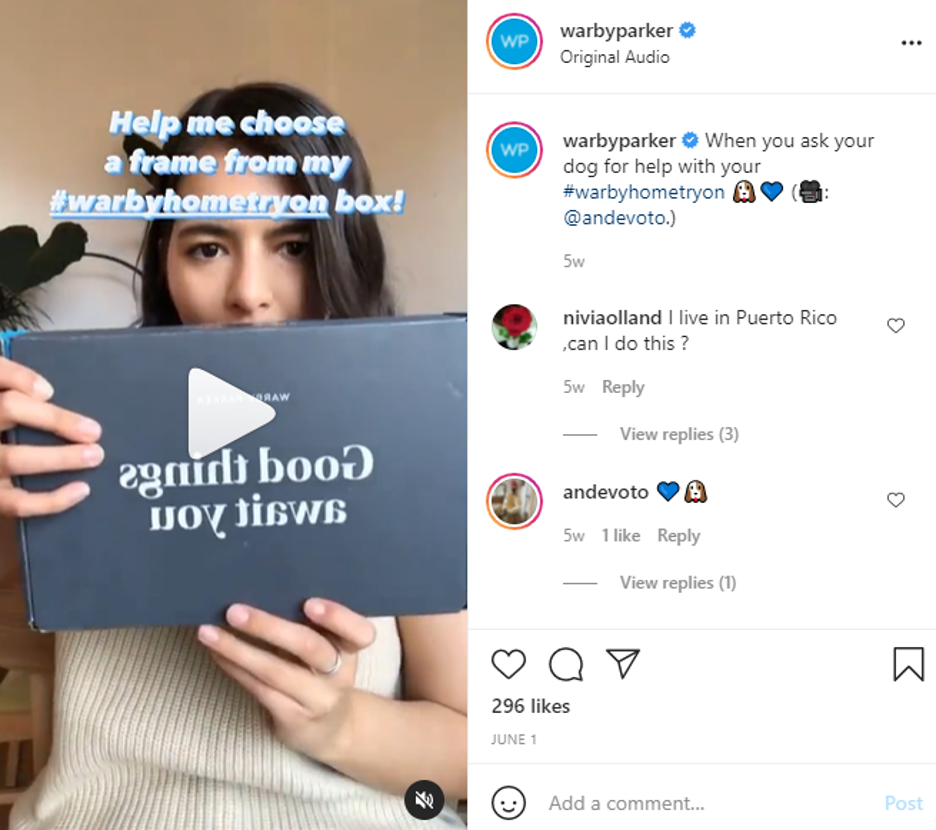 What happened when customer's inquiries exceeded the 140 character count on Twitter? 
They started replying with short video responses. That level of customer care blew up their brand and it started trending.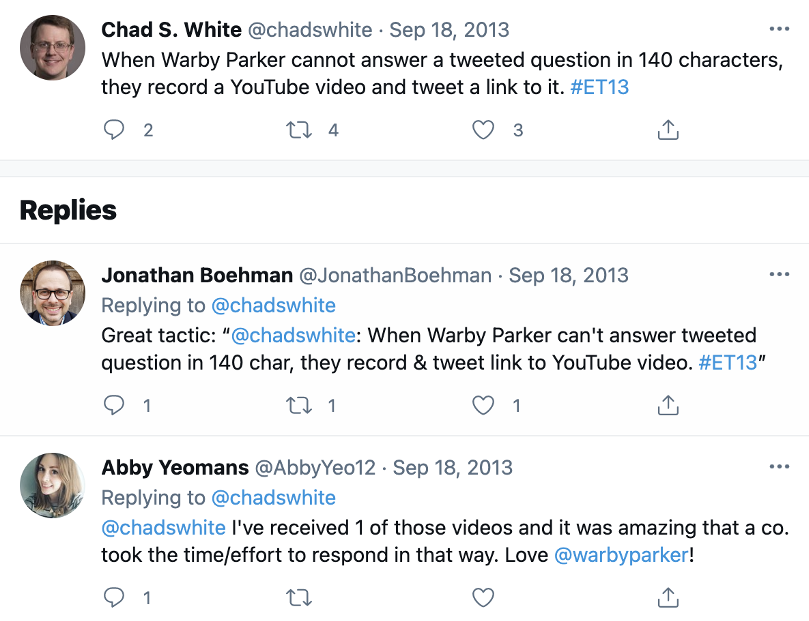 Over time, Warby Parker published thousands of these videos and shoppers took notice.
"Customers were so blown away that we are going to these lengths to meet their needs that they tweet about it and tell dozens of other people" noted co-founder Dave Gilboa.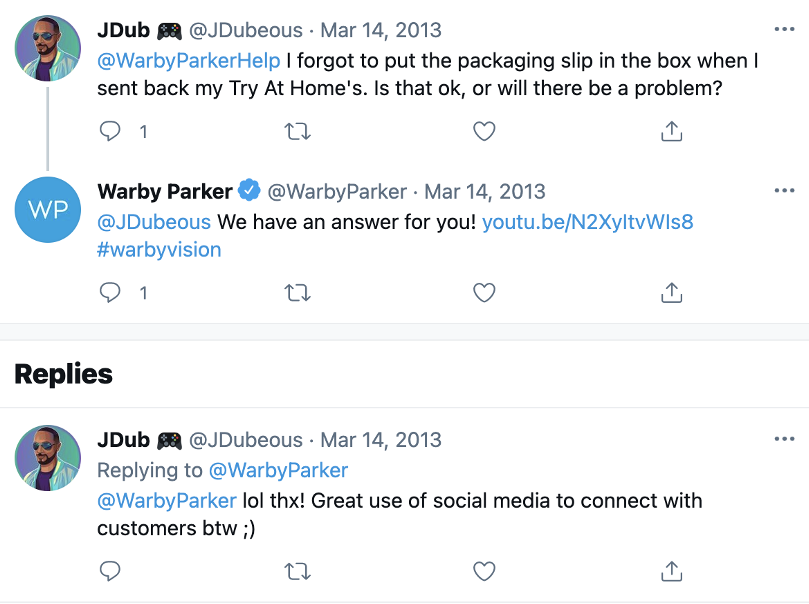 These engagement and community-building tactics on social media are still effective for ecommerce brands today. Although personalized responses to people might not seem like a game-changer, so many brands still struggle to connect with their customers.
Become the next Warby Parker
Your ecommerce brand can also use the principles that made Warby Parker an industry disruptor. Start with the pointers below:
Craft a unique narrative around your product to help it stand out.

Make product recommendations a top priority. Do everything you can to ease your customers' doubts.

Build a community through consistent engagement via social media.
Make sure to check out our Warby Parker Marketing Toolkit and level up your company's marketing messages.
Now we'd love to hear from you!
Which tip from today's post are you going to use first? Let us know by leaving a comment below right now.