We had several request, that though you loveOptiMonkfor your exit-intent popups, and happy with its features and the user interface, you would be glad if you could use these features not only for exit-intent, but for other events as well (e.g. entry popups).
We are happy to announce that your wish is granted, and now you can display your popups in several other events as well.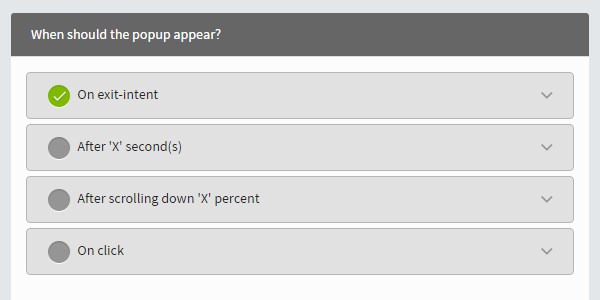 1. After 'X' second(s)
You can use this event for scheduling the popup to appear after a few or several seconds. For example, if someone is on your landing page for more than 30 seconds, he or she might have questions or other issues – so you could increase your chances of conversion if you showed an extra message.
Or you can use OptiMonk as an entry-popup tool as well – if you set it to 0 (zero) seconds, OptiMonk will appear at once.
2. After scrolling down 'X' percent
An effective way to capture the attention of engaged readers, if you show them your popup after they scrolled down at least 50, or even 90 percent.
You can use it in your blog posts, or on your homepage or your product listing pages – the longer the page, the more efficient it is.
You should also use it in your mobile campaigns, where scrolling is one of the ultimate engagement metrics.
3. On click (micro-landing pages)
The most sophisticated event is the "on click": you can show any of your campaigns on clicking on any element in your website.
This way you can use OptiMonk as micro-landing pages: you no longer need a separate landing page e.g. for your ebook. Just put an OptiMonk event on the "Download Now" button, and your users can subscribe at once.
According to our tests, it can increase your landing pages' conversion rates up to 30 percent!
What are you waiting for? Try it for yourself! OptiMonk offers a forever free plan. Just click here and register to be entered in the realm of onsite messages.