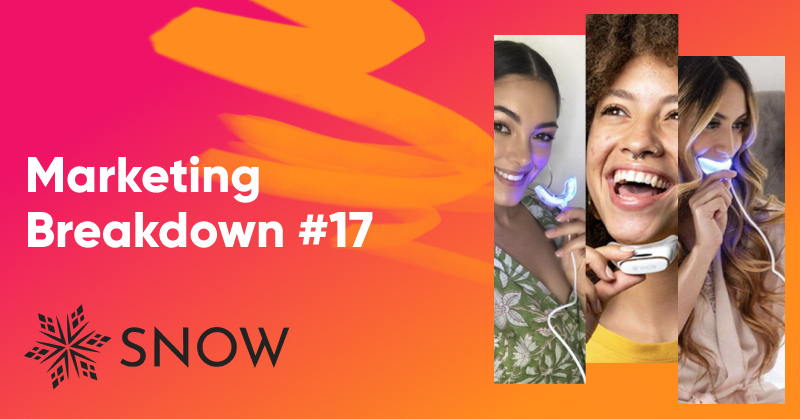 SNOW® Teeth Whitening is a DTC oral care brand that delivers professional-level whitening to their customers with an at-home kit. The company was founded by Josh Elizetxe (a.k.a. Josh Snow) in 2017, and their products have gained millions of fans since then. 
Literally! Here's the proof:
How did they manage to grow so quickly? What did they do right? Let's take a look at their marketing strategy! 
Step 1: You need a great product
Like most other health-related fields, the oral care industry is difficult to break into. After all, people are used to going to their dentist for oral care, not the internet. 
But Josh managed to do it by creating a great product and continually improving it. 
He says that he called the first customers personally to ask them why they chose to buy the product, what excited them, and how it worked for them. This was a great way of making sure that the product was meeting customers' needs.
After all, if something like a tooth-whitening product works really well, people will start telling their friends and family about it. And this is exactly how SNOW® hit their first growth spurt: amazing word-of-mouth marketing. 
Step 2: Focus on the pain points your product solves
As SNOW® grew further, they moved into paid acquisition through social ads. 
Each ad they put out focused on the pain points that their product solves, namely the embarrassment people feel from having stained, yellow teeth. In these ads, they also focused on how easy and convenient the SNOW® system is.
And this strategy hasn't changed over the years. Check out some of their current Facebooks ads: 
Step 3: Diversify your channels
Early on, SNOW®'s paid social advertising was mostly on Facebook and Instagram. This worked really well for them, but they knew they had to diversify their traffic channels. 
Depending on a couple of social networks that are owned by a single company is risky, so they started using more channels to get the word out about their company. 
They began advertising on YouTube, TikTok, and Reddit. 
For example, check out this TikTok video where they sponsored a prosthodontist:
They also started using search ads on Google…
…as well as expanding into more traditional advertising channels like magazines, billboards, radio ads, and podcast ads.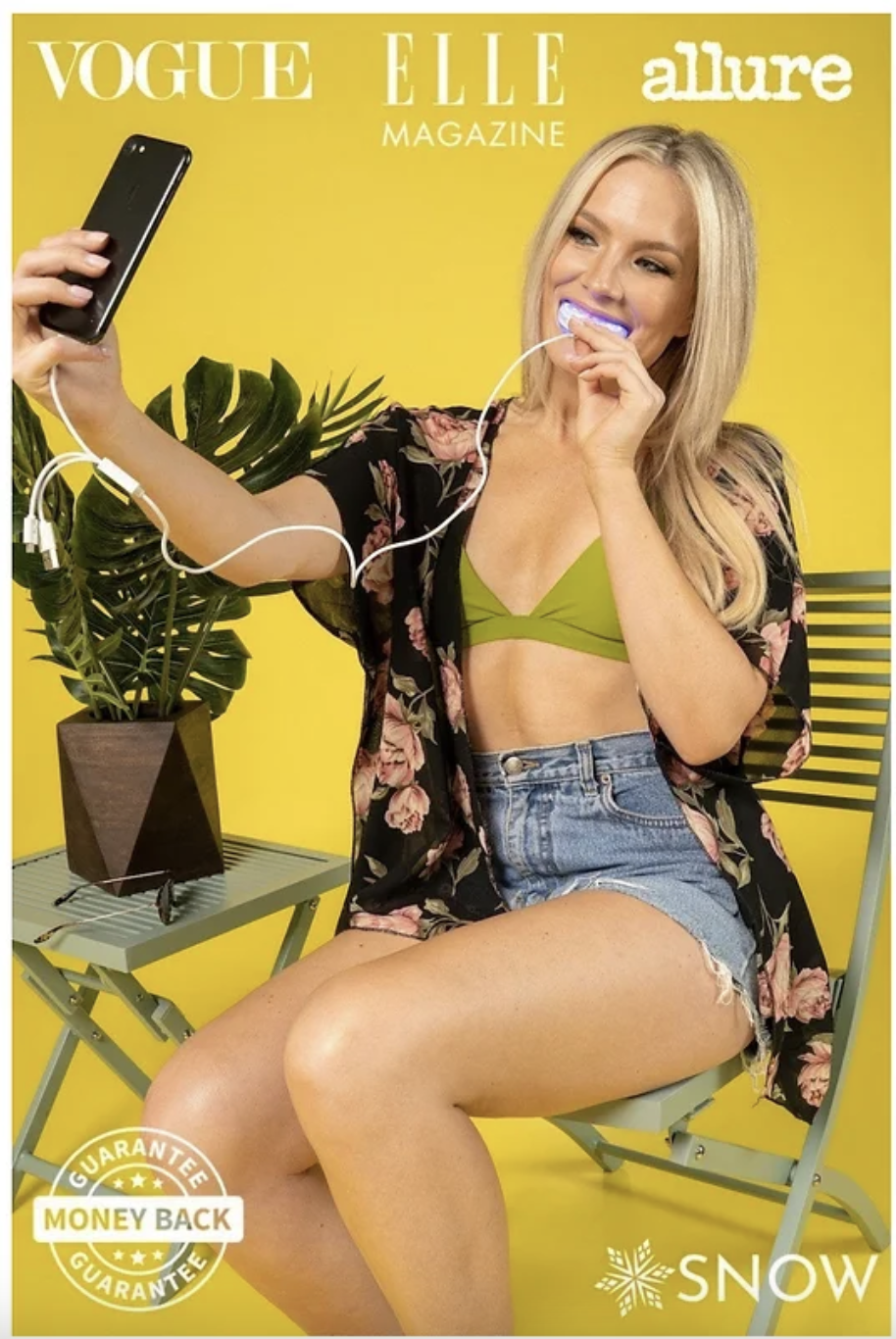 Finally, they started investing in their owned media channels, which brings us to the next step of their marketing strategy. 
Step 4: Leverage owned media
Owned media refers to marketing channels that a business has complete control over (and don't rely on any 3rd-party platforms). 
For SNOW®, leveraging their owned media meant making the most out of their email and SMS lists.
They started out by trying to grow their email and SMS lists as much as possible. They used a multi-step popup to encourage people to enter their email address and phone number at the same time. 
Here's what it looked like:
First, they offered each visitor who hadn't yet subscribed a mystery gift in exchange for an email address.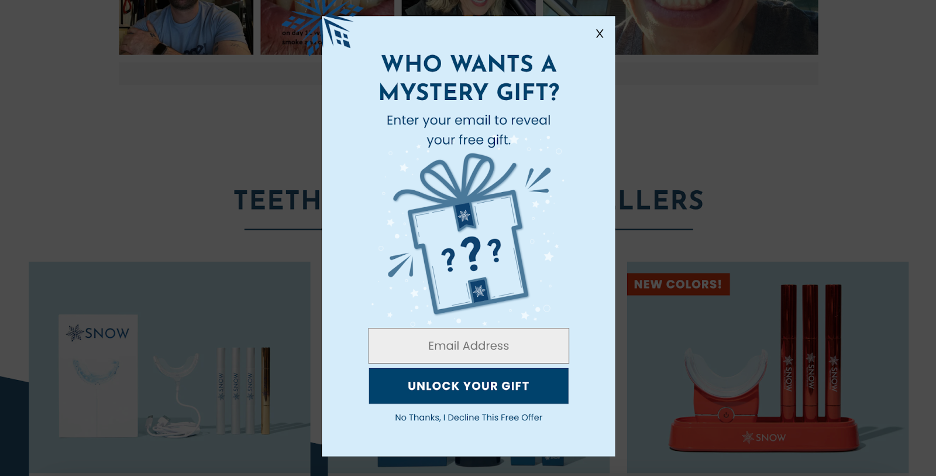 After the visitor entered their email address, the next screen of the popup showed them the free gift they'd earned (a box of nice charcoal floss):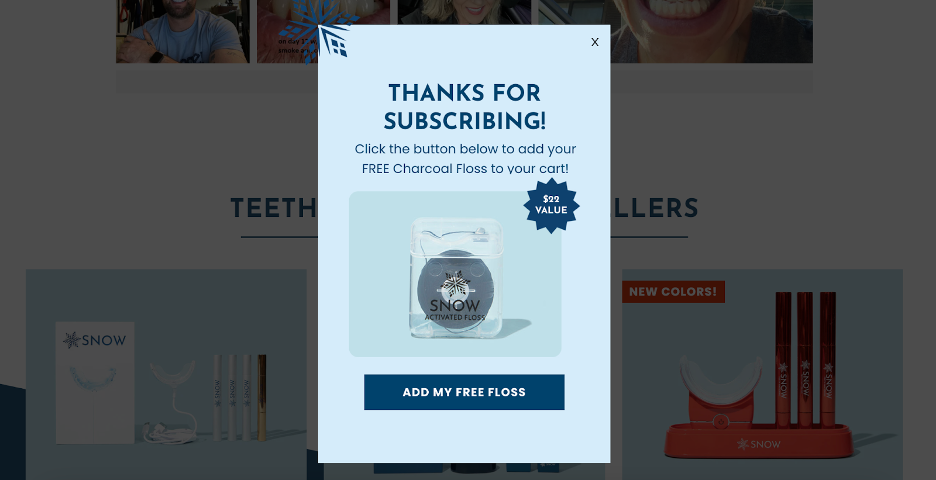 After clicking the button to add the free floss to their cart, another screen of the popup appeared promoting another gift (this time a travel-sized toothpaste) in exchange for visitors' phone numbers: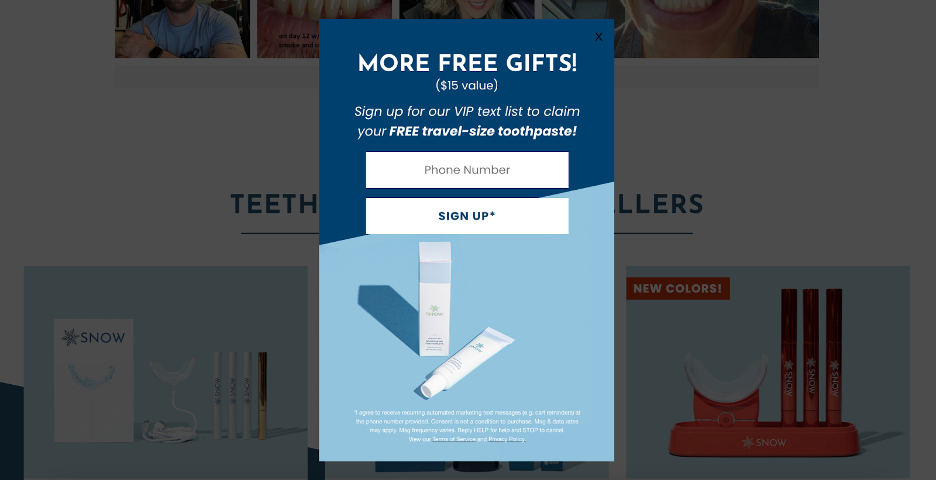 And after adding their phone number, they saw the final step of the popup: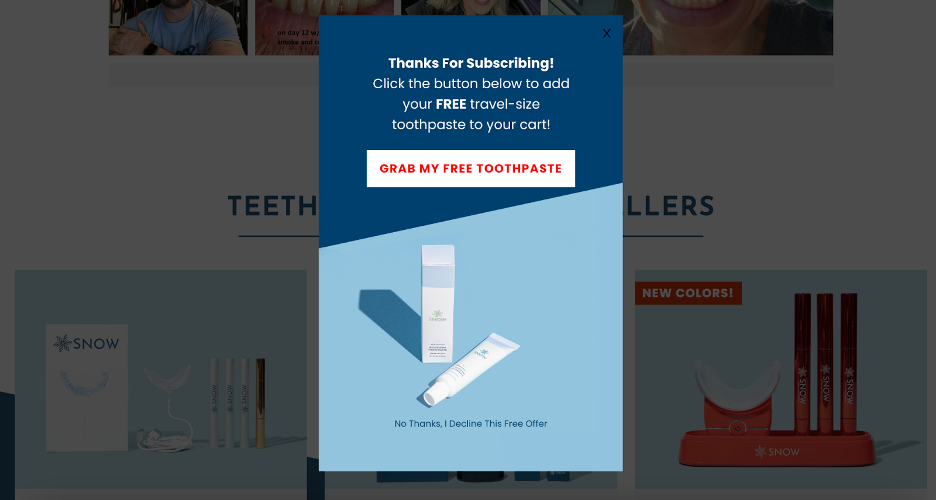 You can create a similar multi-step popup that collects email & SMS subscribers at the same time with OptiMonk's pre-made templates:
In addition to email and SMS marketing, they also use Facebook Messenger to get in touch with their customers directly. 
Here's a Facebook ad they used for Messenger list building. It promotes a fun giveaway, which is a great incentive to sign up.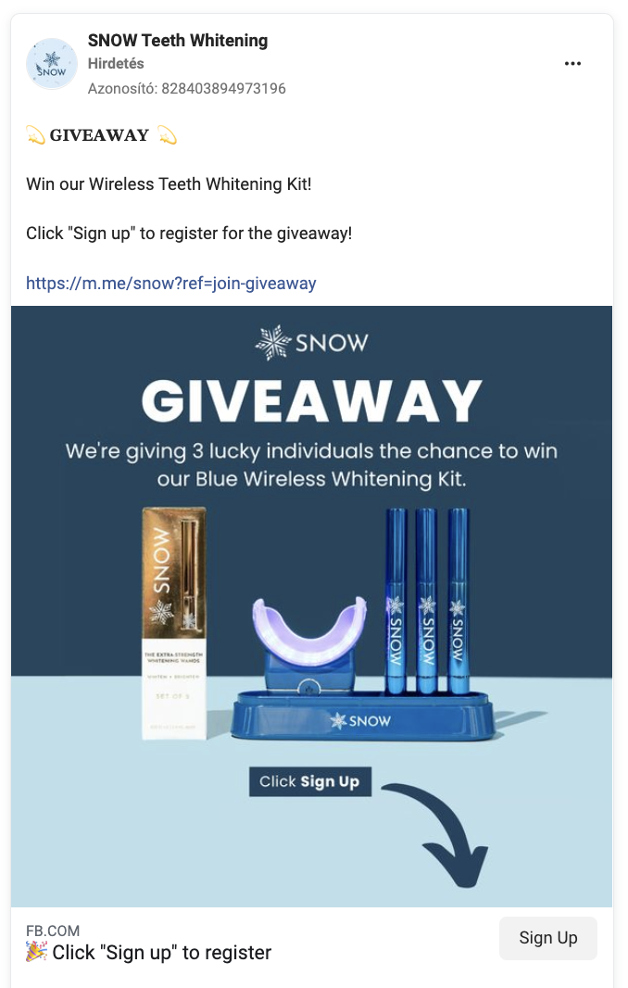 Once users clicked on the ad, they started a chat on Messenger: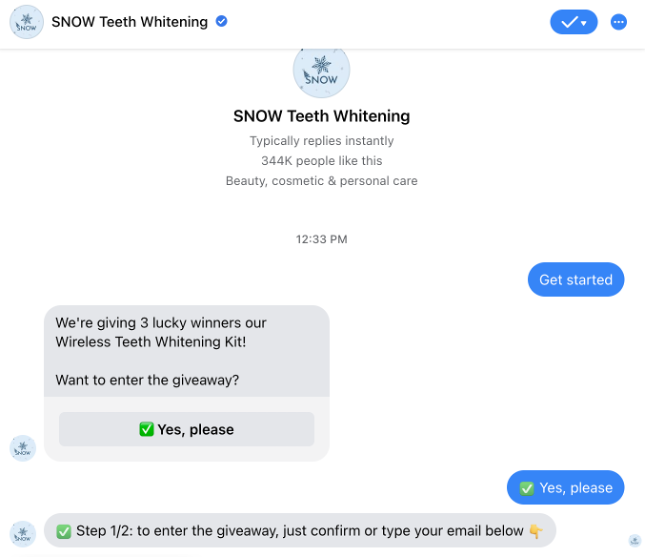 Step 5: Work with influencers and celebrities
SNOW® also uses influencer marketing campaigns to promote their products. They work with A-list celebrities like Floyd Mayweather, Rob Gronkowski, Chris Pratt, and many more. 
Here's just one notable example showing Kris Jenner unboxing SNOW® products: 
"I can't help but believe our celebrity customers, and those who promote the product who are A-list celebrities also help drive that brand awareness, and de-risk it for a retail buyer," said Josh in the Shopify Masters podcast. 
"And honestly, a lot of our A-list macro-influencers, a million-plus, are our customers first. And we'll reach out to them… For example, the deal we did with Floyd Mayweather, he was a fan of the product, and the team was a fan of the product."
They also feature their celebrity ambassadors on their website as social proof: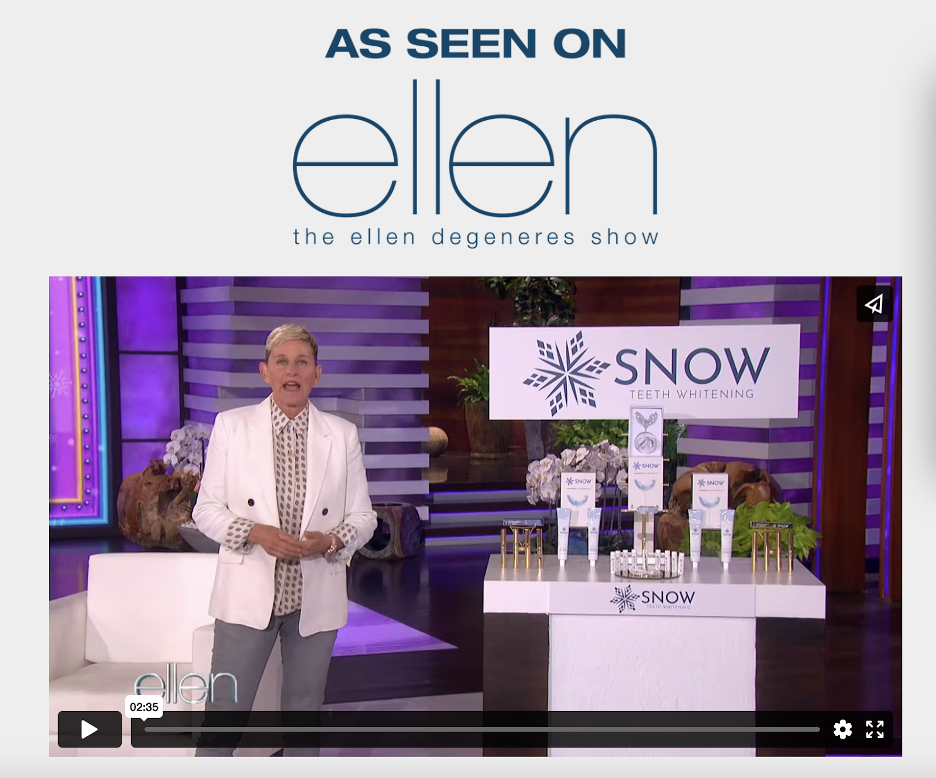 And in their Facebook ads: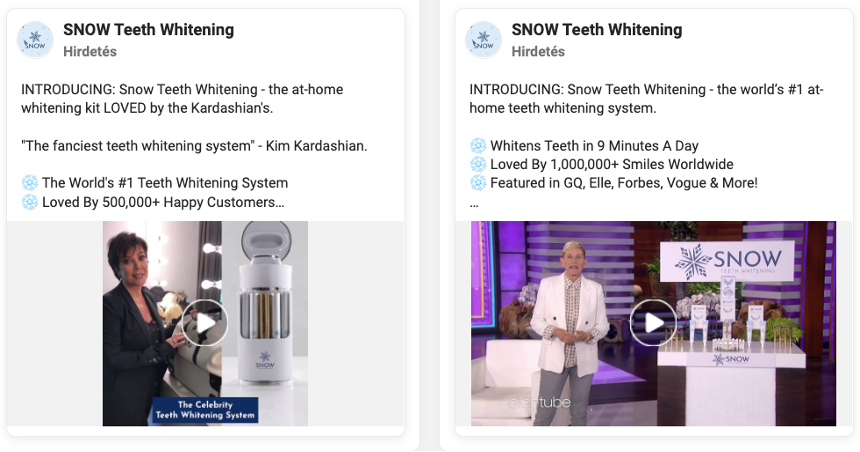 SNOW® is a leading DTC brand that spreads its marketing commitments across many different channels. This gives them a wide reach and a really diverse audience. 
You can learn from the way they started with a solid foundation and progressively branched out into new channels. As the company grew, they always kept the core benefits of their products in focus. 
If you'd like to learn more, you can check out Josh's interview on the Ecommerce Influence podcast: