Ecommerce is an ever-changing business. It's part of a digital world that's been continuously evolving since its creation. And not only that, but we access the web through devices that are becoming more advanced and practical—each and every day.
An online store needs to keep up with all these changes in order to stay relevant.
But some things never change.
Ecommerce businesses will always need to:
Make a good first impression

Take care of their customers

Reach them where they are
These best practices are essential for any business.
In this article, we'll explain the most up-to-date ecommerce tips for accomplishing these timeless goals.
Let's dive right in!
1. Make a good first impression on customers
Customers form a first impression about your ecommerce store very quickly. In fact, it only takes people about 50 milliseconds to decide if they like your site or not.
This moment is essential because you can only make a first impression once.
Ecommerce stores need to be as creative as possible to win lifelong customers.
An investment in the best possible site design is the first step towards improving the user experience.
You should also get your store onto a reliable ecommerce platform like BigCommerce or Shopify. These platforms make it easy to create a clear, logical structure for your online store.
Create a business email address to establish your credibility. Hardly anyone will take a second look at what you have to say if your email domain ends with @gmail or @yahoo.com, among other things. Worse, your prospects might think you are a scammer.
In order to awe your customers, it's also important to use the right popup templates at the right time.
For example, you shouldn't bombard new visitors with welcome popups. Give them some time to explore your site before you start showing your discounts (for more popup tips, check out this article).
However, small, unobtrusive popups can improve customer experience. For example, a sidemessage is a great way to guide incoming visitors, just like Natural Vital did: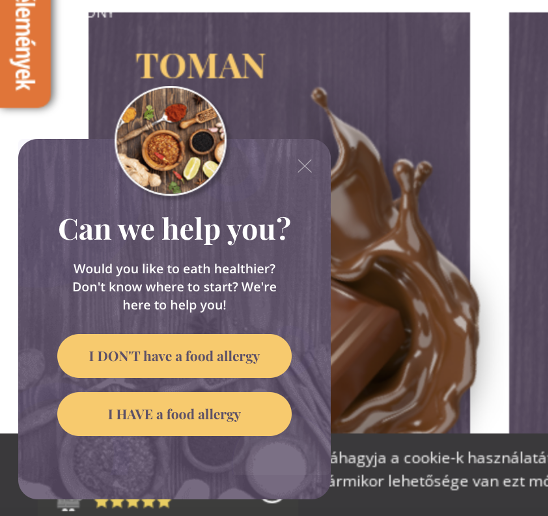 Check out this sidemessage template if you'd like to create a campaign that makes a good first impression on your visitors:
An ecommerce business is more remote from customers and not as accessible as a brick-and-mortar store. Your customers can't touch, feel, or try on your products before making a purchase.
While there's no solution for this issue, you can make up for it in a few different ways.
The fact that it's simply more convenient to buy from a website than go all the way into a store should be your jumping-off point.
However, that's not enough.
You need to show that you value your customers. For example, you could offer a fair price on all your products or free shipping. Also, it should be easy and simple to complete the entire purchase process—from selection to checkout.
Having stellar customer service is another way to show that you value your customers. So ensure you invest in customer service training and equip your team with an efficient cloud contact center software that will enable them to provide the best on-the-phone customer experience.
Make sure that people come away from interacting with your business with positive feelings. You can even share your digital business card with every customer order to ensure that they remember about your business the next time they want something you offer.
Take these extra steps to keep your customer engaged with your site. It will pay off and motivate them to make a purchase.
But don't forget to keep your customers engaged after their purchase, too. For example, effective e-commerce fulfillment strategies can make returns easier for customers. And that's important, as customers who can easily return products are less likely to issue chargebacks or leave negative reviews.
One of the online business tips we keep returning to is the importance of mobile.
Simply put, in today's world, you're irrelevant if you aren't building your ecommerce business with mobile in mind.
Luckily, it's easy to check whether or not your website looks as good on mobile devices as it does on desktops.
Google has a free mobile-friendly test tool that shows what your site looks like on mobile. It also suggests what improvements you can make to your site.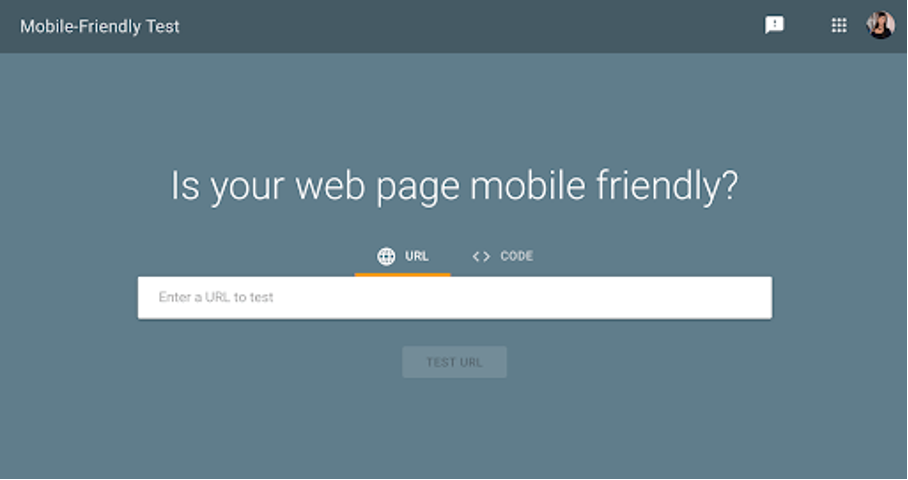 When optimizing your site for the best possible experience, ask yourself questions like:
How will your navigation work on different devices?

Are clickable elements easily tappable?

Are your images beautiful on all screen sizes?

Is the add-to-cart, checkout, and payment workflow optimized for different screen sizes?
Social media should be close to the heart of your ecommerce brand.
Social networks like Facebook, Instagram, and Twitter can allow you to grow brand awareness and your customer base. As long as you use them well.
OrangeTwig is a tool that helps you do just that. It's a social media marketing app that lets you put items in your store on sale. And it automatically promotes them via their stunning layouts.
Here are a few tips to help you establish your brand across social media platforms:
Post regular content, daily stories, and weekly live content.

Comment on and like competitors highly engaged followers.

Follow accounts that follow your competitors since you know they are interested in your business.

Leverage influencer marketing.
ColourPop is a great example of a company that rode social media to succeed. They are a cosmetics company that grew from a small business to a global brand through a clever and innovative social media marketing strategy.
Check out our breakdown of their success for some tips for ecommerce marketing!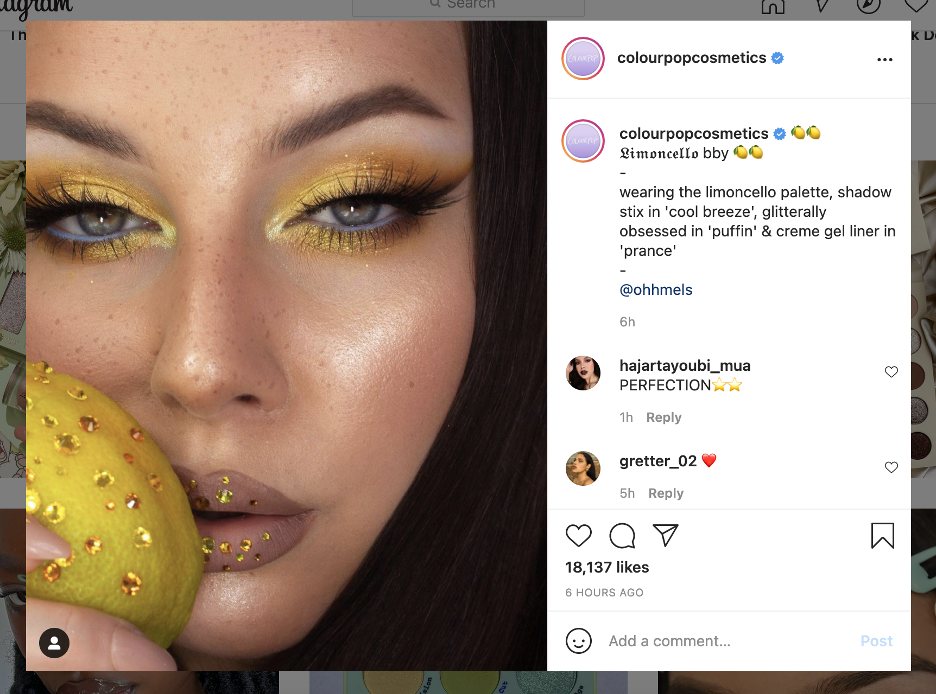 Humans are visual creatures. In fact, we process visuals 60,000 times faster than text.
Take advantage of this by filling your landing page with visual content.
And luckily, this is one of the easiest ecommerce tips to follow. Just go ahead and add more pictures to your site.
Check out how Lululemon uses images on their homepage: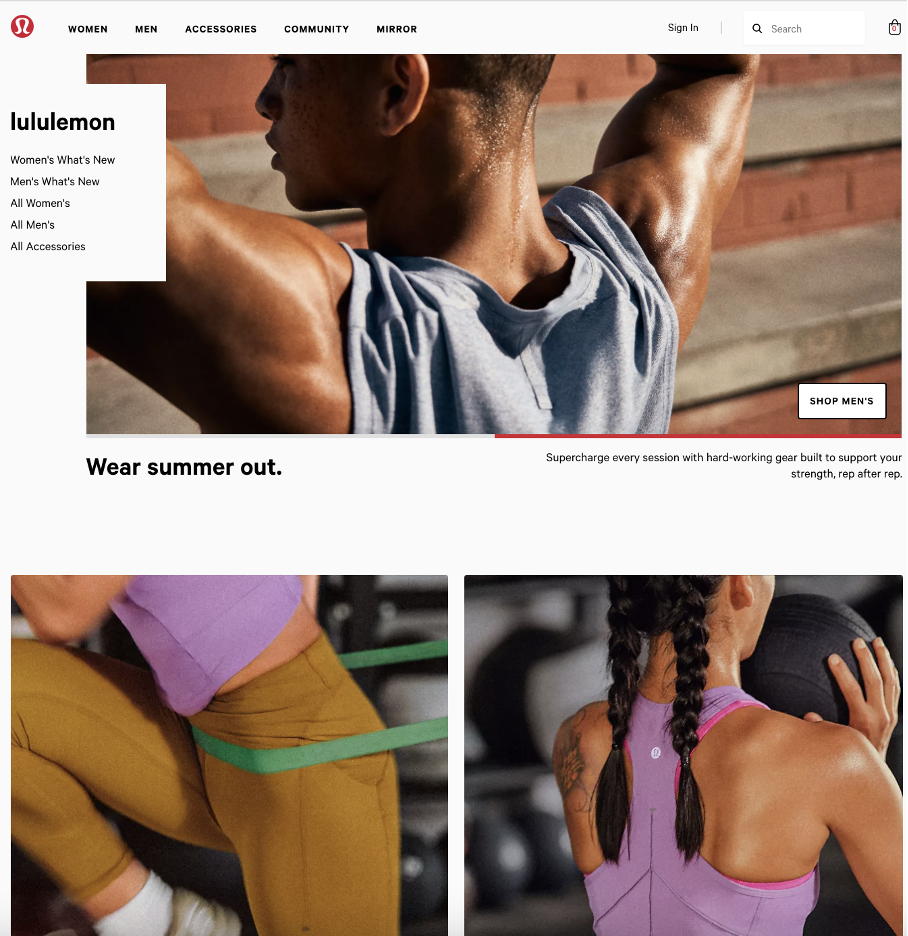 Bring potential customers to your site with engaging and informative blog posts.
Search Engine Optimization (SEO) is the science of making sure your content ranks highly when searching for a related term on Google or Bing.
It's incredibly important to use SEO strategies because 90% of the users never make it beyond the first page of results.
Here are some SEO optimization strategies that can help grow your incoming search traffic:
Optimize your title, URL, and meta-description to hit the keywords that people are searching

Provide high-value content and keep it fresh

Improve your website's loading time

Implement Google authorship

Register your website with Google and Bing business webmaster tools

Set up your Google My Business profile with business information and posts
Adding live chat software to your website is one of the most significant improvements to the shopping experience.
Here are some stats to consider:
77% of customers won't make a purchase if there's no live chat support

73% of customers find live chat to be the most satisfying way of communicating with a business

63% of consumers are more likely to return to a website that offers live chat
This means that live chat can help your potential customers make a faster and more comfortable decision. That way, a customer feels like they have every information they need at their fingertips.
Your users should feel like they're interacting with humans—not a machine. Live chat is the solution to humanizing your site.
It makes people feel like they're in a real store where they can get all of their questions answered by a shop assistant.
Place your live chat button in a highly visible spot, so it's easy to notice. It's also a good idea to keep the button visible at all times—even when the user is scrolling or reading a product review.
Bailly uses a specific live chat for new visitors: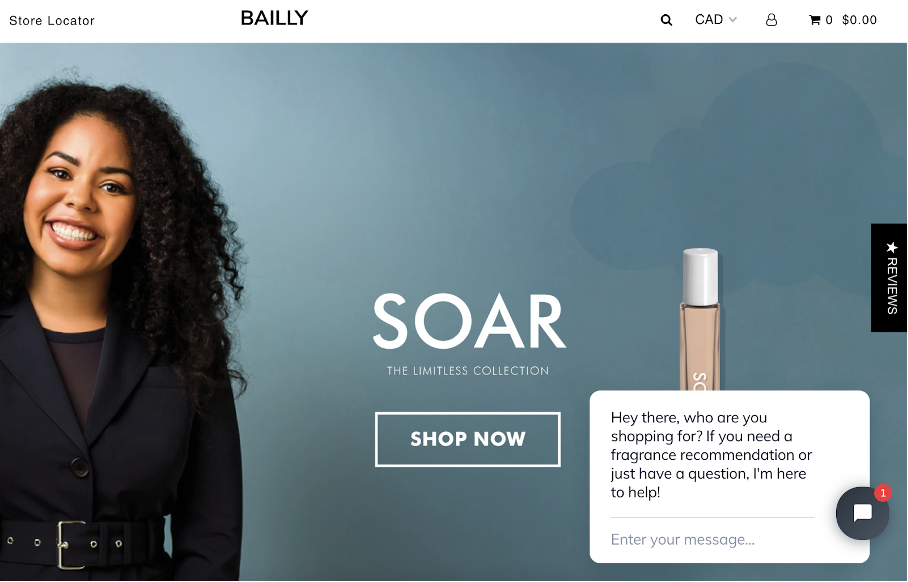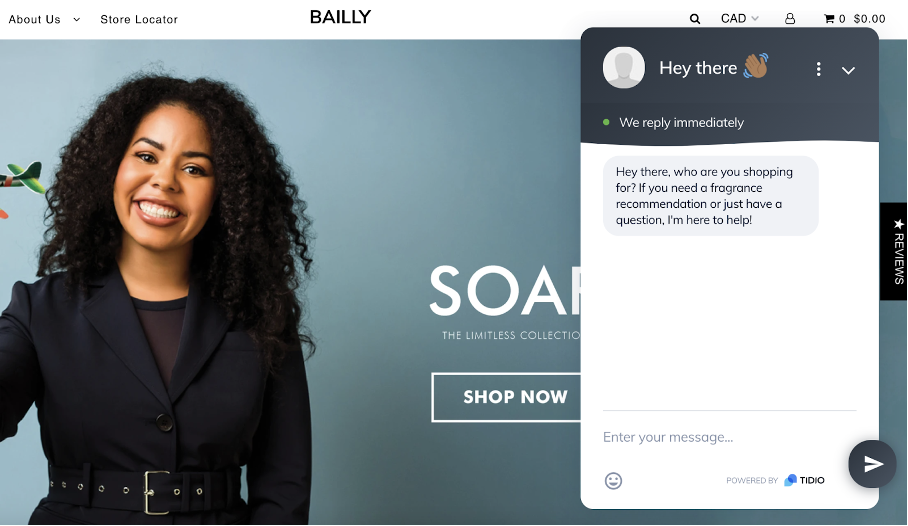 8. Create Call-to-Action & sign-up buttons
You should never underestimate the power of Call-to-Action (CTA) buttons: they lead to higher conversion rates and improved site usability.
CTA buttons have to stand out from the rest of your site to be effective. You can think about button size, contrasting colors, and positioning.
You can also use popups to direct your customers' attention towards your call-to-action.
This template from OptiMonk is designed around a CTA that encourages users to join an email marketing newsletter.
9. Reassure users that their data is safe
Your ecommerce website isn't complete until you have a system that protects users' data and personal security.
And you have to assure customers that your site is safe, reputable, and has the necessary features to protect their privacy.
Taking these actions will ease your customer's minds:
There are a staggering amount of apps, programs, and plug-ins that can improve both the functionality and the profitability of your ecommerce business. Make sure you take advantage of such tools (because your competitors sure are).
Tailor your strategies to the data these plug-ins generate. There are specific apps for tracking, managing and improving conversion rates, revenue streams, retention, and retargeting ads.
We'd recommend that you check out our overview of the 38 best Shopify apps for increasing sales and conversions.
In the end, sales productivity matters. Besides sales automation tools, you should also use productivity apps, such as sale strategy planning or integration apps to organize and measure your sales process.
To manage your business better, you should try and automate as many processes as possible, be it managing projects, building workflows, managing your team, filing business taxes, monitoring sales, in case of an LLC, you might consider collaborating with a registered agent, etc. Doing so would help you save cost and time and you can run your small business efficiently.
Doing so would help you save cost and time and you can run your small business efficiently.
The ecommerce tips and tricks we've covered in this article can improve both user experience and conversion rates. They recognize key touchpoints along the customer journey that can make or break a sale.
Using these tips to boost sales means you are also positioning your ecommerce business for sale if you decide to exit in the future. It's always best practice to keep your business optimized.
Neither small businesses nor global operations can afford to ignore them because they represent some of the classic fundamentals of business:
Make a good first impression (#1)

Reach customers where they are (#3)

Always be available for customer support (tip #7)
We've all got to stay on our toes to keep finding the best ways to run an ecommerce store.
Leave a comment if you have any timeless ecommerce tricks you think we've missed.