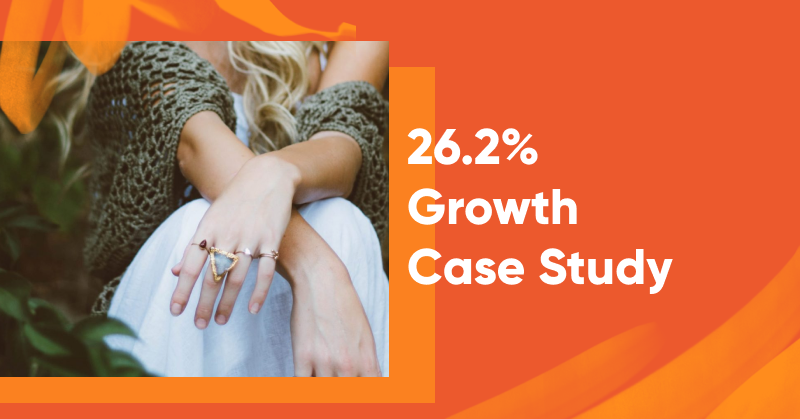 Czár Jewelry's online store is a real wonderland of Swarovski accessories. They made 2,300+ USD in extra revenue in only 26 days with the help of OptiMonk. That means 26.2% yearly revenue growth! We'll look at how they did it and how you can do the same! Keep on reading to find out!
yearly revenue growth 
projected from the 4 week test-period's campaign results.

extra revenue thanks to
personalized product recommendations and campaigns that aim to help customers make purchasing decisions.

new subscribers
thanks to campaigns that aim to grow subscribers in only 26 days.
Czár Jewelry had their fair share of challenges. 
76% of people arriving at the czarekszer.hu were new visitors and while this seems good, conversion rates were extremely low based on Google Analytics data. Only 0.67% of new visitors converted into real customers, while the average in the industry is at about 2-3%.
The other main challenge was that 85% of their traffic was from Facebook, but the conversion rate of this segment was barely over 0.5%. 
What could they do? They used the toolkit they found at OptiMonk to help increase their numbers through Customer Value Optimization. 
Let's get to the breakdown!
1. Increase new visitors' conversion rate with a questionnaire popup 
Check out Czár Jewelry's quick and easy solution for improving the conversion rate of new visitors. They created a popup to engage and help customers choose the right product just for the right occasion. 
Czár Jewelry asked 2 simple questions:
Who are you buying for? 

Are you looking for everyday jewelry or something for a special occasion?
And each answer was paired with a personalized product recommendation!
Let's take a look at their online questionnaire.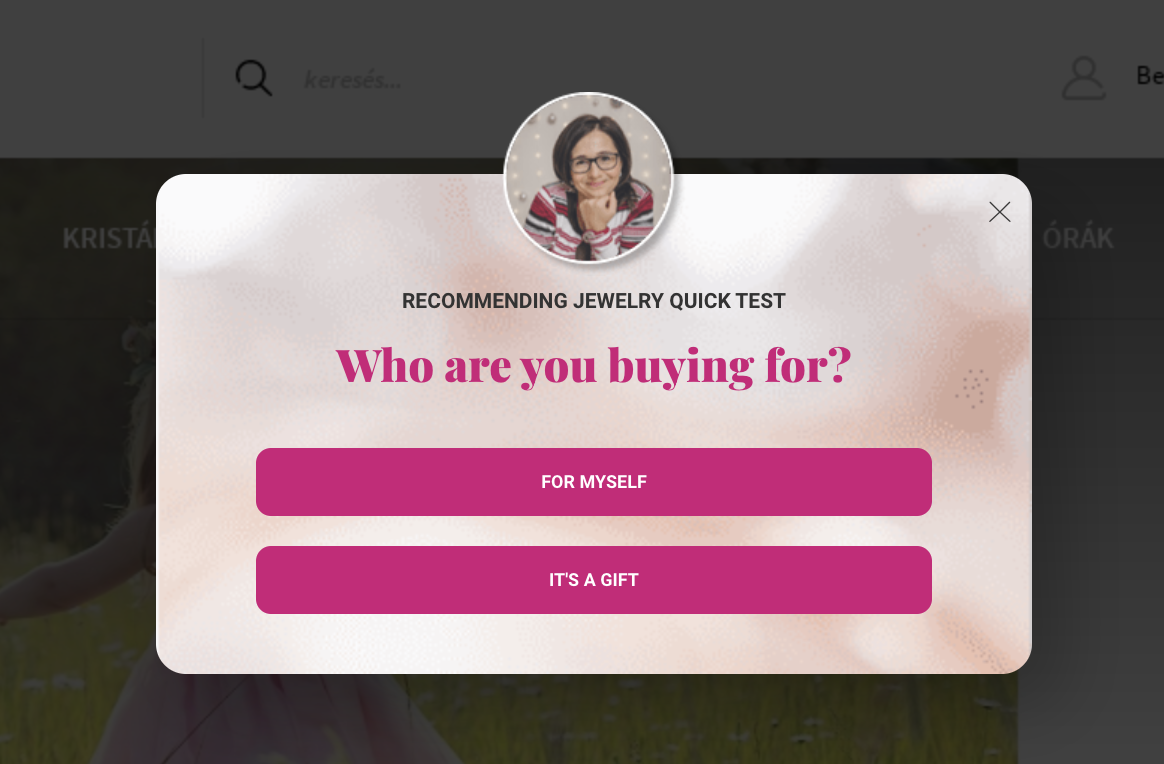 Recommending Jewelry Quick Test' popup, appearing for visitors who spent at least 5 seconds on the home page
It works like an online "shopping assistant", and helps visitors find the right products. Just think about the aspects your visitors consider before they 
How effective was this popup for Czár Jewelry? Well, this campaign brought in 200 USD in extra revenue within 26 days. Not bad, right? 🙂
2. How offering discounts decreases cart abandonment 
Cart abandonment is one of the main challenges for most ecommerce stores. It's not a surprise that Czár Jewelry also put a great emphasis on this matter during the optimization period.
There are several ways to decrease cart abandonment: 
Sending emails 

Setting up remarketing ads 

Limited time offers, etc. 
But one of the most effective ways is to show a popup on exit-intent. 
Why? It gives an irresistible discount to visitors right before they bounce. Czár Jewelry went with a 15% discount on the popup below.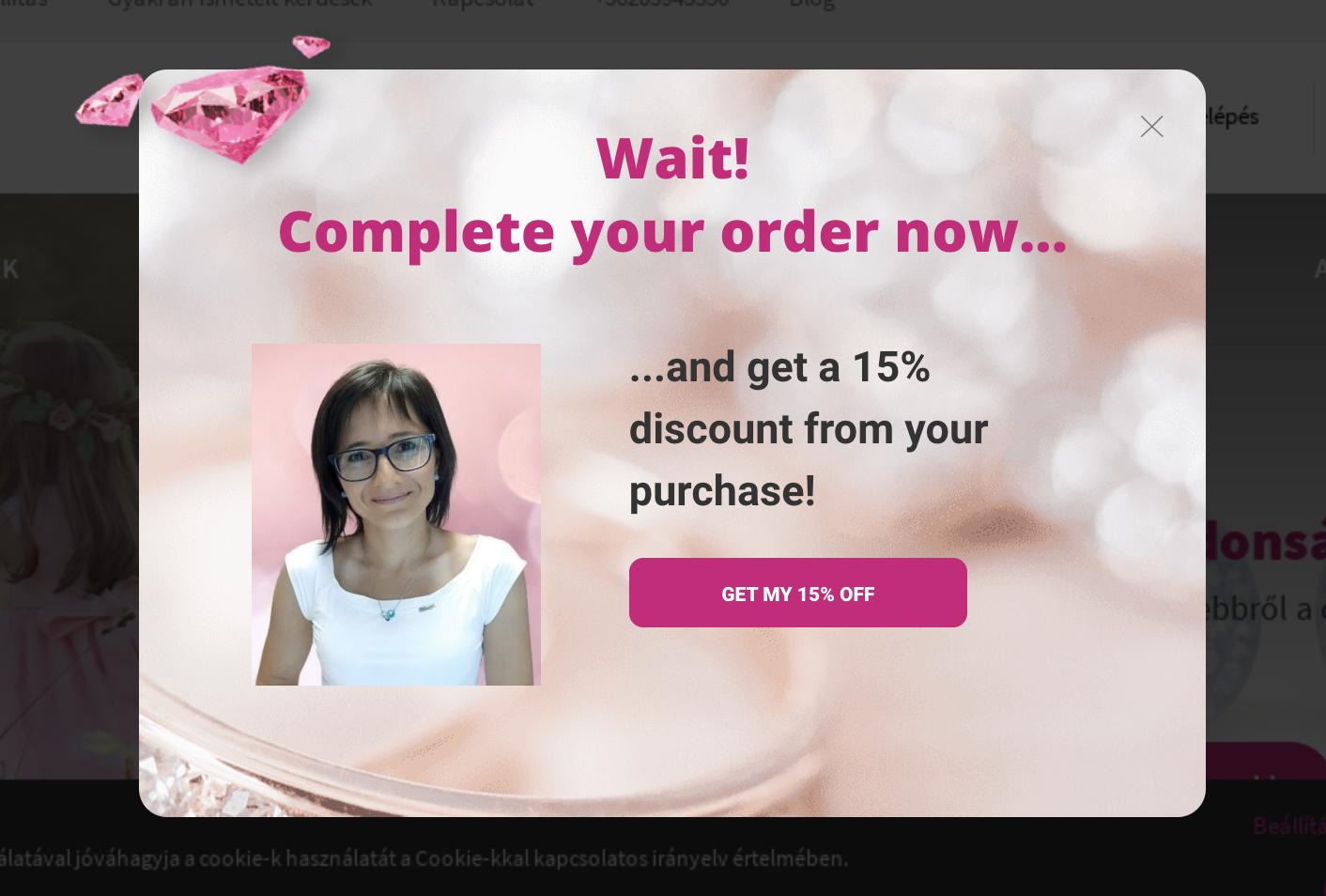 Exit-intent popup aiming to prevent cart abandonment.
This campaign made 1,072 USD in extra revenue, even though only 50% of cart abandoning visitors saw this message!
3. Create personalized messages for visitors arriving from Facebook
Czár Jewelry welcomed Facebook visitors (which make up 85% of their visitor count) with a personalized gift. "We're happy you liked our Facebook post! We would like to reward you with a 5% discount for your interest."
They got 148 new subscribers and 1,100 USD in extra revenue thanks to this popup—in a couple of weeks.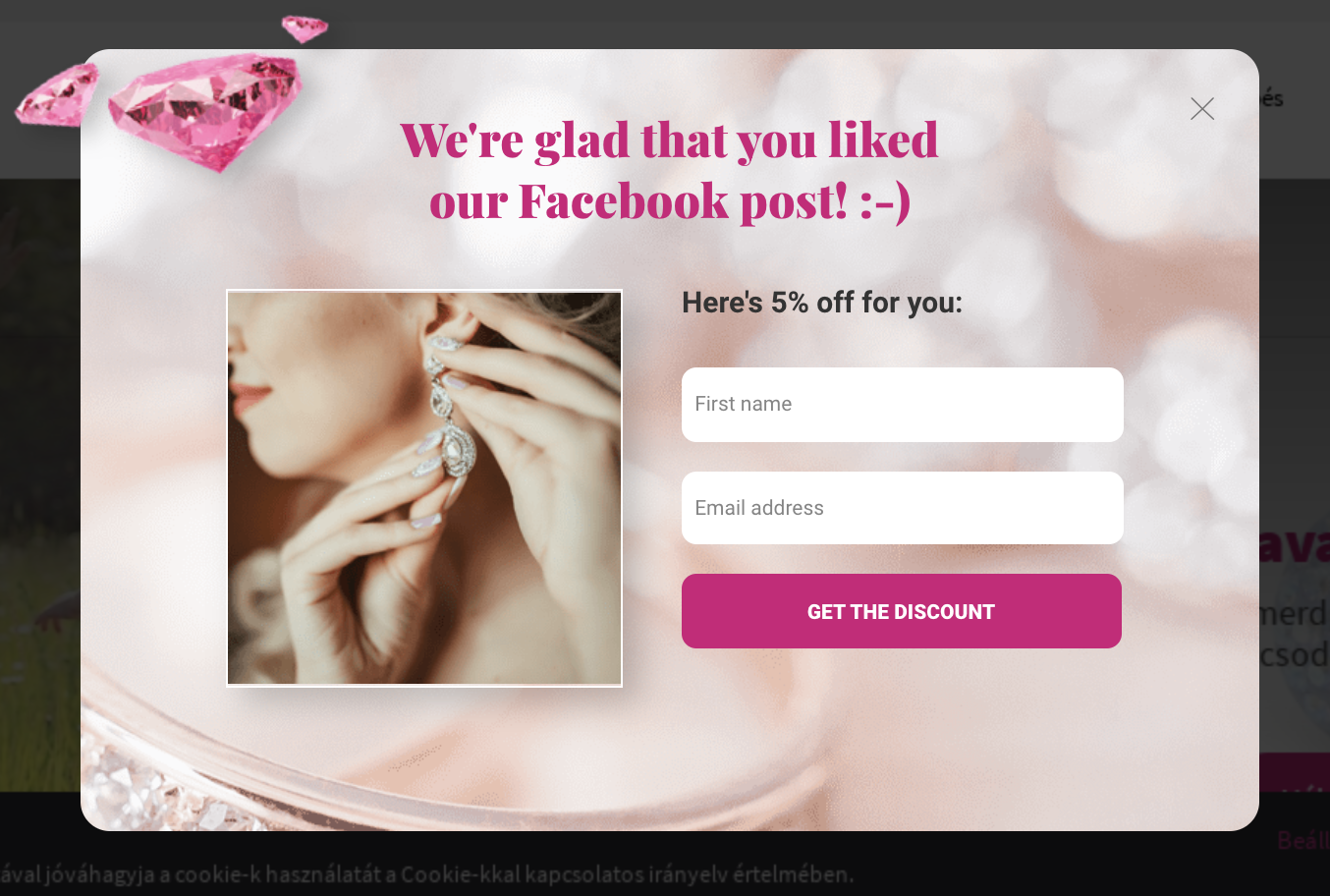 Popup appearing for new visitors coming from Facebook.
Czár Jewelry is a wonderful example of why segmenting visitors and personalizing messages is important. They increased their revenue significantly with only a few campaigns.