A/B testing has a key place in every marketing expert's armory. Even if you think you've got great marketing instincts, there's only one way to know whether your ad, landing page, or entire website could be performing better…
…and that is to conduct A/B testing. 
Once you subject your marketing campaigns and websites to statistical analysis, you can rest assured that your sales process is running as optimally as possible. Using hard data to make decisions will always outperform "gut feelings" in the long run.
In this article, we'll explore the importance of having a great A/B testing tool and help you figure out which of the many A/B testing tools is best for your unique needs.
Why do you need an A/B testing tool?
While it is possible to conduct A/B testing (also known as split testing) manually, there's really no reason to do so in 2023. Manual A/B testing has many limitations: it's resource-intensive, lacks scalability, and leaves you open to human error.
Nowadays, the best A/B testing tools have incredibly advanced features and are easy to use. Whether you want to run multiple tests or investigate whether your personalization features are working well, there's an A/B testing tool for you.
Here are four benefits of using a full-stack experimentation platform for your online business.
1. Data-driven decision making
As we mentioned in the intro, running tests on your marketing campaigns helps ensure that you're making decisions based on data. When you analyze user behavior and gain statistically significant results from your A/B testing, you can gain deep insights about which marketing messages and tactics resonate with your target audience.
2. Improved conversion rates
Using A/B testing tools can help you fine-tune everything from landing pages and product pages to your checkout processes. Even small changes to details like the color of a call-to-action button or the wording of a headline can have huge impacts on your conversion rates.
3. Enhanced user experience
A/B testing helps you identify elements of your website and customer experience that may frustrate or confuse users. Whenever a potential customer is unsure of what step they should take next or struggling with website functionality, they're likely to close your website and never return again.
4. Revenue growth
By optimizing your website and marketing campaigns based on test results, you're more likely to generate higher revenue. When you test variations of your website to see which performs best, you're going to be making more revenue from the same amount of traffic that already hits your website. That's the magic of optimization!
What makes a great A/B testing tool?
Here are some key features that can take an A/B testing tool from being simply OK to outstanding.
1. User-friendliness
An A/B testing tool should have an intuitive user interface, allowing users to easily set up experiments and view their results. Since many ecommerce stores have multiple people working on their campaigns, tools that allow for easy collaboration provide an advantage.
2. Reliability
It should go without saying, but you want to make sure that the A/B testing tool you chose doesn't have issues with bugs and glitches. 
Not only can buggy software make you unsure about whether to trust your test results, it can also interfere with your sales and product launches. It's always a good idea to check whether customer reviews of the A/B testing tools you're considering mention issues with reliability.
You also want to make sure that all the data your testing tools collect is trustworthy. The A/B testing software you use should be compliant with the GDPR and any other local regulations.
3. Scalability
An A/B testing tool should be scalable, which means that it can accommodate a growing number of experiments and visitors without sacrificing performance or data accuracy. As your business grows, you'll have to launch tests more regularly and you don't want to run into any limitations. Depending on the size of your business, it might be worth shelling out for an enterprise price tag if you get access to an excellent testing platform that will serve your needs for a long time.
4. Robust data analysis
The best A/B testing tools feature experimentation capabilities that allow you to conduct advanced testing. If you want to deliver a personalized customer experience to your customers, for example, then you need to use a tool that's capable of tracking advanced segmentation. 
Other complex tests you can benefit from include funnel tracking (A/B testing the entire customer journey), visitor behavior tracking (analyzing mouse movements and clicks), and statistical analysis (such as a statistical significance calculator).
The 15 best A/B testing tools
Now let's break down the 15 best A/B testing tools you should consider using in 2023!
1. OptiMonk AI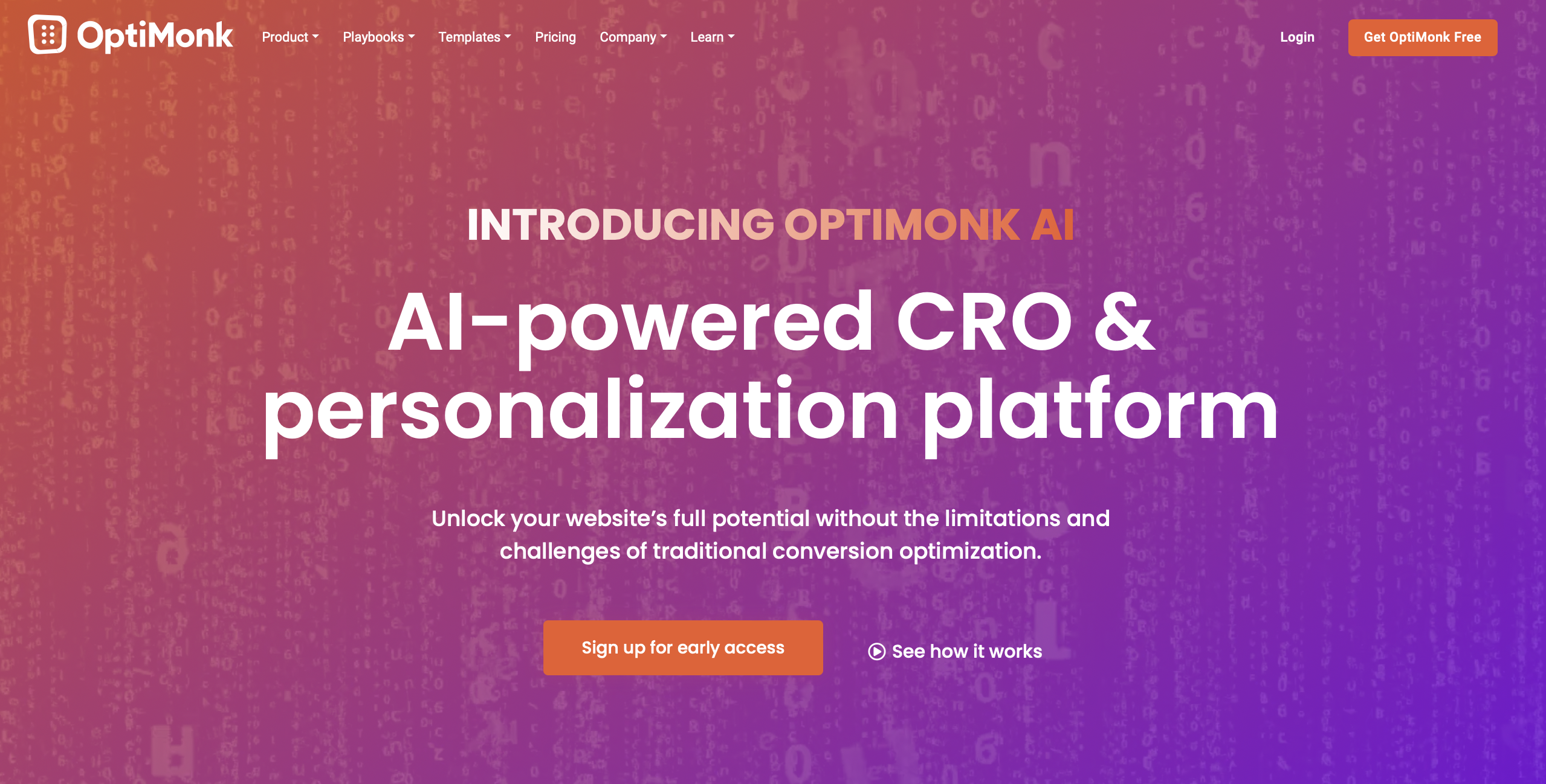 OptiMonk AI helps to unlock the full potential of your website's conversion rates effortlessly, without hassle and complication.
OptiMonk AI is an AI-powered CRO & personalization platform, that empowers your marketing team to build a top-performing ecommerce website. It's made for marketers who want to enhance their marketing effectiveness through data-driven methods, all without the need to bring in a dedicated CRO team.
OptiMonk AI offers an automated A/B testing solution besides many AI-powered features. 
Meet Smart A/B Testing
OptiMonk's Smart A/B testing feature can improve your home page and landing pages without requiring any time or effort from you. Machine learning algorithms that have learned from top ecommerce websites can create headlines, unique selling propositions, and product descriptions on autopilot.
Then, our AI can simply test out these new variants against your current website to discover the optimal combination.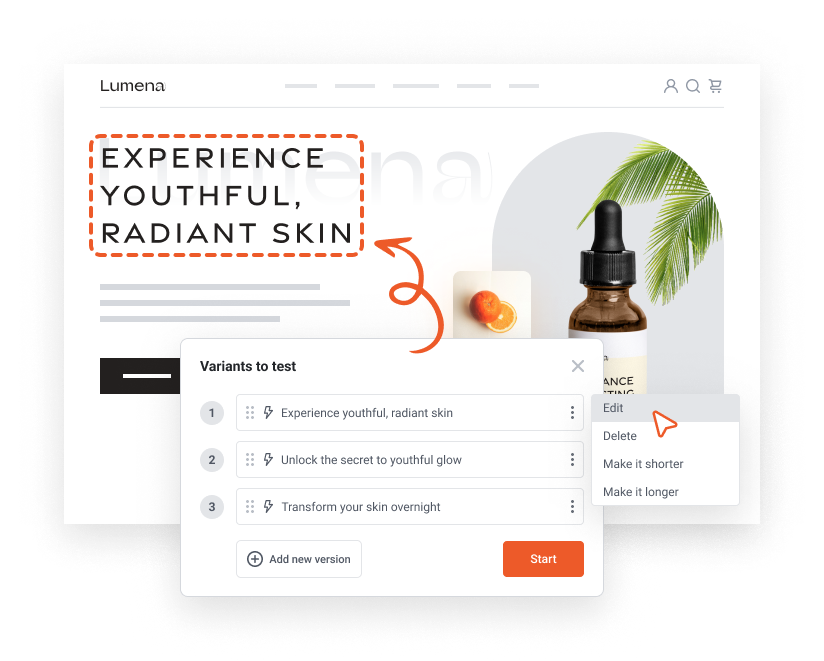 Let's see how it works!
Using the Smart A/B Testing system to improve your ecommerce site only takes three simple steps:
Step 1: Select the elements on your landing pages that you'd like to optimize using A/B testing (headlines, descriptions, images, buttons, etc.).

Step 2: Let OptiMonk's AI generate a host of variants for you. You can review them to see which ones you'd like to test and add your own variants to the mix if you'd like.

Step 3: Launch the A/B test, then sit back and relax until the results roll in!
Additional features:
Smart Product Page Optimizer: Transforms product detail pages into high-converting sales pages with the power of AI. 
Smart Personalizer: Personalize your landing pages for each and every visitor. Tailor any headline, description or text based on the interest of your visitor – 100% automatically.
Smart Popups: Forget about one-size-fits-all popups. Tailor the messaging of your popups to each visitor's interest automatically with the help of AI and monetize your website traffic better.
Learn more about OptiMonk AI and sign up for early access here.
2. Optimizely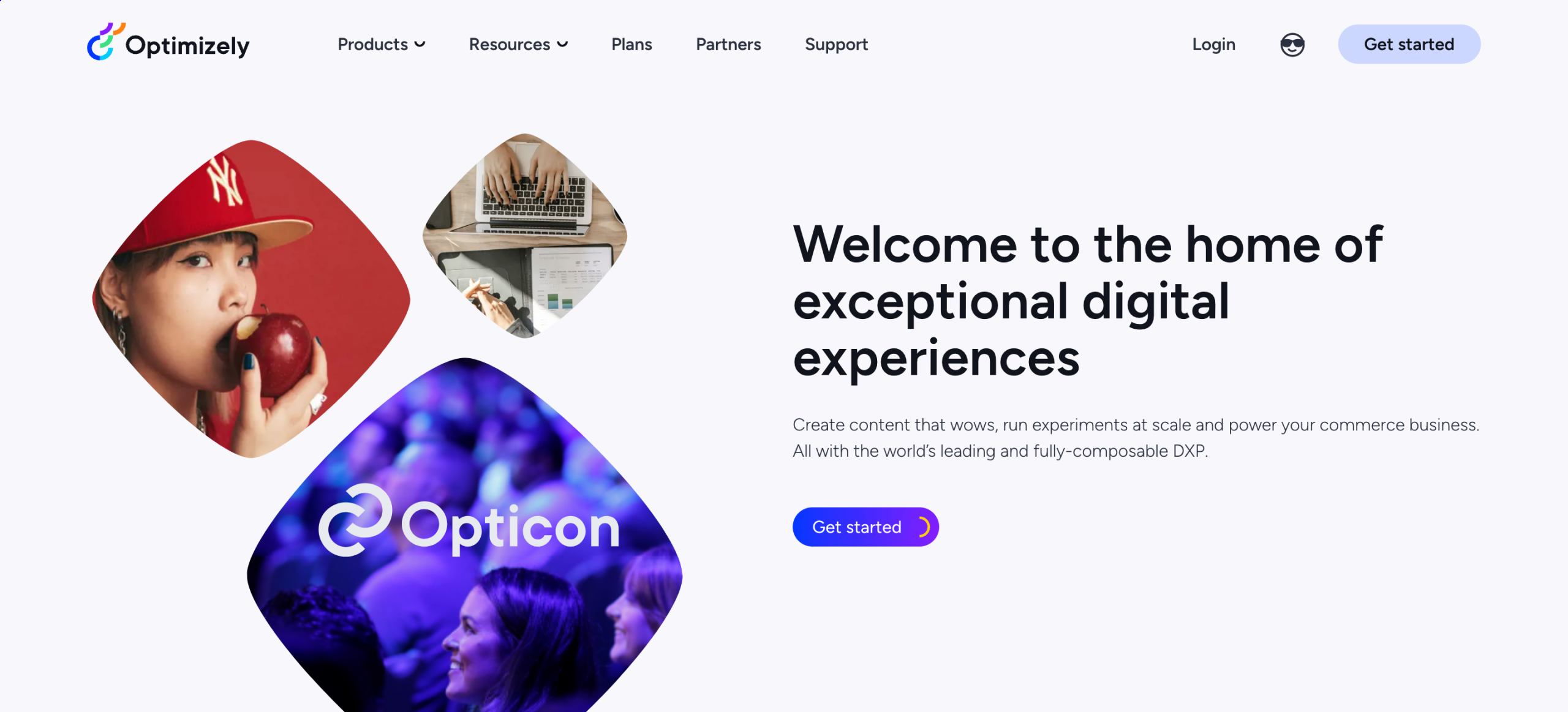 Optimizely boasts a user-friendly interface, making A/B testing and experimentation accessible for beginners and experts alike. Its robust features enable businesses to effortlessly create and manage A/B tests, allowing them to improve both the customer experience and conversion rates. 
With its advanced analytics and targeting options, Optimizely empowers organizations to make data-driven decisions.
Pricing: Upon request.
3. VWO (Visual Website Optimizer)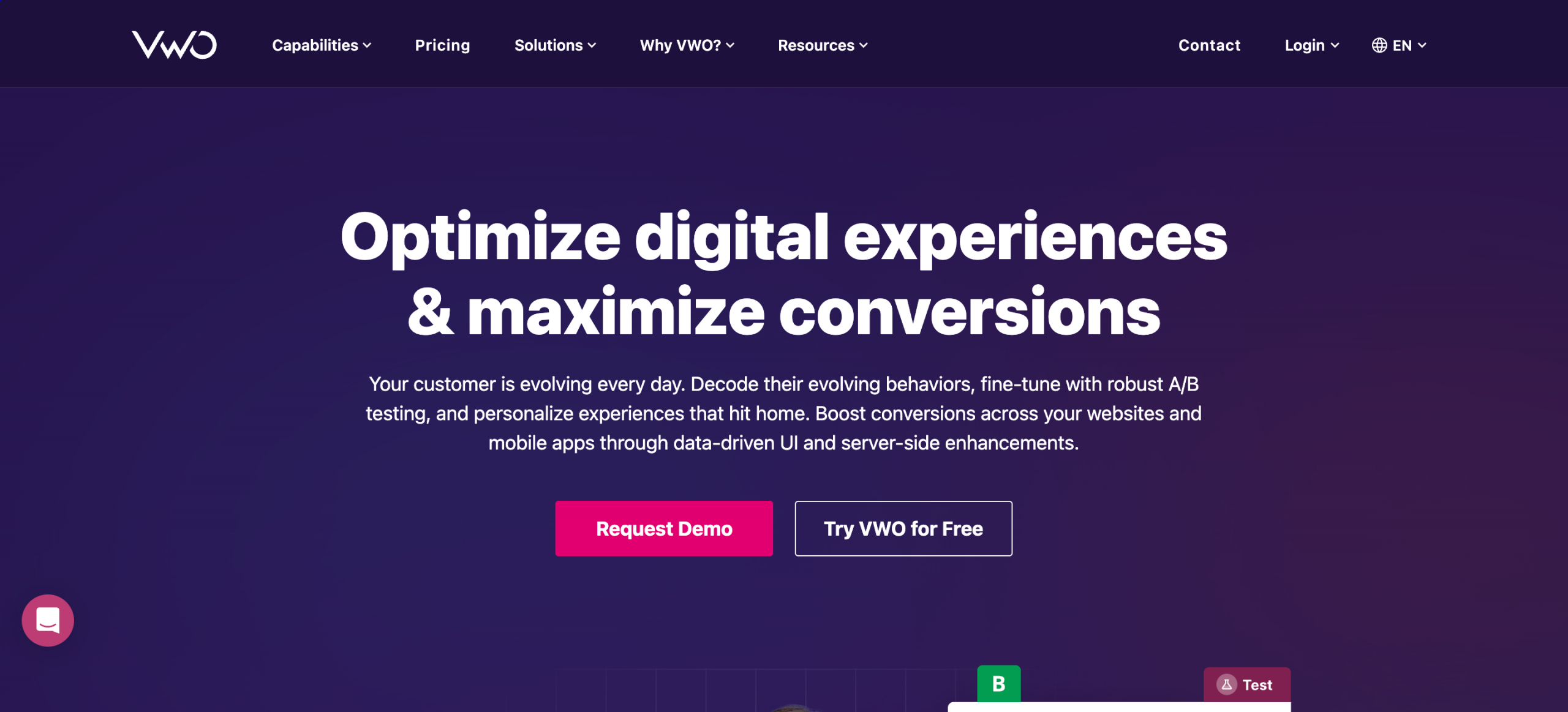 VWO offers a suite of features, including A/B testing, split URL testing, and multivariate testing, making it a versatile tool for optimizing an ecommerce website.
Its intuitive drag-and-drop editor simplifies the process of creating test variations, allowing businesses to test performance with different design and content elements.
Pricing: The starter pack is free. Pricing starts at $308/month.
4. Unbounce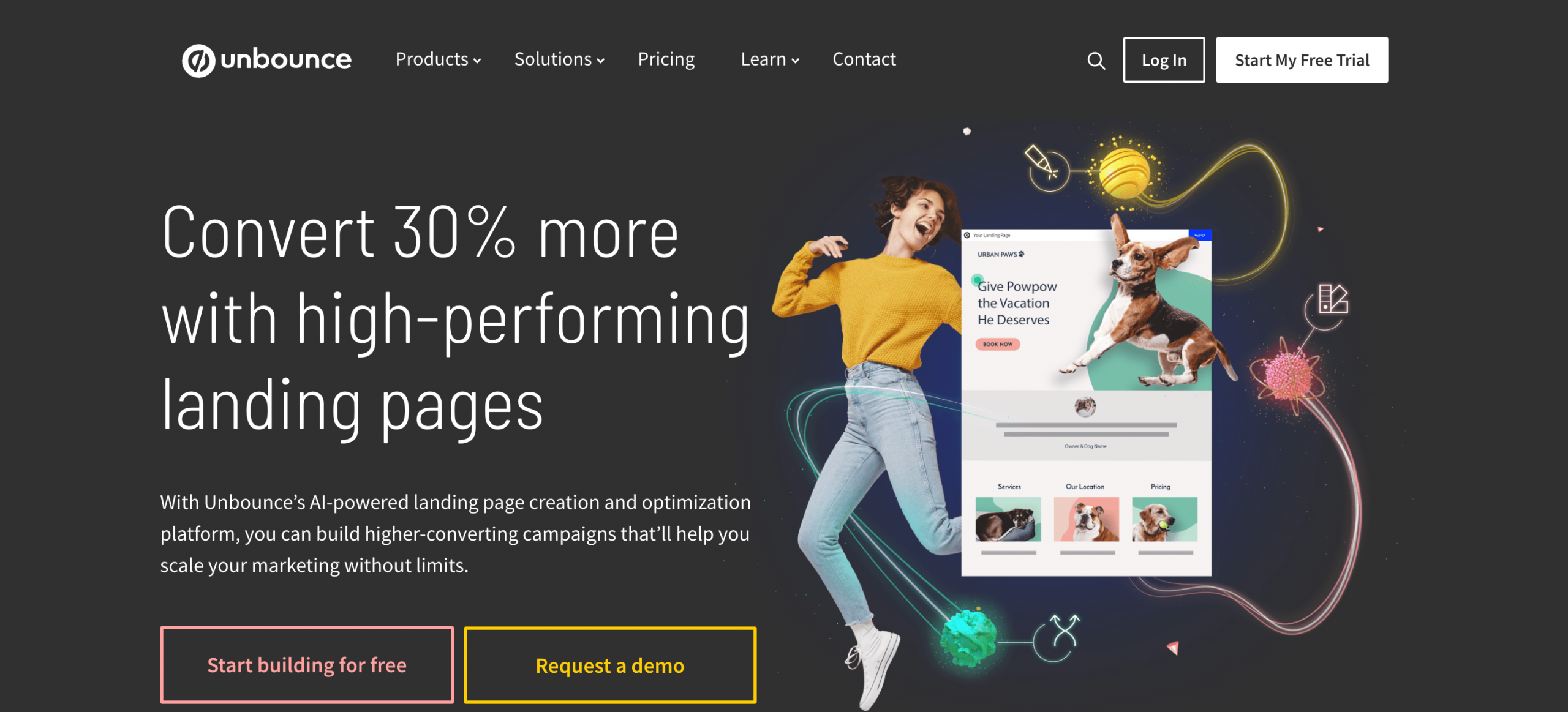 Unbounce is a dedicated landing page A/B testing tool with a user-friendly drag & drop builder, ideal for crafting and experimenting with high-converting landing pages. Its extensive template library and dynamic content features facilitate the creation of tailored experiences.
Additionally, Unbounce provides real-time analytics and seamless integration options.
Pricing: Launch pack starts at $99/month.
5. Convert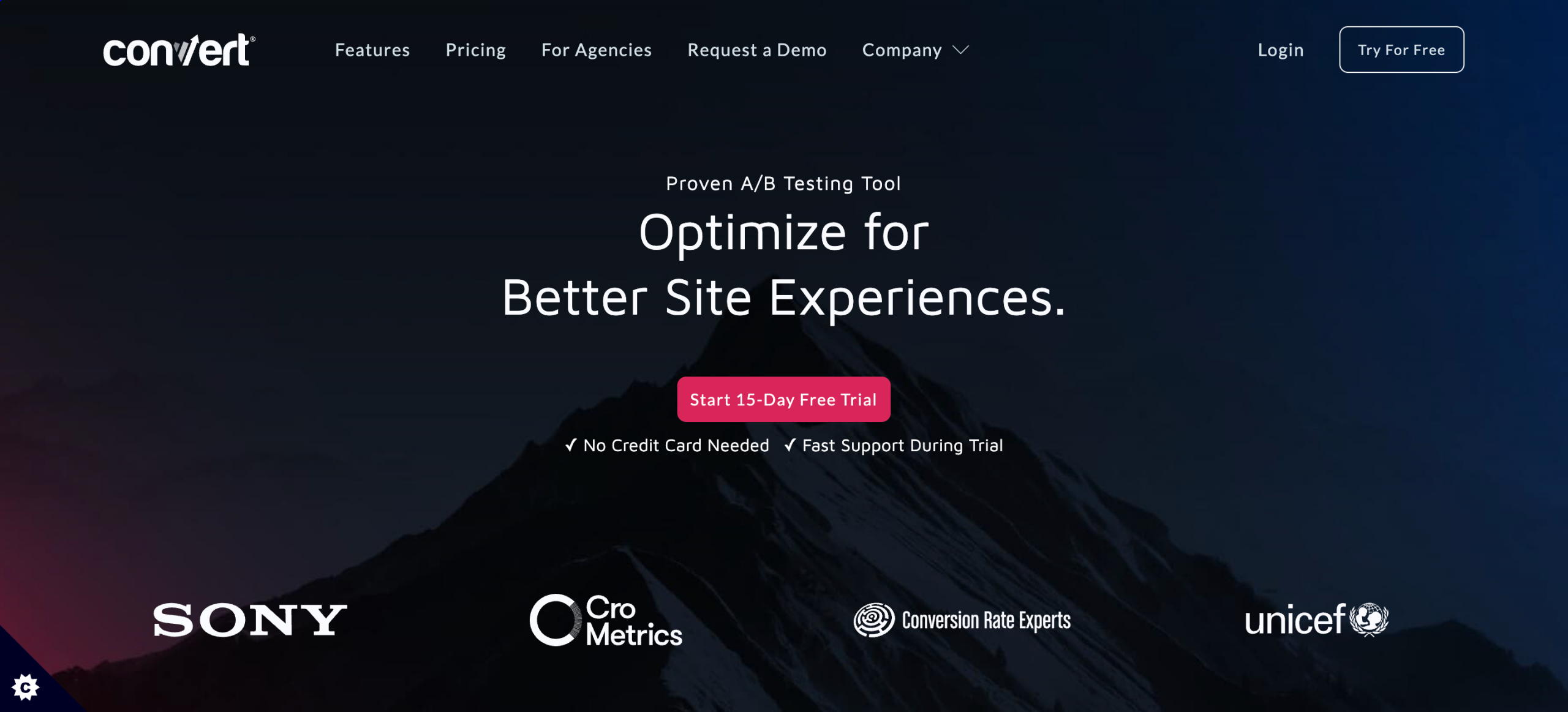 Convert is a versatile A/B testing and personalization platform that empowers businesses to segment and target their audience effectively. With its intuitive interface and robust testing capabilities, Convert simplifies the process of multivariate testing.
Pricing: Pricing starts at $99/month. 
6. A/B Tasty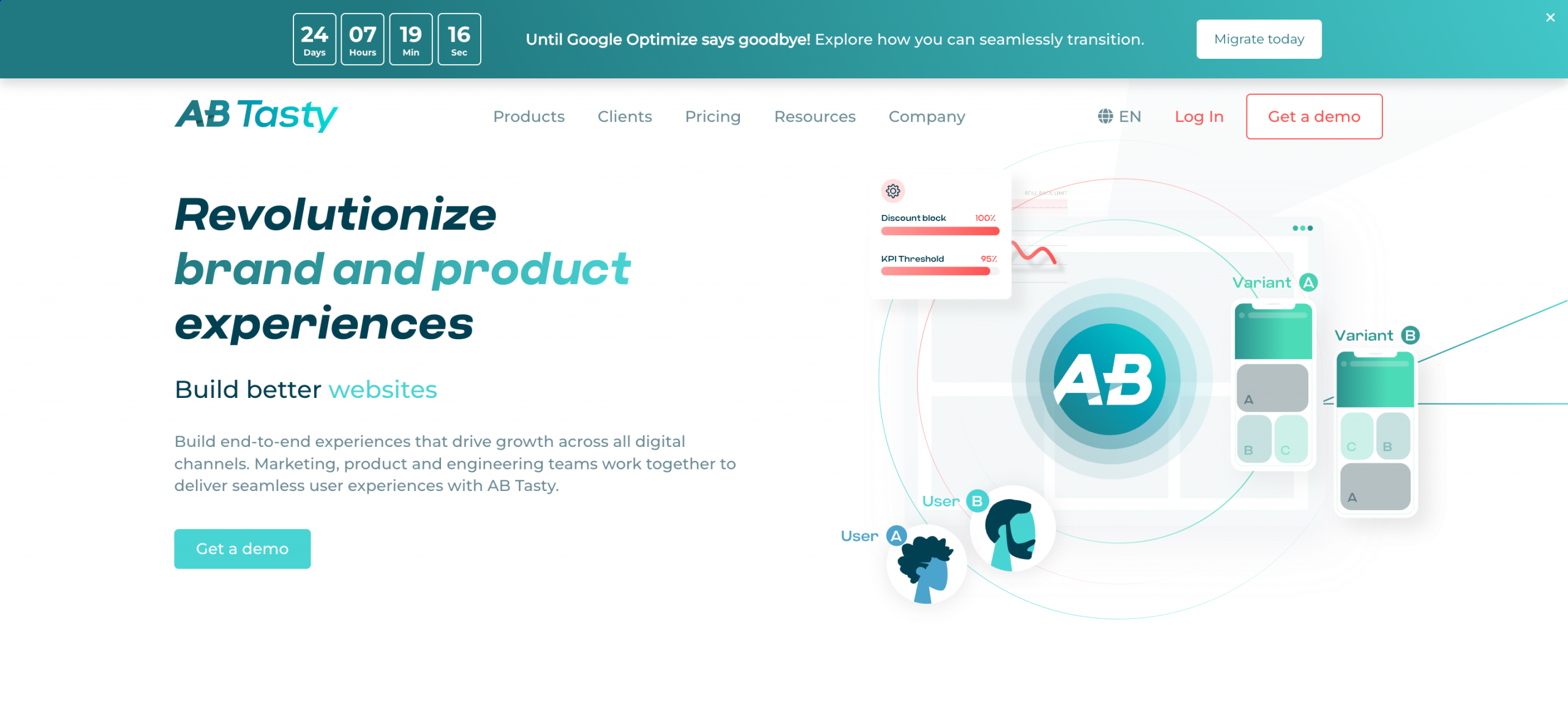 AB Tasty stands out for its user-friendly interface and robust experimentation tools, streamlining personalization and enhancing the customer journey. 
AB Tasty's advanced targeting options and real-time analytics provide organizations with the means to make data-driven decisions, thereby optimizing the overall effectiveness of their digital strategies.
Pricing: Custom pricing.
7. Crazy Egg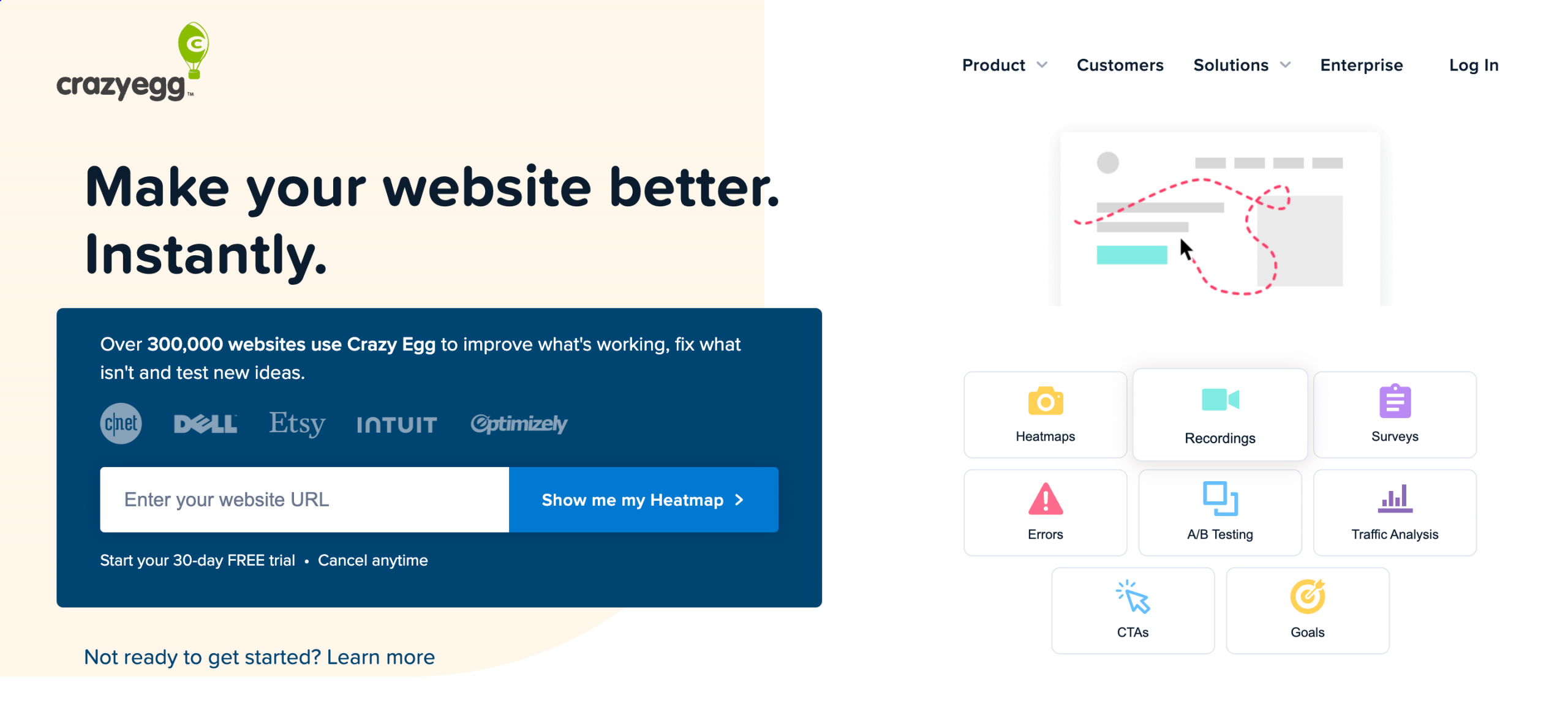 Crazy Egg offers heatmap and A/B testing features alongside user behavior tracking and analysis capabilities, providing valuable insights for website optimization. 
Its heatmap tools visually represent user interactions, helping businesses identify hotspots and areas of their websites that need improvement.
Pricing: Available upon request.
8. Kameleoon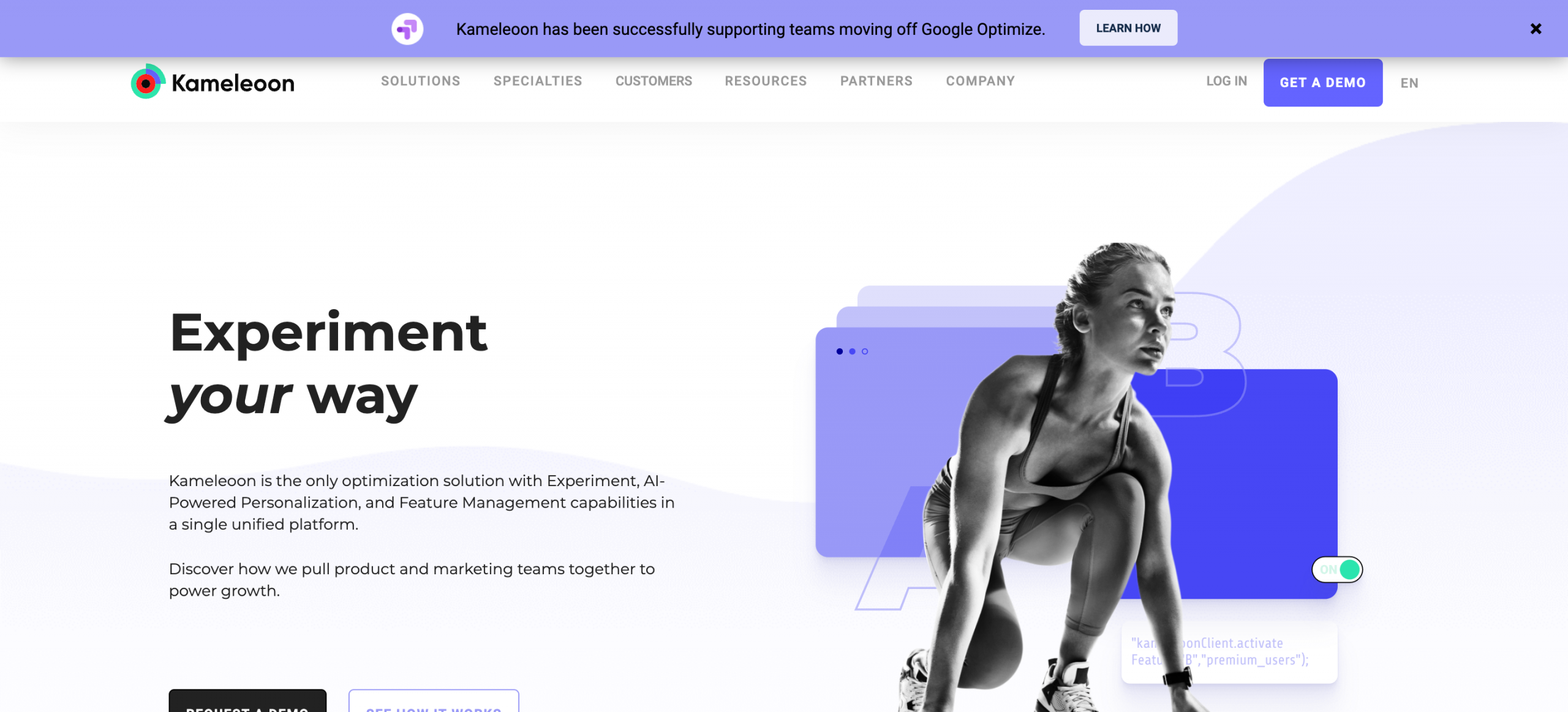 Kameleoon is an AI-driven A/B testing and personalization tool known for its predictive targeting and real-time segmentation capabilities. 
Leveraging advanced machine learning algorithms, Kameleoon enables businesses to predict and target specific user segments, delivering highly personalized experiences.
Pricing: Upon request.
9. Instapage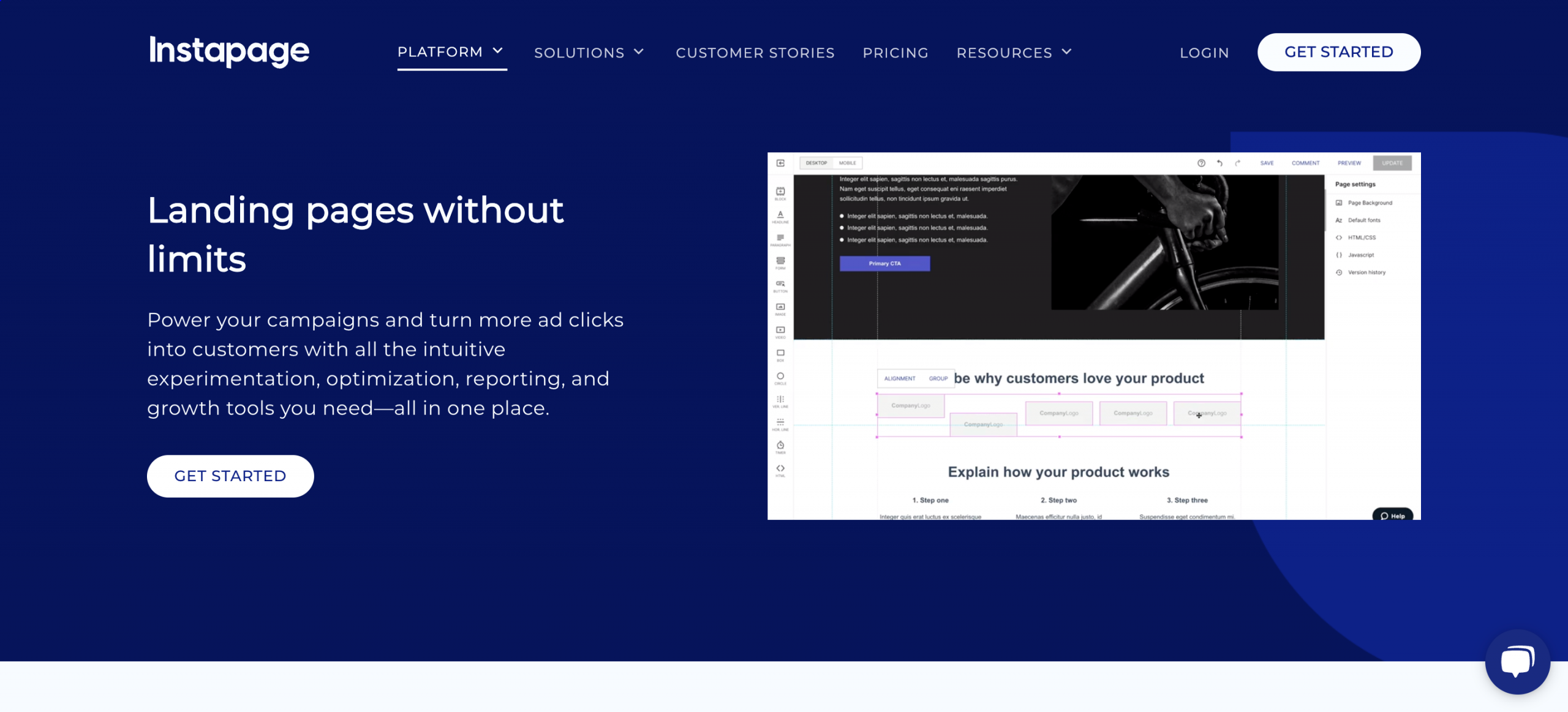 Instapage specializes in landing page optimization tools and offers collaboration features ideal for marketing teams. 
Its user-friendly interface makes creating A/B tests effortless, so organizations can make data-driven decisions and refine their landing page strategies for maximum impact.
Pricing: Starts at $99/month. 
10. Adobe Target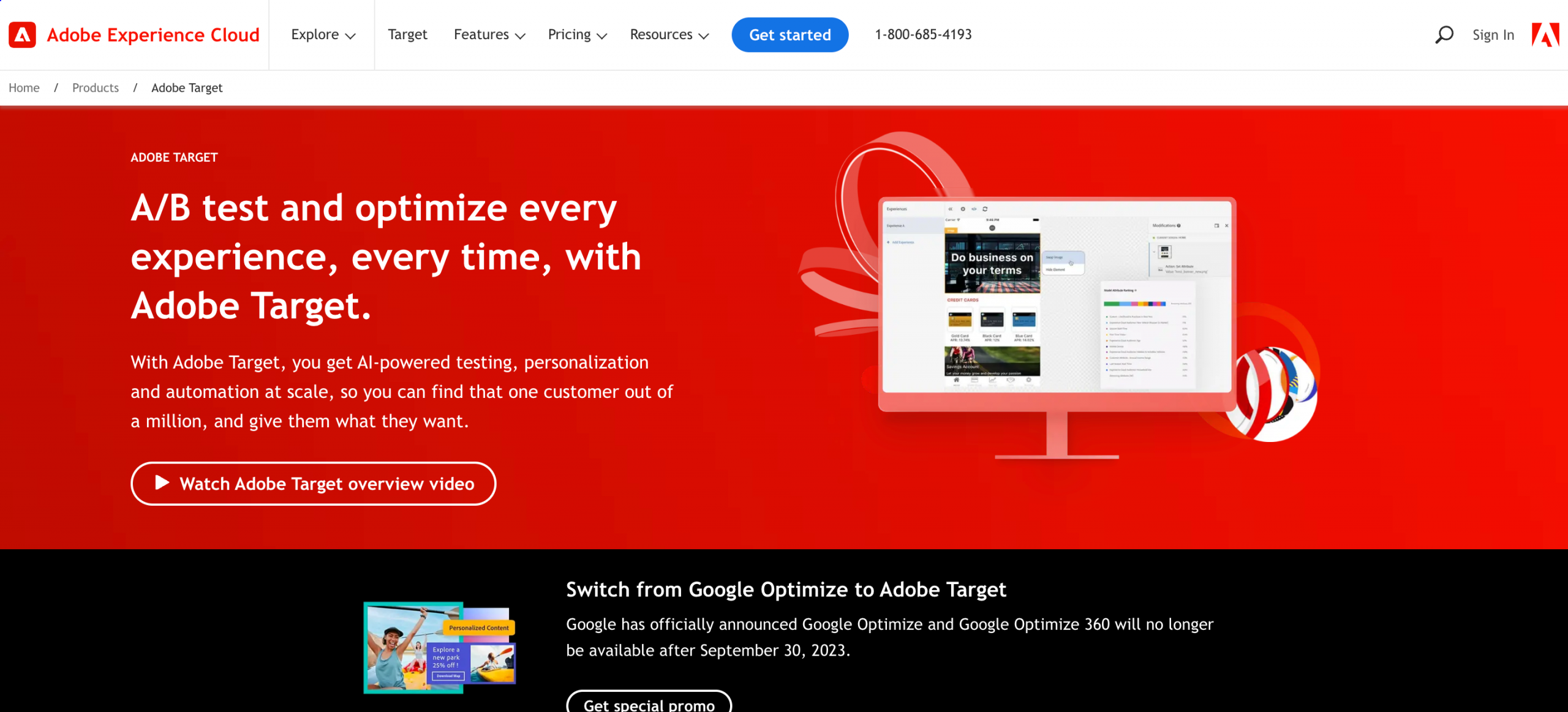 Adobe Target is an enterprise-grade A/B testing and personalization solution, catering to the needs of large-scale businesses. 
It sets itself apart with its advanced AI-powered algorithms that not only understand user behavior but also offer predictive insights, allowing organizations to proactively optimize their digital experiences. Its integration with the Adobe ecosystem offers a comprehensive suite of tools for precise targeting.
Pricing: Available upon request.
11. Freshmarketer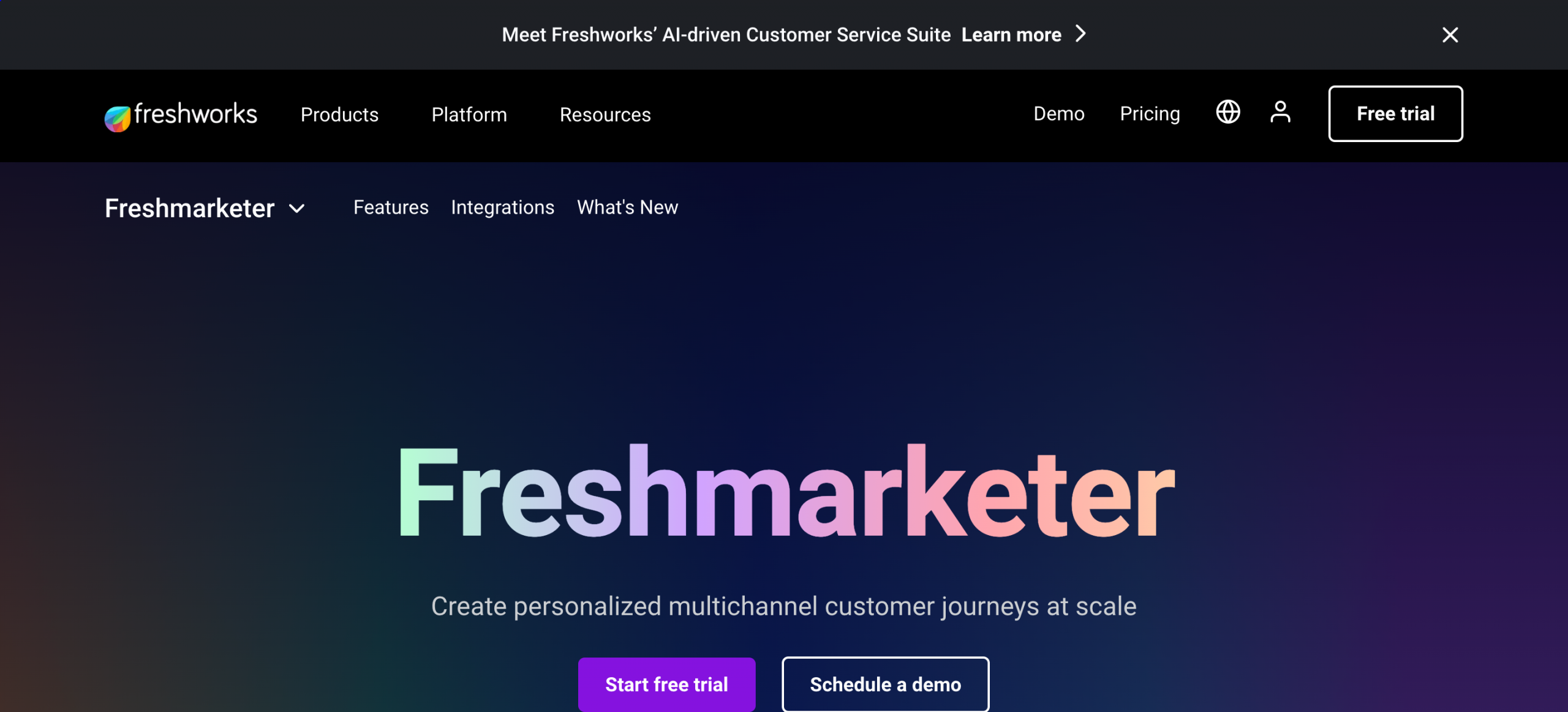 Freshmarketer distinguishes itself with its A/B testing and split URL testing capabilities, tailored to enhance website performance. This user-friendly platform empowers businesses to efficiently create and execute experiments, optimizing various aspects of their online presence.
Pricing: Freemium, or from $19/month.
12. Apptimize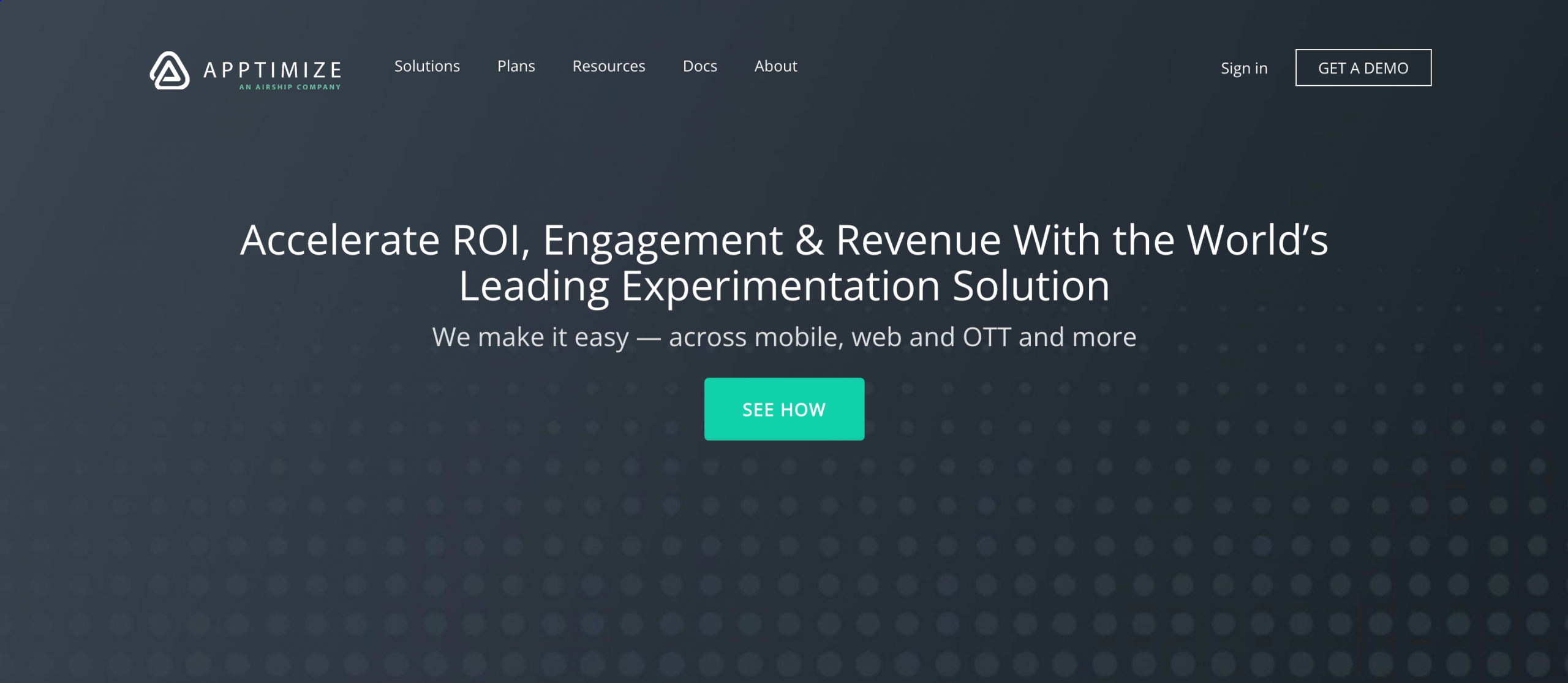 Apptimize is a versatile A/B testing and feature flagging platform designed for mobile apps. Its comprehensive suite of testing tools caters to the intricacies of app optimization. 
Apptimize also excels at facilitating collaboration among development and marketing teams, ensuring streamlined experimentation and deployment for improved user experiences and enhanced performance.
Pricing: Available upon request.
13. Nelio A/B testing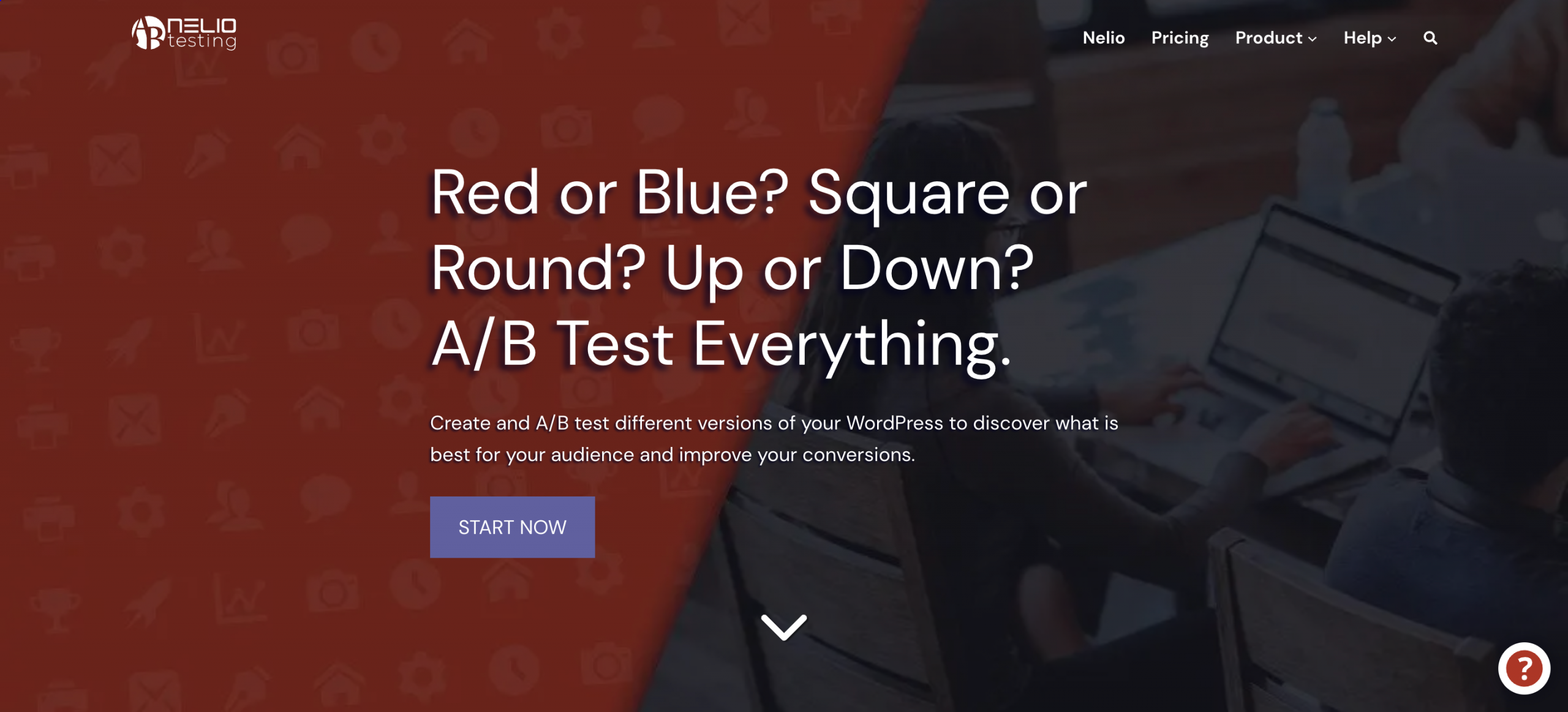 Nelio A/B Testing is a user-friendly A/B testing plugin for WordPress websites. It was created for the WordPress ecosystem, so it can simplify the process of creating and managing experiments, allowing businesses to refine their digital strategies easily.
Pricing: Starts at $29/month.
14. Dynamic Yield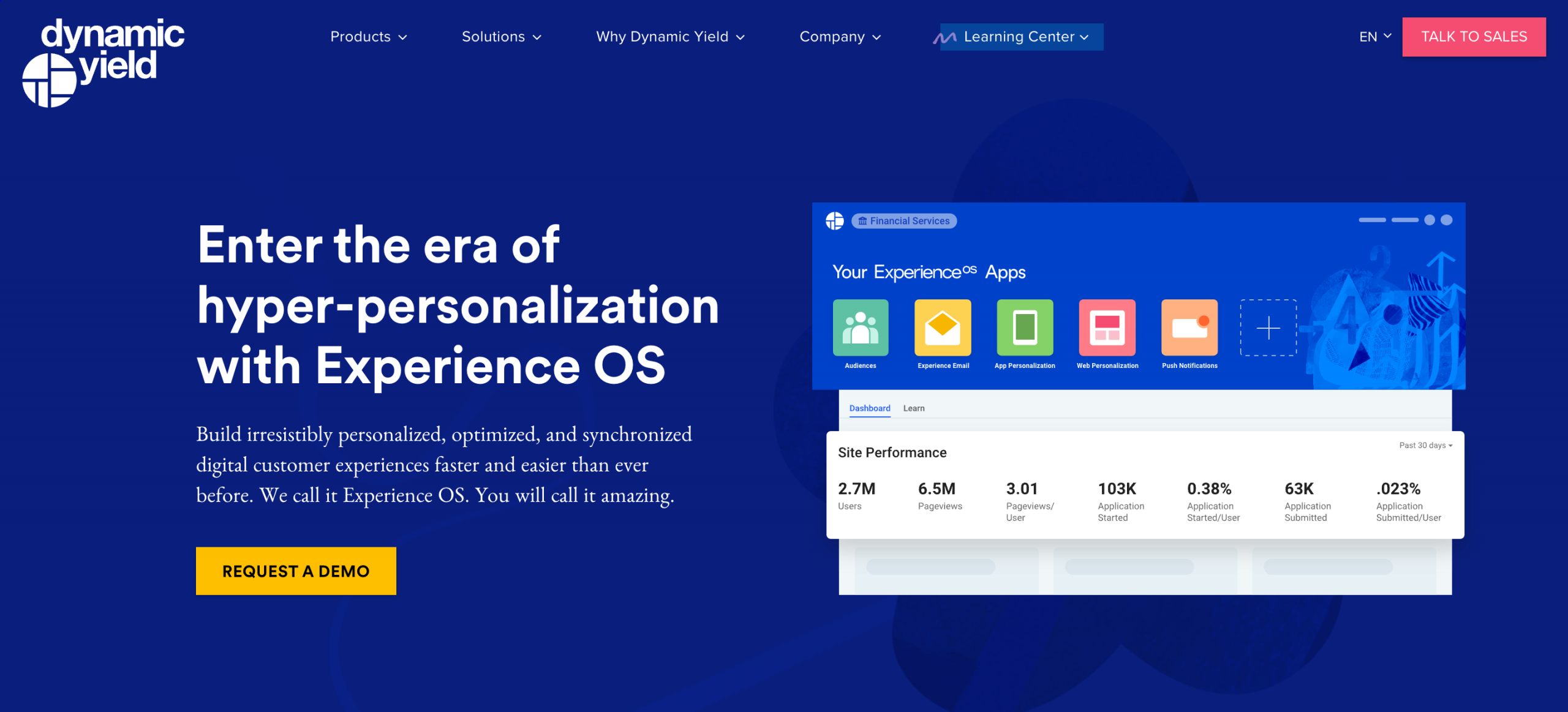 Dynamic Yield is an AI-powered personalization and A/B testing platform that helps businesses deliver individualized customer experiences across web, mobile apps, email, and kiosks. 
With its innovative AI algorithms, Dynamic Yield excels in real-time content optimization, ensuring each user receives tailored content and product recommendations.
Pricing: Available upon request.
15. Omniconvert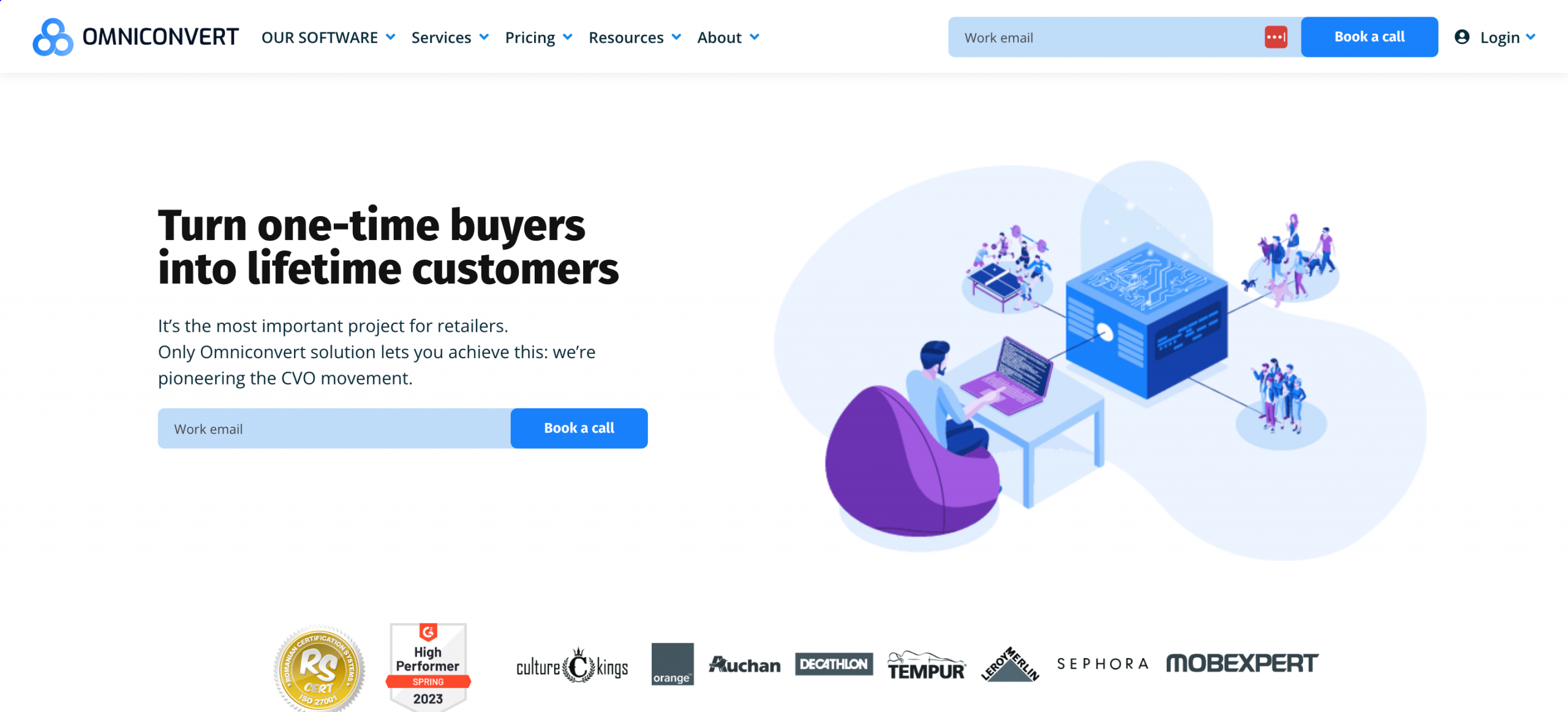 delivering advanced customer survey and feedback tools, providing businesses with valuable qualitative tools to enhance their optimization strategies.
Pricing: $47/month.
What are the major types of A/B testing?
In essence, A/B testing (or split testing) is about comparing two versions of a webpage, the "A" version and the "B" version, to see whether one outperforms the other.
There are also other types of testing, including:
Multivariate Testing

: Here, you create multiple variations of a few different elements on a page to find the best combination.

Split URL Testing

: It tests entirely different web pages (URLs) against each other, which is useful for testing major design or content changes.

Sequential Testing

: This involves testing a series of variants sequentially, with each variant being compared to the best-performing one so far. It's used to make changes to a live website gradually.
How do I choose an A/B testing tool?
There are many A/B testing tools on the market, which can make it difficult to know which is the best one for you. When choosing an A/B testing tool, you should consider the following factors:
Make sure it offers the features you need, like multivariate tests or cohort tests for personalization.

Read reviews to find out how easy it is to use and whether it fits your team's skills.

Check whether it integrates with your other tools, like Google Analytics or email platforms.

Keep your budget in mind and consider how pricing can change as you grow.

Investigate whether the tool has a responsive customer support team.

Make sure it follows data rules and keeps data safe.
What is the typical duration for an A/B test?
This can vary, but A/B tests generally run for one or two weeks. The key is to balance getting enough data for reliable results without making the test too long.
A/B testing is a vital part of running an ecommerce store, but it's often difficult to find the time to fire up your testing tools and actually do it. 
The good news is that the easier it is to use your A/B testing platform, the more you'll do it.
That's why OptiMonk, with its intuitive visual editor and effortless A/B testing system, is the perfect choice to help you create tests and improve your site like never before.
If you'd like to get access to this powerful tool, sign up for early access today!