When you're working hard to get the most out of your online store, you're constantly on the lookout for actionable solutions that can boost your conversion rate. Many of these solutions fall under the umbrella of CRO marketing.
CRO marketing is a continual learning process. Reading books, blog posts, and articles or attending conversion rate optimization (CRO) conferences are all great ways of gaining a competitive edge and finding new strategies to boost your conversions.
However, nothing is more inspirational than learning from the world's biggest ecommerce stores.
If you want to improve your ecommerce conversion rate optimization efforts—and really, who among us would claim to know everything there is to know about CRO marketing?—check out what we've learned by studying the biggest and most successful ecommerce websites.
We've gathered lessons from 10 giants of ecommerce so you can get inspired and pick up some actionable tips to improve your ecommerce CRO. But first, let's discuss what CRO marketing actually is!
CRO marketing (or conversion rate optimization marketing) is the process of improving the conversion rate on your website: increasing the percentage of your website's visitors who take the desired action. This desired action can be anything from making a purchase to downloading an ebook.
How to calculate conversion rate?
Here's the conversion rate formula:
Conversion Rate = (Total Number of Conversions / Total Number of Website Visitors) x 100
Why is conversion rate optimization important?
The goal of conversion rate optimization is to maximize the efficiency of your marketing efforts and get the most out of your existing traffic. CRO marketing helps you:
Generate more revenue

Provide a better user experience

Improve brand affinity
How to boost your CRO marketing strategy? 10 tips from the ecommerce giants
Ready to learn some outstandingly good conversion rate optimization marketing lessons from today's ecommerce giants? Let's go!
1. Be the expert on your topic
Quoting Vint Cerf, who is recognized as one of "the fathers of the Internet":
"Information flow is what the Internet is about. Information sharing is power. If you don't share your ideas, smart people can't do anything about them, and you'll remain anonymous and powerless."
By accepting this theory, we can assume that sharing more (and making what you share more useful) leads to authority. In the case of online stores, this means that potential customers will see us as experts.
To put it another way, you won't be just a simple retailer in your prospects' eyes, but also an expert advisor. Then, when something happens in your industry or product field, your customers will think about you first and your website will be the first they visit.
It gives you a chance to present a solution to their problems or deliver a new product line— and if you're able to satisfy their needs, they'll buy from you first too.
Sharing information typically occurs through three channels:
Your newsletters

Your social media profiles

Your website
This article is focused on your website, so we'll skip the first two channels for now and analyze how you can boost your conversions by making your website an "information hub."
Within your online store, the product pages are the most important parts from this point of view. You should share as much information as you can, e.g.:
all important product details

customer reviews

video demonstrations

product tests

delivery and return policies

useful tips
… in other words, everything that's relevant from the customer's point of view.
Using expandable tabs is highly recommended. These elements keep your product pages well structured, even when you need to share plenty of information with your customers. Website visitors can open or close all the tabs, which helps them quickly find the information they're looking for before buying.
Here are some great examples from Glossier.
At the top of the product page, they have a very detailed product description. They share what it is, why it's special, "good to know" callouts, and available shades.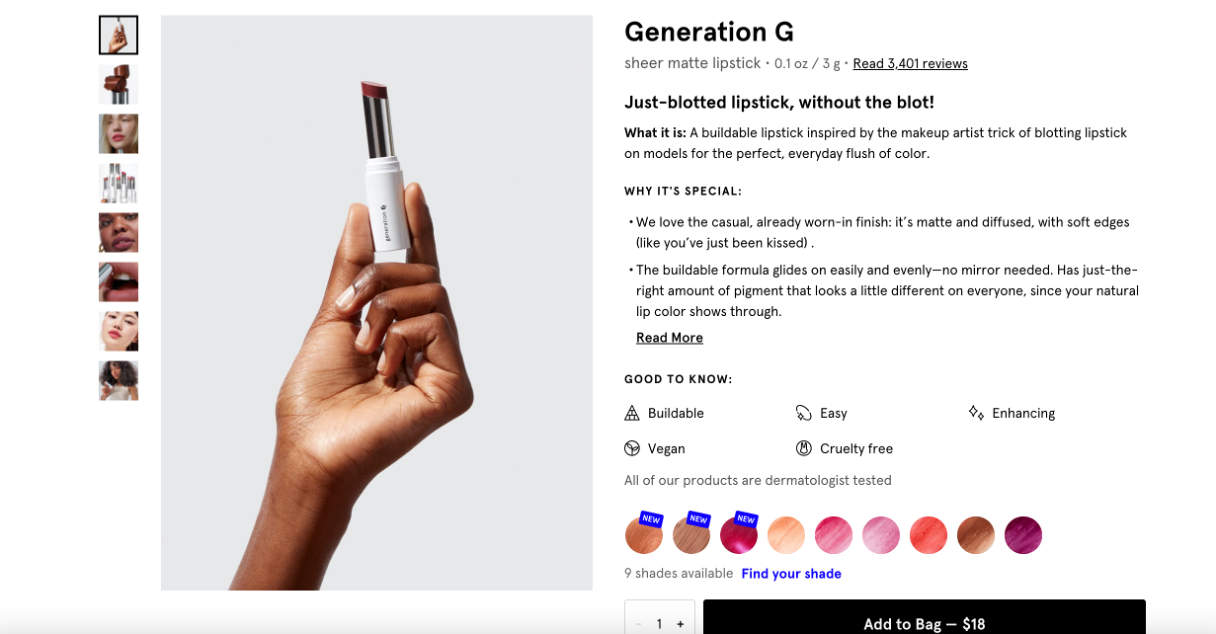 As you scroll down, you'll see two tabs that can be opened, called "Ingredients" and "How to use":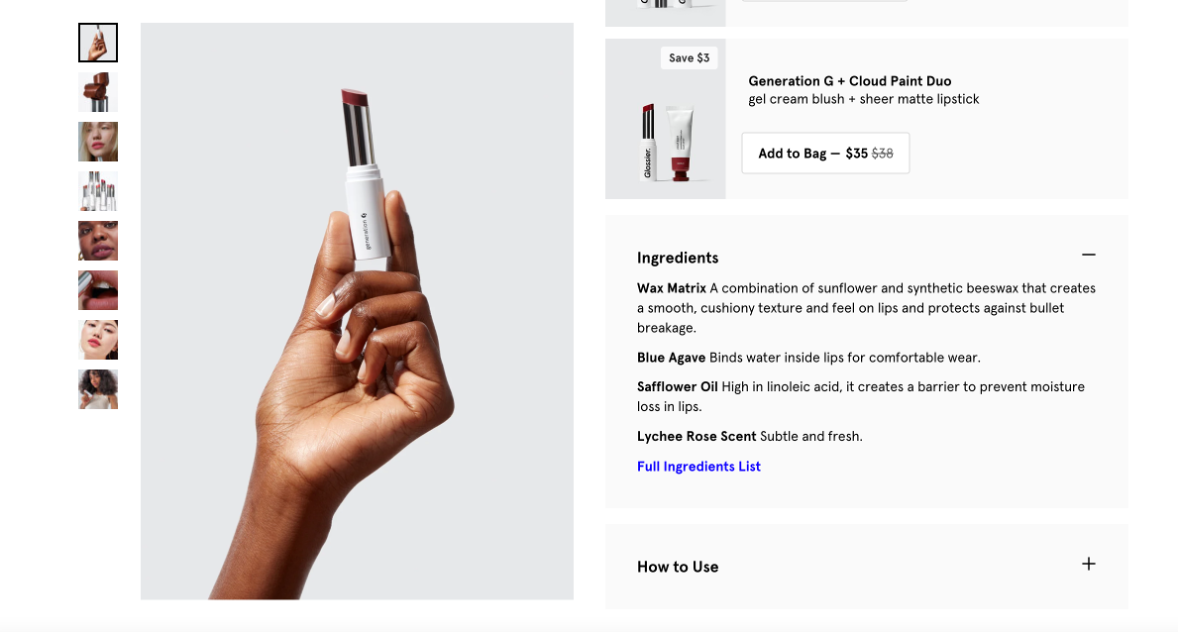 Further down, you'll find customer reviews, ratings, and real evaluations from previous buyers. All this social proof reduces uncertainty, which increases Glossier's chances for conversion.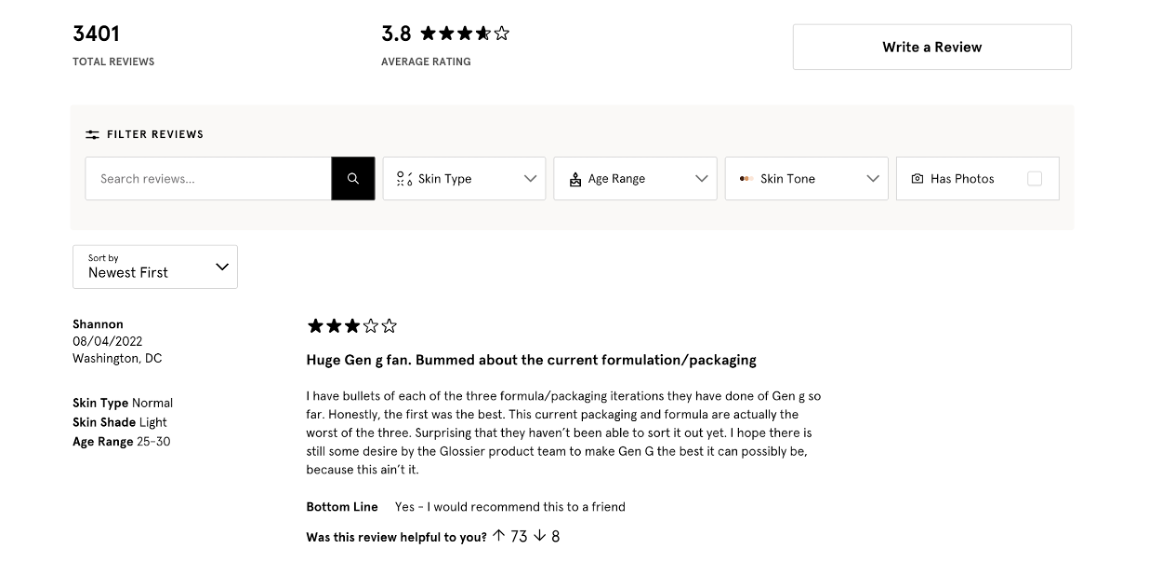 At the end of the page, you'll see a "You may also like" section that suggests additional products based on the items you're looking at, offering more opportunities to buy: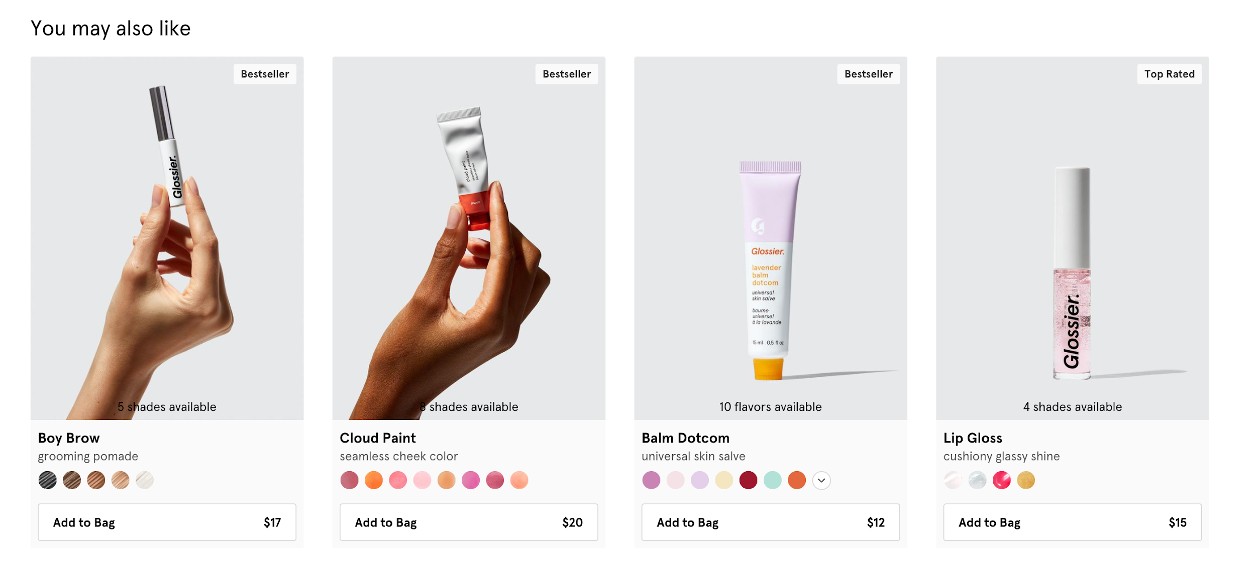 In addition to the detailed information on product pages, Glossier runs a blog, "Into The Gloss," where they share a huge amount of useful content related to their products. Website visitors can find interviews, product reviews, how-to guides, tips, and tricks. What a comprehensive mix of information, right?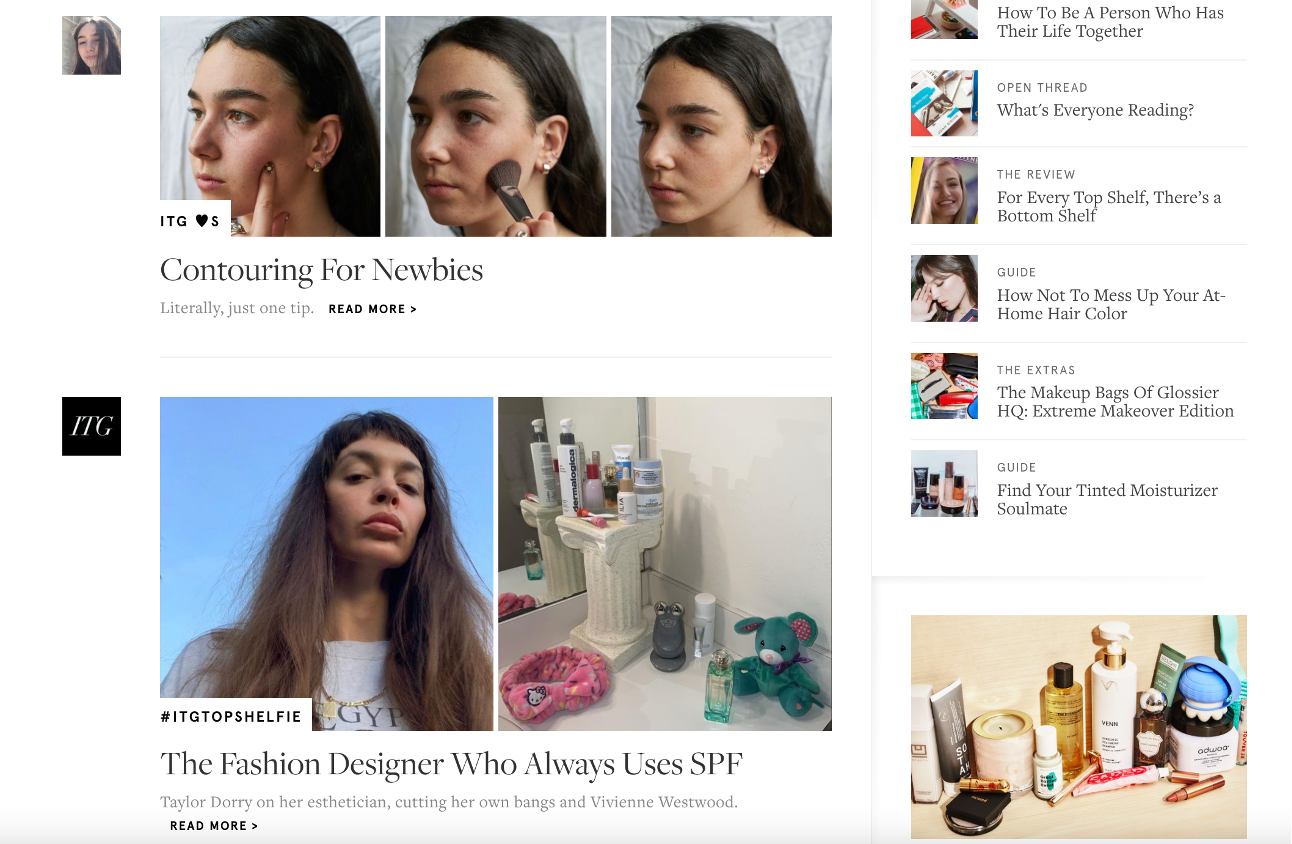 2. Use upselling and cross-selling
Increasing cart value is one of the best ways to improve sales. For this reason, upselling is becoming more and more popular as a conversion rate optimization tool among online stores.
Upselling is a sales technique where a seller induces the customer to purchase more expensive items, upgrades, or other add-ons to increase the overall price of goods or services purchased.
Cross-selling is another common conversion optimization technique to sell an additional product or service. For cross-selling, the additional item recommended must enhance or complement the product your customer already has in their cart.
To make the best use of upselling and cross-selling, it's worth using dynamic product recommendations to ensure all site visitors get the most relevant recommendations. Let's look at some great examples from eBay.
Check out how they upsell and cross-sell other products on the product page: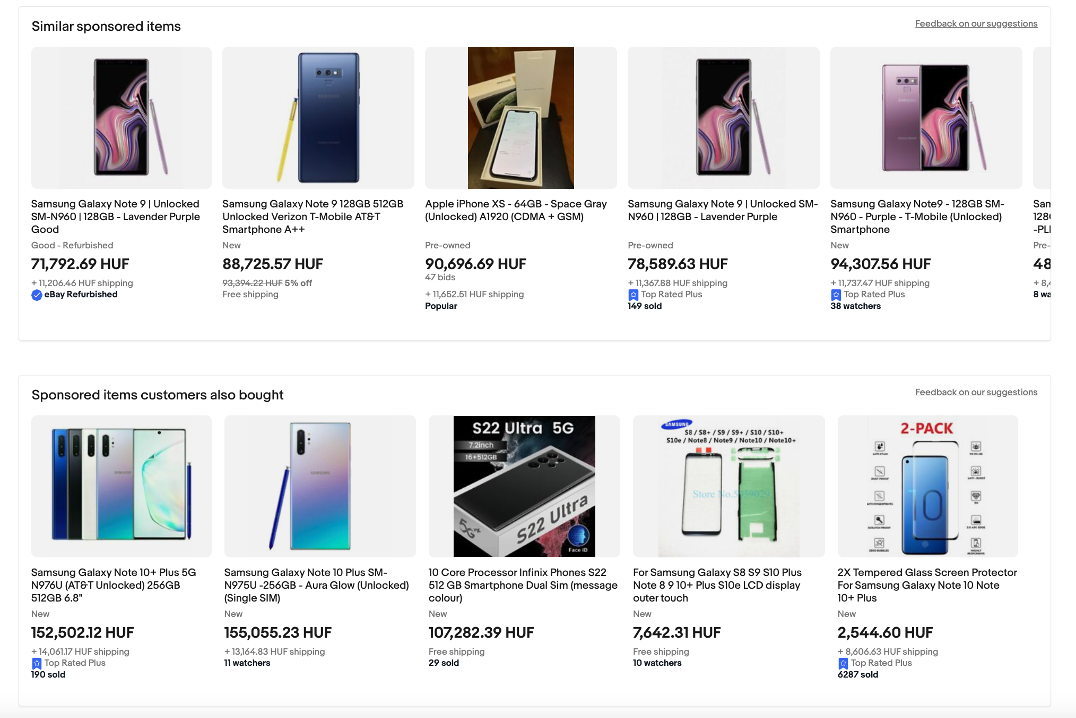 3. Ensure seamless buying experience on mobile devices
80% of Internet users use their smartphones to search the Internet. Most consumers are "multi-screening," which means they're accessing websites on mobile AND desktop, so consistent experiences across devices are necessary to win (and keep) their business.
Online buyers need instant access to all of your features on their mobile devices. Your ecommerce store should be not only mobile-optimized, but it should also provide the same feel and flow. The experience should be just as comfortable as shopping on a desktop.
Responsive design isn't merely a suggestion in today's fast-paced world… it's now an important requirement for all online stores that want to be successful. It ensures that your prospects will be able to browse your site—and buy from you—at any time, from anywhere.
Walmart provides a great example of seamless purchasing on mobile devices. Their homepage is clear, easy to understand, and mobile friendly.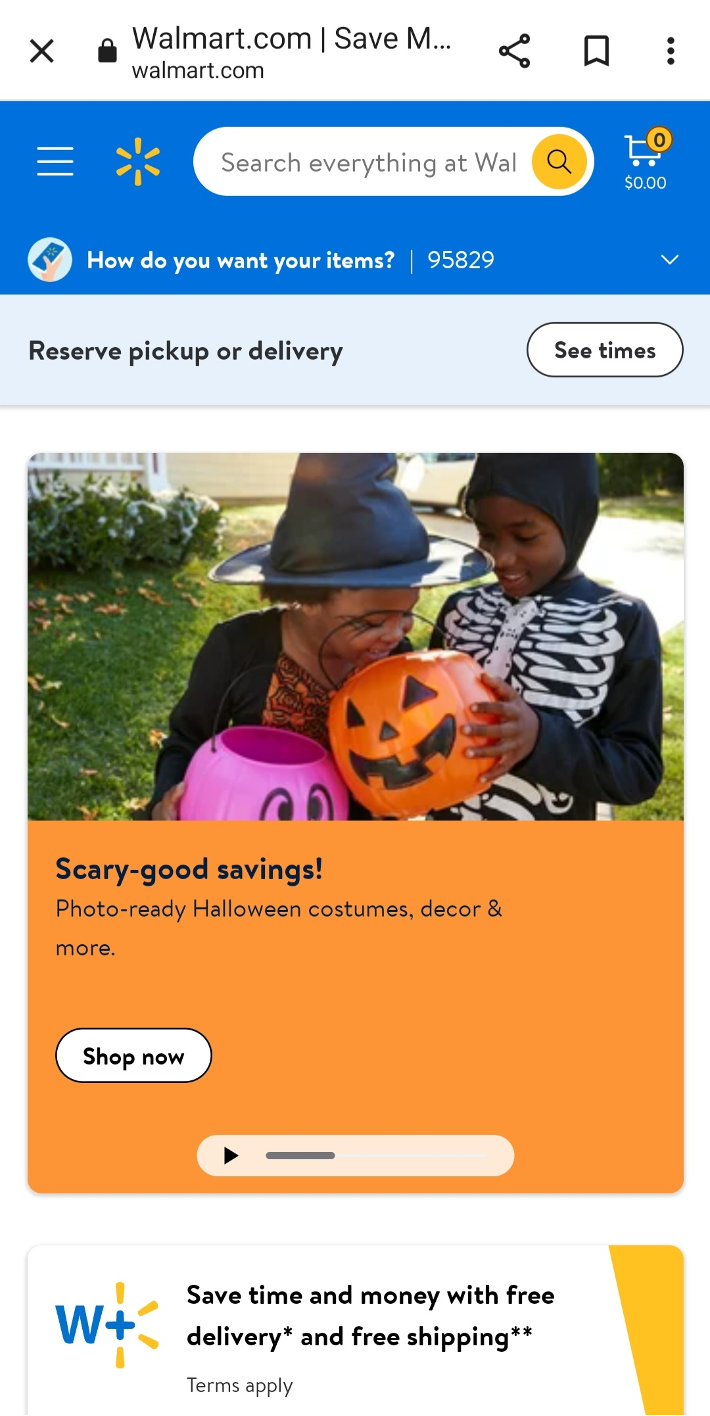 In addition, they have a native mobile app that provides an even more fine-tuned experience for mobile shopping.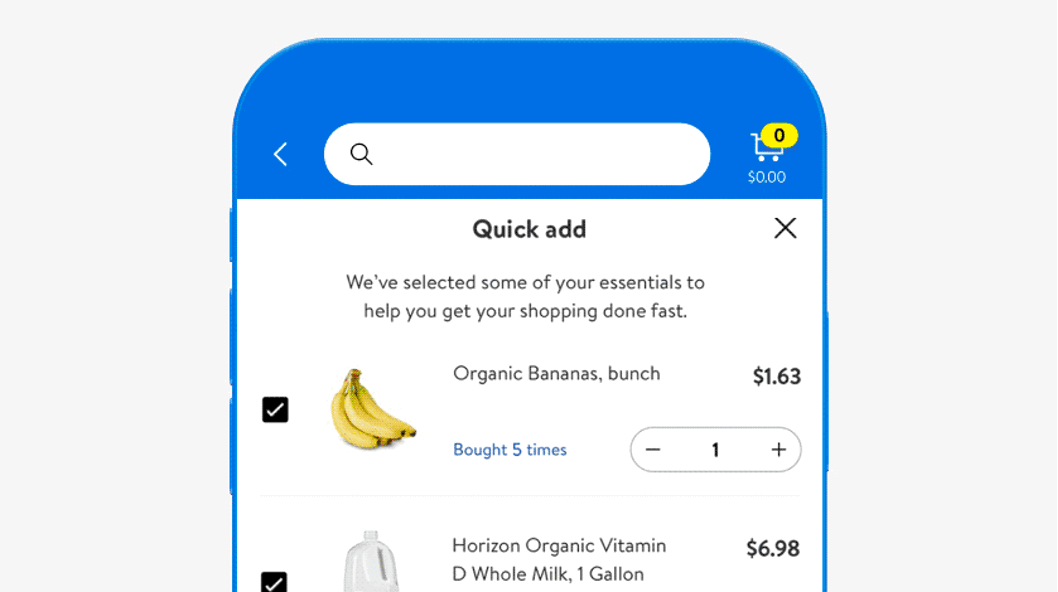 Product pages are fully descriptive, appealing, and persuasive—the same quality of presentation you'd expect on a desktop. The call-to-action button is clearly highlighted and adding a product to your cart is similarly easy and straightforward.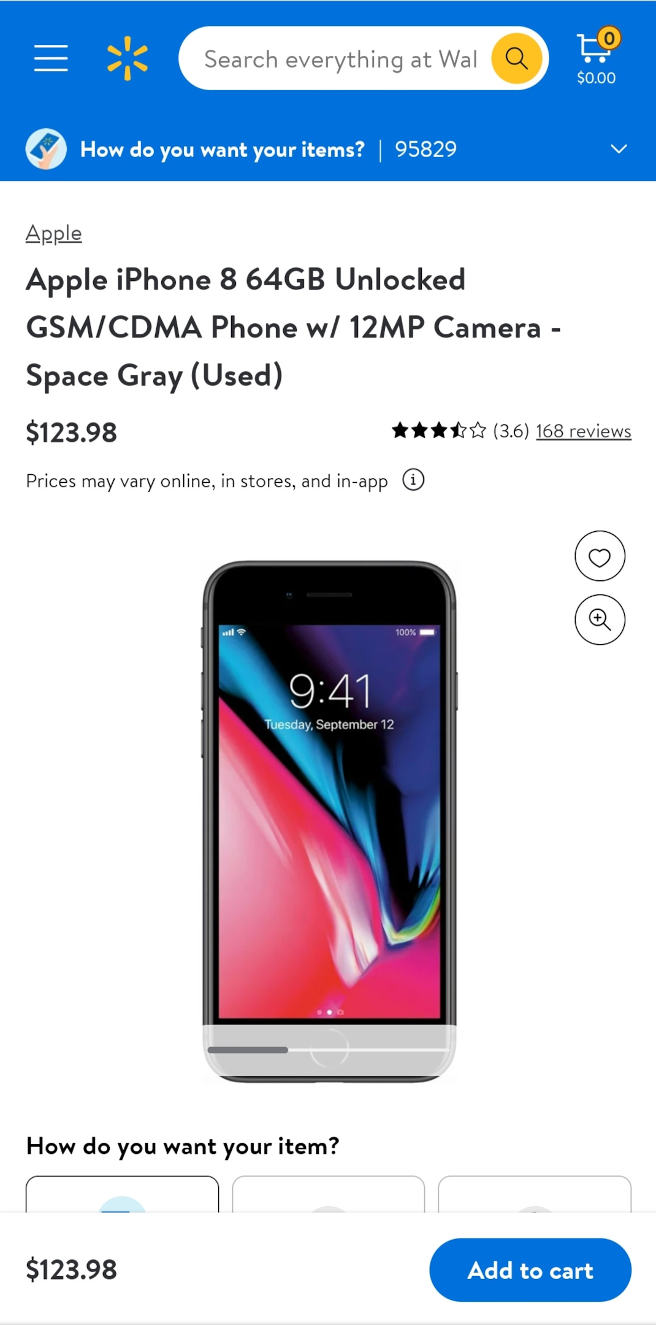 4. Use high-quality pictures and advanced photo options
Product photos play a crucial role in ecommerce because your visitors don't actually get to see your products before they buy. They can't touch them and they can't try them out. So product photos are a big factor that influence whether a customer decides to buy or not.
Try to follow these guidelines:
Use more than one product photo per item

Take the time to make them look professional (monochrome background, crystal-clear visuals, etc.)

Show photos clearly on category and product pages

Use only high-resolution photos

Show the item from different points of view

Feature only one product in each photo (unless it's a bundle: in this case, it's still a good idea to include photos of the individual items)

Offer different options for viewing the photo (zoom, multiple photos, interactive features, etc.)
Let's check out BestBuy's product photos. They use top-quality images to demonstrate what a product looks like: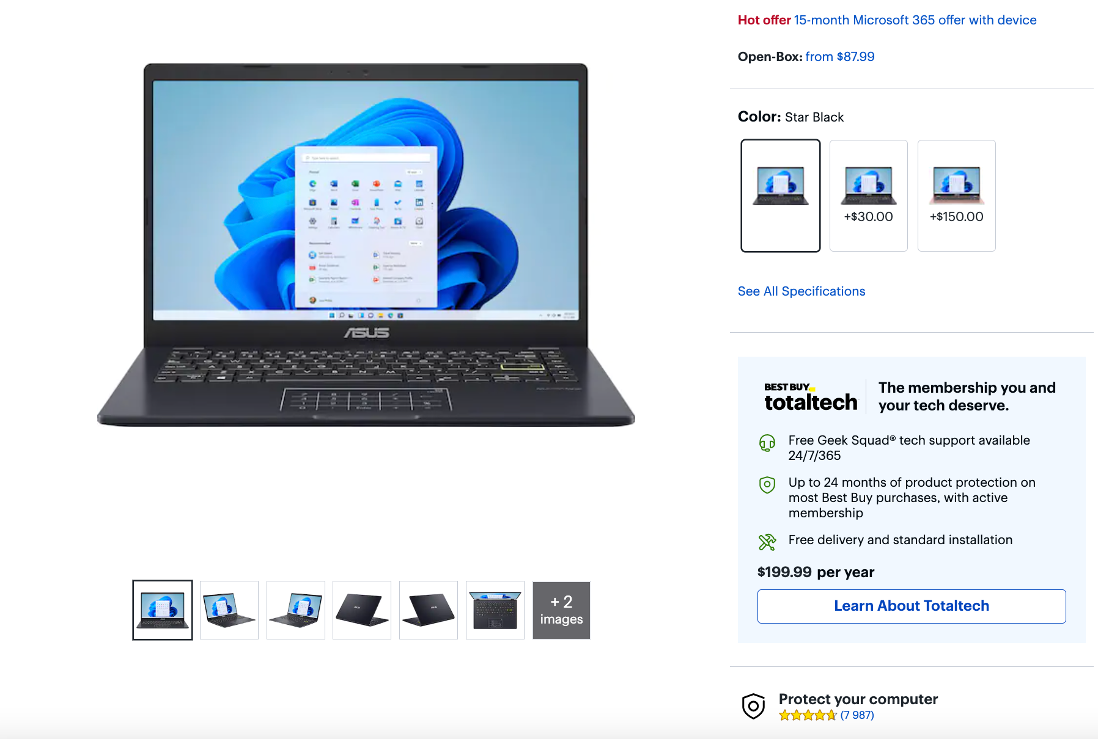 Product photos can be enlarged even further by clicking on them, and the product can be seen from multiple angles with clear navigation to browse the photos: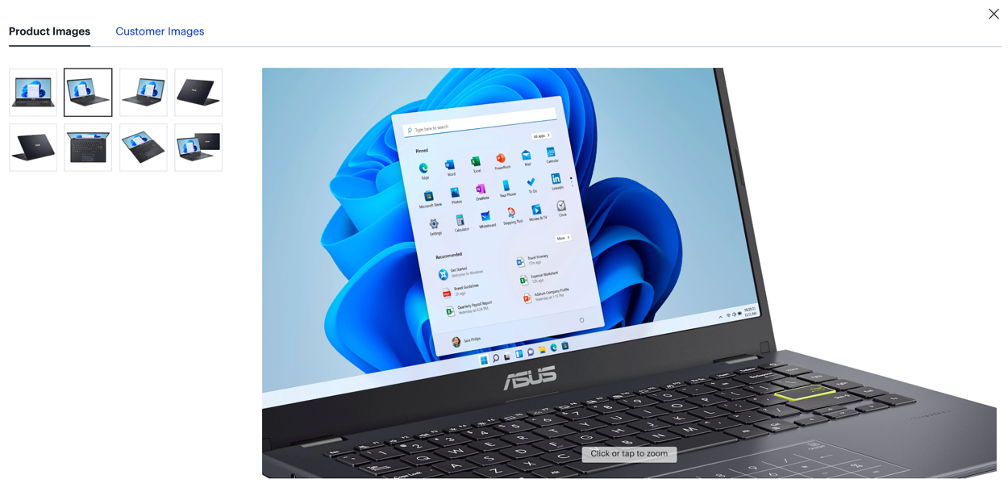 BestBuy goes a step further, convincing visitors by including customer images, too.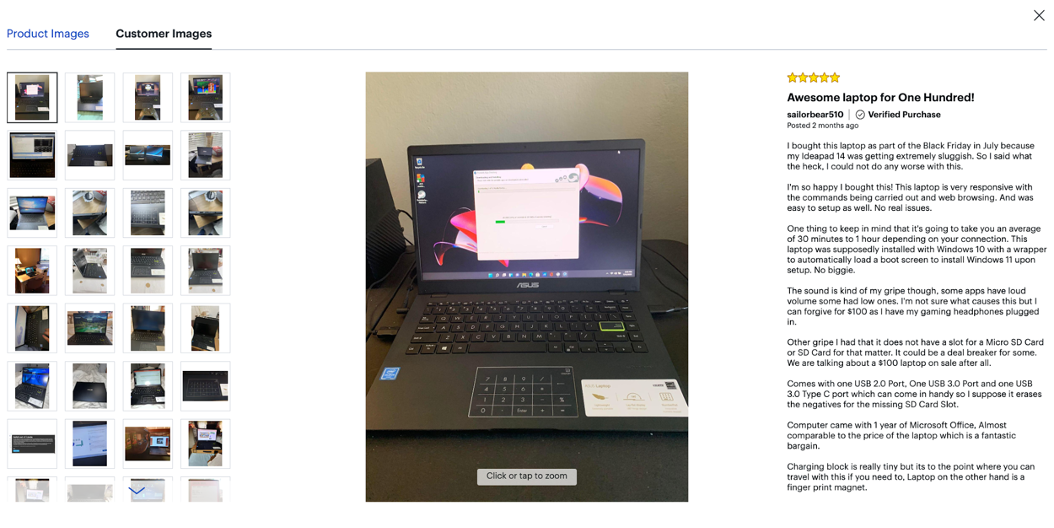 5. Provide personalized content and offers
Personalization is critical for a successful online business. Let's take a look at some interesting facts about ecommerce personalization that show why it's so important!
Online shoppers prefer personalized shopping experiences. They expect an ecommerce store to serve their individual needs with customized content and offers—and whether or not a store provides this has a big impact on their purchasing decisions.
You can achieve a surprising increase in revenue by investing in analytics to learn how to personalize your messages more effectively. According to Cleverbridge, 65% of online stores achieved an increase in conversion rates when using a sophisticated personalization strategy.
On Amazon.com, you can find some amazing examples of ecommerce personalization. After logging in, Amazon provides personalized offers that even contain the visitor's first name.

Amazon is a pioneer in early ecommerce personalization and they're still going strong. In order to boost online sales and increase cart value, they recommend items that were bought by customers who also bought the product a customer is viewing.

Amazon also provides product recommendations based on a visitor's history on the site, which is yet another convenient opportunity to buy.

Amazon even presents products related to items you've viewed right on the homepage. A personalized homepage is a very effective CRO marketing strategy to convince returning visitors to buy. It's a lot like saying, "Welcome back, what can we help you with today?"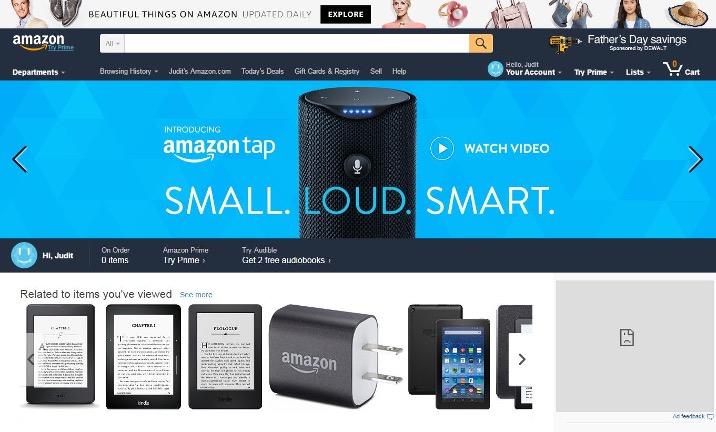 6. Front-load your best-converting products
Your homepage is the entry point for your online store. This is where you tempt, persuade, and convert visitors.
The way you welcome a website visitor on your homepage will play a big part in whether they bounce immediately or stick around and become customers.
That's why the giants of ecommerce front-load their best offers.
Here are a few quick tips on what to promote on your ecommerce homepage:
Best-selling products

Top special offers (i.e. those that convert the most)

Most profitable products

Most popular products (i.e. products that are viewed most by visitors)

Recommended products based on your visitors' browsing history

Seasonal products and offers
Target's homepage is full of powerful promotions. As you can see below, the main banner shows Target's seasonal offer.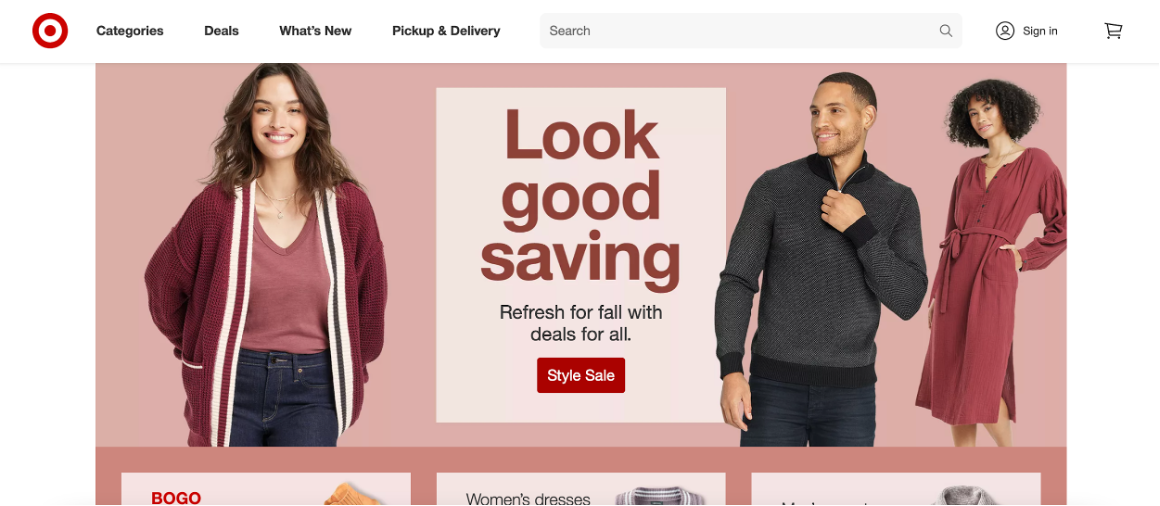 Directly under the main banner, visitors can find the very best offers: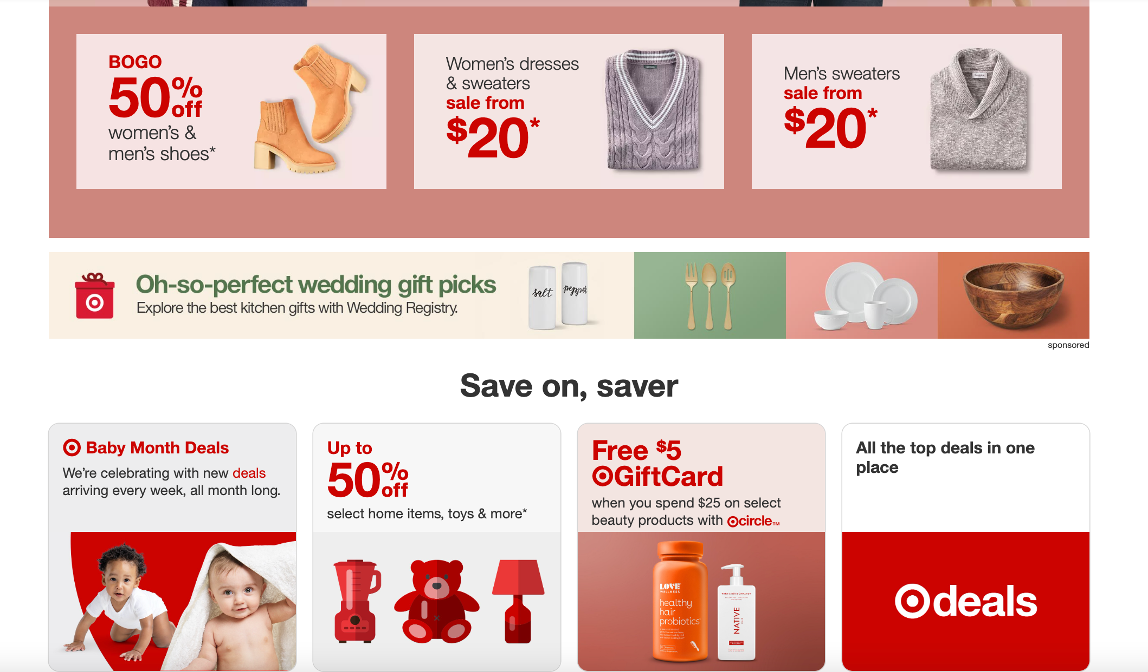 7. Launch popup campaigns
Using popups is another popular CRO marketing strategy. They provide you with a second chance to present a message to your visitors, effectively doubling your chances of conversion. It works by monitoring the behavior of visitors on your website, and when their behavior indicates they're ready for an additional message, a popup appears.
Typically, this message is shown right before a visitor exits your site, but you can also monitor their engagement and program your popup to respond to it.
Here are the 3 primary triggering options for popups that can be used instead of exit-intent to respond to your visitors' engagement:
Timed-display control: You can time your popup to appear after X seconds of inactivity in order to grab inactive visitors' attention.

Scroll triggering: A popup can be also displayed after a visitor has scrolled down at least X percent of a page. This indicates that a person has digested a certain amount of information, like reading an entire blog post for instance, or absorbing your main sales message (after which you can present a secondary offer).

On-click triggering: You can display a popup when a visitor clicks on a specific part of your page—a button, box, link, or banner, responding directly to your visitor's engagement with the site.
Some of the giants of ecommerce use popups for:
Driving sales

Building email lists

Reducing cart abandonment

Generating sales leads

Directing traffic to the best-converting landing pages
Staples.com provides a good example of an effective popup campaign. The following time-displayed overlay is intended to build a strong subscriber base: the value is big ($10 off $50) and the ask is small: only an email address.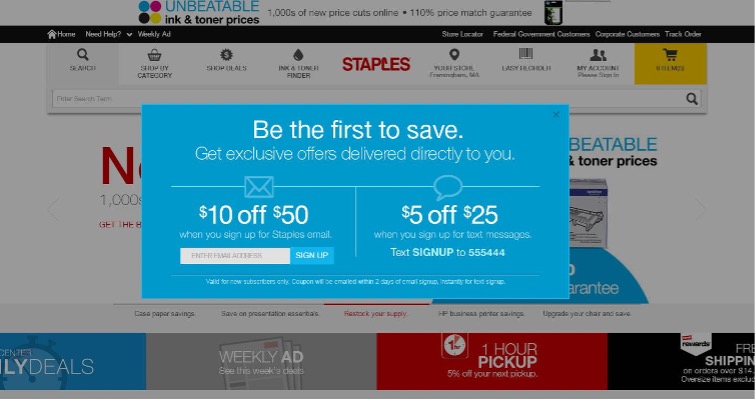 On the Staples site, you can also find a great example of how to use popup overlays for upselling. After adding an item to your cart, a popup appears promoting additional products that were also bought by customers who bought the item in your cart.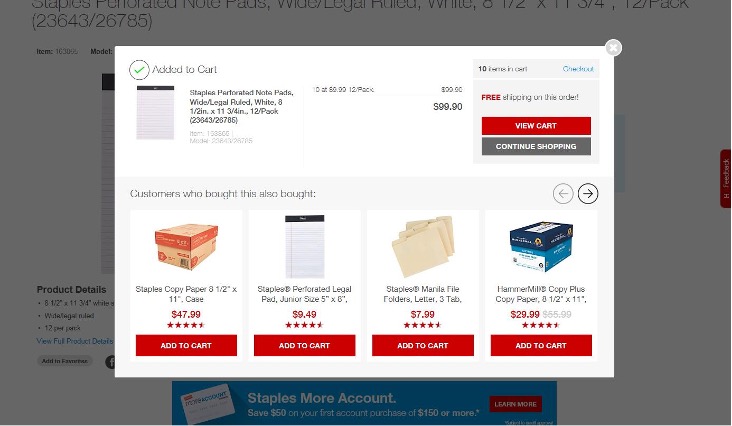 And here's another example of onsite retargeting from Staples—this time it's a traffic redirection campaign: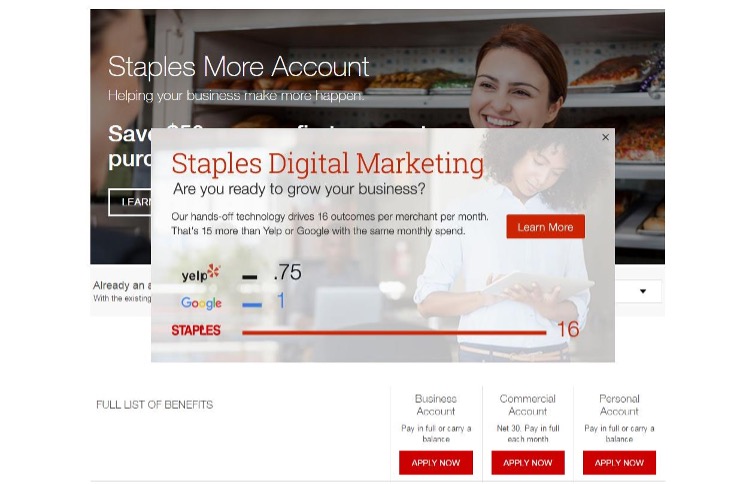 In addition to traditional popup overlays, they also use a sticky bar to generate more signups. It appears at the top of the screen while a visitor scrolls down on the site.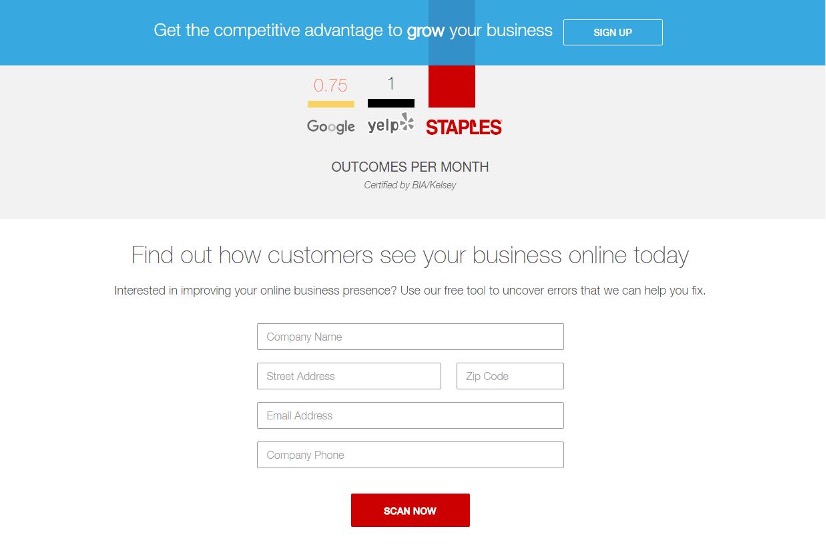 If you'd like like to create similar campaigns, check out the templates below:
8. Use proactive customer support
Even though your online store functions as a "virtual salesperson," don't let it be the only relationship between you and your potential customers. Give your prospects and customers the opportunity to contact you! This will help increase your conversion rate.
When visitors can contact you directly by phone, email, chat, or even in person, you can decrease uncertainty and build trust. Some people will call simply to make sure you're reliable before they make a purchase.
Without an option to contact you directly, some of your prospects may leave your site without converting.
If you feel your product needs special expert support because it's too complex and requires a detailed explanation or installation tips, it's definitely worth offering as much help as you can. It's also important to make contact options clearly available when you have a lot of "last minute" offers where every second counts or your prospects might easily get uncertain.
Apple's contact page is full of information and is easily accessible on every page through a link in the footer.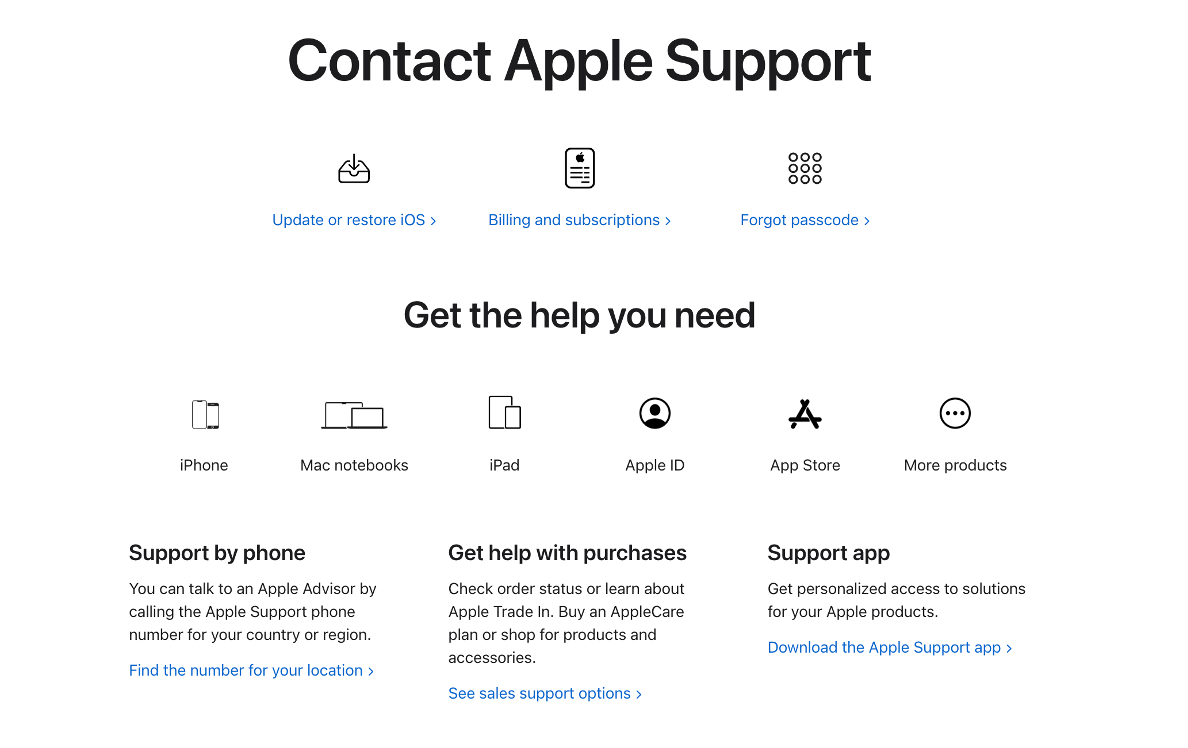 Note that Apple doesn't forget to help its existing customers. They provide a well-structured, carefully designed support site that provides never-ending help for all Apple users.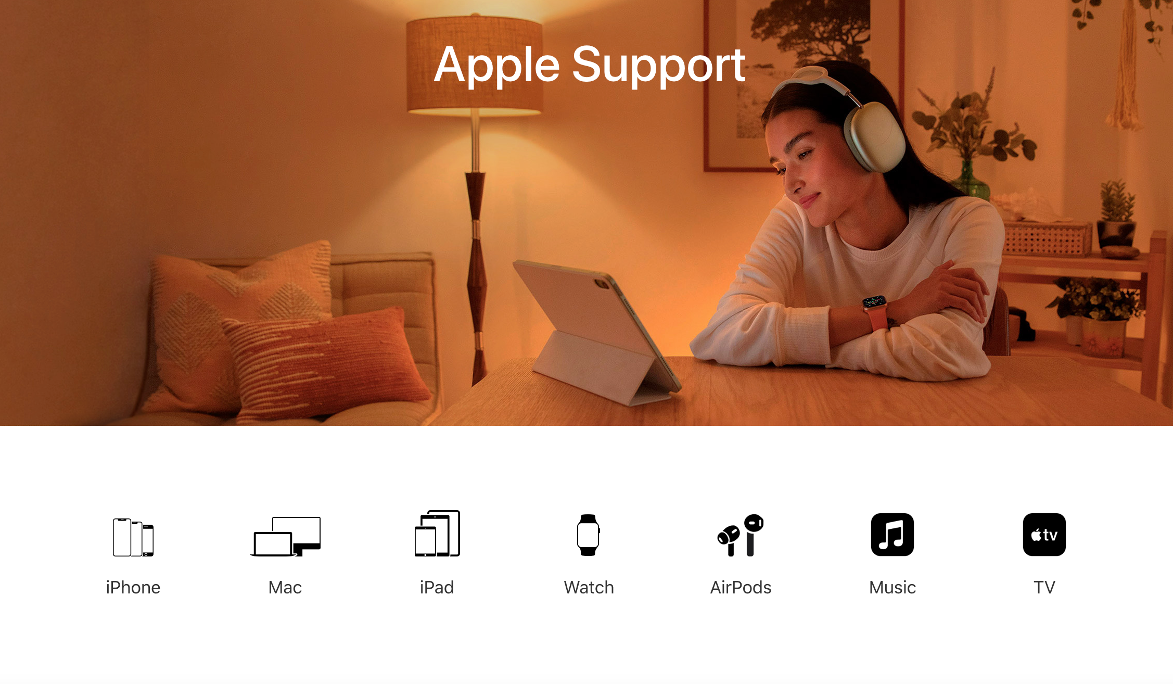 9. Create a sense of urgency
Creating a sense of urgency is a great CRO marketing strategy.
When you give your prospects too much time to think, they'll delay making a purchase decision. Ultimately, they might not make a purchase at all. That means zero conversions for you.
There are many ways to make your visitors feel there is a ticking clock urging them to make a purchase now. Let's take a look at some great examples from Groupon.
One of the best ways to create a sense of urgency is by offering a product that's only available for a limited time. Products offered in limited quantities present a similar solution—and you can even combine them, as Groupon does so well. They encourage their visitors to buy a product before they run out of time or stock.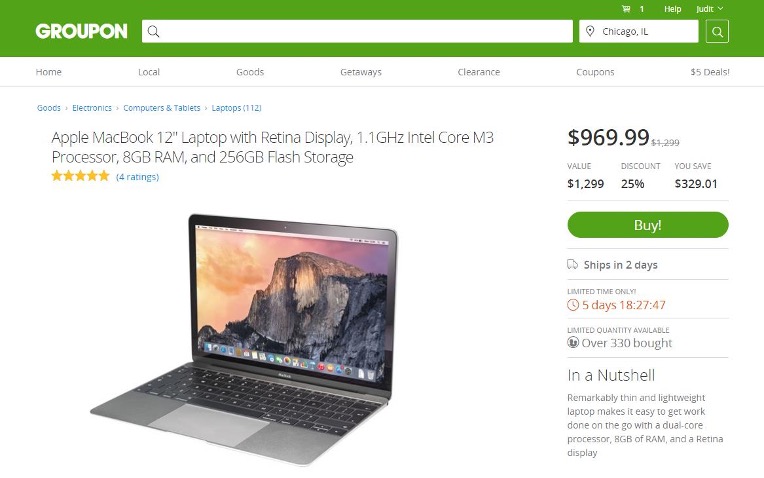 In addition to limited-time products, you can provide special discounts that are only available for a limited amount of time. The following example shows how Groupon promotes a product at a discounted price and offers an extra discount that expires soon.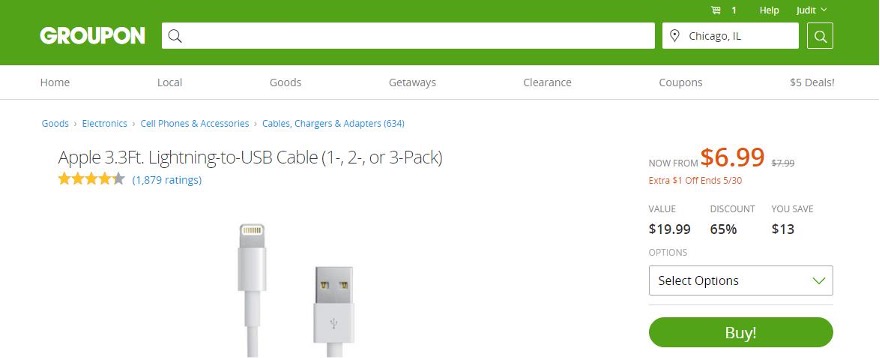 Another powerful way of creating a sense of urgency is by showing that the product a visitor is currently looking at is already in another customer's shopping cart. Or, you can display how many people are currently viewing the item, how many times it was viewed today (see below) or how many times it was viewed in the past week. Simply presenting the number of purchases and remaining stock can be also effective for encouraging customers to make a purchase.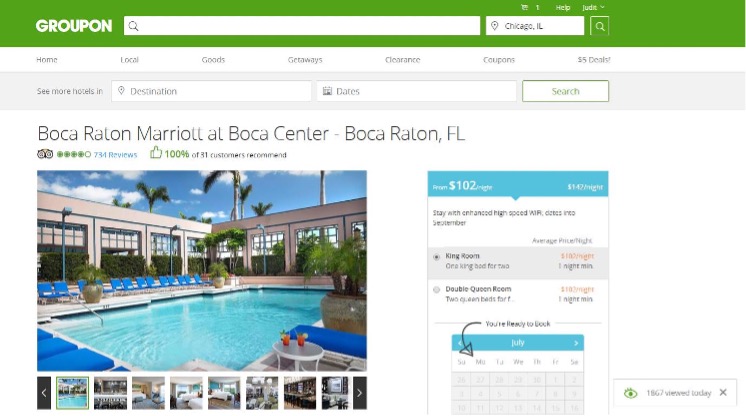 10. Highlight your return policy and warranty
Huge online stores put as much emphasis on their return policy as they do on price. They highlight their return policy on product pages and throughout all their landing pages.
Why is this?
Some customers won't buy certain products online because they can't see them physically, touch them, and try them out. These customers are afraid of getting a faulty product, a product that doesn't meet the item description, or a product that simply doesn't meet their needs. Will they be able to return or exchange it?
This is exactly why so many ecommerce sites draw visitors' attention to their return policy and clearly communicate it throughout the buying process. A word of advice: before updating your policy, make sure that your product descriptions and product images are precise, true, and correct. This will help ensure that after making product returns easier, the number of returns doesn't increase significantly.
Highlighting your return policy builds trust with consumers and persuades them to buy, ultimately leading to more sales and revenue.
Follow these tips to get the most out of your return policy:
Make it easy to understand

Present it clearly on product pages and throughout your site

Ask for feedback about it to make improvements

Provide a longer return period than what is required by law
At Flipkart.com, the return policy can be easily reached from every page. The "Free and easy returns" banner is eye-catching and draws the visitor's attention.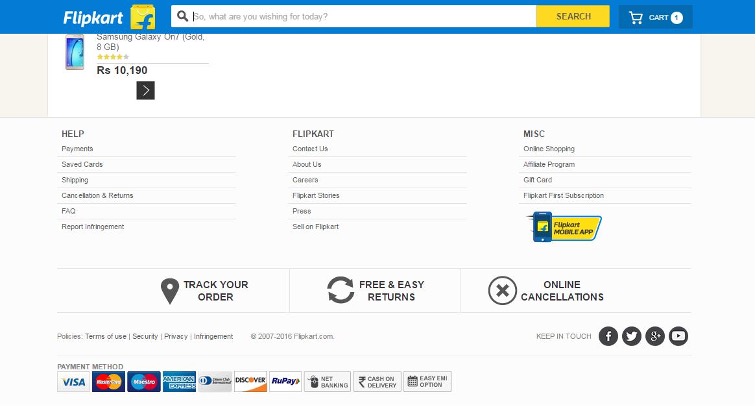 Products eligible for 30-day returns.

And Flipkart also provides a detailed description of their refund policy and their guarantees on the cart page. This is a powerful CRO strategy to decrease uncertainty at the last moment and persuade buyers to complete their purchase.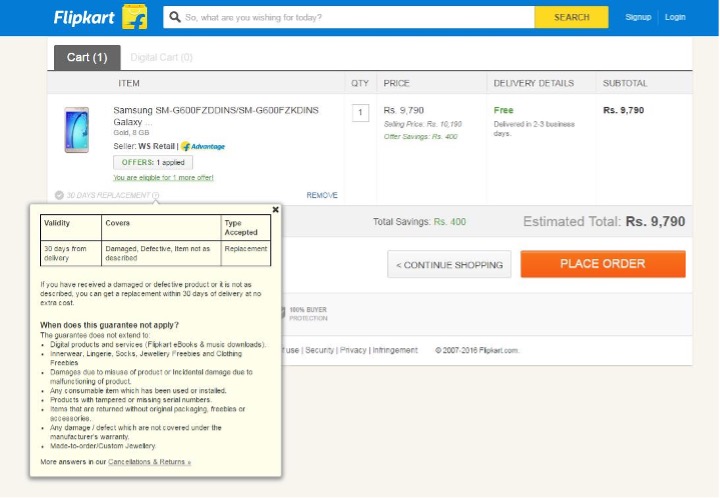 While there are many factors that determine the success of giant ecommerce stores (like capital investment and human resources), their CRO marketing efforts offer lessons that ecommerce sites of any size can use to boost their conversion rates.
If you've found an exciting tactic for conversion rate optimization above, let's adapt it to meet your unique target audience, your website, and your products, so you can start increasing conversions today. Meanwhile, please keep in mind that conversion rate optimization is all about testing, not guessing. So continue to test your ideas and take advantage of the best-converting solutions.
Which CRO strategy was your favorite on this list? Let us know in the comments below!