Do you need to rapidly grow your list of Klaviyo subscribers? Are you using Klaviyo popups and embedded forms, but feel like you could be achieving better results?
If you answered yes to either question, this article is for you.
We're going to show you how to supercharge your list-building campaigns by using Klaviyo and OptiMonk together. These two tools integrate with one another seamlessly, allowing you to use OptiMonk's email popups to encourage visitors to subscribe, then send out relevant messages using Klaviyo's super-targeted email campaigns once they do.
If you have an existing Klaviyo profile, you might be asking yourself: wait, doesn't the email marketing platform already support the creation of a signup form? It does, but Klaviyo's forms are quite limited in comparison to what you can do with OptiMonk.
That's because OptiMonk is a dedicated popup tool that gives you many different options for capturing new subscribers with popups that match your brand and convert incredibly well.
That doesn't mean we don't love Klaviyo! Once you have a visitor's email, Klaviyo is the best tool to send the right messages to them.
So here's the plan: first, we'll outline some of the advantages of using OptiMonk's email popups for building your list, then we'll show you how to use both tools together.
Let's get started!
1. Klaviyo popup vs OptiMonk signup form
In short, OptiMonk popups offer far more in terms of your ability to target users at different stages of the customer journey, options for customizing your popups to fit with your brand, and the ability to add custom fields and elements that boost your conversion rates.
It's worth looking at the differences in more detail so that you can evaluate exactly how OptiMonk's capabilities can benefit your ecommerce business.
Klaviyo's signup form comes in 3 different varieties: popup, flyout, and embed.
Once you've chosen the style of your popup, you can pursue one of the following 5 goals:
Collect emails

Collect phone numbers

Collect emails & phone numbers

Announcements

Know your customer
When you start creating a signup form with Klaviyo, you'll see this screen: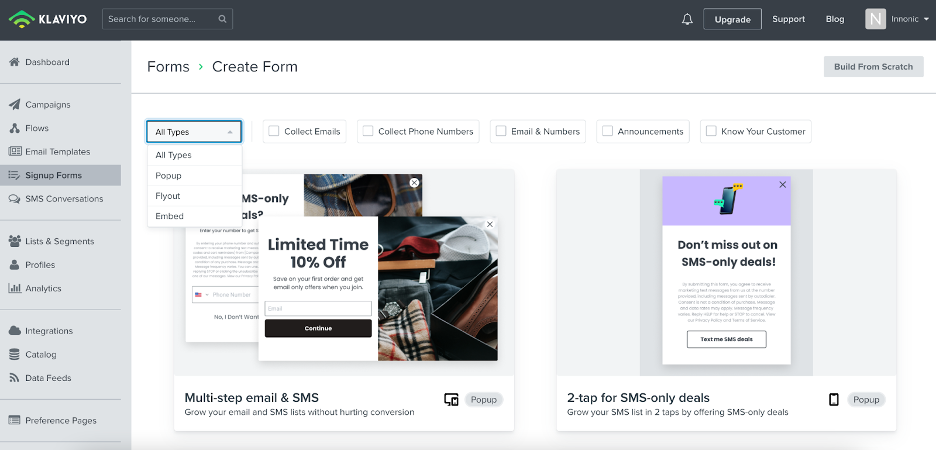 Once you choose what type of signup form you're going to use and what goal you're after, that's it—there's not a whole lot more you can do to customize it.
You'll be able to add elements like text fields, buttons, and a background image to your popups, but as you'll see in a moment, OptiMonk offers far more options.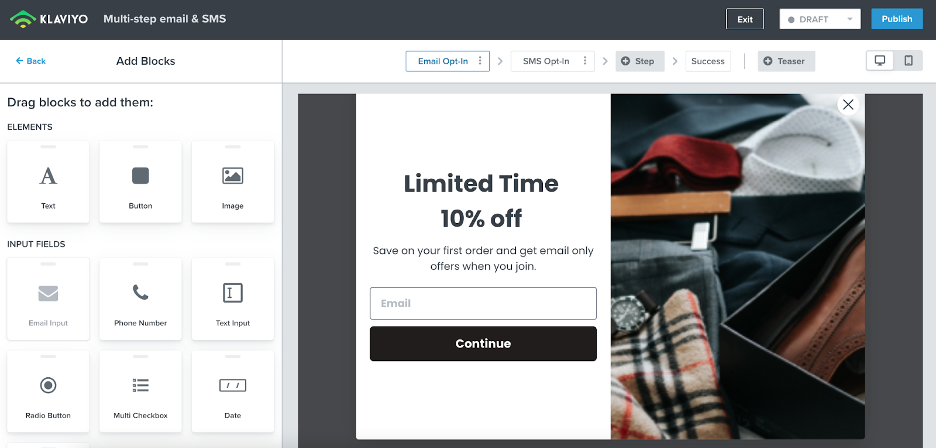 OptiMonk not only offers more options in terms of the types of campaigns you can run, but it also has a powerful drag and drop editor so you can design your popups from scratch.
And, if you'd rather use a template, there are over 300 in OptiMonk's massive Template Library—all of which look equally great on desktop and mobile devices.
With OptiMonk, you can choose from 6 (rather than 3) ways of getting your message across:
Popups

Sticky bars

Sidemessages

Fullscreen popups

Gamification

popups (Spin the wheel, Scratchcard, Pick a gift)

Embedded forms
In addition to list-building campaigns, OptiMonk offers templates for other goals, like:
Guiding your new website visitors with a welcome flow

Promoting sales and discount offers

Stopping cart abandonment with exit-intent popups

Collecting feedback

Recommending products or your blog articles
This means that once you get started with email signup forms on OptiMonk, it's easy to create other types of campaigns that will lead to more sales.
For example, using an OptiMonk cart abandonment popup can "rescue" up to 30% of your departing traffic!
You can also find templates for holidays and seasonal events like Black Friday, Christmas, and Summer or Back to School sales.
Check out below some of the ready-to-use templates OptiMonk offers:
OptiMonk allows you to create almost any layout you can imagine and add custom content. You can add the same great standard functions as with Klaviyo's popups (Text, Image, Button), but you can also add more interesting elements like:
A

Countdown Timer

to create a sense of urgency.

A

Video

so you can present your product, solution, or story in a more engaging way.

A

Coupon Code

to easily offer discounts in exchange for an email address.

A

Product Component

that helps to upsell and cross-sell, increasing your average order value.
That's not even close to the full list of what you can do in OptiMonk's popup editor. And the best part of all? You won't need to write a single line of code!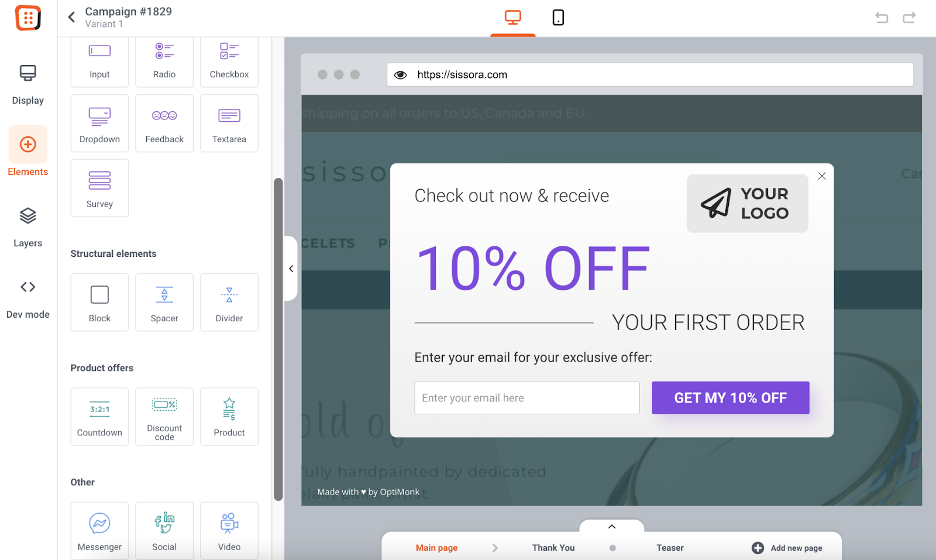 Now, here's the most important part: Klaviyo lacks some of the targeting, triggering, and segmentation options that OptiMonk offers.
This is crucial, because displaying the right message at the right moment to the right person is the key to a successful popup campaign.
With Klaviyo, you can display your popup immediately when the page loads or you can delay the appearance using a scroll-based or time-based trigger.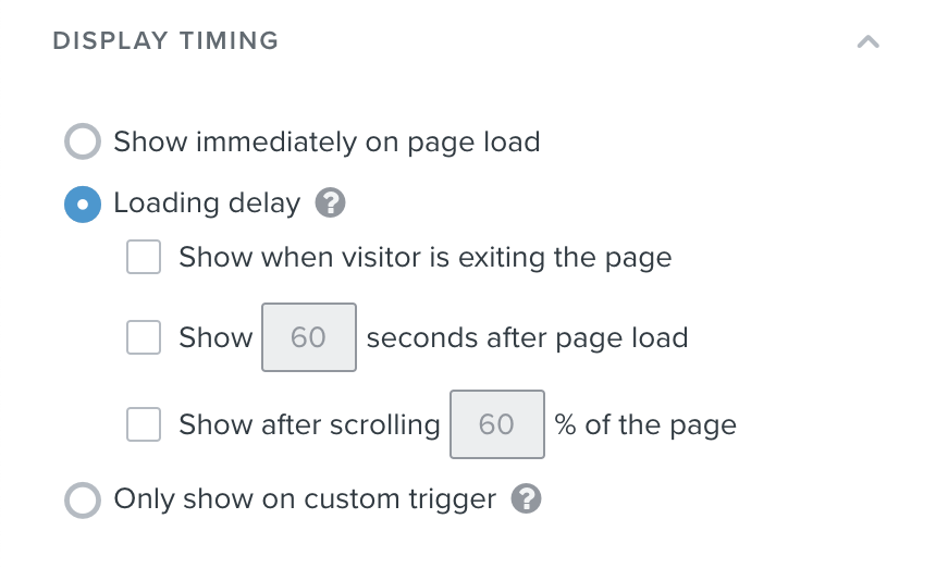 In terms of targeting specific segments of visitors, your options are: using a curated Klaviyo list, using specific web page URLs, or using geo-location.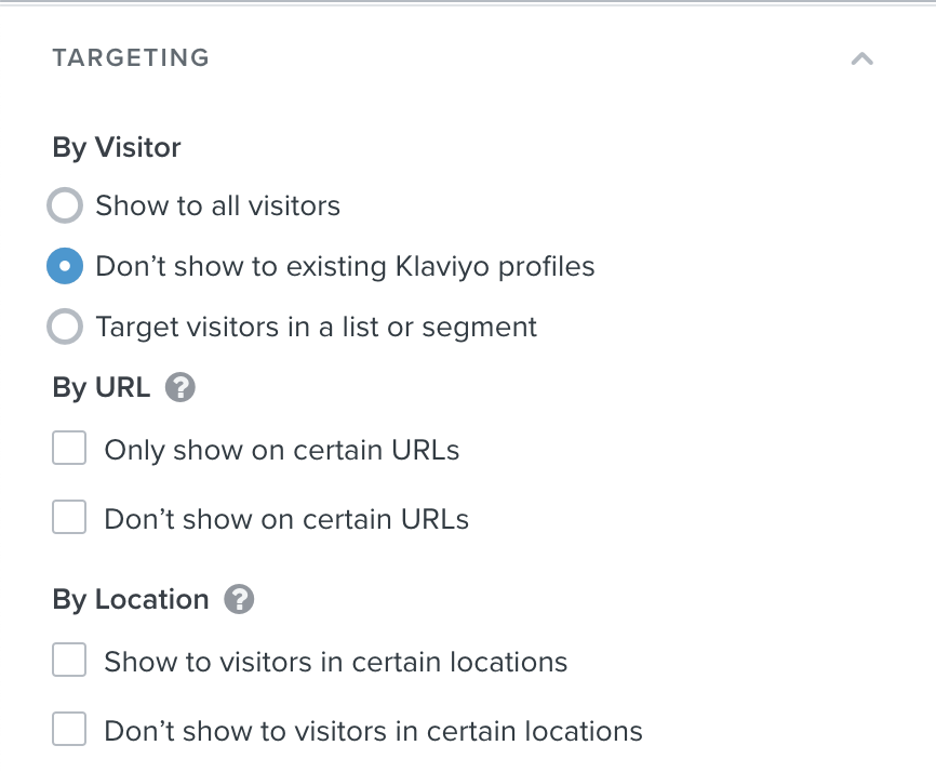 That's not bad, but once again you have lots more targeting and triggering options with OptiMonk. Here's the list of popup triggers that OptiMonk's settings allow you to choose from:
On exit-intent

On-click to a specific area

After X percent scrolling

After X seconds of inactivity

After X seconds

After a JavaScript Event
And now for OptiMonk's targeting options! There are tons, so we won't give you an exhaustive list, but here are a few of the ways you can show different popups to different segments of site visitors:
Block IP Addresses:

Visitors with specified IP addresses won't see your message

Exclude Page Visitors:

Excludes visitors who have already visited a custom HTML page

Cart Rules:

Visitors with specific items in their carts will see your message

Cookie Segmentation:

Segment your audience based on any cookie you want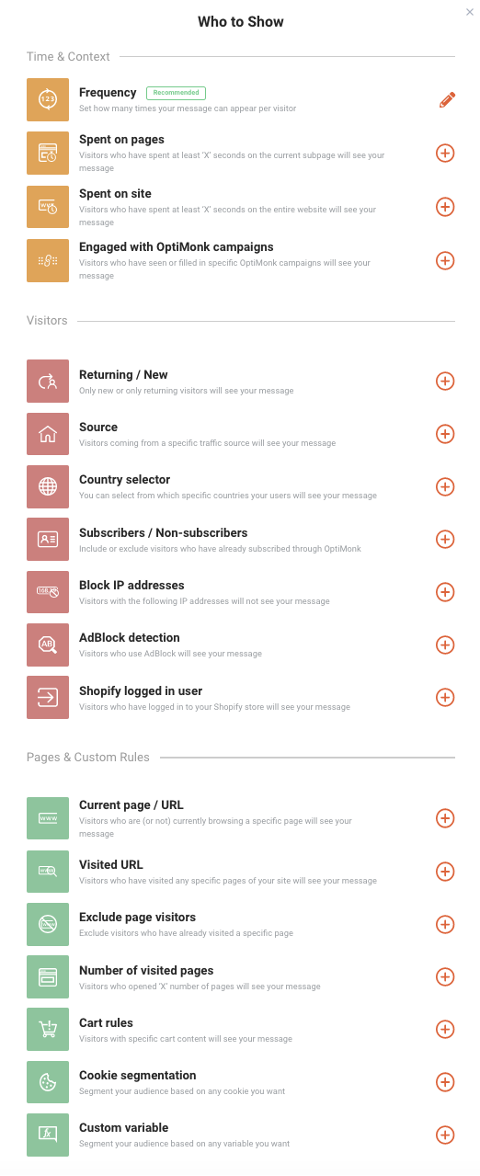 Need we say more?
As you can see, OptiMonk is the best option for creating an email signup form (and many other types of popups). Now, let's look at how you can deliver relevant emails to all the contacts you've gathered using Klaviyo.
2. How to use Klaviyo and OptiMonk together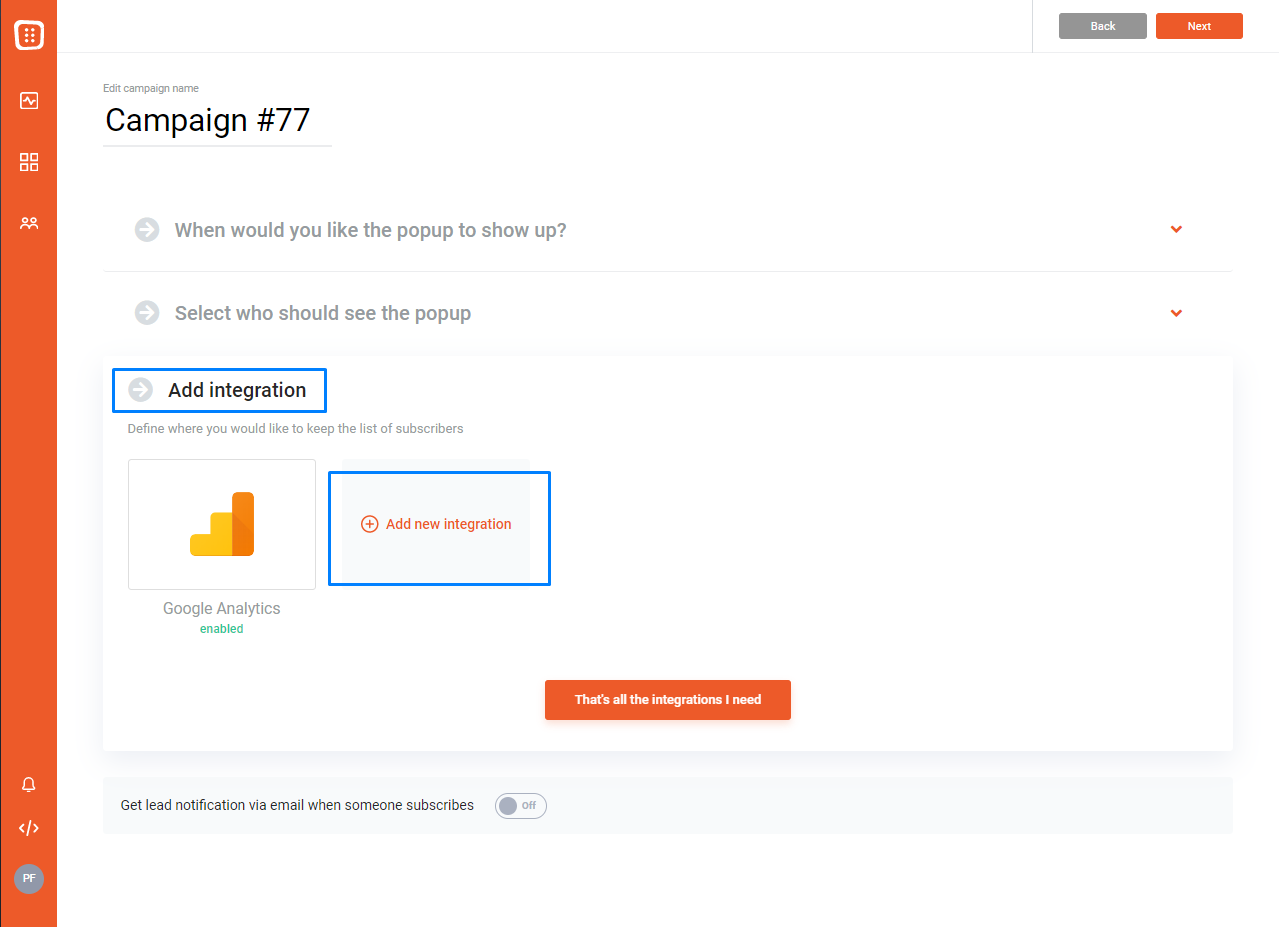 … and then select "Klaviyo" from the list: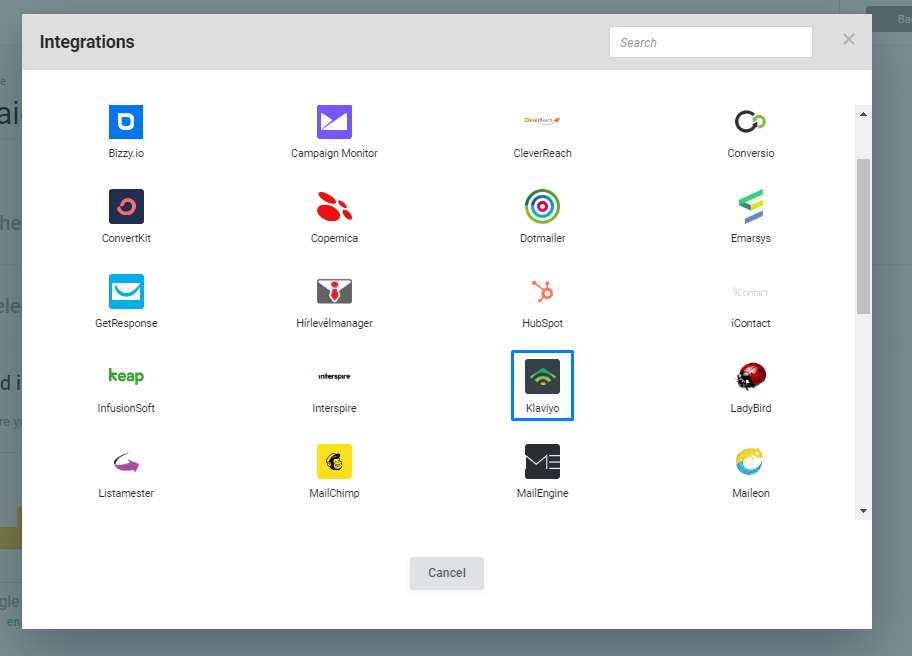 Now, grab your API key from your Klaviyo account and paste it into the proper field in your OptiMonk account:

You can name the integration if you like, and then just click "Done." You can also select which Klaviyo list you'd like your new subscribers to be added to.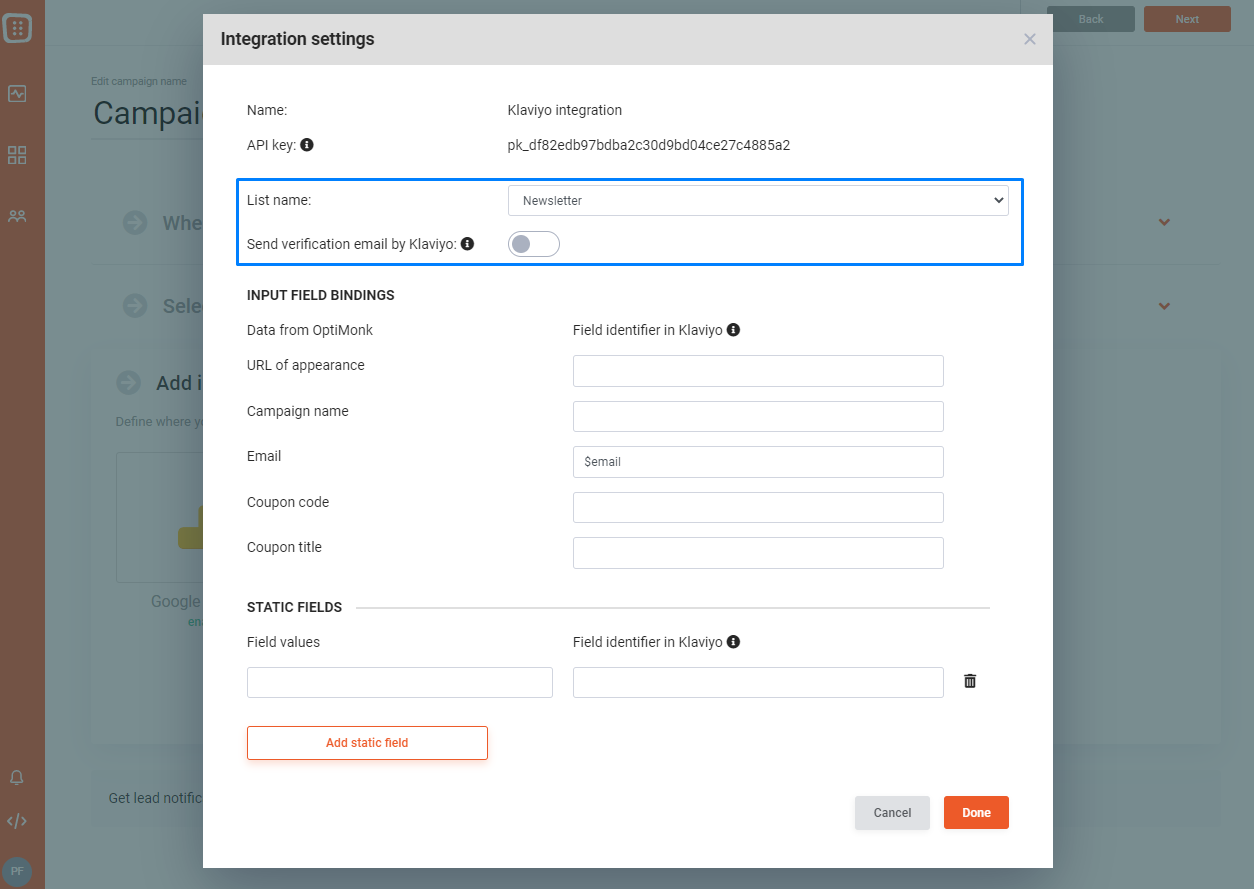 Easy, right? If you want more detailed information about the integration process, just check out this support article.
If you'd like to grow your Klaviyo email list, OptiMonk is the perfect solution to help you do it. It gives you all the options you need to segment your visitors and display personalized forms to them instead of showing one general message to all users.
Click here to get started with OptiMonk today for free and create beautiful, user-friendly messages to convince your website visitors to subscribe to your newsletter. You'll be able to choose whether to use discount offers, gamified popups, or classic email popups to capture leads from your website or landing pages.
Then head over to your Klaviyo account to take advantage of all their advanced email marketing tools. Your new subscribers will be automatically synced, so it won't take any extra work to deliver relevant emails to each customer.
To get the most from your email campaigns, you've got to use the best tools available, which means it's time to take advantage of both OptiMonk and Klaviyo's unique features!