Product pages represent the crux of the online shopping experience. It's where your potential customers make the final decision about whether or not to make a purchase.
Great product pages are visually appealing, with high-quality images and detailed descriptions of your product. Other key elements that might appeal to your target audience are product videos, user-generated content, and animated images.
In this article, we'll explore 20 product page best practices and share some of the best product page examples out there. Some of the marketing tactics we'll go over are very popular, while others are just starting to gain momentum in the world of ecommerce.
Let's get started!
But first, check out our infographic that sums up the product page tactics we'll be covering.

1. Use a horizontal category menu
Starting at the top of the product page layout, we'd recommend using a user-friendly category menu to enhance the customer experience.
These navigation bars are commonly used to help site visitors navigate between different sections of an online store. Each of the horizontally aligned tabs (or links) present different sections or categories of content, allowing online shoppers to quickly jump between the available categories.
Make sure you give a clear, concise overview of the available categories so your visitors don't get confused.
Check out how Gymshark helps customers feel confident that they'll find what they're looking for.

2. Offer rule-based promotions
In 2023, the ecommerce space is so competitive that many potential customers won't even consider making a purchase unless you offer them hefty incentives. Depending on your goals, there are several types of discounts and promotions you can offer to your target audience.
If you're looking to simply increase your conversion rates, a classic percentage discount or buy-one-get-one-free discount can go a long way towards convincing your customers to click "Buy." 
Offering to waive shipping fees for orders above a certain value is another great idea that can boost your average order value.
3. Include multiple product images
Shopping online can be very difficult, since it takes a lot of imagination to envision how the products will fit into your life.
Having access to multiple product images can provide customers with a more comprehensive and detailed view of the product that they're considering buying. Without enough images, they won't be able to properly assess its features, design, and quality.
You can also consider using lifestyle images to show your potential customers what the products look like in action.
Here's a great example from Sephora: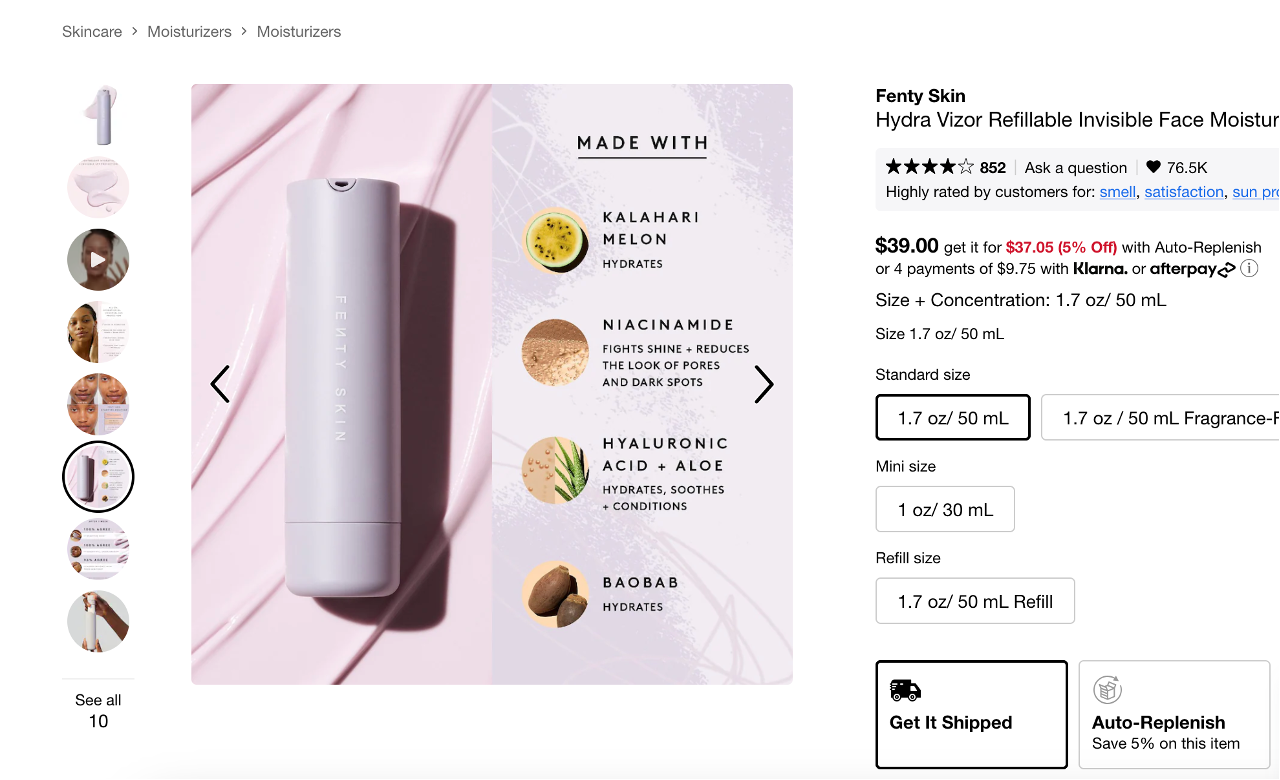 4. Use 360° product images
360° product images are a great addition to any product page, helping customers visualize the product from every angle. This gives shoppers much more information than traditional photos.
5. Upsell and cross-sell products
When you're customizing your product pages, you should always think about the products you sell that could complement each other. If you're selling toothbrushes, for example, offering to include toothpaste is a smart move.
Upselling more expensive products or cross-selling related, supplementary products is a great way to increase sales and average order value.
BestBuy has mastered this tactic, which you can see in this product page example:

6. Highlight technical parameters
In many contexts, highly informative product descriptions are exactly what online shoppers are looking for. 
Technical parameters and other product features are one of the main factors that people consider when comparing products, especially in the tech space.
Check out how Amazon shares all the relevant product details in this example:

Sometimes users end up on a product page but decide that they're not interested in that specific product. When this happens, you want to make sure that it's easy for them to access different options.
It's always a good idea to recommend at least three or four alternative products. Check out how Lululemon uses relevant product recommendations on its product pages: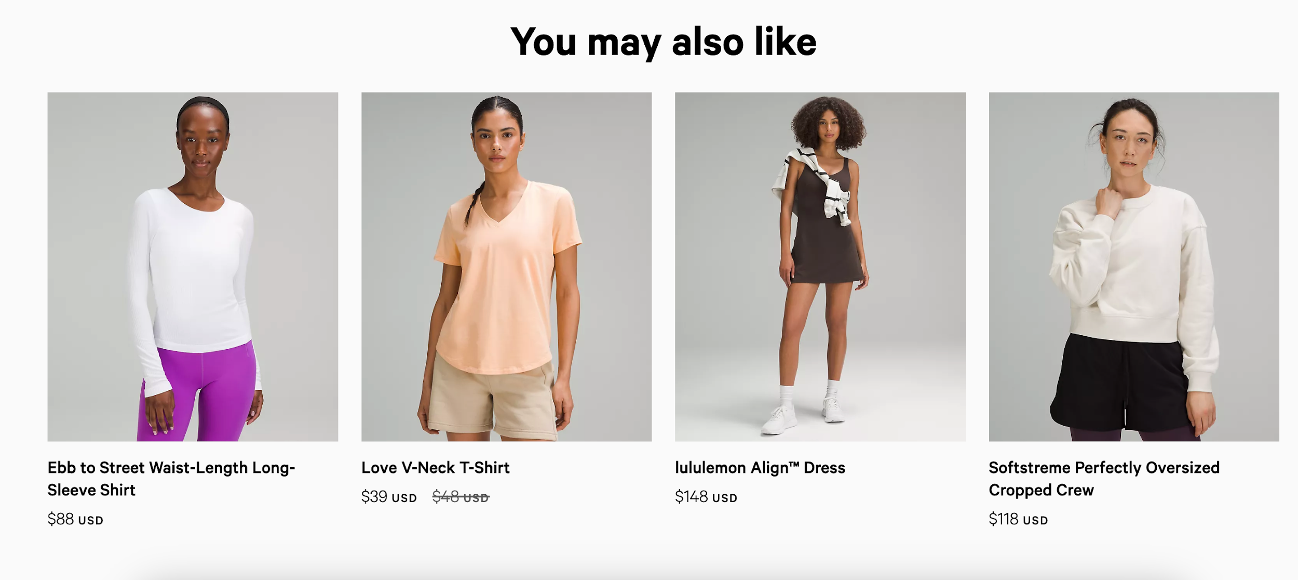 8. Promote your newsletter
Many ecommerce websites have their own email newsletters that help them stay in touch with customers and build a loyal following.
This product page from Rare Beauty offers users the chance to sign up for both their email and mobile marketing lists:

9. Share customer reviews
Positive reviews and other forms of social proof are incredibly important for increasing trust in your brand among first-time customers.
You can talk about how great your product is and point out the pain points it solves all you like, but your organic traffic will always trust their fellow consumers more.
Here's how Caraway highlights social proof on their product pages: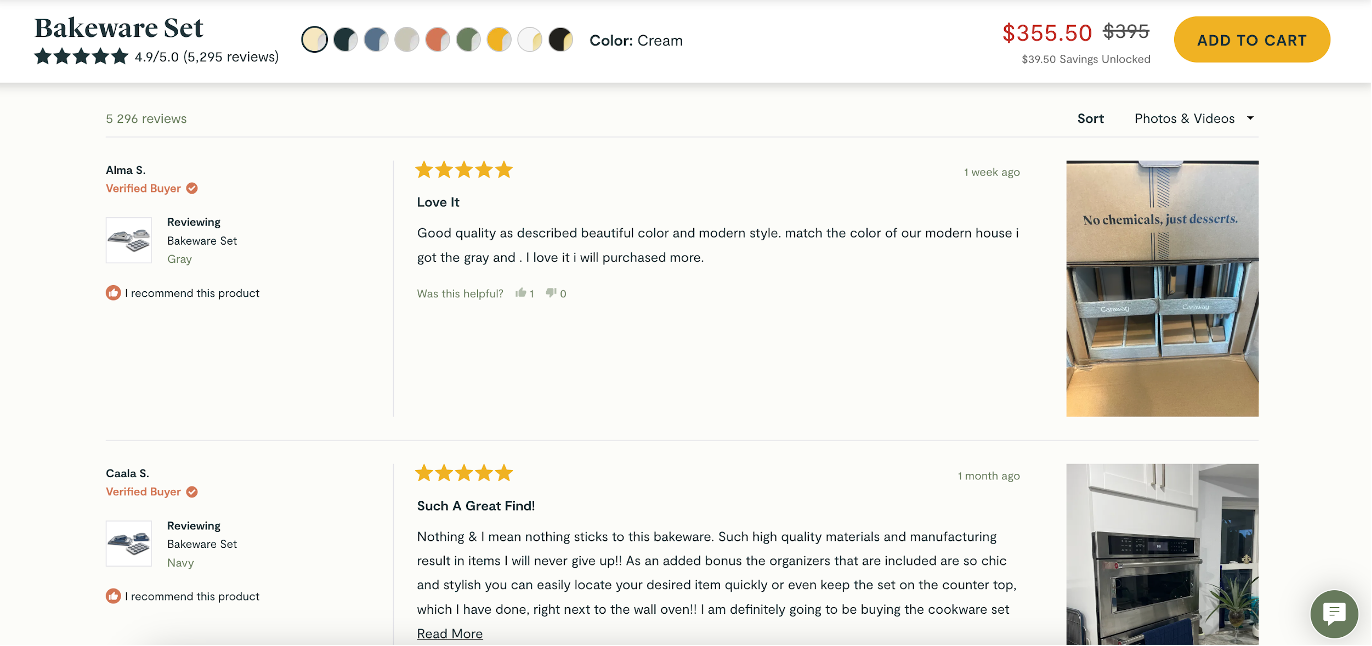 10. Highlight your customer service phone number
One worry that people often have when shopping online is that they won't be able to access  customer support if they need it. Prominently featuring contact information on your product pages can help address this worry.
Warby Parker's version of this strategy looks like this:

11. Implement autocomplete search suggestions
When it comes to product page design, you want to make it easy for users to find the products they're looking for. One way to do that is by using on-site search engines to help users navigate the buying journey.
Autocomplete search suggestions not only help users find exactly what they're looking for, but they also help people find ideas about what they might be interested in… which they may not have even thought of yet!
Amazon has an excellent onsite search function, which you can see below: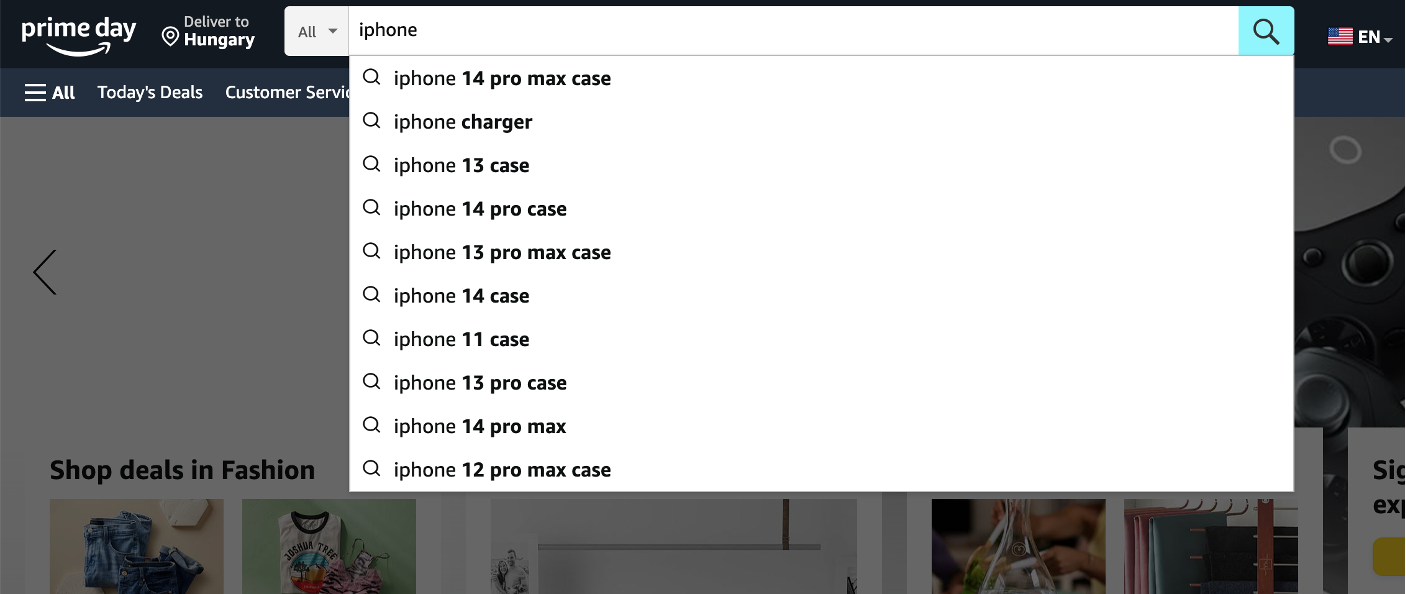 12. Offer loyalty programs
A loyalty program can help you retain customers by encouraging them to continue purchasing from you. 
Since new customer acquisition is so much more expensive than convincing an existing customer to make additional purchases, loyalty programs can be a really smart investment.
Highlighting the benefits that your loyalty program members receive on your product pages can encourage more conversions.
13. Write great product descriptions
To write great product descriptions, you need to focus on your ideal customer and write using the language and tone that they use. Choose words and expressions that are familiar to the demographic you're targeting, make your descriptions unique, and focus on the product's benefits. 
You should also remember to use any relevant keywords when you're writing for your product pages so that your ecommerce product will show up in search engine results.
Take a look at the casual language that Beis Travel uses in this product page example:

14. Add deadlines for discounts
If you want to make sure that customers buy now rather than later, try adding time limits to your discounts and special offers (e.g. "Get 15% off before April 15th"). This will give users a good reason to start the checkout process immediately!
You can also use popups to promote your limited-time discounts.
15. Place your call-to-action above the fold
Your call-to-action button is what takes your customers to the next step of the customer journey, so it's important to feature it prominently on your product pages. Ideally, you want customers to be able to see it right away, and that means placing it above the fold.
Here's how Colourpop displays their call-to-action on its product page: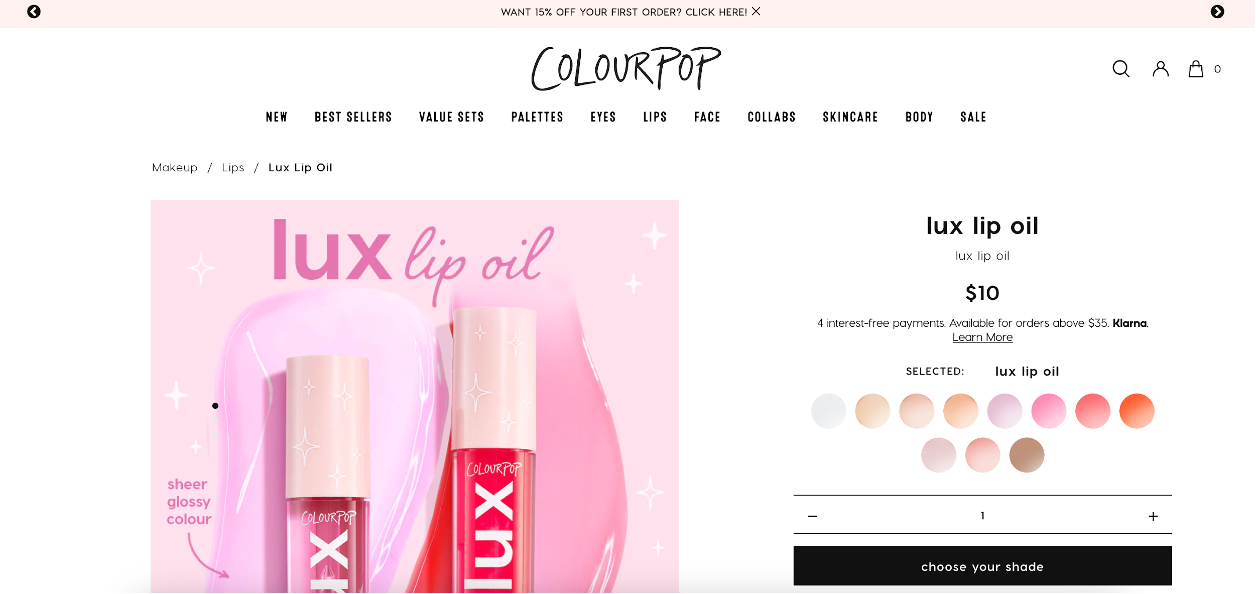 16. Add a wish list option
Sometimes, customers have a good reason to wait a little while before making a purchase. It's a good idea to offer a wish list option for these customers.
This is a great way to keep customers interested in your products over a long period of time. Here's what it looks like on a Gymshark product page: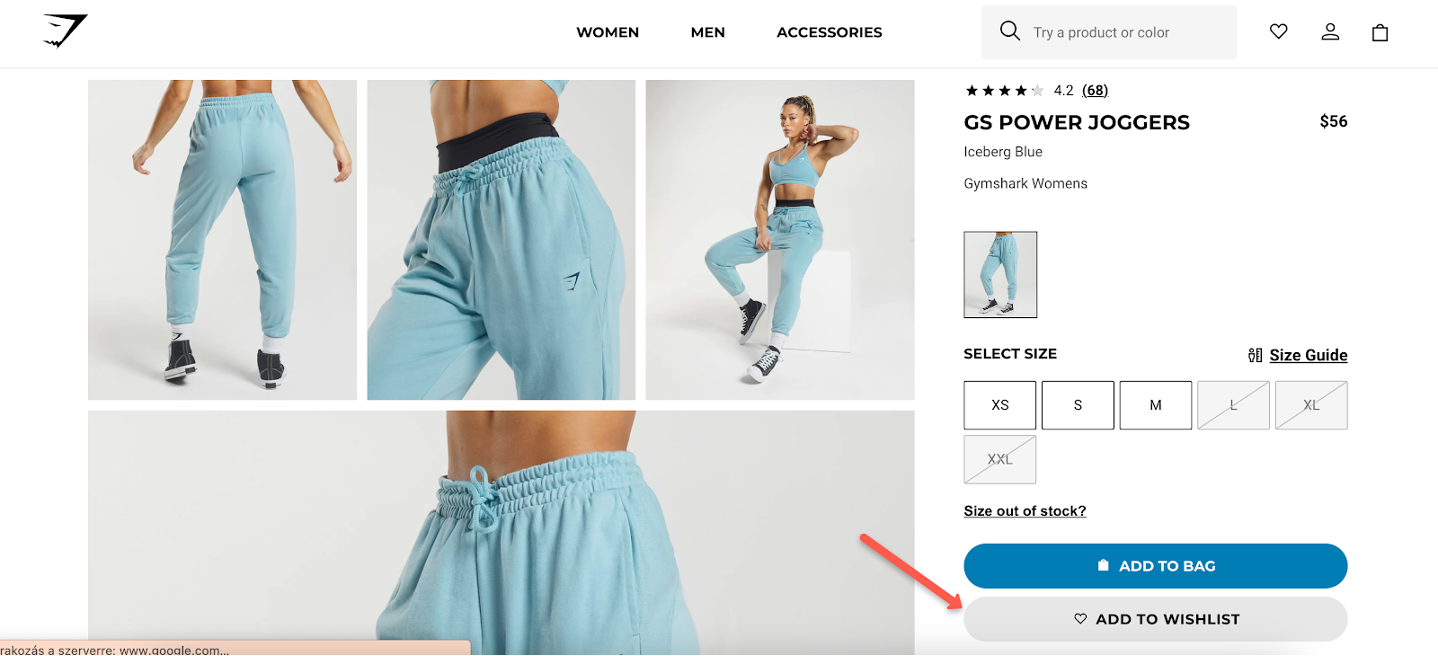 17. Enable social sharing
In 2023, we don't even have to explain the importance of social media to the online shopping experience… social platforms are unparalleled when it comes to promoting your brand and generating social proof.
To take full advantage of the marketing possibilities that social media offers, you should give users the ability to easily share your product pages.
18. Communicate your guarantee
If you have a money-back guarantee or a free trial period, you should definitely promote it on your product pages. This is another way of encouraging first-time customers to feel comfortable placing an order with you.
Here's how Peloton informs customers about their money-back guarantee period on their product page:

19. Highlight your free shipping option
Research shows that free shipping is one of the most powerful incentives for convincing online shoppers to make a purchase. If giving users free shipping is part of your business model, make sure your product page visitors know about it!
Allbirds highlights their free shipping deal right beside their pricing information:

20. Show the estimated delivery date
When browsing ecommerce sites, customers need to know all the relevant shipping information to make a decision about whether to place an order.
Imagine that someone is shopping online for a pair of shoes for a wedding… they definitely need to know if the shoes will arrive by the time they need them.
When you create product pages, it's crucial to think about what your users want to see. From stunning product photography to exact measurements, your unique target audience will have concerns that need to be addressed before they'll be ready to make a purchase.
The best way to encourage conversions is to give your users all the details and information they're looking for.
As we look to the future, these product page best practices will continue to evolve and adapt to changing customer preferences and technological advancements. 
Ecommerce businesses that prioritize creating exceptional product pages will not only drive conversions but also leave a lasting impression on their customers, resulting in sustainable growth and success in the ever-competitive ecommerce landscape. 
So, let's strive to implement these best practices and build a product page layout that makes online shopping an enjoyable, satisfying experience for your valued customers!