Are you happy with your popup conversion rates? 
According to our own statistics, the average popup conversion rate is 11.09%. But I've seen several popups reaching more than a 40% conversion rate due to specific strategies. 
If you want to achieve similar results, these 10 advanced tips will help you increase your popup conversion rate. 
So let's just hop right into it!
When a first-time visitor lands on your page, they don't know your brand just yet. This isn't the right time to surprise them with a pushy welcome popup. It's better to give customers a chance to relax and browse.
Instead of welcome popups, I recommend using exit-intent popups with a teaser. This means that you won't display a popup immediately when visitors arrive on your site. The teaser allows you to show your offer in the bottom corner of your website in a less-intrusive way. And visitors will only see the full-size version of the popup when they choose to click on the teaser, or when exit-intent occurs. 
Let's see an example!
Here you can see the teaser that appears a few seconds after visitors arrive on your site: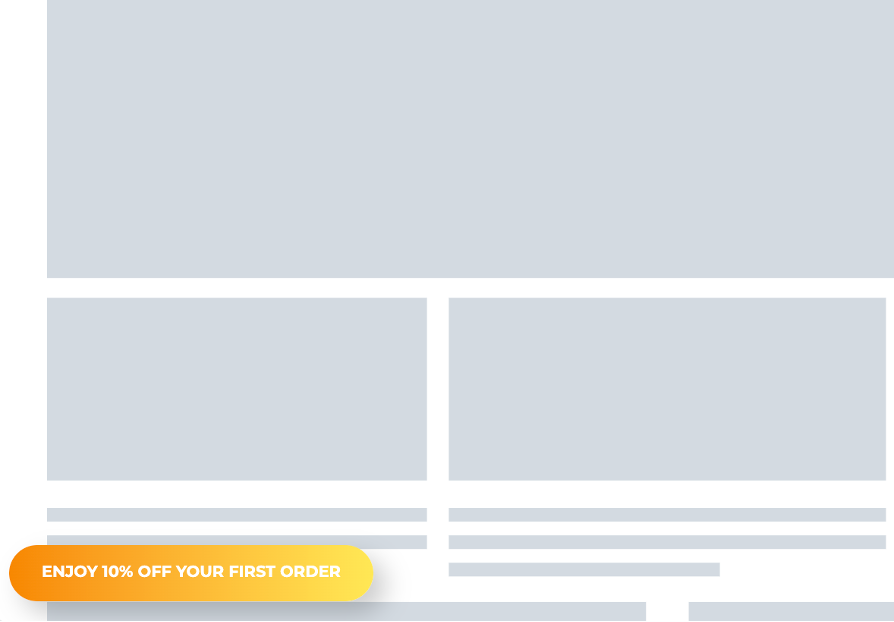 And this is the popup that appears when visitors click on the teaser: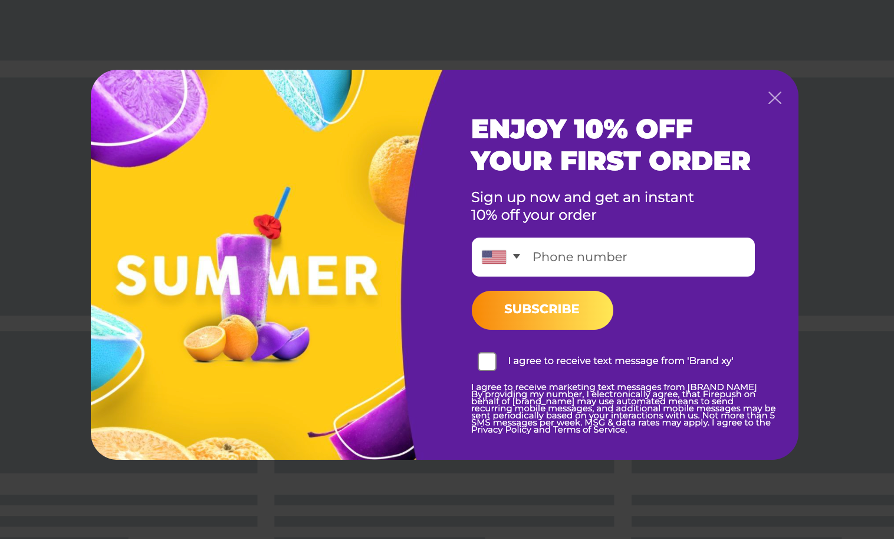 2. Run seasonal campaigns and increase FOMO
It's common for many marketers to run the same offer throughout the year, like a 10% discount on all products. 
This is absolutely fine, but with one simple strategy, you can make them even better and increase conversion rates. 
You should update your messages regularly to make them more relevant and less generic. And seasonal campaigns are a great way to do this. The deadline of seasonal offers also motivates visitors to purchase as soon as possible because it increases their sense of urgency or the Fear of Missing Out (FOMO). 
Here are some seasonal campaigns that you can use:
3. Use automatically generated coupon codes
Modern customers are used to generic, fixed coupon codes, like "10OFF." These kinds of coupon codes don't motivate visitors to make the purchase now, since they know that they could return even a month from now, and the 10% off would be still there.  
You should change your settings from a fixed coupon code into an automatically generated one that has random characters and a real deadline (3-days for example). It'll increase your overall redemption rate.
The screenshot below shows you how you can update your configuration settings in OptiMonk. 
4. Use follow-up campaigns for coupons
You're halfway to the finish line of encouraging visitors to make a purchase if you use a popup to promote an offer. But unfortunately, some shoppers forget about their coupon codes. 
So you need to set up a sticky bar to remind them and guide them to complete their purchase. 
This strategy also helps increase your coupon redemption rate and boost your sales. The return on sales also increases when previous customers are encouraged to purchase again.
5. Use a coupon auto-redeem feature
Use the auto-redeem function so your visitor's coupon code will automatically be applied at the checkout. This way, customers definitely won't forget about their coupons. 
Check out how you can set up the auto-redeem feature: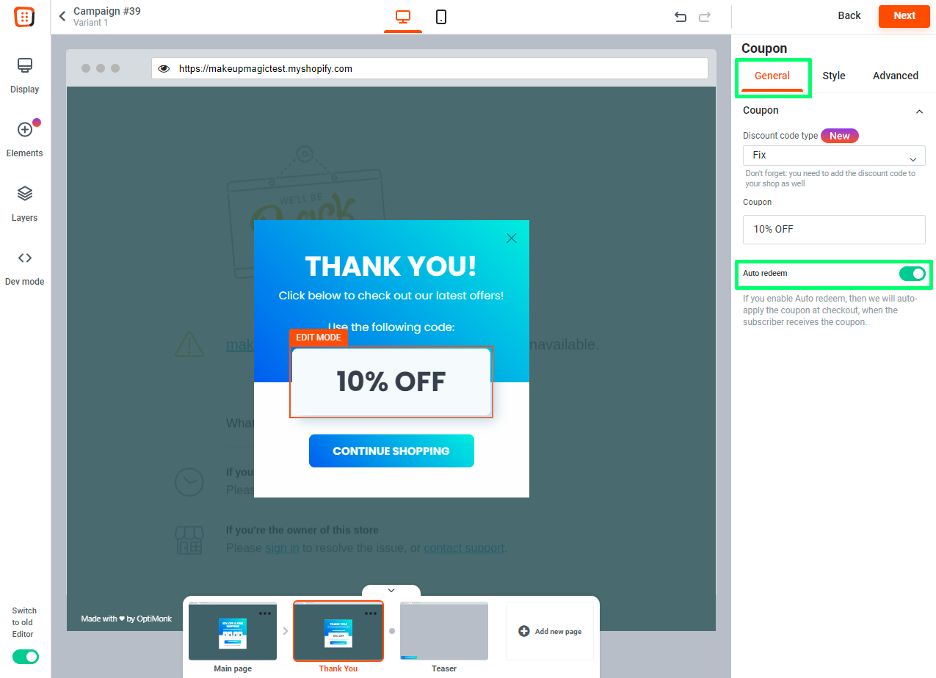 Combining our tip #3, tip #4, and #5 (the 3 coupon code strategies) together will result in the highest redemption rate. 
6. A/B test your messages
Most ecommerce stores have multiple options and ideas on how to communicate with their customers. Even if you really know your customers, it's not always easy to figure out which campaign version will resonate with your audience and perform the best. 
A/B testing two popups against each other will help you get a confident answer to these questions, thus you'll increase your conversion rates. 
Check out how Christopher Cloos increased their ecommerce conversion rate by 15.38% with one simple A/B test (they used a classic welcome popup and a conversational popup to see which would perform better).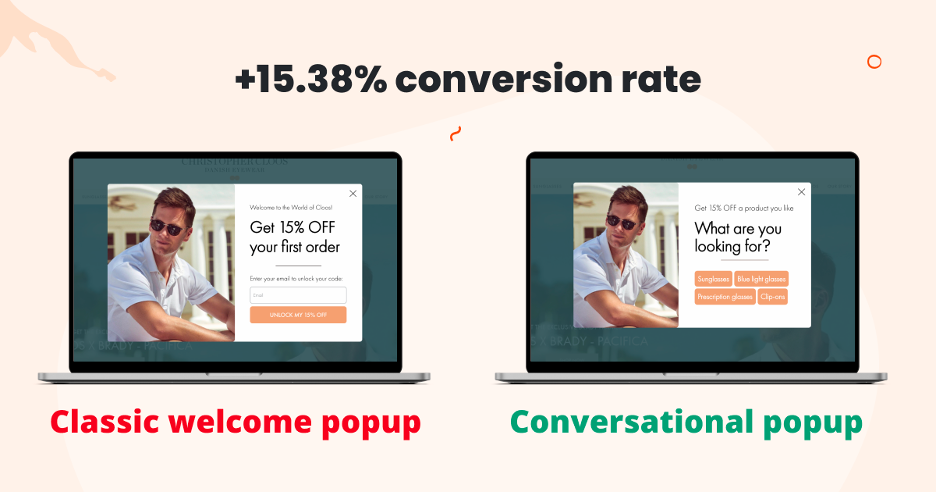 You can A/B test the popup type (just like Christopher Cloos did), but you can also experiment with your offer (e.g. 10% off vs $10 off), the copy, or the image. 
There are times when you need to collect more information than just your visitors' first name and email address. That's where multi-step popups come in. 
They help you make your value proposition much clearer. A multi-step popup will also decrease the noise of having way too much info on one popup since you break it into multiple steps. 
This way, you can collect detailed information without overwhelming your visitors.
Check out how Obvi used a multi-step popup to collect email addresses and phone numbers at the same time. On the first page of the popup, they offered 10% off in exchange for an email address.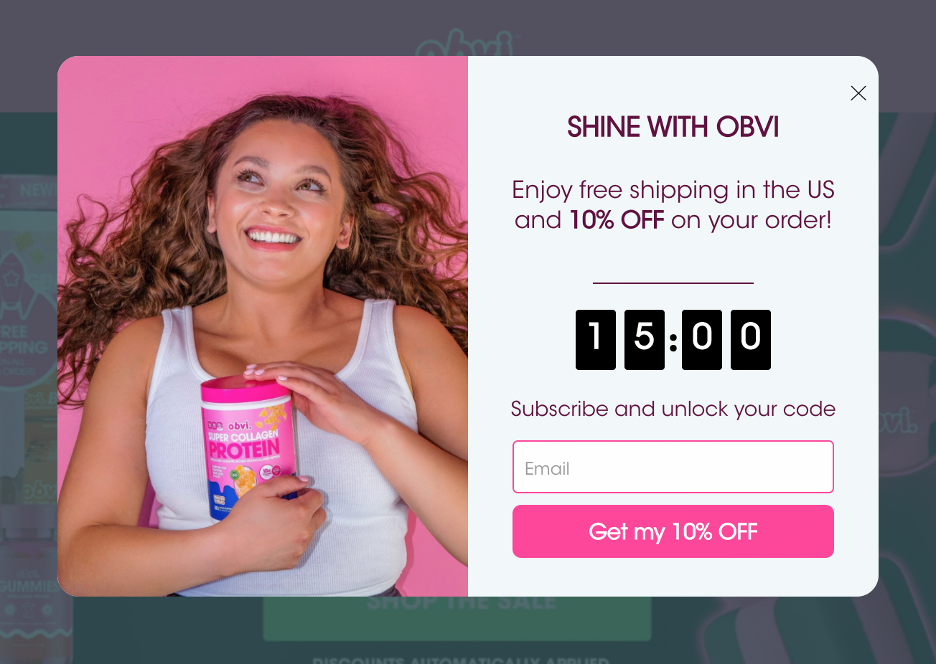 Once visitors provided their email addresses, they saw the second page of the popup. It provided an extra 5% off as a surprise, in exchange for their phone number.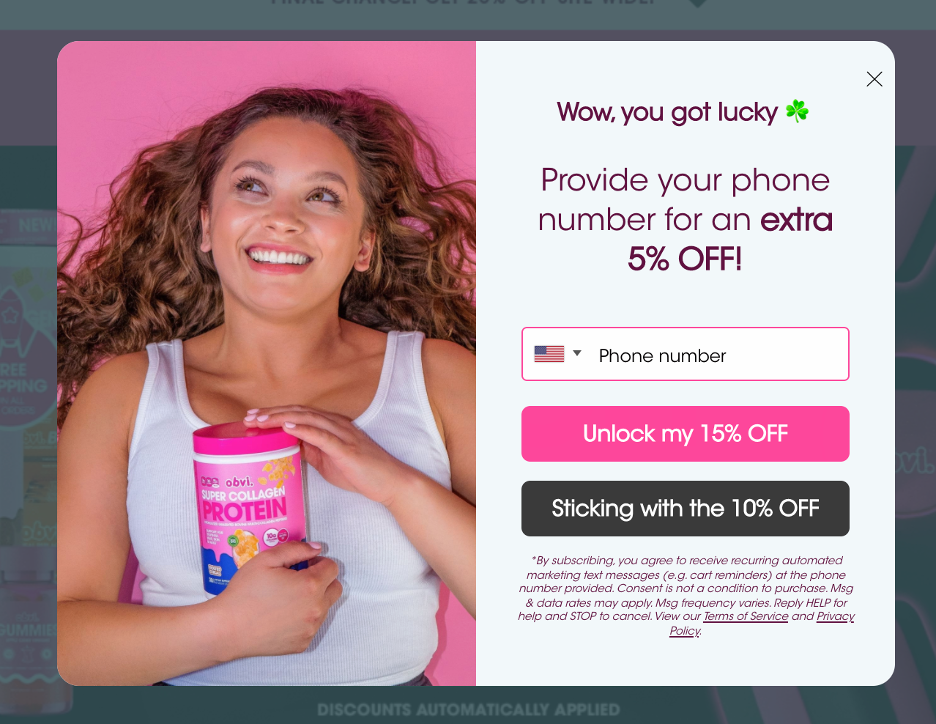 Visitors had the chance to opt-in for the 15% off or stick to the 10% off. Once they decided, they saw the last page of the popup displaying their coupon code.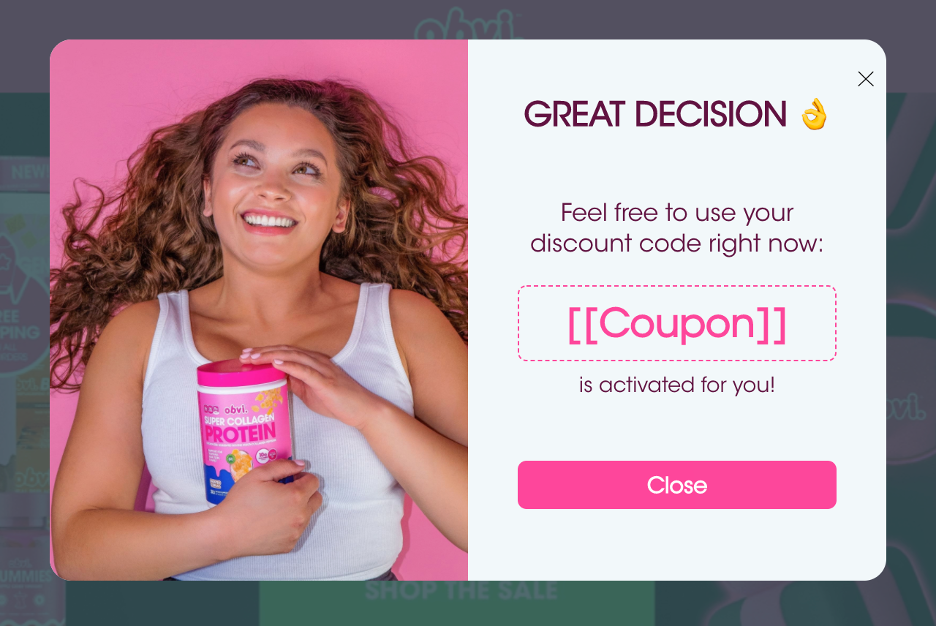 8. Use Dynamic Text Replacement (DTR)
The more personalized the message is, the better the conversion rate is (91% of consumers are more likely to shop with brands that provide relevant offers and recommendations).
And DTR takes personalization to the next level. You can display any kind of custom variable or cart attribute on your popup. For example, you can greet returning customers by name or you can display the total value of their cart on the popup.
You can also display the country they're coming from, like on this sticky bar: 

Alternatively, you can display the product name your customers are browsing at the moment: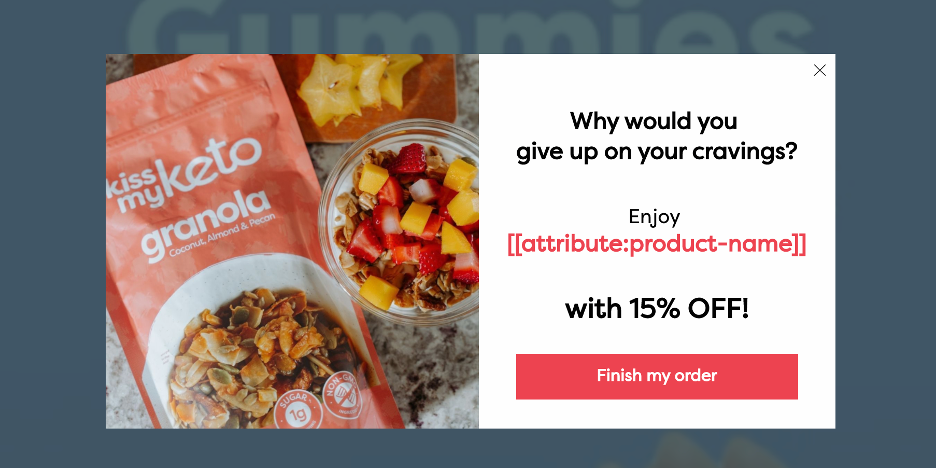 9. Personalize based on referral source
As we mentioned already, personalization is a great way to boost your conversion rates. In fact, another study says that personalization lifts revenues by 5–15% and increases marketing spend efficiency by 10–30%.
You can personalize your popups by targeting specific traffic sources. For example, you can show a special discount to visitors who clicked on your Facebook ad. Or you can remind visitors who clicked on your email CTA of the newest offer you sent out via email. 
In the example below, BlendJet displayed a special offer for visitors who came from Instagram.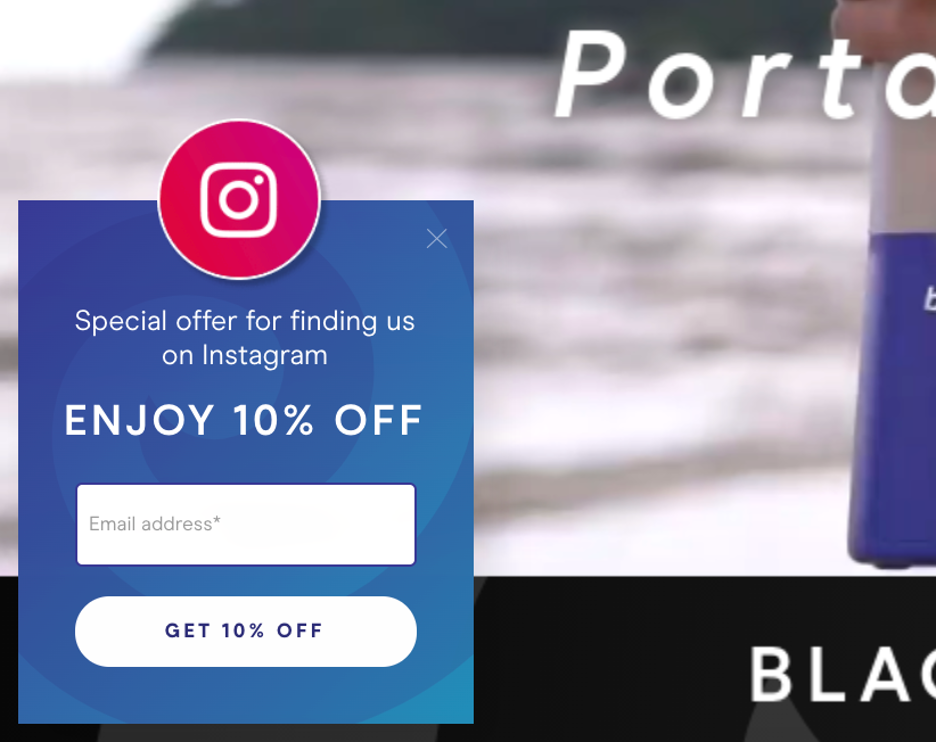 10. Personalize based on gender preference
This strategy helps you show personalized product recommendations to visitors based on their preferred gender. 
For example, this works well if you sell apparel. If you create different Facebook ads for women's and men's clothing, you can add campaign parameters to your URLs (called UTM tagging). You could add "gender=male" as your campaign name. 
Once you set up the targeted Facebook ads with UTM tagged URLs, you can set up different popups based on these URLs. This way, you'll show men's clothes for your shoppers who are looking for male apparel and women's clothes for your visitors in the market for female clothing.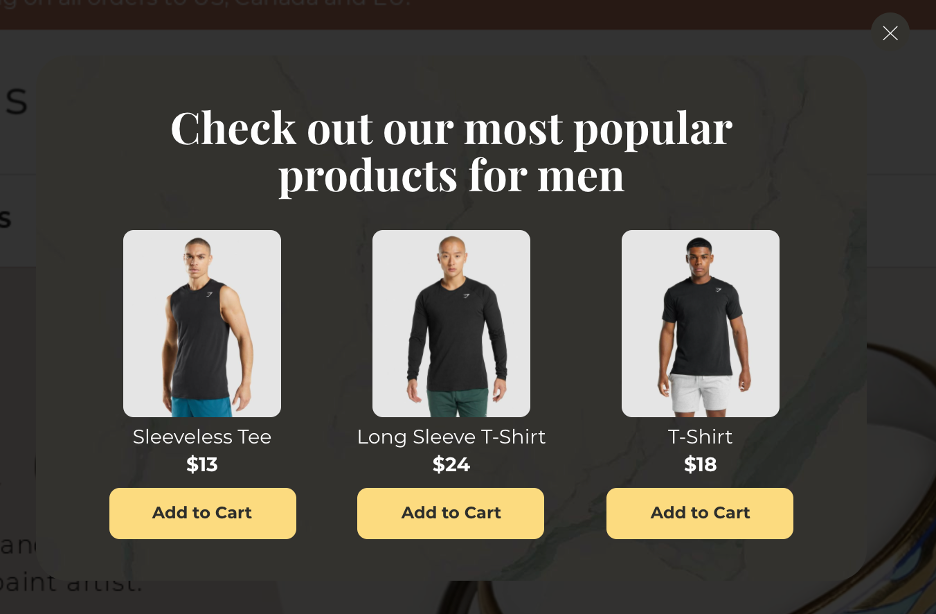 I hope you found our advanced tips useful! By following these strategies, you can get amazing conversion rates. If you truly understand your customers and personalize all your messages, you can even achieve a 40%+ conversion rate. 
And better, all of these strategies can be set up with OptiMonk. If you need any help with getting started on your campaigns, feel free to reach out to our customer support team. They'll be happy to assist you! 
If you have any questions regarding popups, let me know in the comments. 
Wanna learn more about how to run popups that your customers will love to see and will increase your revenue up to 10 times? Read our Ultimate Guide to Popups here.