Email marketing has been an essential part of running an online business for a long time now, and that isn't going to change in 2023. 
This year, revenue from email marketing is projected to hit 11 billion, with 50% of online shoppers making at least one purchase a month as a result of email marketing.
If you want to collect as many email addresses as possible, you'll need to keep several best practices in mind while you're creating your offers and opt-in forms.
And that's exactly what this article is about! Let's get started with our look through 7 essential best practices for your lead generation efforts.
Capturing email addresses is the process of asking your website visitors to agree to receive email marketing campaigns from your business by providing their email addresses.
To do this, you'll need to use a lead capture form (which is also known as an email capture form, lead generation form, or subscription form). 
This form will have at least one field where users can enter their email address and a button that says something like "sign up" or "subscribe." Some lead capture forms ask for more information, such as name or age, and contain a check box that confirms that someone wants to receive marketing campaigns from your site.
Here's an example of a simple form for capturing email addresses: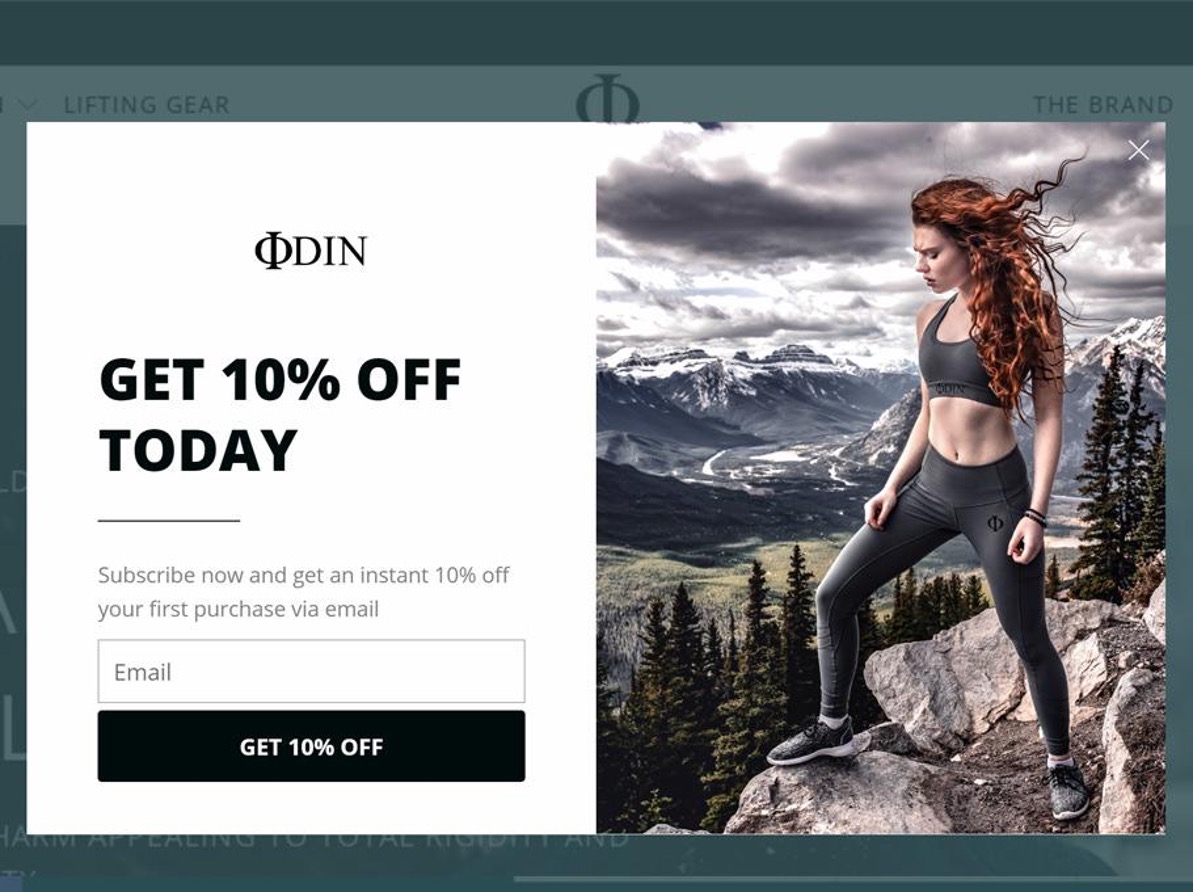 Each time one of your website visitors completes this form, you've captured a new email marketing subscriber.
Why is it important to capture email addresses?
As mentioned above, email marketing is an incredibly profitable marketing channel for online stores. Once someone completes one of your opt-in forms, you've gained a direct line of communication with an individual shopper. 
And the more subscribers you have, the more leads you can cultivate a personal relationship with, leading to loyal customers who are with you for the long term.
Here are three other important benefits of collecting email addresses:
Email is a channel that store owners control, meaning that there's no need to rely on third parties (like social networks) to communicate with subscribers.

Email marketing campaigns are great at generating sales. Statistics show that there's a

4.24% chance

that an email subscriber will buy something after clicking through to your site from an email campaign, compared to 2.49% of users arriving from search engines and just 0.59% from social media.

As a result of this effectiveness, email marketing campaigns can deliver a high ROI: the average dollar spent on email marketing creates $38 in revenue.
7 email capture form best practices
Now that we've seen why it's so important to capture email leads, let's check out some of the best practices for creating email capture forms and improving your lead generation outcomes.
1. Personalize your email capture messages
Website personalization has become an incredibly important part of doing business online over the last few years.
That's because adapting your website to the needs and interests of individual customers results in experiences that are much more enjoyable for your target audience compared to generic, one-size-fits-all messaging.
Your efforts to capture email addresses will also be more effective if you use personalization to create custom forms for different users.
For example, you could use different embedded forms or popups to ask for email addresses from users coming from different traffic sources.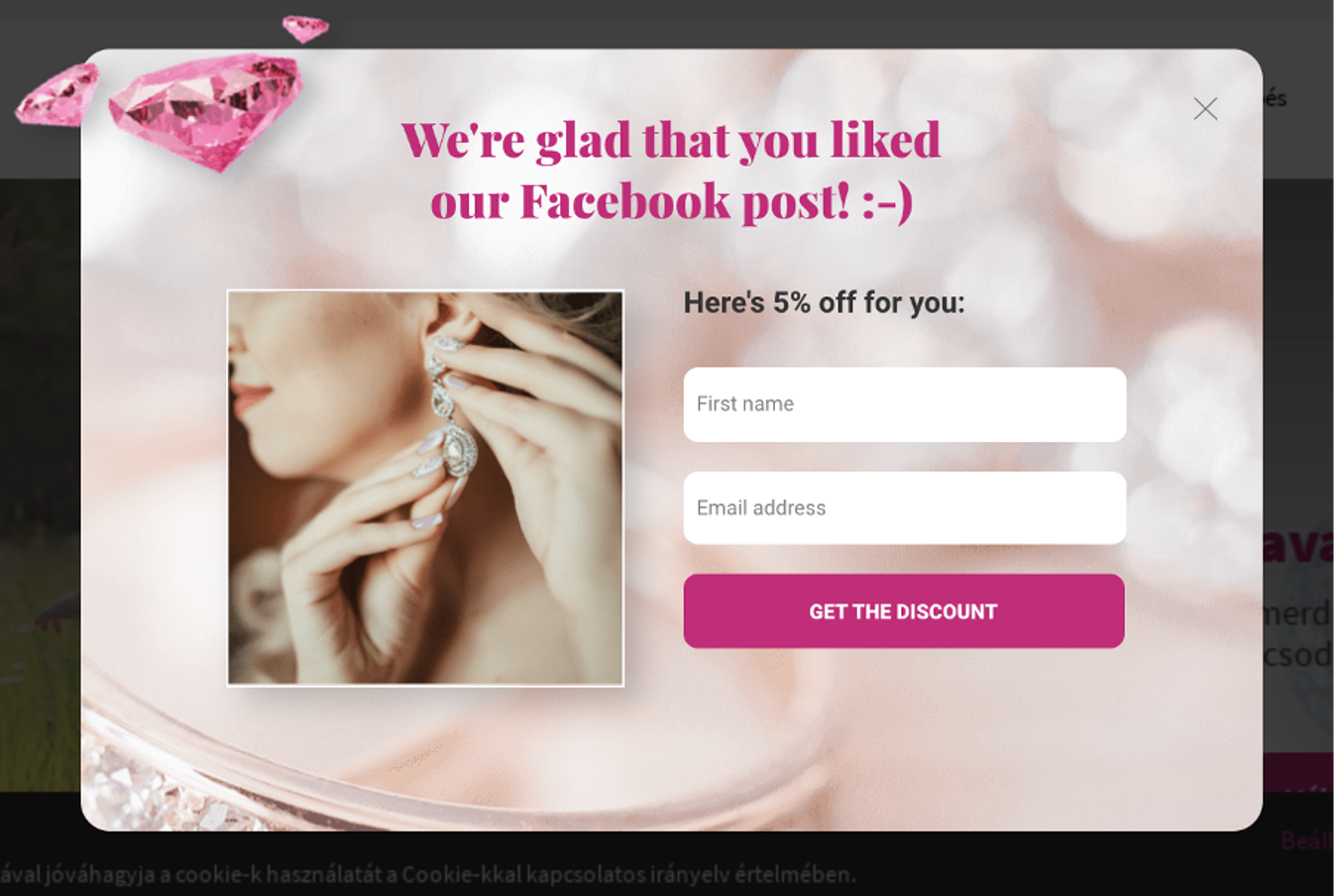 Another popular way of personalizing email capture forms is by using a visitor's location data, which provides useful information to website visitors who might be wondering whether your online store ships to their area.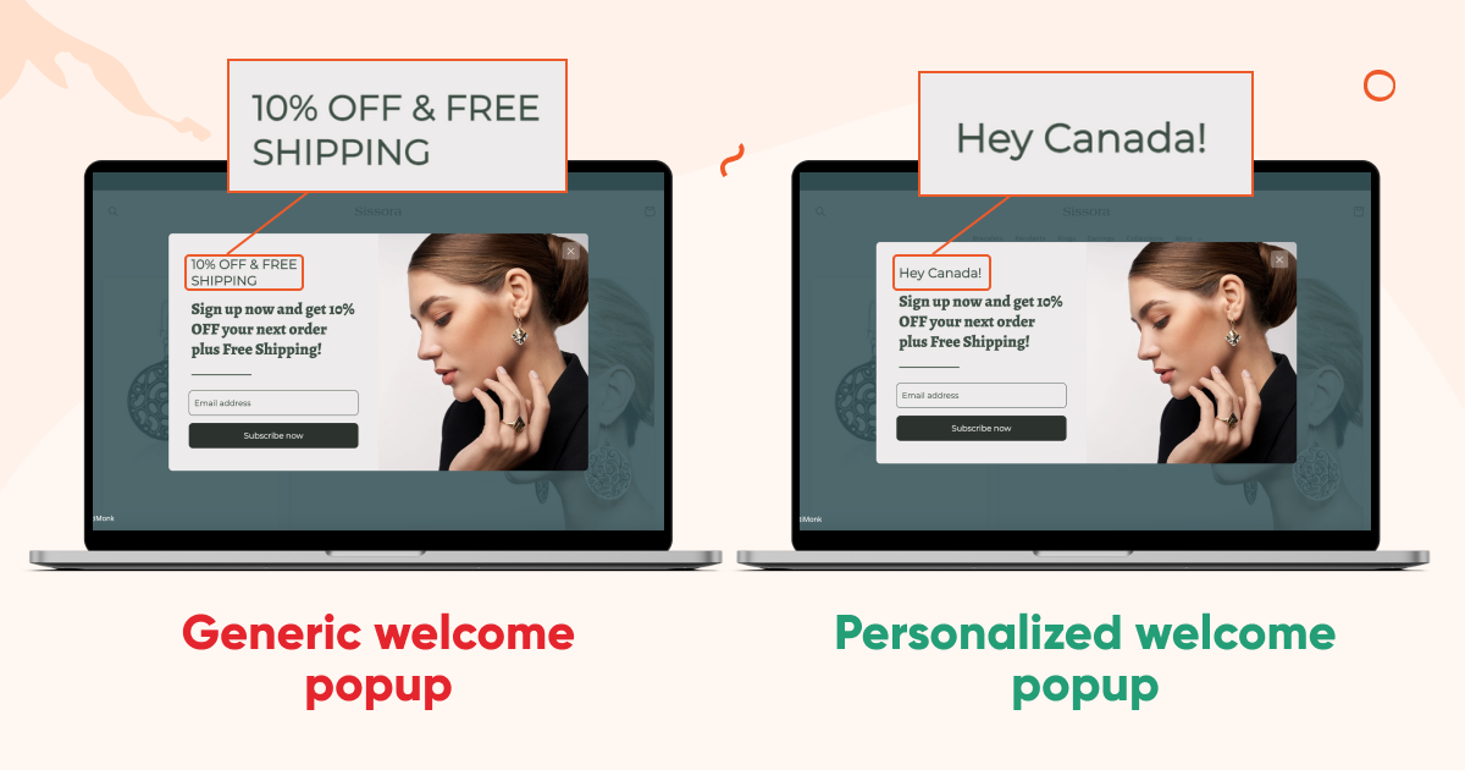 Implementing personalized lead capture campaigns takes a little bit more effort than simply going with the generic subscribe form that your email service provider offers, but it's well worth it! Especially when you use a lead capture tool (like OptiMonk) that makes it easy to capture emails using personalization.
2. Trigger your email capture message at the right time 
Timing is an important factor when it comes to gathering more leads using email sign-up forms. 
If you display an email capture form too early, users won't want to subscribe because they aren't yet familiar with your website. But if you wait too long, you'll never get a chance to capture email addresses from the many users who've already left your page.
Generally, it's best to wait at least 3-4 seconds before triggering welcome popup forms, since this time allows a visitor to get a sense of what's on your page (whether that's your homepage or a blog post). At that point, they may well be ready to complete a subscribe box and agree to receive emails from you.
Exit-intent popups are a powerful tool for ensuring that your customers see your email capture campaigns before closing the page.
This gives you a second chance if the visitor hasn't decided to make a purchase, since they still might be interested enough in your brand to subscribe to your email campaigns. It's important to make sure your lead capture tool is capable of running exit-intent popups on your website.
3. Start with a question
Asking your visitors a question before jumping right in and asking for their contact information is a great strategy. Many online shoppers are so used to seeing opt-in forms that they'll close them without even thinking about it.
Asking a helpful question is a great way to do something different from your competitors. And of course, once your lead generation campaign has brought in new email subscribers, you can use their answers to that first question to personalize their experience later on!
Here's a great example of an email capture sequence that began with a question from a skincare brand:
And another example from Christopher Cloos: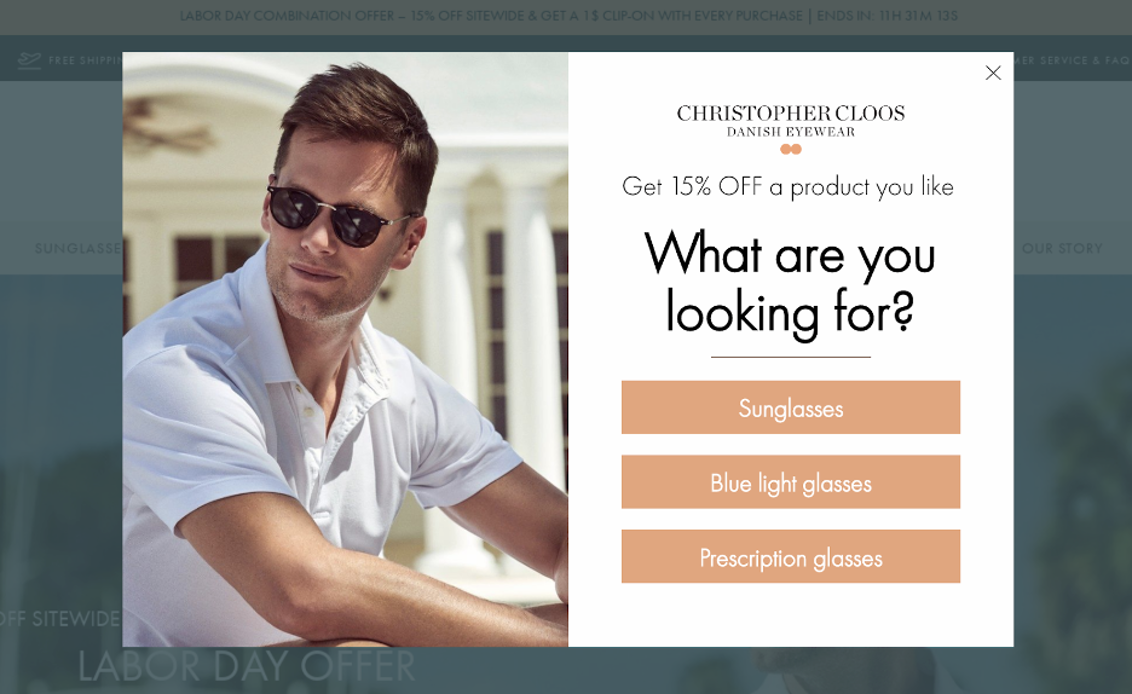 You can ask for visitors' email address on the second page: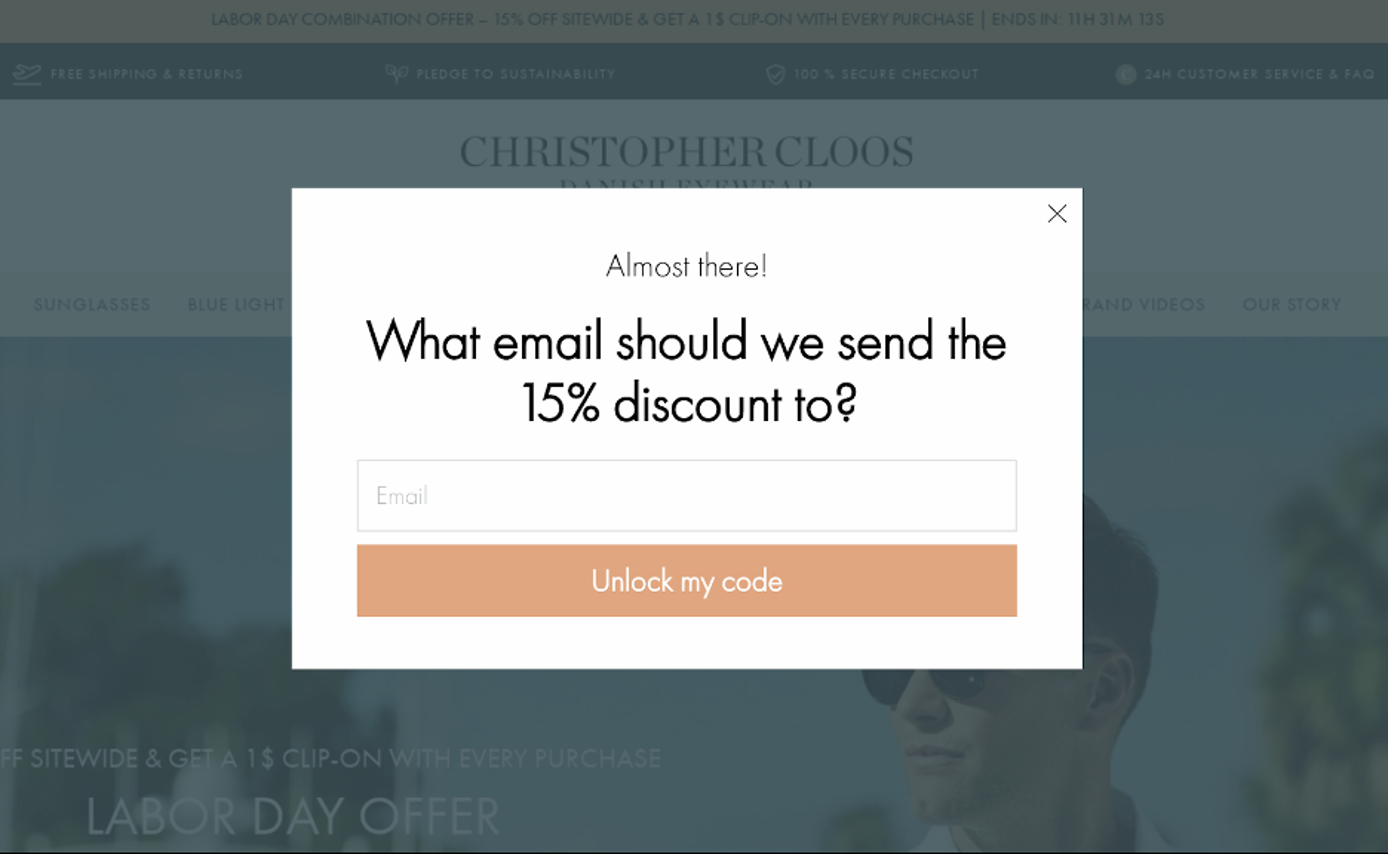 Once users entered their email addresses, they saw personalized product recommendations that were based on what they said they were interested in.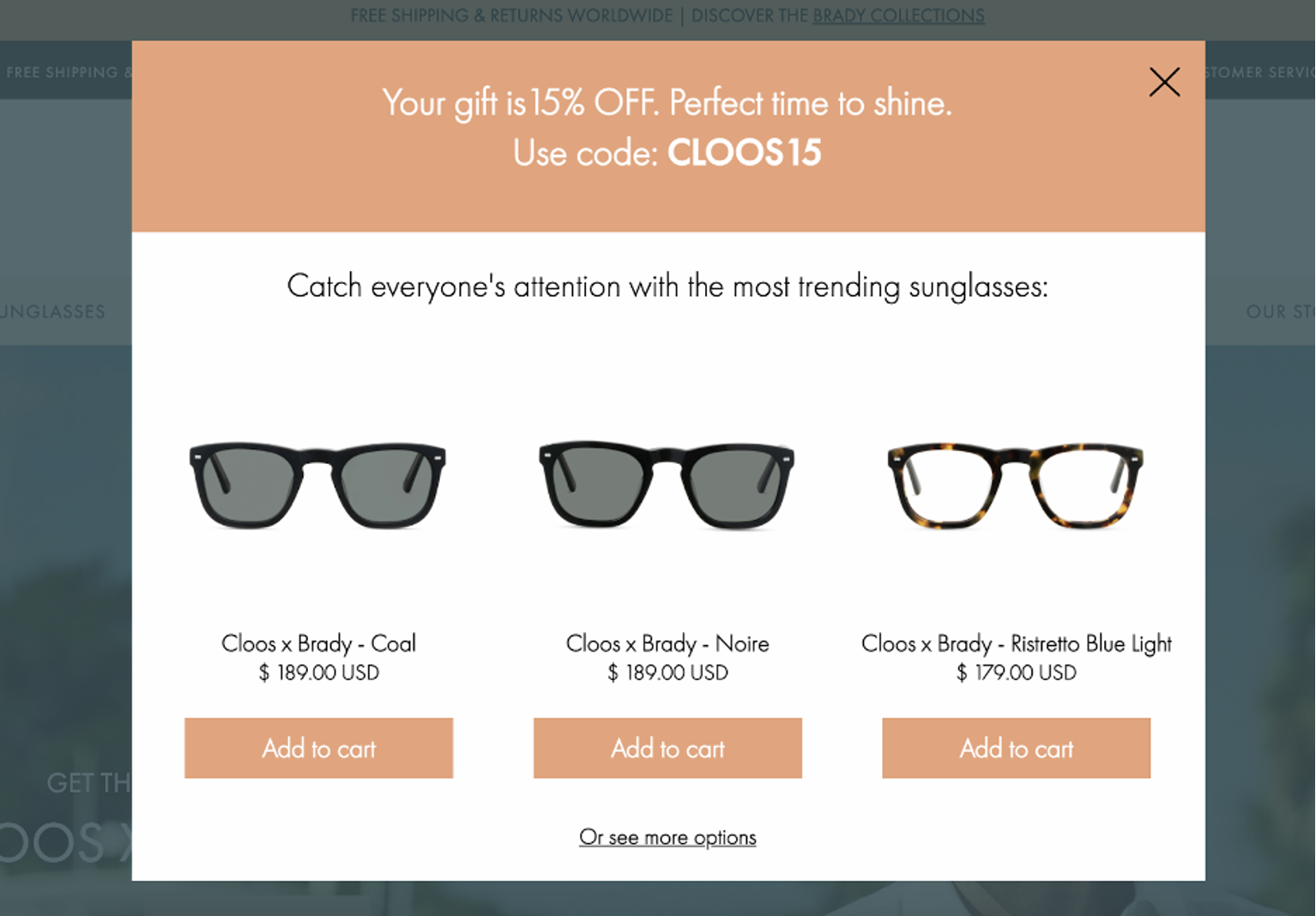 4. Don't ask for too much information 
Online shoppers are generally averse to spending a lot of time or effort on completing email capture forms. After all, a 10% discount seems less enticing if you have to fill out a long form to get it. That's why you should ask for (at most) two pieces of information on your email capture forms.
Try to use form templates that don't ask for very much information. The best email capture tools will have lots of options like the one below, which has just one field: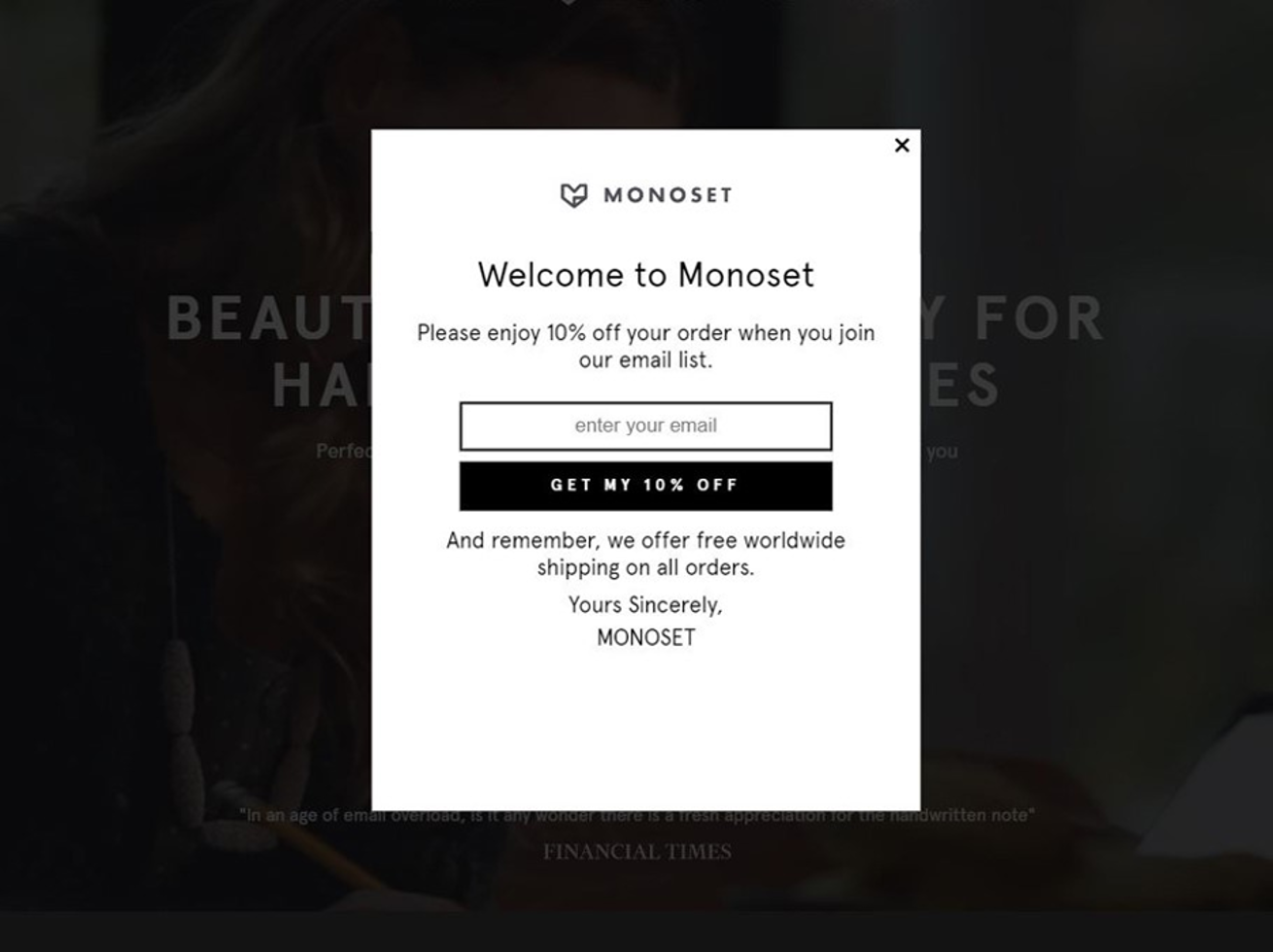 5. Break your email capture form into multiple steps 
This marketing technique is another approach to addressing the problem we just talked about. While many users will refuse to complete contact forms that have too many fields, they're much more likely to complete multiple stages of a form that asks for a little bit of information at each step.
One variation of this strategy is known as the "Trojan Horse" tactic, and its goal is to help you capture email addresses and phone numbers at the same time.
The first step of this strategy is offering some kind of discount or incentive in exchange for signing up for the email marketing list: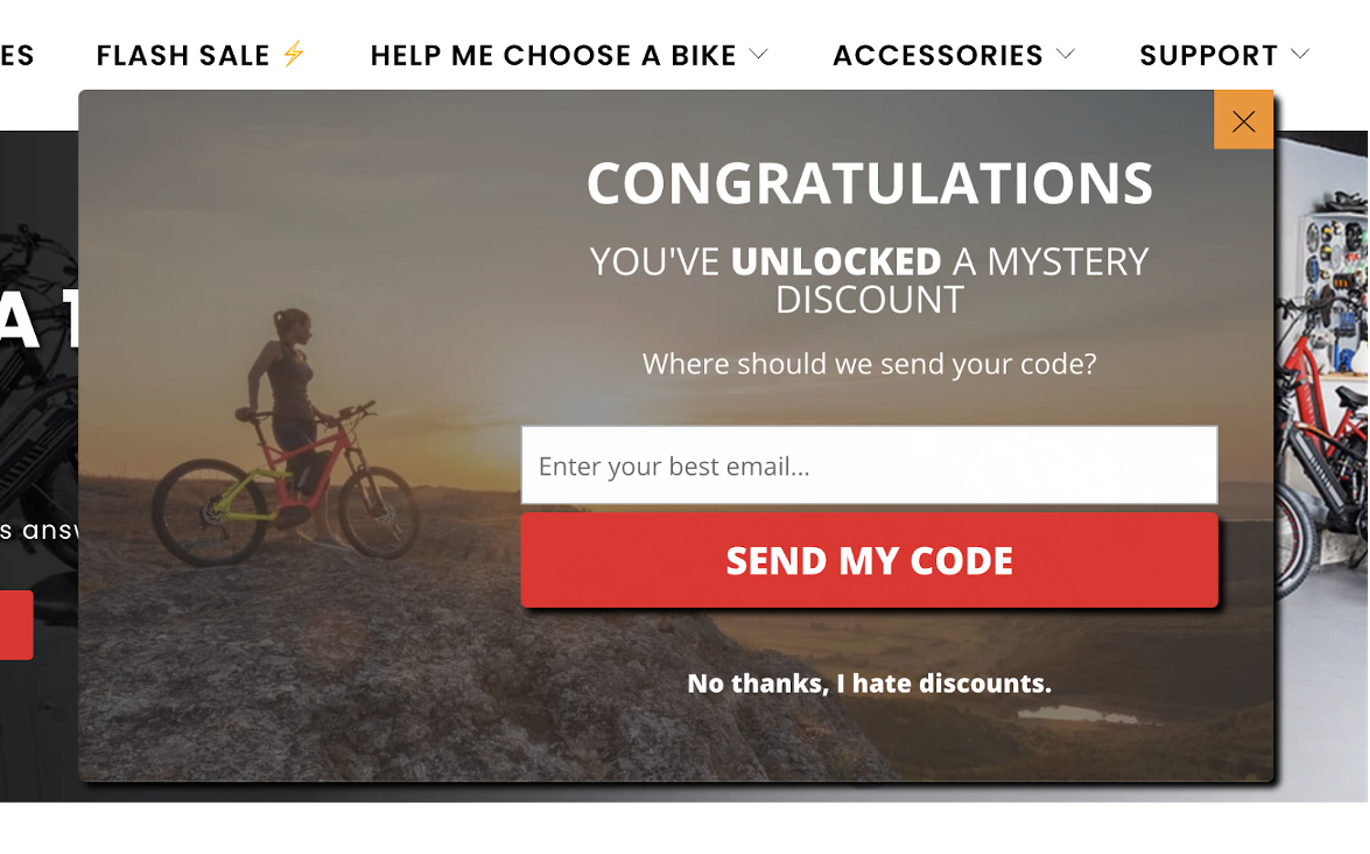 Then, once the user completes the first stage of the lead capture campaign, you offer to double their discount if they also sign up for SMS updates: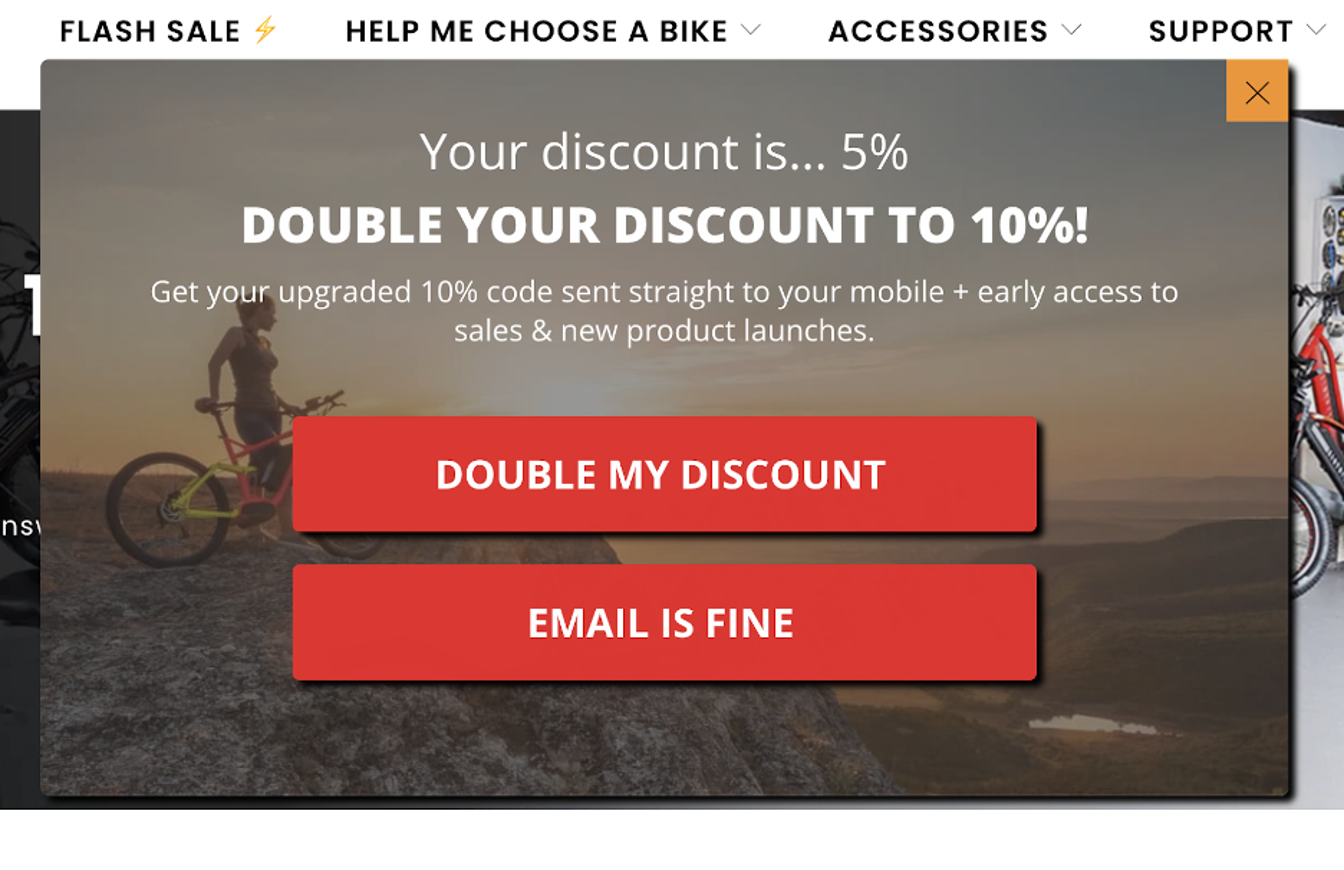 If they want to double their discount (and most people do!), they'll see the next stage of the form.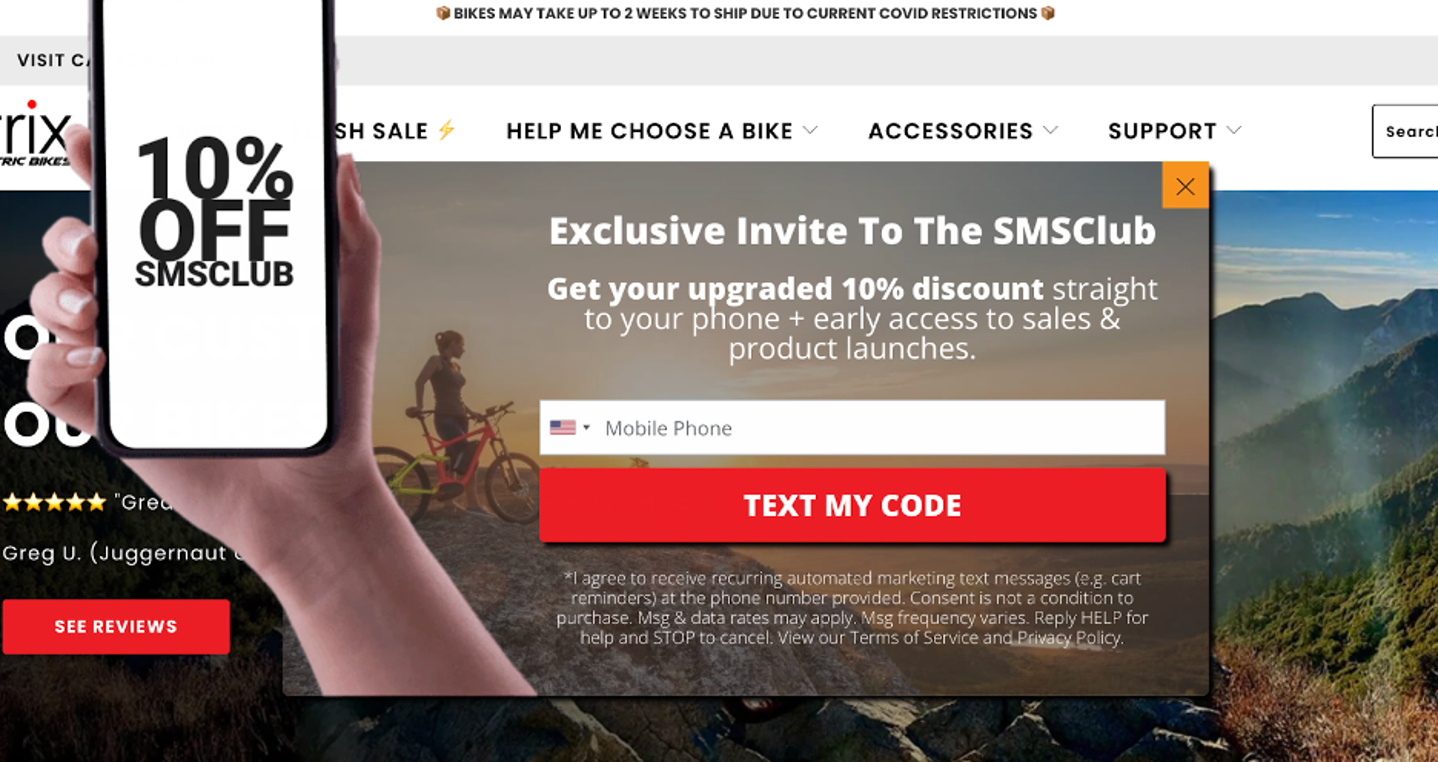 You can get started with this strategy using the templates below:
6. Gamify the email capture form
If you're looking to create a more engaging browsing experience for your visitors, a gamified opt-in form is a great way to do it. These email capture campaigns offer visitors a chance to "win" in exchange for signing up.
A spin-to-win popup like the one below is a great email capture tool because visitors will be excited to play and see how much they win. Indeed, many people get more excited about a chance to win something than they do about a specific discount that's simply handed to them.
And statistics back this up: OptiMonk found that gamified popups convert at 13.23% on average, while the average conversion rate for classic email capture popups ranges from 5.10% to 7.65%.
7. Use a teaser 
A teaser campaign gives your visitors a glimpse of your popup campaign and lets them choose whether or not to click on it. Since teasers are so unobtrusive, they don't interrupt the browsing experience nearly as much as popup campaigns do.
Here's what a teaser could look like if you're running a Black Friday email capture campaign like Obvi: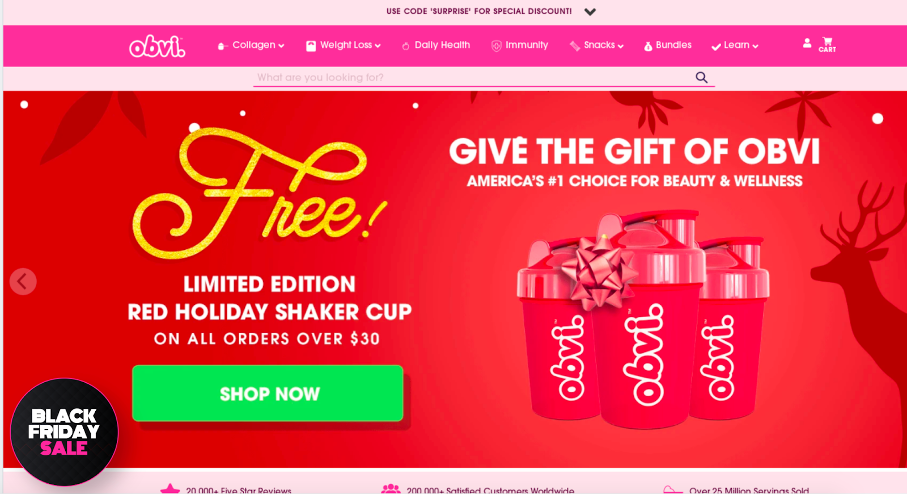 Then, when a user clicks on the "Black Friday Sale" button, the full campaign appears.
What makes this strategy even more effective is that you display the email capture box as an exit-intent popup if the user hasn't clicked on the teaser by the time they're about to close the page. This ensures that even visitors who don't notice the teaser have the chance to see your offer and subscribe to your list.
Now you know how to capture emails, but if you also want to make sure that your email campaigns deliver an outstanding ROI, watch this quick video:
Collecting email addresses is a vital part of running an online store, ensuring you have a steady stream of new leads entering your marketing funnel.
However, it can be tough to convince online shoppers to subscribe to yet another email marketing list. That's why you need to take your lead generation efforts up a notch by using these 7 best practices.
OptiMonk is a powerful website personalization and lead generation tool with an intuitive drag-and-drop editor, advanced targeting features, and integrations with all the most popular email marketing tools. Better yet, it's a free tool, so there's no reason not to try it today!