Email marketing is still one of the most effective ways to increase sales, giving you a chance to send special offers, interactive content, and updates about your products directly to consumers.
Checking email is a daily habit for most of us. And ecommerce stores can become a part of this routine if their email subscribers get used to seeing and opening their marketing messages. In fact, a whopping 50% of people buy from marketing emails at least once per month!
It's clear that building a huge email contact list should be a priority. To do that, you'll need to find a good email list building tool. List building software helps you collect email addresses via landing pages, opt-in forms, and lead generation popups.
In this article, we've collected 12 of the best email list building tools out there. When used properly, these marketing tools can bring in a steady stream of new leads.
Let's get started on finding a great list building solution!
How to capture email addresses and build a list?
There are many list building strategies that can boost your lead generation rate. These options include using dedicated landing pages to capture email addresses, embedded email opt-in forms on your website, and popups that display an opt-in form.
These are all great ways to build an email list, and we suggest using a combination of these proven tactics.
But what's the best way to generate high-quality leads?
Remember, it's not all about size. Sure, a massive subscriber list is great, but what's even better is a massive list that only contains interested, engaged subscribers. If you're looking for a list-building method designed to attract lots of people who are genuinely interested in what you're offering, there's only one way to go: popups and other on-site messages.
Collecting email addresses from your website visitors generates high-quality leads because those visitors already have an awareness of your brand and products.
And popups work much better than simple inline forms, because you can precisely target people with great offers at just the right moment. They also help to focus the visitor's attention on a single, enticing offer, thereby simplifying the decision-making process.
Our studies show that the average popup conversion rate is 11.09% (and that the top 10% are converting at around 42%, on average). Those astonishing numbers are the result of brands that create well-timed popups that are perfectly optimized for lead generation and grab their visitors' attention. It's difficult for embedded forms or landing pages to achieve conversion rates like these.
Exactly which types of popups you should use to collect email addresses depends on your brand and what your website visitors respond to. You have lots of options, including welcome popups, exit intent popups, discount popups, and lucky wheels. Check out this article for an overview of all the types of popups that are out there.
What's the best list building tool?
Our top 12 list building tools primarily include software with a popup tool, because we truly believe that's the best way to grow your list quickly.
However, some of the tools offer other list building solutions as well, in case you're interested in improving your landing pages or other list building tactics.
Let's see the list!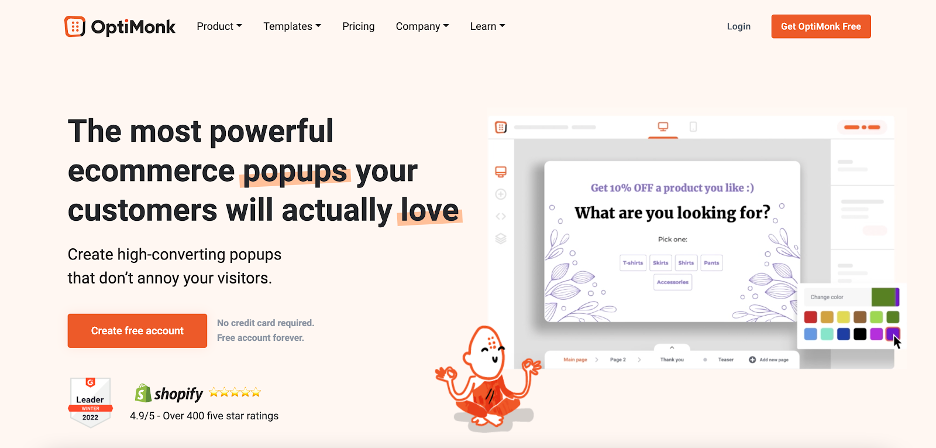 We believe that OptiMonk is the best email list building tool on the internet in 2022. It's a powerful on-site personalization tool that allows you to create high-converting popups or other on-site messages and generate leads and revenue for your store.
Main benefits:
An easy-to-use drag and drop editor:

Creating beautiful list building forms has never been easier. No coding skills needed.

Access to a huge template library:

300+ beautiful, mobile-optimized templates at no additional cost.

Custom form fields:

Go beyond a simple email address by using custom fields to gather info like date of birth, gender, address, and more.

Multi-step opt-in forms:

Grab your visitors' attention with a teaser, and ask for contact details only in the second or later steps. This helps you create more engaging opt-in forms.

30+ intelligent targeting and triggering options:

Including URL targeting, cart-value & product targeting. Target different visitor segments with fully customized messages.

Google, AdBlock & GDPR safe:

OptiMonk campaigns are fully GDPR compliant and Google friendly. Both you and your customers are safe and secure.

Detailed analytics & insights:

Get insights into how your list building campaigns are performing and why.

30+ email, CMS, and ecommerce integrations:

Including popular solutions like MailChimp, Klaviyo, and HubSpot.

A/B testing:

Test alternative versions of your marketing campaigns to find out which brings in the most qualified leads.
Pricing:
Free, or from $29/month.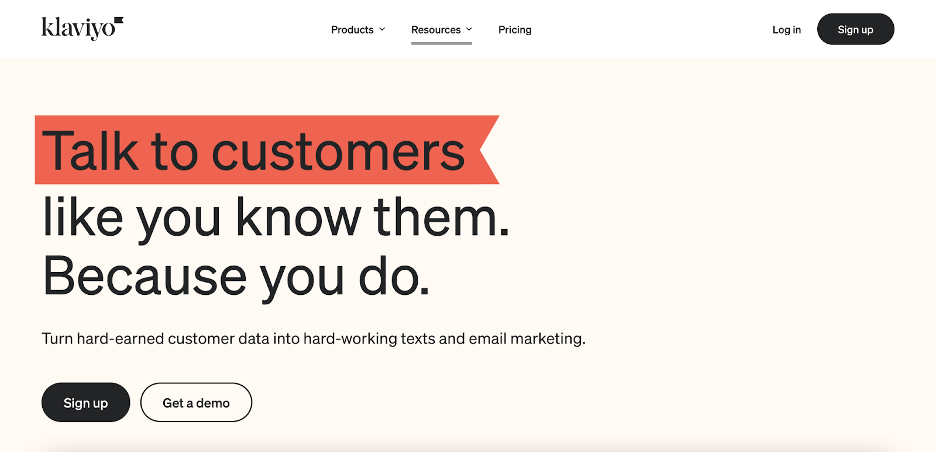 Klaviyo is one of the most widely used email marketing tools today. It also has some built-in list building features.
Main benefits:
Access email marketing services:

Run your list building efforts and email marketing campaigns through a single platform.

List building contact forms:

Start growing your email list with pre-built signup forms.

Create different types of contact forms:

Choose between embedded forms, multi-step forms, and popups.
Pricing:
Klaviyo's price starts from $20, there's also a free plan available.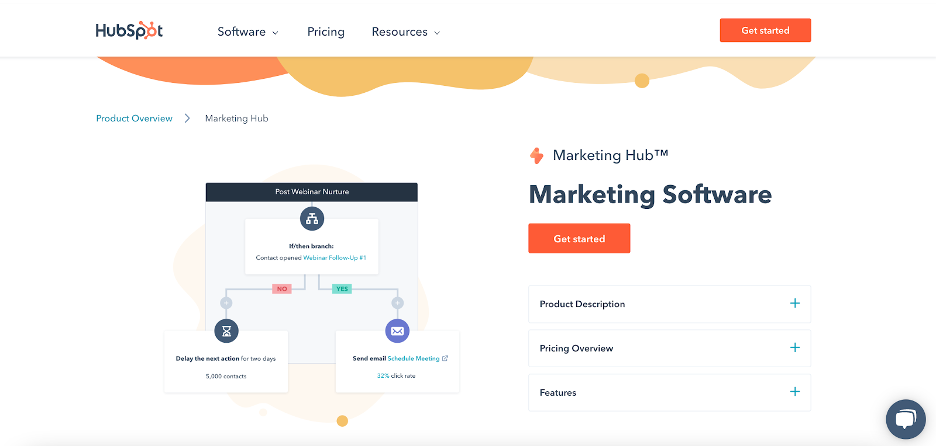 HubSpot is an integrated platform offering marketing, sales, customer service, operations, and customer relationship management (CRM) software designed to empower your team and help your business grow. It includes popup building tools as well as other list building options.
Main benefits:
Lead generation form builder:

Easily build forms using a simple drag-and-drop editor. Add them to your website to convert anonymous visitors into leads that automatically flow into your CRM.

Landing page creation:

Design and launch landing pages without help from developers or IT.

Lead tracking & management:

Practice lead nurturing based on data you've collected and automatically turn lead data over to your sales team.
Pricing:
From $50/month.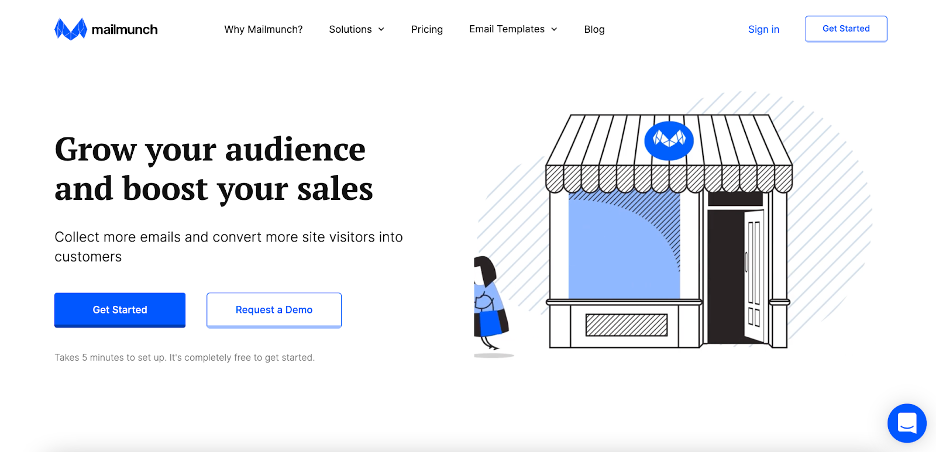 Mailmunch is a lead generation tool that helps capture leads from your website and convert visitors into email subscribers and customers.
Main benefits:
Multiple list building form types:

You can choose from popovers, covers, scroll boxes, top bars, inline forms, and more to create the perfect form for every campaign.

Create mobile popups:

Their email list building tool can help you create interactive forms that are fully responsive on mobile.

Powerful integration options

: Mailmunch integrates with both ecommerce platforms (Shopify, Wix, and WordPress) and a variety of email marketing services (including MailChimp, Zapier, and ActiveCampaign).
Pricing:
From $19.99/month (up to 1,000 contacts).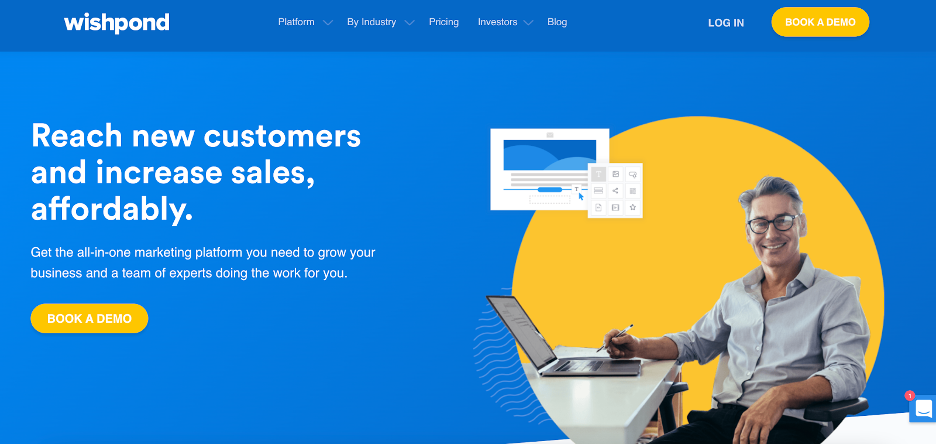 Wishpond offers several online marketing solutions in addition to their email list building software, including tools for building landing pages, websites, and payment processing.
Main benefits:
Triggering options:

Choose whether your popups appear based on entry, exit, or scroll triggers.

Many products:

Take advantage of Wishpond's other tools for ecommerce.
Pricing:
Speak with a specialist for details.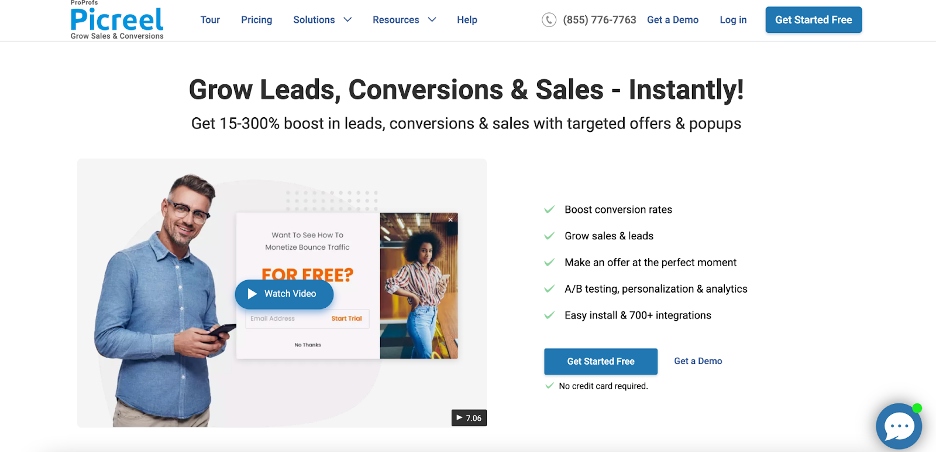 Picreel is an exit popup software that helps generate more leads, conversions, and sales to boost your marketing efforts.
Main benefits:
100+ popup templates:

Their list building software allows you to create forms based on over 100 templates.

A/B testing:

Test alternative versions of your marketing campaigns to find out which works best.

300+ integrations:

Including popular email marketing solutions like Mailchimp and Klaviyo, as well as CRMs like HubSpot.
Pricing:
From $19/month. Free trial.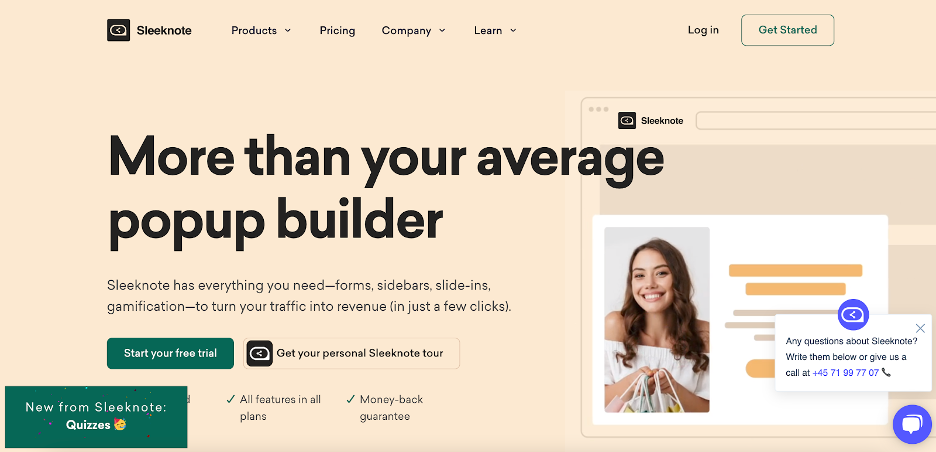 Sleeknote is a popup builder tool that allows you to create attractive, effective list building forms.
Main benefits:
Split testing:

A/B test different headlines, images, and copy to discover what leads to the highest-converting campaigns.

Customizable templates:

Create beautiful, eye-catching forms that are consistent with the look and feel of your website.
Pricing:
From €62/month.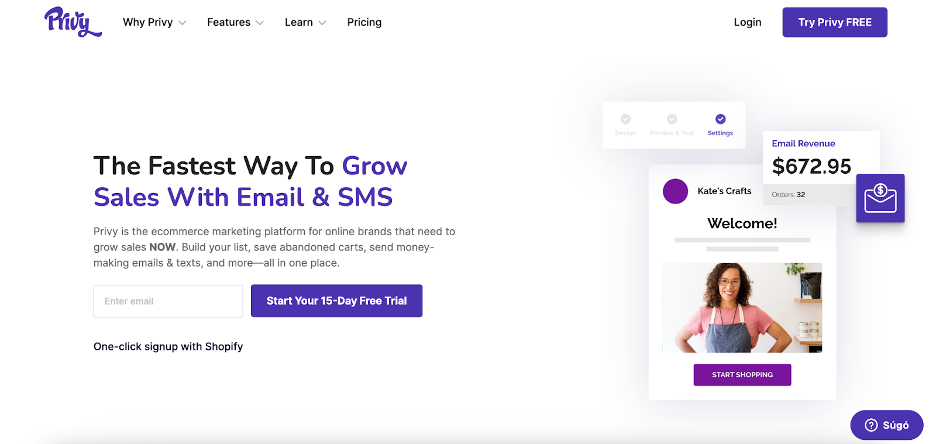 Privy is a marketing tool that allows you to create list building forms and then send email marketing messages once you've gathered leads.
Main benefits:
Cart abandonment popups:

Using exit intent popups, you can generate leads from website visitors who were just about to abandon their carts.

Customizable templates:

Choose from a variety of list building templates, including templates designed for seasonal events.
Pricing:
Free, or from $45/month.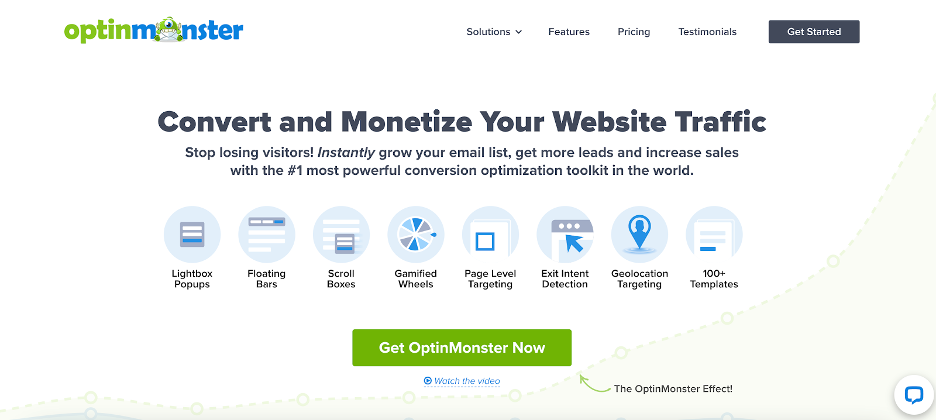 OptinMonster helps ecommerce businesses convert their website traffic and run list building campaigns.
Main benefits:
Drag and drop builder:

Customize all the details with their easy-to-use drag and drop builder.

Multiple form types:

Popups, floating bars, fullscreen overlays, and slide-ins.

Page level targeting:

Hyper segment your leads by using their enterprise-grade page level targeting and segmentation rules.
Pricing:
From $14/month.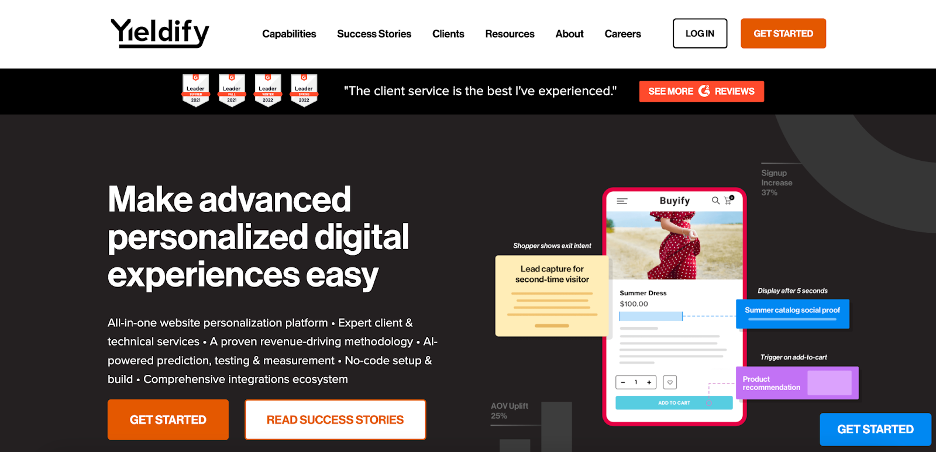 Yieldify is a marketing tool that helps you personalize your website and/or landing page for specific segments of users. One way of doing this is the inclusion of personalized list building forms.
Main benefits:
A/B testing:

Test alternative versions of your marketing campaigns to find out which your visitors react best to.

Custom form fields:

Gather info like date of birth, gender, address, and more.

Email marketing integration:

Yeildify integrates with all major email marketing services like Mailchimp and Klaviyo.
Pricing:
Book a demo with their experts to learn more about pricing options.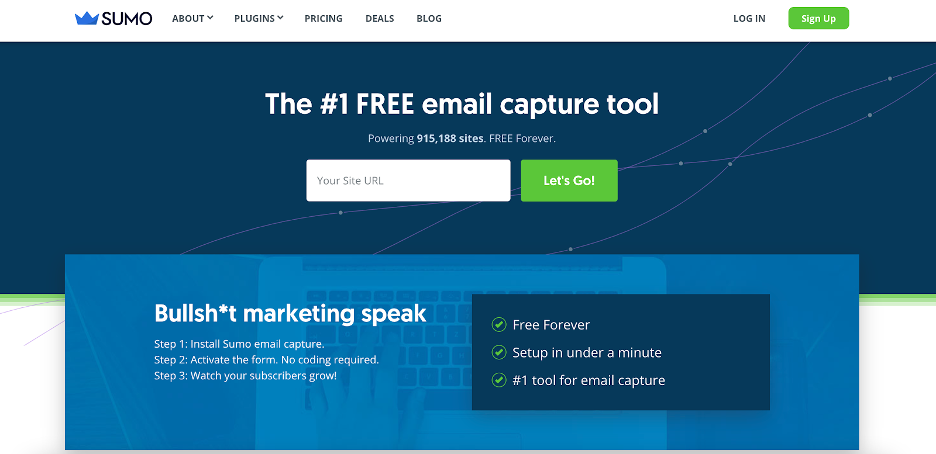 Sumo makes a suite of ecommerce apps that includes a powerful list building tool. Their list building tool can create high-converting forms that generate leads quickly and reliably.
Main benefits:
Fully customizable design: Collect lead data using customizable lead capture forms.
Welcome emails and email campaigns:

Once you've collected lead data from your site visitors, you can send them messages using Sumo's email marketing tool.
Pricing:
Free, or from $39/month.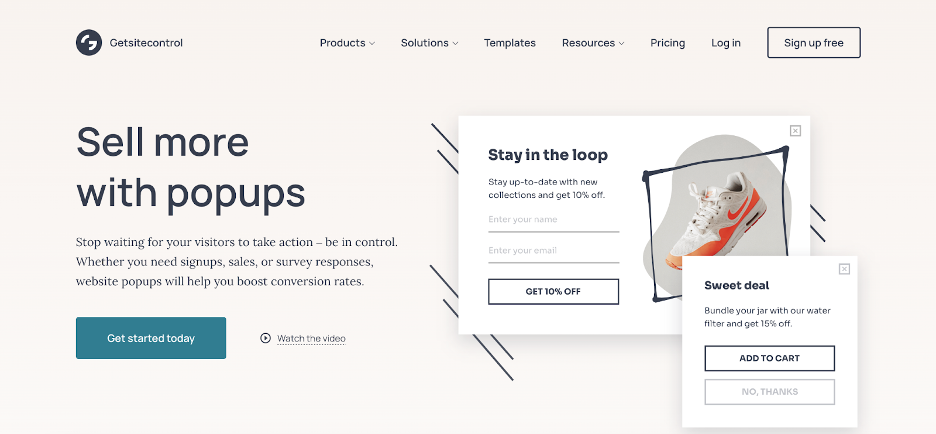 Getsitecontrol is a popup builder that can boost your email list building efforts through their attractive popup templates and use of exit intent technology.
Main benefits:
Shopify and WordPress:

This list building tool comes as both a Shopify app and WordPress plugin. It also works if you have a Wix web page.

Advanced targeting:

You can target visitors based on their geolocation and language preferences, as well as factors like scroll depth, time on page, and exit intent.
Pricing:
From €8/month.
This overview of the best email list building tools in 2022 contains the most advanced and up-to-date software that will take you far beyond the basic email list building software.
So which should you choose? That depends on your budget (which might allow you to look at paid plans or force you to stick with a free tool), your brand (perhaps you can really benefit from using popups to define your image as well as list building), and the email marketing services that each integrates with.
Now that you have 12 options on the table, we're sure you can weigh the pros and cons to find the best list building tool for you. Let us know in the comments which list building tool you're planning to try out!