Are you generating lots of traffic to your landing page but struggling to raise your conversion rate? Not quite sure what the problem is? If you answered yes to both questions, you're in the right place.
Landing pages are the first point of contact, so it's essential to create a great first impression and encourage your visitors to take further action.
In this article, we'll share some landing page optimization tips and ideas. Grab a pen and paper, and let's dive into landing page optimization!
Why is your landing page not converting leads?
A landing page is your chance to engage visitors, establish credibility, and drive conversions, but a poorly-designed landing page can do exactly the opposite.
Here are a few common landing page pitfalls to avoid!
1. Your headline is weak or uninteresting
Headlines are a key component of landing pages because they're the first thing a potential customer sees.
Your headline needs to grab attention right away, or visitors won't stick around to see the rest of your page.
However, you also want to avoid using "clickbaity" headlines, as this will annoy visitors. Instead, you should communicate the value of your product or service in a clear, compelling way that shows how it will benefit them.
2. Your call-to-action is unclear
Your call-to-action (CTA) button will determine whether your landing page visitors move to the next stage of the customer journey or not.
First off, visitors should never have to hunt for your CTA… it should be the second thing they see after your headline. That means your primary call-to-action definitely belongs above the fold of your website, and it's also a good idea to make it easier to see by using design elements like contrasting colors.
Finally, your call-to-action should clearly communicate what's on the other side of the "click." Remember, a potential customer is unlikely to click on a CTA button if they have no idea where they'll be taken next (a newsletter signup, a category page, or something else?) High-converting landing pages always have a crystal clear call-to-action.
3. Your design is cluttered or confusing
Another common feature of high-converting landing pages is clean, simple design.
It should be easy to navigate and understand how all the different parts of the landing page fit together. Too much information or too many elements can cause confusion, which in turn can lead to a low conversion rate.
Try to look at your landing page from your customer's perspective. If you notice places where they might feel confused, remove any unnecessary elements to make things clearer.
4. Your page is not mobile friendly
Optimizing landing pages for mobile devices is crucial because about 62% of your users will view your landing page from their phones. If your landing page copy or images don't look good on mobile, that's a big problem.
When visitors land on your pages, they should have a great user experience no matter what type of device they're using.
5. Your messaging doesn't fit your target audience
Landing pages need to be tailored to what your target audience needs and wants. If the content on your landing page is irrelevant to the people viewing it, they'll leave without a second thought.
For example, you might choose to use internet slang to communicate with a young target market, but you probably shouldn't if you're communicating with the 65+ age group.
Your target market likely includes a few different demographic or interest groups. If that's the case, you can use website personalization to adapt your website to different segments of your target audience.
Using website personalization software like OptiMonk, you can personalize landing page elements like headlines and copy for each individual segment.
6. Your page is too slow to load
Page speed is one of the most important factors in your user experience, meaning that it can also impact your conversion rate. Slow landing pages are a huge source of frustration for visitors and can cause them to leave without ever seeing your offer.
You can see whether you need to optimize your landing pages for speed by using this tool, which identifies whether you have any loading issues.
What is landing page optimization?
Landing page optimization is all about finding ways to improve various page elements in a way that boosts the conversion rate of your landing pages. Landing page optimization is a specific type of conversion rate optimization.
Landing page optimization involves using A/B testing to find out which variants of headlines, images, layouts, and calls-to-action (and which combinations of elements) perform best.
Depending on where improvements need to be made, landing page optimization can also involve:
Website personalization:

to adapt your landing pages for different segments of your target audience.

User experience (UX) design:

to improve the layout, reduce clutter, and ensure the user moves through the page as intended.

Data analysis:

to understand how users interact with your landing pages.
Why is it important to optimize your landing pages?
First, an important disclaimer: there's no perfect landing page. You can always improve your landing pages by building upon what's working well and testing new hypotheses. While many people start thinking about landing page optimization when a page is performing poorly, it's also a great way to make your best landing pages even better at converting visitors and growing your business.
Here are just a few benefits you can expect from your landing page optimization efforts:
More conversions

: Every landing page is designed to convert traffic into a lead or a customer, and optimizing your landing pages is the best way to ensure you're securing as many conversions as possible.

Higher ROI for digital marketing campaigns: When your ads lead prospects to an optimized landing page, more of those prospects will convert, so you'll see a higher ROI/ROAS.
Better understanding of your target audience: When you A/B test different elements on your landing page, you'll begin to see what's important to your customers. That's information that you can use in all your marketing efforts going forward.
These concrete benefits show why landing page optimization is such an integral part of a broader conversion optimization strategy.
10 landing page optimization best practices
Now that we've seen why landing page optimization is so important, let's move on to some best practices that can lead to better conversion rates!
1. Test out landing page headlines with different value propositions
Landing pages are a great place to define your unique selling propositions (USPs) for new audiences… especially if we're talking about a dedicated landing page for a specific product. You want your visitors to know exactly why they should choose your product over your competitor's.
That's why it's important that your landing page headline clearly highlights your USP. You should also test out different value propositions in order to find out which versions work best.
Here's an example from BlendJet where they use a couple of different value propositions.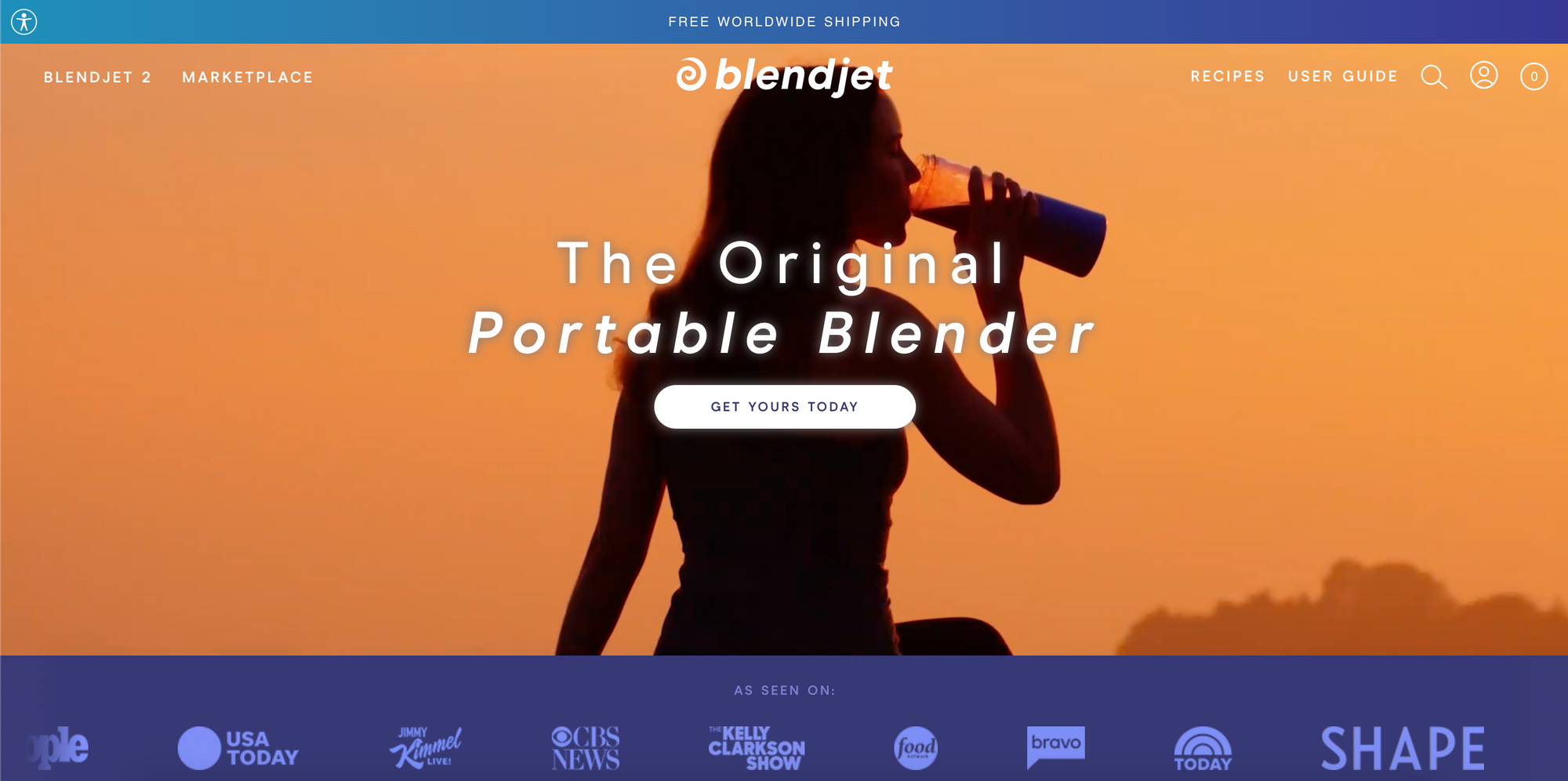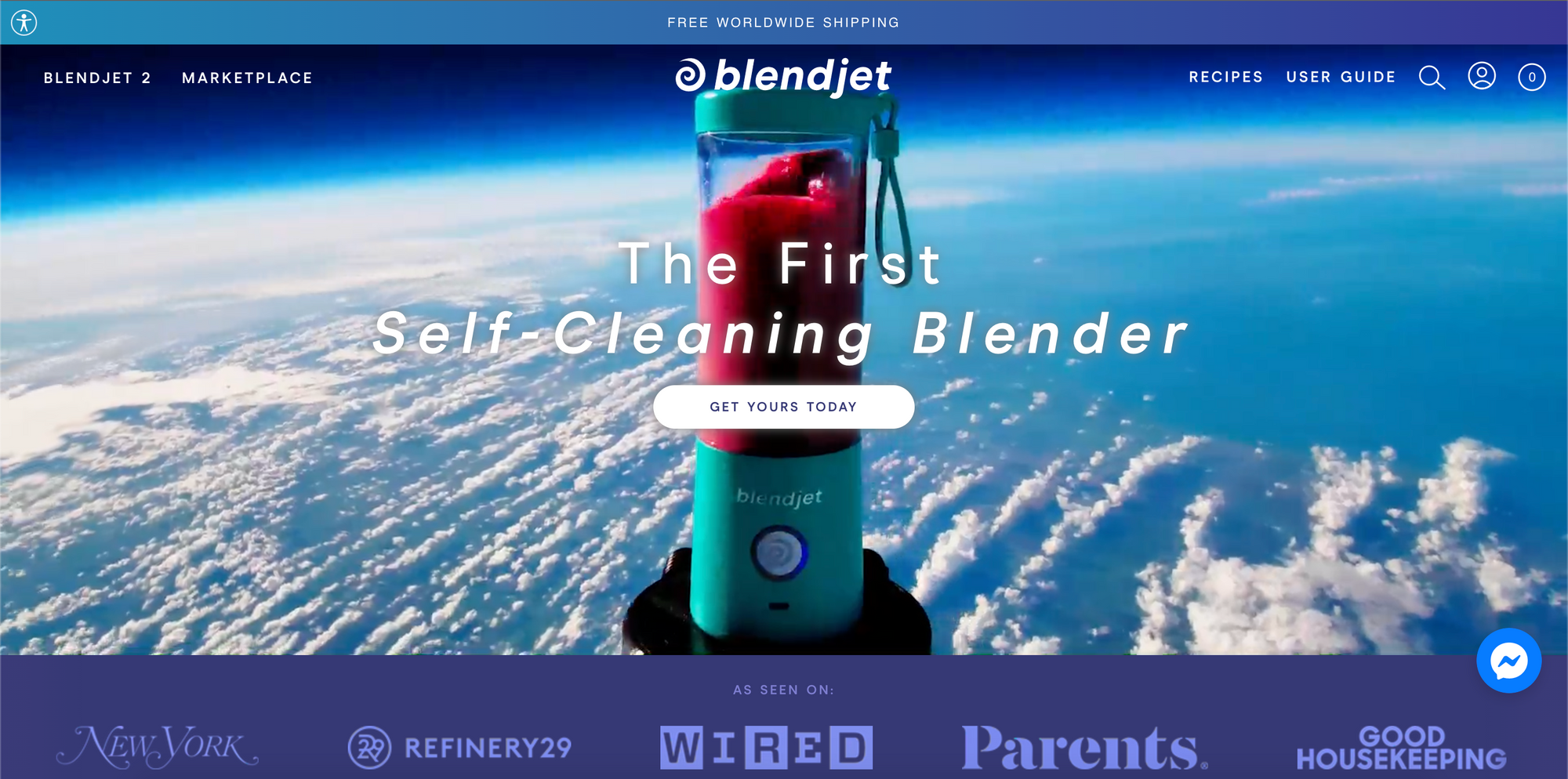 It's difficult to predict exactly which version of a USP will resonate best with a target market, so you need to A/B test different value propositions to see which ones perform the best.
2. Personalize your welcome messages based on country
You can use personalization to welcome your website visitors with relevant one-to-one messages.
One great way to do this is by personalizing your welcome popups to reflect the country that your international visitors are browsing from. This provides a great opportunity to explain your regional shipping policies or your free shipping offers.
However, this could be difficult to implement unless you use a tool like OptiMonk's Smart Tags feature. Here's an example from Kiss My Keto, an ecommerce site that used the Smart Tags feature to boost their welcome popup conversion rates by 15%.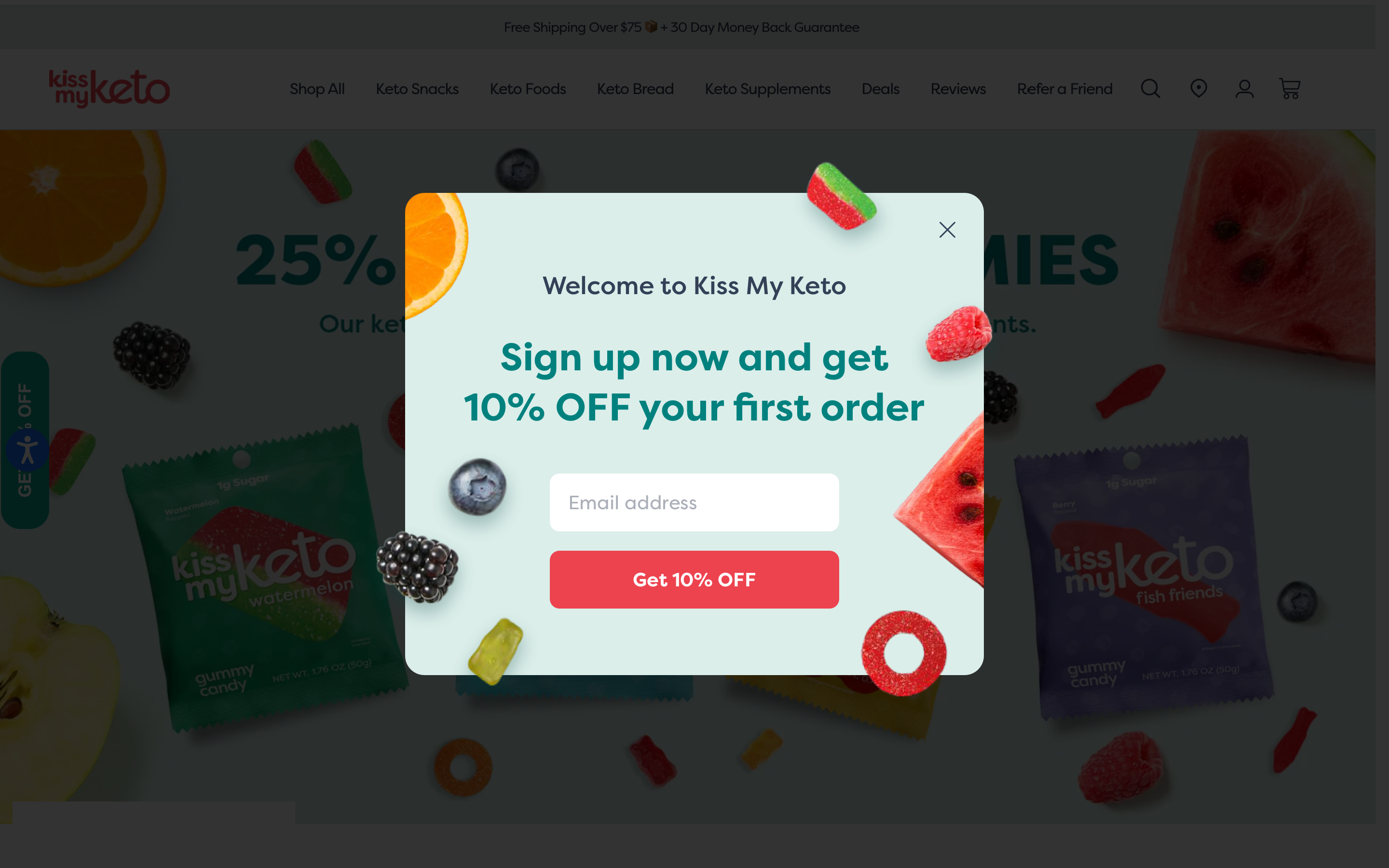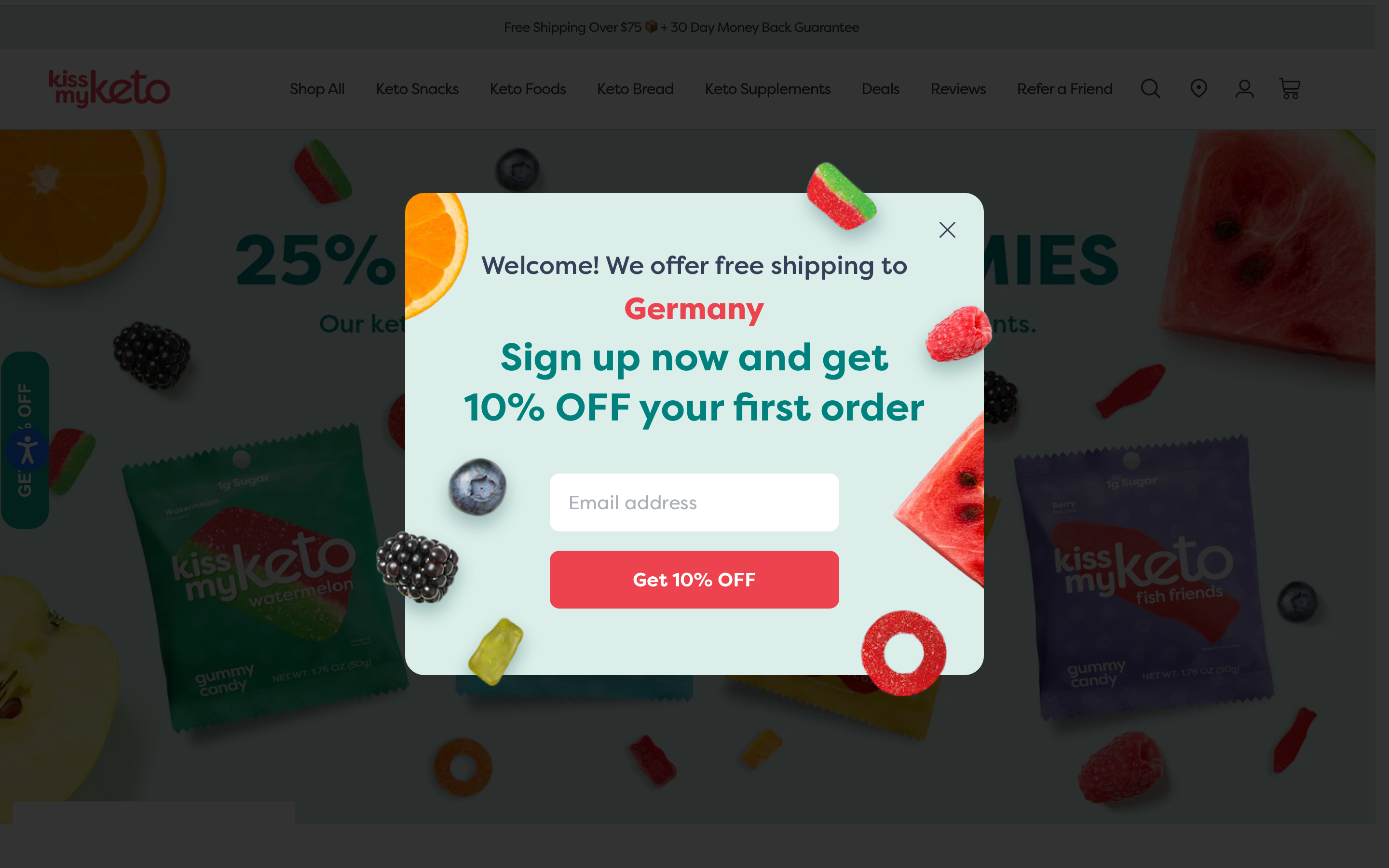 3. Display social proof
If you want to convert potential customers into paying customers, it's important to establish credibility as a brand. And displaying social proof on your landing pages is a key way to do this.
Some popular ways of showing social proof include customer testimonials, ratings, and reviews.
Here is an example from AI software Jasper, which displays social proof using text and video at the same time.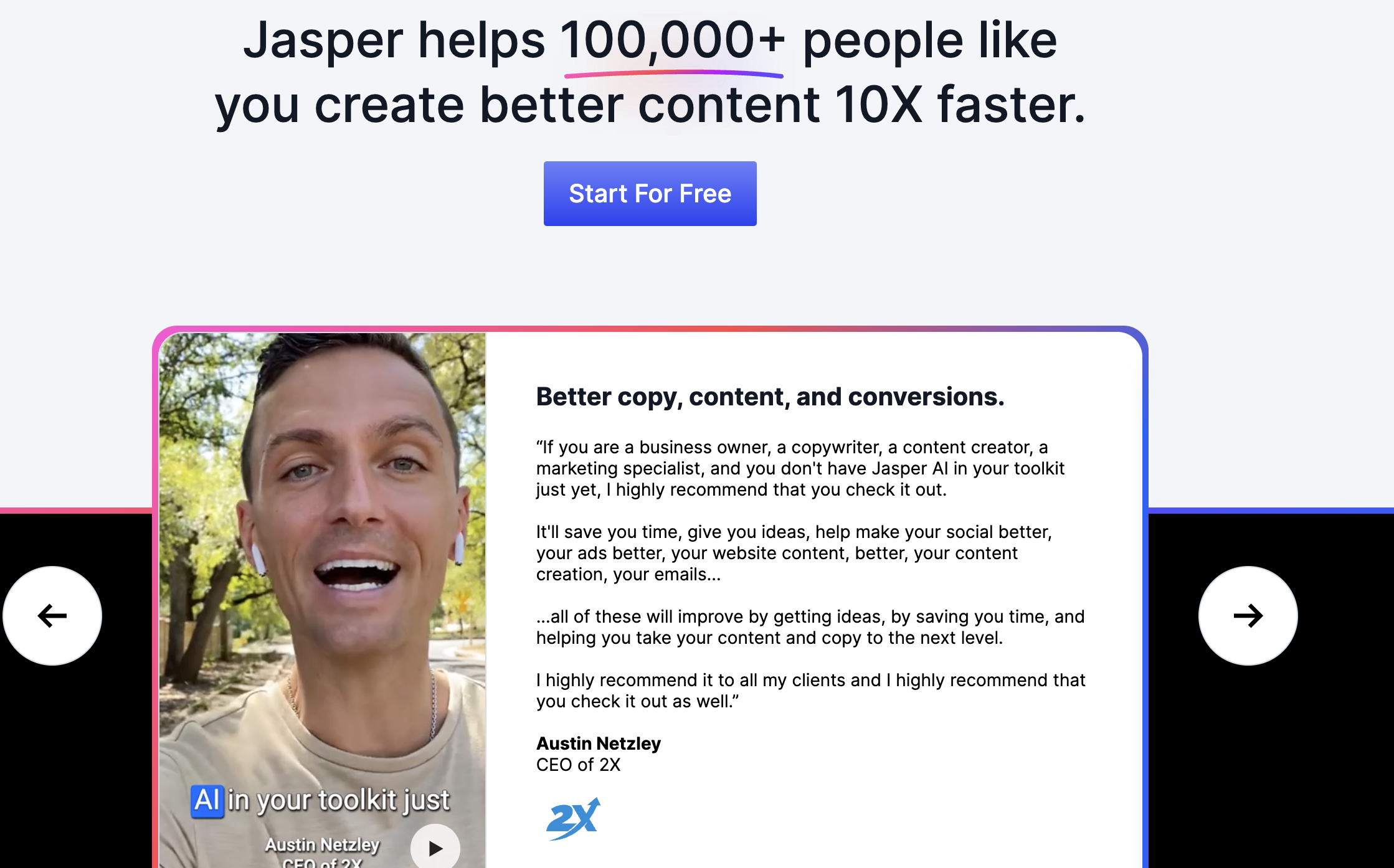 SurferSeo displays social proof with logos of companies that use their tool.

4. Decrease your landing page load time
When a visitor arrives on your landing page, they expect it to load quickly. Studies show that you only have about 3 seconds to impress your visitors.
You can decrease your load time by optimizing the images, videos, and overall design of your landing page. Many landing page optimization tools have features that help you make it load as quickly as possible.
5. Use a clear, simple layout
When you're designing your landing page, be sure not to overdo it. Your design should be clear and to the point. Use plenty of white space and keep your copy short and clear.
You also want to make sure that all your landing page elements are on-brand, since there shouldn't be any confusion when your visitors move from your landing page to your main site.
Check out Calm's simple yet effective landing page.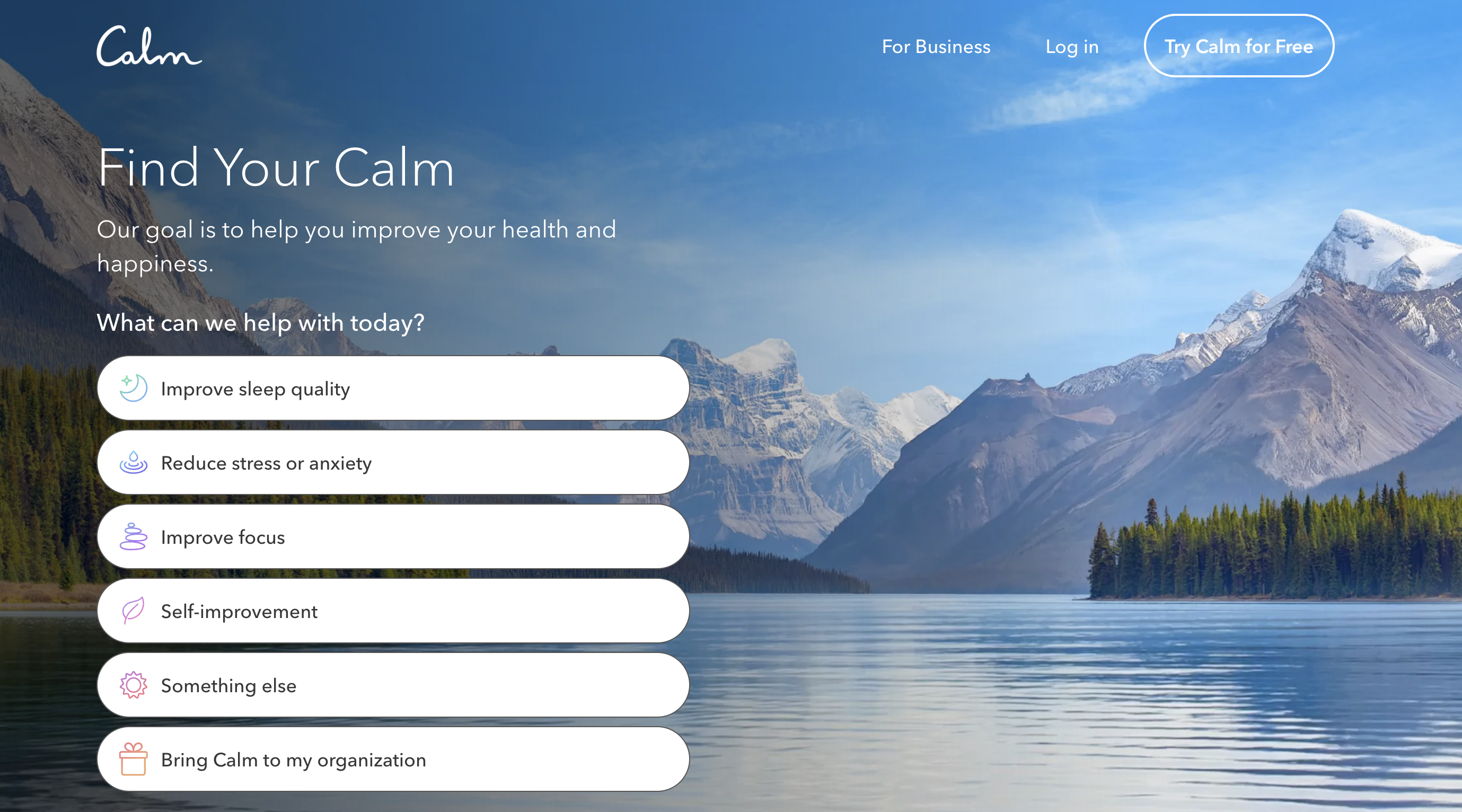 6. Use clear (and personalized) call-to-action buttons
As mentioned above, your entire landing page has a singular goal: get customers to click your call-to-action button. Your CTA should be placed above the fold, and it should be visually distinct from the rest of the page. Also, you almost always want to stick to a single CTA.
You can also use data about your website visitors to personalize your call-to-action, which will raise your conversion rates.
In this example, Netflix uses a simple, clear CTA: "Get Started."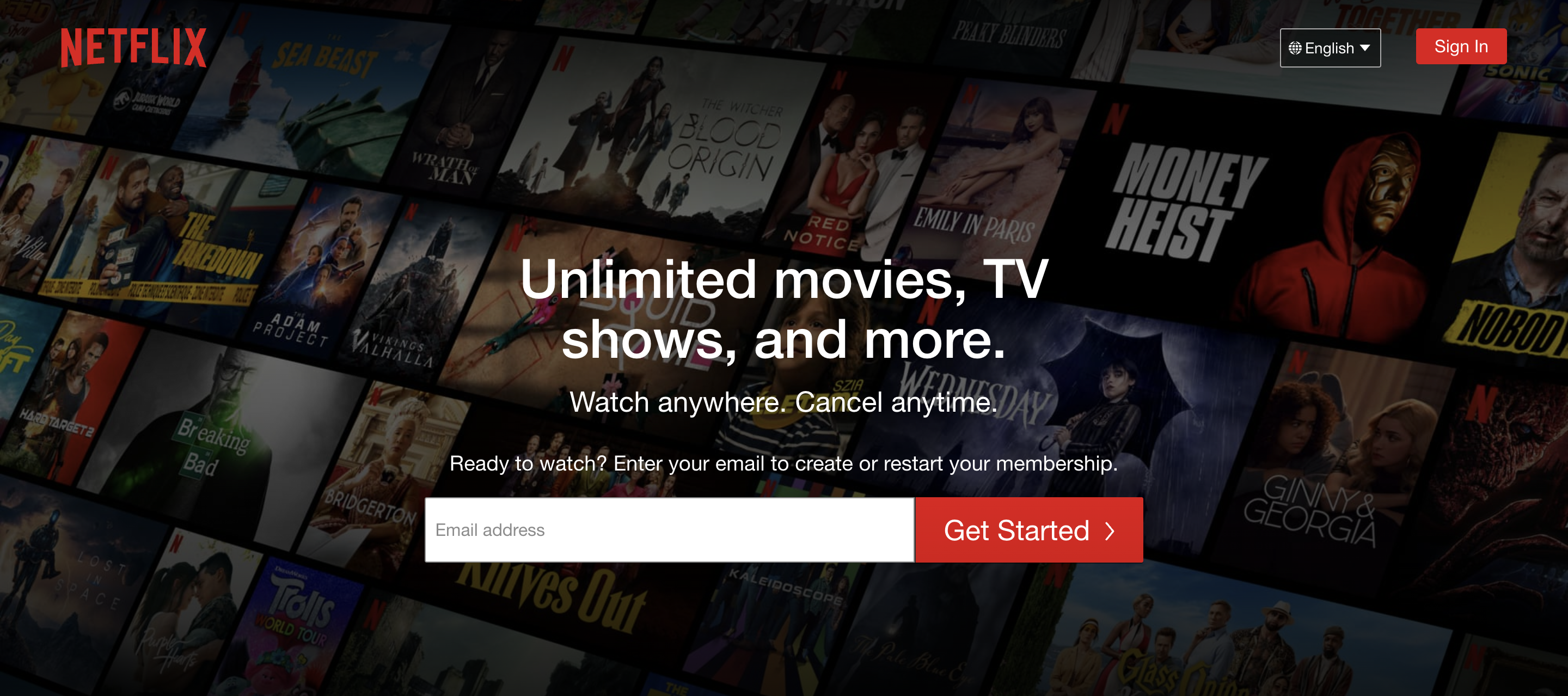 7. Make your page mobile friendly
As more and more people use mobile devices to browse the web, it's increasingly important to create mobile-friendly landing pages. Use landing page optimization tools that will allow you to see whether your landing page content is readable and aesthetically pleasing on mobile.
In this example from Simply Chocolate, the combination of minimal text and high-quality images get mobile users interested in their products.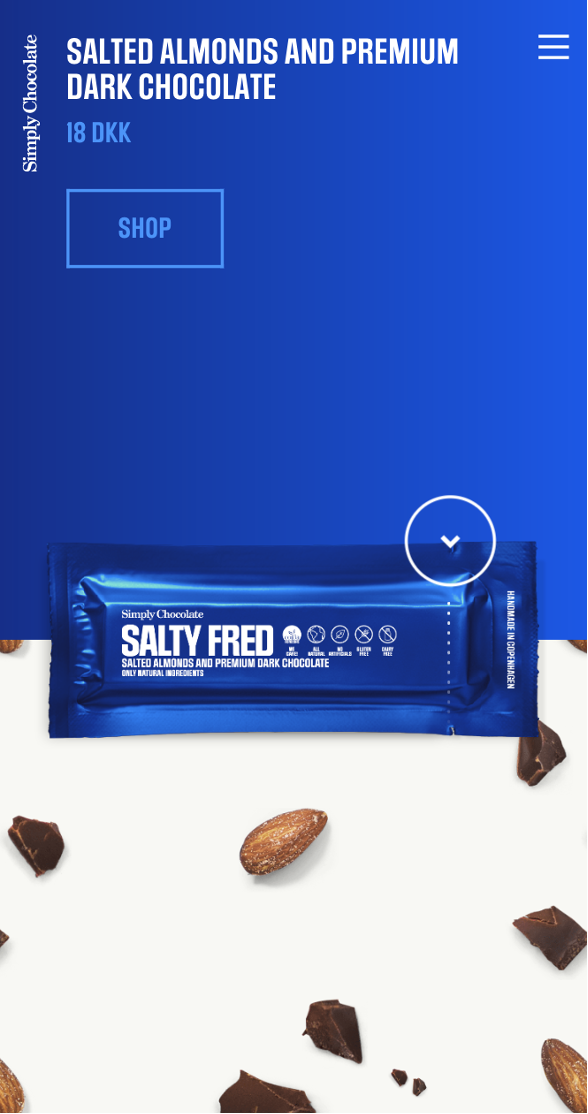 8. Have a clear, compelling headline
After you've tested different headlines (see tip #1), make sure the one you choose explains the main benefit of the product or service you offer.
Here's an example from Larq, which has a clear message, value proposition, and CTA.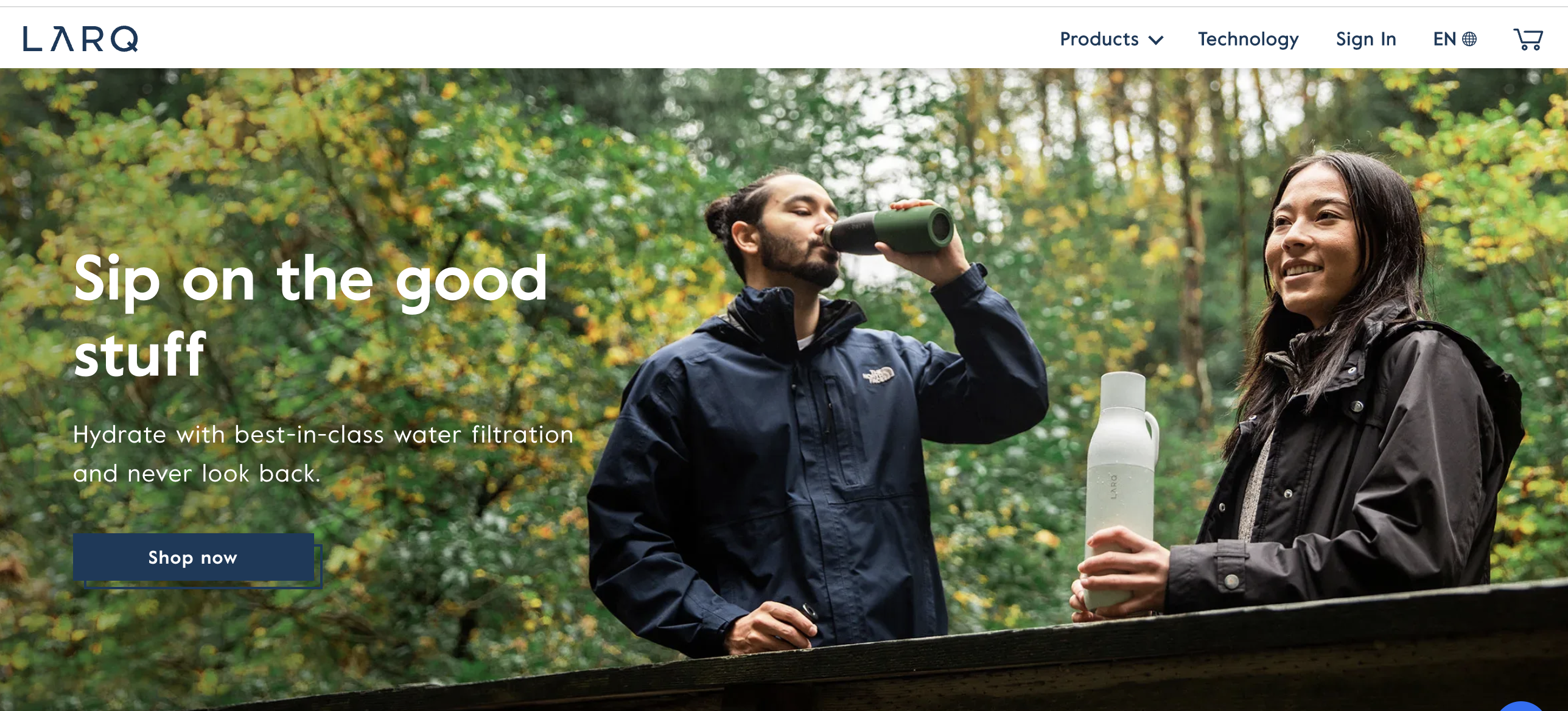 9. Create a sense of urgency to increase FOMO
A proven method of boosting your conversion rates is to use limited-time offers to create a sense of urgency. If a deal you're offering is only going to be available for a few days (or even 15 minutes), your potential customers will feel the FOMO (fear of missing out) effect. This pushes them to buy now rather than later.
Obvi created this scarcity message for Black Friday using OptiMonk's embedded content.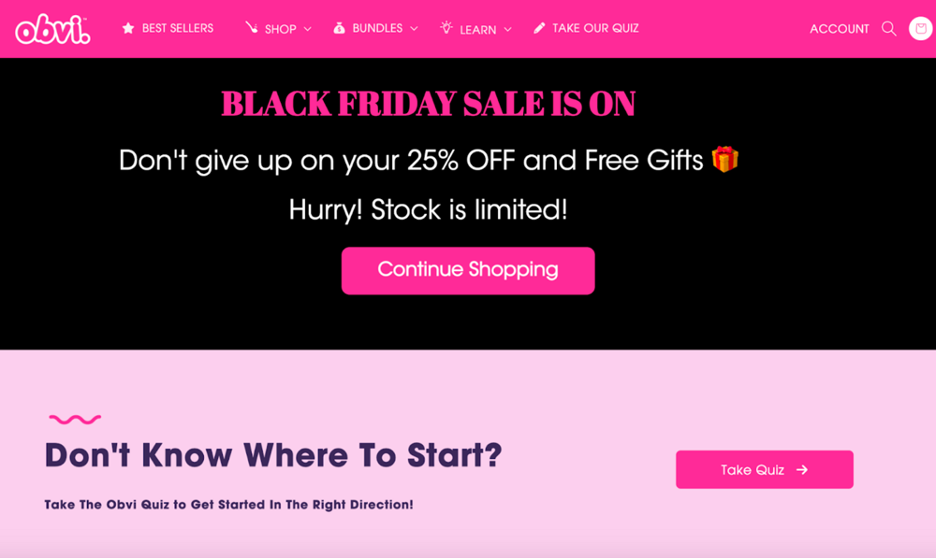 10. Use analytics to track and measure your landing page performance
Last but not least, it's crucial to track and measure how your landing pages are performing. You don't just want to look at the overall conversion rate of each landing page, but also how it's doing with different user segments. A landing page might perform very well for one segment of your target audience, but poorly for a different segment.
Using analytics allows you to make data-driven decisions as you continue to optimize your landing pages in the future.
Top 6 landing page optimization tools
Ready to start optimizing your landing pages? Check out this list of 6 powerful optimization tools to personalize your landing page, establish credibility, and increase conversions.
1. OptiMonk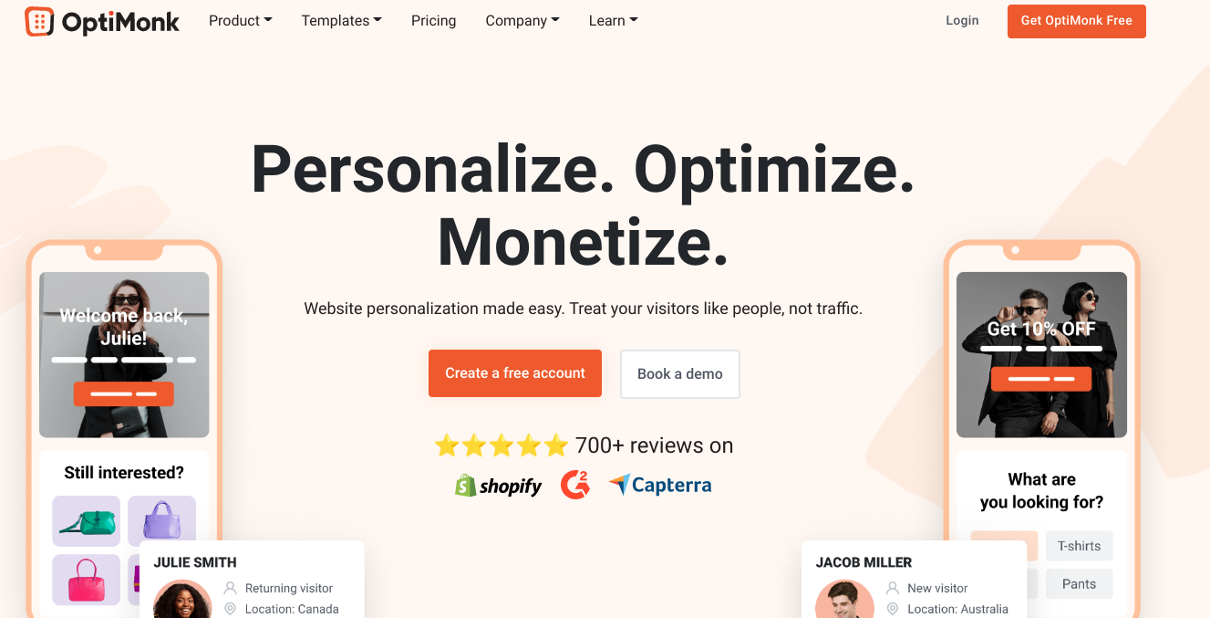 When it comes to landing page optimization, OptiMonk is simply one of the best tools on the market.
OptiMonk is a comprehensive website personalization tool that helps website owners increase their conversion rates by creating and testing different versions of their landing pages. OptiMonk offers a variety of features including:
A/B testing

Product recommendations

Embedded content

Exit-intent technology

Smart Tags

Real-time analytics
Since OptiMonk has such advanced personalization features, you can create targeted landing pages that adapt based on visitor behavior, location, and other factors. This helps ecommerce businesses improve the performance of their website and increase conversions.
Let's break down how OptiMonk can help you with your landing page optimization.
Key feature #1: Embedded content
With OptiMonk, you can add personalized embedded content to your website without worrying about flickering or slowing down your load time. Best of all, you can add these personalized sections without ever involving a developer.
Key feature #2: A/B testing
OptiMonk allows users to create and test different versions of their landing pages to see which ones perform better. This helps identify which landing page elements are effective and which need improvement.
Key feature #3: Smart Tags
OptiMonk's Smart Tags feature offers a deep level of personalization by changing parts of a message based on visitor properties. With Smart Tags, you can create 1:1 personalized messages that make your visitors feel like your offers are talking directly to them.
Price:
Free, or from $39/month.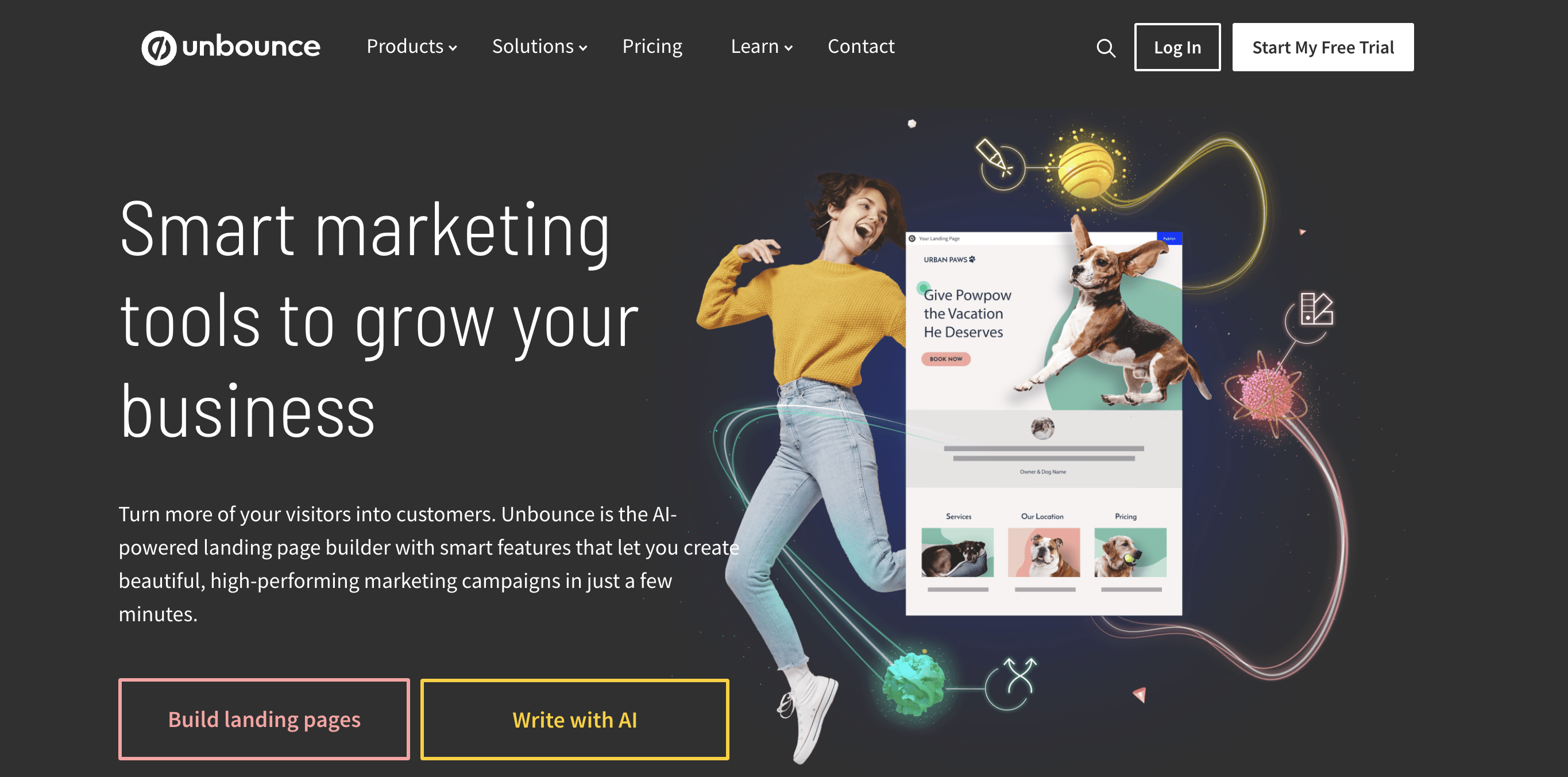 Unbounce uses AI to help you create beautiful, high-performing landing pages. The tool has features that allow you to quickly create marketing campaigns, generate new leads, and perform landing page optimization.
Main benefits:
User-friendly editing:

Unbounce has an easy-to-use drag and drop editor that helps you create landing pages in minutes.

Templates:

Unbounce has a wide range of pre-made templates for landing pages, as well as for eBooks, eCourses, webinars, and more.

AI copywriting:

With Unbounce, you can generate content that your site visitors will love using help from their AI algorithm.
Price:
From $90/month. 14-day free trial available.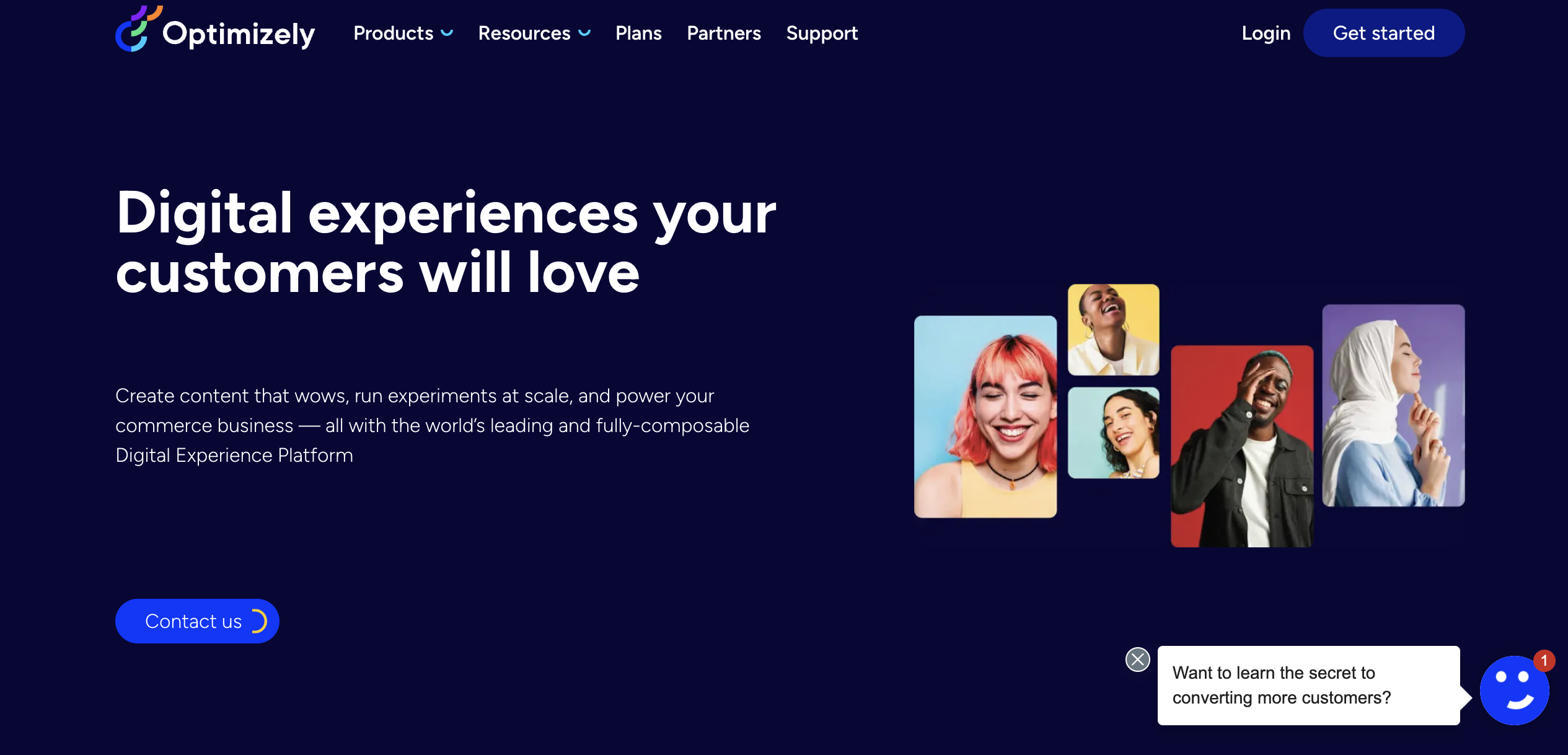 Optimizely is a website personalization tool that contains a Digital Experience Platform, which generates web traffic through engagement and content sharing. Optimizely isn't a cheap solution, so it's more suitable for larger brands.
Main benefits:
Recommendations:

Direct your website visitors to the content and products they'll love using AI assistance.

A/B Test your personalized experiences:

Use Optimizely's testing capabilities to deliver the best possible personalized experiences for your potential customers.
Price:
Custom pricing, available upon request.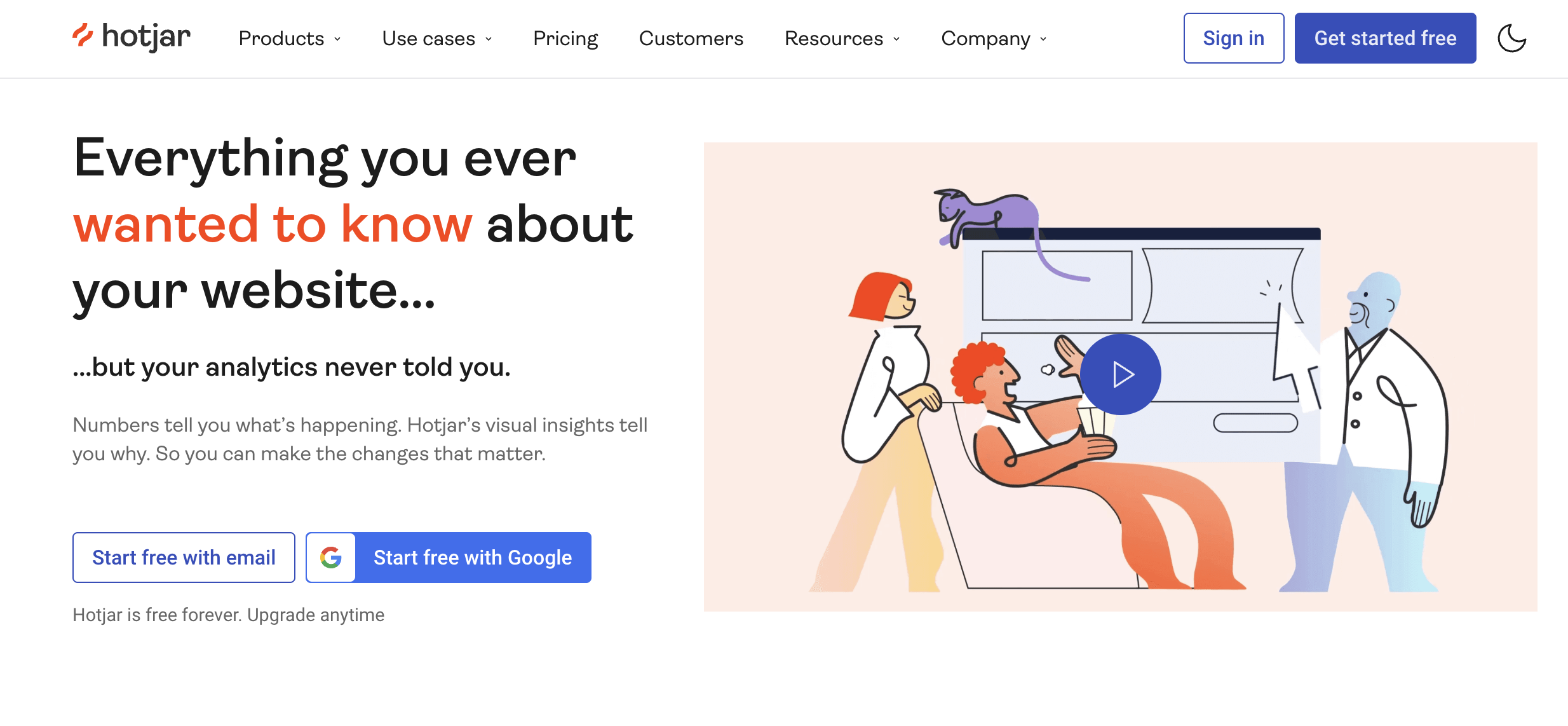 Hotjar helps you trace your potential customers' journey on your website and find out why your conversion rates aren't as high as they could be. This conversion rate optimization tool gives you access to a range of qualitative analytics, revealing all the movements visitors make on your site.
Main benefits:
Mouse tracking:

Visualize your visitors' behavior with heat maps of their clicks and mouse movements.

Recordings:

Watch recordings of individual user sessions to see how they interact with your site.
Price:
Hotjar's free version includes 300 recordings and 3 heatmaps. Premium packages start at $39/month.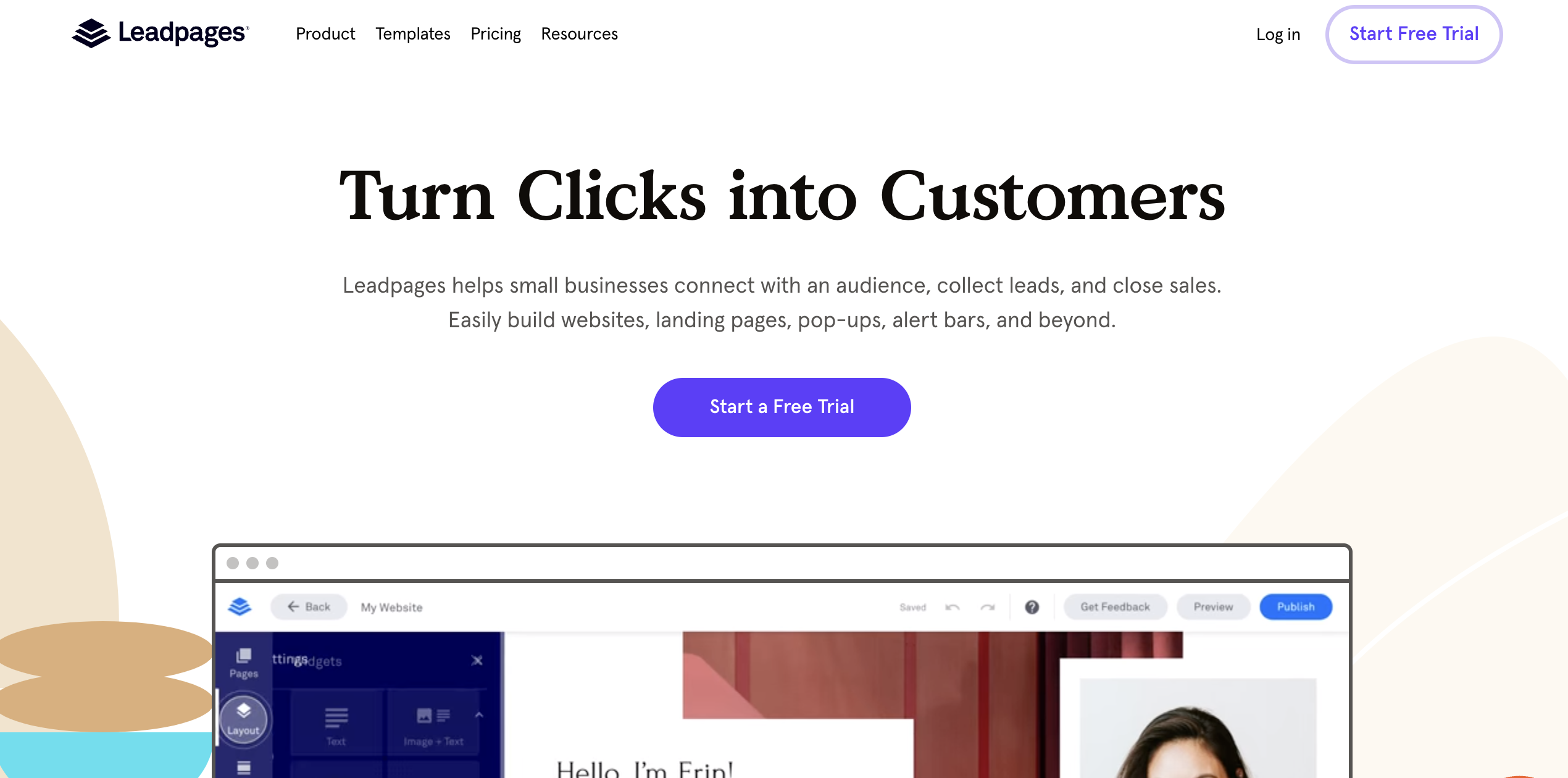 LeadPages is a landing page builder that's focused on sales and lead generation. Using it, you can create attractive landing pages using pre-built templates and code-free builders.
Main benefits:
Built-in conversion guidance:

LeadPages predicts how well your landing page will perform before you launch it, and gives you landing page optimization tips for how to improve it.

Mobile-responsive templates:

All of their more than 200 professionally-designed templates look great on mobile.
Price:
From $99/month. 14-day free trial available.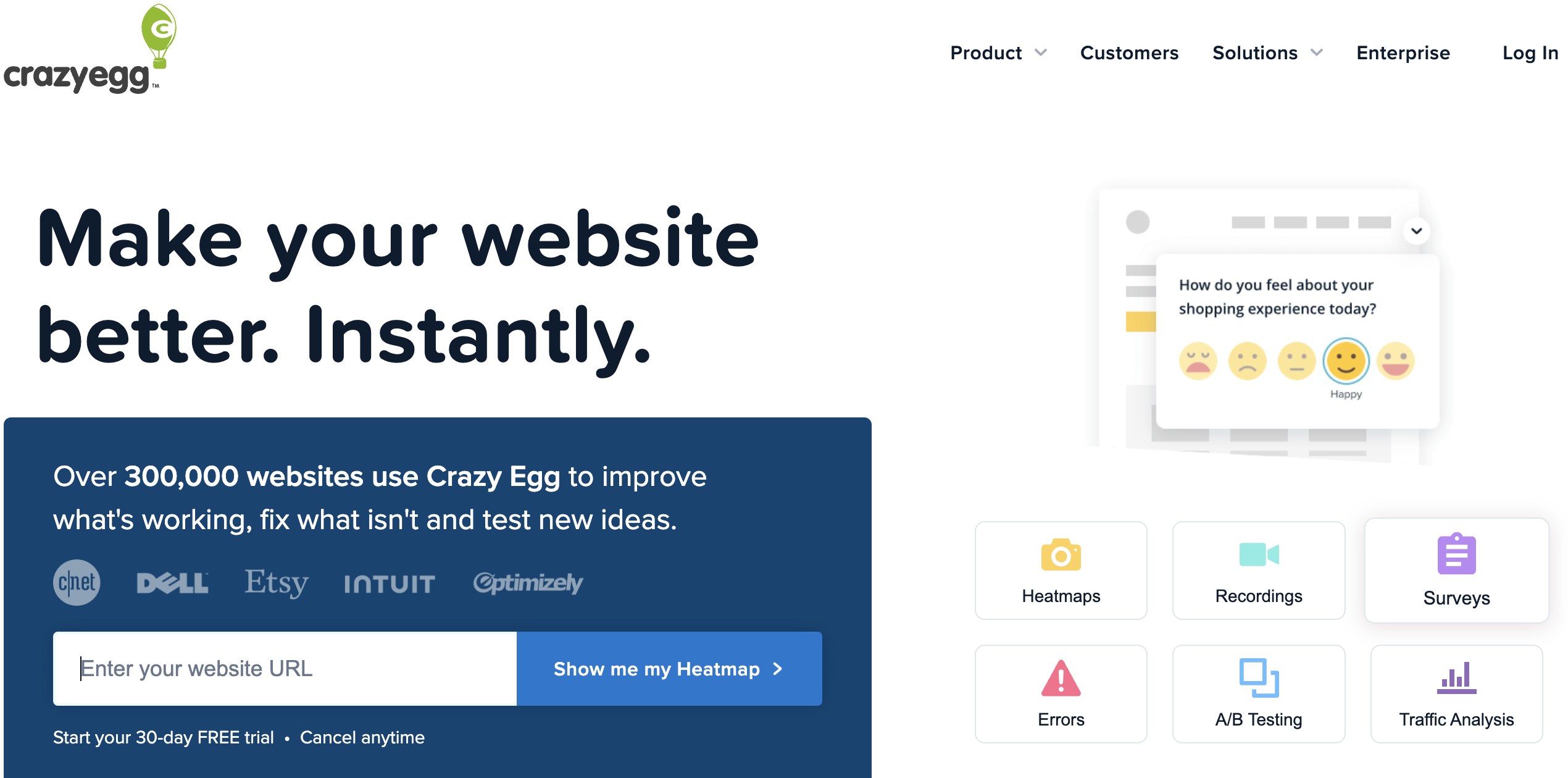 Crazy Egg is a conversion rate optimization tool that helps you improve your online marketing campaigns and landing pages. You can use the app to see heat maps, session recordings, and other advanced analytics.
Main benefits:
Heat maps:

See what stages of your on-site journey cause problems for your potential customers and address those issues.

Surveys:

Gain valuable insights from your customers by asking them questions about their experience on your landing page.
Price:
Crazy Egg uses custom pricing, but free trials are available.
How to get started with landing page optimization?
Landing page optimization is an ongoing process of continually testing and refining your landing pages. You should always be on the lookout for ways to improve your landing page copy, headlines, and calls-to-action.
Here are the steps you need to follow to get started with landing page optimization.
Step #1: Define your goals
Before making any changes to your landing page, it's important to clearly define what you want to achieve.
For example, are you primarily concerned with increasing sales or generating more leads? Certain landing pages are used for introducing new products or features as well. Whatever your goal, it's important to optimize your landing page with just one goal in mind.
Defining your goals will help you focus on the most important elements of the page to optimize when trying to increase your landing page conversion rate.
Step #2: Analyze your current page
Evaluate your current landing page using tools like Hot Jar in order to identify any elements that may be causing visitors to bounce before taking your desired action.
You might discover problems like a confusing layout, unclear messaging, or a weak call-to-action.
It's also a good idea to use a web analytics service like Google Analytics to understand how different segments of visitors interact with your page.
Step #3: Conduct A/B testing
Once you've found things you want to improve on your landing page, it's time to use A/B testing on a few different possible solutions. This is the way to determine what works and what doesn't.
You'll want to test out variations of only one element (headline, image, CTA, etc.) at a time. If you change several different elements at once, it will be tough to tell what's making a difference!
Step #4: Optimize for user experience (UX)
Finally, it's time to optimize the landing page experience. This is critical to the success of your landing page, since your potential customers won't stick around if the UX is poor.
Make sure your page is easy to navigate, loads quickly, and has a clear and compelling message.
You can also use the insights you gathered from your heat maps, scroll maps and other user behavior analytics tools to make the necessary improvements.
Landing pages are a key component of your sales conversion funnel. They can help you bring in more email subscribers through lead capture and more customers, boosting your sales.
Landing page optimization requires continuous iteration and testing to achieve the best results. You also need access to the best landing page optimization tools so that you can add, test, and adjust all the on-page elements you need to increase conversions.
If you'd like to create the best landing pages possible, be sure to give OptiMonk a try. The tool is free, so there's no reason why you shouldn't start improving your landing pages today!