Building an email list is one of the most traditional digital marketing techniques for ecommerce stores, yet the most effective.
Email marketing is 40 times more effective than social media for acquiring new customers. It also provides an average ROI of 122 percent, which is four times higher than any other digital marketing channel.
The 3/47/50 rule is a general rule in the ecommerce world:
Only three percent of your website visitors are ready to purchase something now.
47 percent of your visitors are not prepared to make a purchase but might buy something in the future.
50 percent of your visitors will never buy anything from you.
Most ecommerce stores focus on converting this small percentage of visitors that are ready to buy something. This could be with: discount offers, email marketing, retargeting ads, or live chat.
Ignoring those 47 percent of your visitors means you're leaving money on the table.
Now that you know why email marketing is important for your ecommerce store growth, let's review some mistakes you should avoid when building email lists.
Mistake #1: Asking for too many details
The more complex your opt-in form is and the more information you ask — the more you'll confuse your visitors.
Too many form fields decrease the chance that visitors will subscribe to your list.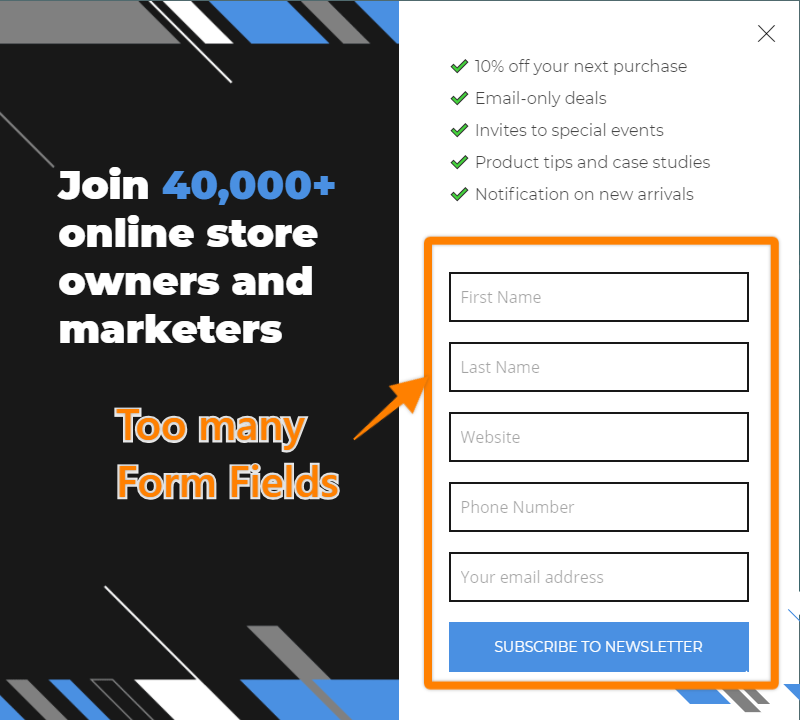 The more comfortable your shoppers feel the more apt they are to hand over their information. Therefore, it's best to limit what you ask of them.
Your signup forms should have two fields:
If you need more information, you can perhaps engage with them via a survey at a later time, but only after you have established trust and a relationship with them.
Here's an example of a simple yet effective exit-intent popup used for list building by Extreme Digital.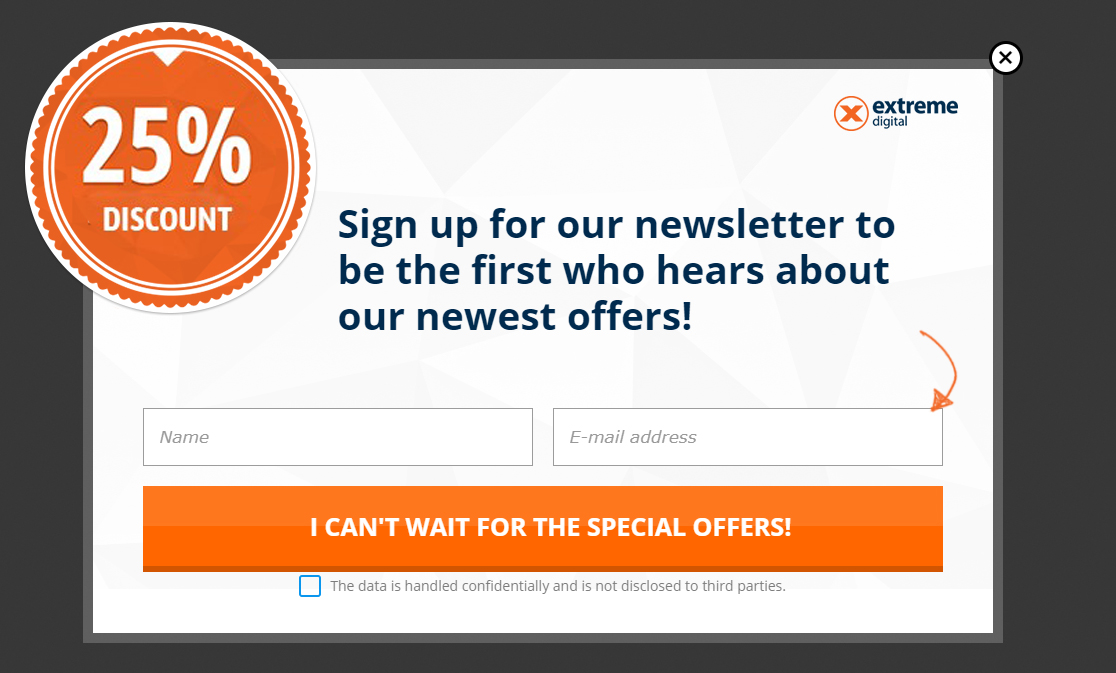 They offered website visitors exclusive and latest discounts in exchange for their emails. This popup alone yielded them a ten percent conversion rate which meant 900 new subscribers within the first seven days.
Mistake #2: Not offering incentives for email subscribers
Many ecommerce sites present visitors with generic popups simply asking for an email address. These popups and messages fail to convert because they don't offer any incentive to visitors.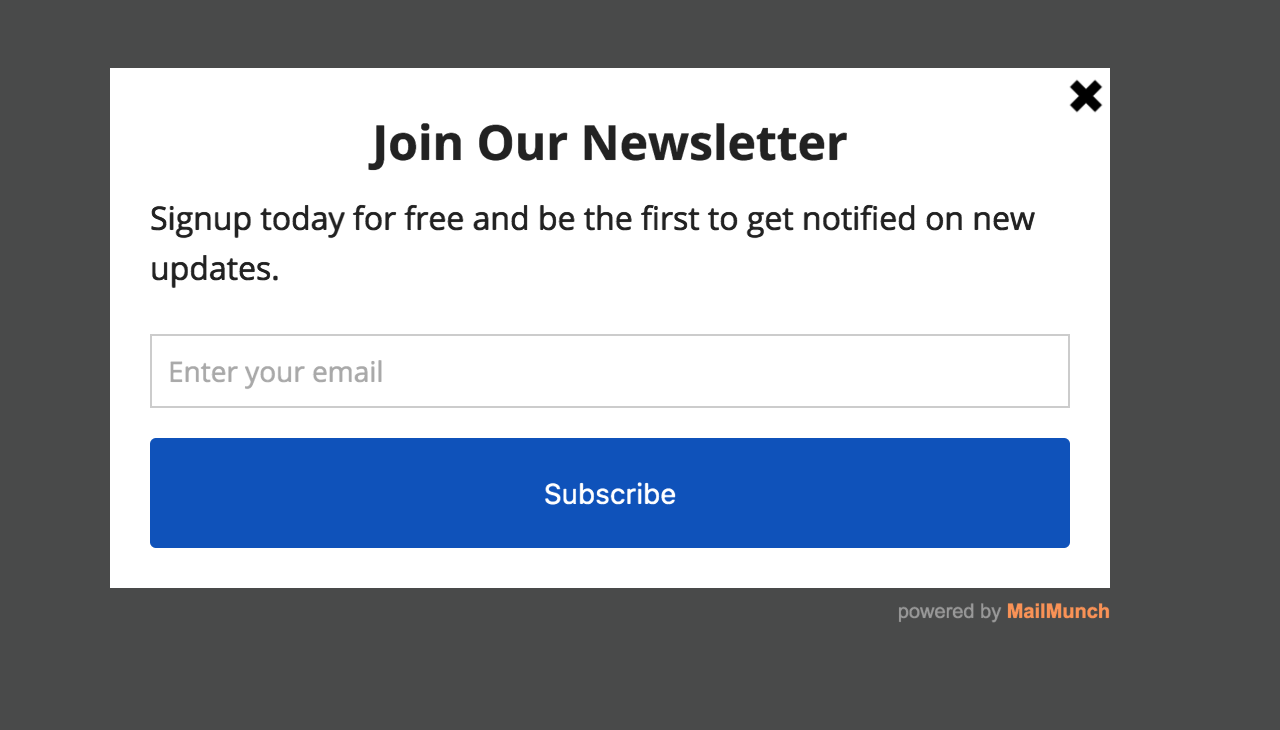 A popup like this is ineffective and doesn't offer any direct value for the visitors to subscribe to. Hence a minimal conversion rate.
What we recommend is that you stop using generic messages such as:
Join our newsletter.

Sign up to receive the latest information.

Subscribe.

Join our email list.
Instead, offer something of value with immediate benefit. Ebooks, guides, checklists, tools, or personalized product recommendations are excellent value-adds for your visitors.
Here's an example from MyExcelOnline. They created an exit-intent popup specifically for visitors who spent more than two minutes on the website. The offer for new subscribers was a free Excel training course.
As a result, their email list grew substantially and generated an additional $22,800 in sales.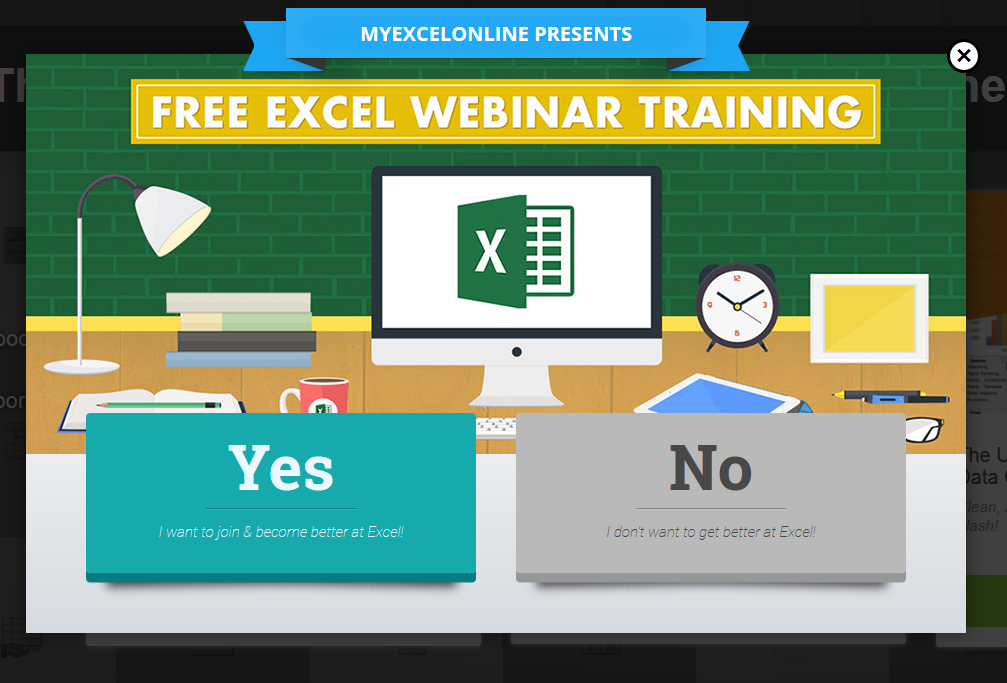 Ecommerce stores can also offer their visitors a direct incentive such as first-time discounts and free shipping coupon codes.
Here's an example from BlendJet. They displayed this exit-intent popup to visitors who have yet to make a purchase.
As a result of using this popup, their lead-to-sales conversion rate increased to over 13 percent globally, and over 20 percent for US-based visitors.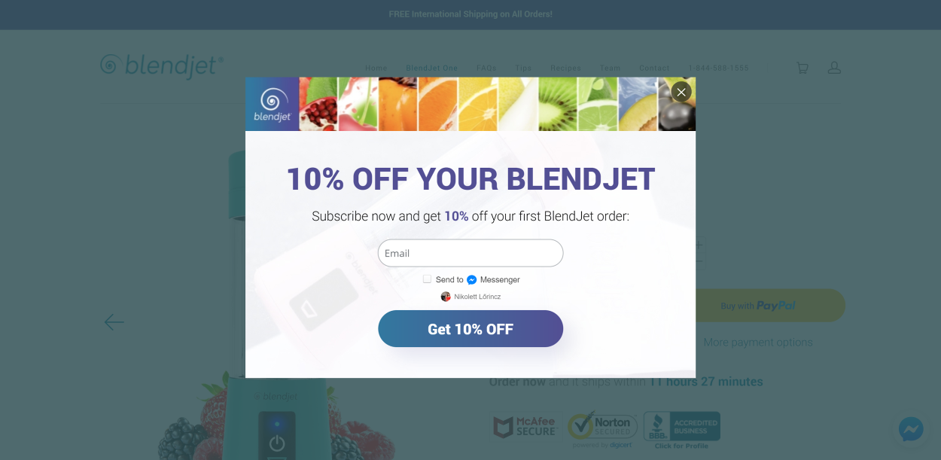 Mistake #3: Not segmenting your landing page visitors
Another common mistake that we notice is that ecommerce stores show the same offer or incentive to every visitor.
Each visitor is unique and probably in a different stage of the customer journey. Showing everyone the same popup means that your messaging isn't personalized.
Here's one common scenario.
An email subscriber returns to your site for their second visit. But on both visits, they see the exact same popup.
Duplicate messaging is a sure-fire way to annoy shoppers and decrease interest in your offers or your brand.
It's important to segment your visitors based on their customer journey. Then, display a relevant offer.
A ten percent discount or free shipping might only entice purchase-ready or price-sensitive customers.
Suppose someone is still educating themselves about your products and has not yet decided to buy. A free shipping offer might not work for them. Instead, offer a buying guide or educational content to build their trust in the solution.
To personalize your offers properly, the first thing you must do is to segment your audience. Then show each segment a different message.
Here are some common forms of segmentation based on your visitors' behavior:
New visitors vs. returning visitors.

Existing customer vs. a first-time customer.

Geographic or location-based segmentation.

Product-based segmentation.

Segmentation based on referral sources such as blog posts, social media, or other websites.
One example of exit-intent popups is from Digital Marketer, an online community that provides educational courses and guides for digital marketers.
They created multiple popups and offers based on their visitors' search intent and website behavior. They displayed this lead magnet "Facebook Ad templates" to any visitor who browsed any of their web pages with "Facebook" in the URL.
This campaign alone resulted in 471 new email subscribers.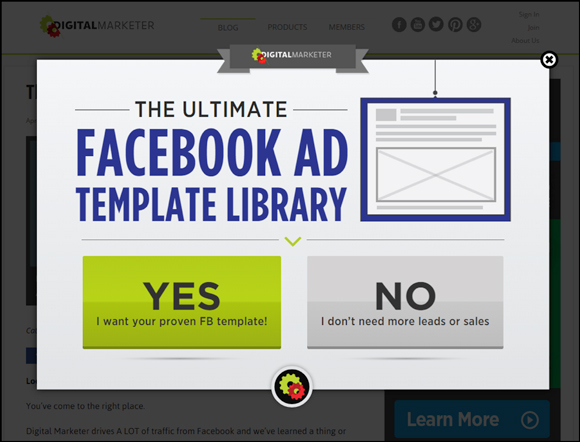 Mistake #4: Not sending a welcome email
The best way to build this relationship is to send them a memorable welcome email.
Most consumers expect a welcome email, especially if they are anticipating a piece of collateral like an ebook download or free shipping.
Welcome emails have an average open rate of 42.2% and 10.5% click-through rates. Also, they produce 320% more revenue per email than promotional emails.
Starting the relationship in the right way will help you to later go back to the same subscriber, and then share more relevant offers. There is a chance they will then convert.
Here's an example from Firefox. They use double opt-in where a user receives this email so they can confirm that the visitors want to subscribe to the newsletter.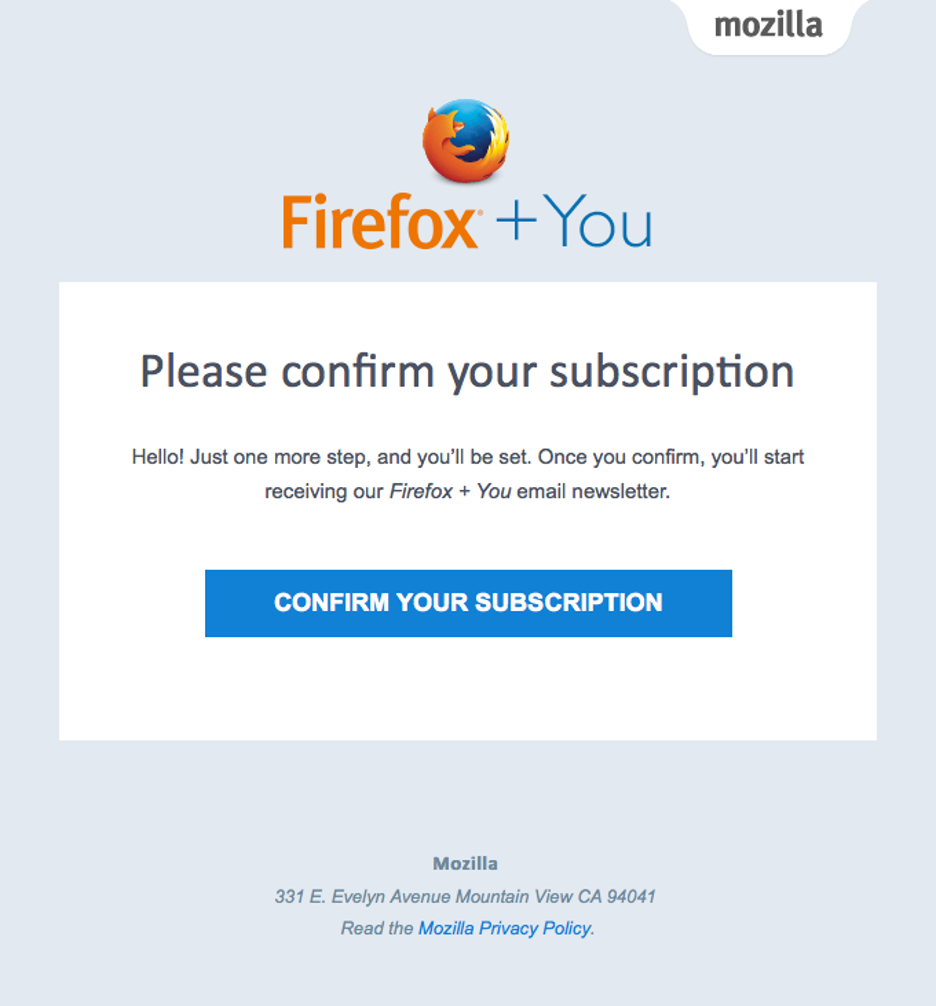 Mistake #5: Optimizing only for conversion
The average ecommerce conversion rate is three percent. Despite a wide array of Conversion Rate Optimization (CRO) methodologies, resources, tools, data analytics — the numbers are still low.
If you are solely using CRO techniques to build an email list, you're hurting your business.
To be more effective, you need to play the long game and build relationships with customers. Instead of pre-emptively showing them an opt-in form that they might not be interested in, find out what offer is ideal for them. Only then display those offers.
Customer Value Optimization (CVO) will give you an edge over other stores that just use CRO techniques.
Customer Value Optimization is about creating a great customer journey and maximizing the ROI for all marketing activities. It focuses on optimization throughout the customer lifecycle to improve brand and loyalty—and create customers for life.
The popups are personalized based on their unique interests and behavior. Hence they are more effective in converting more email opt-ins.
But, to be successful at CVO, you first need to understand the 5 stages of customer awareness.
Each customer goes through these stages before they are ready to place an order from your store.
Unaware

—

The shopper doesn't know they have a problem or desire.

Problem Aware

—

The shopper knows they have a problem, and it needs to be fixed but doesn't know the solution.

Solution Aware

—

The shopper realizes that they can solve this problem with the right solution, but not that your product provides it.

Product Aware

—

The shopper learns about the product or solution that can solve the problem, but isn't sure it's right for him.

Fully Aware

—

The shopper knows the products that exist and how much they cost, and only needs to know "the best deal."

Depending on where the visitors are in their "customer awareness" stage, you will offer them a unique email opt-in form.
Here's what that could look like:
Unaware

—

Your goal in this stage is to raise awareness of the problem. Create and publish articles, podcasts, videos, webinars, etc., to evangelize and educate the market. Encourage them to subscribe to your email list to receive more educational content.
Problem Aware

—

Your goal here is to raise awareness of the solution. Offer educational content such as guides, quizzes, ebooks in exchange for their email address.
Solution Aware

—

Your goal here is to help them choose the right product. Create buying guides, comparison charts, wizards. You can encourage them to opt-in to receive a personalized product comparison.
Product Aware

—

Your goal here is to build trust and remove any doubts in their minds. Create and display social proof, live chats, etc. You can also send them customer stories and case studies to help reduce any resistance.
Fully Aware

—

Your goal here is to offer them the best deal, so they don't buy from anywhere else. Create and display coupon codes or timely offers, and keep them informed via email.
By personalizing and optimizing your messages based on their customer journey, you'll have more success in building your email list.
(Note: If you'd like to get started with Customer Value Optimization quickly, explore our Inspiration Library. It illustrates dozens of new use cases, 13 new and colorable themes, hundreds of ready-to-use templates, and targeting recommendations.)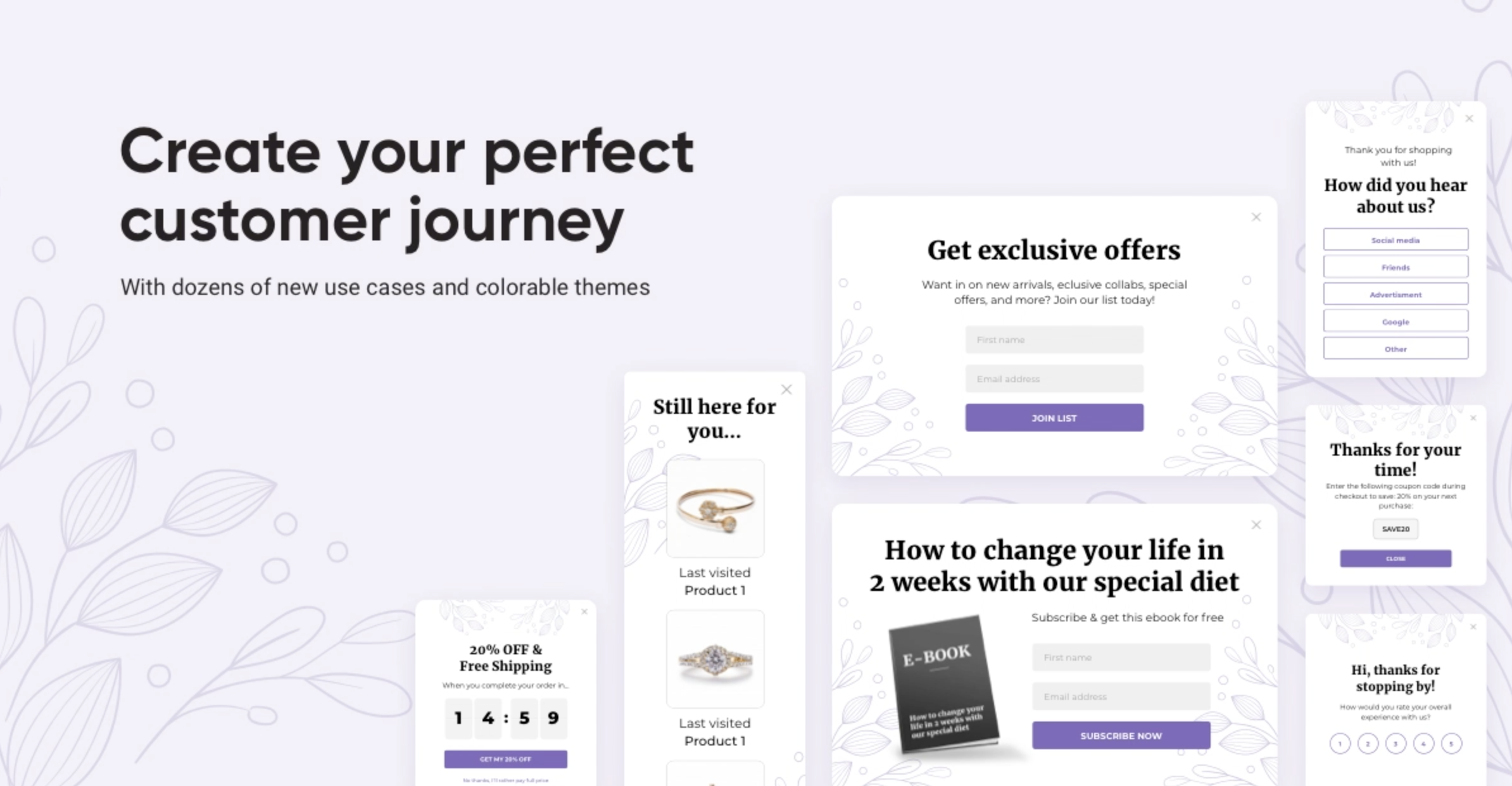 Email marketing continues to be a dominant lead generation, customer acquisition, and loyalty-building channel for ecommerce stores. Building an email list and nurturing a relationship with your subscribers (a.k.a. an effective email marketing strategy) will be essential in your online store's growth.
This article covered the five mistakes that ecommerce stores make in building their lists — asking too many questions, not offering any incentives to email subscribers, not segmenting your audience, not sending a welcome email, and focusing only on short-term conversions.
Not making the same mistakes will help you increase your conversions, grow your email subscribers, boost your ecommerce sales, and strengthen relationships with your users and customers.