In our fast-paced, digital era, you only have three seconds to make an impression on your website visitors. As an ecommerce store, your potential customers will form a picture of your brand within the first few moments of visiting your website. Talk about pressure!
You need to ensure that your website's performance is as great as it can be by optimizing your website.
In this article, we'll cover exactly what website optimization is and explain how you should optimize your website to leave a lasting impression on your visitors.
Let's dive in!
What is website optimization?
Website optimization is the process of improving the performance of a website in several different ways in order to:
rank higher in SERP (search engine results pages),

drive more traffic,

improve the user experience, and

increase conversions.
Typical optimization efforts include conversion rate optimization (CRO), website personalization, search engine optimization (SEO), copywriting, and UX design.
Since there's so much involved, it's crucial to have a website optimization strategy so you know which parts of your website you're going to prioritize and which you'll leave for later.
Why is website optimization important?
Optimizing your website will deliver many different benefits, both for your users and your business.
First of all, website optimization can improve the user experience by boosting your page's loading speed and providing a more user-friendly site structure. When your website visitors don't have to wait around for your site to load, you'll see more visitor engagement and increased time spent on site.
Furthermore, when you improve your site speed, you'll also likely be improving your ranking in organic search results. That's because search engines track site performance (through Google's PageSpeed Insights algorithm, for example) to determine the quality and relevance of a site.
And when your site becomes more visible in user searches, you'll get more traffic. Of course, that's why SEO website optimization is such an important part of the process.
Finally, website optimization helps you maximize the conversions you generate from all your traffic. A well-optimized site will generate more conversions and sales, as visitors will be more likely to make a purchase from a site that's quick, easy to use, and user friendly.
What's the best way to optimize your website?
As mentioned, website optimization is actually a collection of many different strategies or tactics. While there's some overlap, these tactics generally have different purposes and are intended to improve different aspects of your website.
For instance, SEO website optimization strategies help drive more organic traffic to a site, while both conversion rate optimization and website personalization are intended to generate conversions from the website traffic you already have. UX optimization, on the other hand, is all about improving the user experience and convincing visitors to spend more time on your website.
Just like there are many "ingredients" that go into website optimization, there are a huge number of different website optimization strategies that you could use.
When you're developing yours, it's essential to spend some time thinking about what your main goal is at the moment.
The best way to figure out what you should focus on when starting to optimize your website is by running a customer journey analysis. That will tell you what the biggest problems are with your website, which are the things you should focus on first.
One important rule of thumb is that you shouldn't chase after more traffic until you've made sure you're getting the most out of the traffic you already have. After all, if you're having trouble with your conversion rate, more traffic won't fix the problems that are causing it. That's why we suggest focusing on conversion rate optimization and website personalization first.
Both strategies are focused on increasing your conversion rate (in fact, website personalization is a kind of CRO strategy). The difference between them is basically that CRO is more focused on short-term boosts to conversion rates and uses tactics like increasing the urgency with countdown timers and offering discounts to every single visitor.
Website personalization, on the other hand, is about increasing conversions by creating an individually-tailored user experience for each visitor. It relies on the clever use of customer data to adapt a website based on individual needs, preferences, and behavior.
6 strategies to optimize your website
Now, let's check out 6 strategies that can help you optimize your website.
1. A/B test your headlines to drive more conversions
Whenever you create messages for your target audience, you should always evaluate how your content is resonating with them.
The best way to do this is by A/B testing different versions of your web pages to see which versions of your headlines lead to the best conversion rate.
In the example below, an ecommerce store tested two different versions of the headline for a product page. One of them is strictly focused on the product's features, while the other one includes the product's unique selling point (USP) as well.

Without A/B testing these different variants, it's almost impossible to know which one will lead to better results.
When you're looking for website optimization tools, you want to ensure that they offer robust A/B testing and analytics features. Otherwise, it'll be much harder to be sure that the web optimization steps you're taking are actually improving your user experience and website performance.
(Bonus tip: Headlines are also important for your website's SEO and ranking in search results, so make sure they contain relevant keywords!)
2. Personalize messages based on country
One important aspect of website personalization (and therefore website optimization as well) is getting your visitors the information they need without forcing them to go looking for it.
Since we know that shoppers are always concerned with shipping policies, it helps to inform them about whether you ship to their country and how much it costs.
To make the user experience even more convenient, you can show location-specific shipping information and special offers based on where users are browsing from.
This is a great example of using personalization to improve site structure, since customers won't have to navigate to a specific web page to find your shipping policies for their country— that crucial info is delivered straight to them!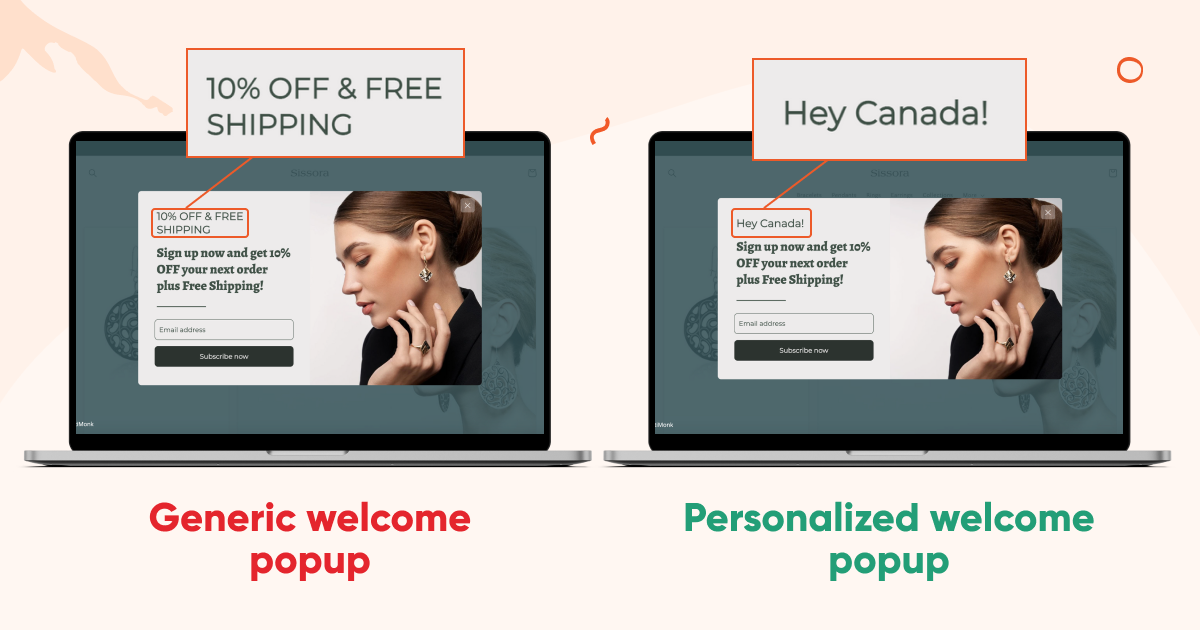 3. Personalize landing page headlines and content based on Facebook ad copy
Another on-page optimization tactic is adapting your site based on the ad that a user clicked on. What this does is create a smoother customer journey because it keeps the user intent in mind— remember, the user wants to see products and content that correspond to the ad they just clicked on!
For example, if a user clicked on an ad that highlights a store's selection of, say, engagement rings, they'll be annoyed if the landing page they arrive on is showing necklaces or something else.
Once again, you can always optimize your website further by A/B testing different versions of these landing page welcome messages.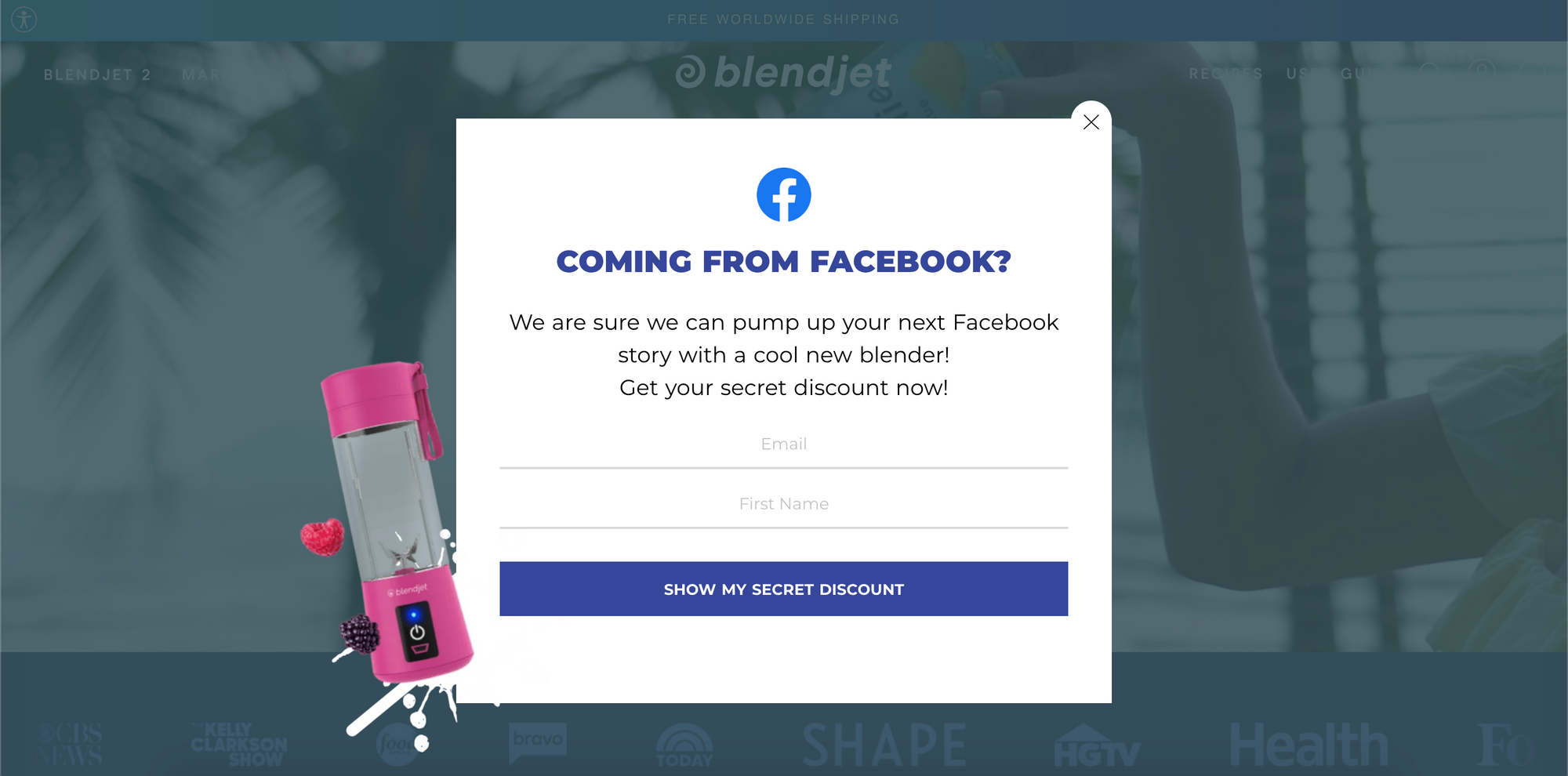 4. Show relevant product recommendations
Similar to the last tip, showing relevant product recommendations to your customers helps create a smooth customer journey. Instead of being shown all kinds of products and offers, the user experience stays focused on what each individual is actually interested in.
Amazon has been the king of delivering relevant product recommendations for years. In the example below, they offer products that are "Related to items you've viewed," ensuring that the products they're recommending are responsive to the interests of each customer.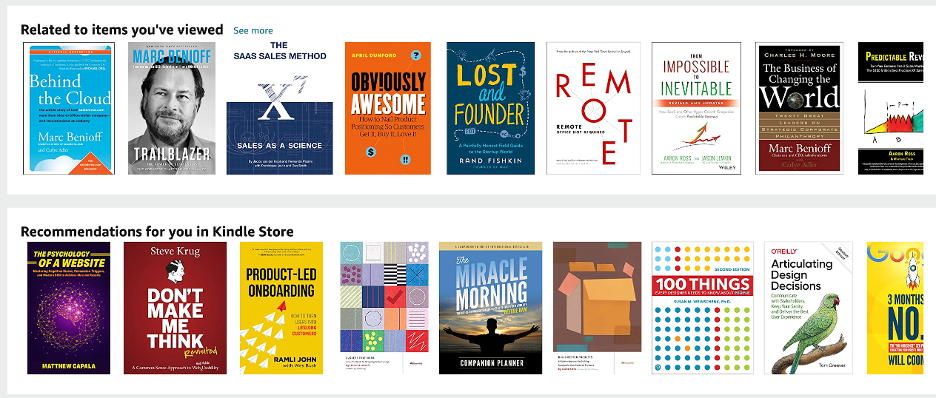 Also, if you're concerned about your average order value and would like to increase it, you can use cross-selling and upselling. Displaying bundles (like in the example below) or complementary products to what a user has added to their cart is an excellent sales strategy.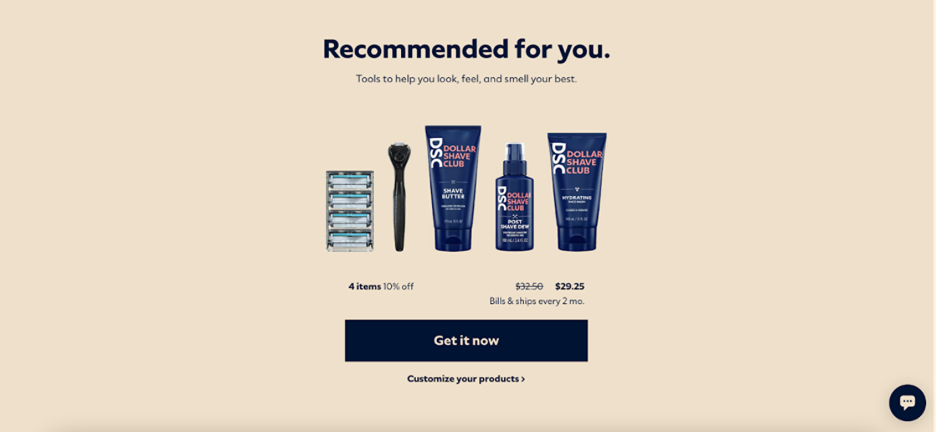 5. Implement cart abandonment campaigns
When a visitor has been all the way through your sales funnel and placed one or more items in their cart, it's a big deal when they abandon your site without completing their purchase. And it tends to happen a lot— the average rate of cart abandonment in 2022 was 66.5%! Since each abandoned cart you recover is a sale, this is a great target for website optimization.
Many website optimization tools can track current user behavior in order to know when a visitor is just about to exit a web page (both on desktop and mobile devices). This is a great time to offer a discount, since many of these customers just need one final incentive to actually make a purchase.
And if you use limited-time discounts like in the example below, you can create a sense of urgency that encourages users to make a purchase now rather than later.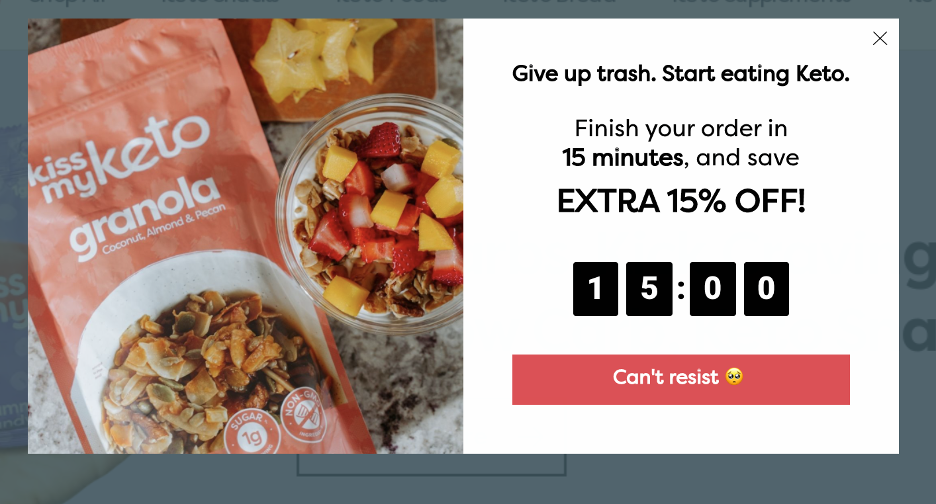 6. Display social proof to build trust and improve conversions
Social proof is especially important to first-time buyers because they don't have any experience with your products. Seeing what others have said about your brand can really help this segment decide to make a purchase.
The example below does a great job of highlighting positive customer reviews with both star ratings and written reviews.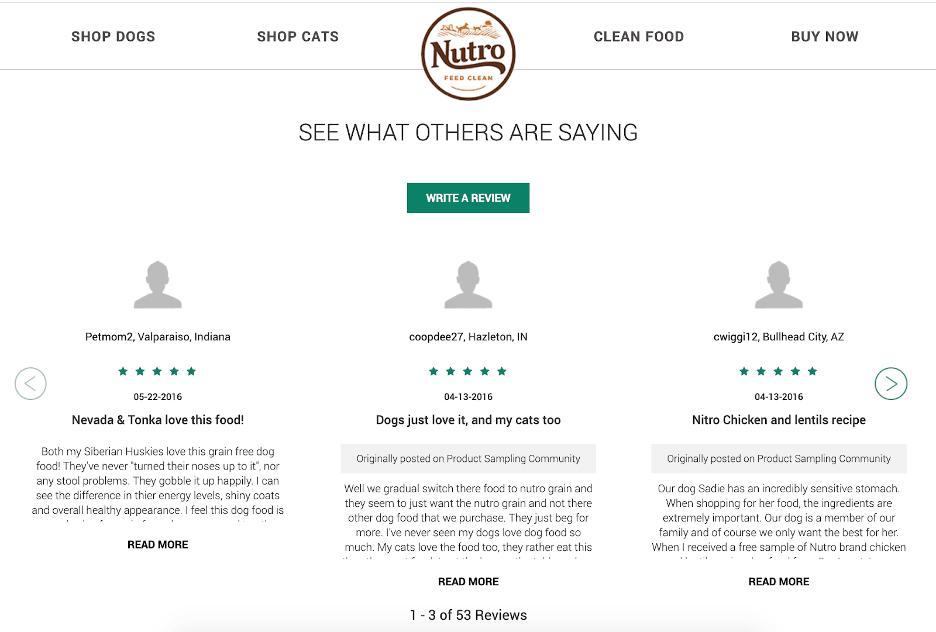 Top 5 website optimization tools that work in 2023
Still with us? Great! Let's take a quick look at the best website optimization tools that you can use in 2023 (and beyond). Each of these tools can help you improve different aspects of your site performance.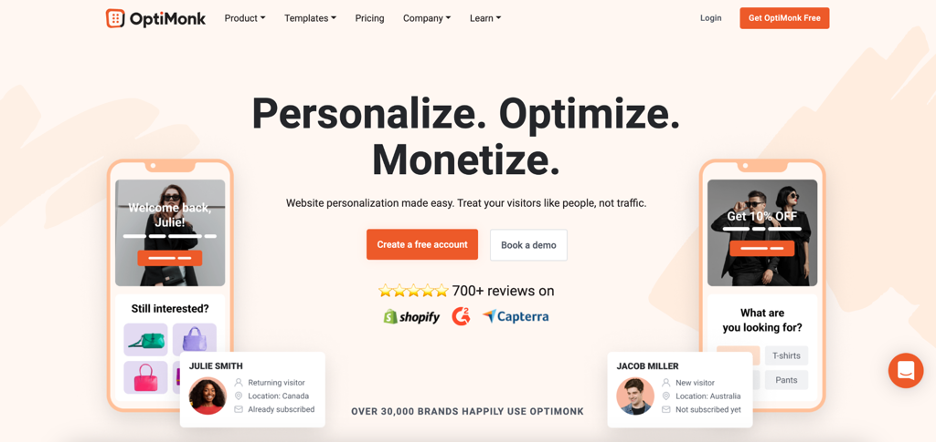 OptiMonk is a powerful website optimization and personalization platform that can help you improve your user experience, increase your conversion rates, and win loyal customers.
With OptiMonk's personalization features, you'll be able to easily find segments of users who have the same needs, preferences, and interests. Then, you can create personalized messages for each target audience, ensuring they resonate. Best of all, adding personalized sections to your site won't reduce your website speed or cause flickering.
OptiMonk's user-friendly and feature-packed integrations with a wide range of popular CMS and email marketing tools (like Klaviyo) mean you can put your customer data to use across different marketing channels.
Let's take a quick look at some of OptiMonk's key website optimization features.
Key feature #1: Embedded content
The new embedded content system enables you to adapt the user experience on your key pages for each individual customer. For example, you could add a personalized section that changes based on which of your ads a visitor clicked on (just like in tip #3 above). Best of all, embedded content is so easy to create using OptiMonk that you won't need to write a single line of code!
Key feature #2: Product recommendations
OptiMonk's personalized product recommendations are quick to set up but incredibly effective at displaying the products your visitors want to see. By picking up on user intent through tracking on-site behavior, OptiMonk's recommendations will boost engagement rates and increase revenue.
Key feature #3: Experiments
Tracking the performance and optimizing the campaigns you create is crucial in website optimization. OptiMonk's experiments feature allows you to go beyond simple A/B testing, giving you the ability to test as many variants of your campaigns as you want.
Additional benefits:
Drag-and-drop editor makes designing campaigns a breeze

Place embedded content using an intuitive point & click tool

Audience insights identify the right segments to show messages to

Advanced campaign analytics give you an understanding of how much revenue your campaigns are bringing in

Smart tags help you take advantage of the first- and zero-party customer data you've collected

Use a variety of overlays (like popups, side messages, sticky bars, and full screens) to display content
Pricing:
You can start with a free account today.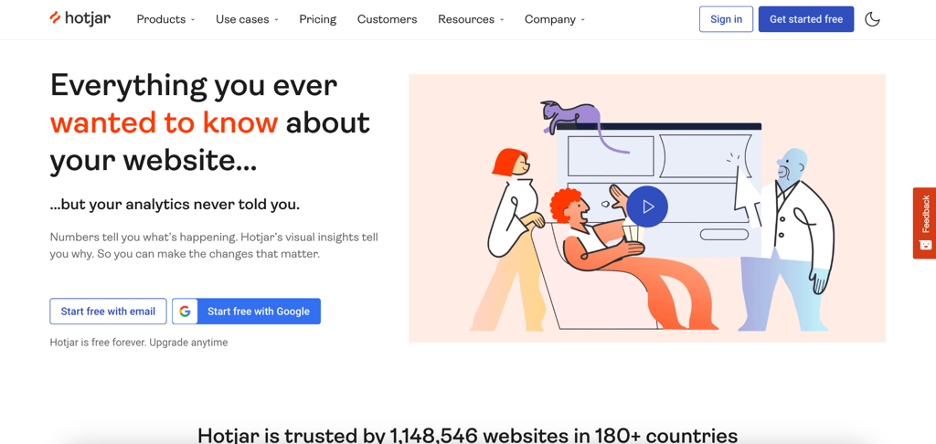 Hotjar is an incredibly useful tool for understanding how visitors are interacting with your web pages (and where you tend to lose the most conversions).
Using mouse-tracking technology to track every visitor's movements throughout each session, Hotjar shows site owners where visitors fly through the marketing funnel and where they're getting confused.
This means that Hotjar can help you plan out your website optimization priorities by identifying where improvements need to be made.
Pricing:
The basic version is free, but premium plans can unlock more features.
3. Google PageSpeed Insights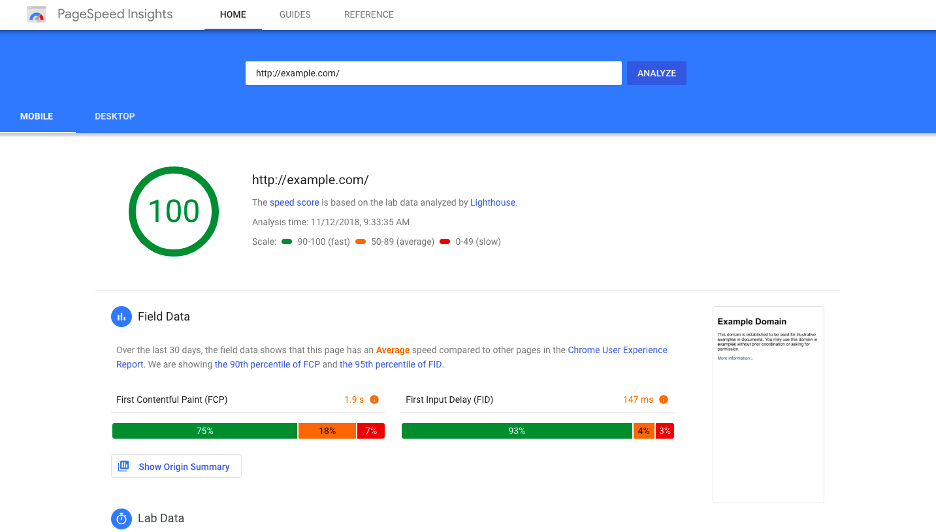 PageSpeed Insights, from Google, helps you evaluate your website loading speed quickly and easily.
All you have to do is type in your URL and Google will not only tell you how quickly your website loads, but also how you can improve your page speed. For example, if large media files are slowing things down, this optimization tool will let you know.
One great aspect of PageSpeed Insights is the fact that it tests your website speed for both desktop and mobile users. After all, when you're optimizing your website, you want to make sure it performs well on any device your visitors are using.
Pricing:
PageSpeed Insights is a free tool.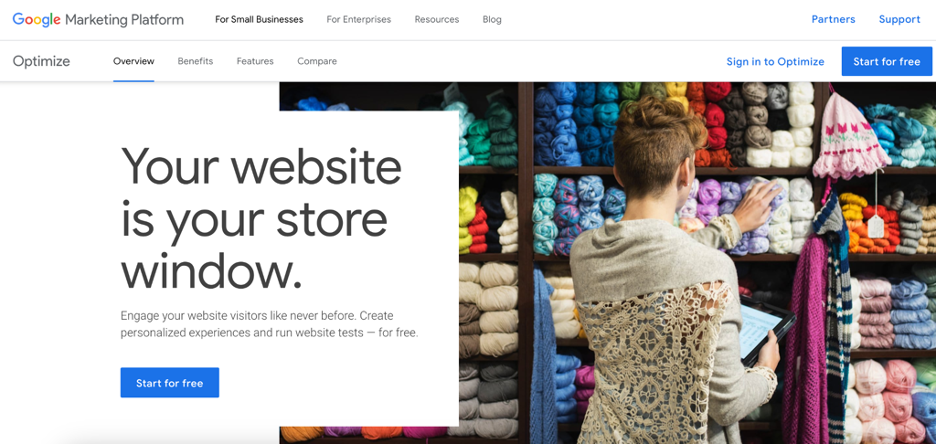 Google Optimize is a conversion optimization tool that helps you find ways to improve your site through its A/B testing and analytics capabilities. You can compare many different versions of your site to see which one performs best.
Since Optimize integrates with Google Analytics and other Google tools, you can get a lot of insights about your site's performance that are backed up by hard data.
Pricing:
Optimize is free to use. There's also an enterprise version, Optimize 360.
SurferSEO is an essential tool for your SEO efforts, allowing you to perform keyword research, write content that will rank on search engines, and keep track of quality backlinks and external links.
When you write quality content in Surfer, you'll be able to see a score that reflects how well-optimized your content is for your search keywords. And once you outperform competitors' sites in the search results, you'll start capturing tons of organic traffic.
Pricing:
Basic plan starts at $49/month.
Website optimization can seem overwhelming, but when you break it down into smaller tasks based on your goal, it's more than manageable! And you'll see lots of benefits from any effort you put into optimizing your website.
OptiMonk is a comprehensive personalization platform that's quite simply one of the best website optimization tools on the market today. Take full advantage of user insights to personalize your landing pages, homepage, and product pages, creating a unique customer journey for each of your customers. And thanks to OptiMonk's cutting-edge tech, adding personalized elements won't compromise your website speed or hurt your position in the search results.
If you're interested in following up on any of these optimization tips, you can create a free account with OptiMonk today!