As a WooCommerce store owner, your number one goal is to convince more visitors to make a purchase, right? And popups are a great way to do that.
But with so many popup plugin options out there, it can be challenging to find the right one… especially since popup software for WooCommerce comes in a variety of shapes, sizes, and prices!
Luckily, we've compiled a list of the best WooCommerce popup plugins for you. All of these plugins will allow you to create popup campaigns that your customers will absolutely love.
Let's get started!
What to look for in a WooCommerce plugin?
Wondering what makes a popup plugin good? Here are several key features that WooCommerce store owners should look for when exploring their popup options.
1. Pre-built templates
A great WooCommerce popup plugin provides lots of pre-built templates and allows you to create different types of popups like sticky bars, side messages, and fullscreen popups. Keep an eye out for a variety of templates.
2. A drag and drop editor
An easy-to-use drag and drop editor is a must-have when it comes to the best WooCommerce popup plugins.
You should be able to customize your popups to match the look and feel of your WooCommerce website without any hassle. Potential customers will notice if a popup window doesn't look like it belongs on your site, and this can bring down conversions.
You should also make sure you have access to lots of popup elements, like countdown timers and coupon code elements.
3. Advanced targeting options
The ability to target different user segments with different campaigns is essential if you want to create effective, non-annoying popup campaigns. This ensures that your users only see messages that are relevant to them.
When looking at WooCommerce popup plugins, it's worth checking out the targeting options offered on different payment tiers, since some WooCommerce plugins only give premium users access to advanced features and targeting options.
4. Powerful analytics
It's crucial to track how well your popups are performing on your WooCommerce site. At the very least, you should be able to integrate your popup plugin with Google Analytics, but the best popup plugins offer dedicated, in-depth popup analytics.
What are the best WooCommerce plugins for popups?
Now that you know what makes a popup plugin great, it's time to have a look at our top picks for the best popup plugins for WordPress and WooCommerce in 2023 and beyond.
Pricing: Free, or from $29/month
OptiMonk's powerful popup plugin offers lots of advanced features with a very user-friendly experience and interface.
Key feature #1: Drag & drop editor and pre-built templates
OptiMonk has a drag and drop builder that allows you to quickly edit one of the 300+ pre-built popup templates (or you can create a popup from scratch, if you'd prefer).
Even better, you can take advantage of as many of them as you like, since OptiMonk's free version allows you to create unlimited popups.
You can find templates specifically designed for different ecommerce use cases like shopping cart abandonment, collecting email addresses, and many more. And every popup will look just as good on a mobile device as it does on a computer screen.
Check out some of the beautiful templates that you can get started with immediately:
Key feature #2: Intelligent targeting and triggering options
With OptiMonk, you can create as many messages as you want without overwhelming your visitors. With the tool's many targeting and triggering features, you'll be able to ensure your visitors only see relevant content.
You can target based on traffic source, browsing history, geotargeting, new visitors, and many other factors.
You can also cross-sell based on what customers have already added to their cart.
Key feature #3: Manage multiple campaigns with ease
You can use the UX protection stack and the advanced campaign management features to manage your popup list and make sure your messages never annoy your visitors.
Additional benefits:
Countdown timers:

Add a ticking clock to your popup campaigns to increase the sense of urgency and boost conversions.

A/B testing:

Build multiple versions of your popups and test which ones perform best.

30+ email and CMS integrations

: Including popular solutions like MailChimp, Klaviyo, and HubSpot. You can easily send all the customer emails you collect on your site for more targeted email marketing.

Google, AdBlock & GDPR safe:

OptiMonk campaigns are fully GDPR compliant and Google friendly, so you and your customers are safe and secure.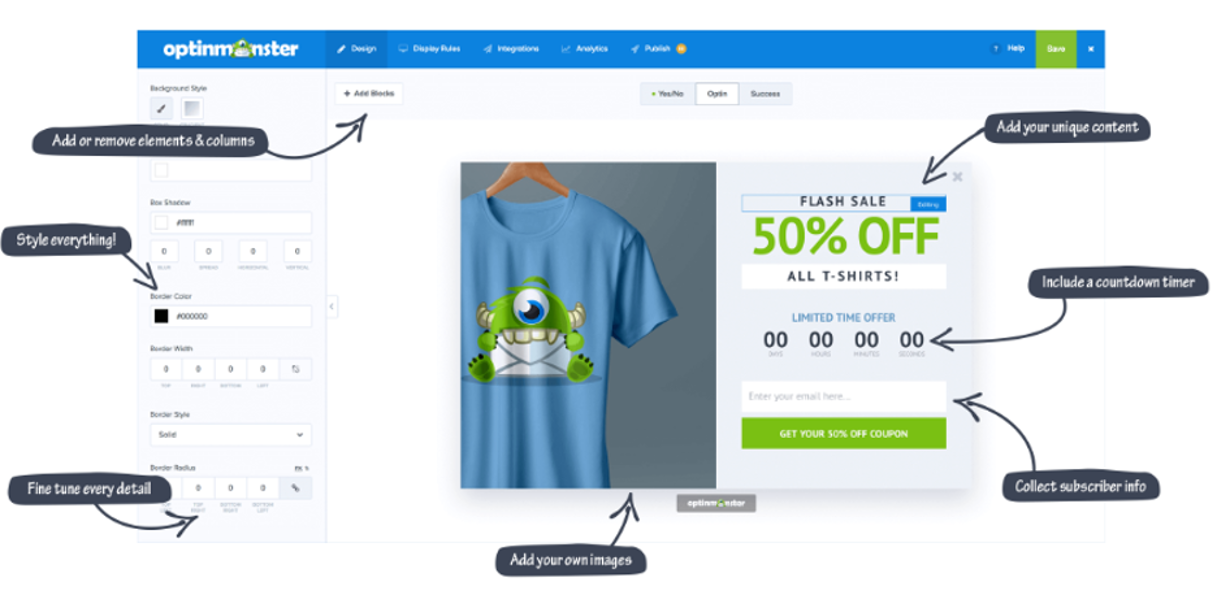 OptinMonster helps ecommerce stores generate leads with popups and inline forms. They offer many types of popups with reliable features.
If you can make full use of OptinMonster's many advanced features, you'll be able to grow your email list and improve your conversion rate. However, it's important to note that there's no free plan— which means that accessing these features requires a substantial investment.
Additional benefits:
Popup builder:

Add and edit elements like timers, contact forms, and images so your popups blend in with your WooCommerce website and boost sales. It's a visual drag and drop builder, so there's no coding required.

Advanced tracking and targeting:

OptinMonster gives you access to tracking and targeting tools, including geo-location, new visitors, page-level targeting, and an "InactivitySensor."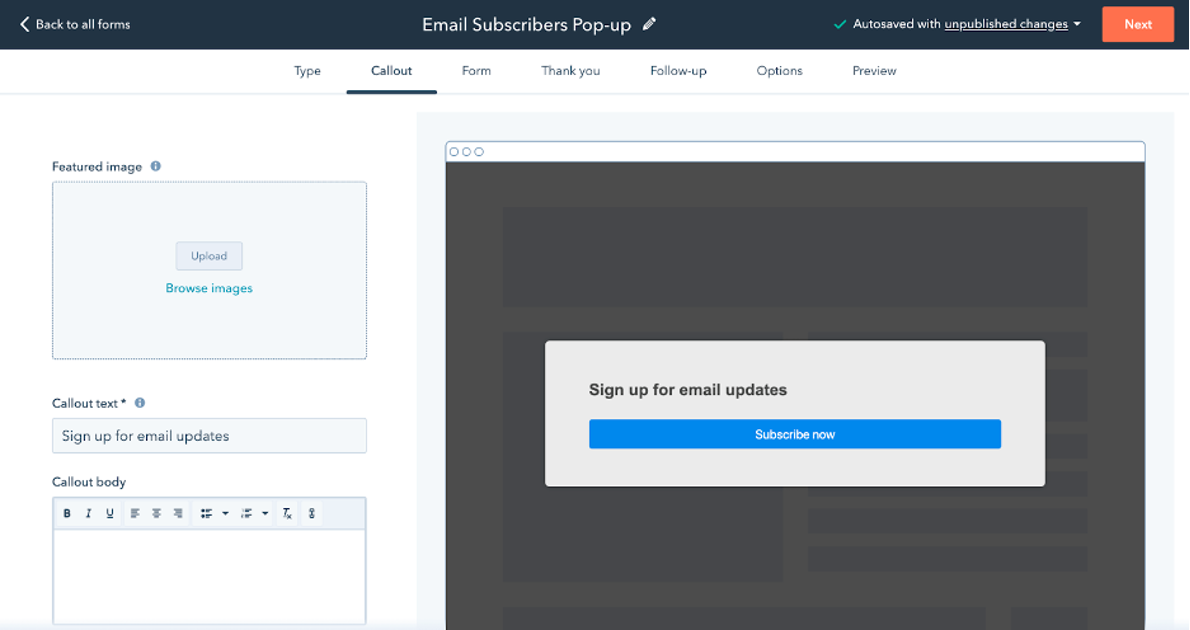 The HubSpot WooCommerce Plugin is more than just a popup plugin—it's a platform that integrates a range of marketing tools, from Customer Relationship Management (CRM) to live chat and a landing page builder.
This has some drawbacks when looking at HubSpot as a WooCommerce popup plugin.
For instance, HubSpot's popup builder doesn't offer as many customization options as other popup plugins on this list. However, if you prefer simplicity, this might be the tool for you.
Additional benefits:
Use all of HubSpot's capabilities:

Once users fill out your popup campaign, they're automatically added to the HubSpot CRM page, where you can continue to nurture them into loyal customers.
Pricing: Free, or $39/month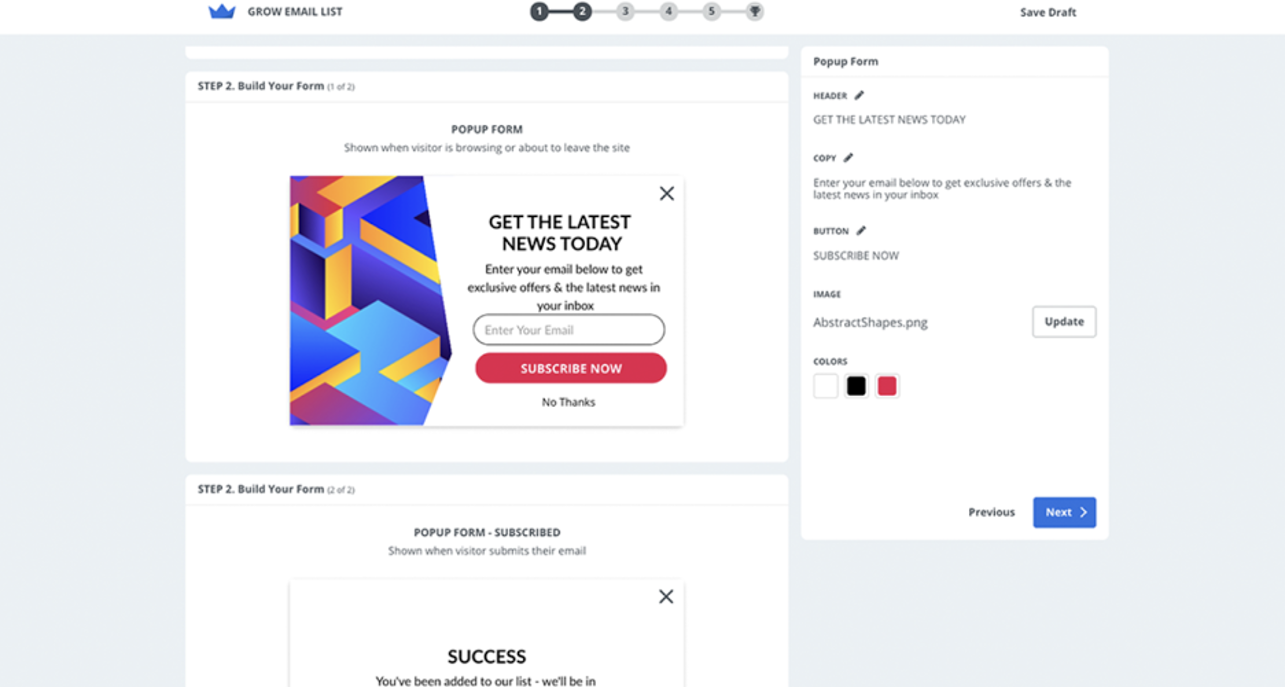 Sumo is great for creating exit popup forms that capture customer attention and nudge visitors to join your email marketing list.
They have a variety of contact form templates that allow you to create popups without putting in much work. Since this WooCommerce popup plugin is devoted to building email opt-in forms, there aren't many options for those who want to use popups for other use cases, like recovering abandoned carts.
Additional benefits:
Welcome emails:

Within Sumo's system, you can set up welcome emails that go out as soon as a new user clicks "subscribe."

GDPR compliance:

Sumo helps you create popups that comply with European data regulations.
Pricing: Free, or from $49/year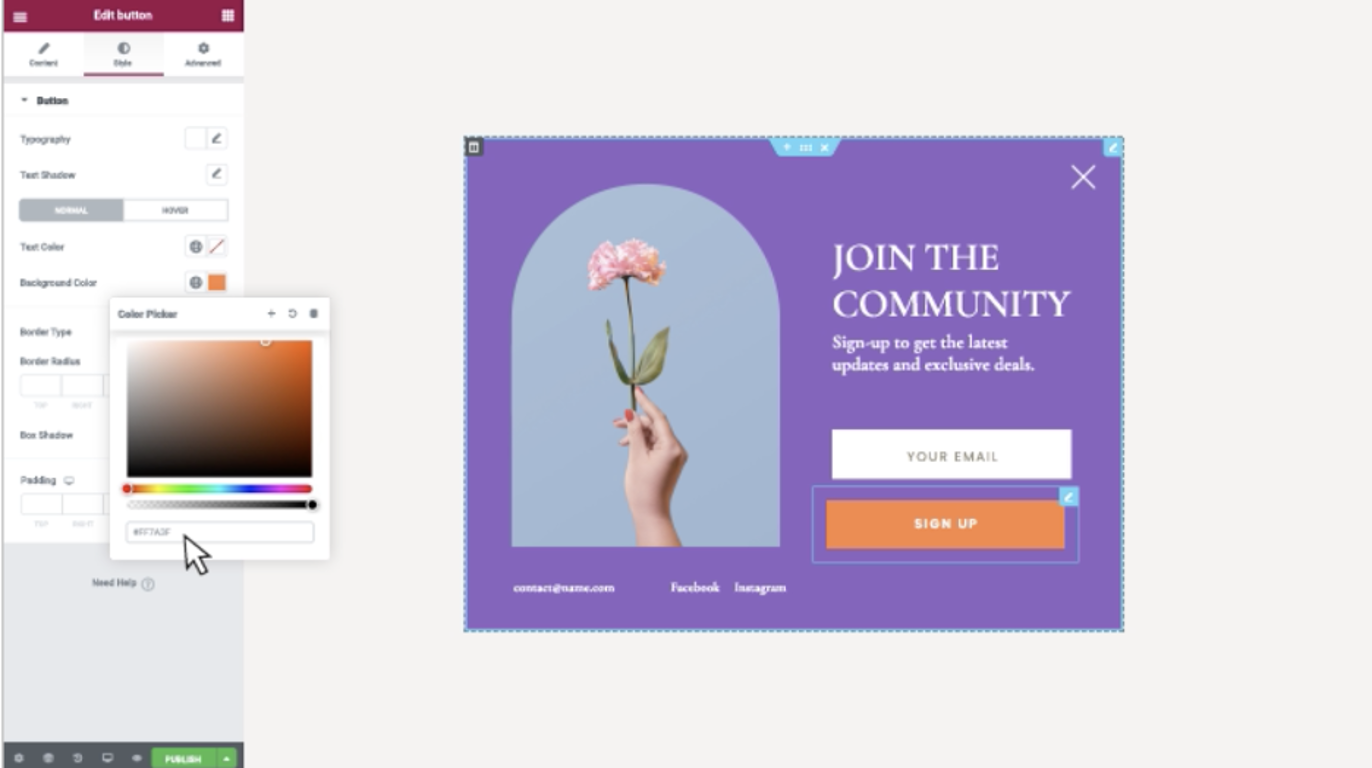 Elementor is primarily known for its advanced website builder, but it also offers a popup plugin for WooCommerce.
Their drag and drop interface for building popups allows you to customize your popups easily, and you can choose a template from their impressive library.
Elementor is a great WooCommerce popup plugin that also offers some advanced features like targeting, but their free plan doesn't support the popup builder feature.
Additional benefits:
Find a beautiful popup template:

You can create your own cross-selling, exit-intent, and welcome mat popups, as well as a newsletter form to capture customer data.

Integrations:

Elementor integrates with many email marketing services and CRM platforms.
Pricing: Free, or from $29/month
You can create several types of popups with Popupsmart. Their popup editor has a drag and drop interface that allows you to design popups without any coding knowledge.
Additional benefits:
Easy to integrate into WooCommerce stores:

All you have to do is copy and paste a bit of Javascript code onto your website.

Display features:

Choose from several display triggers based on behavior, timing, and page views.

Templates:

Popupsmart has a variety of popup templates to get you started.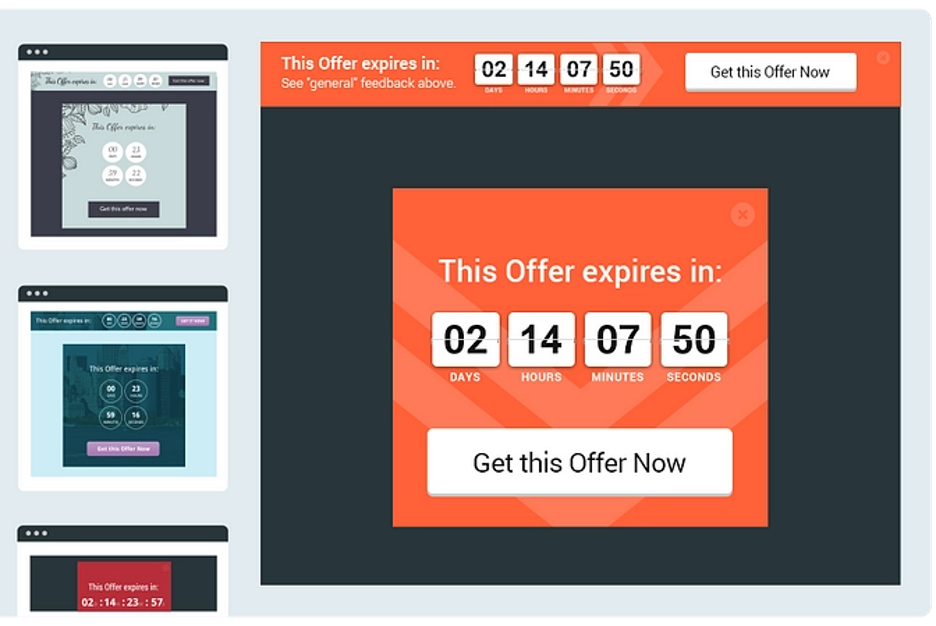 Thrive Suite is an online website builder that also allows you to build popups for WooCommerce.
They have two popup builders to help you create different types of popups. Their Thrive Leads product helps you design popups for converting customers into email subscribers, while Thrive Ultimatum is for creating high-conversion exit popups and boosting sales.
Unfortunately, there's no free version of Thrive Leads.
Additional benefits:
Actionable reporting & insights:

Thrive Suite's analytics info feature allows you to gain insight into your popups' performance.

Inline forms:

Unlike some of the popup tools on this list, Thrive Leads gives you the option to create embedded forms (that are part of your page) as well as popups.
Pricing: Free, or from $25/month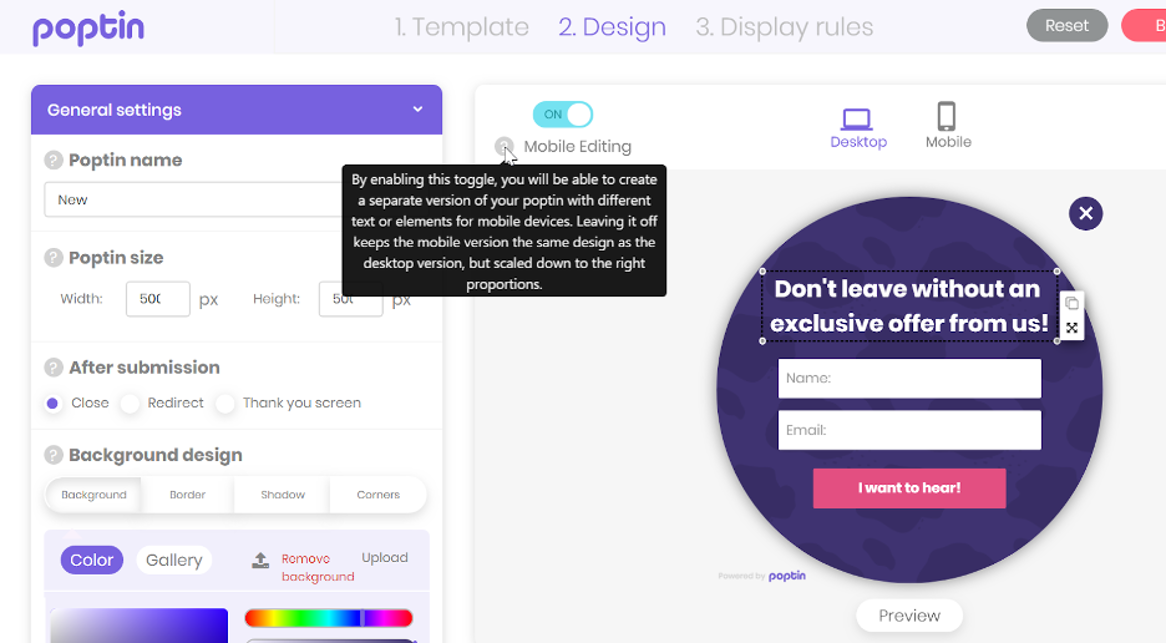 A WooCommerce popup from Poptin has a specific look. It's bright, colorful, and a little bit cartoony. If this aesthetic fits with your brand, you might want to consider the WooCommerce version of this WordPress plugin!
Poptin has a large library of popup templates that allow you to create responsive popups.
Additional benefits:
Performance report:

Poptin tracks how each WooCommerce popup is performing on your WooCommerce store and sends you the resulting data in an easy-to-understand graphical format.

Email marketing integration:

The platform seamlessly integrates with many popular email marketing services and CRM platforms.
Pricing: Free, or from $87/year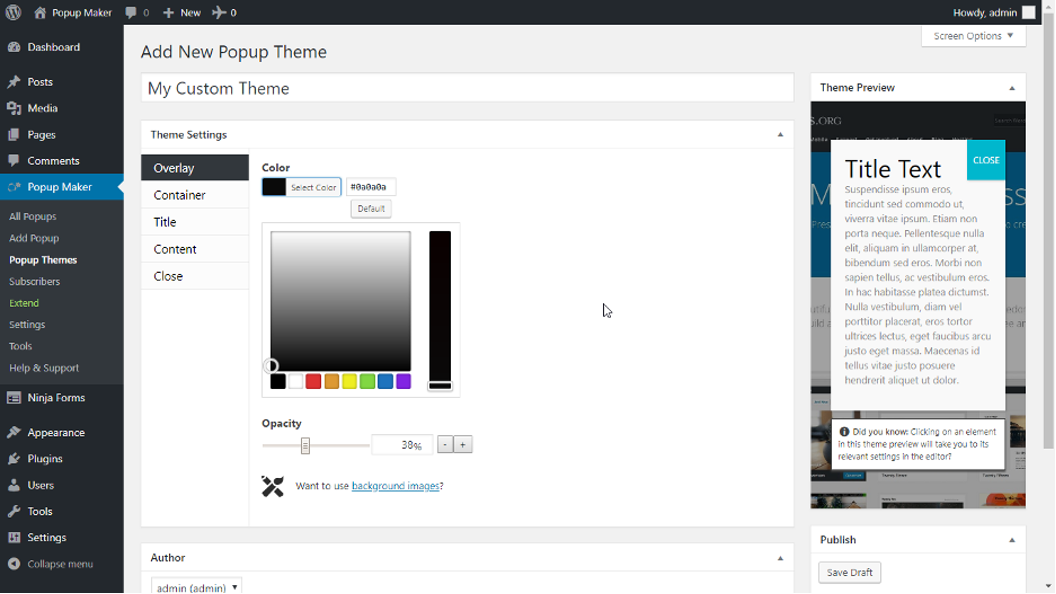 The last popup plugin for WooCommerce stores on our list is a lightweight yet powerful tool.
One unique feature of Popup Maker is that you can create video popups in addition to popups with custom images. This is great for brands that have video content that they want to use to encourage customers to convert.
Popup Maker also allows you to use cookies to control how often specific users will see a particular WooCommerce popup.
Although there's a free version of this WooCommerce popup plugin, you won't be able to create any exit-intent popups without upgrading to the premium version.
Additional benefits:
Visual theme builder:

This helps you adapt templates to match the look of your site, and it remembers your choices for next time.

Device targeting:

You can show different exit-intent popups to visitors based on whether your website visitors are on a Mac, PC, phone, or tablet.
That's our list of the 9 best WooCommerce popup plugins! Each of the choices on this list will help you add beautiful, effective popups to your website.
Know of another great popup plugin for WooCommerce stores that we didn't mention here? We want to hear from you! Let us know in the comments below.
If you're looking to learn more about popups, like how to create a popup campaign or how to use some of the best popup features, check out our ultimate guide here.