WordPress is an exceedingly popular choice for creating websites, blogs, and, yes, online stores. In fact, about 37% of all websites—and 28% of ecommerce stores—use WordPress.
The platform's flexibility is a big reason for its popularity. Since WordPress is free and open-source, everyone can use (and adapt) their basic code for their own purposes.
That flexibility extends to the exit-intent popup plugins that WordPress stores can choose from. Since there's a staggering amount of free and paid options, we've collected the eleven best choices.
Let's get started by taking a look at the reasons why you need an exit popup plugin for WordPress yesterday.
Why do you need an exit-intent popup for WordPress?
Businesses use exit-intent popups to display messages to their website visitors just before they close the tab.
These popups are able to target this segment by monitoring your visitors' behavior and watching for signs that they're starting to leave the page.
The most common exit-intent trigger on a computer is when users move their mouse to the top-right corner of their screen (where the exit button is). Or, on a mobile device, when they quickly scroll upwards to access the back button.
By sending targeted messages to website visitors who show exit intent, you can get them interested in your site again. This opening allows you to offer discounts and free shipping, gain new email subscribers, or remind potential customers that they have items left in their cart.
There are no two ways about it. Exit popups are an absolute necessity for optimizing your conversion rate. Let's check out some stats to back up that rather bold statement.
The ecommerce cart abandonment rate is around 70% industry-wide. Our statistics indicate that 17.12% of abandoning visitors will take some further action instead of leaving when they see an exit-intent popup.
The best way for a WordPress ecommerce store to start using exit popups is by installing a plugin. With exit-intent popup plugins, there's no coding for you to do yourself. Additionally, consider integrating WooCommerce hosting so that eCommerce website runs more smoothly.
Now let's take a look at the best exit-intent popup plugins for WordPress.
11 best exit-intent popup plugins for WordPress
All exit-intent popup plugins display popups to exiting visitors, but there are important differences between them. For example, one popup plugin might allow greater design customization, while another has more targeting options.
So, let's find out which of these popup plugins fit your needs and budget.
Free, or from $29 a month
OptiMonk's exit-intent popup plugin offers lots of features while retaining a very user-friendly interface.
OptiMonk has a drag and drop builder that allows you to create a popup from scratch or start off from one of their over 300 popup templates.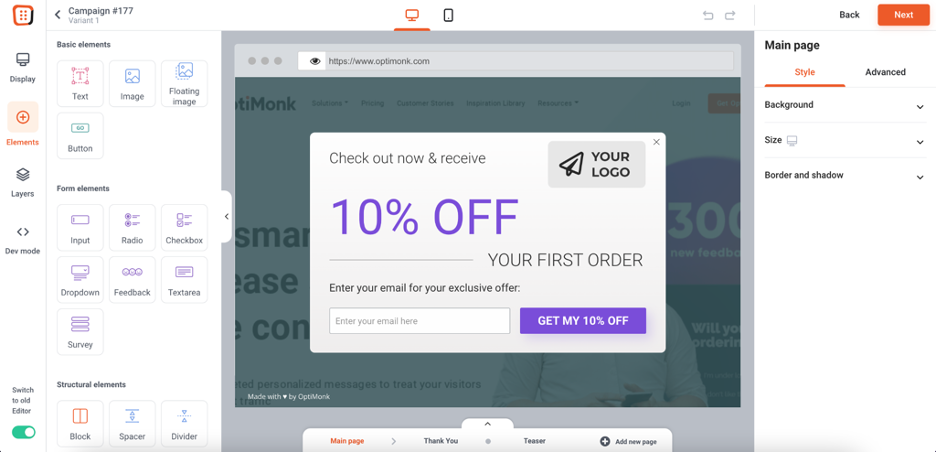 You can find templates specifically designed for shopping cart abandonment, collecting email addresses, and many other functions.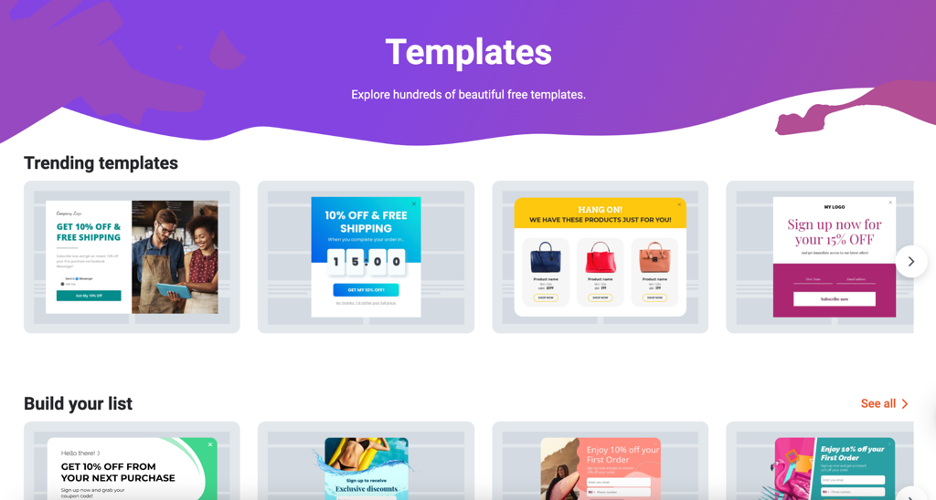 In addition, choosing OptiMonk grants you access to cutting-edge exit popups, such as lucky wheel popups and conversational popups. These are responsive popups that draw users in by inviting them to take some action.
Additional Benefits
Mobile functionality: All exit popups will look just as good on a mobile device as on a computer screen.

Advanced targeting options: You can show different popups to different visitors based on traffic source, browsing history, geotargeting, and other factors.

A/B testing: Build multiple versions of your popups and test which ones perform the best.

Dynamic Text Replacement: Target as many different segments as you wish with one
message by altering its text (and any element) dynamically.

Build your Facebook Messenger list: Many OptiMonk templates have been designed to capture Facebook details.
OptiMonk popups convert better than other exit-intent popup plugins because we create popups that your customers actually love. In our experience, you can boost your revenue by at least 10% with OptiMonk (compared to any other popup solution).
2. Popupsmart
Free, or from $29 a month
You can create several types of exit-intent popups with Popupsmart. Their popup editor has a drag and drop interface that allows you to design popups on your own.
When you create popups with Popupsmart, they're easy to integrate into your page. All you have to do is copy and paste a bit of Javascript code onto your website.
Additional Benefits
Display features: Choose from several exit-intent triggers based on behavior, timing, and page views.

Templates: Popupsmart has a variety of exit-intent popup templates to get you started.

Analytics: See all the statistics on how well your popups are converting.
3. HubSpot
Free, or from $45 a month
HubSpot is more than a popup plugin. Rather, it's a platform that integrates a range of marketing tools—from Customer Relationship Management (CRM) to live chat and feedback systems. This has both benefits and drawbacks when looking at HubSpot as a WordPress plugin for exit-intent popups.
On one hand, the CRM features in HubSpot can be great for creating popups that target specific user segments.
However, there are some gaps when it comes to its exit-intent technology since the platform isn't totally devoted to popups. For instance, HubSpot's popup builder doesn't offer as many customization options as other plugins on this list.
Additional Benefits
Email integration: HubSpot's CRM makes it easy to integrate the emails gathered by your popups with your email marketing system.
4. Hello Bar
Free, or from $29 a month
Hello Bar's popup plugin for WordPress is easy to get up and running on your site. In fact, they advertise that you'll be able to have custom popups "in five minutes."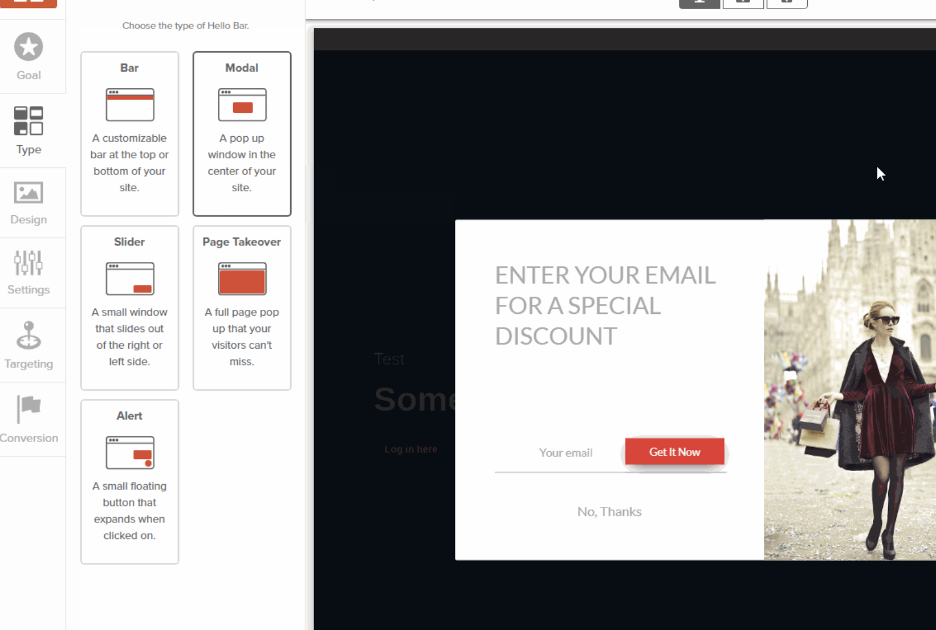 One unique service that Hello Bar offers is the chance to review the copy for your popups with their team of copywriters. It's a great service for those who aren't sure about what to write on their exit popups, but it is one you'll have to pay for.
Additional Benefits
Advanced targeting features: You can display popups based on several different targeting factors.

A/B testing
5. Elementor
Free, or from $49 a year
Elementor is primarily known for their advanced website builder, but they also offer an exit-intent popup plugin for WordPress.
Their drag and drop interface for building popups allows you to customize your popups. They also have many templates to choose from.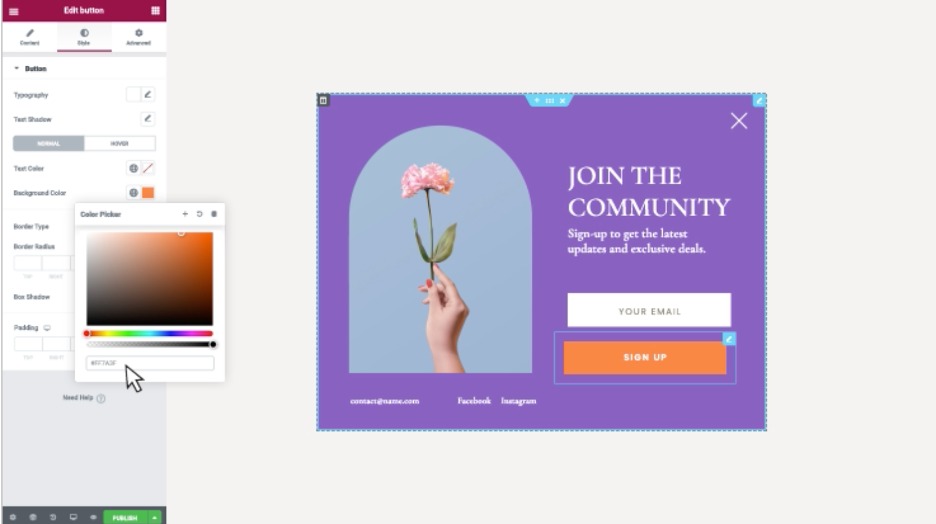 Elementor offers targeting features for their exit-intent popups, but they aren't as advanced as those you can access from OptiMonk or HubSpot.
Additional Benefits
Custom forms: You can create your own contact and opt-in forms to capture customer data.

Elementor integrates with email marketing services and CRM platforms.
6. Thrive Suite
$30 a month
Like Elementor, Thrive Suite is an online website builder that also allows you to build exit-intent popups for WordPress.
They have two popup builders that create different types of popups. Their Thrive Leads product helps you design popups for generating email subscribers, while Thrive Ultimatum is for creating high-conversion exit popups.
Additional Benefits
"Actionable Reporting & Insights:" Thrive Suite's analytics platform allows you to gain insight into your exit popup performance.

Drag and drop interface

A/B Testing
7. Sumo
Free, or $39 a month
Sumo is great for creating exit popups that nudge visitors to join your email marketing list.
They have a variety of contact form templates that allow you to create exit-intent popups without putting much work in.
Since this exit popup plugin is devoted to building exit popups with email opt-in forms, there aren't many options for those who want to use cart abandonment popups.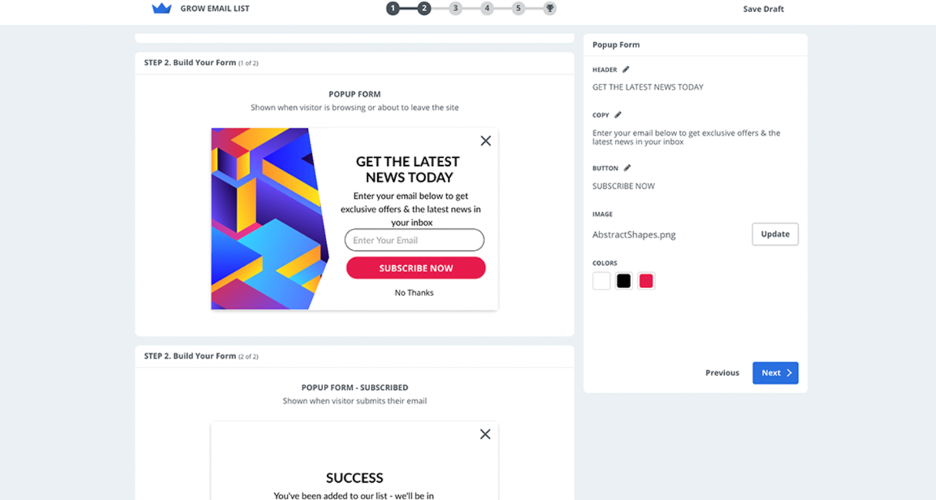 Additional Benefits
Welcome emails: Within Sumo's system, you can set up welcome emails that go out as soon as someone subscribes.

GDPR compliance: You can freely use their popups for the European market.
8. OptinMonster
From $19 a month
OptinMonster's popup maker allows you to create diverse and highly-customized exit-intent popups. There are lots of design elements available in the drag and drop editor—such as countdown clocks and spinning wheels.
They also give you the option to optimize the look and style of your popups for mobile, which might be valuable for online stores that receive tons of mobile traffic.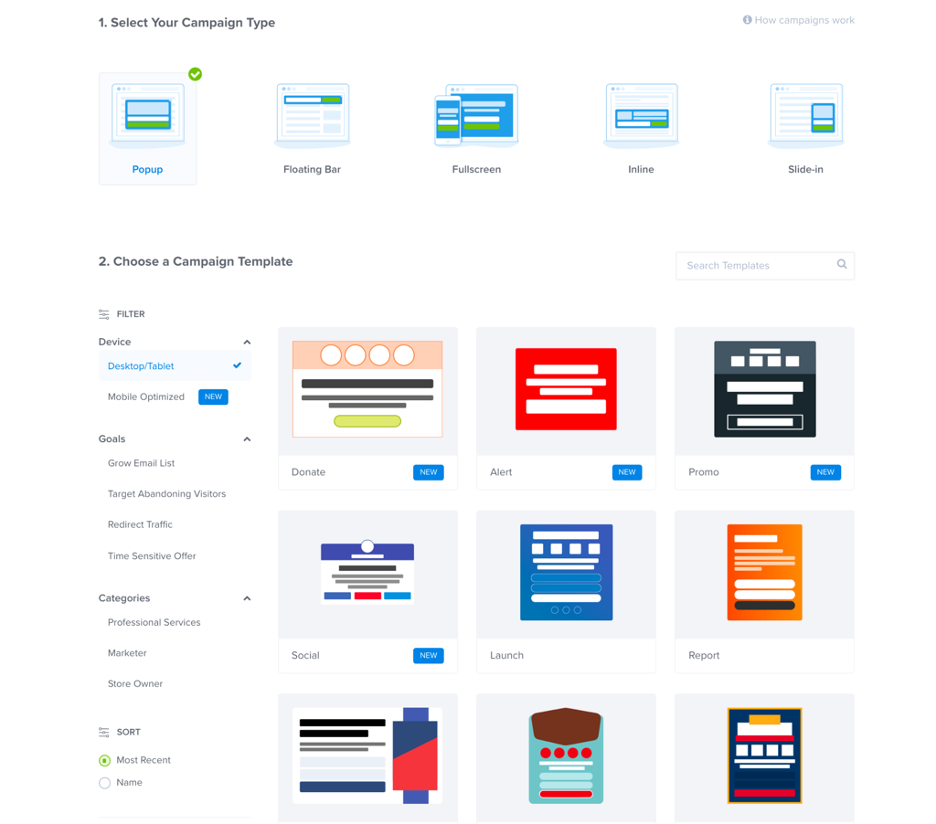 Additional Benefits
Several exit popup styles: You can choose from floating bar exit popups, slide-in exit popups, and gamified exit popups.

Lots of targeting options: You can show different exit-intent popups to different user segments based on their location, browsing history, and the product categories they've been viewing.

A/B testing
9. Yeloni
Free, or from $19 a month
Yeloni offers a simple yet effective exit popup tool for any WordPress site. They have a large gallery of modern, minimalistic popups.
You can create popups based on multiple themes: email subscription, social sharing, discount offers, and chat activation.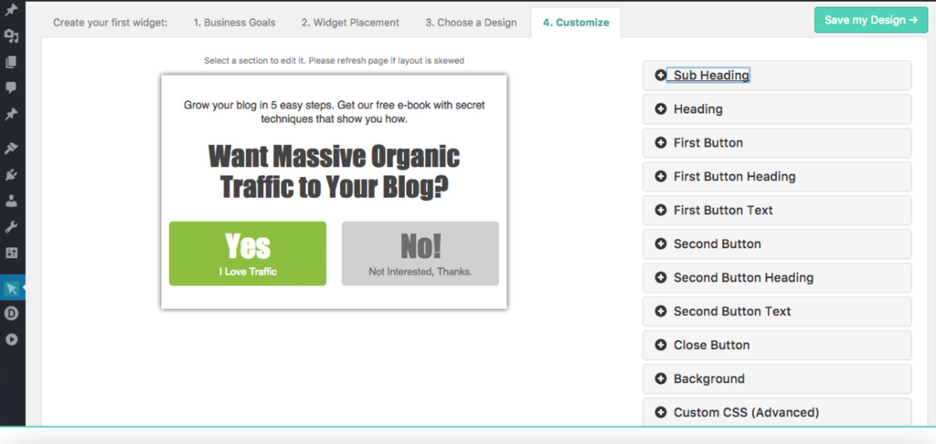 Their free version allows you to create unlimited popups, and there's also no limit to how many people can view them. However, you'll need to get the premium version to take advantage of their mobile popups.
Additional Benefits
Three exit-intent triggers: You can choose whether to trigger your popups based on mouse movements, clicks on the back button, or clicks on external links.
10. Poptin
Free, or from $25 a month
An exit-intent popup from Poptin has a specific look. It's bright, colorful, and kinda cartoony. If this aesthetic fits with your brand, you might want to consider this WordPress plugin.
Poptin has a large library of popup templates that allow you to create responsive popups, lightbox popups, and fullscreen popups.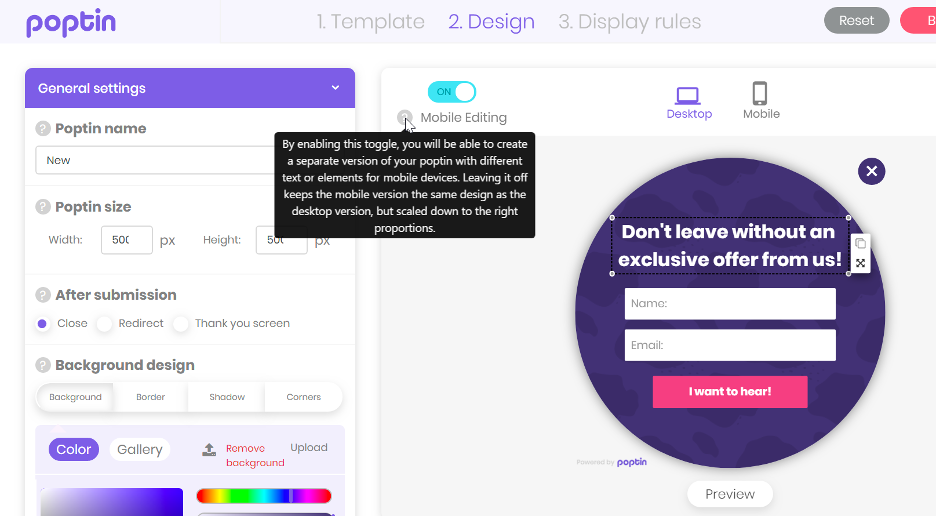 Additional Benefits
Performance report: Poptin tracks how each exit popup is performing and sends you the resulting data in an easy-to-understand graphical format.

Email marketing integration: The platform seamlessly integrates with many popular email marketing services and CRM platforms.
11. Popup Maker
Free, or from $87 a year*
The last popup plugin we'll cover is a lightweight yet powerful tool for creating popup campaigns.
One unique feature of Popup Maker is that you can create video popups in addition to those with custom images. It's a great option for brands that have video content they want to show off.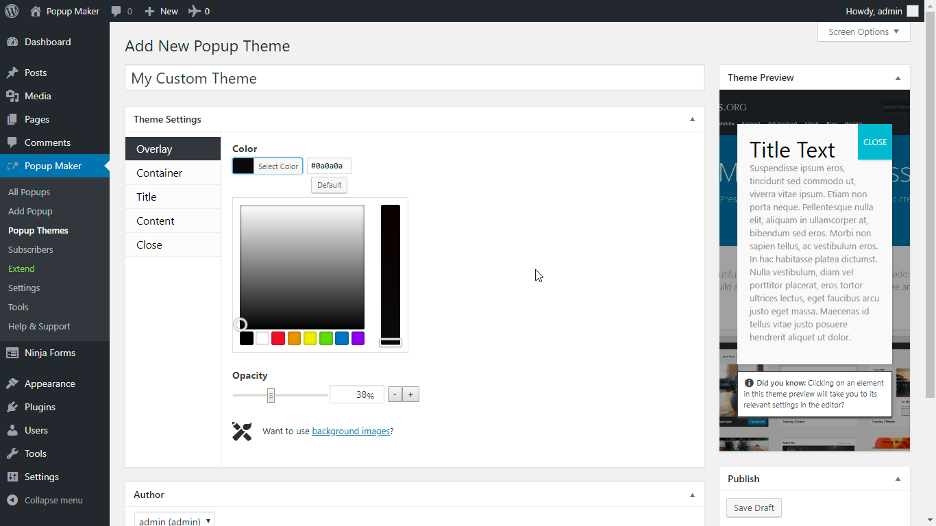 Additional Benefits
Visual Theme Builder: Helps you adapt templates to match the look of your site and remembers your choices for you.

Device targeting: Gives you the option to show different exit-intent popups based on whether they are on a Mac, PC, phone, or tablet.
*Although the WordPress popup plugin is free, you won't be able to create any exit-intent popups without upgrading to a paid plan.
So that's our list of the 11 best WordPress exit-intent popup plugins. Hopefully, you've found a plugin that suits your needs.
The ideal WordPress exit-intent popup will bring visitors on the edge of leaving your site back into the fold. That's because people respond when you send the right message at the exact moment they need to see it.
Which popup plugin is your favorite? Let us know in the comments!