Social commerce is growing quickly. Experts have forecast that more than half of U.S. adults will make a purchase via social media in 2022. That would push social commerce sales to $45.74 billion.
As an online store owner, you need to give Instagram, Facebook, and other social media users the option to shop through those platforms. If you don't, you'll be missing out on lots of sales.
And that's just the start: social commerce is evolving incredibly quickly as different social media channels become more or less popular. If your store's target audience is on the younger side, you might find that TikTok can drive sales better than a Facebook shop.
In this article, we'll start by defining social commerce, then we'll share 6 social commerce tactics and 4 companies who have already mastered social commerce.
Social commerce is the process of selling your goods directly through a social media platform.
Rather than navigating to your website, social media users can complete the entire sales process—from browsing in-app product pages to payment—without ever leaving their social network.
Instagram, Facebook, Pinterest, and TikTok are all popular social channels that can be used to sell your products.
It's important to understand the difference between social commerce and social selling. The latter is all about building leads on social media (through social ads and organic posting) in order to make sales later on.
Once you take the leap to social commerce, there are lots of opportunities to improve your social media presence using exciting social shopping tactics like live shopping events and shoppable posts.
6 social commerce tactics to grow sales
If you want to leverage the social commerce sphere and extend your ecommerce site onto social media, here are 6 tactics that should be in your playbook.
1. Tap into social commerce features, including checkout
Today, it's easier than ever for customers to buy directly from their favorite social platforms. That's because social media networks are seeing the value of adding social commerce capabilities to their platforms. For example, Facebook and Instagram added a social checkout feature in 2020.
As you start building your social commerce strategy, you'll want to look into the social commerce features that different networks offer so you can take full advantage of them.
Social commerce eliminates the choppy buying process of the past, which forced customers to go on an online expedition to find and purchase a product. For example, if they saw a product they liked in their social feed, they'd have to go to the brand's profile, get a link to their ecommerce site, navigate there, and then search that external site for the product.
Social checkout features do away with all those steps, allowing customers to buy directly in their chosen social media app.
Some social networks also allow brands to create shoppable posts, which have a link directly to checkout. And 130 million users click the "Buy" button on Instagram posts every month.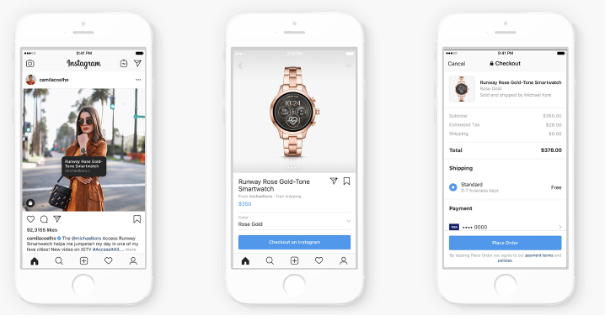 2. Identify your top social channels
Don't fall into the trap of spreading yourself too thinly. Instead of trying to focus on every social media channel, prioritize on the platforms that your customers use and engage with the most. This will make your job much easier.
The social platform that serves your store best will vary depending on your audience and what you're selling.
For example, clothing and beauty brands do particularly well on Instagram, while gadgets and tech products might get better reception on Facebook or Twitter.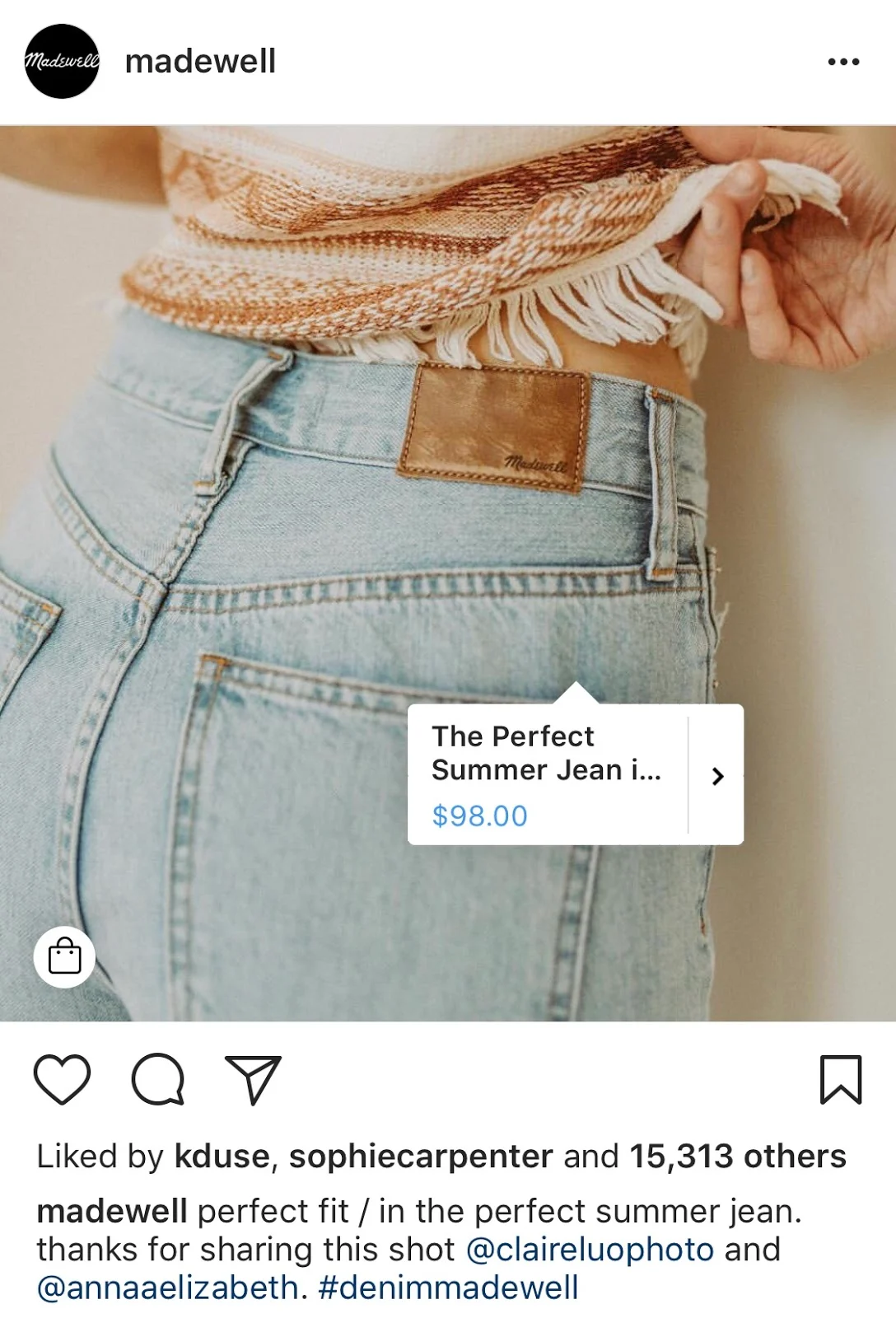 There are a couple of ways you can find out which platforms are most popular with your audience:
Check your social media analytics to see where the majority of engagement is happening

Survey your audience directly
3. Leverage social proof and user-generated content
Social proof not only increases brand visibility, but also builds brand trust and ensures that potential customers feel comfortable before they buy. Knowing that a brand has many happy customers is a huge incentive for buyers to take the leap and purchase products they're unfamiliar with.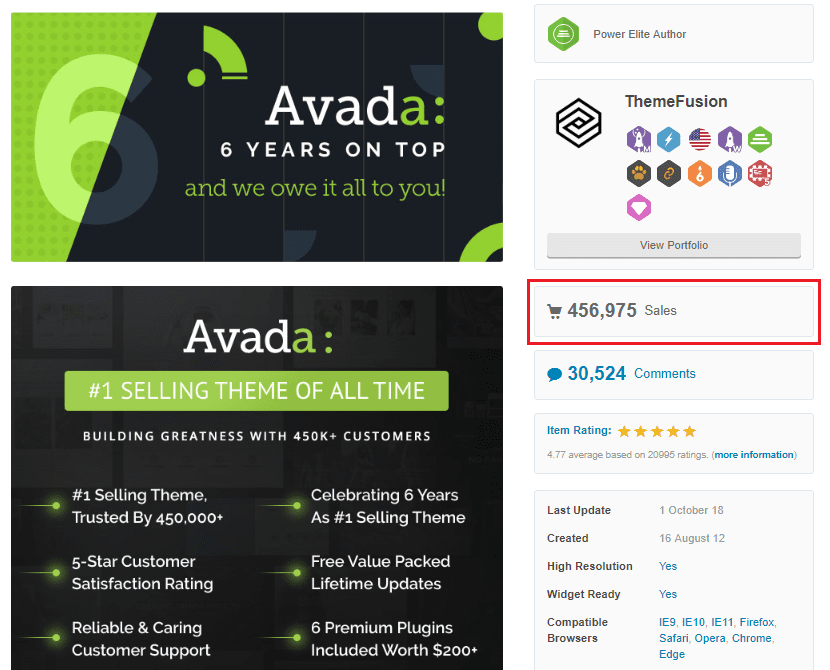 Reviews, positive feedback on your Facebook page, and other user-generated content all fall under the umbrella of social proof. The key is to use them in the right way throughout the customer journey.
When used correctly, customers are 6x more likely to make a purchase—particularly if the social proof includes engaging imagery from social media.
4. Take full advantage of influencer marketing
Influencers already have a built-in audience that trusts and values what they have to say, which can help your business with demand planning and elevating the demand for certain products. By teaming up with relevant social accounts in your niche, you can tap into those audiences to increase your reach and generate more sales.
Identifying relevant influencers is crucial. For most brands selling online, these won't be big celebrities, but rather "micro-influencers" with a laser-focused account and a tight-knit audience that's interested in their niche.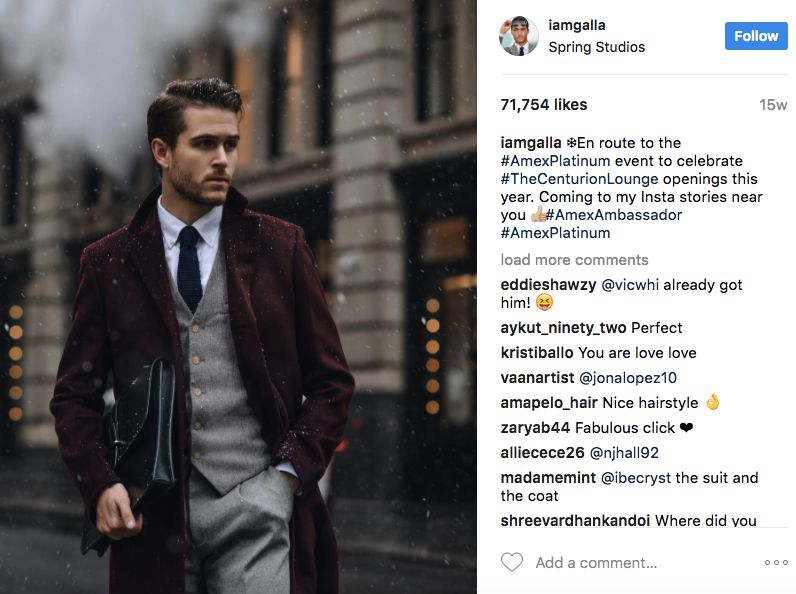 You can even get your customers on board as influencers (a strategy Glossier has become famous for). Encourage them to share content about your brand and tag products they love by using a hashtag campaign, a rewards point program, or for the opportunity to get featured on your website. Studies show that customers love to participate in programs like this.
5. Create a seamless customer service experience
Social media has increasingly taken over as a key point of customer service. This is especially true for brands that have moved into social commerce. If a customer bought their product on a social media site, wouldn't they expect to receive customer service there too?
When a customer is in "buy mode" on social media, they want nothing to stand in their way. Brands know this, and it's exactly why they're turning to social features like Facebook Messenger that let them provide enjoyable, in-the-moment customer service experiences.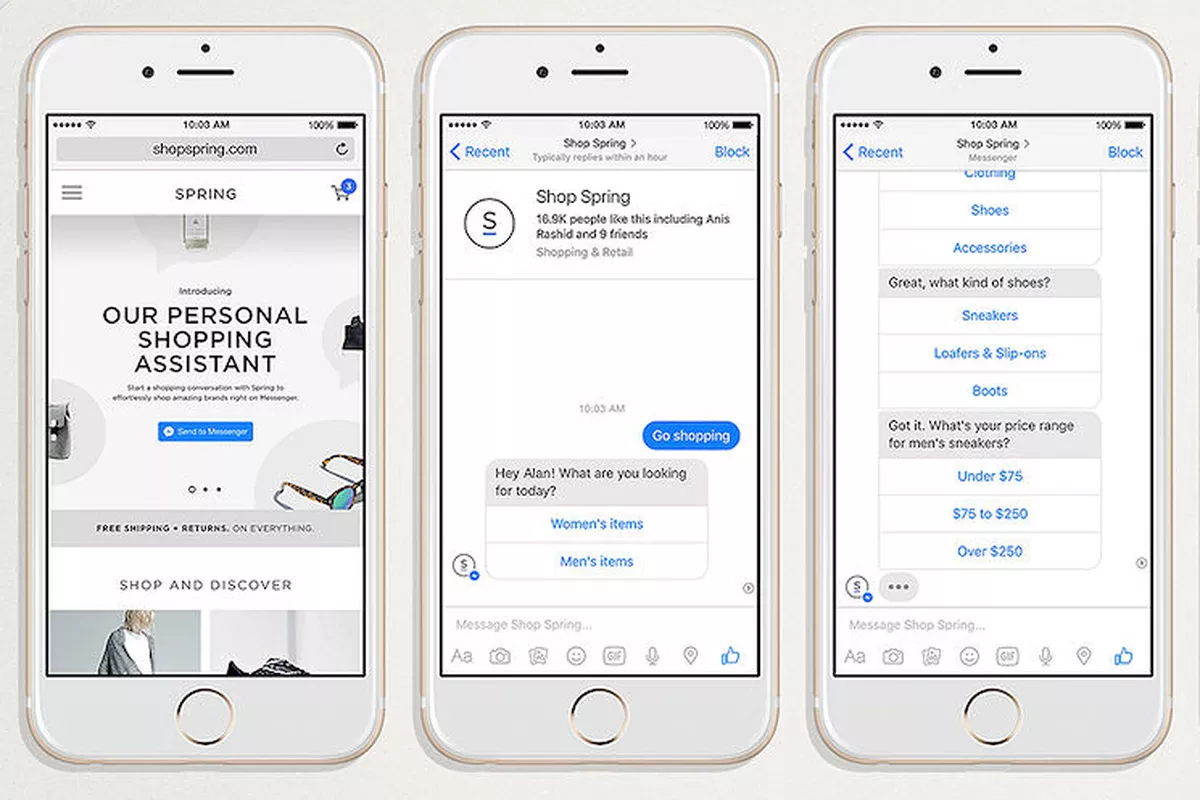 Research shows that 60% of customers who complain on social media expect a response in less than an hour, while 54% of customers actually prefer to use social media for customer service rather than phone or email.
Chatbots have become a common way to meet these high expectations. Customers are able to type in a pressing question they have about a purchase and get a nearly instant answer.
6. Personalize as much as possible
Customers today crave personal interactions with brands. They want to feel special, and they love when the shopping experience is made easy for them through personalized recommendations.
49% of online retailers that are active on social commerce sites say that their sales increase when they personalize customer experiences based on past shopping behavior and social actions.
The simplest way to do this is by serving up product suggestions based on past purchases. Recommendations like this have driven 49% of consumers to buy a product they didn't set out to purchase.
This tactic can be particularly useful for shoppable ads on social media. You can use retargeting tools to display ads to consumers that visited a certain page, viewed a certain product, or abandoned their cart.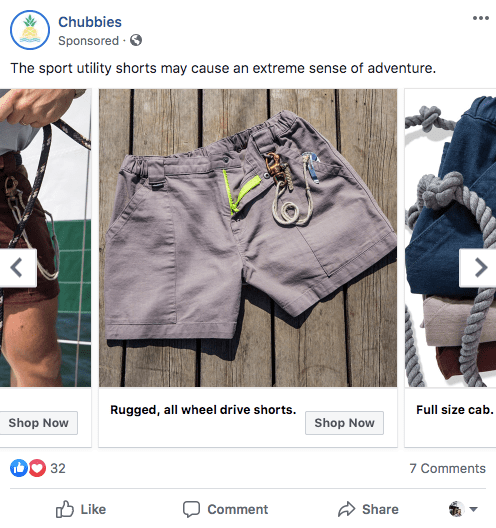 4 social commerce examples to inspire you
Now that you understand the purpose of social commerce and have some powerful strategies to use for your own brand, let's look at some real-world examples of brands taking advantage of social media!
1. Jordan
In 2018, Nike marketed their Air Jordan shoes using Snapchat during the NBA All-Star game. They sent messages to all consumers within a specific distance from the court, offering them the chance to access an exclusive launch sale. Customers could pick up the special edition Air Jordan III "Tinker" shoe in a designated area of the basketball court where the All-Star game was being played.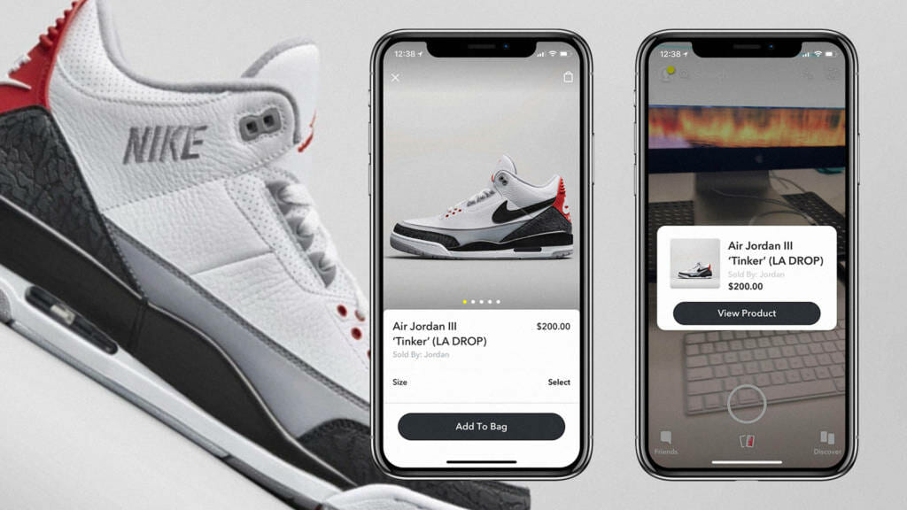 2. 100% PURE
100% PURE is a beauty brand that's very active on Pinterest. Customers can tap on a product to see product details and a button that takes visitors to 100% PURE's website. They also have the option to save the product to a Pinterest shopping list.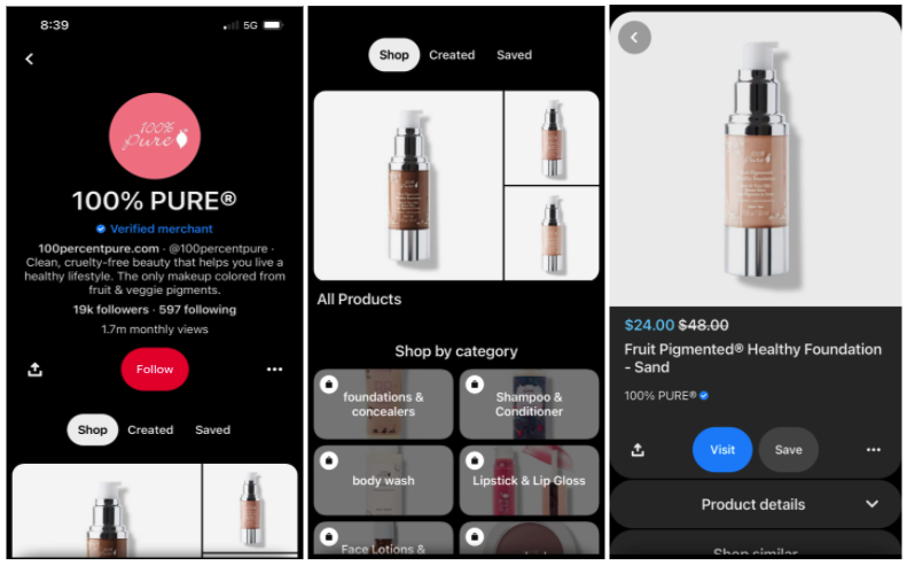 3. New Balance
New Balance leverages Facebook's social commerce possibilities to reach their audience, making their products easily available through the brand's Facebook shop. They provide a smooth shopping experience right inside the social platform, gathering all the relevant product info and giving customers a quick way to buy with a checkout CTA.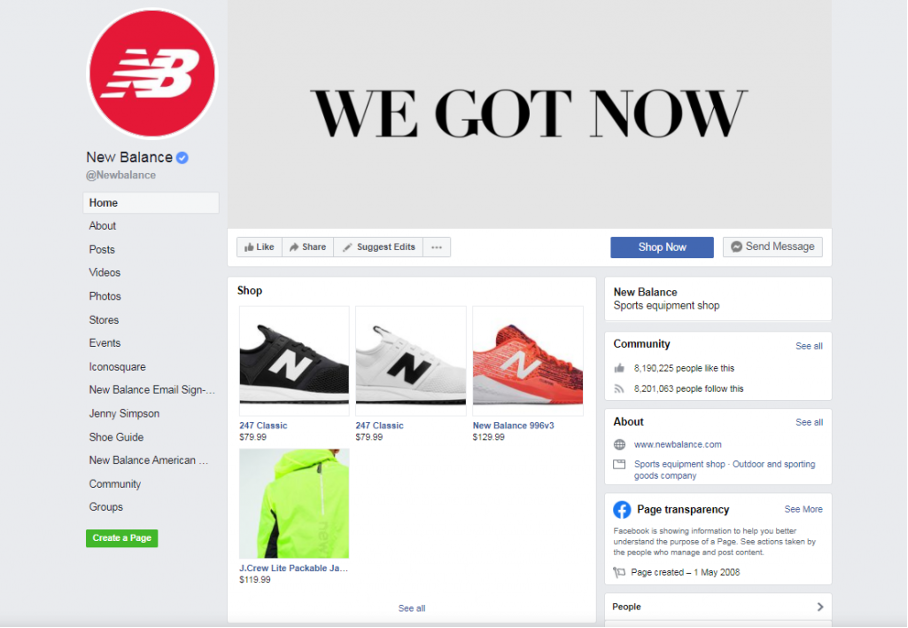 4. JUNO & Co.
JUNO & Co. uses TikTok to show how their products work with engaging content like how-to's, giveaways, and new product launch videos. This beauty brand has built an audience of almost 200,000 followers on the social commerce platform.
"We saw an immediate response. Our sales on TikTok are 10 times what we've gained from Instagram and Facebook," said JUNO & Co. founder Kyle Jiang to Inc. magazine.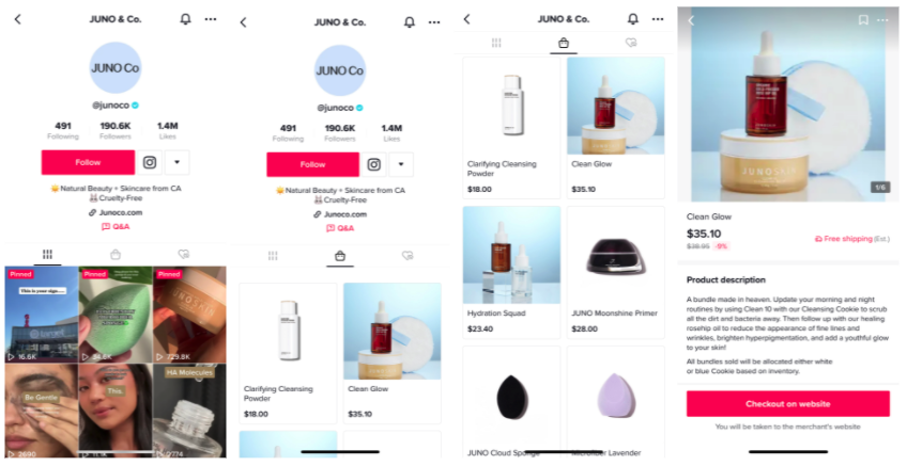 Boost your social commerce strategy
Social commerce is definitely something you should add to your current marketing repertoire as more and more consumers turn to their favorite social platforms to make purchases. Brands have to offer the seamless shopping opportunities customers want in order to maintain a competitive edge.
The primary goal of a social commerce strategy is to create enjoyable shopping experiences on social media networks. And luckily, this is becoming increasingly easy to do thanks to the slew of new features that the top social media platforms are launching.
It's time to leverage social commerce to grow your brand online!
Looking for more tactics on how to boost your social media results? Check out these articles: