If you find A/B testing statistics and data science difficult to leverage for improving conversion and sales? Take comfort in the fact that you are not alone, and that there is a solution for you in this article, but first a little context. 
Hiring Woes, the back story.
For corporate recruiters, hiring for an ecommerce business manager is tough. The list of skills required seems endless, marketing, copywriting, server administration and data analysis are the least of it. Unfortunately, until recently qualifications in ecommerce were just not available and so making this a requirement for hiring was, and still is a non-starter.
Consequently, for job candidates gaps in knowledge are inevitable, expected even. Several common gaps in knowledge we come come across are data science and A/B testing statistics, two vital areas where knowledge is necessary to drive ecommerce growth.
Whether you are the hiring Manager or are the one looking to be hired, the ability to leverage A/B testing statistics and data is essential. Luckily there is a solution that this article brings to light. 
Over recent years, in part due to the skills shortage, – tools have emerged that simplify and automate many more of the difficult tasks associated with managing ecommerce websites. This includes tools that manage A/B testing statistics and tools that manage many of the tasks previously assigned to a data analyst.
One of the most popular ecommerce platforms is Shopify, and along with its Shopify Plus corporate service is becoming increasingly popular, with many large retailers relying on their service.
Consequently, tools that manage these vital tasks for Shopify store owners have emerged, this includes, (Shopify addons) tools that manage A/B testing, and analytics data, these tools are popping up to fulfill these roles for Shopify. 
In many cases the first such tools to market become the most successful tools. One of the first such tools was OptiMonk and since then it has evolved to become a conversion rate optimization tool (CRO tool), defining itself as an Onsite Retargeting tool.
While it works great with Shopify, it is multi-platform and/or platform-independent. Of course CRO goes far beyond just A/B testing statistics to targeting, designing, and the automation of marketing campaigns.
In addition OptiMonk provides the means to deal with message testing, – variants – A/B testing and the selection and use of winning variants based on results, – its all automated.  With its most recent iteration the ability to predict the outcome of the use of each variant has been added (predictive analytics).
In terms of understanding / making sense of ecommerce data analytics, tools such as Conversific cut through all the noise to provide a tried and tested approach to the use of data-driven decision making to achieve ecommerce success. Most importantly it tells you what needs to be done next to improve sales. It warns of opportunities missed, – real actionable intel and might also be described as predictive analytics.
Now consider the power of using both technologies – together: OptiMonk + Conversific.
Some might say that by hiring those proficient in the use of tools over those qualified such as data analysts or data scientists you are facing the same challenge because you still need to find those skilled enough in the use of the tools.
However those that say this, are missing one major point, that both the tools mentioned above are stupendously simple to use. A marketer doesn't need to be a data expert to build a successful ecommerce store any longer. Also a marketer is far more affordable.
Conversific Data Insights
The team at Conversific has provided a handy SEM guide to help identify what keyword terminology to optimize for. The guide walks you through how to interpret the data provided, info on what people are searching for on Google search, relevant to what you are selling (according to your own Google Analytics data).
This, in turn, should determine what new content you create or optimize for. Conversific acts as a filter, returning actionable data.
You need to supply what your customers want right?
If they leave your website without the answers they seek, GA + Google Search will detect that their time on-page is of short duration, returning the visitor back to Google, which is a negative signal. An engaged visitor stays longer on-page sending a positive signal to Google search, while a short time-on-page sends a negative signal potentially hurting your ranking.
They found your website via a question, which they inputted into Google Search, this is their motivation for visiting your website, they want to find an answer that question or find a product that solves their problem.
While the search term used is their question, your website article must have the answer. In relation to a product or service, and your content, – it must explain why your product or service solves their question/problem.
Conversific makes this whole process easy. While not doing away with the role of SEO/SEM entirely, because lets face it you need to test keyword terminology. Someone with SEO/SEM experience must be tasked with exploratory keyword research in order to test and find new markets, new areas of content to create.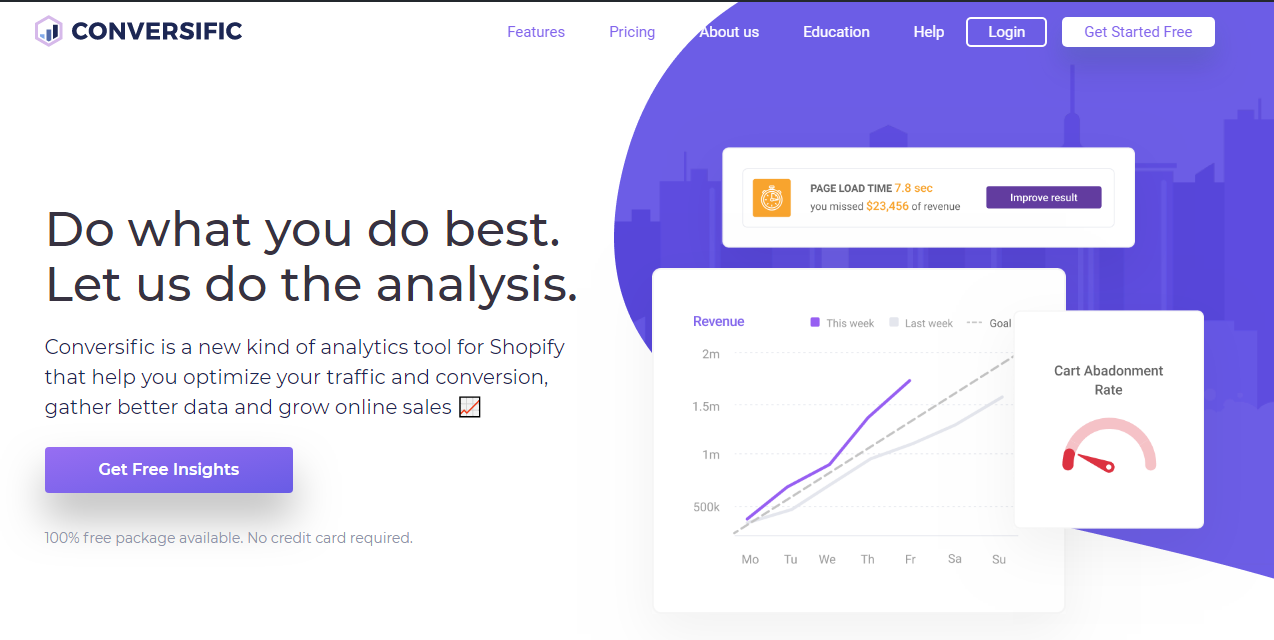 So let's say your SEO/SEM professional finds you new markets, untapped – new sets of keyword terminology which you don't rank for. Next you need to interpret what people are looking for when they use that search term, define a persona, create a customer journey, a landing page and a series of articles that map the customer journey. 
(Note: Would you like to learn how to create delightful shopping experiences for each customer? Click here and download our free eBook that contains over 70 pages of tips and best practices.)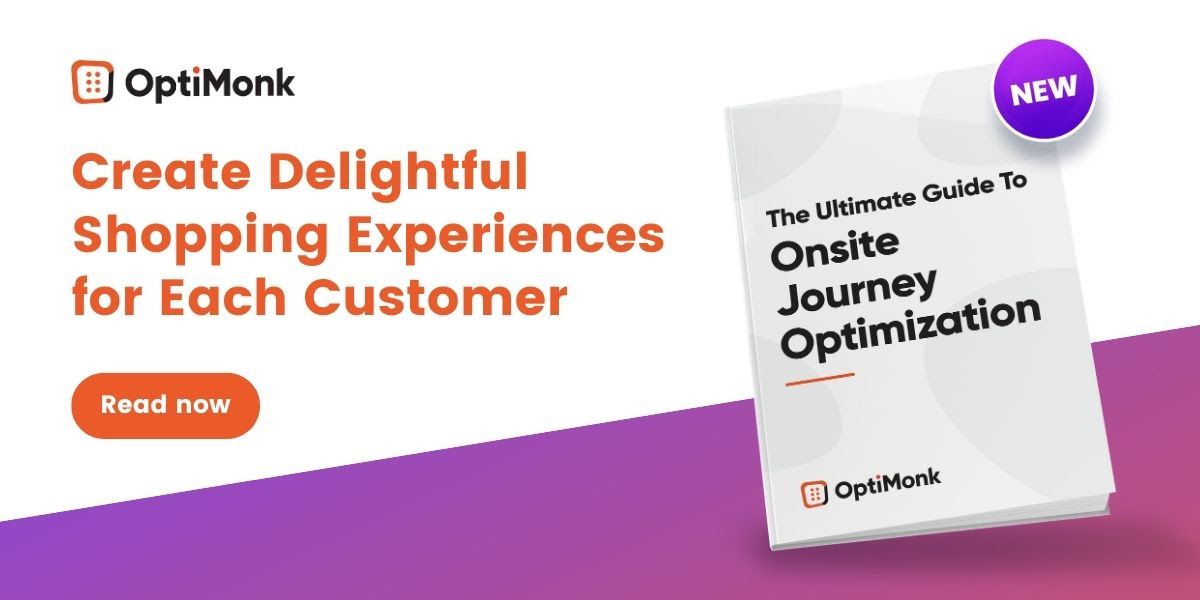 We are essentially creating a conversion funnel here, each piece of content and micro-conversion leading to the next stage in the funnel, closer to the end goal of making that sale. 
As a conversion rate optimization tool, OptiMonk is designed to implement conversion funnels, and through personalization increase conversion, with the help of persuasion techniques. Choice architecture and nudge marketing are a vital part of CRO, and so small changes can have a huge effect on conversion rates.
OptiMonk enables you to create campaigns simply and easily via a drag and drop editor, set triggers based on visitor behavior and then carry out A/B testing for each campaign variant. Test for best :
Font, Font size
Background image
Multi-step before and after messages
Micro-conversion point
Lead Magnet
Power words, leading question
Call to action + other elements.
Timing (triggers / combination of triggers)
Placement (nanobar, sidebar, full page etc)
Persuasion ability (sense of urgency – countdown timer?)
Offers (discounts, free offer etc)
Every stage of each conversion funnel.
Every conversion funnel
Test quality of advertising channels
Campaign message to each advertising channel (trigger different campaigns according to traffic source).
There are many advantages to leveraging OptiMonk to create marketing campaigns, but one of the biggest benefits is that you can deploy campaigns that utilize your existing content, for example, according to the time on page (interest level) or by clicking on a link, or by exit intent. Usually its a combination of source and placement (trigger/user action) and timing.
In the past, a good quality, fast, high converting ecommerce website was a huge investment and was extremely time-consuming to create and maintain.
However Shopify + Shopify Plus and tools like OptiMonk and Conversific have changed all that, forcing the price point of ecommerce down while increasing the level of conversion. This has been possible because these services enable a reliable, secure and scalable service.
Ecommerce as a software as a service has leveled the ecommerce playing field, reducing the barriers and costs of entry. Tasks typically done by data analysts or data scientists are now being done by marketers through the tools they use.
Ecommerce analytics are automatically interpreted and actionable recommendation made. While A/B testing statistics are automatically generated and winning campaign variations automatically deployed. 
The combination of Conversific and OptiMonk make a valuable pairing. Data insights not only improve targeting but also the design of campaign messages and the choice architecture within. It provides direction for nudge marketing improving conversion and ultimately increases sales dramatically. 
Conversific + OptiMonk = Increased Sales.