One of the biggest reservations digital marketers have about using popups on their website is that they believe a popup always causes a worse user experience for a visitor. They're too afraid of seeing their bounce rate increase to be willing to even try a popup.
However, what many don't realize is that this problem only exists when you're not using exit-intent technology. When you use an overlay popup that opens only when a visitor is about to leave your website, you can actually reverse the trend and decrease your bounce rate (not to mention generate a lot of extra leads).
In this post, we've profiled five companies that have invested in exit-intent popups and seen terrific results because of it. We'll talk a look at what problems they had, how they were able to solve said problems, and the exact benefits they experienced.
1. Digital Marketer gets 2,689 extra leads
Digital Marketer is a blog run by a community of sharp-minded and well-reputed online marketers and business owners. The blog was founded by Ryan Deiss, a webpreneur that's met with no small measure of success online. Ryan has founded several eCommerce business in different industries, and done incredibly well with quite a few of them.
Justin Rondeau, shared how OptiMonk's onsite retargeting features worked wonders for the site in a recent blog post.
Basically, Digital Marketer created five different retargeting campaigns that advertised their various lead magnets: a marketing toolbox, a Facebook ad template, a social swipe file, and a list of 212 blog post ideas. Here's what the campaign for their blog post ideas lead magnet looked like.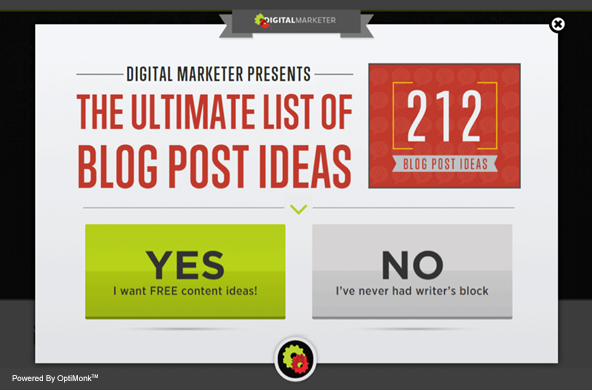 When OptiMonk was implemented, Digital Marketer saw their bounce rate decrease from 66.46% to 53.39%. Not only so, but average time on site also increased by 54% and average pageviews per visitor by 26%.
But here's the real kicker: Digital Marketer generated an extra 2,689 leads just from the visitors who were about to exit their website. That's nearly 3,000 extra leads that they wouldn't have been able to otherwise recover!
2. Marketing 112 increases subscription rate by 62%
Marketing 112 is a Hungarian marketing company owned and managed by Miklovicz Norbert. Using OptiMonk's onsite retargeting software, Norbert took his visitor to subscriber conversion rates to the next level.
Norbert had completed the first step in attracting subscriptions: creating a lead magnet to entice visitors. Norbert offered a 33-day marketing course to his visitors, completely free of charge. The only problem was, not enough people were taking him up on his offer for him to see a worthwhile conversion rate.
Once Norbert started using a popup to make this free content more visible, he instantly saw his subscription rate skyrocket.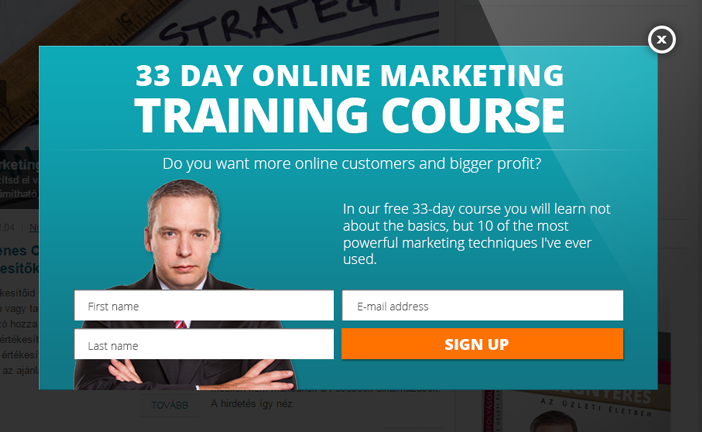 By exactly how much did his conversion rate increase? 62%.
And these leads weren't just worthless, inactive conversions either; the number of leads who took further action after (like asking Norbert to draw up a marketing proposal for them) grew by 45% in just 3 months.
The team at gaming platform Solitaired also saw a meaningful increase in subscriptions when using a popup. After a solitaire game was won, they showed a popup which explained the benefits of their premium services. Overnight, they saw their subscriptions double, and they've steadily improved that by tweaking messaging on the popup.
3. ZooShoo gets 7% more revenue
ZooShoo is an online retailer website based in the USA specializing in woman's fashion. Specifically, the eCommerce website sells shoes (as implied in their name).
After seeing way too much of their traffic just pass through the website without actually buying anything, ZooShoo decided to do something about it. Using OptiMonk, they decided to promote a coupon giveaway: anybody who signed up to their email list would receive a coupon for a 10% discount on their next purchase.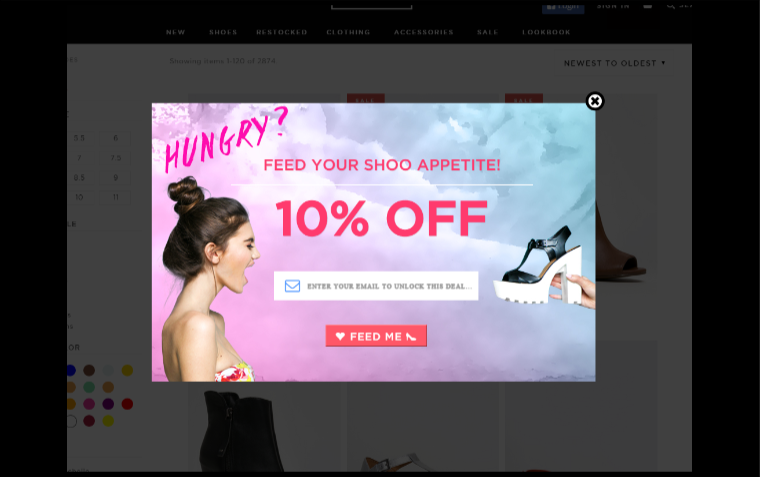 In just two months, overall revenue for ZooShoo increased by 7.35%. In the same period, they got over 5,000 extra subscribers, 1,129 of whom went on to purchase one of their available products.
4. BitNinja gets 65% more leads
BitNinja is a 4-person startup in a B2B industry. They offer solutions for server security with a SaaS (software as a service) pricing structure.
Like the other companies on this list, BitNinja was having a problem with lead generation. The website offers a seven day free trial for all unsure users who want to take the product for a spin before committing to a purchase.
However, the conversion rate for this free trial was quite low. The company then decided to start an e-newsletter, where they thought they could market their product to their subscribers until they committed to a free trial.
Unfortunately, that newsletter also ended up with a pretty low conversion rate. BitNinja then decided to turn to exit-intent technology to give their lead generation a boost.
The team created a free eBook to entice visitors, and by promoting it in a popup they began to see a 114% increase in their visitor to subscriber conversion rate.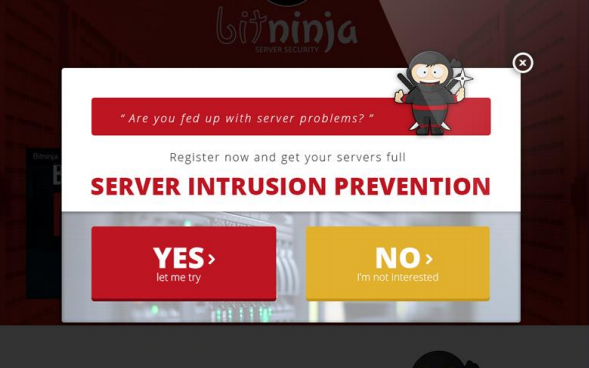 Not only that, but the number of leads they were able to generate (in other words, the number of free trial registrations) also catapulted upwards: the company saw 65% more leads almost instantly.
5. Marketing Commando increases subscription rate by 48%
Our last case study comes from Marketing Commando, a Hungarian marketing agency that's one of the mainstay blogs chock-full of marketing information in the Hungarian language.
Marketing Commando, however, had a slight problem: even though they were growing more popular, their subscription rate had slowly been on the decline for over five years, even though they already had a lead magnet to lure in new subscribers.
The solution? Popups.
Marketing Commando started implementing popup technology on all their major landing pages, and they immediately started to see a 48% increase on subscription rate.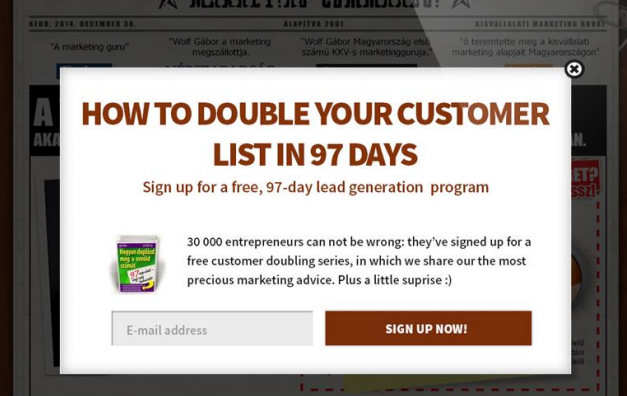 Those are ridiculous results, especially when you consider that it only took the duration of a coffee break for the company owner to install and setup OptiMonk.
As you've seen in the above five case studies, popups with exit-intent technology are basically guaranteed to improve your visitor to subscriber conversion rate. Let's quickly recap the benefits each of the above companies saw after they started to use OptiMonk:
Marketing 112: 62% better subscription rate, 45% more leads
Reflexshop: 278% better subscription rate, 26.8% more sales revenue
Ambringa: 278% better subscription rate
BitNinja: 114% better subscription rate, 65% more leads
Marketing Commando: 48% better subscription rate
Each of these five companies invested in OptiMonk's popup technology and saw real ROI very soon after. Will you become the sixth?