Have visitors coming and going on your website, but you're struggling to convert them effectively?
Then read on, because we're here to help you out.
Introducing notification popups, the solution you've been searching for. These captivating messages have the power to boost conversions, engage users, and deliver serious value when deployed effectively.
In this blog post, we'll discuss the purpose and benefits of notification popups, explore various types for optimal impact, and guide you through customizing, creating, and measuring the success of your popup strategy.
Let's get started!
What is a popup notification?
Popup notifications are small, attention-grabbing messages that suddenly pop up on the user's screen while they're browsing a website or using an app, often requiring input from them to proceed. 
The intent behind these popups is to motivate them to take a particular action, such as subscribing to a newsletter or making a purchase.
By strategically utilizing these notifications, you can drive conversions, engage with your users across different devices, and deliver value through well-designed popups, commonly seen as sliders, modals, or embedded forms on web pages or within apps. 
Examples of popup notifications include "Subscribe to our newsletter!" or "Get 10% off your first purchase!" which can appear on a web page, a mobile screen, or as a desktop alert.
Here's an example from Alo Yoga, where they encourage users to subscribe to their newsletter: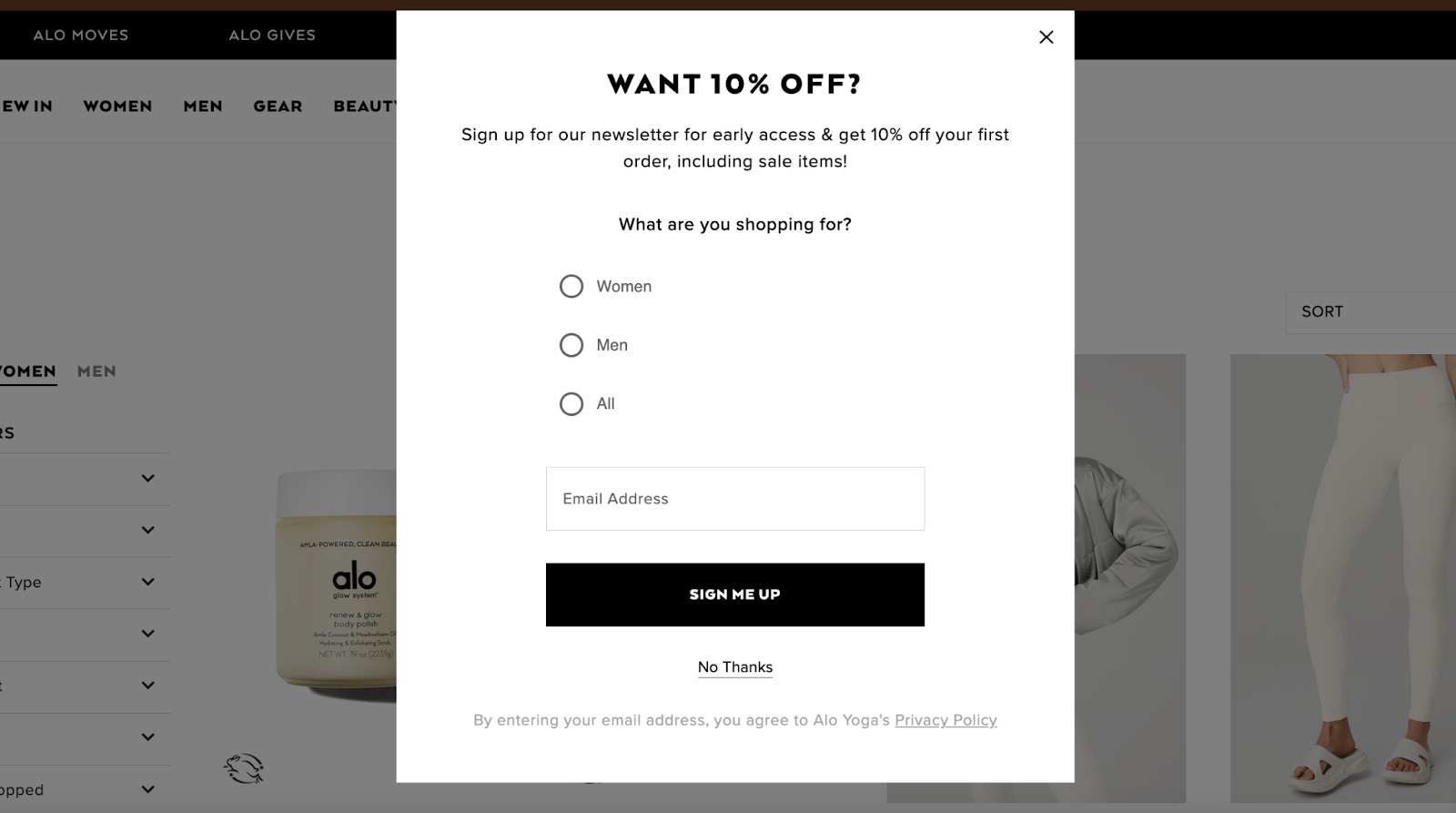 Why should you be using notification popups on your website?
There are many different reasons why you might consider using popups on your website, but let's highlight just a few of them:
Collect email subscribers:

With the help of popups, you can effectively

build your email list

. 

Promote special offers:

Popups can be used to highlight limited-time promotions, discounts, or sales you're running on your products or services. 

Collecting user feedback:

Popups can serve as feedback forms or surveys, allowing you to gather valuable insights. 

Important announcements:

You can use popups to communicate important news and announcements, like messages about free shipping.
8 types of notification popups for maximum impact
You can use different types of notification popups, including exit intent popups, countdown timer popups, and full-screen popups. Each serves a specific purpose and targets a specific user behavior. 
Let's explore each type to further understand how they can increase conversions and enhance the user experience.
1. Exit intent popups
Exit intent popups are triggered when users show signs of leaving a website. This type of popup aims to seize the visitor's attention and motivate them to perform a particular action, such as subscribing to a newsletter or taking advantage of a limited-time offer. You can also use it to show your most popular products as a last-ditch attempt at piquing their interest. 
Exit intent popups can be highly effective at keeping visitors around, reducing your cart abandonment rate, and increasing conversions. 
In the example below, Lammle's presented their trendiest products to visitors coming from Google Shopping Ads in an exit-intent popup. 
This has proven to be a powerful technique in captivating visitors who are about to leave, encouraging them to explore further and discover more.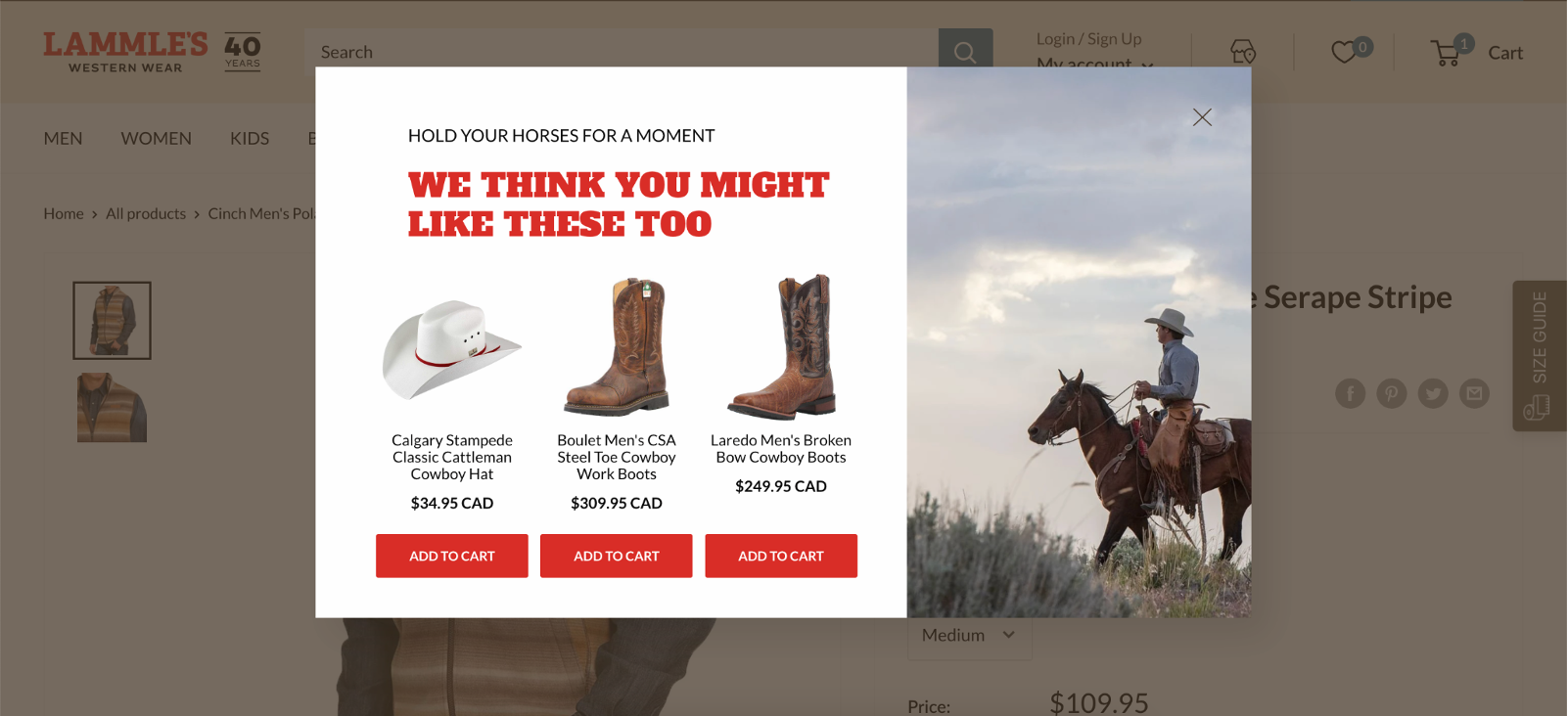 Use these exit intent popup templates to create similar campaigns to Lammle's:
2. Countdown timer popups
Countdown timer popups create a sense of urgency or FOMO (fear of missing out) by featuring a timer that counts down to a predetermined date or time. 
These popups are highly effective at driving conversions and user engagement, as they encourage visitors to take action before the time runs out. 
Not to mention that the average conversion rate for popups with a countdown timer is 14.41%, in contrast to 9.86% for popups without a timer!
By showcasing a countdown clock with ticking seconds and minutes, visitors internalize the approaching deadline.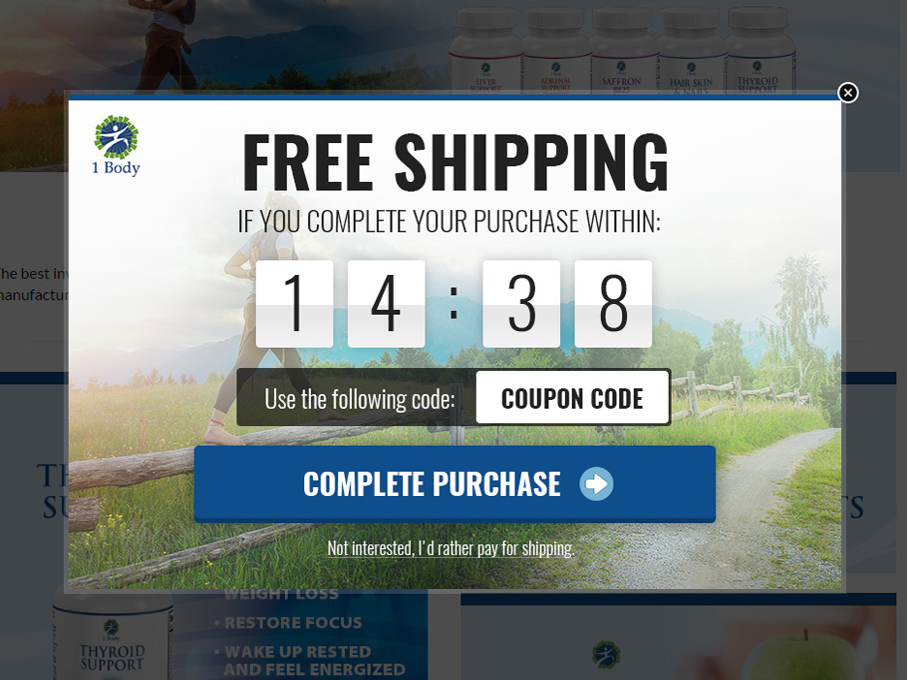 3. Fullscreen popups
Fullscreen popups are designed to grab users' attention by covering the entire screen, making them ideal for showcasing offers, deals, or important announcements. They have an average conversion rate of 14.40%.
Here's an example showing Modèles de business plan's fullscreen popup: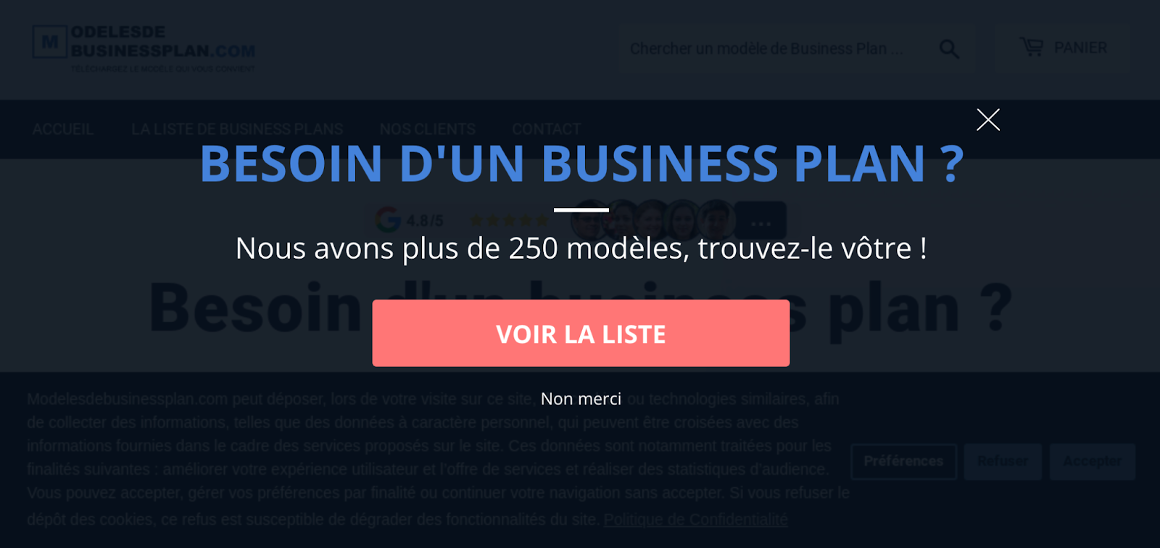 A fullscreen popup offering a limited-time discount on a popular product can effectively capture the attention of website visitors and encourage them to make a purchase.

4. Gamification popups
As human beings, we like to play, win, or just simply be entertained. Incorporating gamified popups is a fun way to enhance the user experience while simultaneously boosting conversions. 
Lucky wheels, scratchcards, and pick-a-gift popups serve as excellent examples of gamification in marketing campaigns. 
Gamified popups are also a really effective way to boost your conversion rates: they have a 13.23% average conversion rate. 
Here's an example from Patchpanel.ca, where they used a lucky wheel to give visitors the chance to win a prize in exchange for their subscription: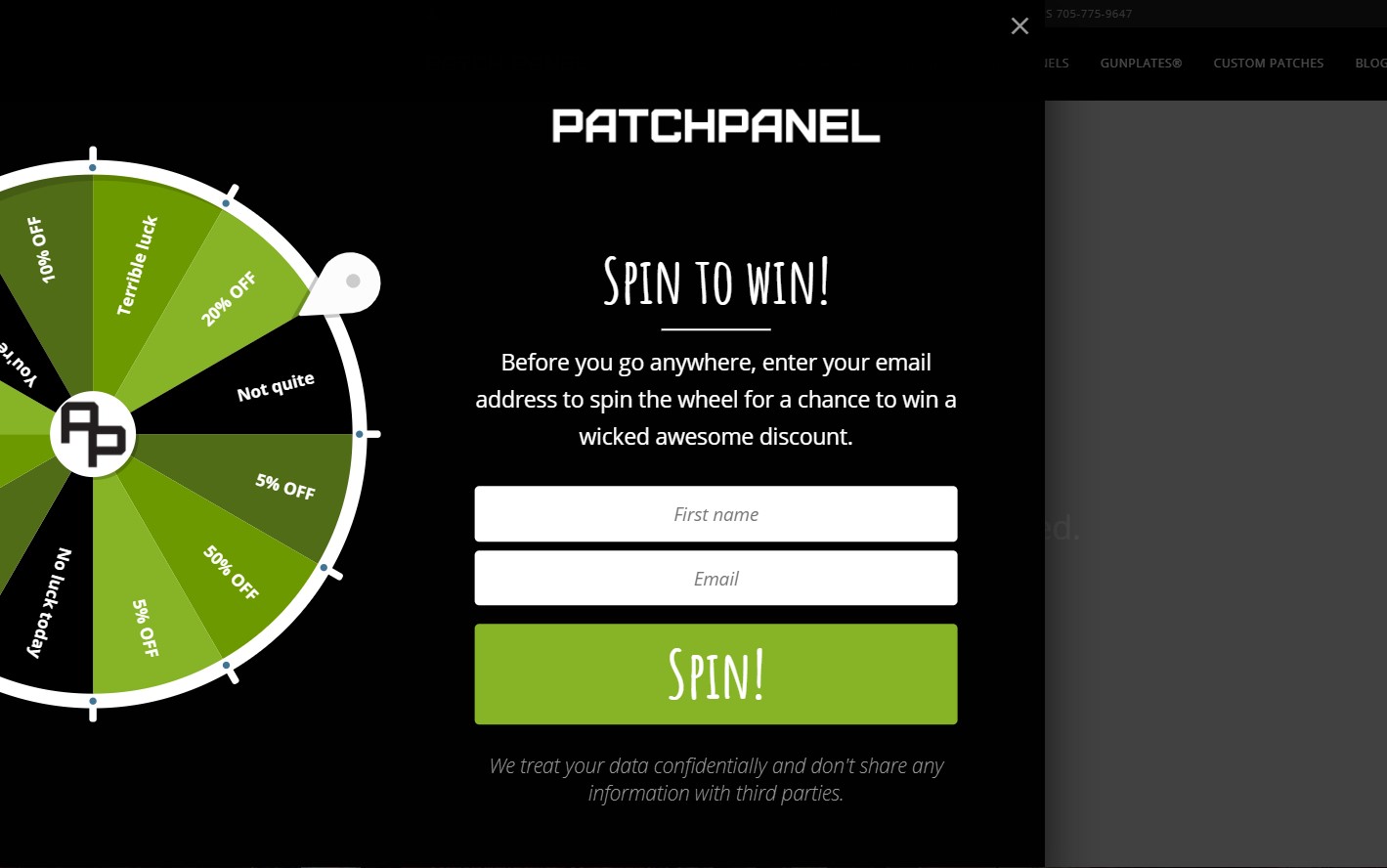 Here are some templates you can use to launch gamification campaigns.
5. Conversational popups
Conversational popups, as the name implies, take a conversational tone and allow the customer to interact. They do a great job of captivating customers and enticing them to subscribe to your email newsletter. 
It's simple: start by asking targeted questions to segment your visitors, then collect their email addresses. 
Finally, provide tailored product recommendations based on their responses to your questions. With an impressive average conversion rate of 15.2%, these popups also offer invaluable insights into customer interests and preferences. 
Take a cue from nutrition brand Obvi, who leveraged this tactic on their own site.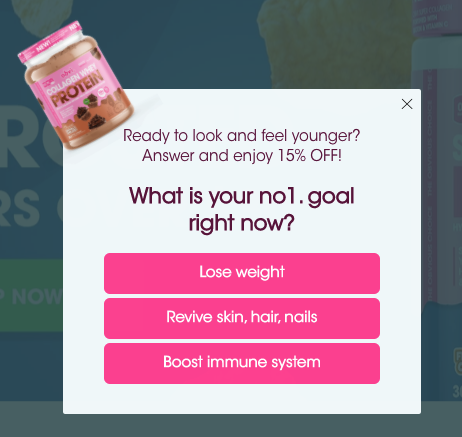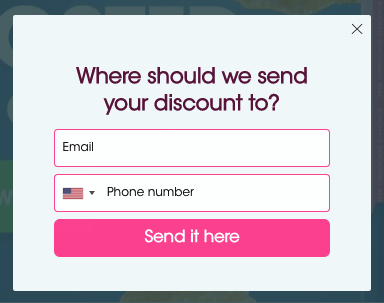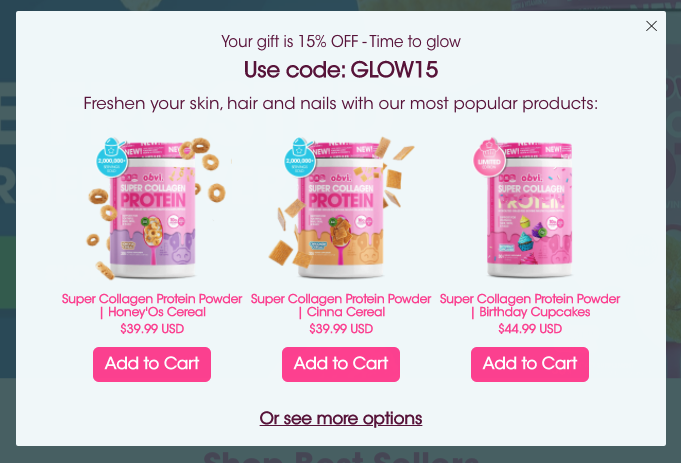 Want to try it for yourself? Use these templates:
6. Side messages
Side messages are positioned on either the left or right side of a webpage, providing information without significantly disrupting your visitors' shopping experience, unlike traditional popups that demand immediate attention.
Side messages are a perfect way to ask for feedback or simply inform your visitors about free shipping options.
7. Sticky bars
Sticky bars serve the purpose of notifying visitors about sales, promotions, and free shipping offers. 
They're displayed as a compact banner positioned at the top of your webpage. As your visitor scrolls down the page, the sticky bar remains visible, effectively capturing their attention and conveying your message without causing annoyance or interrupting their browsing experience.
Use these sticky bars to promote your new offers:
8. Surveys
Surveys are a great way to find out more about your audience and get valuable feedback and zero-party data from them. 
By strategically placing surveys, you'll be able to encourage your customers to engage with them, learn more about their preferences, and make data-driven decisions.
How to create effective notification popups
To create effective notification popups, it's important to understand your target audience and set clear goals for yourself. 
Let's see the 3 main principles of creating a powerful notification popup. 
1. Context
An effective notification popup goes beyond repeating the main message on your webpage. Instead, it offers new incentives or captures customer information, encouraging action and nurturing relationships.
Check out Clickup's approach to promotion that highlights the value their product offers. Utilizing a notification popup to define your unique selling proposition can be highly effective.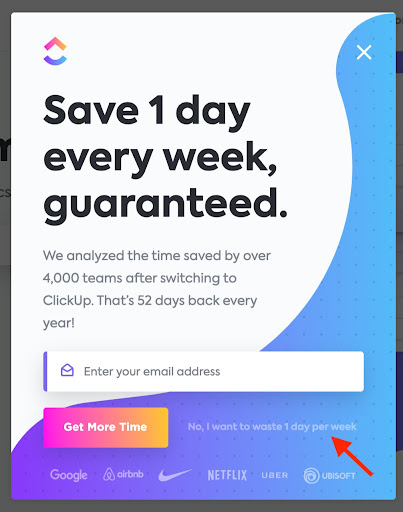 2. Relevance
The annoyance factor of a notification popup primarily stems from lack of relevance, which makes it feel like an interruption. When an irrelevant message appears, it disrupts the shopping experience, leading visitors to quickly close the popup. 
On the other hand, a relevant message can address the specific questions or concerns that visitors may have.
And nothing can be more relevant than product recommendations based on cart content. The notification popup below cross-sells specific products for the customer: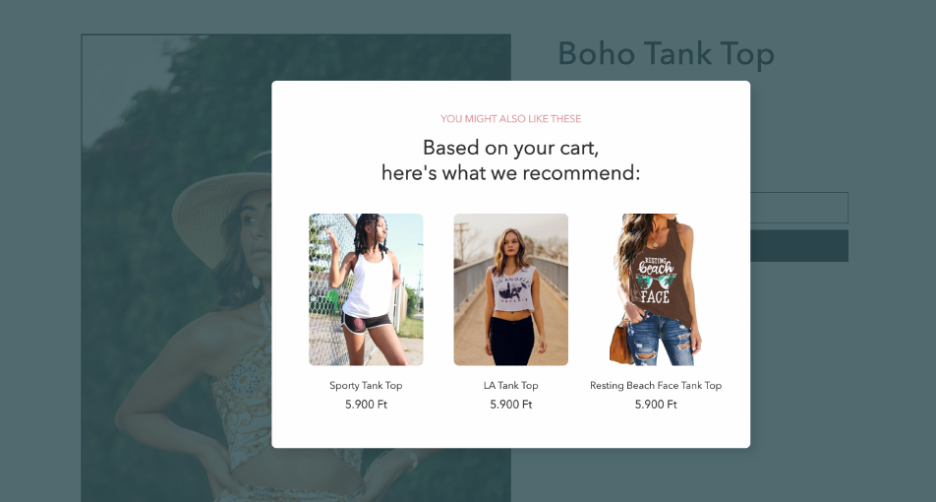 3. Personalization
There are many ways to personalize your messages. You can group your visitors into segments based on their behaviors or other factors, or you can take it even further and create 1-to-1 messages with dynamic text replacement (DTR). 
DTR allows you to change the copy of your notification popup based on "custom variables" (i.e. just about any piece of data you have).
For example, you can welcome returning visitors by name: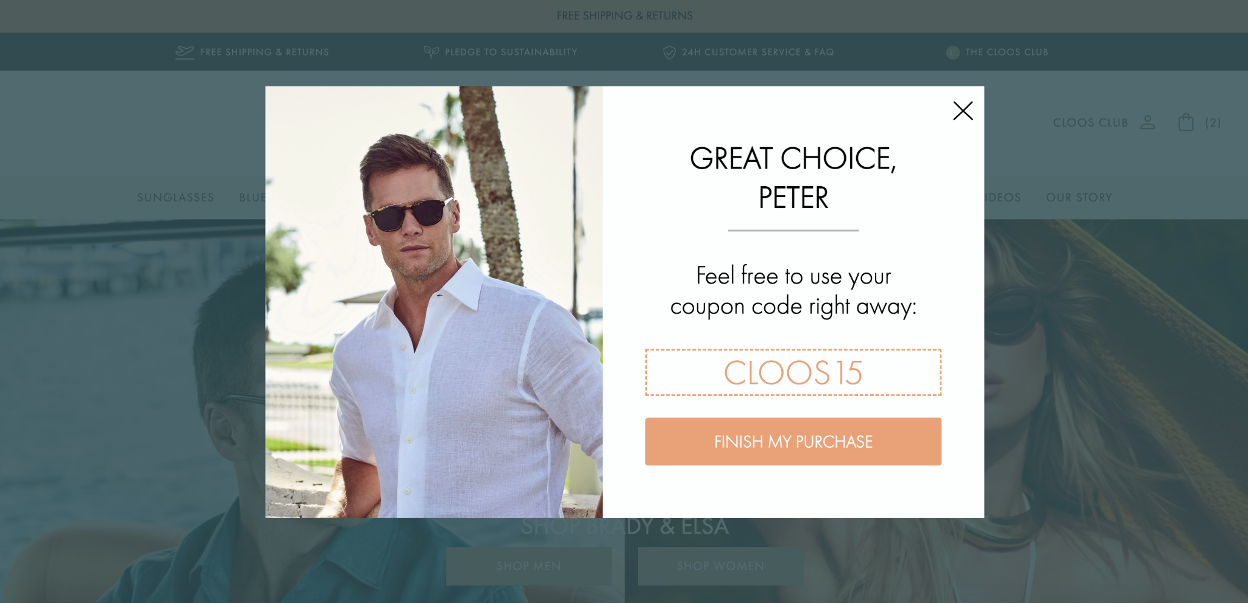 As you delve into the three main principles—Context, Relevance, and Personalization—consider taking your strategy to the next level with OptiMonk's AI-powered Smart Popups.
This tool introduces a dynamic and automated approach to tailor messages according to individual visitor interests.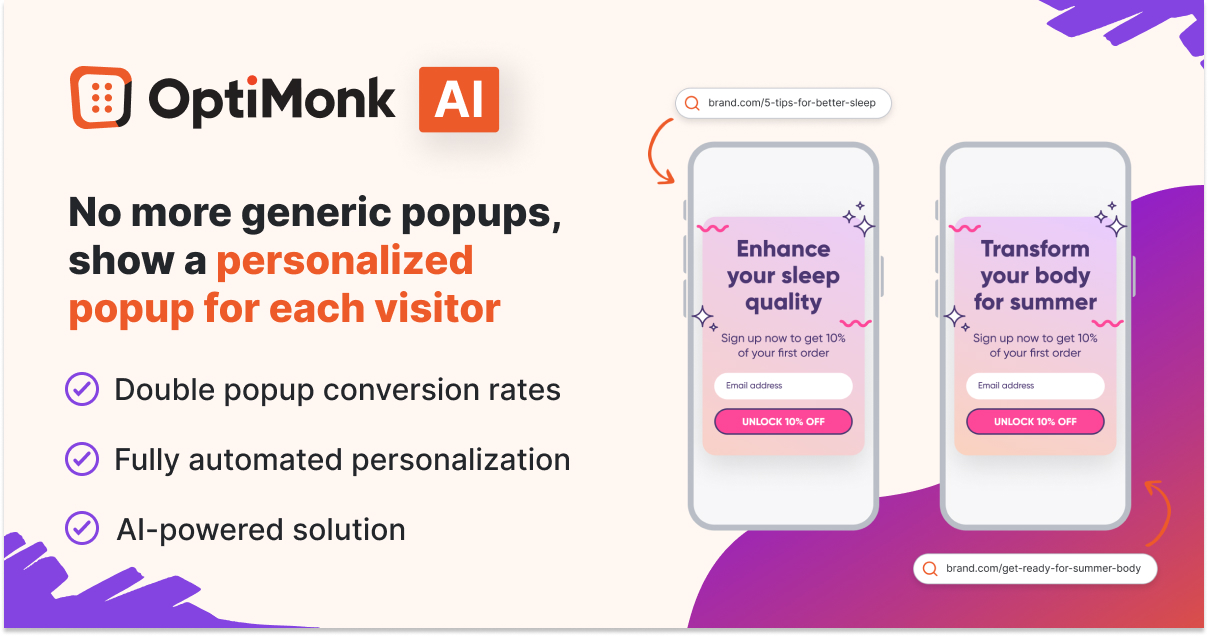 3 common mistakes to avoid when using notification popups
It's time to take a look at some mistakes you should be aware of when you start to implement your notification popup strategy. 
1. Avoid irrelevant or excessive content
Nobody likes being bombarded with a wall of text or multiple messages at once. 
To provide a seamless user experience, keep your content concise and relevant. By doing so, you can effectively communicate your message without overwhelming your visitors. 
Remember, less is often more when it comes to notification popups—focus on delivering a clear, impactful message that captures users' attention and encourages them to take action.
2. Don't use boring offers
If you want to make a real impact and drive subscriptions and sales, you need to offer something enticing.
Think about incorporating attractive incentives like significant discounts, free shipping, or exclusive rewards for first-time buyers. These kinds of offers grab people's attention and increase their likelihood of engaging with your notification popup. 
By providing irresistible deals and rewards, you can create a sense of urgency and excitement that motivates visitors to convert into loyal customers.
3. Forget outdated, spammy designs 
It's important to stay up to date with the latest design trends and techniques. 
Investing in aesthetically pleasing, user-friendly designs not only enhances the overall user experience but also reflects positively on your brand's image and credibility.
At OptiMonk, we're committed to providing you with modern, visually appealing designs that align with your brand. By using these fresh designs, you can create popups that look professional, engage your visitors, and build trust. 
How do I show a pop-up notification?
Displaying a notification popup is a pretty straightforward process, especially if you're using OptiMonk. You just need to sign up for an account, choose a template, and customize it to match your brand's look and feel. With OptiMonk's user-friendly features, you can use pop-up notifications to effectively engage your audience and increase the odds that they'll take action.
What is the difference between popups and push notifications?
Popup notifications appear as a window on your website when visitors are actively navigating, while push notifications are sent directly to users' devices even when they're not using the site. Push notifications allow you to reach out to customers and keep them informed without relying on them to visit your website.
Ultimately, push notifications allow for more targeted, timely communications with customers, while popup notifications allow you to connect with customers while they're already on your site and in the shopping mindset.
Integrated seamlessly with client portal software, businesses can enhance customer engagement by delivering personalized updates and relevant information directly to their clients' secure online platforms
Since you've made it this far, you've probably realized how powerful using notification popups can be. 
They're one of the best ways of capturing your website visitors' attention, and when used strategically they can drastically improve the user experience. They can bring a fun factor, help you engage with your audience, and convert them into loyal customers that keep coming back.
Ready to get started with notification popups? Create a free OptiMonk account now!