Popups have gotten a bad reputation. This is mostly due to 'entry popups' or popups that show up immediately when you visit an online store. At OptiMonk we're pioneering new ways to use popups. Instead of triggering an irrelevant popup that shows to everyone, OptiMonk uses intelligent popups that can be controlled to show at the right moment with a message that's relevant to your shoppers. Many top ecommerce sites have taken up the challenge and are pioneering the use of our creative templates.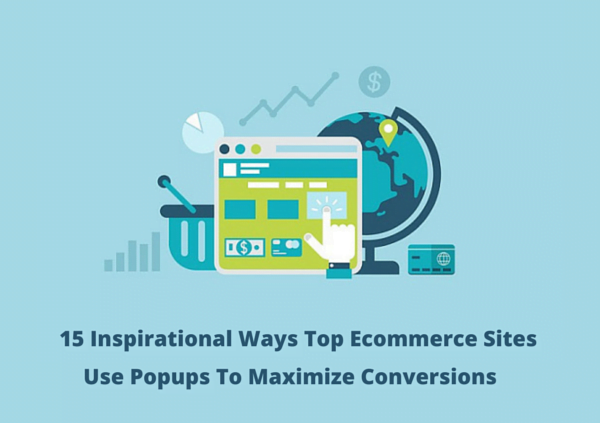 With OptiMonk you can create intelligent popups that appear on exit – 'exit intent popups' and popups that appear when an action is taken, such as clicking a link or scrolling down a page. You can even create timed popups that allow you to control when a popup appears after no action has taken place for a period of time.
When used effectively, ecommerce popups can be less annoying and more helpful to the people that shop on your site. More ecommerce sites are starting to take notice and find new ways to use popups to generate sales, without bothering shoppers, especially repeat buyers.
In this post we'll take a look at 15 inspirational ways to you can use popups to maximize conversions on your ecommerce site. With OptiMonk and intelligent popups, the sky's the limit!
1. Do we have your attention now? – Use micro-landing pages
When used effectively popups can draw your shoppers' attention at just the right time. According to our research, using a popup as a micro-landing page typically increases conversions by 15% or more compared to standalone landing pages.
When a popup launches it focuses the attention of the person visiting your site. With people surfing the web all day long, it's easy to see why an effectively timed popup can help maximize conversions.
When someone clicks a link or takes an action on your site that triggers a popup with a micro-landing page, they're not shocked because it's driven by an action. The popup grabs their attention in a non-intrusive way.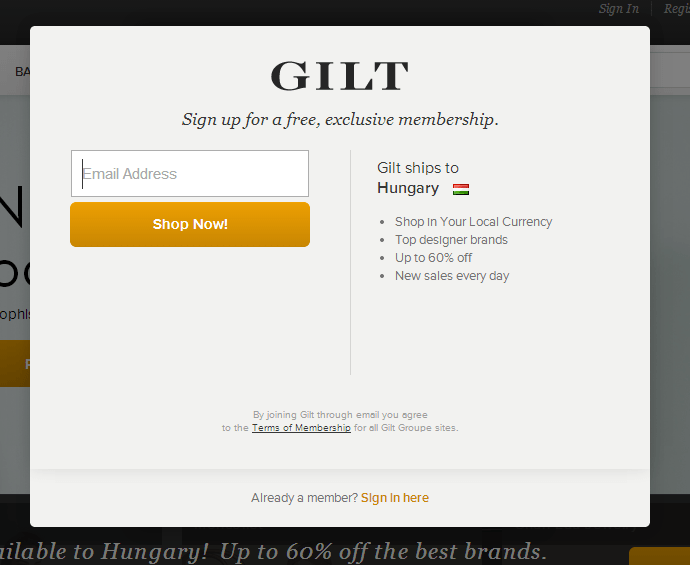 Gilt.com
2. Different strokes for different folks – Use audience segmentation
One of the great things about OptiMonk is that you don't need to show the same message to everyone. By using audience segmentation, you can show a more relevant message to your audience.
As you learn the shopping habits of your customers based on their source. For example, you can show different messages depending on whether shoppers reached your site from Facebook or Google.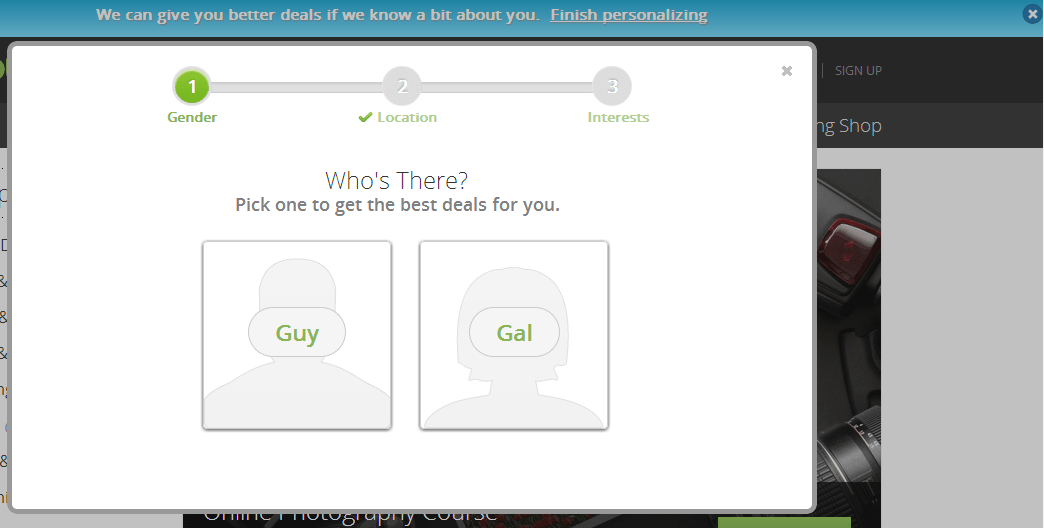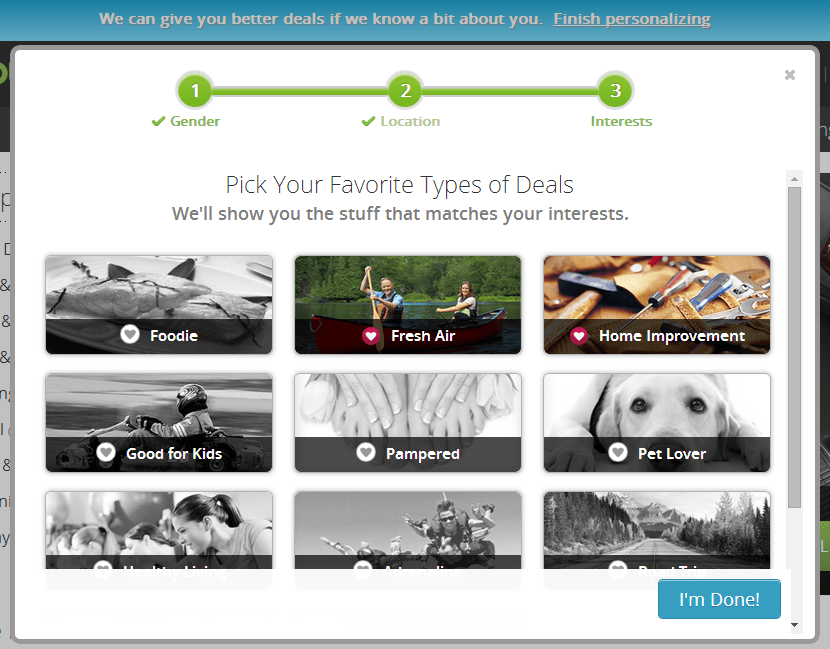 Groupon.com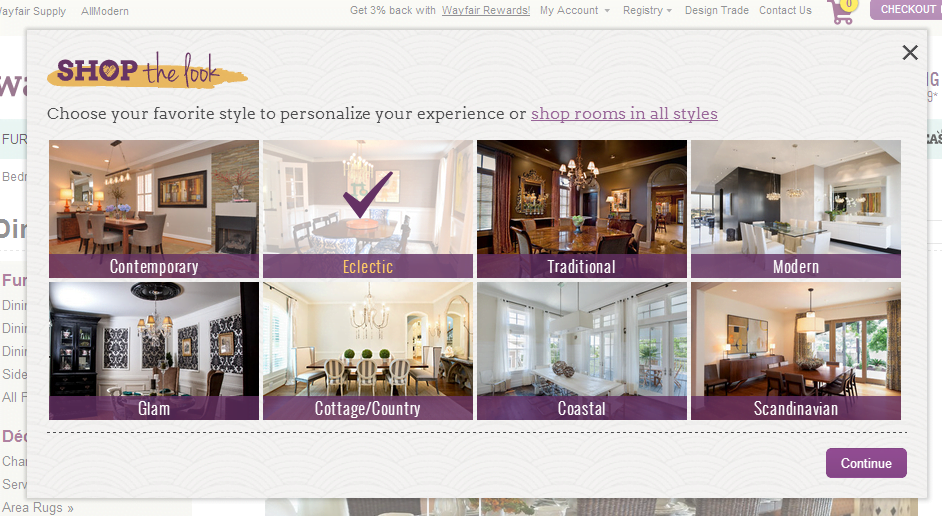 Wayfair.com
3. Remind your returning customers that they have items in their wish list or shopping cart
When a visitor returns to your site and they have items in their cart, you can give them a friendly reminder to complete checkout.
Because the popup is based on a previous action, and it's relevant to your shopper, it's not intrusive and it's another inspiring way you can use popups to maximize conversions.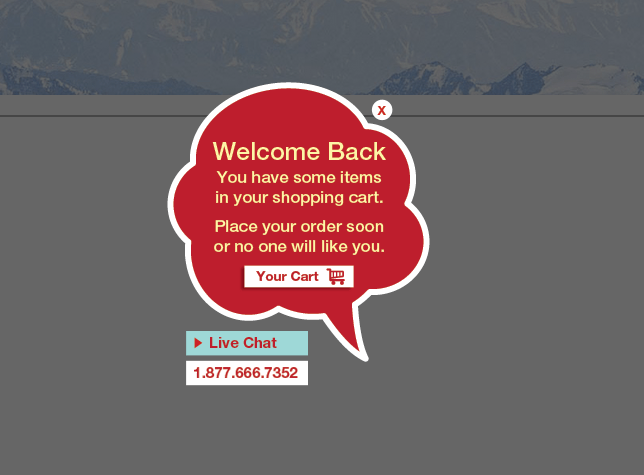 MooseJaw.com
4. Provide useful information
You can make popups less annoying and more helpful to your shoppers by providing useful information. You can provide a simple how-to on your product or highlight a new feature of your site.
Instead of trying to force a sale, reach out to your customers in a positive way with some information they can use. You'd be surprised how this leads to more conversions and sales in the long run!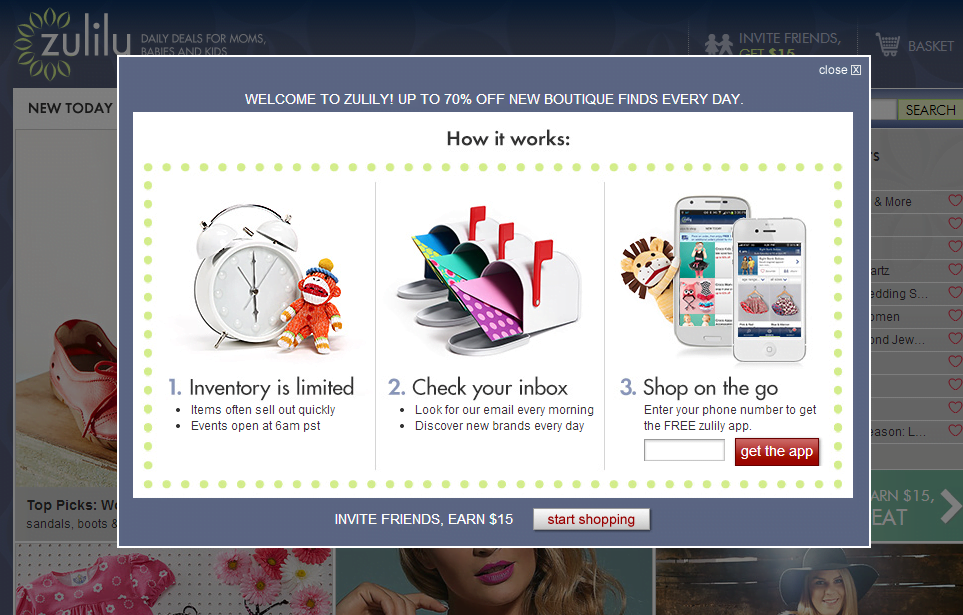 Zulily.com
Inform customers if the site is changed.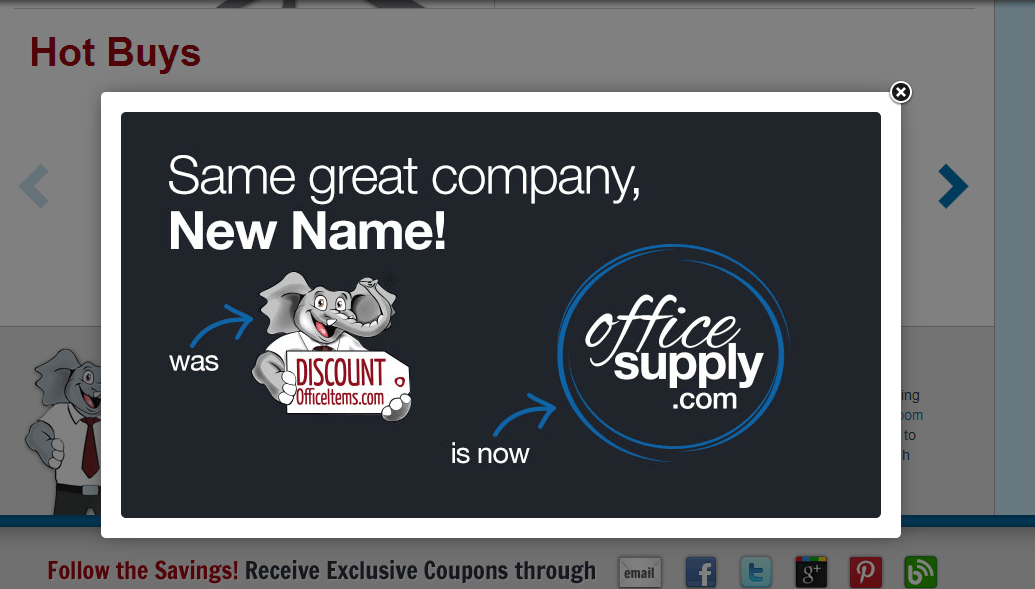 OfficeSupply.com
5. It's not where you're from, it's where you're at! – Use dynamic country and locale detection
One way to make your message more relevant is to use geo-targeting to detect the country or locale of your shoppers. This helps in two ways: first, you can target a message for this particular country or locale; second, the spending habits for each country might be different, so you can highlight a different product, or depending on location, different shipping discount offers.
When the message is more relevant, it's more likely to convert!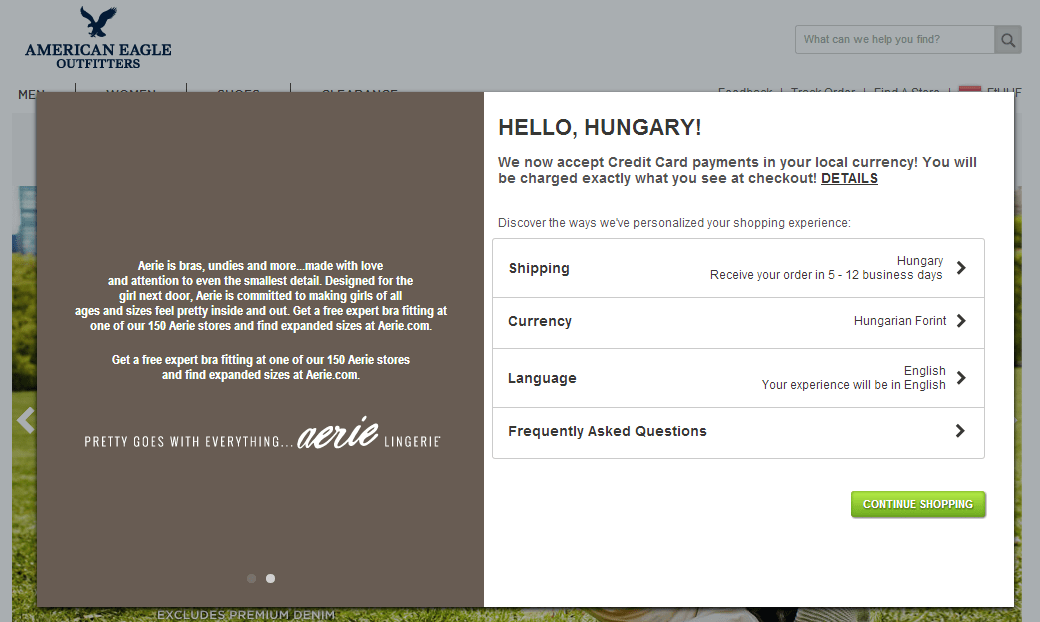 AE.com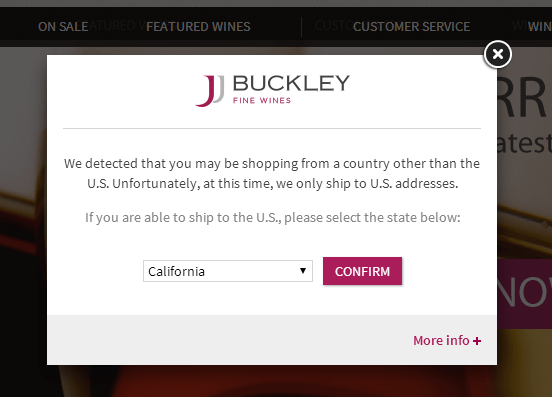 JJBuckley.com
6. Maximize leads to maximize conversions – Capture newsletter subscribers
One of the best ways to use intelligent popups and OptiMonk is to build your email list or newsletter subscriber list. Here's another example where rather than trying to force a sale, you offer an alternate action to your shoppers.
Many shoppers will buy a product once they learn more about the product or your company. They'll sign up for a newsletter or email list and you can market to them over time. Having a strong email list is one of the keys to success in ecommerce, and using a well-timed and controlled popup is a strong way to build that list.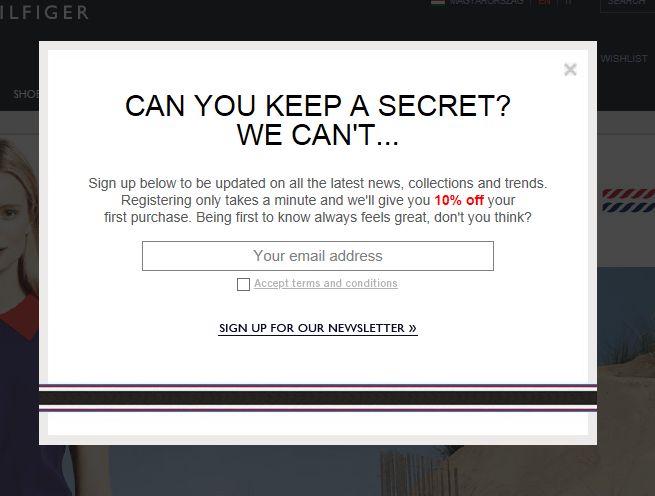 TommyHilfiger.com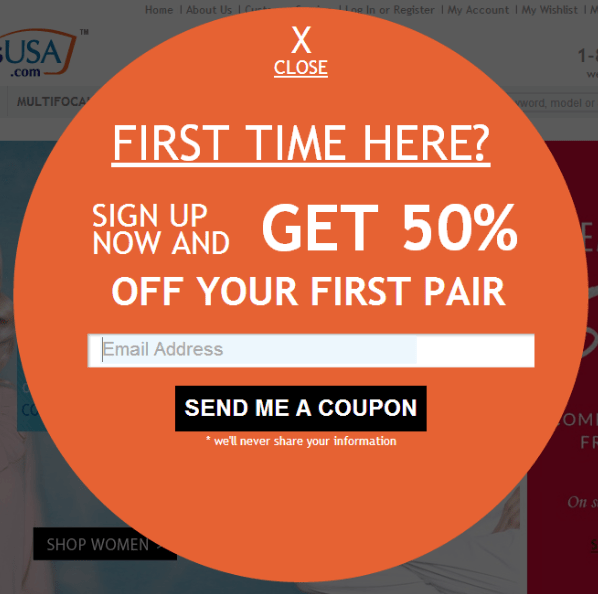 GlassesUSA.com
7. Expand your reach to maximize conversions – Capture social followers
Just like capturing email subscribers, asking someone to follow your company on social media is not as hard as asking for an immediate sale. In the same way subscribers to your email list learn more about your product and your company over time, subscribers to your social media learn more about you too.
Social media also adds a network effect where followers of the people that follow your company may begin to follow you directly. This can be helpful when you run a contest or promotion – a good social media following can help your contest go viral. Using popups to collect social media followers is an easy way to expand your reach and maximize conversions without seeming bothersome to your shoppers.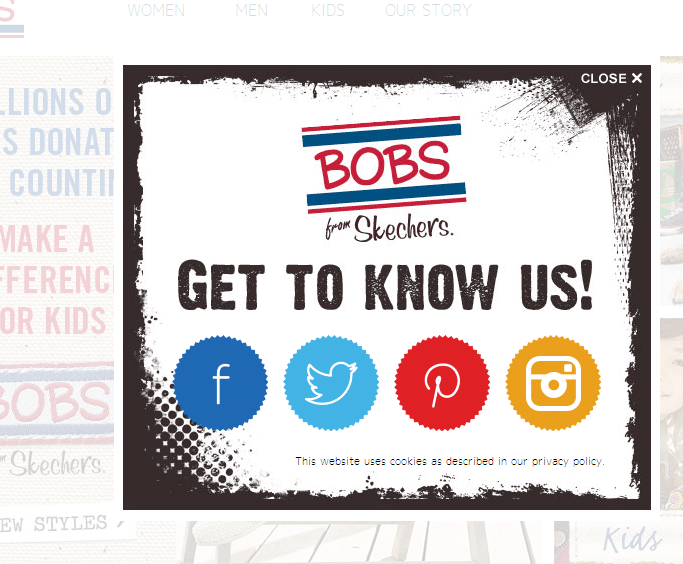 Skechers.com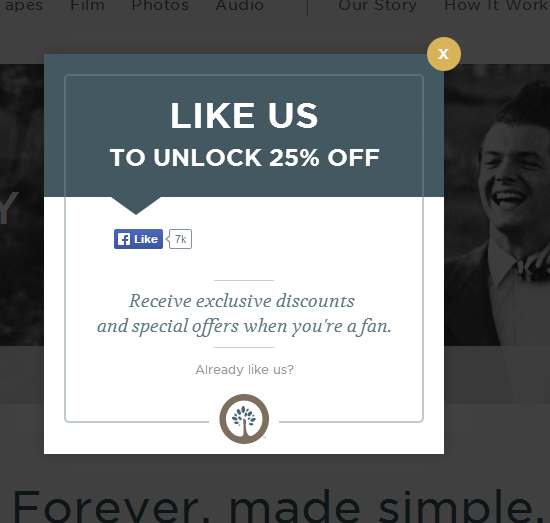 SouthTree.com
8. Highlight your sales and discounts – Promote a special offer
When you've got a truly great deal, it's worth telling your customers about. Popups give you a way to announce your deal and really make sure it gets noticed.
You can combine this with an email sign up request to provide an incentive to join your list.
By timing your popups and controlling them with OptiMonk, you can be sure that people who have already gotten the deal won't see the popup again.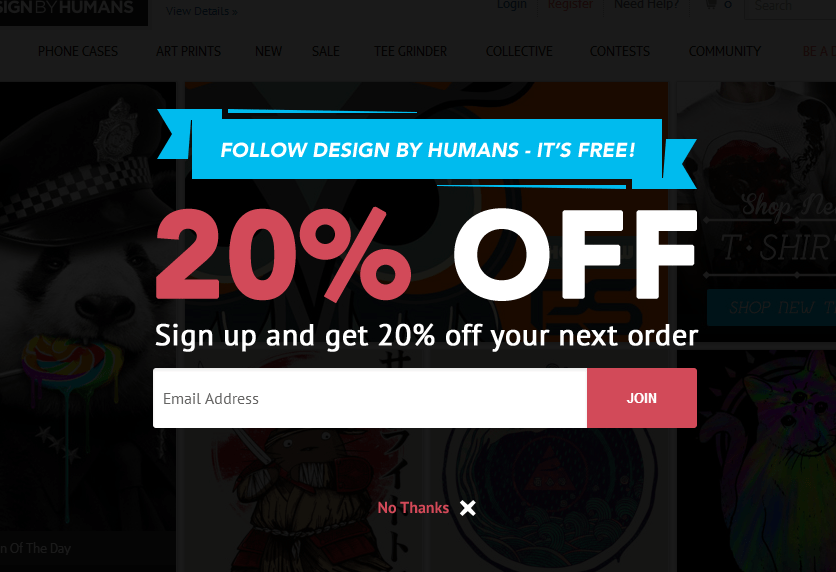 Designbyhumans.com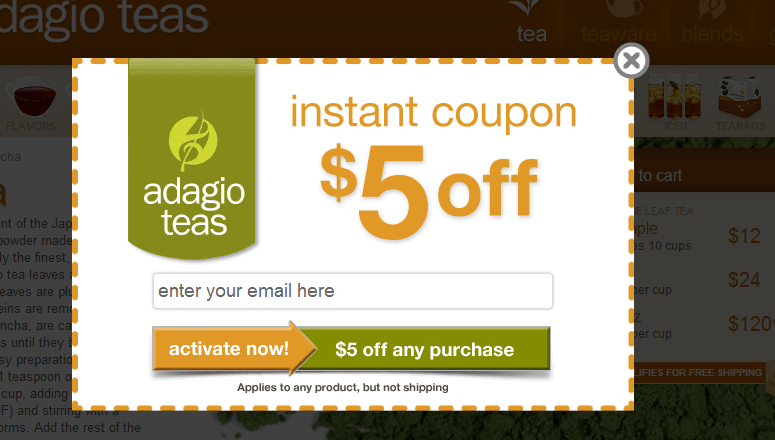 Adagio.com
9. Listen to your customers – Ask for feedback
One of the great ways to use popups is rather than telling your customers what they need, ask them what they want! This can really show that you are interested in serving your customers.
It's a win-win, you get feedback to improve your products and your site, and your customers feel that their voice is being heard. It's easy to see how this inspirational use of a popup can help maximize your conversions.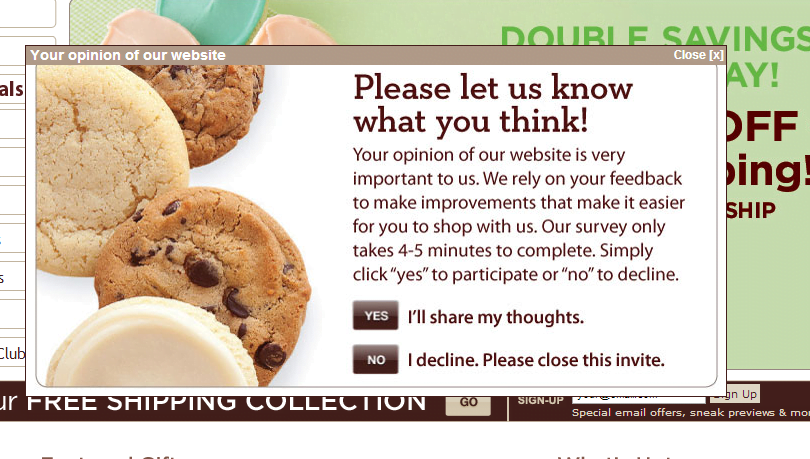 Cheryl.com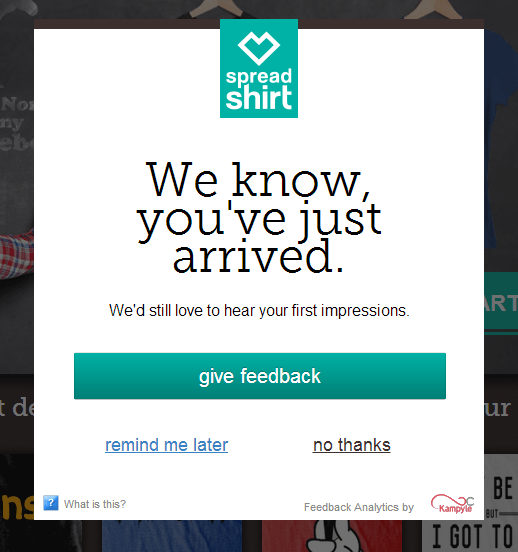 Spreadshirt.com
An example of an exit intent popup when someone is leaving the checkout process.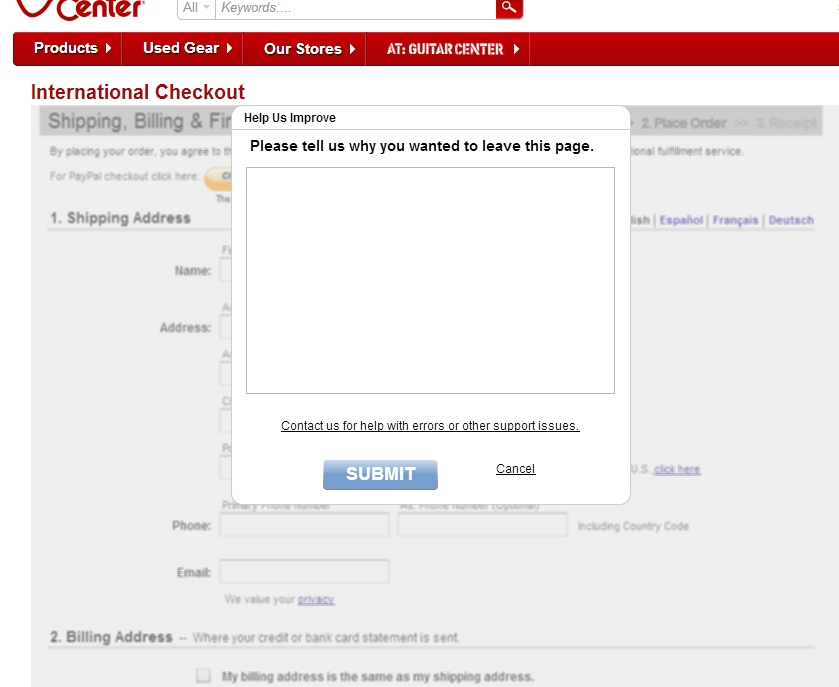 Guitarcenter.com
10. Features hot-sellers – Recommend products
When you've got an item that people often buy at your site, you want to be sure that every shopper has a chance to see it.
This is like the 'end-cap' at a supermarket where they feature popular items at the end of the aisle. Using intelligent popups with OptiMonk is a great way to make sure everyone sees the hottest sellers on your site.
When you show more people the items that sell most often on your site, it naturally leads to more conversions.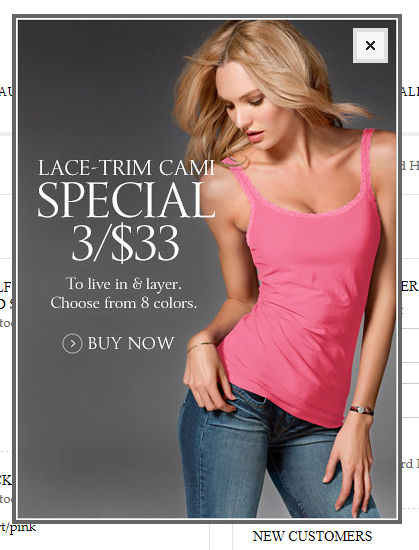 Vicotriassecret.com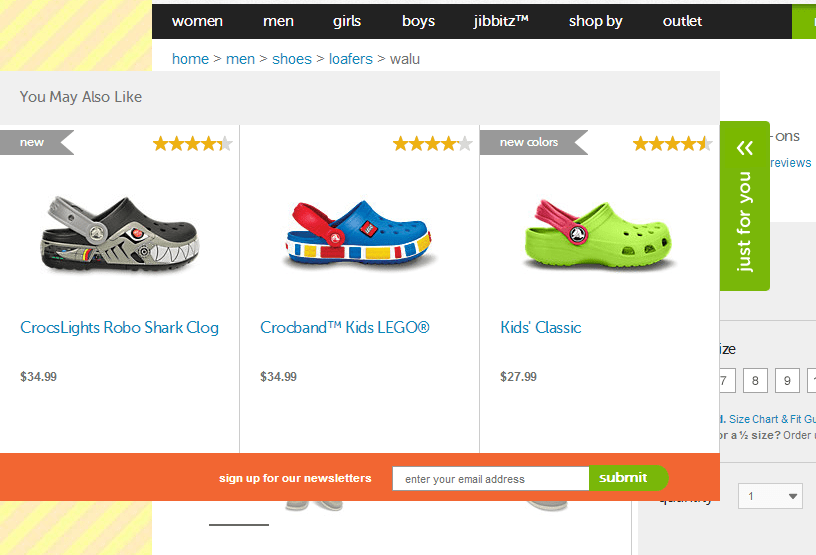 Crocs.com
11. Is this what you were looking for? – Provide additional info when required
You can use popups as micro-pages of information. For instance, you can show delivery terms or return information. By using a popup instead of another page on your site, your shoppers won't need to navigate to a different page or away from your site to find the answer.
Having information available like this keeps shoppers on your site and keeps them moving forward towards checkout.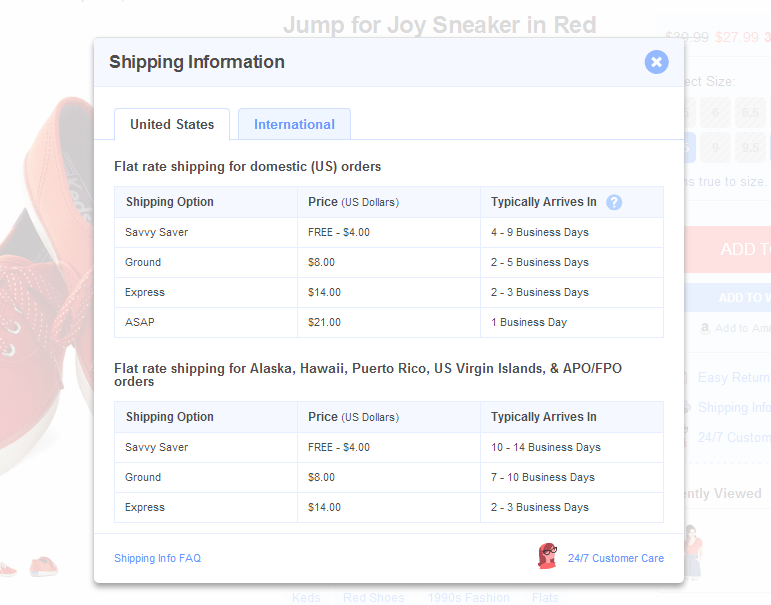 ModCloth.com
12. Act now while supplies last! – Create a sense of urgency
Popups that create a sense of urgency can help move shoppers toward checkout. When there's a deal to be had and the clock is ticking, people are more likely to act.
The countdown timer can tell people when a deal is ending, or a supply notice can show when there are a limited number of items left. The sense of urgency or scarcity is a natural motivator you can take advantage of with a well-timed popup.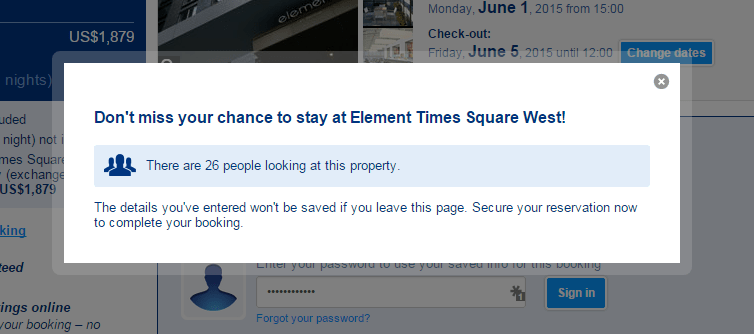 Booking.com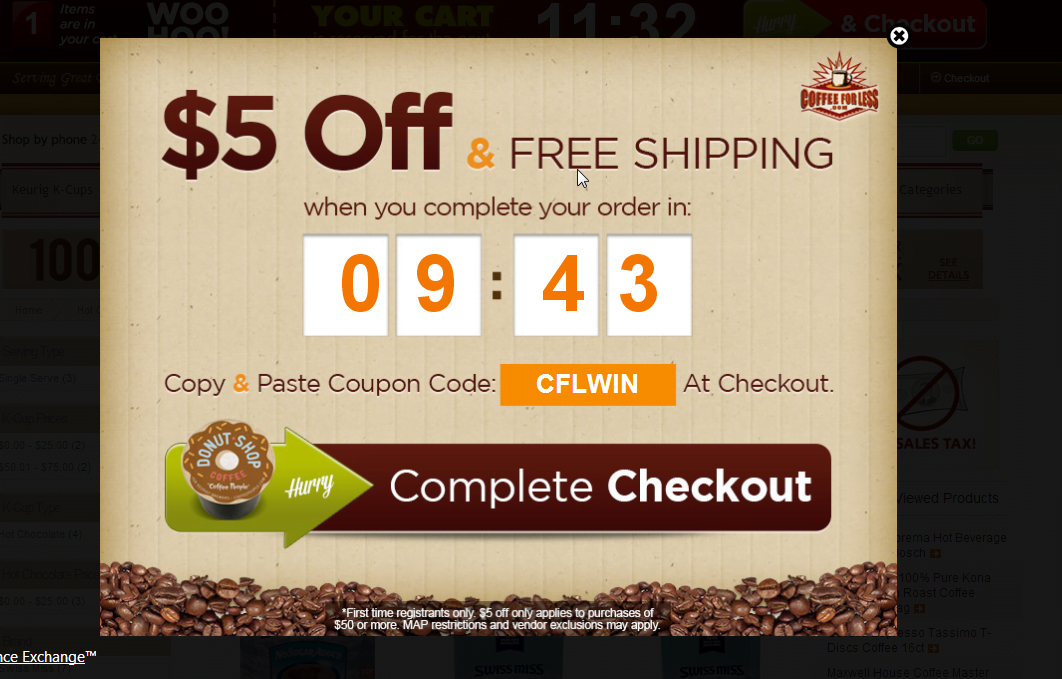 Coffeeforless
13. How can we help? – Proactively encourage chat
Popups that offer help are less intrusive and annoying. One of the best examples is a timed popup that encourages chat or other support options. This way, you only show the popup when someone has been browsing your site for some time and clearly has interest. Offering a chat or support options shows that you are there to help, and this helps build trust with your customers.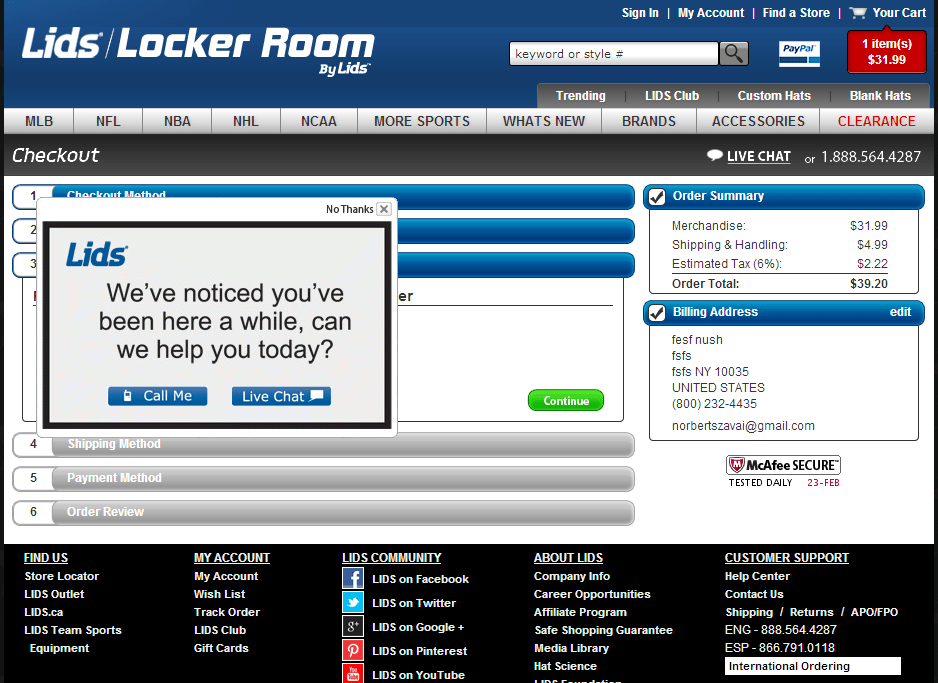 Lids.com
14. Tell me when you've got it – Set off an e-mail reminder in case out of stock
When someone is browsing an item on your site that is no longer in stock, you can trigger a popup to gather their email address to inform them when it will be in stock.
From the business perspective, you may have to place a large order for some items. Using a popup this way can help you drive more sales, and see whether there are sales to be made. Here's a smart way to maximize conversions without hurting your bottom line.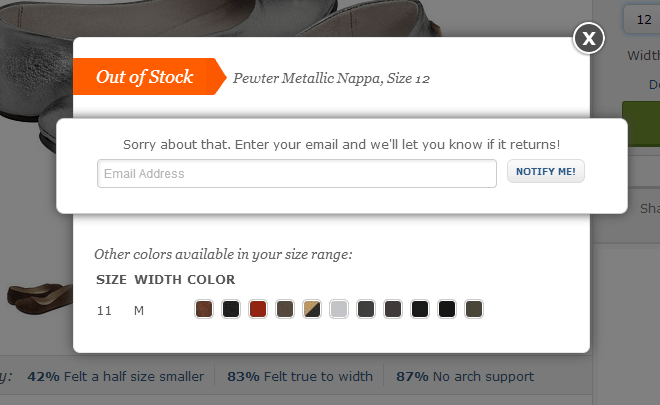 Zappos.com
15. There's more where that came from! – Upsell
Upsells and add-ons are a common way to boost ecommerce sales. Using popups when someone has a specific item in their cart can highlight the additional options or upgrades you have available.
Just as a micro-landing page has more power than a standalone landing page, using a popup for upsells calls your customer's attention more than a static listing of options near the footer.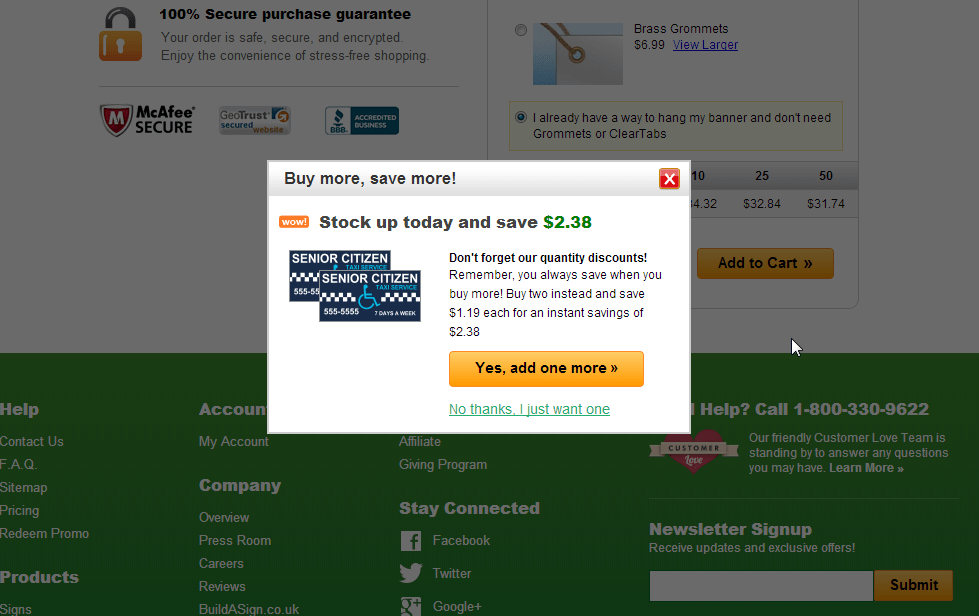 Buildasign.com
Here's why ecommerce popups are important
Annoying popups are long gone. The top ecommerce sites are now finding new and inspirational ways to boost their conversions with popups. From gathering more email subscribers to advertising your hottest deals and learning from your customers, intelligent popups from OptiMonk give you a variety of ways to interact with your audience…without annoying them!
Click here to create a free OptiMonk account and start converting away.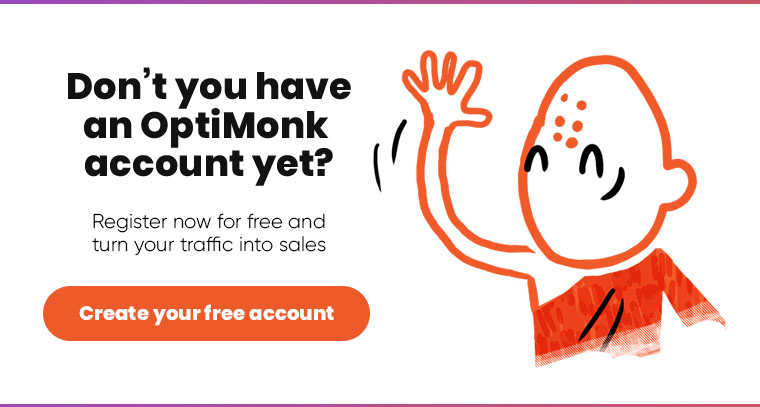 So, what inspirational way are you going to use popups on your site?