At OptiMonk, we're always looking for new ways to get more out of your exit-intent popups. We're developing a suite of onsite retargeting tools to convert your visitors to buyers and subscribers. However, the exit-intent popup still remains one of the most powerful ways to use OptiMonk.
Why? It's pretty simple, when someone visiting decides to leave, you have nothing to lose and everything to gain! Exit-intent popups give you another chance to market to these visitors, add them to your subscriber list, or gather feedback to learn what you can do better next time.
Simply put, exit-intent popups and OptiMonk help you make the most of your marketing dollar. We've gathered some tips so you can make the most out of exit-intent popups. By following these 7 tips, you can increase conversion rates by 5% or even 10%. What's more, you can use exit-intent popups to build your subscriber base. Use these tips with OptiMonk to get started capturing lost sales today!
1.) Provide YES or NO Options Instead Of Just One Call-To-Action
When a visitor tries to leave your site, the typical popup design is a simple opt-in, or 'Yes', or 'Continue'. You'd be surprised, by adding an opt-out or 'No' option, you can increase conversions by 30-40% compared to using only an opt-in option.
When visitors consider the reasons for saying 'No', some visitors think, 'Well, maybe I'll think about this again', and then they decide to try your product, or at least sign up for your list.
This is especially the case when you add a reverse call to action to your 'No' as a subtext. For example, the opt-out or 'No' link can read, 'No, I'd rather not receive free deals in my inbox.' In this case, seeing this link, the visitor will reconsider their option to opt-out and think, 'Ok, why not? I like free deals, I can read the emails when they arrive and decide later, ok I'll signup.'
2.) Delay the appearance of closing X button
People on the web are used to seeing popups – your popup will surely not be the first they see. Many people have a tendency to close them before reading the content.
When you delay the appearance of the closing X button for a few seconds, your visitor won't be able to click on it, this provides an opportunity for them to experience the content of the popup and can result in a 20-30% increase over showing the closing X immediately.
As your visitor looks for a way to close the popup, they may consider your offer, then the closing X button will appear – so they can close the window if they wish. It's a simple and effective method and it's built-in to OptiMonk.
3.) Segment Your Visitors And Target Them With Different Messages
It's good practice to group the people who visit your website and then provide messages tailored for these groups. You might not be able to send an individual message to all your customers, but you can make them feel more valued by providing specific offers to meet their needs.
As a rough guide, you can show different messages to:
First buyers vs. returning customers. first time buyers or returning customers
Visitors in the early stage of the buying process, who are browsing your site vs. visitors in later in the buying process who have products in their cart.
Visitors who are subscribed, vs. those who aren't subscribed yet.
Making sure you don't burden your return visitors with the same message is a good place to start. From there, providing messages for buyers in different stages of the process can also help you see better results. Consider how you might group your customers based on how people use your site.
4.) Make It Blazing Fast
Making sure your popups load quickly means making sure that you get the most out of the timing of exit-intent popups. Here are some general notes to help you design exit-intent popups that load at blazing fast speeds:
Design your popups to use as few pictures as possible so they load quickly
Keep your message simple and use one good picture to make the most immediate impact.
You have only a moment to keep a visitor on your site, don't make her read too much information or wait for a hi res photo to load.
OptiMonk has built-in templates so you can easily edit your popups.
When it comes to more advanced custom popups, here are a few more technical tips to keep your popups lean and loading fast:
Don't use special fonts that need embedded fonts.
Try to design popups that use simple HTML and CSS, this will make them load in an instant and keep them compatible across browsers.
Preload content, so the pictures will be loaded before they are needed, this way, they will appear immediately.
Use a content delivery network or CDN to maximize speed
Compress JS to decrease the bandwidth requirement
Depending on your level of skill and patience you may not be able to use all these tips to speed up your popups. Every little bit counts, apply what you can and it will be a step in the right direction towards more conversions.
5.) Make It Responsive
With all the devices on the Internet these days, one of the best tips to increase the conversions of your popups that is often over-looked is to make your popups responsive. It's surprising considering that many websites are responsive and many popups are not!
Generally, follow the same principles in responsive design for your popups as you would for a responsive website, on smaller screens make smaller popups to they fit correctly in the frame. The same applies for larger screens, use larger popups so they look right and get people's attention.
You can see a 10-15% extra increase in conversions for your exit-intent popups when you apply responsive design principles.
Here's an example from the KISSmetrics blog, where the popup is set to show larger a on big screen with more than 1400 pixel width:
6.) Optimize and Track Your Popups
This is another tip like responsive design, it's good practice to optimize and track your website and it's good practice to optimize and track your popups including monitoring conversion behavior.
You can track you popups in Google Analytics when the settings are correct. We've learned that it's not wise to show the popup in the first few seconds, even when your visitor appears to be leaving your site. Some people are simply switching between windows or tabs before they start browsing your site, and we might just irritate people with too early appearances. Of course, there are entry-intent popups which you can also configure with OptiMonk. However this article is focused on exit-intent popups. For these types of messages, we want a delay before the popup appears.
Using tracking, you can learn when the conversion peak happens and make sure you get your message across without bothering your visitors. You can look at statistics for tracking such as: after how many pages were visited, how much time was spent on site, etc. From this information, you can determine the best timing for your popups. The settings for your popups based on this information can be adjusted automatically by an algorithm in OptiMonk.
7.) Test Your Messages
One tip for using exit-intent popups is to boost your conversions in the long-term by improving your conversion strategy. You can learn better ways to approach your customers and build a better long-term strategy by using exit-intent software to run A/B tests on your marketing messages. It is a quick, inexpensive, and effective solution that adds an extra bonus to the value of OptiMonk and exit-intent popups.
A/B testing performed the traditional way is time-consuming and expensive. It takes a lot of man-hours, effort, and money to build competing landing pages, drive traffic to those pages, and then analyze the relative effectiveness of the messages on each page.
Using the A/B testing functionality of exit-intent popups, you can immediately test alternative headlines to see which is more effective. While we designed our company's exit-intent popup software, OptiMonk, with this type of A/B test functionality, we initially intended it to improve the conversion rate of the popups. We soon learned it could be used to test any type of marketing message for a brand, and it works like a charm!
This type of testing lets you discover which of your marketing messages is most effective, and thereby improve your conversion rates, with very little effort or preparation. Exit-intent popups significantly reduce the cost of running A/B tests. As you learn what messages and settings work best for your customers and put those lessons into practice, you'll see an increase in your conversions.
Conclusion
Following these little-known tips and best practices can bring you an immediate boost in your conversions. You can also perform A/B testing with exit-intent popups to learn more about your visitors. This helps you plan a more effective long-term conversion strategy. Exit-intent popups and OptiMonk give you the tools you need to capture people's attention, capture more visitors, and increase your conversions. By using these tips you can boost the conversions of your exit-intent popups even more.
Create a free OptiMonk account and try these hacks on your exit-intent popups to increase your conversion rates.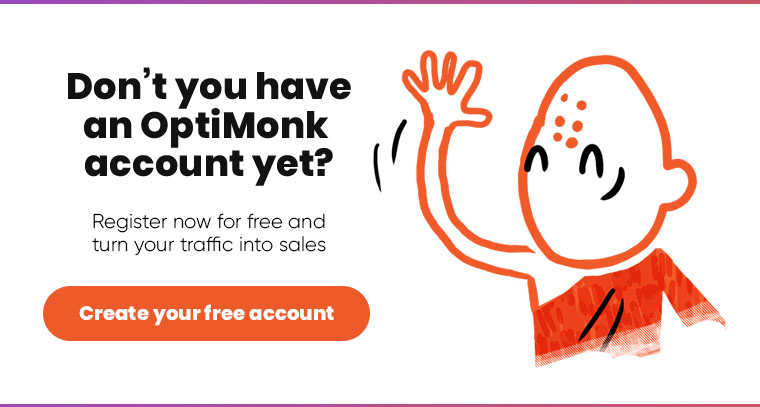 So…which of these tips will help boost the conversion of your exit-intent popups the most?