The terms "exit intent" and "exit intent popup" have become well known over recent years. It is a technology that triggers a notice or popup when your visitors' behavior indicates they are about to leave your site. The goal of an exit intent popup is to grab the attention of people and help them move forward in the decision-making process and away from leaving the website.

But there are quite a few factors you need to consider when creating an exit intent popup. Are you using the right elements, the right words?
Today I'll show you how to create an awesome exit intent popup in 25 steps, plus we've created a PDF version of the checklist that you can download at the end of the article. Let's dive into it!
---
Exit Intent Popup Design:
The look of your popup is really important. Exit intent popups should be engaging, fit with the style of your site, and visitors should feel that the popups are "speaking to them".
Keep an eye to these points when designing your popup:
Use a simple, clear & minimalist design:

Your popup should have a minimalist feel to be up-to-date with the latest design trends. Too much distraction on a popup can reduce conversions.

The look of the popup should match to your website:

Consistency is key to successful branding, so it's important to keep your popups consistent as well.

Use readable fonts:

You only have a few seconds to re-engage your visitors, so avoid using too fancy fonts that make reading difficult.

Use responsive design:

In today's world, people use their smart devices to browse website on a daily basis. Your popup should look good on a mobile as well.
---
The Image:
Most people like using images on their popup and it's okay because they can help a lot to understand the offer and make the popup more appealing. But you should only use an image when it makes sense.
Don't forget these when you use an image on your popup:
It should guide your eyes to the value proposition:

Studies show that people often look at the image first.

Show visitors what they'll get:

Adding an image is a great way to complete your headline and make it clearer what they'll get.

Image should be relevant to the offer:

A pretty but irrelevant image won't do much to emphasize your value proposition.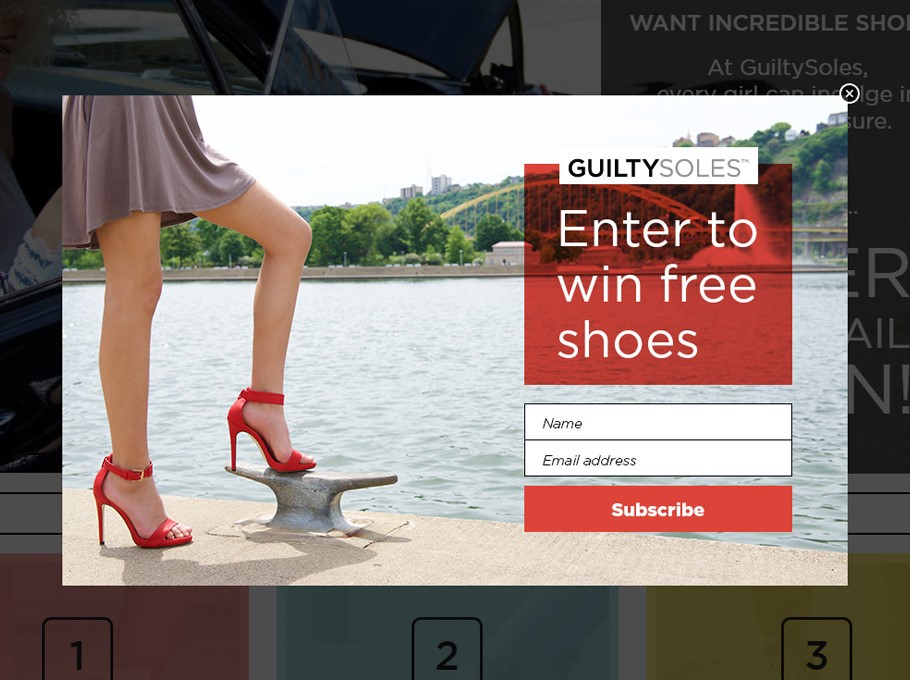 ---
The Headline:
The headline is what your visitors will see first when your popup appears. It should tell your visitors immediately what benefit they will receive.
Let's see the most important things you should consider when writing your headline:
Use a clear headline and value proposition:

Your headline should quickly summarize the benefit of your offer.

Limit yourself to one value proposition per popup:

A popup should only have one goal and don't mention anything else on your popup.  

Use power words

: Power words help to tap into your visitors' emotions. A few examples are "Limited", "Free", "Now", "Special", etc…
(Note: Would you like to learn more about creating "good" exit intent popups? Click here to download our free eBook with over 100 pages of tips and best practices for engaging and reengaging your customers with onsite retargeting to boost the revenue on your site.)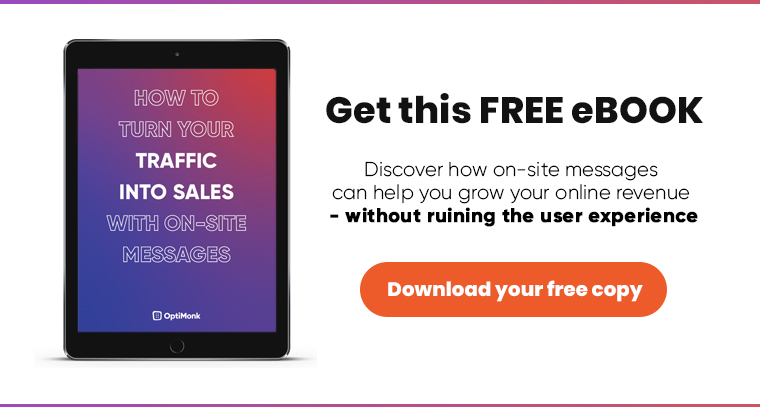 ---
The Description:
After the first impression – which is based on the design and the headline, the way you craft your message and description is the next important factor that will determine the success of your campaign. This part will help your visitors to understand your offer and it should make them want it.
Keep the following points in mind when writing the description:
Keep it short:

You only have 1 second to get your visitors' attention. They don't want to read a huge amount of text when they are trying to leave your website.

Use easy-to-understand sentences:

Use simple and clear text to get your message across in a second or less.

Use benefit language:

Instead of talking about your product or service, talk about how visitors can benefit from it. Don't assume that people automatically connect the dots.
---
The Call-to-Action:
Your call-to-action (CTA) also plays a crucial role. This is an instruction to your visitors to take a desired action. On exit intent popups, your CTA is usually a button containing an imperative statement such as "Download Now", "Learn More" or "Get My 10% Discount".
Remember these when you create your CTA copy and button:
Use a unique and more specific CTA:

Make your CTA more specific than "Click here". Instead, try to make your CTAs clearly indicate your offer: what visitors will get by clicking there?

The button color should be in contrast to the background:

Using contrast helps to direct visitors' attention to the CTA button.

Always include an active verb:

If you would like to add some punch to your CTA, use action verbs. In CTAs you should always tell your visitors what to do exactly.
---
The Signup Form:
A signup form is when you ask information about the visitor. This is also very important. Many visitor abandon a website because of the too much information asked in a form.
So don't forget to…
Use simple sign up forms:

In most cases, email address & first name fields are enough.
---
The Irresistible offer:
You can have the most beautiful and the most compelling popup, if your offer is not good enough though you won't succeed. The offer should be relevant to your target audience.
Do you have that relevant offer? Great! Then don't forget about the following two points to make it irresistible:
Add a sense of urgency:

Including a deadline or adding a countdown timer to your popup helps to increase urgency which is a very effective way to overcome procrastination.

Focus on value:

The popup should communicate the value of your offer. Highlight benefits, and focus on pain points.
---
The Privacy:
For most visitors, it's important be able to trust in the company she/he'll buy from or provide personal information to. Telling your visitors that you will treat their data confidently, or adding a link to your Privacy Policy page can build trust.
That's why you should never forget this task:
Include a privacy policy under the form,

or add a line that you will treat their data confidently
---
Use advanced segmentation:
You should never treat all your visitors the same. They are all different and in today's world, customers except some kind of personalization on websites. They like to see personalized content.
So, you need to consider using advanced segmentation and targeting options when displaying exit intent popups. Here are a few targeting options you should keep an eye on:
Differentiate hot prospects vs. cold prospects:

Hot prospects are visitors who are ready to buy immediately, but cold prospects are not quite ready in some way.

Exclude visitors:

segment those visitors who have previously subscribed.

Use engagement-based targeting:

Use multiple variables to determine the level of engagement, e.g. new or returning visitors, how many pages they have seen, time spent on each page, whether they've visited specific subpages, and more.

Target based on traffic source:

Segment visitors based on where they come from, e.g. Facebook, Google, newsletter or other targeted source.
BoomByCindyJoseph.com uses a free ebook to make their less engaged visitors subscribe to their newsletter list, and set up another campaign that encourages the hottest prospects (those who are about to leave their cart) to complete their purchases immediately:
---
Always A/B test:
Last but not least, you should always create more versions of your popups and compare them to each other. The best results occur when you optimize your campaigns based on actual results. You should only make variations based on one or two elements at a time. Then make sure that there is enough data before choosing a winning campaign.
A/B test your campaigns:

Create at least two versions and monitor their performance
BootCuffsSocks.com tested two different offers in their onsite retargeting campaign. After testing each variant for a sufficient amount of time, they found the percentage discount was a more powerful incentive, outperforming the fixed dollar amount by almost 21 percent.
Here are some elements that are worth testing on your popups:
call-to-action button color, size and alignment;
font style, color, and size;
You'd be surprised how a few small changes can lead to some big increases in results!
Now click here and download the checklist, so you can always keep it right next to your hand.
---
Conclusion
As you can see, there are a few things to keep an eye on when creating your exit intent popup. But after some practice, you'll know it by heart. Until that, this checklist will help you to create an awesome exit intent popup that is guaranteed to convert visitors.

Do you have more tips on how to create an awesome exit intent popup? Let us know in the comment section! 🙂
(Note: If you want a few more ideas about creating and using popups, click here and register for our free webinar.)